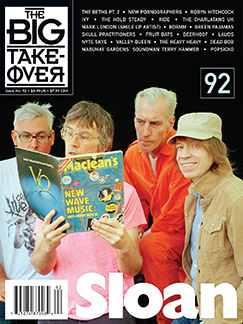 Shop our Big Takeover store for back issues, t-shirts & CDs
---
Facebook
Follow us on Instagram
Follow The Big Takeover
Tyler Keith – The Last Drag (Black & Wyatt)
Like I said here for The Big Takeover, I dig this album much. Latest fave is "Scarlett Fever," which will leave you Exiled on a Mississippi Back Road.

The Ribeye Brothers – Every July Peas Grow There (Self-Released)
"We're going nowhere fast," sings Tim Cronin on the rollicking "Spaceage Cavemen" and nowhere sure sounds like a dandy destination when you can't go anywhere. This long-running New Jersey five-piece offers clever, often self-deprecating lyrics and a catchy, charged combination of rocks garage and country. An abundance of tip-toppers: "Worm's Eve View," "So Long Marconi," "Far From Here," and "Why Should I Care."

Roman and the Rosarys – Going Home With … (Soundflat)
A good variety of song titles ("Going Home Baby," "I'm Going Home," and "Baby, I'm Coming Home") might not be found on this album, but an excellent and exciting mix of sounds awaits: R&B, blues, garage, gospel & more. Led by vocalist Roman Aul of Redondo Beat, the band delivers repeatedly with an always passionate, sometimes wild, occasionally insane combination of originals – the moody "There's A (Ghost Inside This House)" is a standout – and covers like "Wade in the Water" and "Baby Don't You Weep."

Turnstyles – Cut You Off (Black & Wyatt)
This guitar and drum duo from Memphis – Seth Moody and Graham Winchester– also serve together in Jack Oblivian's band. Flipside Kid kicks come closest in the raw-throated, gutter-glorious "Vivian." But Cut You Off also suggests Flat Duo Jets and especially their Safari album; a similar feeling prevails – off the cuff, inspired, passionate, unfixed – but surf and psych rock are bigger influences than rockabilly (still present for sure ). Faves include the rave-up of Waylon Jennings' "Only Daddy That'll Walk the Line," the wild-assed "Can't Look Cool" and "The Snake" and "Fish Taco," which would be my first two candidates for a new volume of Jungle Exotica.

The Fox Sisters – Bust Out! (Dive)
Party-ready and then some, Bust Out! delivers cool fun over and over; try not to smile and/or grunt during "Orangutan is King." The Rochester, N.Y., band taps into the excitement of classic R&B with a raw spirit, style, and soulfulness on songs like "The Song I Sing," "Flippity Flip," and the album-opening "Valerie." When the band slows it down as they do on the moody "Your Search is Over," they climb ever higher on the Real Deal meter.

Don Bryant – You Make Feel (Fat Possum)
The previously mentioned Tyler Keith and his old band, the Neckbones (also part of the Fat Possum stable) once released an album called Souls on Fire. Call the sizzling, Scott Bomar-produced You Make Feel Soul on Fire. And the fire's been burning for 78 years for this mighty Memphis artist. Bryant wrote every song but one ("I'll Go Crazy" – not the James Brown song) and delivers chills and thrills throughout. Treats abound, including "Don't Turn Your Back on Me" and "Is it Over" as well as Bryant's updates of songs he wrote that others brought to fame, "I Die A Little Each Day" (Otis Clay) and "Cracked Up Over You" (Danny White, etc.).

Dexateens – Live from Athens, GA – Heathens Homecoming 2020
Recorded way back in February at the 40 Watt Club when the world was a little different, this live album will undoubtedly remind you of the sweat-soaked pleasures of being packed along with other fiends to see a bad ass rock-n-roll band tear the roof off the place. The band's musical cues include The Andy Griffith Show, Link Wray, and the Ramones, which gives you an idea of the playful but powerful approach the band takes. Lots of favorites but the album-ending attack of "Teenager," which best brandishes the band's southern rock and garage punk pedigree, is my favorite song of the year so far.

Breakup Society – Before the Intervention Ruined Everything (Opus)
After three albums for Get Hip, the Breakup Society returns with their first full-length in eight years. And, indeed, it is a winning return for the Phoenix – with connections to Pittsburgh – band led by songwriter Ed Maley. The Breakup Society continues to dish out low-key, smart/smartass pop, rock and country that connects through Maley's lyrical charms and his sensitive, weary vocals. Standouts include the striking title track, the country rockin' "Liar in Me," the Billy Bragg-referencing "Modern Inconveniences," and kindred spirit's Scott McCaughey's co-write, the album-ending "Strength Was Always Your Weakness."

Teen Cobra – Social Piranha EP (Hidden Volume)
D.C. husband and wife duo Neil Enet (guitar) and Veronica Magan (drums) race through their songs like streakers bursting onto a playing field. But you'll be happy to let them run free because they boast manic and oh-so catchy songs like "Christina" and "Stranger Danger." Six songs, less than seven minutes. In the carefully considered words of their brevity loving fore-bearers Los Ass-Draggers, "Move Yer Ass Now Jerry Garcia."

The Ar-Kaics – Ar-Kives Vol. 1 (Dig)
Like the M-80s and other like-minded creeps before them, Richmond's the Ar-Kaics do Virginia proud with their raw, stomping take on classic garage rock. Also, like the mighty M-80s, the Ar-Kaics shine bright on singles; you get 15 glorious examples on this outstanding comp, which is subtitled Virginia's Garage Punk Unknowns. Unknown by many perhaps but beloved by a group of intense enthusiasts, the group's discography on Bandcamp nearly always reads, "Sold Out." Loaded with great songs and songwriting.