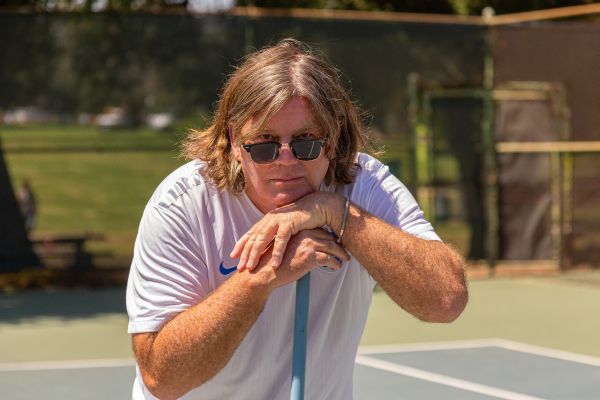 Veteran indie pop/rock musician John Andrew Fredrick of the black watch unveils a trippy list for his fave Top 10 Songs.
John Andrew Fredrick of the black watch – Photo Credit: Brendan Holmes
John Andrew Fredrick, songwriter and front man of LA dreampop band the black watch, has released 20 LPs – five albums in the past three years alone – and a mess of EPs and singles.
He's published four comedic novels (two of which concern an imaginary indie rock band called The Weird Sisters), and a book on the early films of Wes Anderson (he only likes the first three). He's been known to put his abstract paintings on show from time to time, and he is an ex-professor of English Lit and Film and now simply professes to be a tennis bum who has a band.
the black watch's 21st LP, Future Strangers I & II, produced by Rob Campanella and Andy Creighton, will come out some time next year.
As The Big Takeover's own Michael Toland observed about the just-out Here & There LP: "Yet another excellent album in a ridiculously strong catalog."
Fredrick notes, "Well, gosh, yeah, we (the royal, I suppose) have been busy writing and recording. Amidst idly threatening to stop. No one believes me when I say that this one will be the final TBW LP, myself now least (most?) of all."
"We all crave completion—in one morbid form or another. Freud said that—or he should have. I also go round shouting how I just don't like music much anymore. And that's a lie as well. In some ways I suppose the mindset illustrated (or muddled) above reflects the state of the world, yeah."
"Certainly I'm possibly the only Beatlemaniac who turned Get Back off after the first hour. If right now you're thinking "Something's really wrong with John" you're probably right. Dead right. Okay, then, from the guy who doesn't listen to music anymore, here's my top ten of what I'm currently not listening to."
My Bloody Valentine – "Honey Power"
"Nothing sends me like this band—unless it's the Fabs. The sweetness of Shields's and Butcher's voices, the glide guitars, the descending chords and mesmerizing rhythm section equal bliss. MBV are better than your band. They're better than TBW too. Sorry. Fact."
Syd Barrett – "Baby Lemonade"
"The song [is] so good and twisted, my friends Randle and Squeezebox named their short-lived outfit after it. Now they are Love. I doubtless could have included one of Arthur Lee's songs here as well. Barrett's solo stuff is a shambles and much of a muchness. I celebrate that."
Paul Den Heyer – "Technicolor Summer Sunshine"
"Paul is my friend. I love to shill for my friends. You don't know his work. That's a shame. This song is in open C; I tried to write a song in that tuning and it just turned out like a Paul imitation. Thanks for nothing, Paul."
Mogwai – "Ritchie Sacramento"
"I don't know what the devil this song is about. Is there gonna be a lawsuit coming from some Richard in NorCal? I don't want to know what it's about, nor do I want to meet people whose work I idolize. I idolize Mogwai. Therefore, I hope I never meet them."
Fleetwood Mac – "Gypsy"
"My son Chandler and I, on a road trip of, oh, all of five or so miles, once put this on replay no less than twenty-six times, laughing all the way. Yes we stopped somewhere and ate in the car. We call all trips to Pasadena's Pie n Burger "road trips." No we don't; I just made that up."
The Glove – "And All Around Us Mermaids Sang"
"I believe in mermaids. Mermen? Well, those are all bad now, you know. Responsible for the seadwelling patriarchy. "Blue Sunshine," with Smith's vox on it—is better than the acid I never tried. And now they say I'm too past it to trip, man. I hate "man" almost as much as when people call each other "dude"—chick dudes especially. Cancel me, please."
Jimi Hendrix – "Are You Experienced?"
"Well, yes, master, I am. I keep on trying to write a song with one chord—and it just ends up being another Paul Den Heyer imitation. If the Beatles got me through prep school, Hendrix got me through elementary. Jimi, ever humble, could have said, with Shelley's Ozymandias, "Look on my works, ye mighty, and despair." Shelley is in a tie with T. S. Eliot as my favorite poet, if you don't know. Now your life is complete."
Brenton Wood – "Oogum Boogum"
"How dare anybody, most of all me, try to put into words the glories of this song? Just listen to it again and let the wee waves of nostalgia wash over you. Now surf them."
My Bloody Valentine – "I Can Feel It But I Can't etc"
"Peel sessions often outstrip the official recordings. Not in this case, but still. I never tire of them, the Valentines. Never. I guess I was wrong about not liking music. I love this song and please play it at my funeral, if you go."
The Beatles – "Strawberry Fields Forever"
"I think I know what you're thinking: he's gonna say: "The Rutles are a better band." Wrong! "And Your Bird Can Sing" is my favorite song—that and about thirty-two other songs from these guys."
Video for "The Real You" from the album Here & There on ATOM Records:
Video for "Now & Then" from the album Here & There on ATOM Records:
ATOM Record Website
the black watch Bandcamp
Website
Facebook