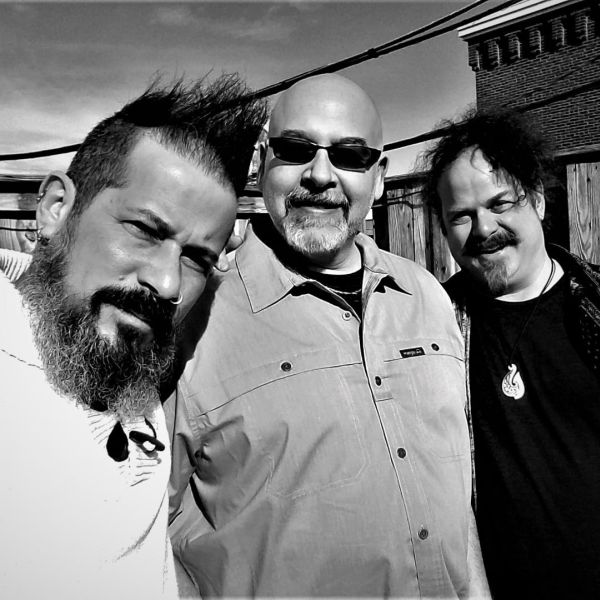 Tom, Bob, and Rob from Philadephia-based rock band Stellarscope detail their Top 10 Songs on the release day of their dynamic and vibrant new album.
Stellarscope – Photo courtesy of Stellarscope
Philadelphia's Stellarscope have been a prominent presence in the independent rock scene throughout the east coast of the United States since their formation in the year 2000. They were part of the early 2000s shoegaze revival scene that emerged throughout the US.
Their career has been divided between the constant creation of music and live performances.They gained a reputation as a go-to band for organizing shows, curating festivals, and setting up tours with local and international bands across the region. Their music catalog is extensive and varied.
Stellarscope's sound has evolved throughout the years, shifting and morphing between indie rock, post-punk, goth, shoegaze, alternative, and classic rock. After two decades, Stellarscope continues to forge ahead, looking into a future of endless possibilities in sound.
Stellarscope just released a new album, From the ashes, via Patetico Recordings. The record can be streamed and purchased at Bandcamp
On a more serious note, the band comment, "In August 2020, in the midst of the global pandemic, a storm came through the east coast of the US and lighting struck! The end result being the loss of our studio, all of our recording equipment, and extensive damage to our drummer's house."
The songs on From the ashes were recorded a couple months before the catastrophe and were able to be recovered from a hard drive that survived the fire."
Thankfully the members of Stellarscope have regrouped and have been able to release their new album. As part of the celebration they've kindly participated in a guest Top 10 playlist for Big Takeover.
Here are the band's top ten favorite songs:
1. The Cure – "Boys Don't Cry"
"It's sad, mournful, and vulnerable song with delicious guitar hooks and a melody that will make your sadness dissipate while you sing along. – Tom
2. Pink Floyd – "A Saucerful of Secrets"
"Love this early Floyd from A Saucerful of Secrets. It the has an early British pop sound very Beatlesque. Very underrated song from their extensive catalog." – Bob
3. Steve Vai – "Attitude Song"
"This amazing Steve Vai composition is one of many brilliant, raw, unbelievable tracks from his debut home-made album Flex-Able that had a huge impact on my musical direction. The attitude song, like the other tracks, opened my ears and my mind to a whole new level of approaching guitar playing, home studio production and songwriting." – Rob
4. Metallica – "Crash Course In Brain Surgery"
"This is one of my favorite non-Metallica Metallica songs. Something about the groove when playing this either on bass or on guitar is just so powerful and fun. Even though Budgie wrote the song, the way Metallica pulls this off just kicks so much ass! The $5.98 EP – Garage Days album for me is my #2 favorite after Ride the Lightning." -Rob
5. Ramones – "Blitzkrieg Bop"
"From the very first riff you feel the rush of energy coursing through your veins. You want to sing to it, you want to mosh to it, you want skate to it, you want drive fast to it. The energy of youth in one song." – Tom
6. Styx – "Queen Of Spades"/"Aku-Aku"
"This song along with the whole Pieces of Eight album was a huge influence on me early on. Aside from the dynamic, beautiful composition, the guitar playing on this just makes me wanna play all the parts …another major influence on my guitar playing. I love the dazzling solos and the sublime rhythm parts which all seamlessly segues into Aku Aku, another magical Styx favorite." -Rob
7. Genesis – "The Musical Box"
"From the first Genesis album featuring drummer Phil Collins. It's dark and progressive with monumental drumming and has a very unique original sound." -Bob
8. Donovan – "Hurdy Gurdy Man"
"Beautifully constructed psychedelic song with a folk feel. It tells a story in parts, each one building up to the next. Perfect song for a late night drive." – Tom
9. The Beatles – "Long, Long, Long"
"It's obscure and sad yet beautiful, simplistic and emotional. George Harrison's best." – Bob
10. The Jesus And Mary Chain – "Just Like Honey"
"A sing along popsong engulfed in the controlled chaos of feedback and distortion.Soothing, sexy, and tender all in one." -Tom