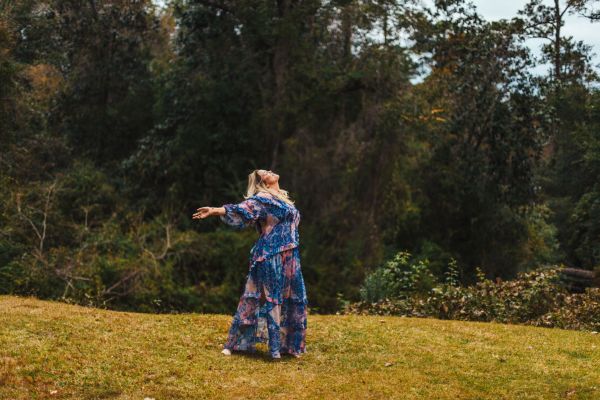 New Orleans born and bred singer-songwriter Jenn Howard unveils her personal Top 10 NOLA Must-Haves.
Jenn Howard – Photo Credit: Andrew Miller
New Orleans born and bred singer-songwriter Jenn Howard's aptly-titled second release, Valiant Women, is a profile in courage. The 10-song album of Americana-soul boldly chronicles a phoenix-rising story to self-possession and artistic autonomy.
The first single from Valiant Women (out March 3rd via Bathtub Music) is the instantly catchy "Microphone," featuring a guest vocal from NOLA royalty, the amazing Ivan Neville.
Speaking of NOLA royalty, Jenn Howard will be gracing the stage May 4th, at the New Orleans Jazz & Heritage Festival this year, along with Santana, Leon Bridges, Buddy Guy, and so many more.
Jenn Howard kindly curated a YouTube playlist of her Top 10 NOLA Must-Haves, and added personal details about how these tracks have affected her life:
So, I went with an overall classic feel with this because I started thinking about my childhood and what resonated with me in each phase of my life.
When I was little, my Dad had a radio next to the bed and I remember listening to Aaron Neville and Linda Rondstat singing 'I Don't Know Much' and it was the first time that I figured out that I could match the vocal gymnastics in a song. Its one of those songs that made me realize that I could sing and boy did I sing the shit out of that last run by Mr. Neville. And now, his son, our local hero, is singing on MY new record. It's really something for me.
When my Daddy used to drive me to school or cook dinner, he used to love to sing 'Mother in Law' by Ernie K-Doe. I can still see him singing into a wooden spoon in the kitchen and I think of him every time I hear it. When I called to read him this list, he immediately started singing it to me so I knew it had to make the cut.
'Such a Night' by Dr. John is of course a classic, but its songs like these that I heard every day growing up. You have to put a Dr. John song on the list because they are embedded in our DNA as New Orleanians, You could be sitting or dancing anywhere in the world and that song can come on and I will immediately miss home and feel a sense of pride.
Mahalia Jackson's version of 'The Saints Go Marching In' is my absolute favorite. When I was in high school, my best friend used to coax and bribe me into standing on my chair on late nights at Cafe Du Monde and sing both the National Anthem and Mahalia's 'Saints'. I still sing her version with my own band on a regular basis.
Anders Osborne's "Coming Down" hits for me because of that time after Katrina when we were all so bruised and raw and drawn together. It's honest lyrics, 'keep your arms wide open' mark a moment with my girlfriends when we were all struggling to rebuild our lives and stick together. If there were ever a soulful voice to fall madly in love with, it would be Anders for me.
When I was in my early 30s, I was getting back into music after a long break and it was really my friends in Johnny Sketch and the Dirty Notes that got me out of my rut. They had just finished their record 'Big Awesome' when we started to write my album 'Up At Night' together and their song 'Cora Lee' is still my favorite song of theirs. It reminds me of a really special time of building some life long friendships with those guys. I'm so lucky to have Andre Bohren, their drummer and co-founder, produce my new record 'Valiant Women".
'Handa Wanda' by Wild Magnolias has to make the cut because it reminds me of my lifelong best friend. It's my ultimate Mardi Gras song. Every year, we get up at 6am to get dressed and walk to Zulu before continuing on to the French Quarter (always on foot.) to the St. Ann parade. And this song alone has been our soundtrack all these years.
'St James Infirmary' by Louis Armstrong is possibly my top choice of this list. When I was bartending at the Rusty Nail from 2008-2013, where I met my husband and still sing today, the owner's father Bruce used to make me sing it to him when he came in for a drink and a secret smoke. I recorded it on a 45 I loved it so much, and I've promised Bruce that one day long from now, I'll sing it at his funeral.( As some of you may know, we don't do sad funerals here in New Orleans. We may cry, but it's always a party).
My last two are a little more current. These days, Galactic reigns supreme in many ways. They even bought our beloved club, Tipitinas and managed to make it even better than it's always been. My favorite Galactic song, and I have many, so this is tough, is still 'Heart of Steel' with the Queen of Soul, Mrs. Irma Thomas. I love it so much that I had the nerve to sing it to Stanton Moore (of Galactic) one night on Jam Cruise when the poor man was just trying to eat dinner. If it comes on and I'm in the room, we'll definitely have to stop our conversation until it's over. Some songs deserve our full attention!
I, like so many others , am smitten with our Tank and the Bangas. Their song 'Cafe Du Monde" released last year is a staple in our house and on our bikes. We love to ride to Cafe Du Monde either downtown or out to city park and play it with our kids singing along. It was also a highlight of last year's Jazz Fest for me, where I get to play by myself for the very first time this year! Maybe I'll make it on somebody else's playlist!
My last song is the Honey Island Swamp Band's song Chocolate Cake. It just reminds me of being out with my girlfriends during those years after Katrina when we were even more passionate about our home and our sound and smells and what we stand for. Shit makes you resilient AND shake your booty.
"Microphone" w/ Ivan Neville
Spotify
YouTube
SoundCloud