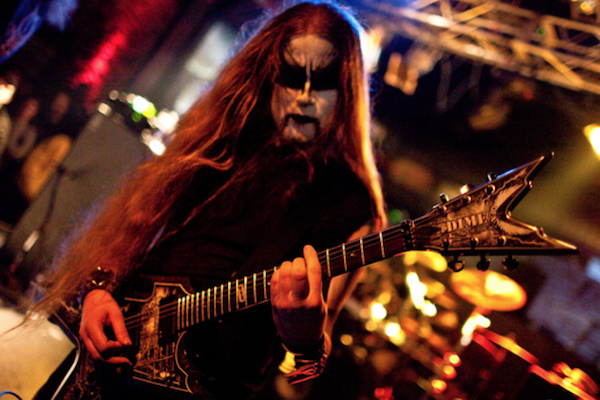 2 August 2019
Photo: Tim Bugbee
Each of the past three years, Psycho Las Vegas summons legendary, face-painted hellions from abroad to represent black metal at "America's rock 'n' roll bacchanal." In 2017, it was Denmark's King Diamond and Norway's Abbath. Last year, Dimmu Borgir — also of Norway — did the honors. This year, the black-metal brutes gracing the festival are Greece's Rotting Christ and two more Norway entrants: Mork and 1349. All three acts are playing Psycho for the first time, with Mork making their U.S. debut.
On Wednesday, 1349 — self-proclaimed bringers of "aural hellfire" — announced that their new album, The Infernal Pathway, would drop October 18 on Season of Mist after a five-year wait. The veteran band, formed in 1997, also released a third single from the record, "Enter Cold Void Dreaming."
As it so happens, the Big Takeover recently connected via Skype with longtime 1349 guitarist Archaon, who granted us his first extensive interview about the band's new record, single and Psycho performance. Carcass, Mork, Goatwhore and others previously told us how amped they are for 1349's August 18 evening set at the Mandalay Bay Resort and Casino; Archaon gave every indication to us that he is equally enthused.
[Check out our YouTube playlist for a video of every band playing Sunday at Psycho, including 1349.]
What's the haps, Archaon?
ARCHAON: It's going good, I'm just doing chores at the end of the day. It's getting after noon over here now. We are ready to play.
It looks like this five-year stretch has been the longest for you guys between albums.
ARCHAON: Sometimes it takes a lot of time, but it's really good — that's what matters. We are very satisfied with the way it worked out, with how it sounds. We didn't intend to take five years [to make it].
How would you describe The Infernal Pathway?
ARCHAON: Production-wise, it's another step up. We have Jarrett Prichard, who also produced [2014's] Massive Cauldron of Chaos. He knows the band from a long time back; the first time he worked with us was almost 10 years ago. He's been with us for at least all our tours in the States. He feels like an integral member of the band, knows our music and personalities very well. Terrific dude, genuinely really up to his task. He's a specialist in what he's doing. He really worked his magic this time [in a way] that I didn't know was possible. It suits the new album very well.
Our new single ["Enter Cold Void Dreaming"] is also a step up. The previous sound was what we were looking for at that time, but it's more clear and distinct on this album. It reflects the time and mood of where we're at.
With records, you can always play fast and brutal and intricate — like we did on [2010's] Demonoir — but there was a limit, and we lost the effect. This time around, we've been approaching the album in a bit more playful way — not a light way … it's been a hard, painful task — but that's got to be the way to go.
Will you tap into the new record at Psycho?
ARCHAON: We are going to debut ["Through Eyes of Stone"] there because we haven't played it live yet. We premiered it earlier this year. We made ["Dødskamp"] based on an Edvard Munch painting. We are playing that live too.
What else do you have in store for your Psycho setlist?
ARCHAON: It's always a question of what people want to hear. We try to meet their criteria as well as our own. We have the kind of set we've found it's important to have. It's a good mix.
What have you heard about the festival and what are your expectations?
ARCHAON: We're looking forward to it. We were talking about the festival earlier, but this year it materialized. It's a growing and big festival. When we did Ozzfest two and a half years ago, we were in talks with Psycho as well, but this time it was possible on all fronts to do it. It seems like a really varied bunch of artists, mildly put. Highly interesting. [As for] Vegas, [it's] been at least a couple of years since we played there.
When did you get invited to perform?
ARCHAON: We [initially] observed the fest via social media, then heard from our agent and were in talks of that being a possibility back in the day — but it died before it became possible. This time around, when we were asked, it was definitely an option, we just had to look how we could do more with it when we came over.
We've been touring in the States for pretty much every year since 2006. Some years we've been there several times as well. We've emphasized touring in the U.S. for whatever reason; it seems like we have a good following there.
You have two additional shows planned in Florida after Psycho, and a festival appearance in Italy, but that appears to be about it until you tour with Abbath next year.
ARCHAON: We planning more U.S. dates in 2019, not stopping there. On this particular run, these dates in Florida are what proved possible. Just a tiny hello this time.
How do metal festival crowds differ in the U.S. versus Europe?
ARCHAON: We've found crowds to be quite more energetic and not so spoiled, so to speak, in the U.S. It depends where you are and is hard to generalize, but in the States, you don't have as much of an oversaturated black-metal market, so it's a bigger joy to play there as an artist. With that said, we do lots of touring in Europe too. It's different cultural-wise, being from a different continent to visit from the other side. All in all, it's exotic for a band from Europe to come to the States.
Will you bring your famous pyros for your Psycho set?
ARCHAON: I hardly think so. As you might be aware, there are restrictions in this area [dating] back to that [2003] incident with Great White. Venues are restricted with allowing pyrotechnics, so I'm afraid it might not be emphasized on our side. What we will do is put on a very brutal, powerful show. We will spend our time as best as we can, showcasing our aural hellfire.
When did you come up with that term?
ARCHAON: Twelve or 13 years ago. We found that to be a fitting term for what we were doing.
I saw you at Roskilde in Sweden in 2011, performing in the middle of the day. Do you prefer playing in the daytime or nighttime, indoors or outdoors?
ARCHAON: I prefer evening and not daytime, because of our show's nature. It's kind of reduced in quality terms when you put us in bright daylight. We challenge imaginations, so it helps then show and whole experience when it's a darker atmosphere.
What other bands are you most excited to see perform at Psycho?
ARCHAON: I've seen Opeth many times before. They're not a huge favorite of mine, but I like them. Goatwhore are good friends of ours, so if that happens the same day, we'll stick around and watch the show. [Note: Goatwhore are scheduled to play Friday.] Rotting Christ, I haven't seen them since ages ago.
Do you tend to catch a lot of bands at festivals, when you're not playing?
ARCHAON: It takes all our focus for our show that day. It's not an emphasized aspect to watch all the concerts there, because it's not like we're having a day off. We're there to make the most powerful show we can, and that pretty much absorbs everything.
What will you do in your downtime? Do you gamble?
ARCHAON: None of us are really that much of gambling types. We'll probably have a stroll around — and obviously the first time you go to Las Vegas, you will jump in and try it for fun, but it's not something that I feel a huge need to do, to lose money. But there are always things to see.
In 2010, some people and I were walking around the Strip and came across [the now-closed] Vince Neil Ink. We see funny things like that. The Rocky Mountains, the Twin Peaks cafeteria, the location where "The Dark Knight Rises" was shot in Chicago, the Sears tower. We stood on the balcony there.
As craft beer fans, we'll be looking for that [in Vegas] as well. We always try to check out local breweries.
What can fans and newcomers expect from your performance(s) at the festival?
ARCHAON: You an expect a vital, brutal force of in-your-face, hard-hitting black metal.
For previous installments of the Big Takeover's Psycho Las Vegas preview series, check out our interviews with:
• Colin H. Van Eeckhout, vocalist for Belgian post-metal purveyors Amenra
• Jason Shi and Scott Key, singer/guitarist and drummer, respectively, for melodic hard-rock masters ASG
• Jay Bentley, founding bassist for politically progressive punk pros Bad Religion
• Stephen McBean, singer/guitarist of long-running psychedelic-rock project Black Mountain
• Jean-Paul Gaster, drummer for "the quintessential American rock band," Clutch
• Jeff Walker, vocalist/bassist for extreme-metal behemoths Carcass
• Greg Meleney, vocalist/guitarist for Portland psych-rock mainstays Danava
• George Clarke, vocalist for shoegaze/black-metal powerhouses Deafheaven
• DJ Painkiller, an L.A.-based metalhead who will be spinning between sets
• Darkest Prince, lead guitarist for black-metal punks Devil Master
• Victor Vicart of Scottish progressive-metal quintet Dvne
• Laura Dolan, vocalist for Cincinnati rock 'n' roll purists Electric Citizen
• Todd Fink, frontman for electro-pop punks the Faint
• Dylan Walker, frontman for brutal grindcore quartet Full of Hell
• Zack Simmons, drummer for blackened death-metal demigods Goatwhore
• Emil Amos, drummer for experimental post-rock band Grails
• Julien Chanut, guitarist for French sludge-doom band Hangman's Chair
• Tony Campos, guitarist and founder of thrash revivalists Hell Fire
• Nashville cosmic-riff connoisseurs Howling Giant
• Gabriel Franco, vocalist/guitarist for gothy post-punks Idle Hands
• Joshy, drummer for crusty death/doom-metal outfit Ilsa
• Johanna Sadonis, vocalist for "heavy magic rock" band Lucifer
• Invincible crooner and former Screaming Trees frontman Mark Lanegan
• Stuart Braithwaite, founding guitarist/vocalist for beloved post-rock legends Mogwai
• Kelly Finnigan, frontman for Bay Area psychedelic-soul quartet Monophonics
• Thomas Eriksen, centrifugal force behind true Norwegian black-metallers Mork
• Teddi Tarnoff, frontwoman of "Vegas-based dirty rock 'n' roll band" Mother Mercury
• All-female Motörhead tribute band Motorbabe
• Wino, godfather of doom metal and frontman for the Obsessed
• Mikael Åkerfeldt, frontman for Swedish progressive-metal kings Opeth
• Ben Bloom, frontman/guitarist for funk-soul octet Polyrhythmics
• Ethan Lee McCarthy, frontman for blackened-doom trio Primitive Man
• Tobias Grave, frontman for shimmering post-rock trio Soft Kill
• Kirpatrick Thomas, vocalist/guitarist/conceptualist for acid-rockers Spindrift
• Experimental rock, alternative hip-hop and dance music guru Tobacco
• Derrick Vella, guitarist of death-metal arsonists Tomb Mold
• Niklas Källgren, guitarist for Swedish fuzz fanatics Truckfighters
• Los Angeles Satanic doo-wop duo Twin Temple
• Kevin Starrs, frontman of British fuzz royalty Uncle Acid and the deadbeats
• Sean Killian, vocalist for cult-favorite Bay Area thrash band Vio-lence
• Mike Hubbard, vocalist-drummer for reunited Massachusetts doom-metal band Warhorse
• Bruce Lamont, frontman for experimental heavy-jazz project Yakuza and Led Zeppelin tribute band Led Zeppelin 2
• Aaron Rieseberg, bassist for Oregon doom-metal dealers Yob
Also, don't miss our special feature in which Deafheaven's Clarke and Mogwai's Braithwaite discuss their mutual affection for each other's bands, whether Deafheaven should play their Mogwai cover at Psycho Las Vegas — and the possibility of a collaboration between the two projects.