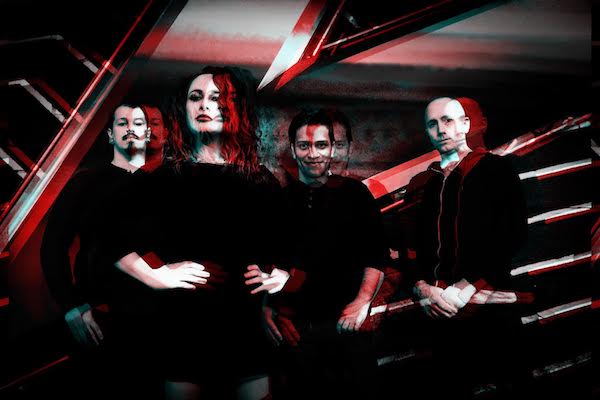 24 July 2019
Photo: Julie Bergonz
Of the 70-plus bands performing at Psycho Las Vegas next month, only one won't be dropping anchor from another city: self-described "Vegas-based dirty rock 'n' roll band" Mother Mercury. Frontwoman Teddi Tarnoff has frequented the festival in recent years but, come August 15 — when the daylong pre-party transpires — her indie-rock quartet will finally perform at the event.
Not only that, Mother Mercury's performance will be the alternative electro-pop band's first major festival appearance, so it will be an extra-special occasion for the band fleshed out by lead guitarist/producer Erik Carlsson, bassist Will McLean and drummer Carlos Paguaga.
We caught up with Tarnoff via email in early June, and she was already thrilled for the festival taking place at the Mandalay Bay Resort and Casino. Describing the band as a "thunderous" group with "banshee vocals," Mother Mercury is probably the only act on the Psycho bill that cites Joni Mitchell, Led Zeppelin, Brandi Carlile, Radiohead and Fiona Apple as influences.
Here is what Tarnoff had to say about the stars aligning in 2019 for Psycho Las Vegas and Mother Mercury, which has a warm-up show slated for July 31 at the Bunkhouse Saloon in Vegas:
Why are you particularly excited to play Psycho? What makes the festival special — both from a performance perspective and as a personal experience?
TARNOFF: I've attended Psycho the last few years and, I mean, what more could you want? Heavy music, cannabis culture and good vibes — we're here for that all day. This year Mother Mercury is the only local-Vegas band on the lineup too, so we are super-stoked to represent the city!
What are your expectations for your first time playing the festival?
TARNOFF: I'm sure our individual expectations might differ slightly. But overall, we are just looking forward to immersing ourselves in the experience of the event starting off with a bang at Psycho Swim!
Do you have any surprises planned for your Psycho set, whether they be songs you wouldn't normally play, added stage elements, etc.?
TARNOFF: We are all for the big show-stopping moments but are fairly minimalistic. We might add something like curated lights/projections. But this is our first big festival booking, so I think our music might be a bit of a surprise on its own, ideally in the best ways possible.
Do you prefer playing in the heat or in the cold? Indoors or outdoors?
TARNOFF: We live here, so we'd be hard-pressed to escape playing outdoor summer Vegas shows. Maybe that makes us all the more resilient, but luckily, we are slotted for an indoor stage at Psycho that will be nice and air-conditioned for our and your pleasure.
Tell me something that happened to you in Vegas that was supposed to stay in Vegas.
TARNOFF: Vegas happened to me and apparently, I was supposed to stay in Vegas, 'cause here I still am six years later. This crazy weird place has become my home in all the best ways. 
What other bands are you most excited to see perform at Psycho?
TARNOFF: Fu Manchu, Goatwhore, L.A. Witch, the Black Angels, Grails, Electric Wizard, Beach House, Opeth and TWIN TEMPLE!!! We're very excited to see/ hear as many of the artists perform as possible.
[Stay tuned for upcoming interviews with the Black Angels and Fu Manchu. Also, it's worth noting that — after the email interview — Mother Mercury posted on their Facebook profile how psyched they are to see replacement headliner the Misfits.]
What friends of yours are also playing at the festival? Who are you planning or hoping to hang with in your downtime?
TARNOFF: No friends (that I know of) this year. I got to see some friends two years ago when King Diamond was on the bill, which was rad! We hope to make some new friends this year for sure!
What can fans and newcomers expect from your performance(s) at the festival?
TARNOFF: Our music is dark and moody, so new and OG friends alike should expect a vibey set with a thunderous band and banshee vocals. Attendees are highly encouraged to smoke a little bud, drink a little drank and open their hearts and minds to what, we hope, will be an enjoyable time with us! 
For previous installments of the Big Takeover's Psycho Las Vegas preview series, check out our interviews with:
• Colin H. Van Eeckhout, vocalist for Belgian post-metal purveyors Amenra
• Jason Shi and Scott Key, singer/guitarist and drummer, respectively, for melodic hard-rock masters ASG
• Jay Bentley, founding bassist for politically progressive punk pros Bad Religion
• Stephen McBean, singer/guitarist of long-running psychedelic-rock project Black Mountain
• Jean-Paul Gaster, drummer for "the quintessential American rock band," Clutch
• Jeff Walker, vocalist/bassist for extreme-metal behemoths Carcass
• Greg Meleney, vocalist/guitarist for Portland psych-rock mainstays Danava
• George Clarke, vocalist for shoegaze/black-metal powerhouses Deafheaven
• DJ Painkiller, an L.A.-based metalhead who will be spinning between sets
• Darkest Prince, lead guitarist for black-metal punks Devil Master
• Victor Vicart of Scottish progressive-metal quintet Dvne
• Laura Dolan, vocalist for Cincinnati rock 'n' roll purists Electric Citizen
• Todd Fink, frontman for electro-pop punks the Faint
• Zack Simmons, drummer for blackened death-metal demigods Goatwhore
• Emil Amos, drummer for experimental post-rock band Grails
• Julien Chanut, guitarist for French sludge-doom band Hangman's Chair
• Tony Campos, guitarist and founder of thrash revivalists Hell Fire
• Nashville cosmic-riff connoisseurs Howling Giant
• Gabriel Franco, vocalist/guitarist for gothy post-punks Idle Hands
• Joshy, drummer for crusty death/doom-metal outfit Ilsa
• Johanna Sadonis, vocalist for "heavy magic rock" band Lucifer
• Invincible crooner and former Screaming Trees frontman Mark Lanegan
• Stuart Braithwaite, founding guitarist/vocalist for beloved post-rock legends Mogwai
• Thomas Eriksen, centrifugal force behind true Norwegian black-metallers Mork
• All-female Motörhead tribute band Motorbabe
• Mikael Åkerfeldt, frontman for Swedish progressive-metal kings Opeth
• Ethan Lee McCarthy, frontman for blackened-doom trio Primitive Man
• Tobias Grave, frontman for shimmering post-rock trio Soft Kill
• Experimental rock, alternative hip-hop and dance music guru Tobacco
• Derrick Vella, guitarist of death-metal arsonists Tomb Mold
• Niklas Källgren, guitarist for Swedish fuzz fanatics Truckfighters
• Los Angeles Satanic doo-wop duo Twin Temple
• Kevin Starrs, frontman of British fuzz royalty Uncle Acid and the deadbeats
• Sean Killian, vocalist for cult-favorite Bay Area thrash band Vio-lence
• Bruce Lamont, frontman for experimental heavy-jazz project Yakuza and Led Zeppelin tribute band Led Zeppelin 2
• Aaron Rieseberg, bassist for Oregon doom-metal dealers Yob
Also, don't miss our special feature in which Deafheaven's Clarke and Mogwai's Braithwaite discuss their mutual affection for each other's bands, whether Deafheaven should play their Mogwai cover at Psycho Las Vegas — and the possibility of a collaboration between the two projects.
Lastly, check out our recently posted YouTube playlists for each day of the festival, including the pre-party.