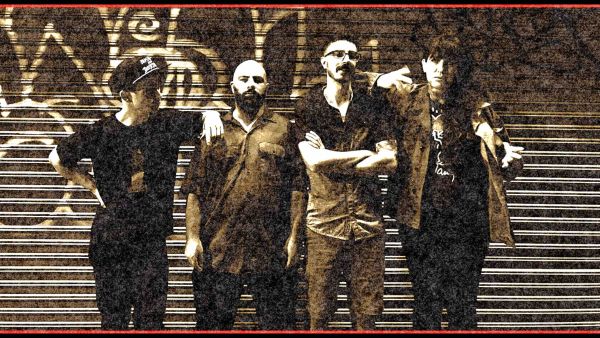 8 August 2017
American Anymen; Photo Courtesy of American Anymen
We earlier featured American Anymen in relation to their Start My Center LP and Oui EP with French chanteuse Lise. We even previously picked frontman Brett Sullivan's brain earlier. Now back to the future – on September 15, the NYC-based outfit will release their next EP entitled Flag Burner.
This release is more in sync with the angst-filled, protest-motivated drive in Sullivan's lyrics and vocals that we came to know through their Start My Center LP this past year.
In the upcoming Flag Burner EP, the antifolk punk outfit addresses the disturbing situation America has gotten itself into by allowing Trump into power and a whole wave of corruption and conflict of interest to run rampant. Sullivan repeats "I pledge allegiance to the Flag Burner" in a rhythmic, near chant that locks in throughout the course of the song. Effective, catchy, and cleverly worded, with high energy driving home the point of just how deep in the crapper the US is. American Anymen should be a household name to anyone with similar views.
This is American Anymen's 12th album; not surprising given that the band formed in 1999 in NYC's Lower East Side. Joining Brett Sullivan on this album are Joey Patches (drums and vocals), Scott Fragala (bass and keyboards), and Jen Turner (guitar and vocals).
While the band's previous material explores such issues as the downside of globalization, social injustice, police brutality, corruption, and inequity, The new American Anymen release is their response to what has become known as Trump's America.
"Flag Burner is a reaction to the fascist in the White House," says Brett Sullivan. "It was written with the idea that messages being subtly delivered in poetic lyrics was simply not enough in a Trump America. So the songs are blunt and literal. We have to speak out against these people, and the culture and rhetoric they promote. Locker room talk should not be the norm."
Flag Burner will be released on September 15, but is already available for pre-order from American Anymen's Bandcamp
TRACK LIST
1. Flag Burner
2. President 2
3. Late To The Party
And here's a flashback to American Anymen's two singles from 2016 – "Selectively Stupid" and "Beach and The Sun":
AMERICAN ANYMEN
Official Site
Facebook
Twitter
YouTube
Vimeo
Soundcloud