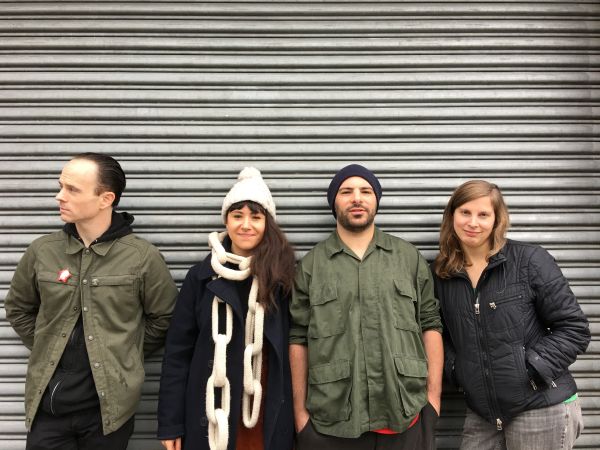 6 December 2016
American Anymen; Photo Credit" Courtney Farren
We earlier learned of American Anymen in advance of releasing their Start My Center EP and, although we love it and featured it and frontman Brett Sullivan earlier, we never expected the mellow and alluring goodness the band would produce with the help of French chanteuse Lise. On December 21, their collaborative Oui EP will be released.
Lise is from Paris. Sullivan is from New York. United by music, having met at an open mic in Brooklyn and hitting it off musically pretty much immediately. If that doesn't sound romantic enough, gift yourself the earful we are premiering today in "Nobody Made Me Smile Like You Did".
This is beautifully composed, bittersweet and heartfelt. With all the charm of French singer Camille and all the ying-yang balanced out as "Sometime Always", Jesus & Mary Chain's duet with Hope Sandoval of Mazzy Star. Fortunately, these two trans-Atlantic personalities have prudently decided to pair up such a collaboration. In fact, the Oui EP is the second joint release for American Anymen and Lise. In 2014, they released a demo called the + EP. In the two years that have since passed, they have jointly played shows in both NYC and Paris.
Sullivan's lyrics to recent American Anymen single "Selectively Stupid", from their Start My Center LP, sees him rant "You're fucking stupid, You're fucking dumb. You walk like a cop and so I fucking run. You're fucking overzealous, smirking like a fucking customs agent on a power trip…. You're smart but selectively stupid." – Their approach, more comparable to Sleaford Mods or Dead Milkmen, is quite a different mood and target than today's single with Lise.
So you'd think Sullivan would stumble in such a duet as presented here. But the subtle, heartfelt and harmonic offerings in "Nobody Made Me Smile Like You Did" are like a welcome refreshing breeze.
For a very different taste from today's premiered track, check out the video below for the track just mentioned and catch American Anymen + Lise live at Brooklyn's Little Skips (941 Willoughby Ave, Brooklyn, New York 11221) on December 10, along with Frank Olson & the Olson Twins, Max Miller, and My Friend & Me. Event info
AMERICAN ANYMEN
Official Site
Facebook
Twitter
YouTube
Vimeo
LISE
SoundCloud
Facebook
comments powered by