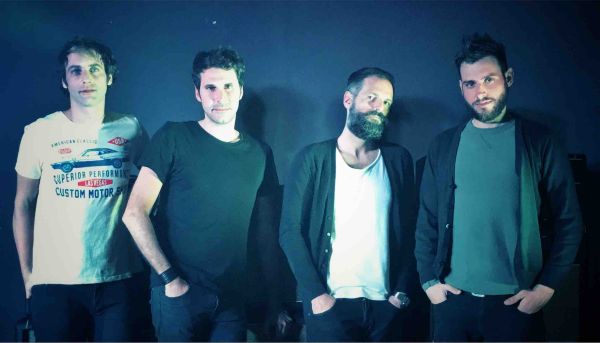 4 April 2017
Clustersun; Photo Credit: Clustersun
For such a small country, Italy has been producing a mass of fantastic music lately, from Electric Floor to Someday and Two Hicks One Cityman , all of which have premiered at this site.
Today The Big Takeover continues the Italian trend, this time bringing music from Sicily, an area that's inclined toward shoegaze and post-punk. The video for Clustersun's new single "Raw Nerve" gets its premiere here and it's an aptly titled one. The music gives a sense of heightened awareness – not in the spiritual sense, but in the sense that you need to be on edge and that you need to be wary of all that is around you. Perhaps that is the band's mission.
The band combines the best dark goth-postpunk elements presented by bands like Love and Rockets and The Cure with elements from the early '90s shoegaze scene (Thinkf Ride's first few albums, as well as Catherine Wheel). This is a driven, engulfing, menacing, in-your-face soundtrack for rebel rabble-rousers. A sign of the times.
"Raw Nerve" is the lead single from Clustersun's forthcoming second album, Surfacing To Breathe, which will be released via Seahorse Recordings.The full album drops on May 19, three years after the release of their debut album Out Of Your Ego. The band co-produced this album with Alessio Pindinelli (La Casa Al Mare).
Clustersun is Marco Chisari (vocals, bass), Mario Lo Faro (guitars), Piergiorgio Campione (synthesizers, keyboards, backing vocals), and Andrea Conti (drums). They came together as Clustersun in 2013.
"The sophomore album is a very tough step for every band, especially if it comes after a strong debut, as our Out of Your Ego was," says Marco Chisari. "We are so much happy and proud of how Surfacing to Breathe came out, mainly because we've managed to capture how the band sounds live."
These new offerings from the band members are influenced by shoegaze giants Slowdive, My Bloody Valentine, Ride, The Jesus And Mary Chain, The Brian Jonestown Massacre, and Spiritualized, as well as Ringo Deathstarr, A Place To Bury Strangers, Cheatahs, Minor Victories, and Flyying Colours.
"This album is way fuzzier, more powerful, dynamic, edgy than the debut. Sounds were layered to build a dense, but articulated, sonic wall," explains Mario Lo Faro. "Also we recorded the songs from Surfacing to Breathe while we were touring so they retain that "live" vibe and power, while Out of Your Ego had more ethereal and "light" tracks.
Having been awarded the GLOBUS prize for Sicilian artistic excellence, Clustersun has established themselves as one of the most promising acts in the new international shoegaze scene.
"This is an honor and a responsibility, as Italy is delivering some of the most interesting music in the shoegaze-psych-dreampop-postpunk-wave sphere," relatesPiergiorgio Campione. Andrea Conti continues, "Being cited alongside bands that we love and admire is great motivation to constantly push forward our limits."
The Surfacing To Breathe LP releases on May 19 via Seahorse Recordings and will be available on vinyl, as well as CD and digital formats. You can already pre-order it.
We also invite you to enjoy two previous offerings by the band.
'
Facebook
Twitter
YouTube
Vimeo
SoundCloud
BandCamp
ReverbNation
Instagram
iTunes