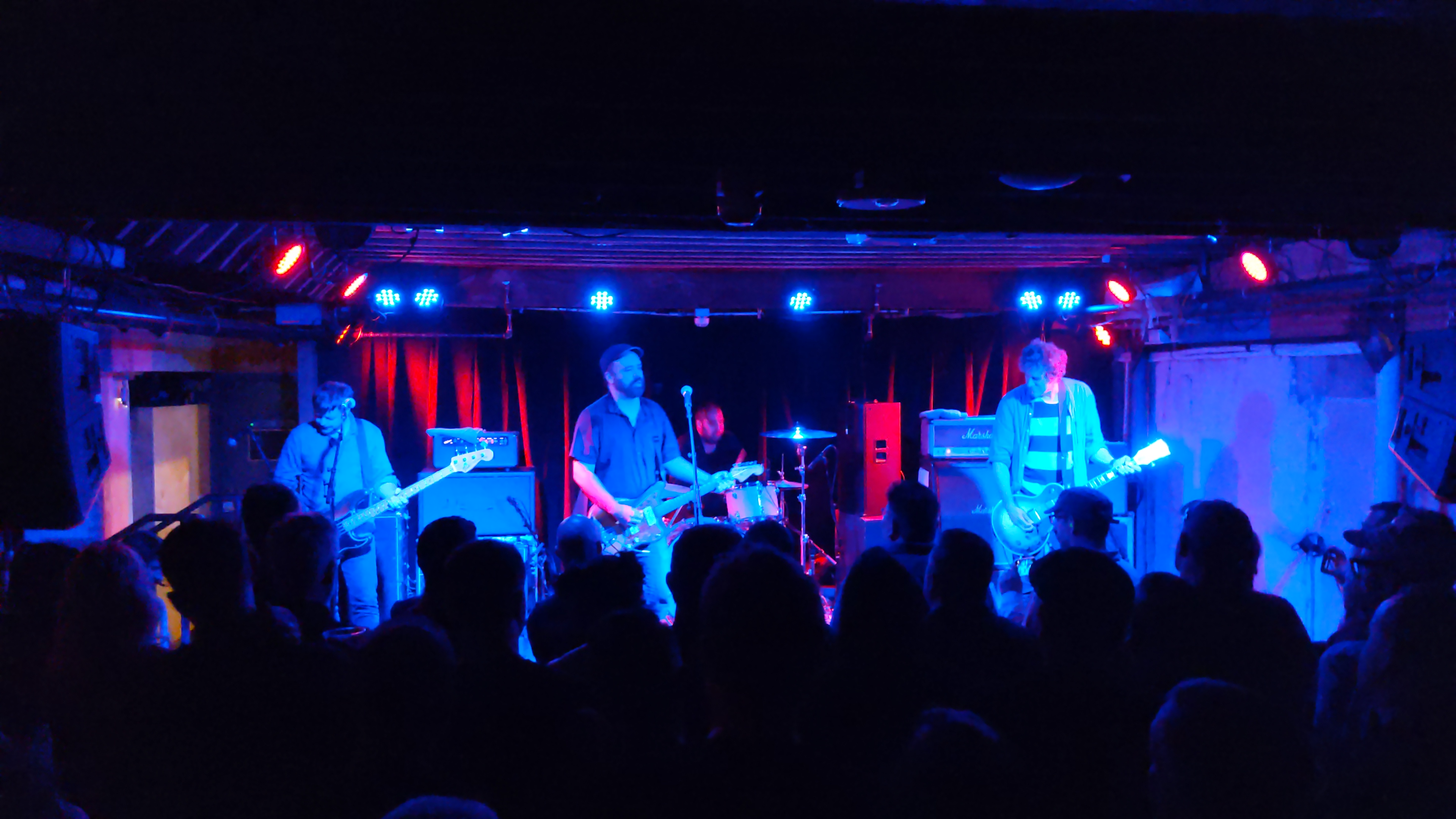 26 October 2019
Photo by James Broscheid
With the amount of momentum killers the band has faced over the course of its existence, each live performance by alt-rock/shoegaze stalwarts Swervedriver should be cherished as much as its tremendous back catalogue. Through a variety of line-up changes and label woes since its inception in 1989, the Oxford-born quartet's perseverance in the face of such adversities truly makes the band a juggernaut. Rolling into Phoenix, AZ on their current U.S. tour supporting an excellent new LP (Future Ruins on Dangerbird/Rock Action Records), Adam Franklin (vocals/guitar), Jimmy Hartridge (guitar), Mikey Jones (drums), and ex-*Supergrass* bassist Mick Quinn played a diverse, albeit abbreviated set due to time constraints.
Leading off with the new album's opening "Mary Winter", Swervedriver set a distorted, fuzzed-out pace that would prevail throughout the set. The highlight being Jones' pounding percussion paired to Quinn's equally powerful bass lines giving the track its thundering rhythmic backbone. Naturally, the setlist featured liberal helpings of new material; selections like "Drone Lover" and "The Lonely Crowd Fades in the Air" with their heavier, jangly guitars blended seamlessly with 1998-era cuts "99th Dream" and "These Times." A somber and moving live take on the new record's title track gave their setlist the perfect midway point that wavered momentarily from the band's dense fog.
The guitar interplay between Franklin and Hartridge proving as strong as ever with their wall of heavy haze breathing new life into seminal favorites from 1993's Mezcal Head (Creation Records) including "Never Lose That Feeling" and set-closer, "Duel." Fascinatingly enough, the band's oldest numbers, "Sunset" and the absolutely stunning "Deep Seat", both from their 1991 debut LP Raise (also on Creation), sounded the freshest. Jones' drum fills on the former were sharp and spot-on while newest member Quinn's bass work gave the latter an incredibly steady foundation for Hartridge and Franklin to showcase why the pair are one of the best guitar duos going.
Speaking to Hartridge afterwards, there was gratification in confessing to him that Swervedriver was the one band to break yours truly out from the derivative nature of early '90s alternative radio in America based on the strength of an opening performance by the band for the Smashing Pumpkins in 1993. Amused, Jimmy looked up, smiled and said "Well, somebody had to do it, right?"
Despite the challenges over the years, Swervedriver continues to be a band that faces them down while sounding better than ever.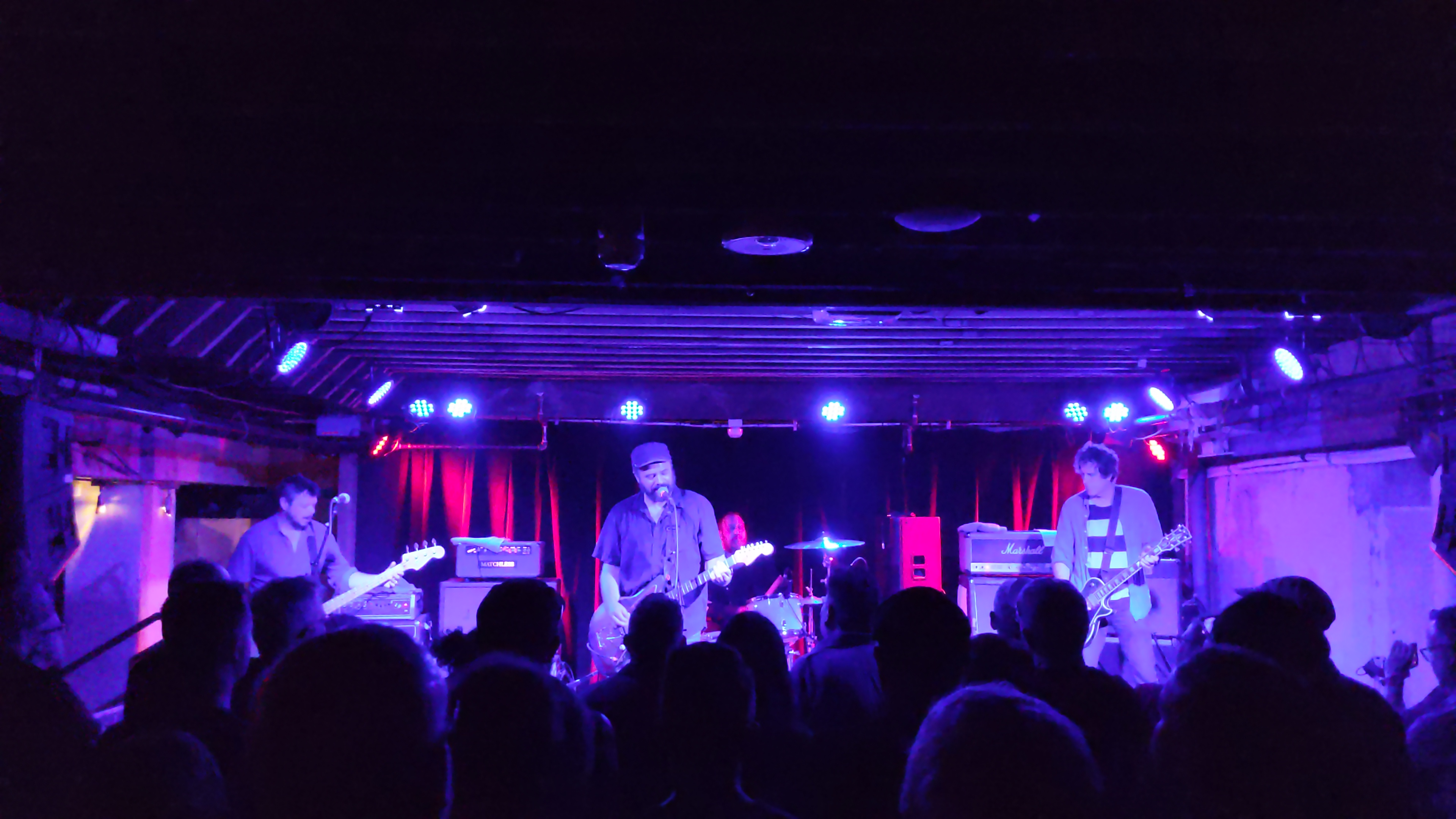 Photo by James Broscheid
Remaining 2019 Tour Dates
October 26: Toronto, ON at Horseshoe Tavern
October 27: Detroit, MI at El Club
October 28: Chicago, IL at Bottom Lounge
October 30: Denver, CO at Bluebird Theater
November 1: Portland, OR at Bunk Bar
November 2: Portland, OR at Bunk Bar
November 3: Seattle, WA at Columbia City Theatre
November 5: San Francisco, CA at The Independent
November 6: Los Angeles, CA at Teragram
November 15: Minehead, UK at Shine On Weekender
For more information, visit:
Website
Facebook
YouTube
Bandcamp