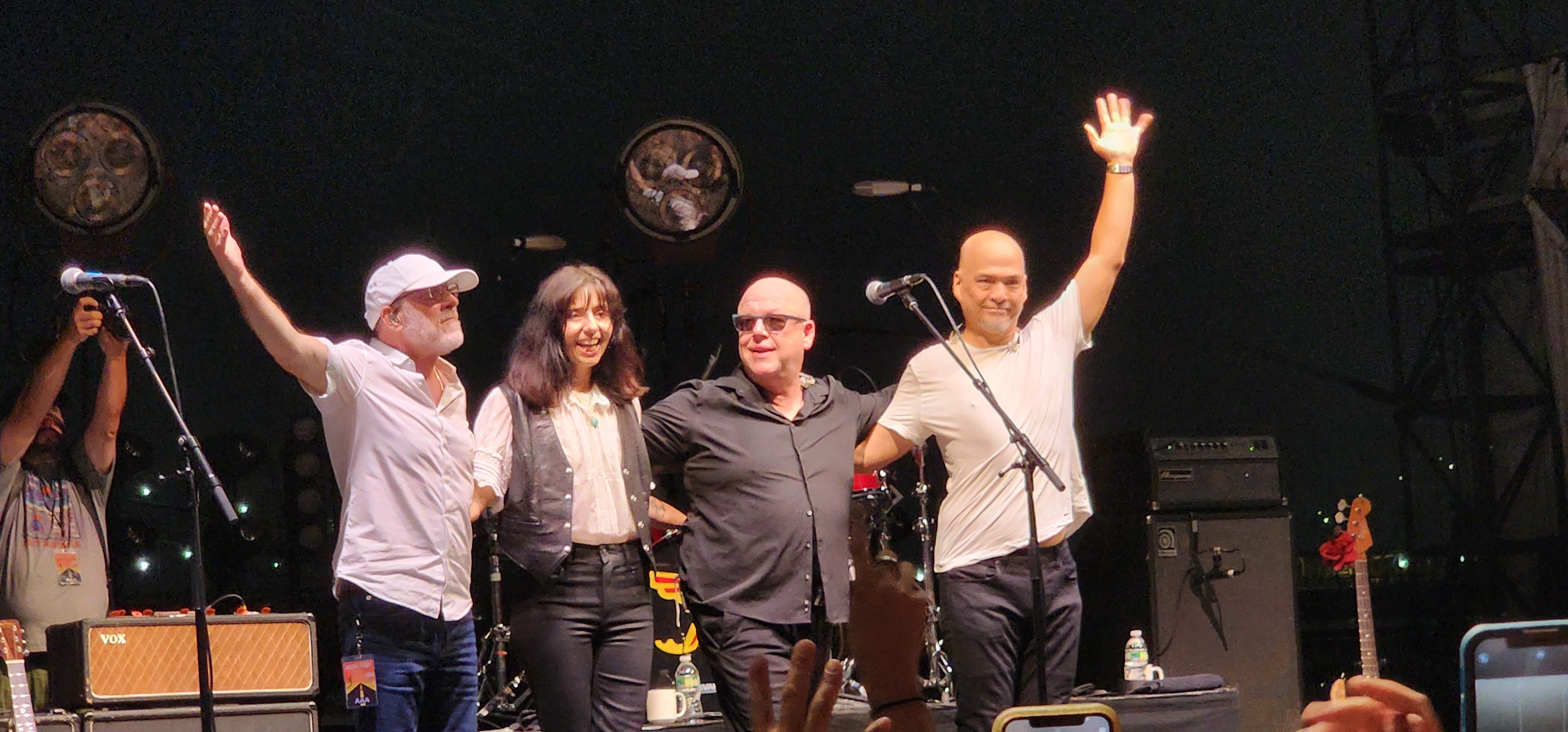 22 August 2023
I had last seen Pixies in November 2009 during the Doolittle 20th Anniversary week of shows at Hammerstein Ballroom, so it was great to see the current lineup last night at The Rooftop at Pier 17 close out the first of two sold-out NYC co-headlining shows with Modest Mouse with an engaging 25+ song set heavy with tracks from 2022 LP Doggerel and seminal alt-rock classics from their original '80/'90s 4AD incarnation (strangely, they played only one track from 1990 LP Bossanova) that introduced the world to the band's strange brew of noisy/soft folk/punk/surf rock surf slathered in lead singer-songwriter Black Francis's surrealist/apocalyptic lyrics with Biblical allusions sung in his flatline-to-freak-out voice and lead guitarist Joey Santiago's grating angular riffs, a sound that continues to inspire many an indie band, most famously Nirvana and The Strokes (cf. the "Where Is My Mind?" riff infused in "Is This It").
Setlist included:
"Where Is My Mind?"
"Gouge Away"
"Debaser"
"Isla De Encanta"
"Head On" (The Jesus & Mary Chain cover)
"Here Comes Your Man"
"Motorway to Roswell"
"Monkey Gone to Heaven"
"Wave Of Mutilation" (UK Surf)
"Nimrod's Son"
As late afternoon turned into dusk, it was my first time seeing Pacific-Northwest indie rock band Modest Mouse, who played immediately before one of their main sonic influences, Pixies, and performed a rousing set of ringing & cascading guitar riffs & march-rhythm-style downbeat outsider anthems from mainstay singer-songwriter Isaac Brock, with newer lead guitarist Simon O'Connor ably filling in on songs from Modest Mouse's chart-topping 2007 LP We Were Dead Before the Ship Even Sank when guitar legend Johnny Marr was a member (wish they had played fave "Missed the Boat") and other well-received tunes.
Setlist included:
"Dashboard"
"Float On"
"We Are Between"
"It's All Nice On Ice Alright"
"Fire It Up"
"Back to the Middle"
"King Rat"
"Bukowski"
"The Whale Song"
"Trailer Trash"
Atlanta, GA-bred singer-songwriter Cat Power played a short opening set, looking very cool despite the heat in her black velvet dress and singing with twangy soulful grace as she shared her modern folk-blues and her gift as an interpreter with covers of Kitty Wells & Bob Dylan's "Mr. Tambourine Man."
Setlist included:
"The Greatest"
"Cross Bones Style"
"Manhattan"
"It Wasn't God Who Made Honky Tonk Angels (Kitty Wells cover of a J.D. Miller song)
"Mr. Tambourine Man" (Bob Dylan cover)