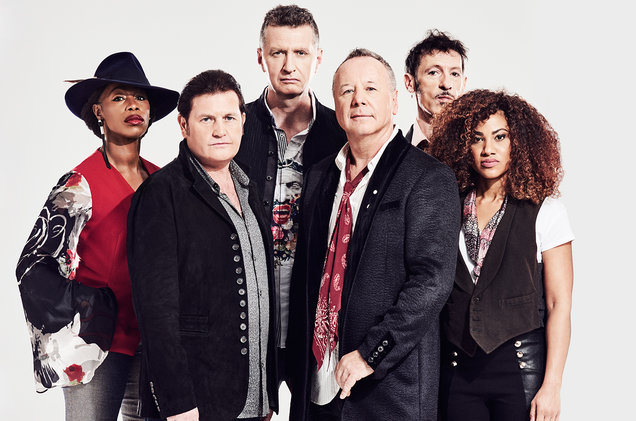 31 October 2018
Photo by Dean Chalkley
Celebrating the band's seventeenth studio album 'Walk Between Worlds' (BMG Rights Management), Simple Minds are in the middle of an extensive tour to support their first record in four years. Led by founding members Jim Kerr (vocals) and Charlie Burchill (lead guitar), the band explored a vast, 41-year old catalog of music ranging from their biggest hits & new songs to their more obscure, early material. From the opening note of new track "The Signal and The Noise", the crowd at the historic Paramount rose to their feet and stayed there throughout the night. Frontman Kerr seemed touched by the overwhelming appreciation showed by the crowd mentioning, "I didn't think anyone would remember us!"
Comprised of two sets, a fifteen minute intermission and one encore, Simple Minds pulled out all the stops with new material such as "Walk Between Worlds", "Sense of Discovery", Signal and Ewan McColl cover "Dirty Old Town" (sung soulfully by backing vocalist Sarah Brown), interspersed with milestones throughout the band's back catalog. Although not a fan of perpetual crowd singing, the band's biggest hits were mostly handed over to the audience for vocal duties. However, it was difficult to not feel nostalgic over "Alive and Kicking", "Don't You (Forget About Me)", "All the Things She Said" and "Sanctify Yourself". Where the band really excelled were spot-on renditions of "Promised You A Miracle", "Someone Somewhere In Summertime" and "New Gold Dream (81-82-83-84)" from the 1982 new wave classic New Gold Dream (81-82-83-84).
The absolute pinnacle arrived early on with a riveting performance of "Waterfront" off 1984's 'Sparkle In the Rain'. The song perfectly straddling the territory between post-punk and new wave with Burchill's note bending paired to Ged Grimes chugging bass, Gordie Goudie's brooding & bright keyboards and Cherisse Osei's thundering percussion, while Kerr's crooning vocals exuding all the confidence of a frontman who still has a captivated audience in the palm of his hand. An absolute pleasure paying homage to Scotland's darlings.