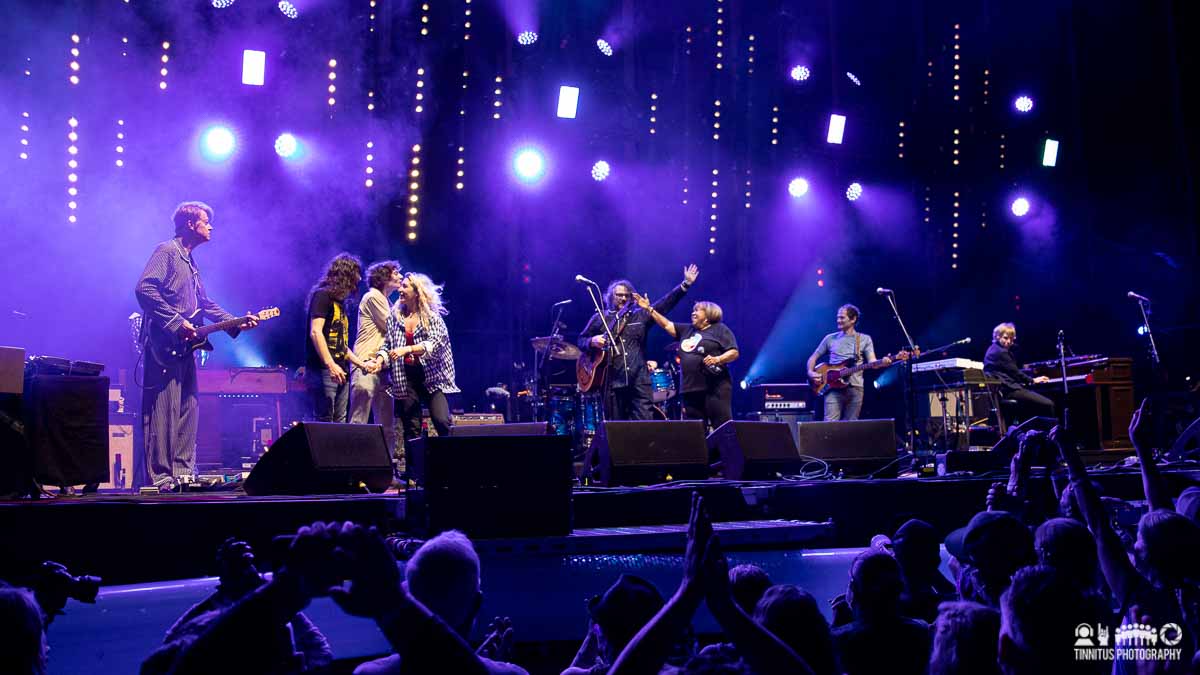 25 January 2022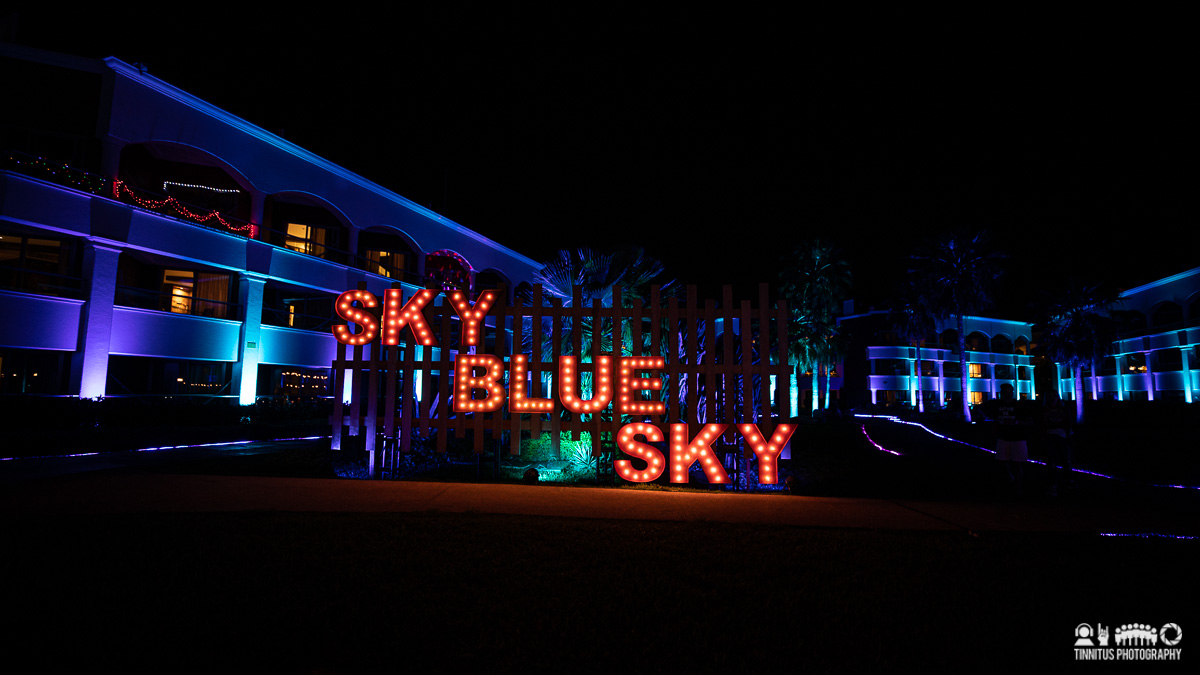 If there's one obvious thing about the last couple of years (well, there are a lot but let's just focus on this one), it's that the COVID pandemic has made a lot of things about living a normal life complicated at best and impossible at worst. In very early 2020, Wilco along with Cloud 9 partnered up for the kickoff of the Sky Blue Sky festival, a four day event with hand-picked bands held at a gorgeous, oceanside setting. Sun, Caribbean water, food, drink, music – what more could you want? That was well before COVID was adopted by most people's phone's autocorrect, and by all accounts it was an amazing event, well-received by all who attended. (If you want to see my thoughts on it, you can find them here).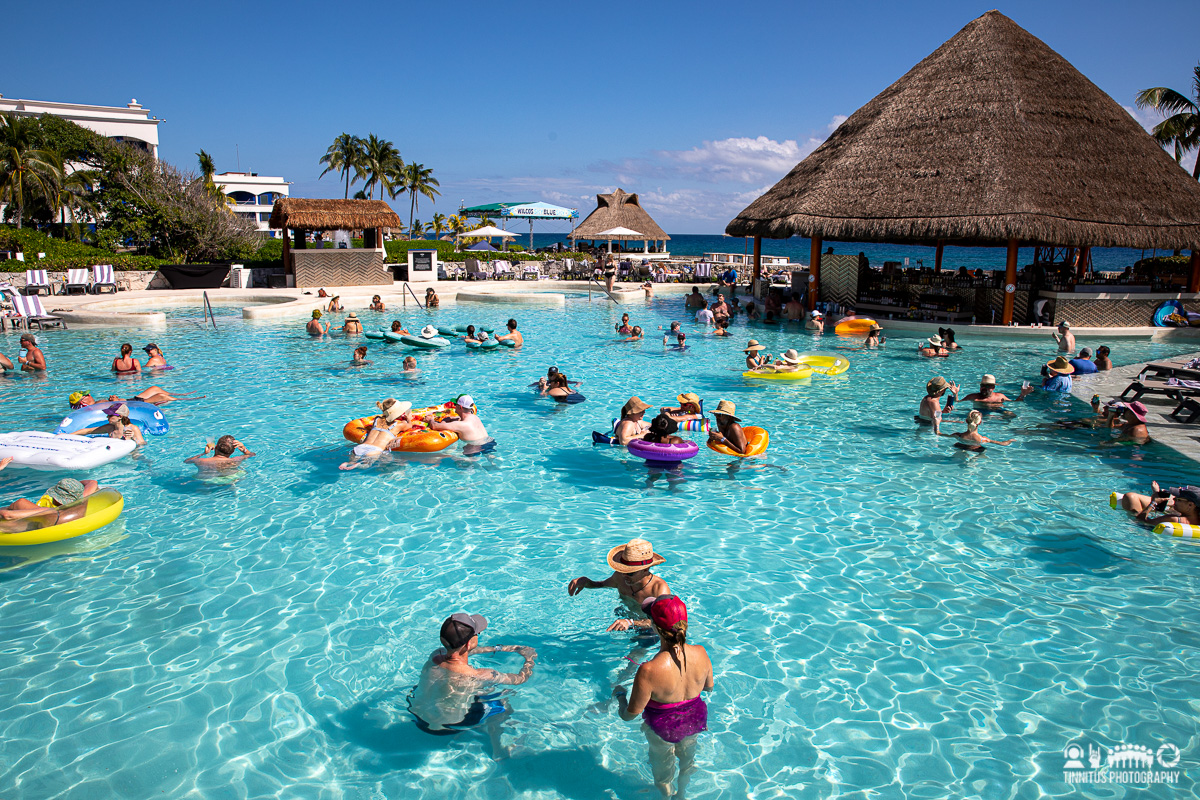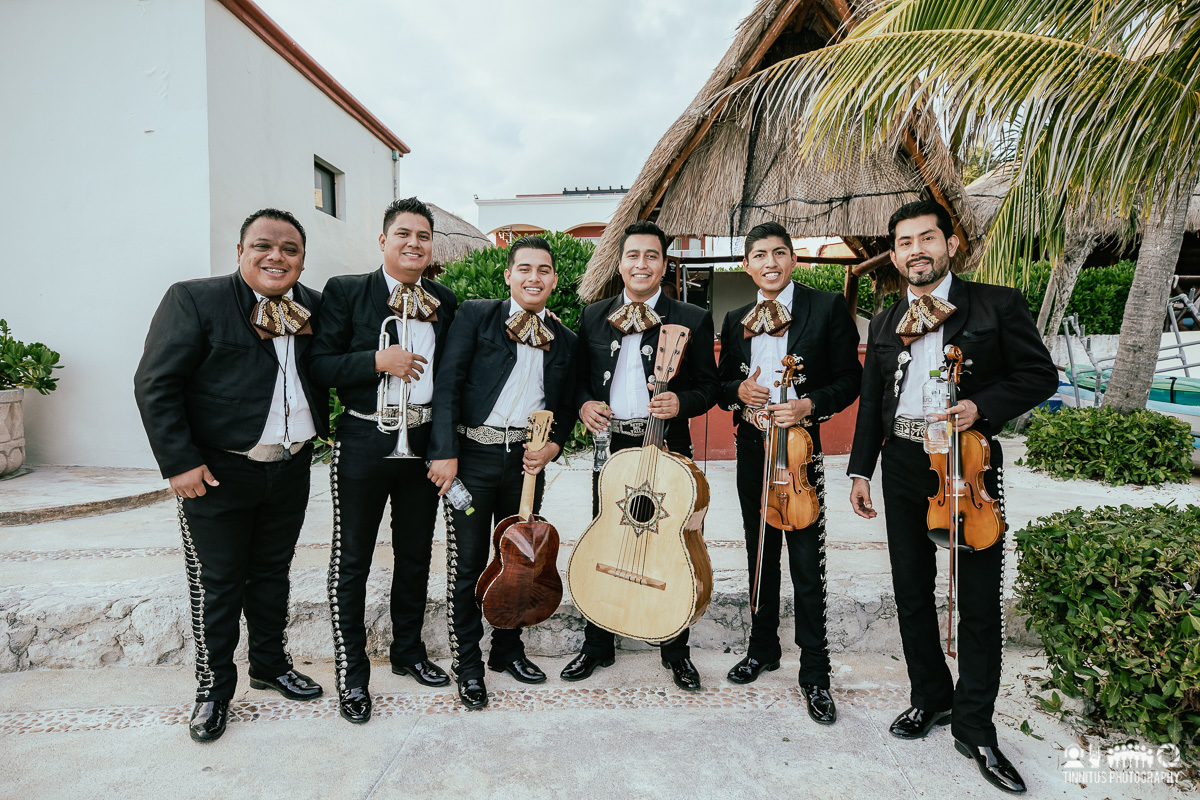 Pre-vaccine rollout, it was no surprise that the 2021 event was canceled, but when tickets went on sale in May of last year, the vaccination rate was increasing, the infection and hospitalization rates decreasing, and the concert industry looked like it was going to be restored to pre-COVID times. Well, viruses have a pesky way of playing guerilla warfare with humans' immune systems, and while the Delta variant upset some apple carts it was the unwelcome arrival of the much more contagious Omicron mutation that caused considerable anxiety, angst and anger as ticket holders tried to figure out what the best decision was for them and what their options were as the event loomed closer. Calls for cancellations/refunds became more vocal, and when Dead and Company canceled their event scheduled just a few days before Sky Blue Sky, eyes were on the Quintana Roo color-coded restriction updates for the area. Later that same night, Jeff Tweedy addressed his thoughts via the live instagram Tweedy Show that was one of the sole bright spots of the pandemic. It appeared as though the show would go on, to very mixed emotions.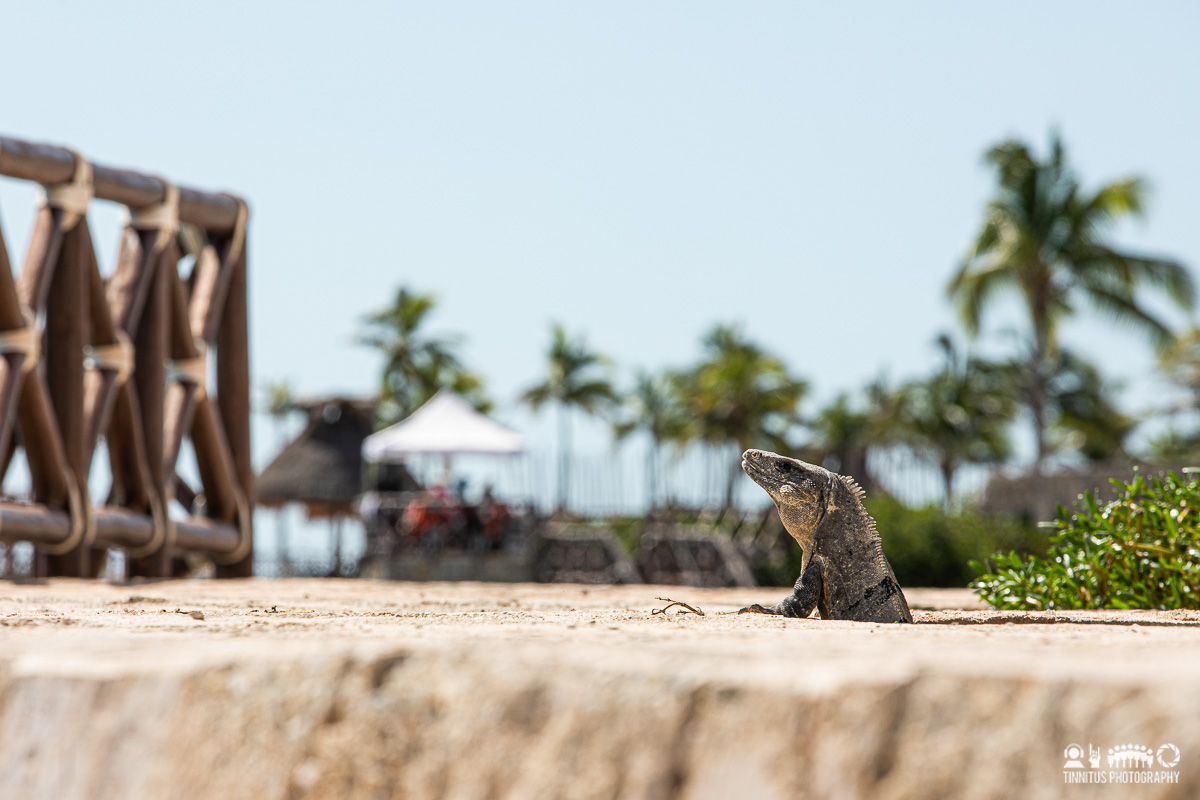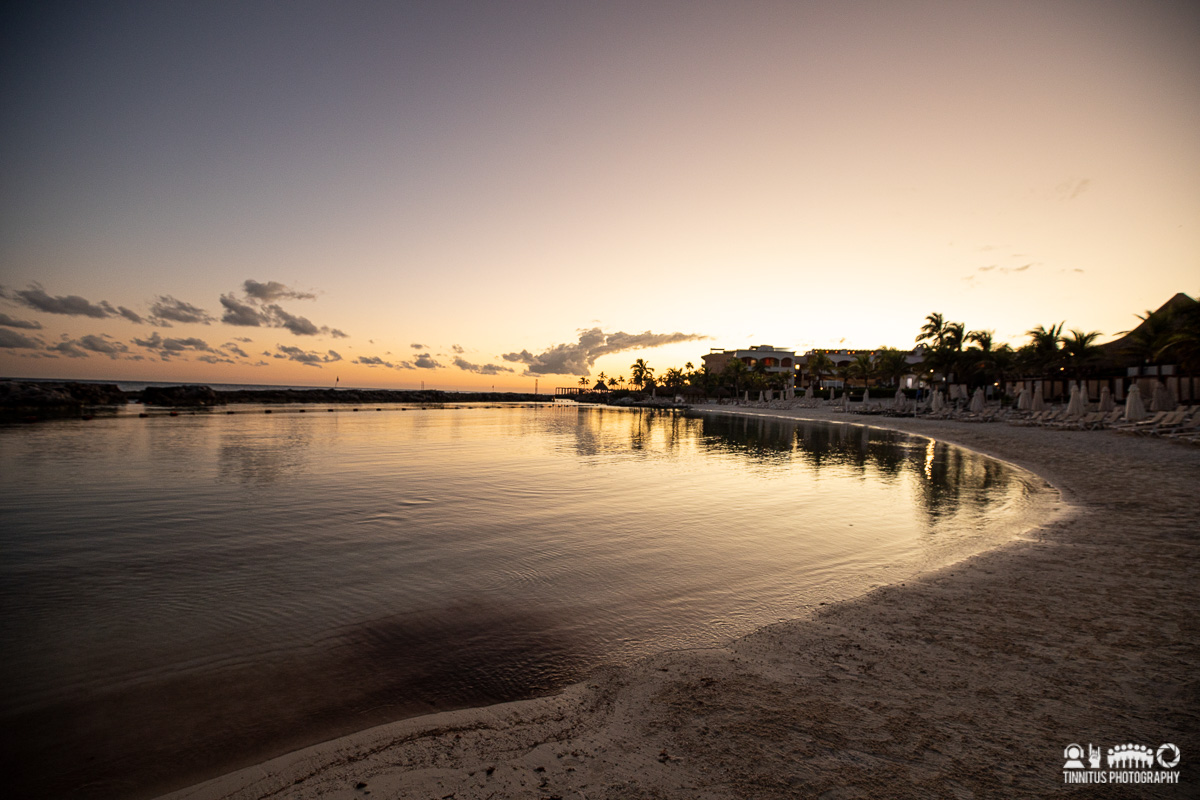 Adding to the ever-changing situation were some late changes to the lineup; Waxahatchee and Mountain Man were out, replaced by Soccer Mommy and Ohmme and guitar maestro Julian Lage wouldn't be making the trip, leaving Nels Cline to swap the planned duet to a solo improv set. One last change came to light when Wilco sound checked the day before the festival started; people noticed the absence of keyboard player Mikael Jorgensen and Tweedy explained that Mikael was doing fine but that he tested positive just before the trip and was recovering at home. If you can say one thing about COVID, it's an entropy generator (Robert Pollard, feel free to use that as a song title).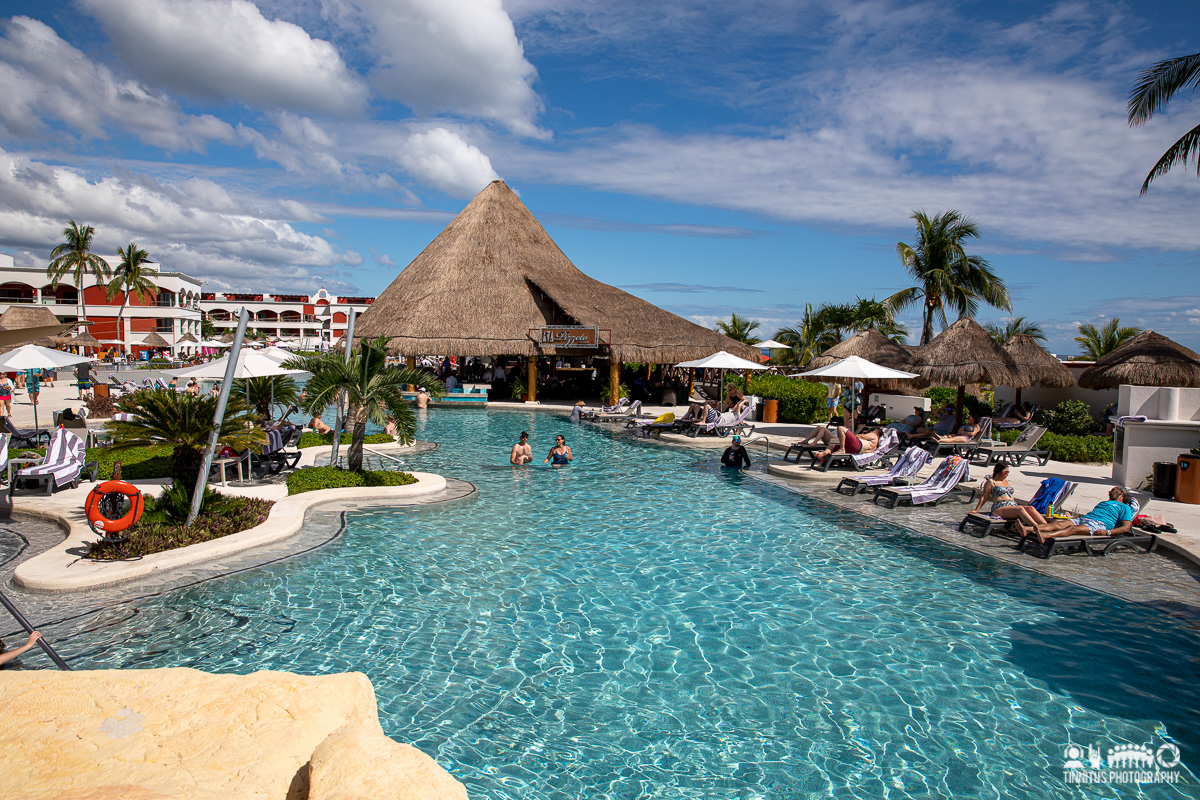 So, now that that particularly large cloud of dust seemingly had settled, how did the event actually turn out? To my eye, it appeared as though it was about the same attendance as in 2020; no doubt there was a sizeable minority of people who either couldn't or didn't want to attend. Getting sick was one fear, but an enforced quarantine if you tested positive prior to leaving the fest and getting on a plane back home was another valid concern and turning a five day sojourn into a two week stay just wasn't either desirable or literally possible, so some didn't risk it. As before, all the performances were held outdoors, the optional day excursions were canceled, and some changes were also made to minimize or eliminate indoor activities. The mezcal tasting hosted by Cline and John Stirratt was moved outside, the Positive Legacy charity auction was a silent one held outdoors, and many opted to wear masks outside, especially at the more crowded shows on the main stage. Since food was available outside pretty much all day and night long, one didn't need to enter a building that was not their room if they didn't want to, aside from checking in.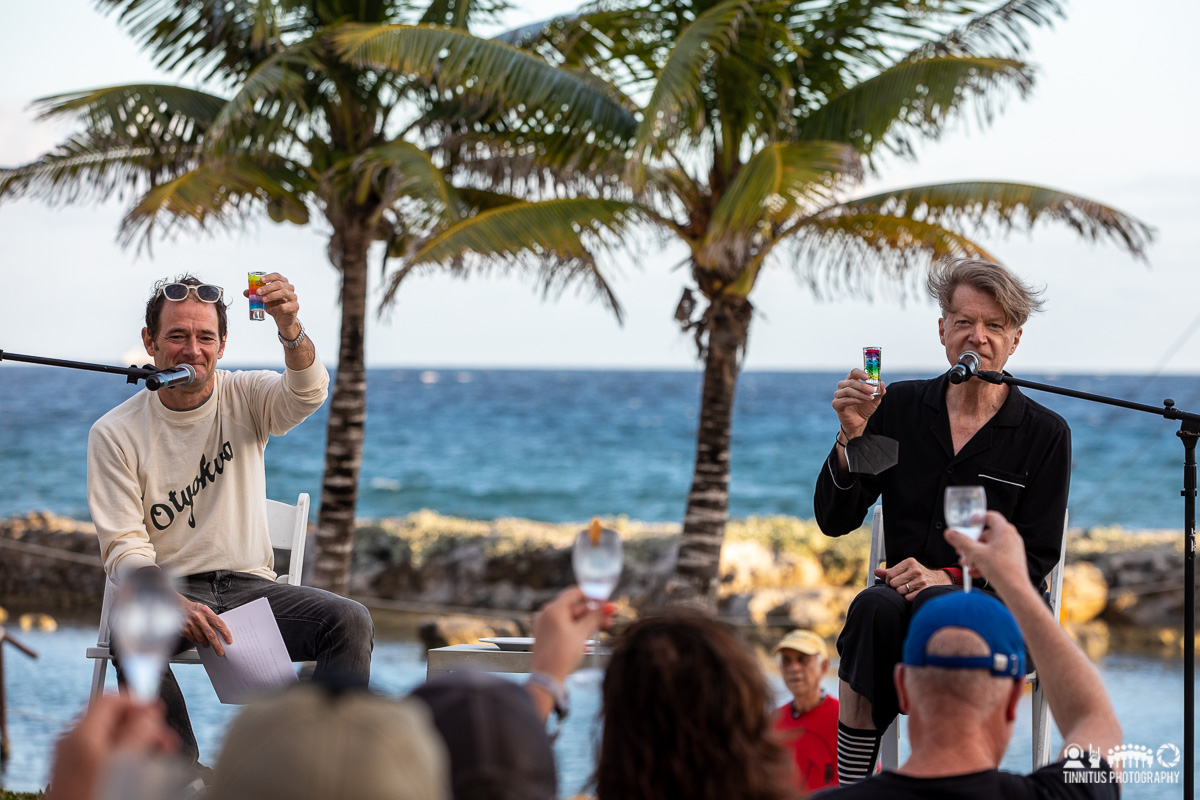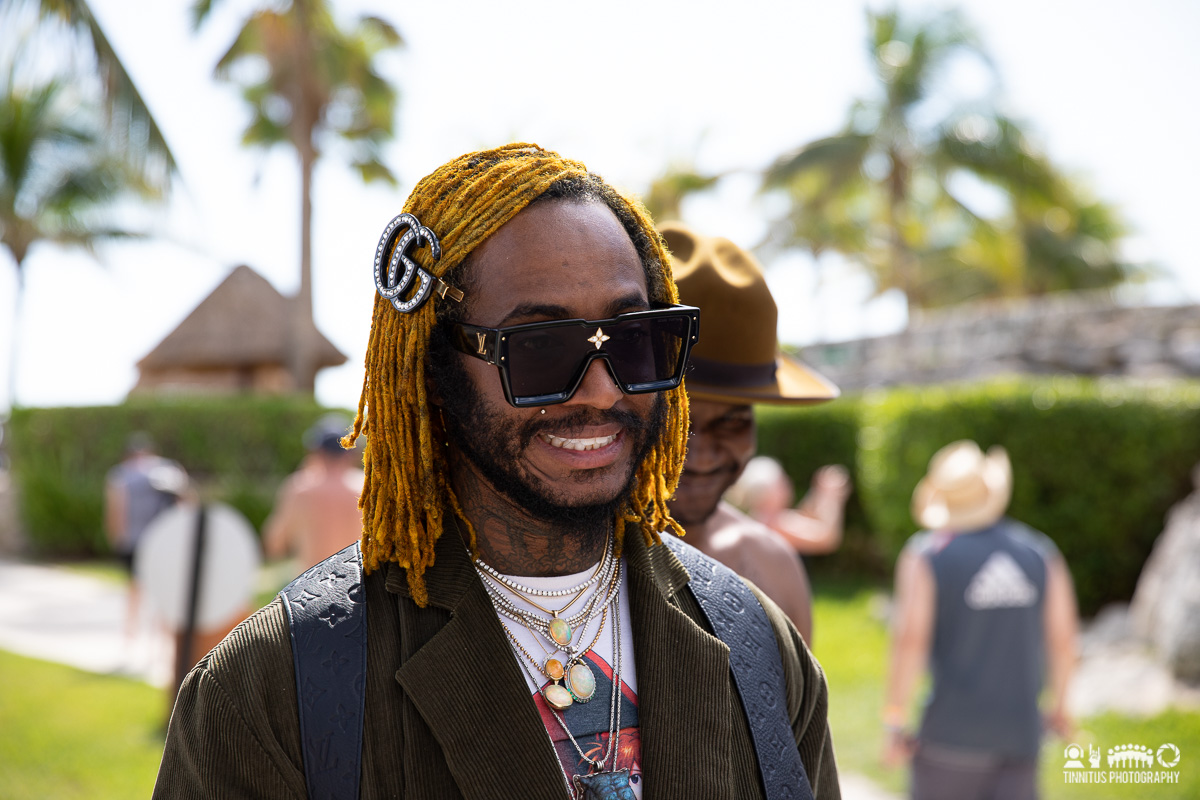 Before the music kicked off, there was some sort of ceremony with smoke and anointing and Wilco (sans Mikael) kicked it off with a toast before Soccer Mommy took the stage. At first I was wondering why the band needed three guitarists; this wasn't Skynyrd or BÖC. But when Rodrigo Avendano swapped from his keyboard to sling a guitar over his shoulders, the sound really came alive especially on the most well-known songs at the end of the set, "Yellow Is The Color Of Her Eyes" and "Your Dog" which features an insanely catchy bassline from Nick Widener. Overall, not a bad start but not a "did you just see what I saw?" moment either.
Appropriately enough, "Monday" was the lead-off song that Wilco chose, and immediately the energy level spiked (sorry, can I still use that word in a positive manner?). The absence of Jorgensen was filled by the creation of "Young Jorgenstein" as Tweedy named them, the trio of Sima Cunningham and Macie Stewart of Ohmme and Liam Kazar who is Sima's brother and also plays bass in Tweedy Band. They took turns with keyboards, vocals and Stewart lent her violin on some songs, including set highlight "Laminated Cat," where the band just took off into the stratosphere; heavy mid-70s CBGB vibes were happening, as if Verlaine and Lloyd had taken human hosts (I know they are still alive but keep with me here). The other energy peak is nearly always assured when "Spiders (Kidsmoke)" makes an appearance, and hearing the relatively rare "Side With The Seeds" is never a bad thing. A short two song encore of "The Late Greats" and "I'm A Wheel" were nice, leaving the crowd hungry for more but knowing that there was a lot of the Sky Blue Sky buffet still to come.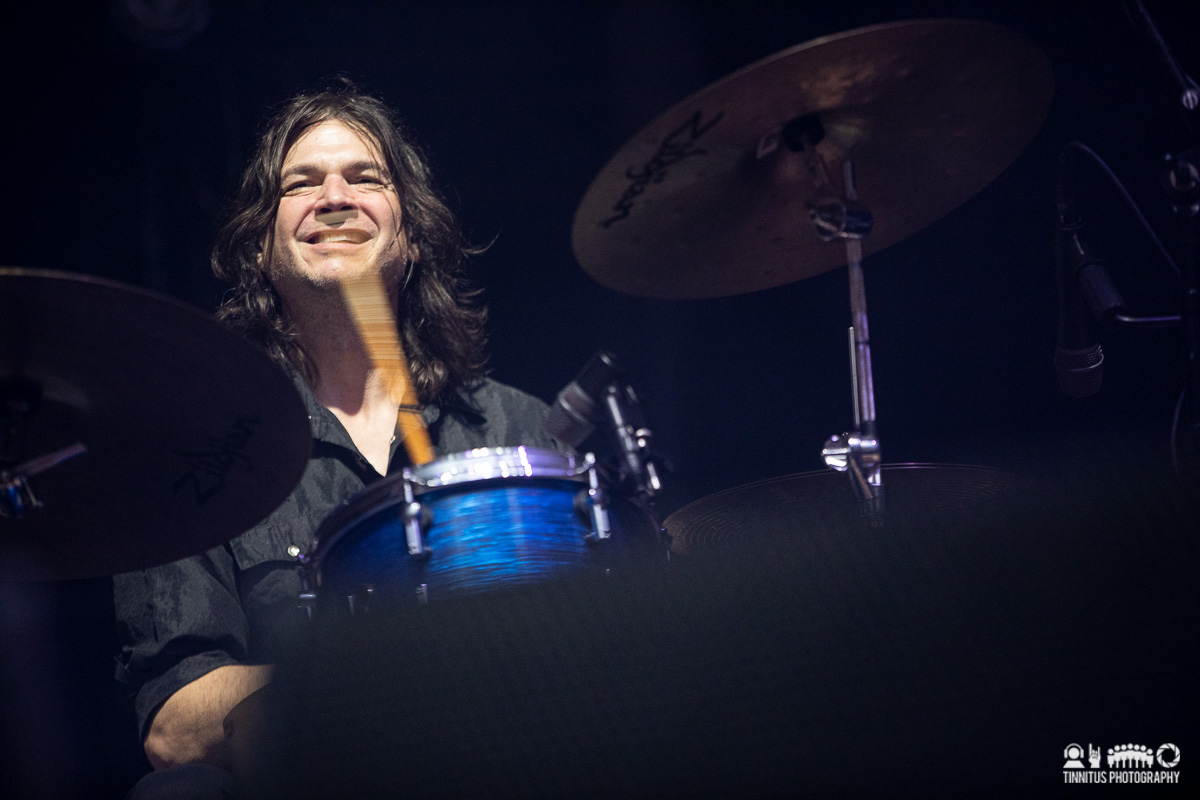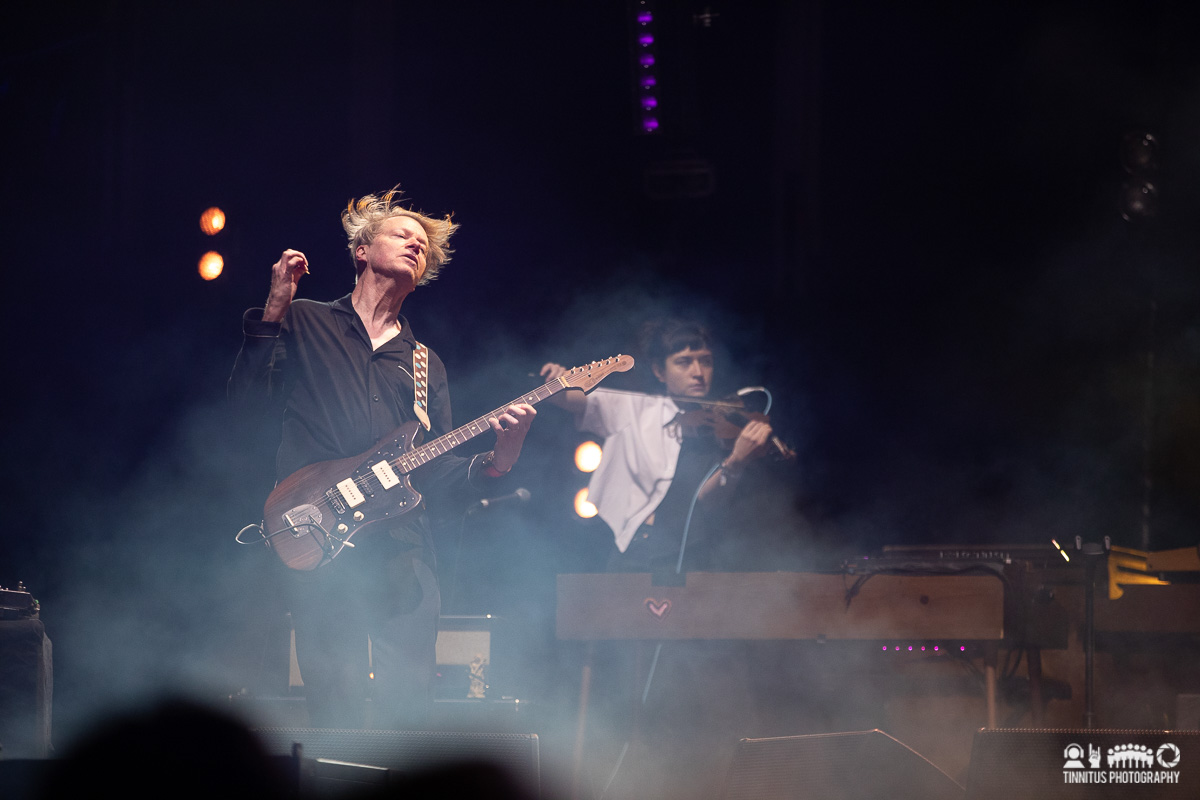 For those still with some gas in the tank, moseying over a few hundred yards to the Heaven courtyard stage to catch Neal Francis' late night set was a fantastic idea. Seated behind a Fender Rhodes and looking like he just stepped off the set of Almost Famous, Francis and his crack band successfully channeled the southern soul and funk boogie of prime Leon Russell and really rocked the place.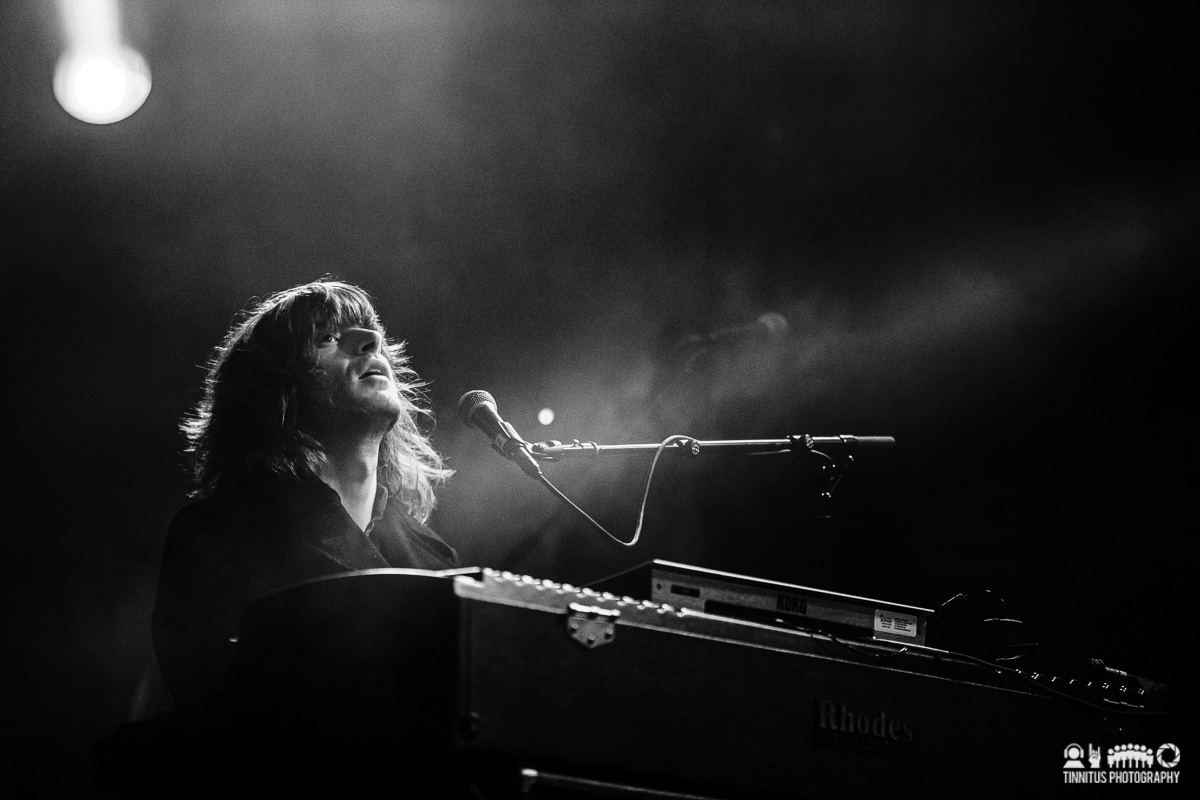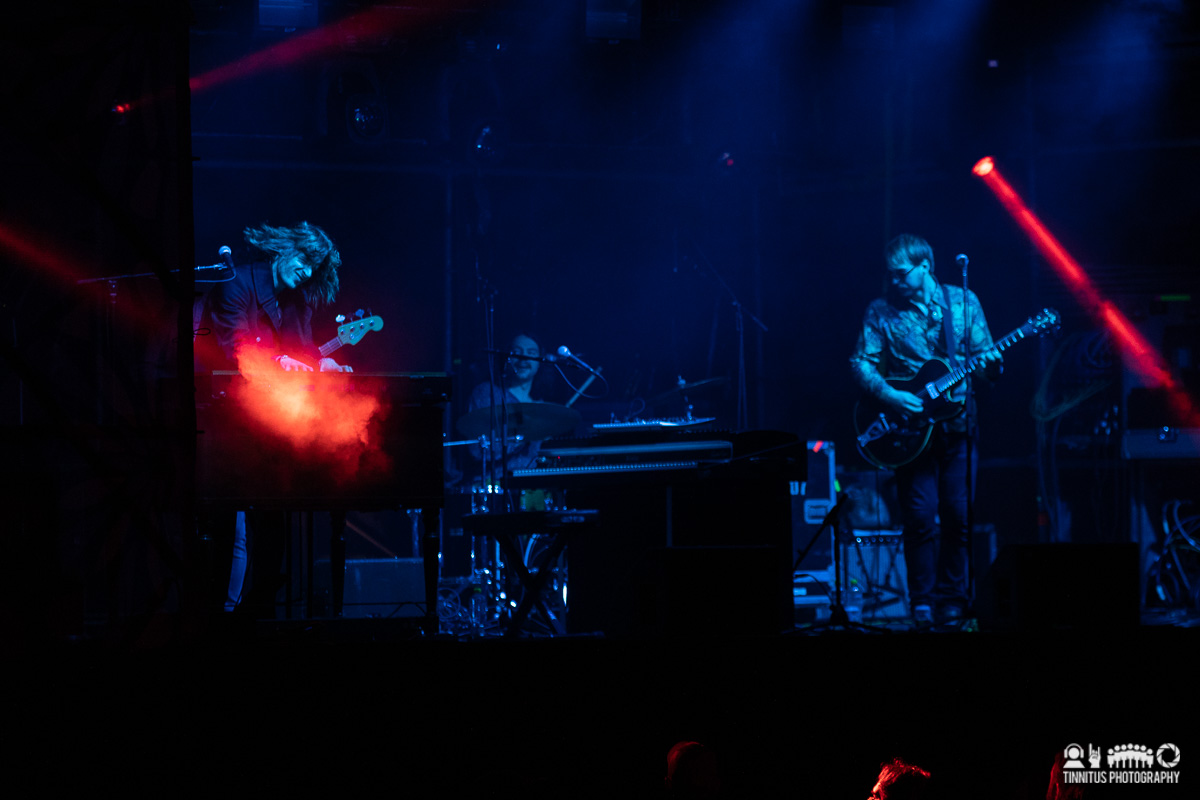 The Heaven stage had other compelling performances too, and they all weren't after midnight. Tank and the Bangas ran a workshop on the songwriting process before putting an end to the festival with an emphatic dance party that closed out the fourth day; skillfully matching a brash New Orleans swagger with some tight rapping or sweet soul singing, Tank and her band was the perfect capper to an incredible weekend. After the ragingly good Spoon set, Britt Daniel changed into some clean clothes, let the brief rain shower pass by and got the crowd moving by playing some choice tracks from The Stones, The Clash, Prince, The Cure, Eric B and Rakim and others.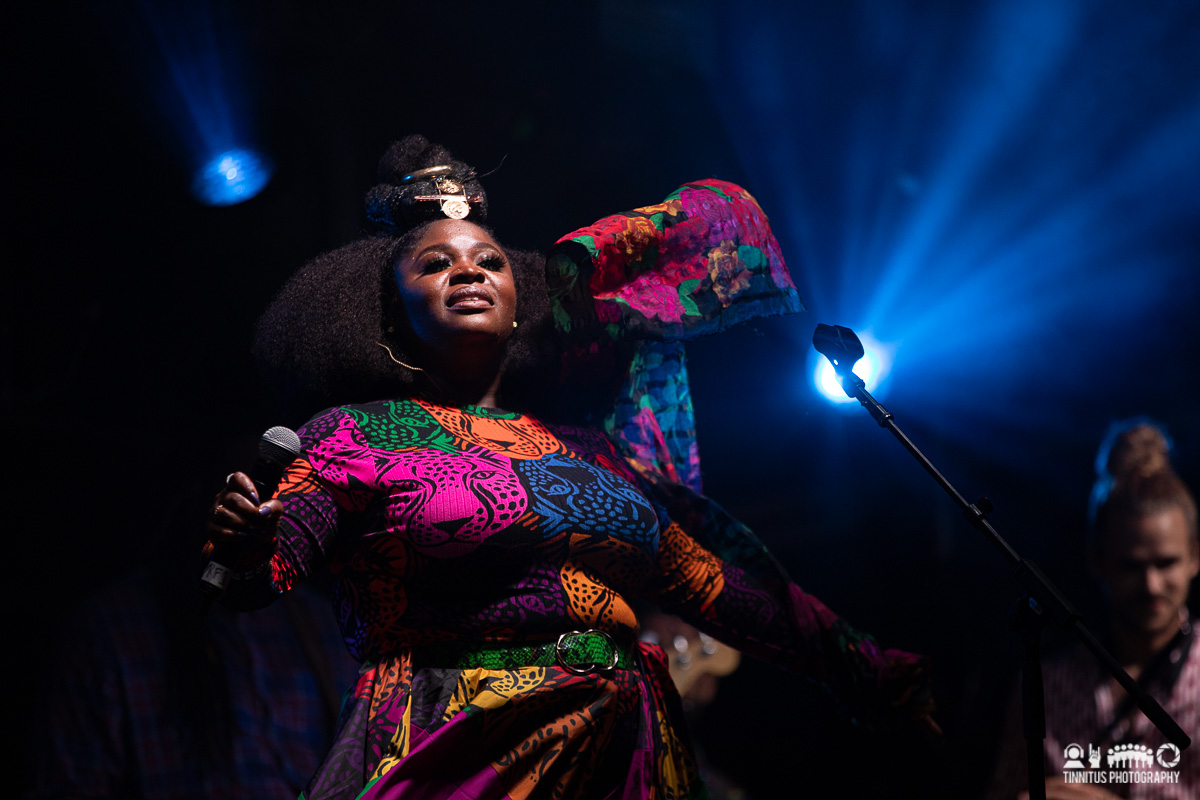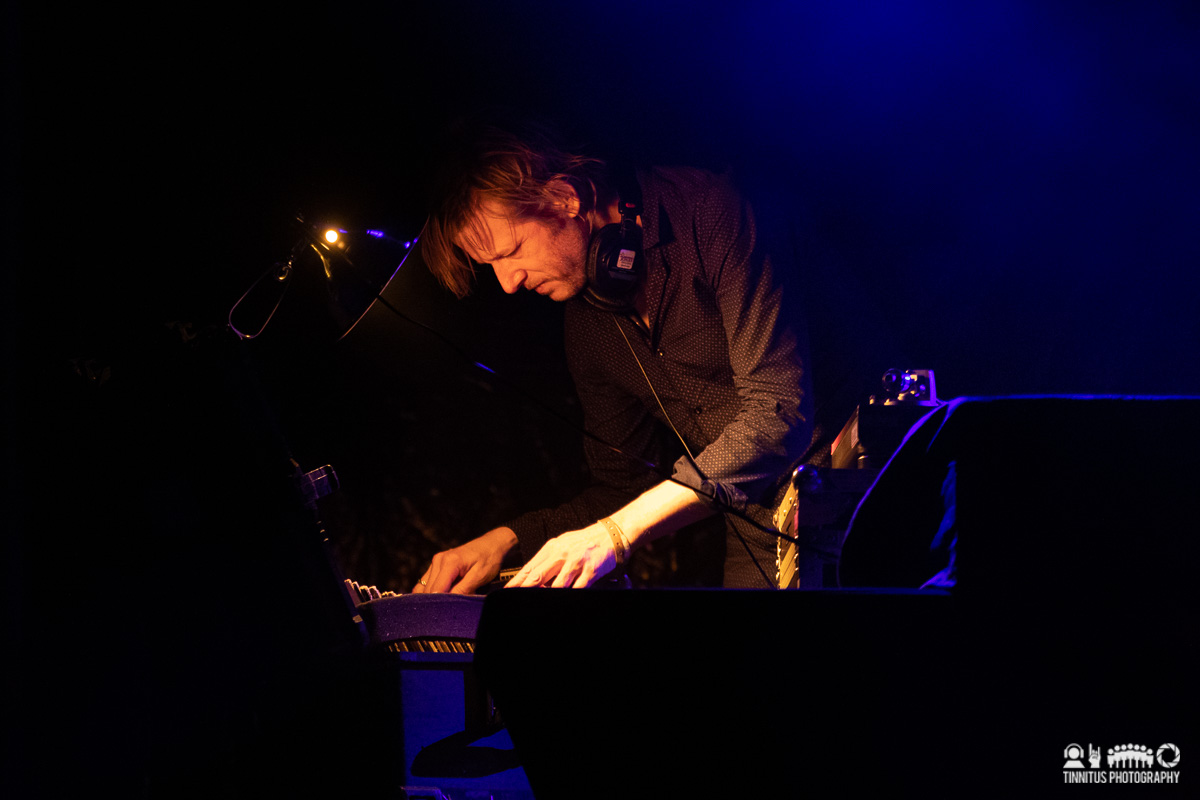 Nels took some questions and responded with some thoughtful answers during his workshop on improvisation; I asked who some of the guitarists who made him wonder how they did what they did and he talked about his partner Lage, Ed Rodríguez and John Dieterich of Deerhoof, and Mary Halvorsen before stopping himself and saying he could spend the rest of his timeslot talking about his favorite guitarists. A few hours later he performed as a solo artist, coaxing all kinds of sounds, textures and sonic ghosts from the battle-worn Jazzmaster he bought from Mike Watt years ago. Two nights before, Londoner Nubya Garcia closed out the night with deftly played saxophone that was joyous and uplifting. Adventurous music fans can find her along with scores of other intrepid sonic explorers at the excellent Big Ears fest in Knoxville later this year.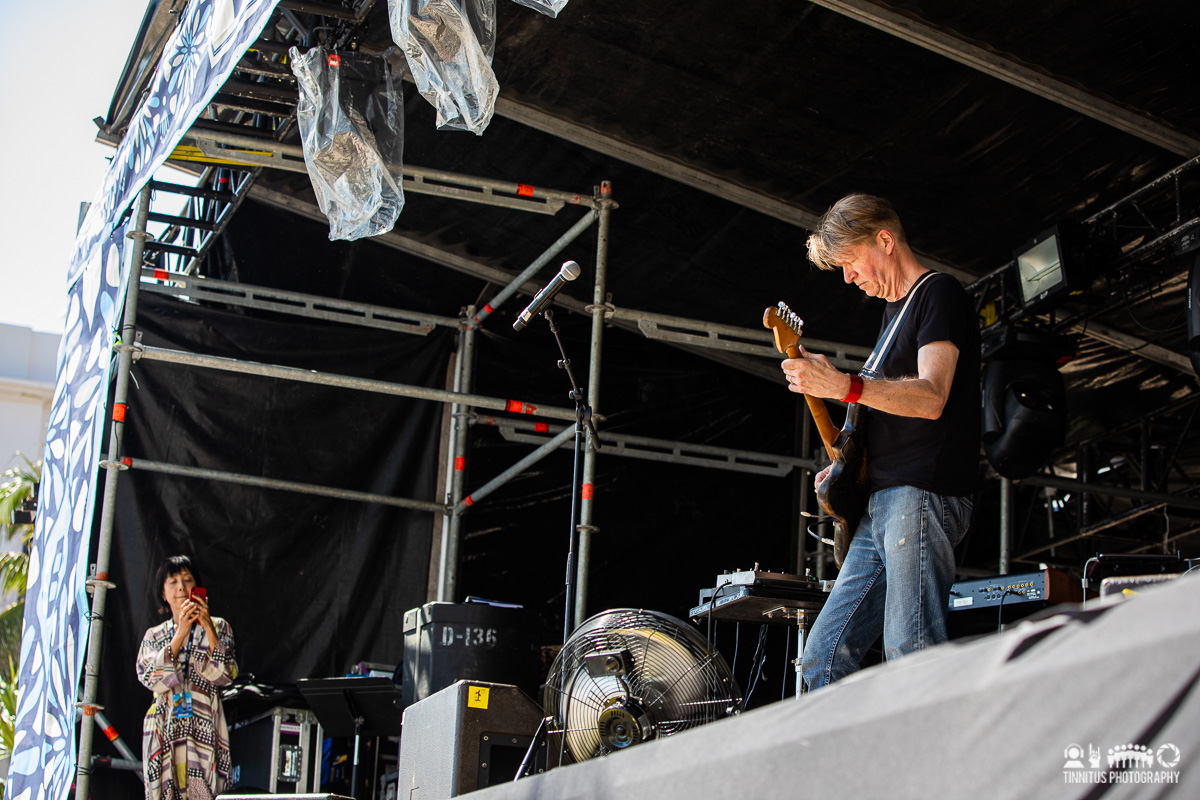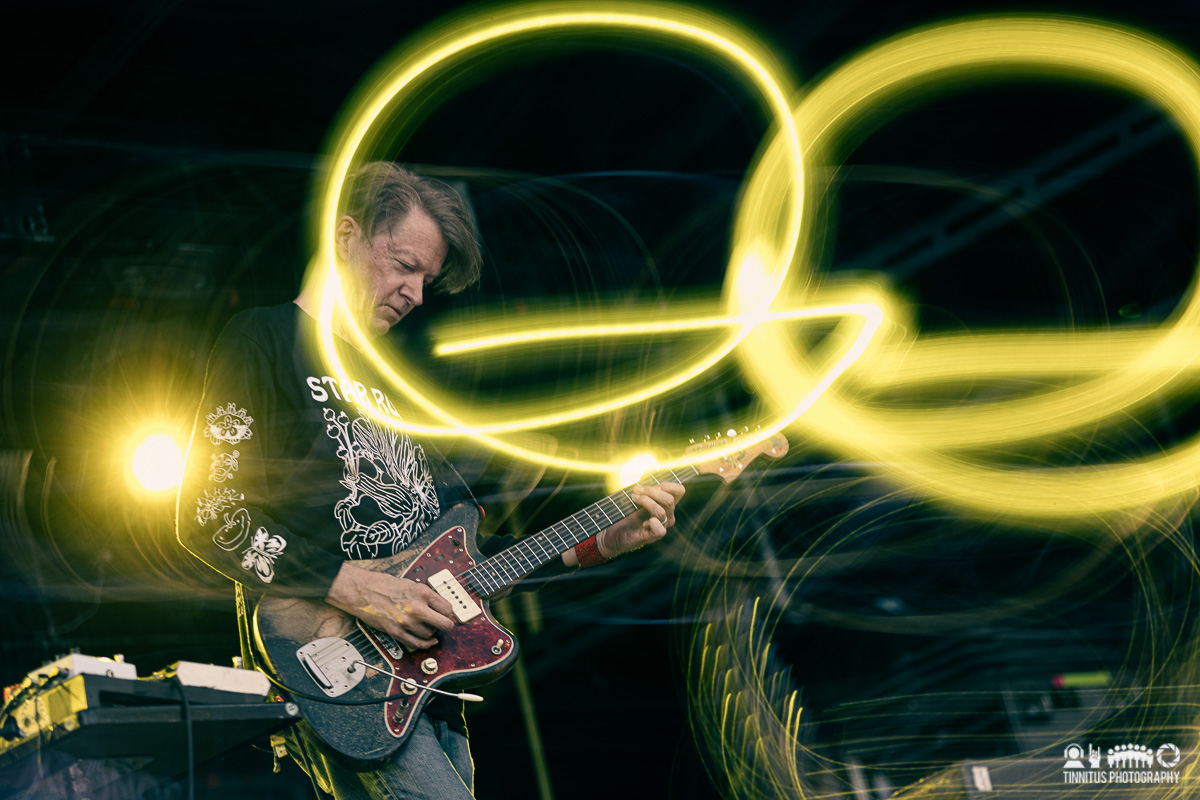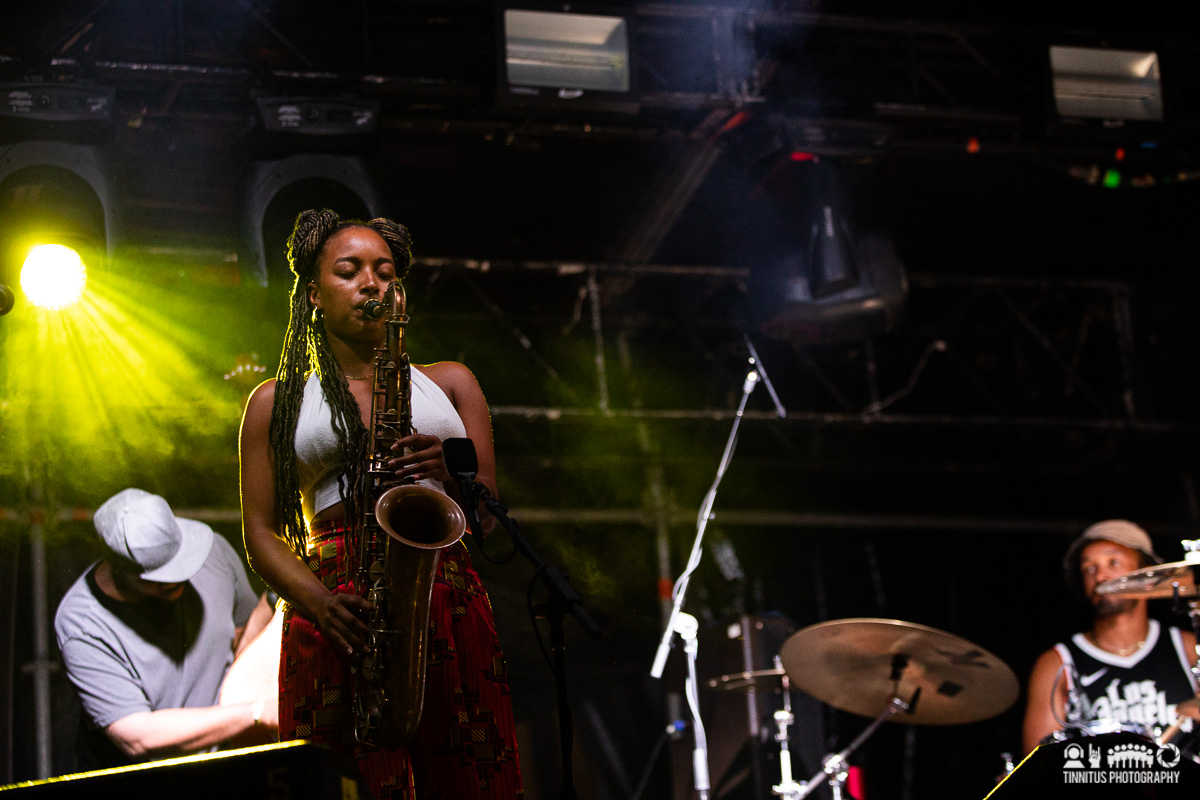 On the only night that Wilco the band took off, it's not like they weren't still busy. Before Nels and John were discussing the finer points of the mezcal they were sampling, Jeff and his band played over at the Beach Stage, a gorgeous location where you could stand on the sand or in the water or sit all the way back in a covered gazebo, a setting affording everyone good sight and audio lines. He joked that most of the songs (some focusing on loss in the wake of his father's passing) were written with a sunny beach setting in mind. It was a laidback, family affair with Spencer on drums, his wife Susie live-streaming the performance over at the VIP cabana section, and Sammy lending backing vocals before talking the lead on "Helpless." "Sammy wrote that song" quipped Jeff before exclaiming just how lucky he is to be making and playing music with his kids. The funniest bit came when a squadron of pelicans in formation came flying over the stage. Jeff heard the crowd's reaction and then craned his head to see what was overhead. As "I Know What It's Like" ended, he joked that they'd been training them all week and they were supposed to fly over at the end of the song, not during it. It would have super appropriate had they waited two songs later, when the band played "Some Birds." The great Mavis Staples came over from side stage at the end to sing "Friendship" with the band, a song her dad wrote and sang and that Jeff assembled for the posthumous Don't Lose This release from 2015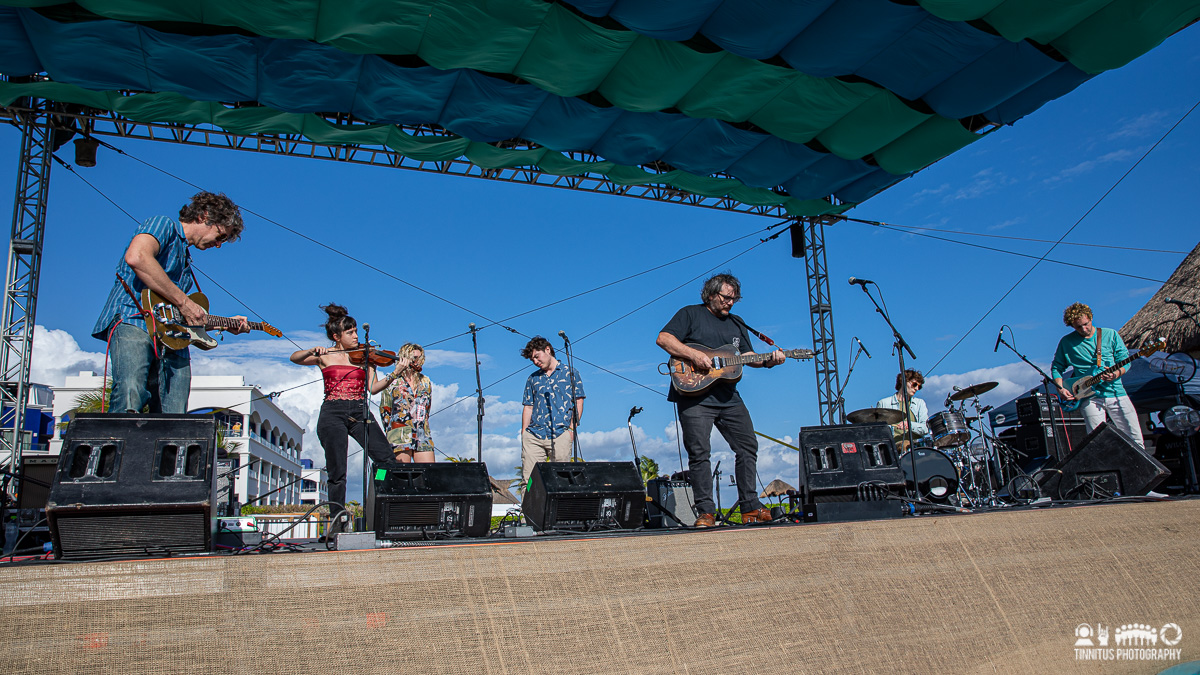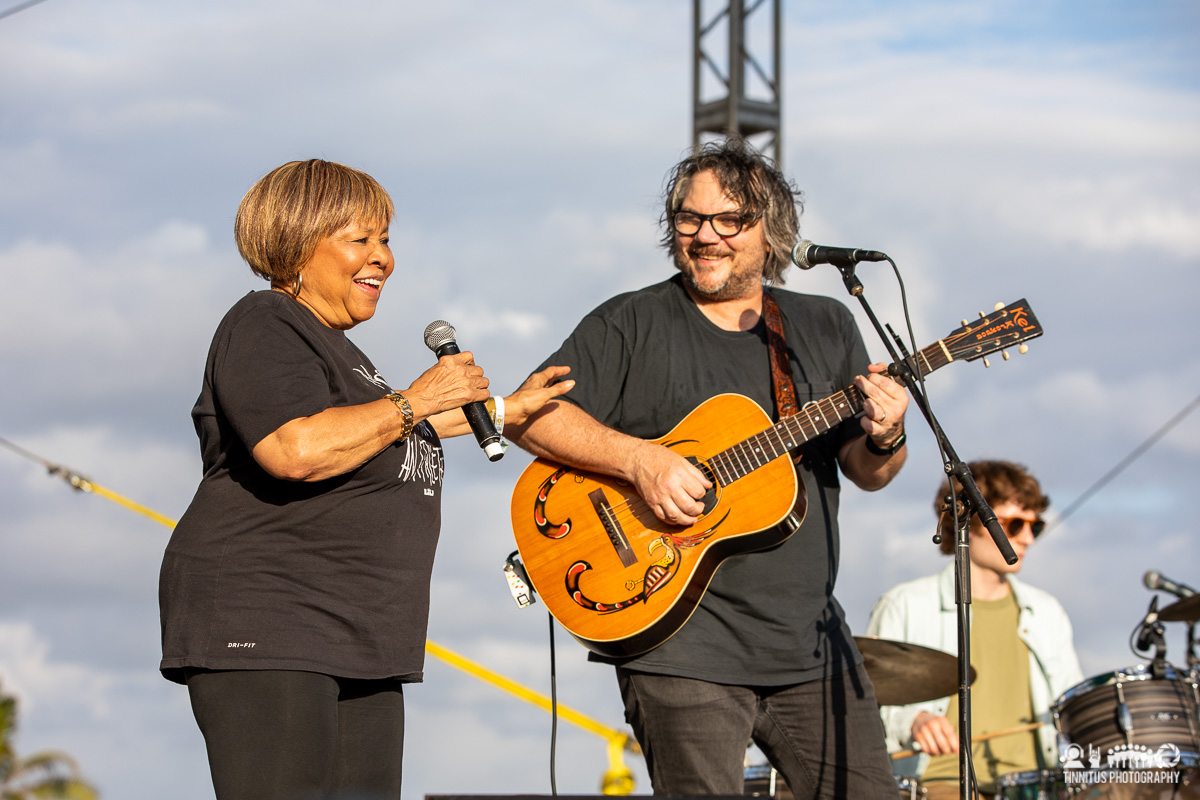 That set marked the second time Macie, Sima and Spencer were on the Beach Stage as they christened it on Tuesday afternoon, just in time for the sun to break free of the cloud cover (insert foreshadowing here). Ohmme were a nice splash of acid or hot pepper to the savory soup that was Sky Blue Sky, a jolting jumble of spiky post-punk chords and clever call-and-response vocals that propelled the songs. Fans of The Slits of Gang Of Four would be wise to check out their records, and Kate Bush fans were delighted by their excellent and prophetic version of "Cloudbusting."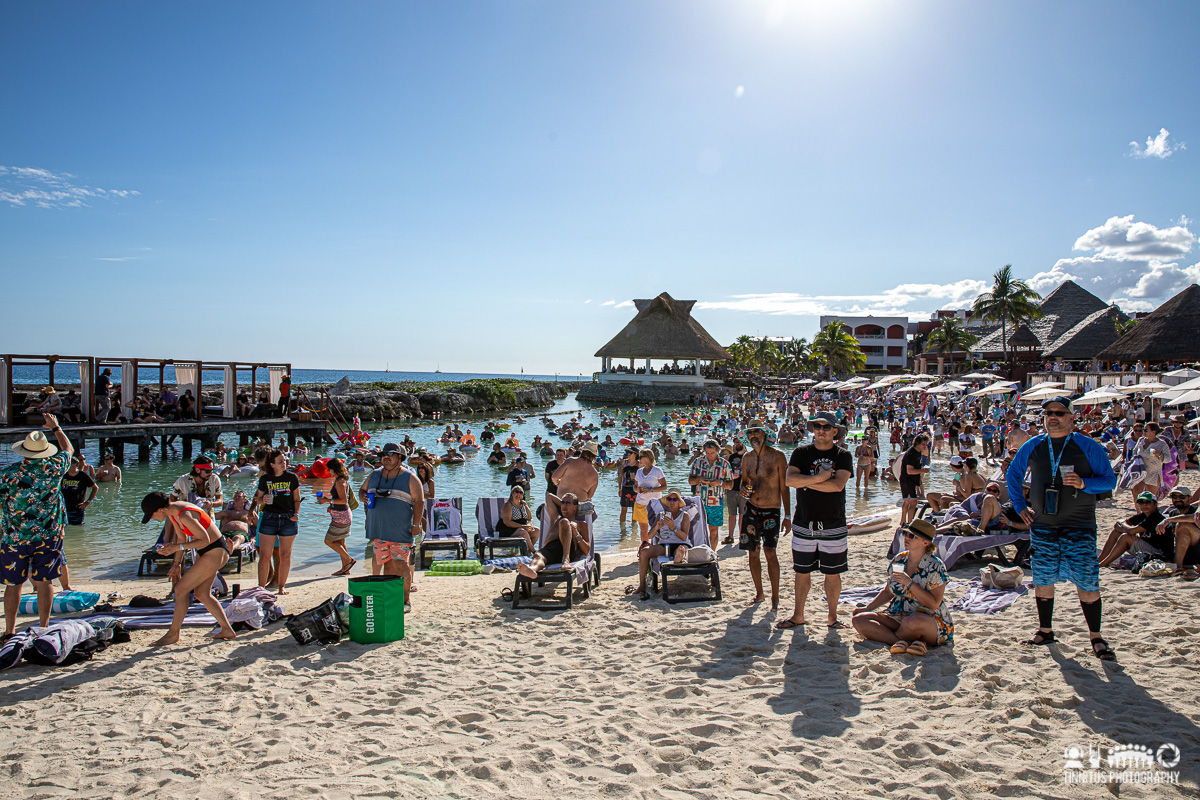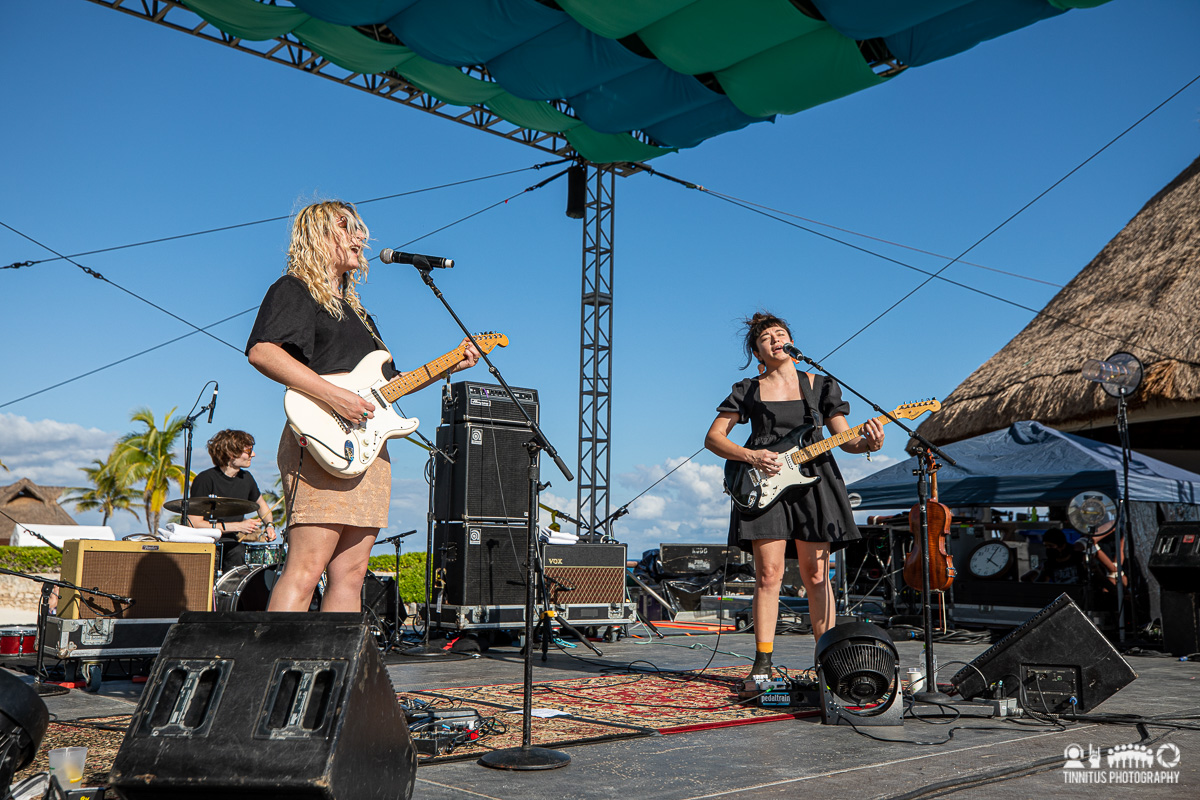 The last show on the Beach Stage featured the breezy sounds of The Autumn Defense, the project of Pat Sansone and Stirratt. The beaming sun was the perfect accompaniment to their country/rock songs and well-chosen covers. Like last event, covers of "Sentimental Lady" and "A House Is Not A Motel" made an appearance, as well Big Star's "You Can't Have Me," but it was a sublime "The Long and Winding Road" with Sansone on keyboards ("That was a song by The Beatles, you should check 'em out" quipped Sansone), the Miracle Legion cover of "Paradise" and their own "Huntington Fair" which shined as brightly as the clear Mexican sun.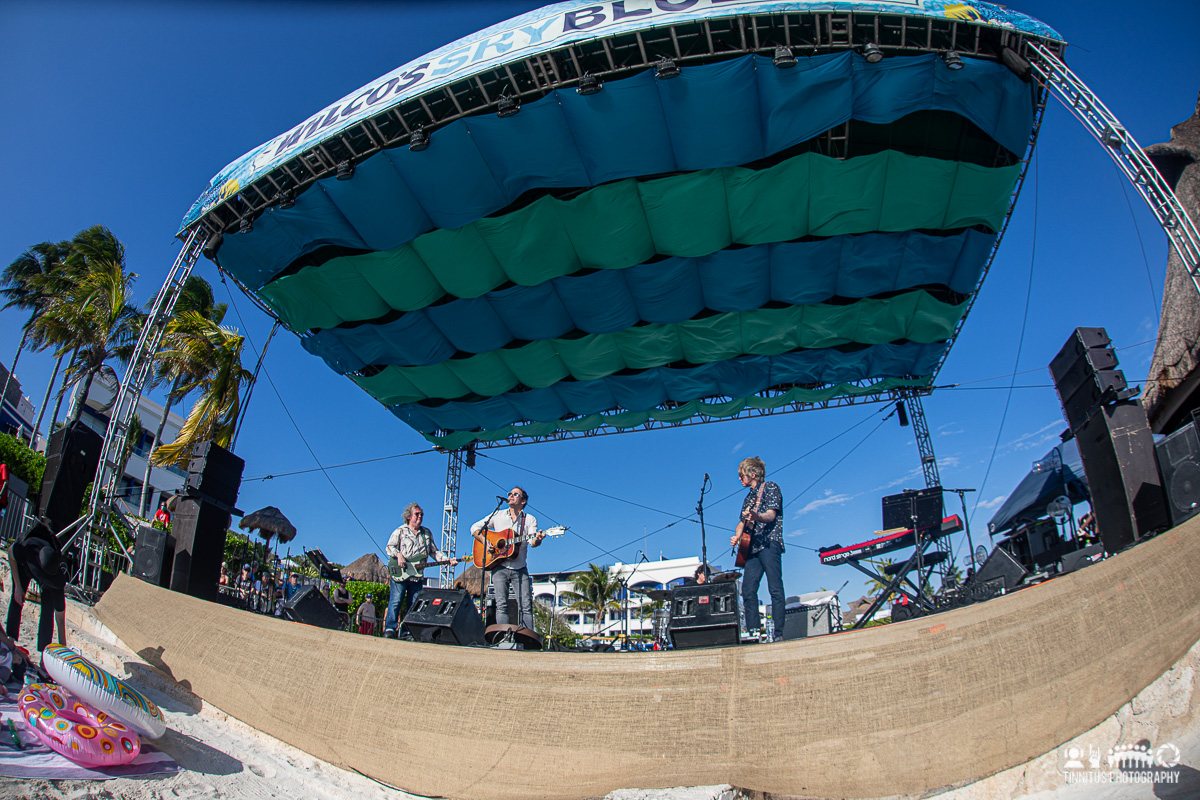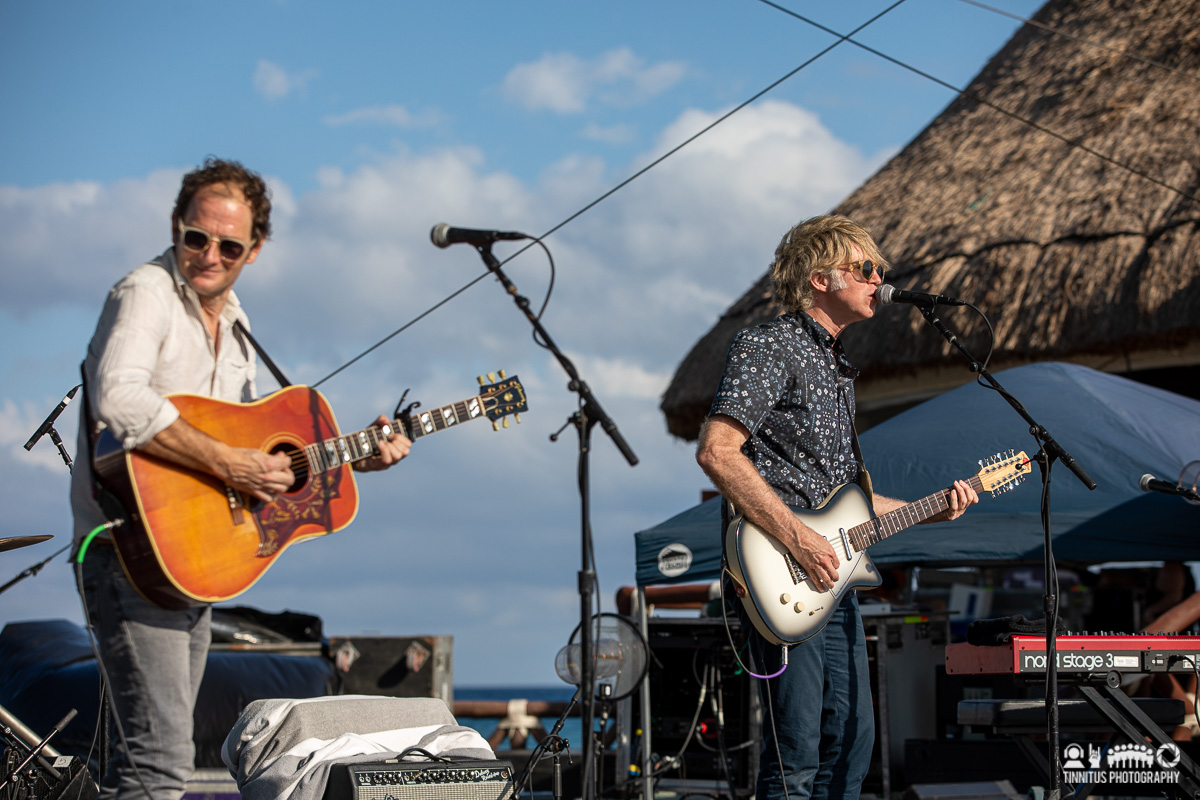 Before delving into the remaining Wilco shows, let's dissect the rest of the main stage performers. Wednesday featured Thundercat first, with Stephen Lee Bruner and his team of two on keyboards and drums putting on an incredible display of musical virtuosity. Manning the hulking six string Ibanez bass, his playing was fluid, tight and faster than a hummingbird's wingbeat. A song about his cat featured "meow meow" mewling and he spent a few bits of time with some funny banter between songs, probably to give his phalanges a much needed breather.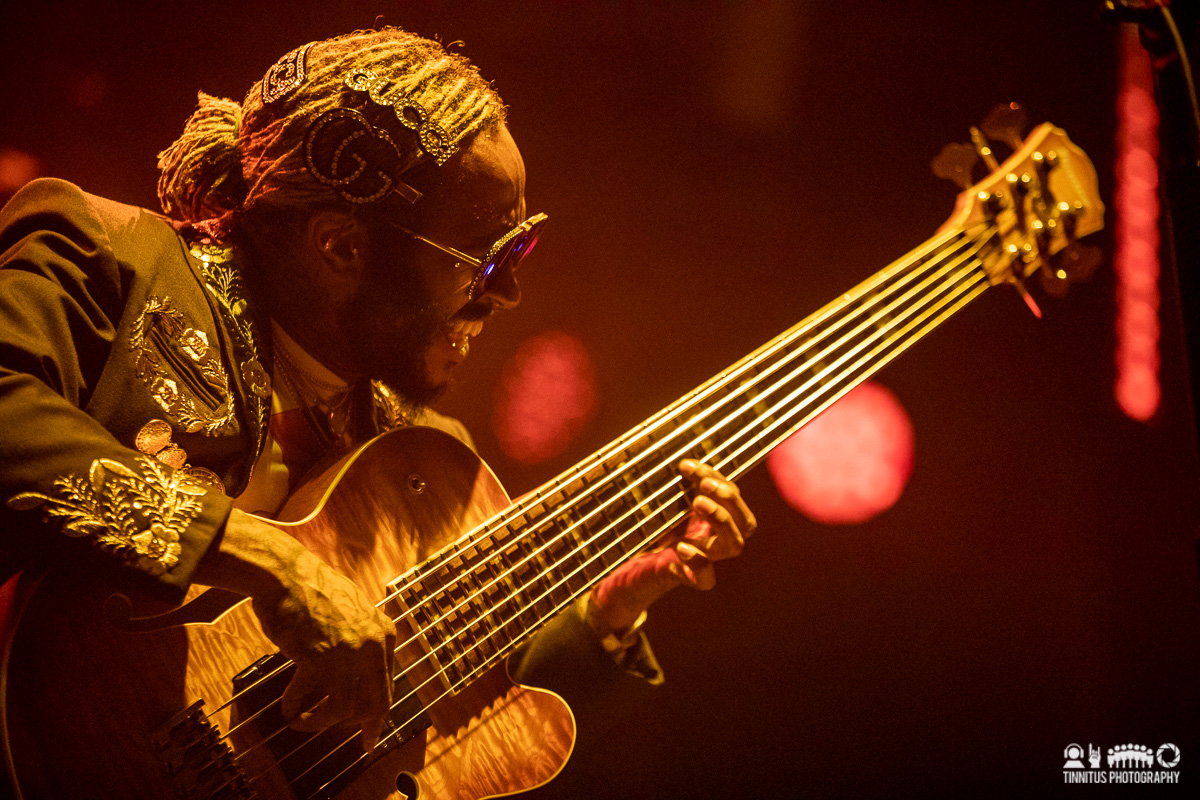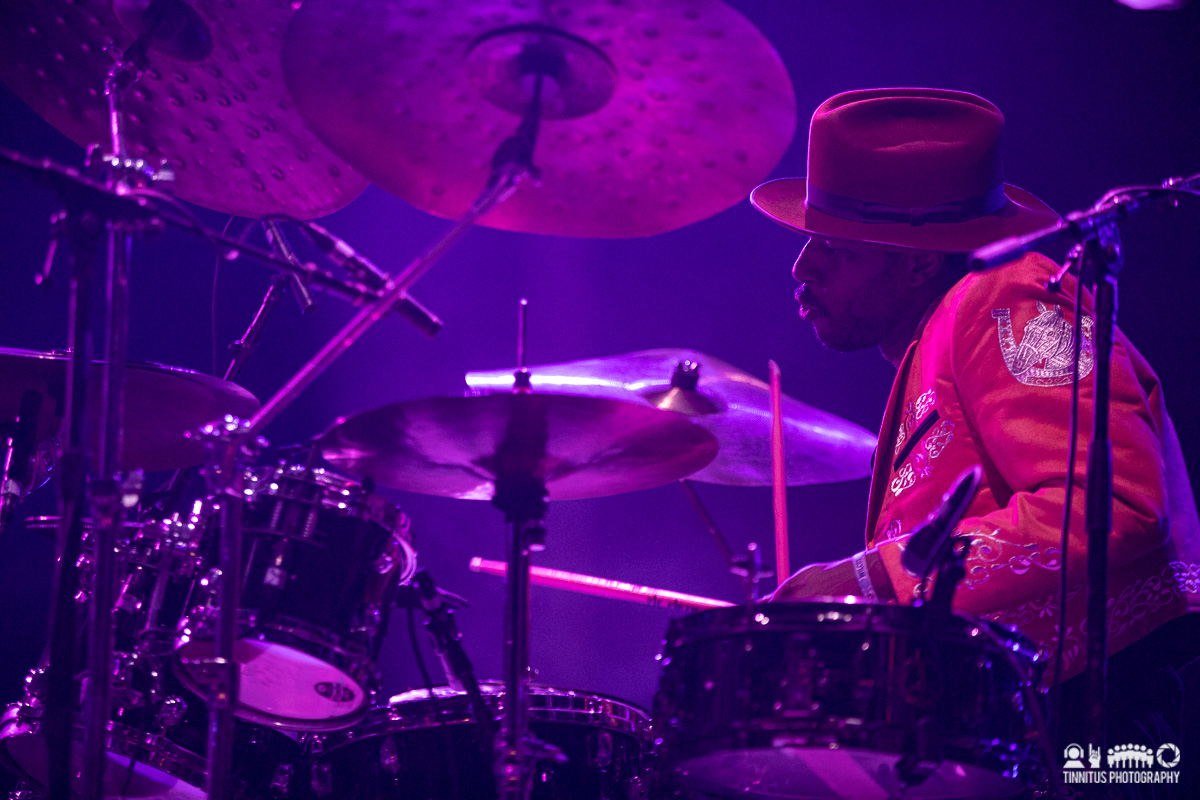 Kurt Vile and the Violators would provide support for Wilco on the final night, and it was only the second show for KV and crew since, well – you know what happened. His relaxed, slacker/goofy stage persona is in stark contrast to his guitar playing, sharp and inventive. I was particularly impressed with how he changed up the semi-epic "Waking On A Pretty Day," playing an acoustic guitar with effects and a wah-wah pedal to get some amazing tones. He's obviously been using his time spent with J Mascis wisely. "Loading Zones" and "Pretty Pimpin'" were expected and welcome, and a look backwards in his catalog came via "He's Alright," performed just with long-time sidekick Jesse Trbovich playing a Strat. The surprise of the set came early with an homage to the late and sorely missed David Berman's "Punks In The Beerlight."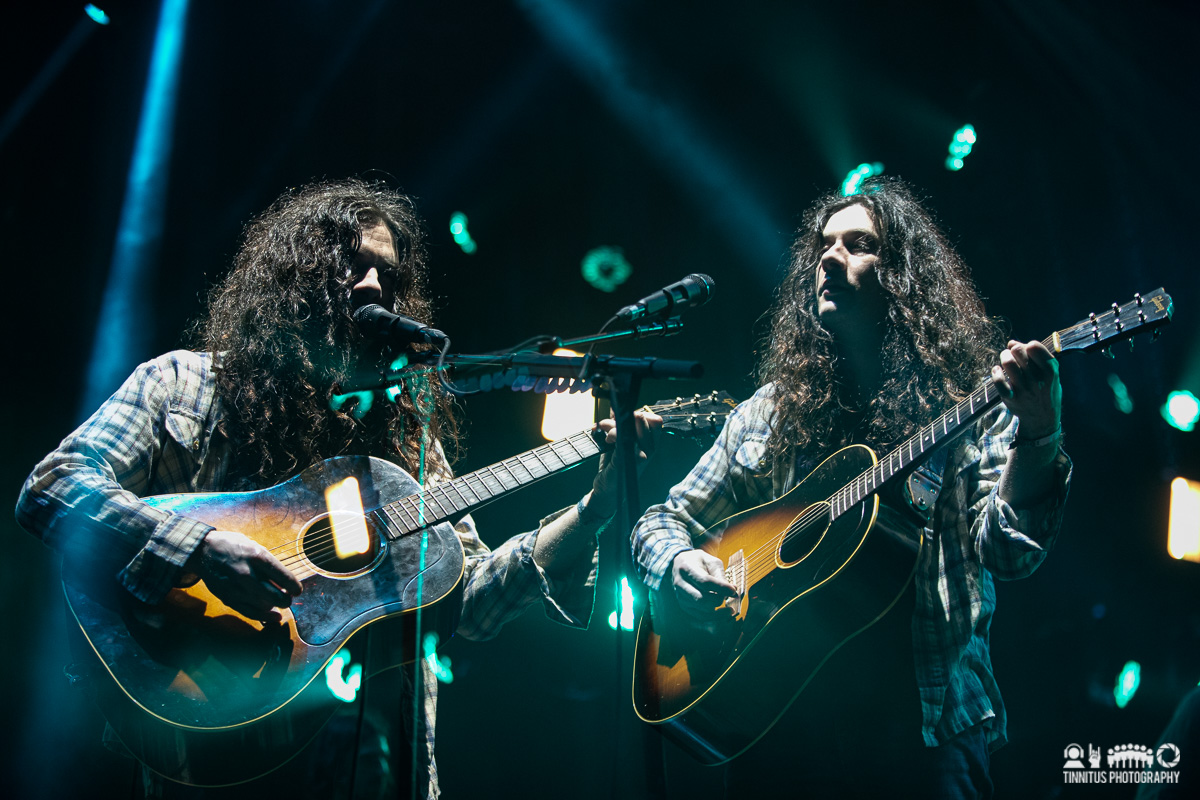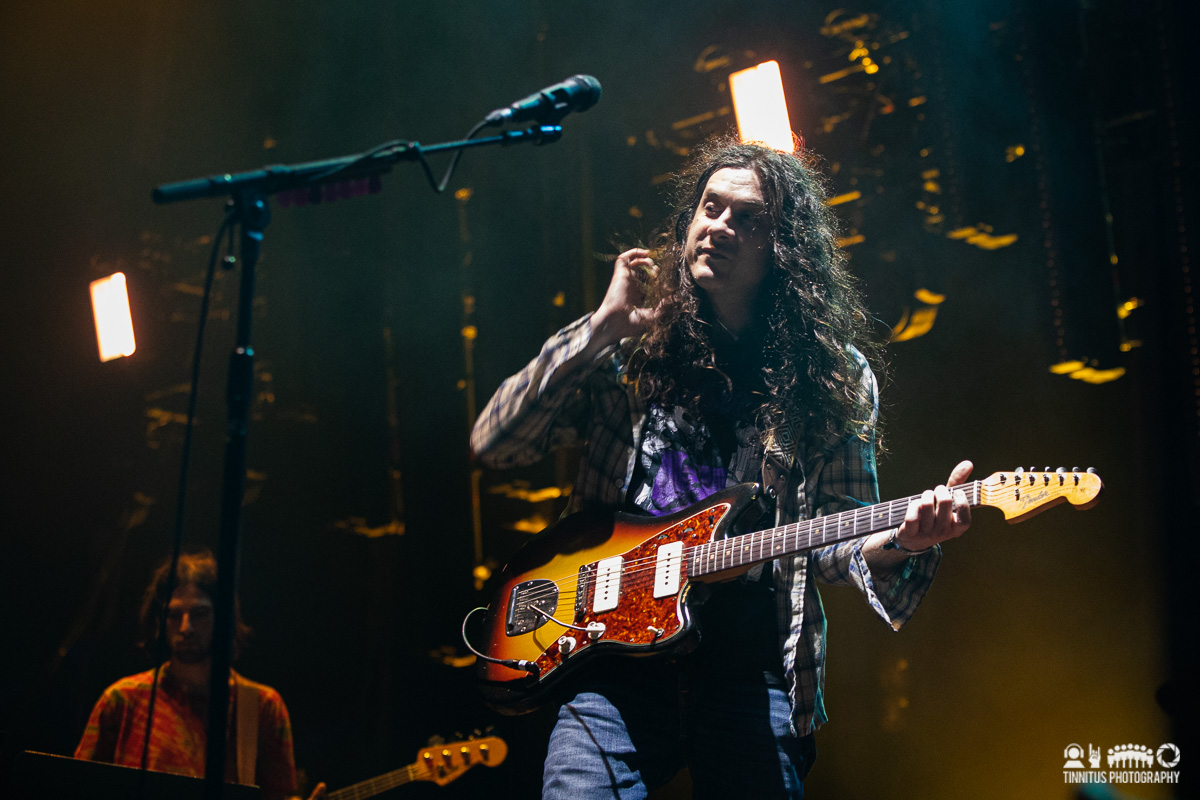 As luck would have it, another Silver Jews song was played as well, but since Stephen Malkmus was actually involved in the writing and playing of "Blue Arrangements" it wasn't as much of a surprise. Leaving the Jicks behind, aside from drummer Jake Morris, Malkmus assembled a new band that featured Chris Funk from The Decemberists and Matt Sweeney from Superwolves, Chavez etc but unfortunately was a no-show. Funk did a lot of the heavy lifting for guitar solos, and that let Steve fool around on 12 string acoustic in his inimitable style. They focused on a lot of the Traditional Techniques record which I find is a bit hit ("Shadowbanned") or miss ("The Greatest Own In Legal History") and you can tell he's been busy since the record was released as there were a handful of unreleased songs played as well. I hate to be that guy who just waits for the legacy stuff to be trotted out after the new material is done but honestly the 1-2 punch of "Father To A Sister Of Thought" and especially "1% of One" definitely were the set highlights. (Side note – the utterly shambling version of "Box Full Of Letters" as a request shout-out during sound check was a pure and hilarious Malkmus moment, where he ad-libbed about 98% of the lyrics).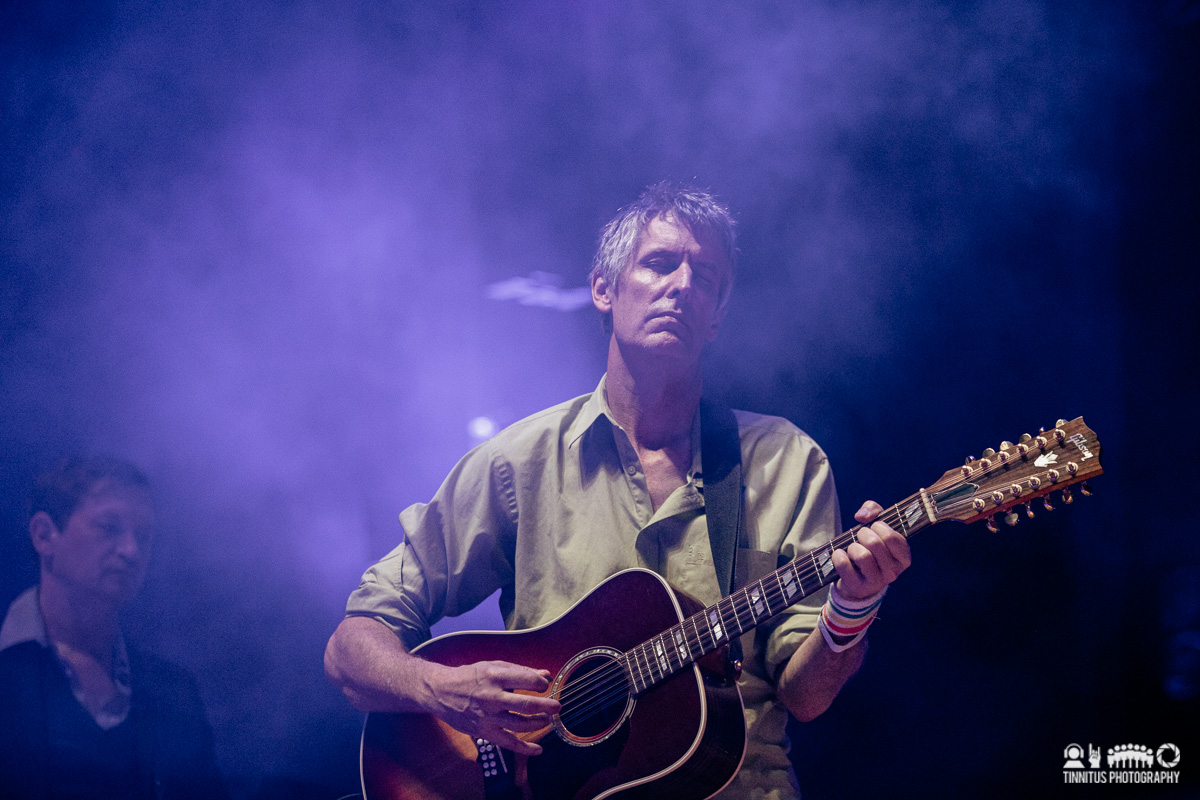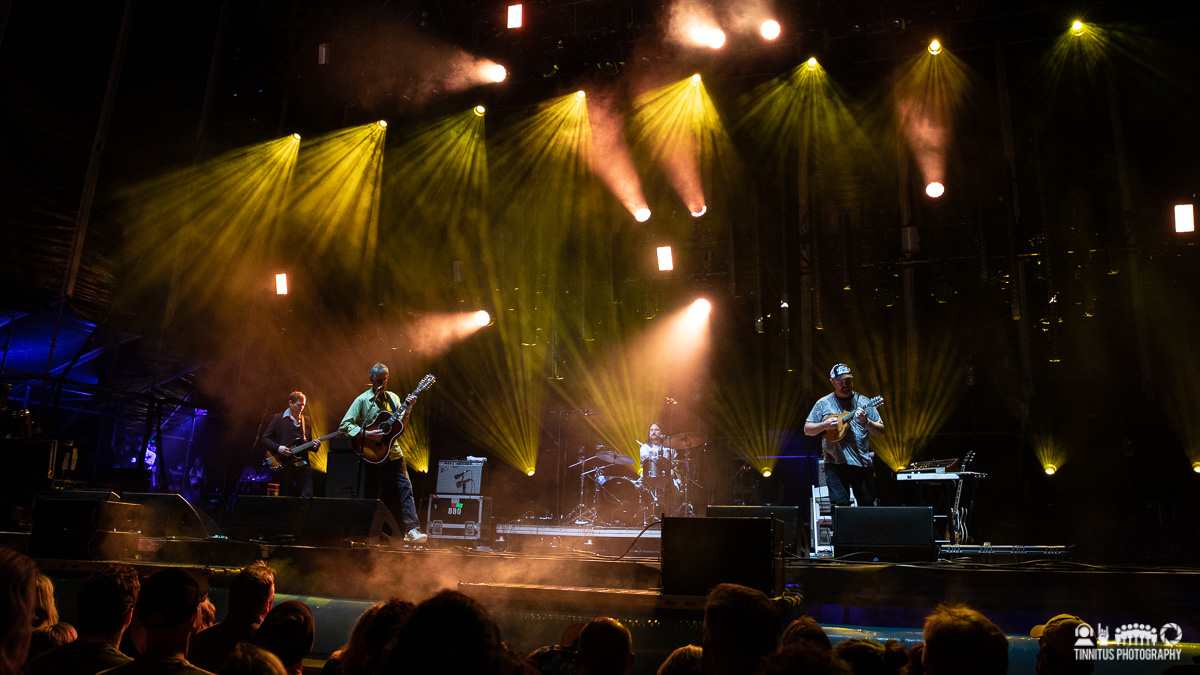 That left another Matador Records artist Spoon, who by my assessment had the best non-Wilco set of the entire festival. I admit that I prefer the earlier Spoon records, with interest starting to wane around Ga Ga Ga Ga Ga but somewhere along the past decade or so, Britt Daniel and Jim Eno have built Spoon into a really good live band and I talked with many people who agreed that their set was just pure fire. Check out this set list! Just a really well-built ball of momentum that kept building and cresting; I don't think Britt addressed the crowd until after "Lines In The Suit" was over, saying it'd been a while since they had played that one. I am not one for searching out live fan recordings but I'll be scouring the internet for this show, it was utterly fantastic. Kudos for choosing the perfect Lennon pandemic song as a cover.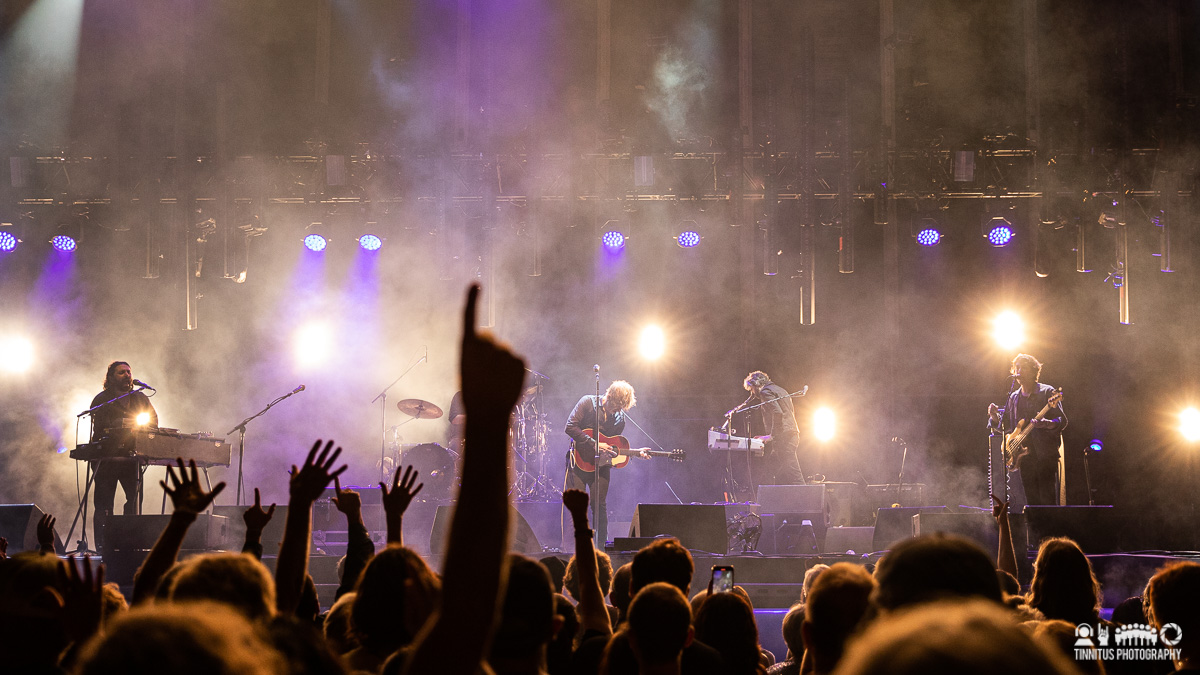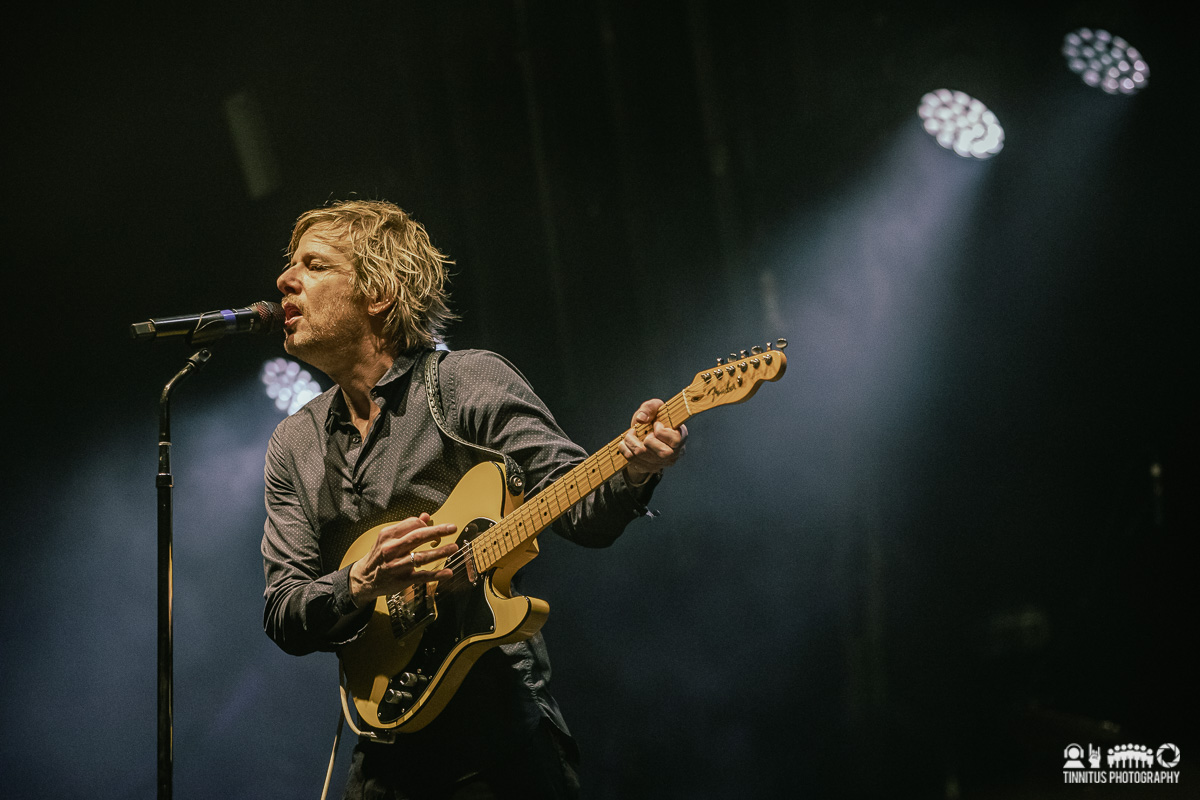 If you're still with me, that leaves the final two Wilco shows. And let's face it, that's the band that 99.98% of the people who traveled down here came to see. It was not a cheap ticket and I can't imagine that a non-Wilco fan would be persuaded into coming down, unless it was to build up a boatload of credit in the spousal account. The Tuesday night show started out with the perfect segue of "Red-Eyed and Blue" into "I Got You (At The End Of The Century)," the emotion meter swinging from feeling down and defeated to triumphant. A nice mix of early stuff from AM and Being There nestled in closely to a handful of songs from Schmilco and Star Wars, and even a rare appearance of "Country Disappeared" popped up for the diehards. Guest appearances included Sophia (aka Soccer Mommy) who sang "Pot Kettle Black" and Kurt Vile who sang "Passenger Side" and were both great, but then Mavis took the stage (wearing a Tweedy Show shirt!) for the encores and well – one can't compete with Mavis. A touching reading of "You Are Not Alone" folded into a raucous "Freedom Highway" that felt like a
'true gospel rave-up":https://www.youtube.com/watch?v=_Dxo0LAy6u0 Testify!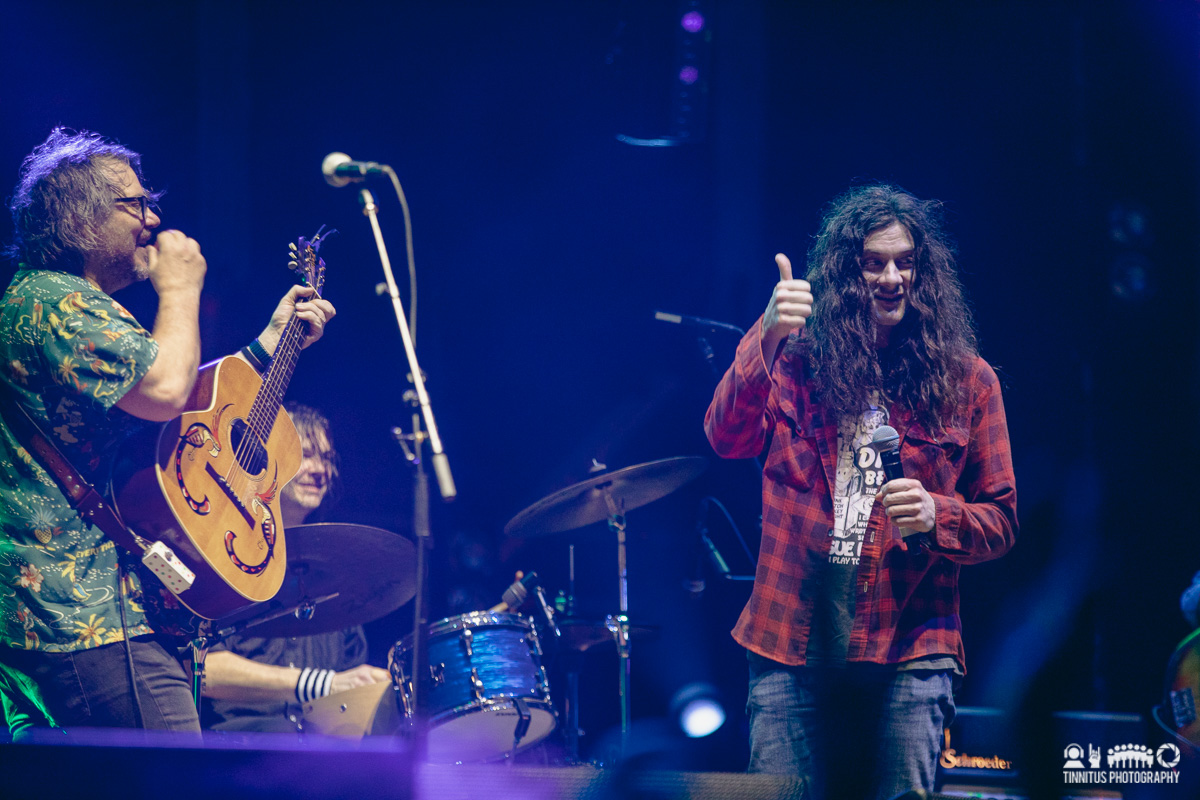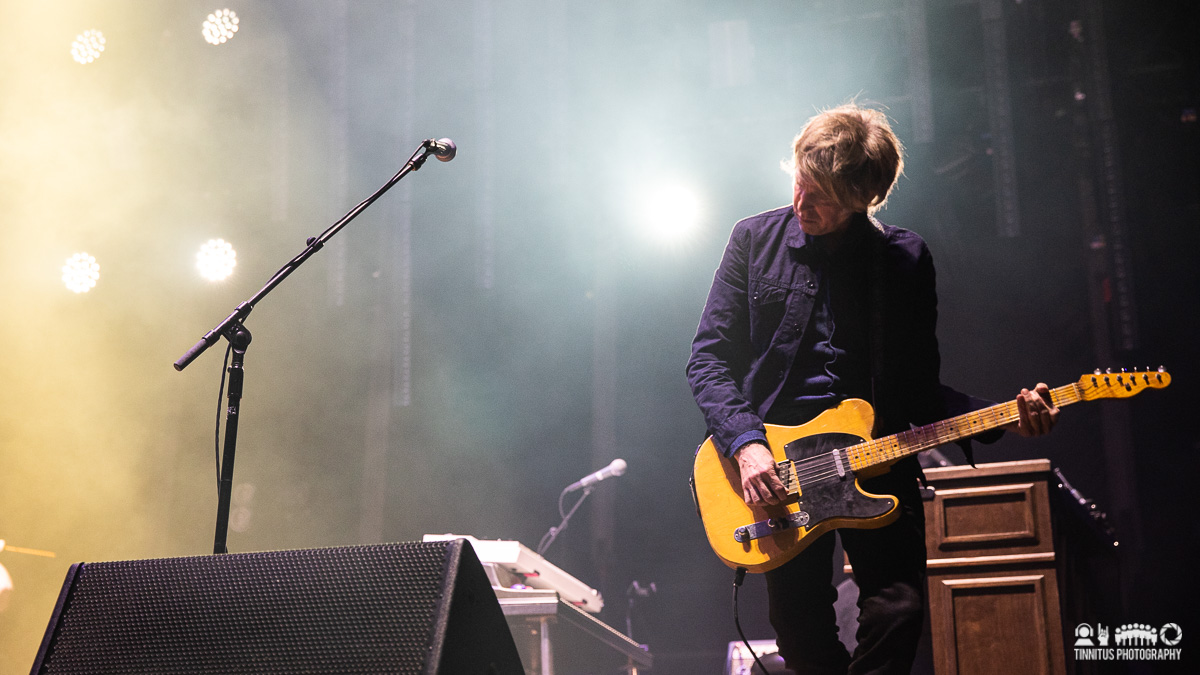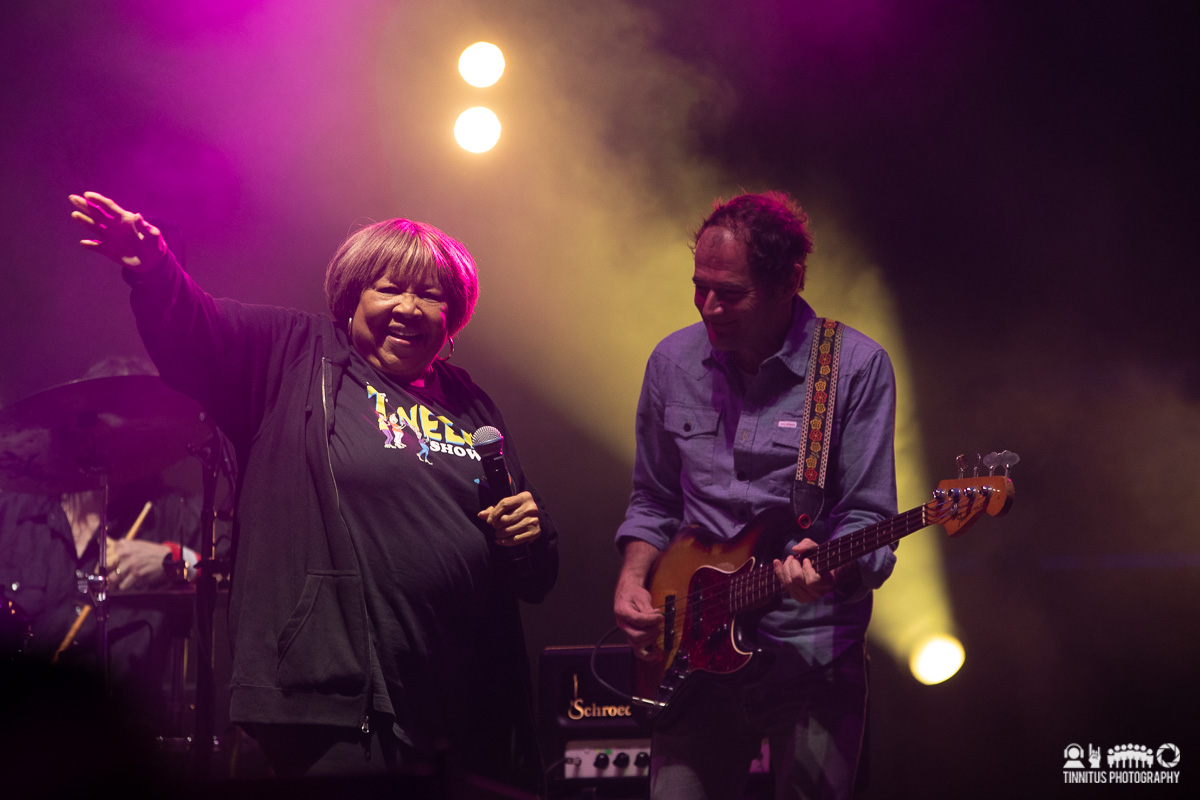 Anticipation for the third and final Wilco set of the festival was running high; what did the world have in store? The previous event had no song overlaps so that wasn't too hard to predict, but a potential wildcard was what songs were scratched because they were beyond the crash course learning curve of Young Jorgenstein? I give Macie, Sima and Liam tons of credit and they did a great job but there was no denying that Mikael's absence was felt in small but noticeable ways on certain songs. You can't just replace a member who's been part of the band for the last two decades by practicing a few days on a moment's notice.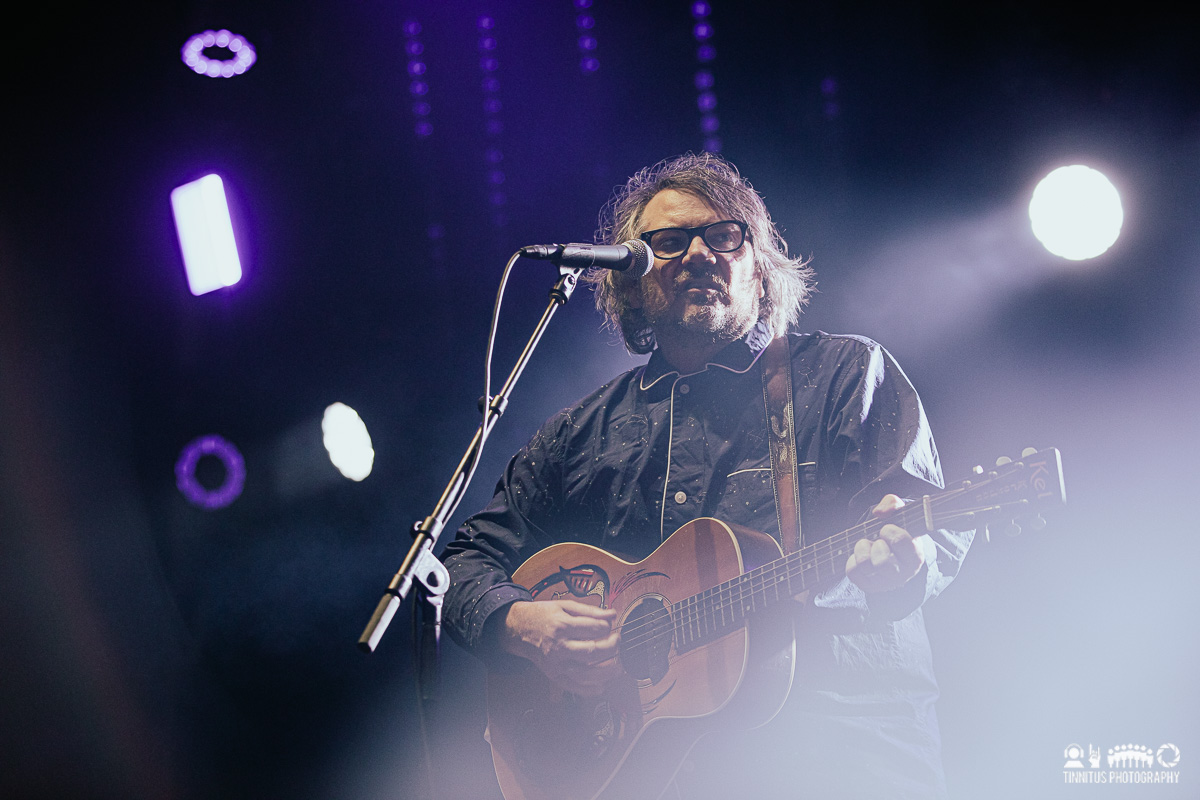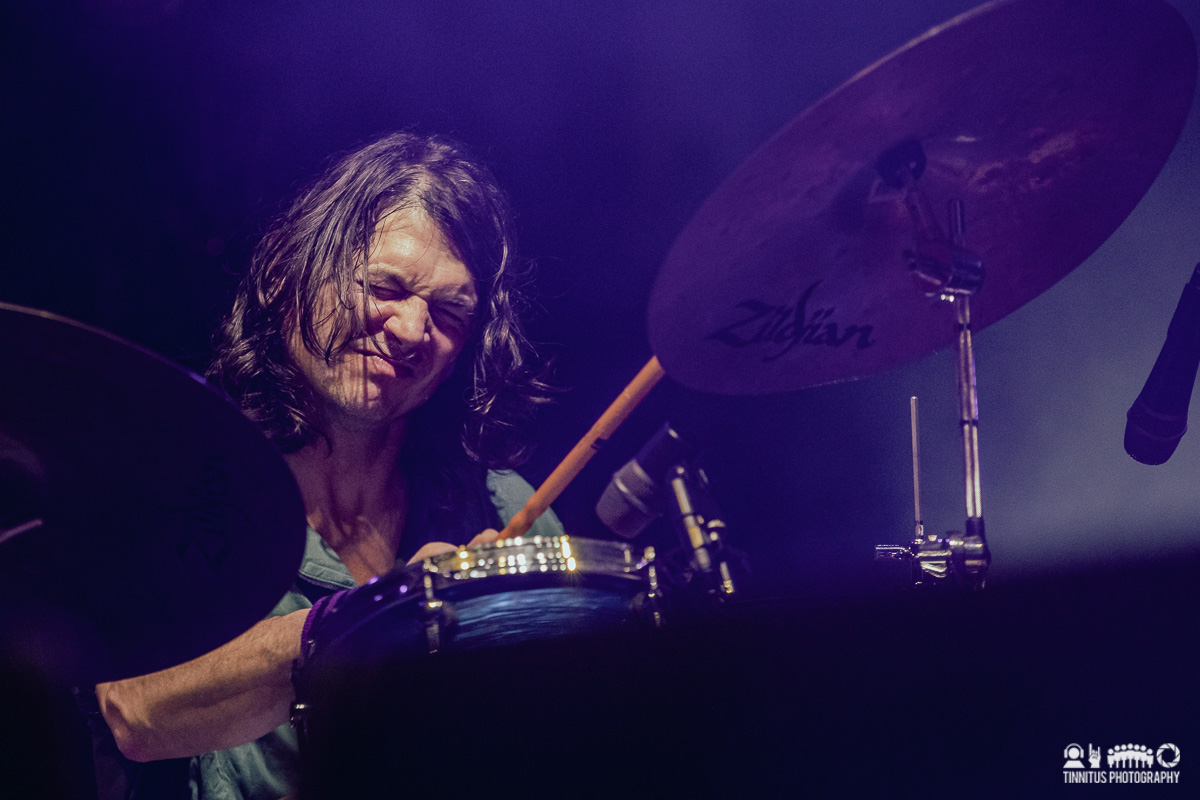 Before each Wilco set, there was a guy (we'll call him Mince Sliver) who had a different sign, imploring the band to play "Bull Black Nova." On day four, he hit pay dirt. Actually, we all did. From the somewhat overlooked Wilco (The Album), this menacing brooder left skid marks and bloodstains on anything unfortunate enough to get in its path. The building tension of the song is palpable, with Sansone and Tweedy steadily upping the urgency while Cline spills all sorts of violent notes as his long fingers run up and down his guitar neck. A clear highlight of the set, and I think Mr Sliver is onto something here.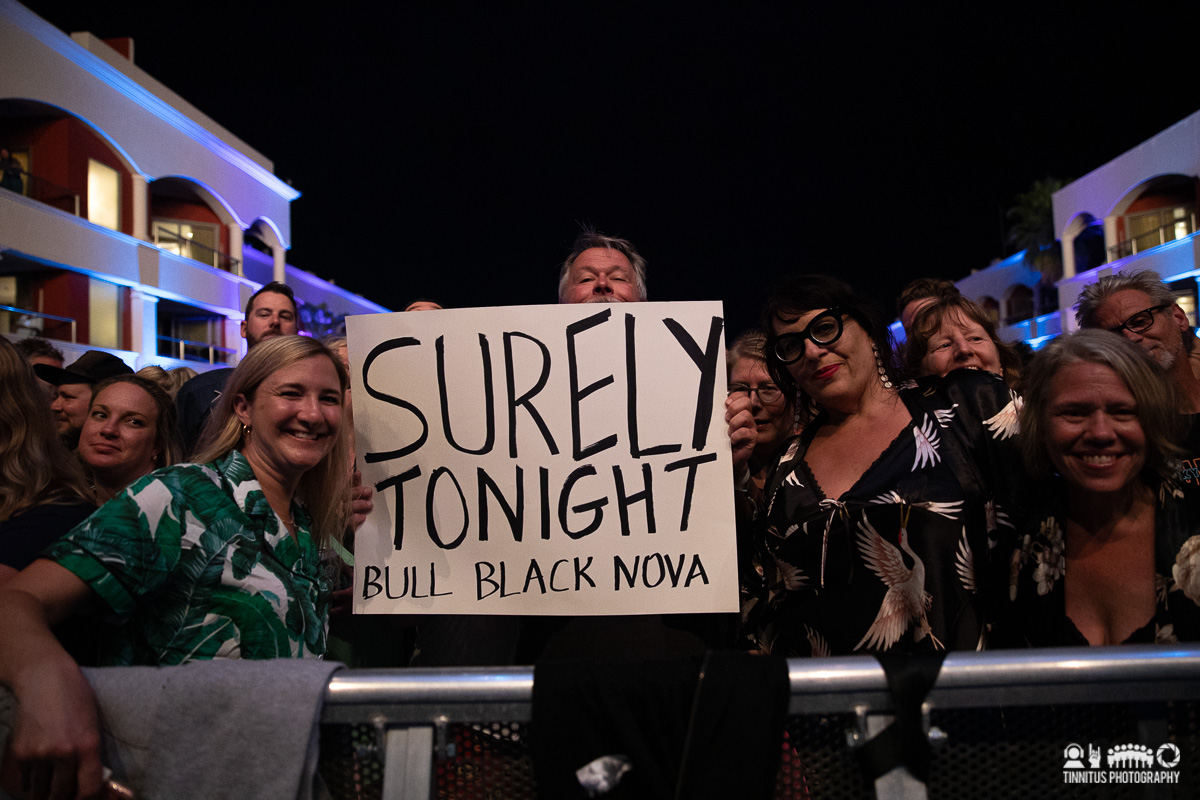 The set delivered some real rarities early on, with the plangent "In A Future Age" not having been played since 2014 and "Sunloathe" never played by the band. Of course, there were sing-alongs too, with everyone site belting out "Jesus Etc" and "Heavy Metal Drummer." Sometimes those non-band member singers got their own microphone too, as Britt Daniel (no stranger to things photographic ) took a shot at singing "Kamera" and the '90s indie rock lovefest kept going at the end of the regular set, when Tweedy invited who he called one of his favorite songwriters to the stage, and the lanky Steve Malkmus appeared. Wilco had run through "Cut Your Hair" during the 2013 all-request show at Solid Sound, but it's totally something different when you get the guy who wrote it to join you on stage and sing it. Malkmus seemed a little off-kilter without a guitar slung around his shoulders so he made do with some exaggerated bowing towards Tweedy, an impromptu mic on guitar neck moment, and some high kicks to finish it off. Note to Wilco – how about getting the high kick master out to Mexico next year?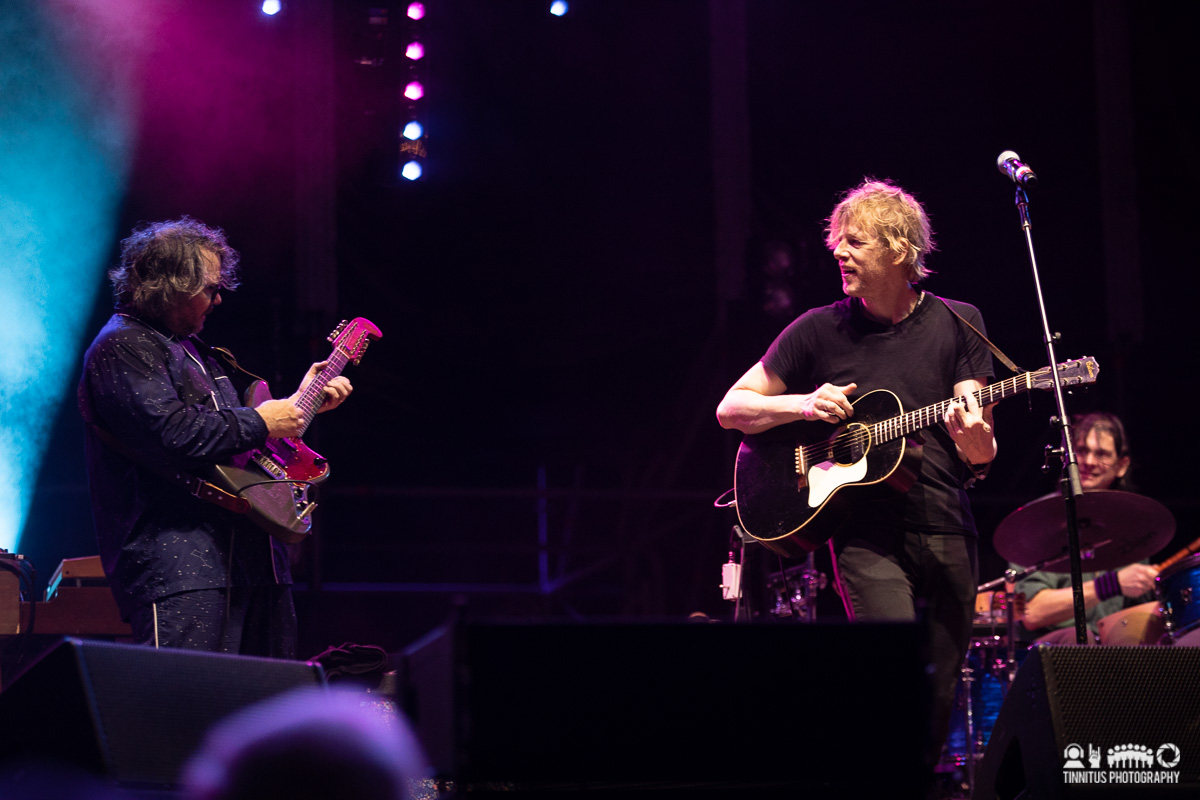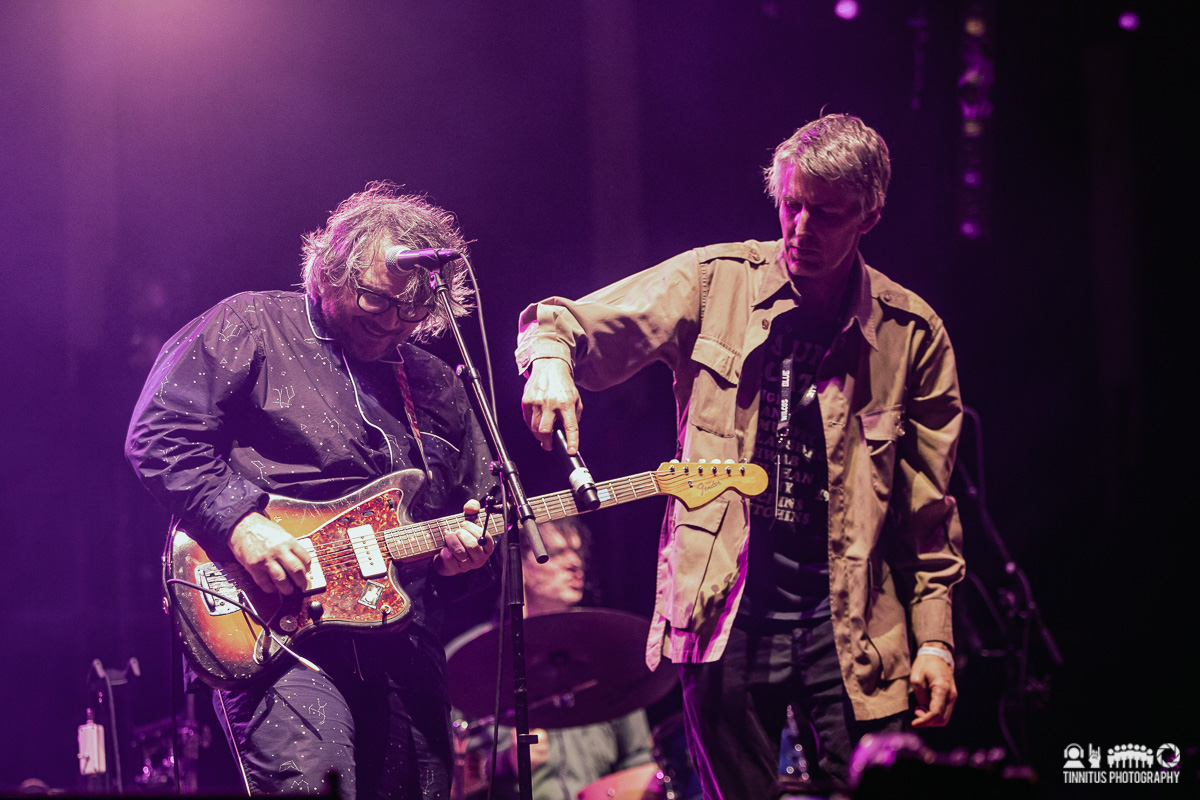 Of course, as a guest on stage it's impossible to top Mavis, and she came out with big grins to sing The Staples Singers' staple "I'll Take You There," as she did the rounds on stage, promising Jeff and Nels and Pat and John that she'll take them there. If sonic heaven was the intended destination, she certainly knew and led the way. Was there a better way to end than "The Weight"? Wilco last played this at the 2013 Solid Sound when Lucius joined them, but Tweedy took a backseat and after Mavis was done with the first verse, Sima and then Liam took the others while Spencer and a slightly uncomfortable looking Kurt Vile provided backing vocals. A truly great set, and aside from the monumental "Evening With Wilco" show I saw in 2010 when Jeff first announced that Solid Sound was a festival they would be hosting in a few months, tonight was probably the best show I've seen them do. Fantastic in all ways.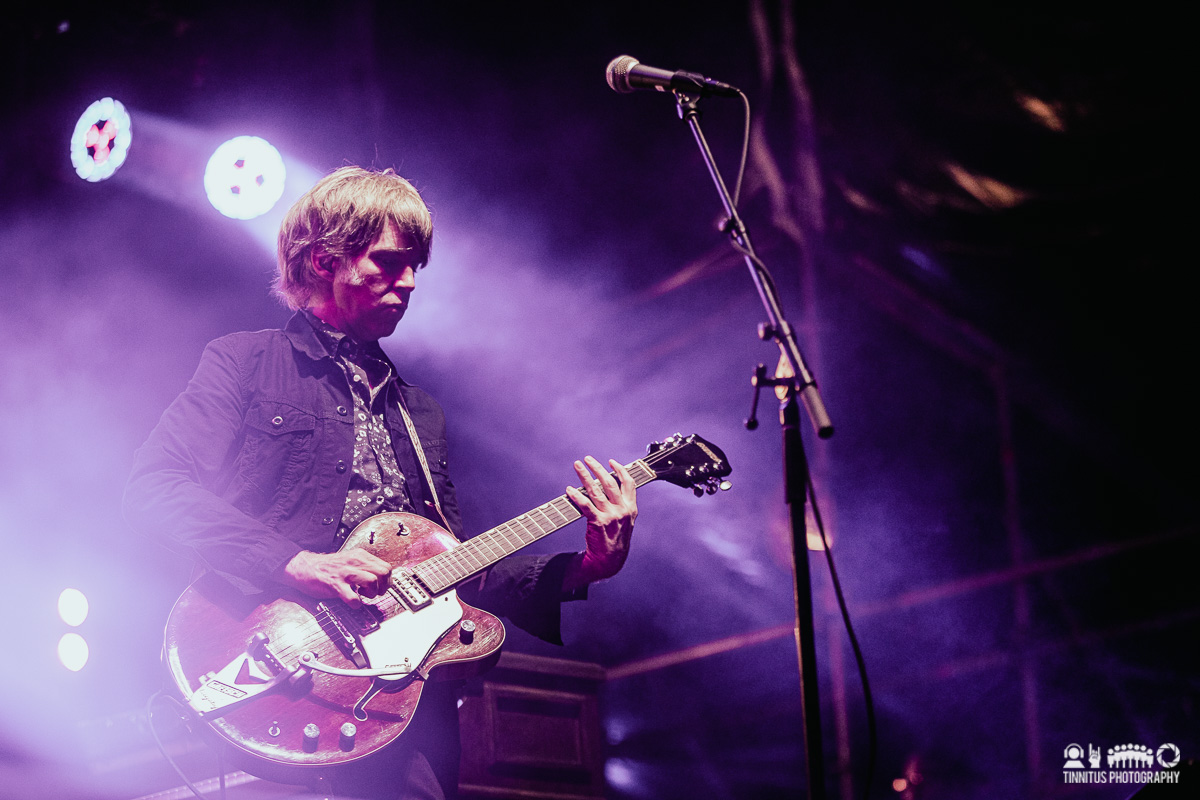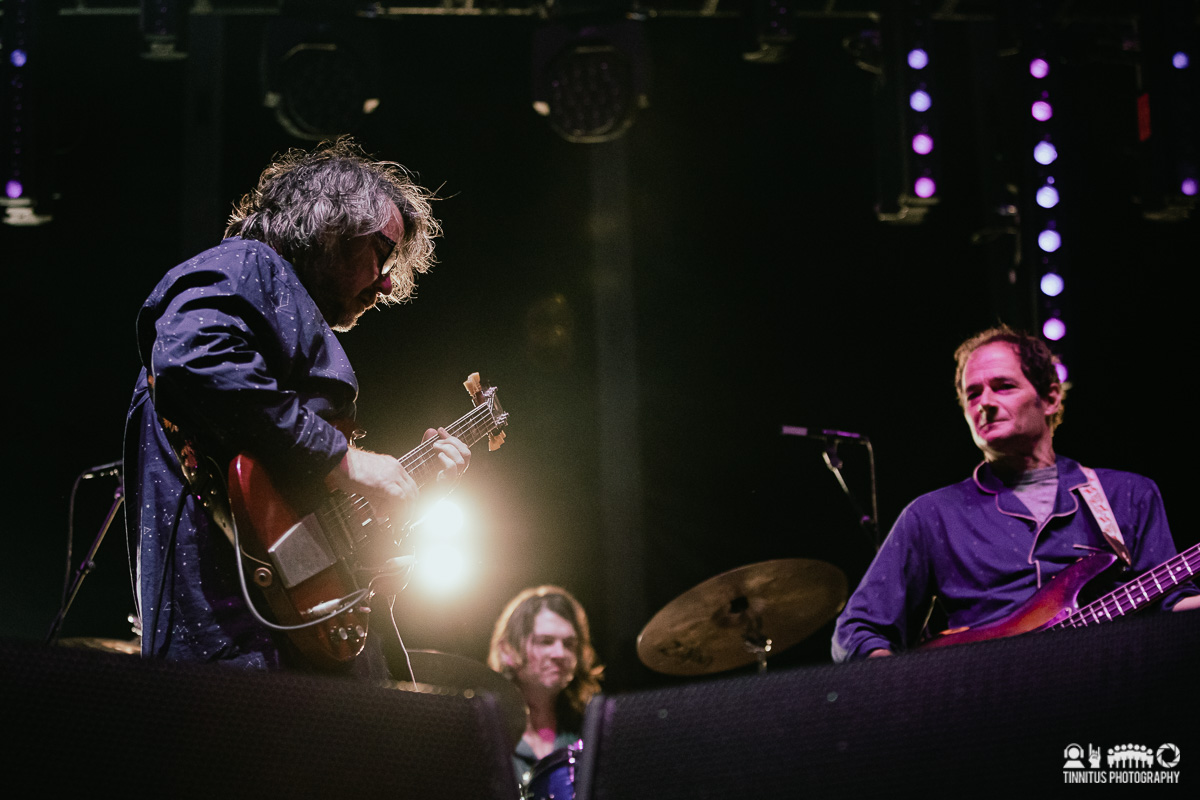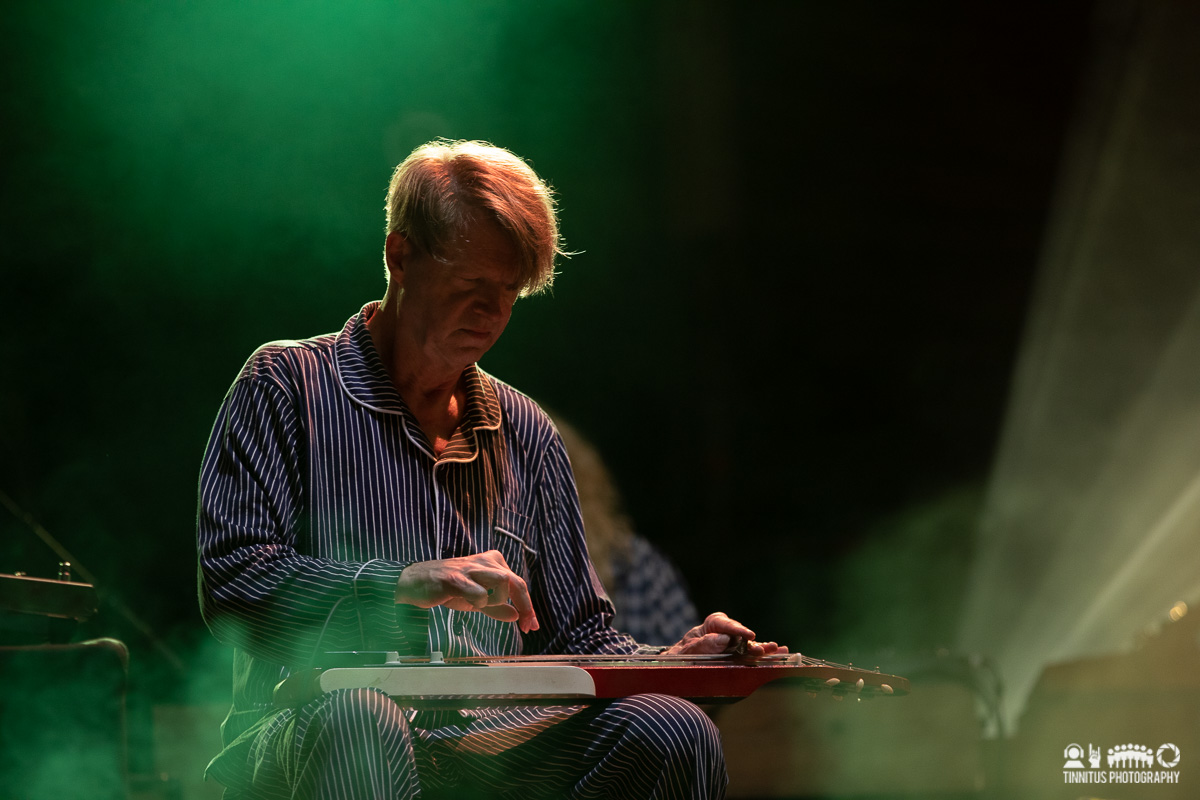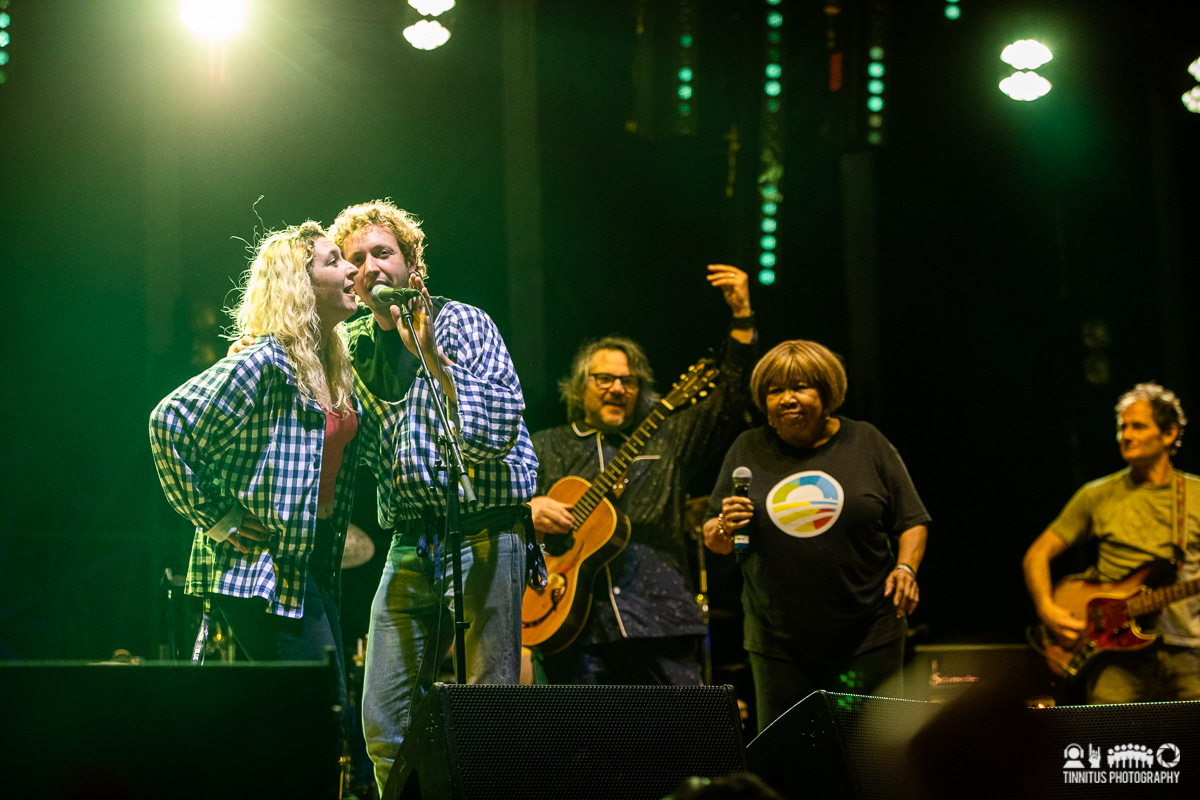 A few stray thoughts from the show:
The final show was the pajama show, where band and fans alike were encouraged to wear their favorite jammies. Jeff and Nels were fully, John and Glenn wore tops, and Pat was a hard no; he begrudgingly wore a bathrobe in 2020. I couldn't figure out the pajama situation was for Liam and Sima until they came out front to sing on "The Weight" and it became clear that Liam had modified the bottoms and turned them into a top.
Before "I Am The Man Who Loves You," Glenn sometimes stands up on his drum seat with his arms triumphantly stretched overhead. He might do this all the time but I noticed that he expertly timed his descent so he hit the drums right when the song kicked in. Timing only a drummer would have.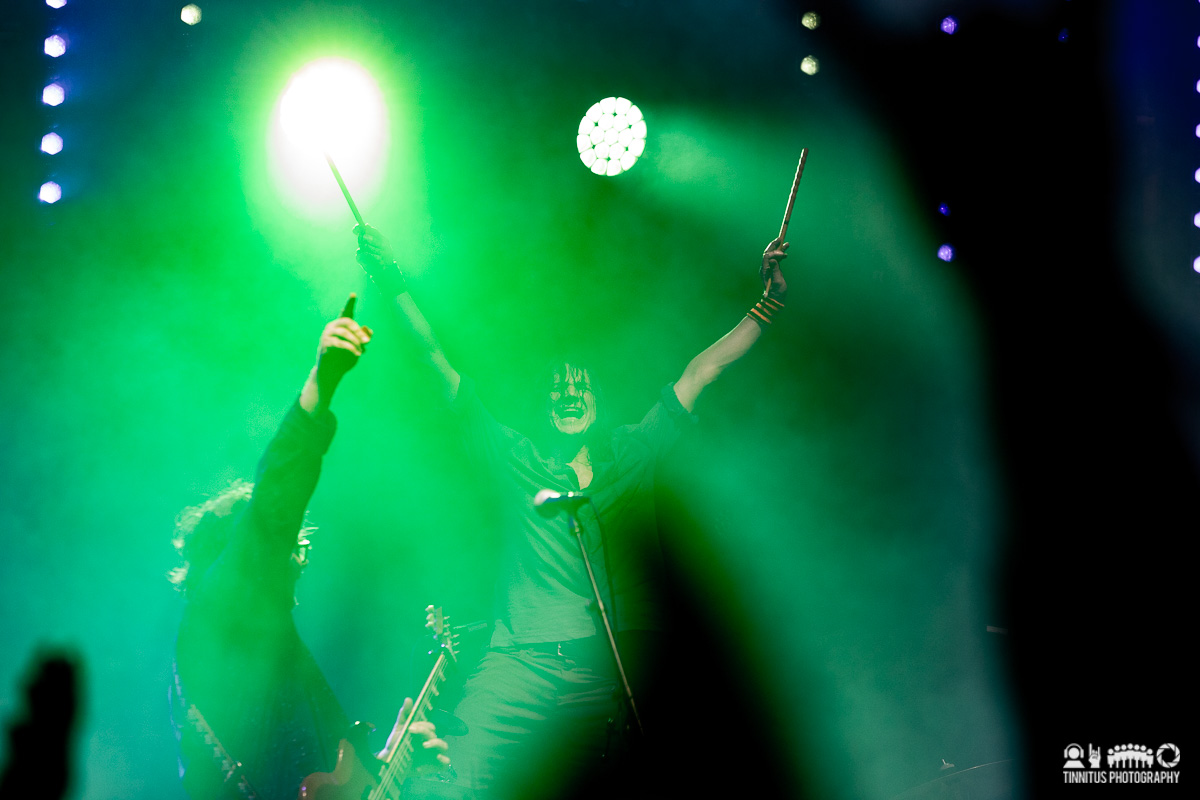 Jeff doesn't do a lot of emoting from the stage even though he clearly loves playing music but tonight he was all smiles from the start and I even saw him stick his tongue out at one point. Playing KISS covers indeed.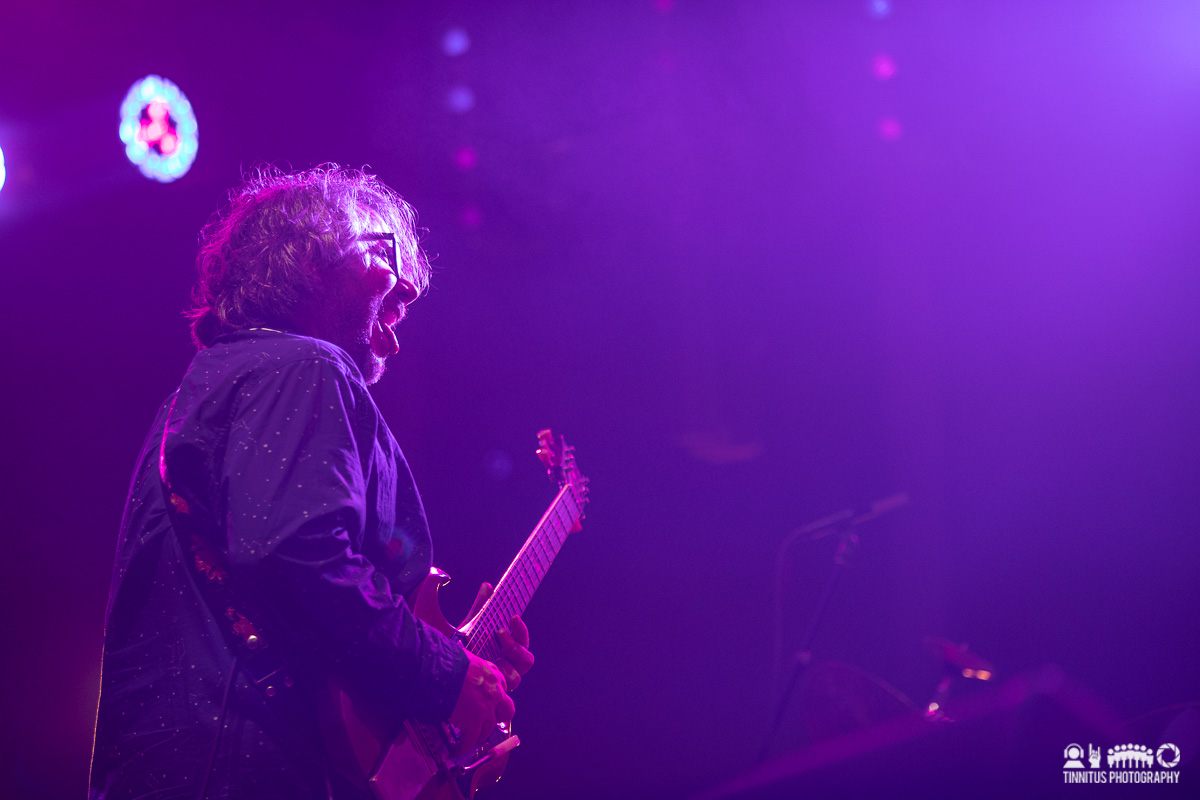 I have to hand it to Cloud 9, the bands and the Hard Rock staff for making this event happen in as smooth a manner as humanly possible; Sky Blue Sky won't replace Solid Sound and vice versa; one is a lot easier to get to and cheaper, but the ratio of Wilco to other music can't be beat at Sky Blue Sky, and swimming in the warm ocean waters in January is always a welcome experience for someone from New England. Adios, and see you back in Mexico year Wilco!