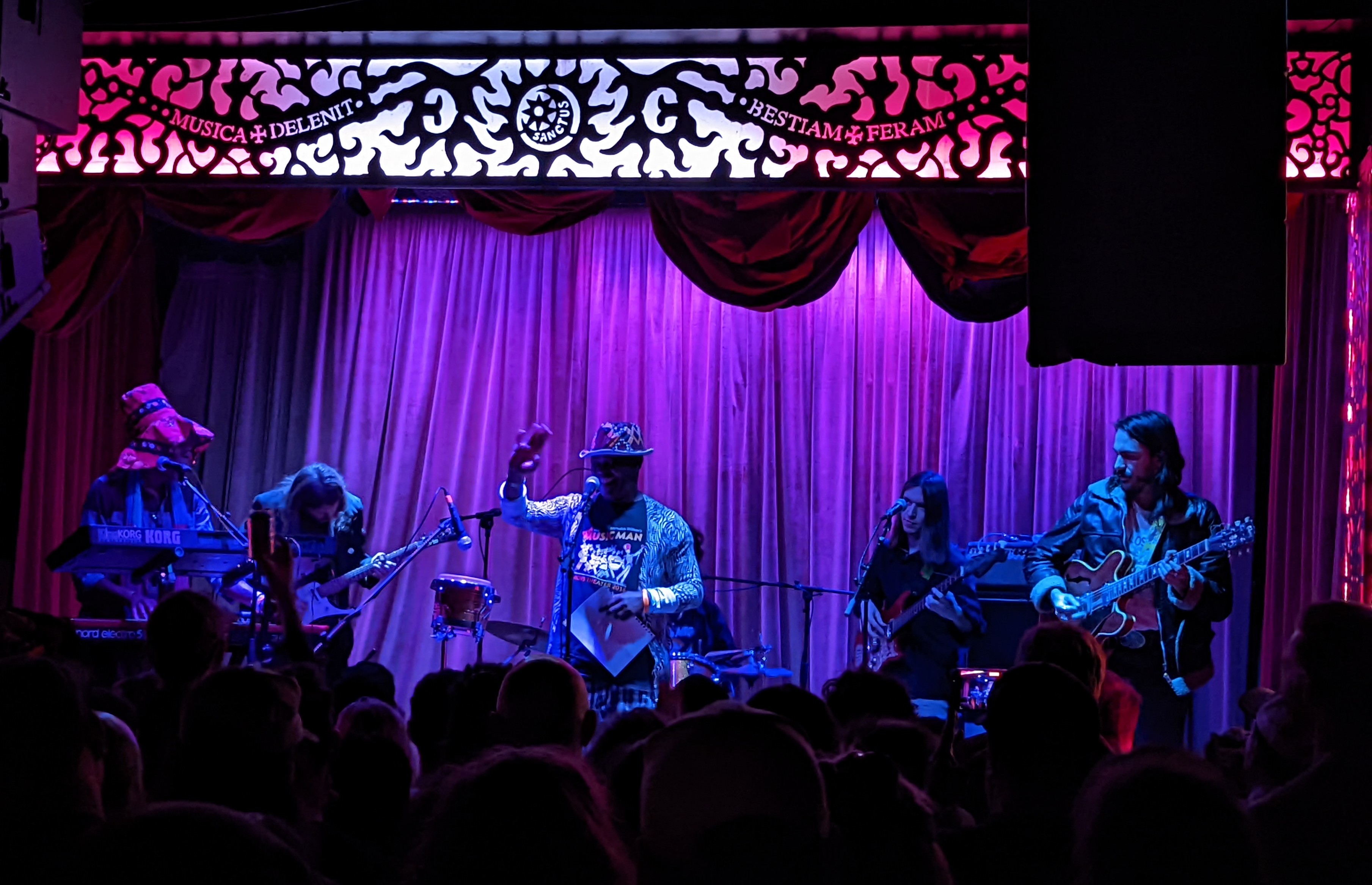 18 March 2022
Photo by James Broscheid
What an absolute pleasure to catch garage/psych legends Witch (acronym for "We Intend To Cause Havoc") live at Club Congress in the equally historic Hotel Congress in downtown Tucson, Arizona. Having been the pioneers who established a genre known as Zamrock in the 1970s, Witch has been resurrected under the guidance of the sole founding member Emmanuel "Jagari" Chanda. Riding a wave of resurgence courtesy of director Gio Arlotta's humbling 2019 documentary titled We Intend To Cause Havoc where he and two Dutch musicians Jacco Gardner (bass) and Nic Mauskoviç (drums) tracked down Chanda in his native Zambia to begin sowing the seeds of reformation. From there, Witch became revitalized with the additions of '80s-era member Patrick Mwondela (keyboards) and guitarists Michael Rault and JJ Whitefield.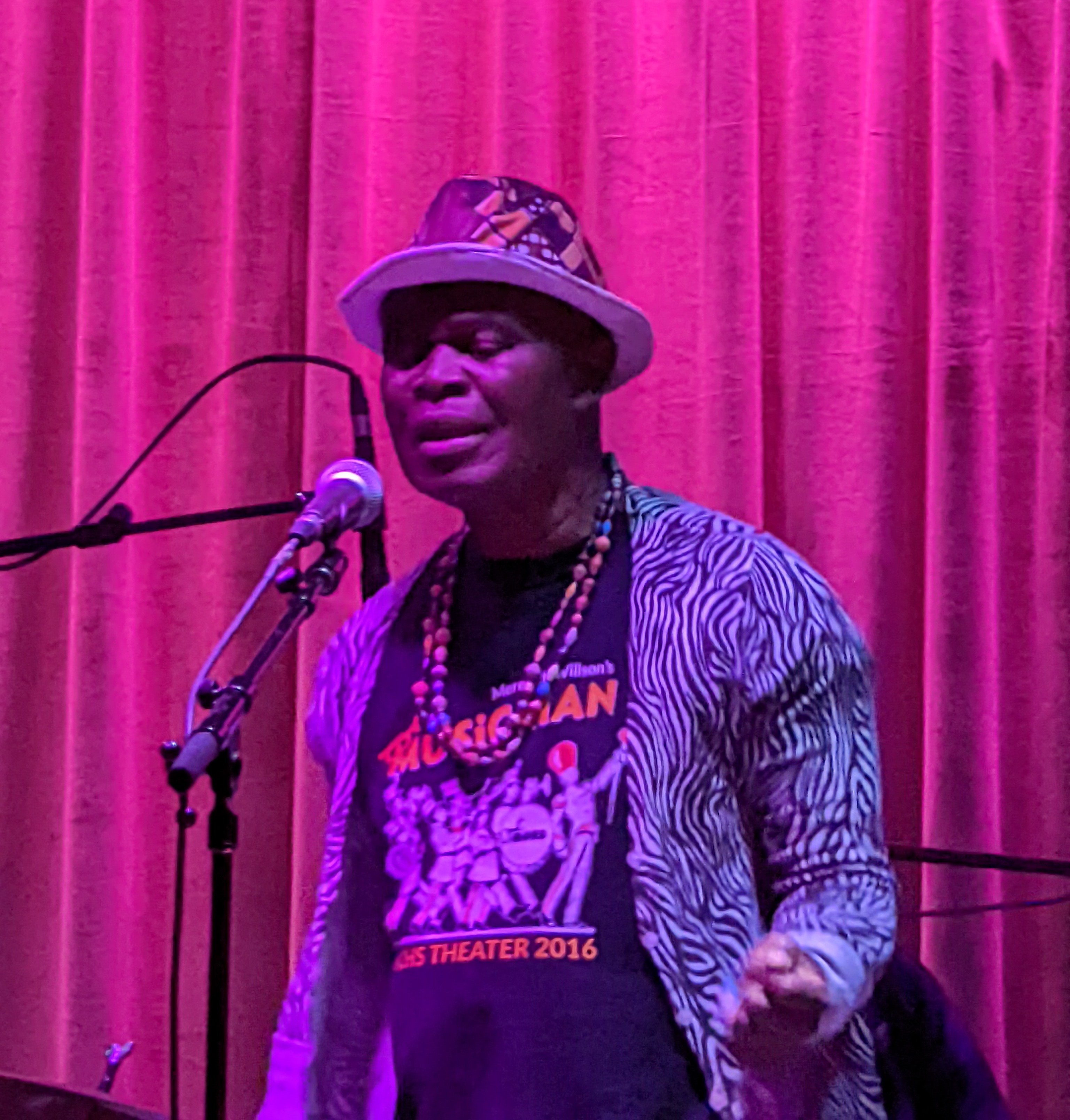 Photo by James Broscheid
The band took to the Club Congress stage with Mwondela donning one of the band's iconic chitenge cloth hats (initially designed to curb stage fright in the 1970s). Jagari (nicknamed after the Rolling Stones' Mick Jagger), now 70, was in fine form both vocally and physically, dancing around the stage, high-fiving the crowd, and handing out a cowbell for people to contribute rhythm during Toloka. The latest incarnation of the band has not skipped a beat carrying the torch on from the legendary original line-up (now all deceased save Chanda), on blues rocker Living In The Past and garage/funk of Lazy Bones. Rault's guitar form faithfully executed original guitarist Chris Mbewe's stabbing, lo-fi fuzz tones on Strange Dream while Introduction from 1973 debut LP of same name featured lyrics tailored to introduce the band's new players while offering Chanda a chance to reflect on long-gone bandmates.
We Intend To Cause Havoc is now streaming on Apple TV and Altavod.
Remaining U.S. Tour Dates
March 20th – Albuquerque, NM at Sister Bar
March 21st – Denver, CO at Bluebird Theater
March 22nd – Fort Collins, CO at The Lyric
March 24th – Salt Lake City, UT at The State Room
March 25th – 27th – Boise, ID at Treefort Music Festival
Europe
August 12th – Aguas Férreas, Portugal at Sonic Blast Festival
August 15th – Manchester, UK at YES
August 16th – Liverpool, UK at Future Yard
August 17th – Birmingham, UK at Hare And Hounds
August 19th – Wales, UK at Green Man Festival
August 20th – Leeds, UK at Belgrave Music Hall
August 21st – Brighton, UK at Komeda
August 23rd – London, UK at Village Underground