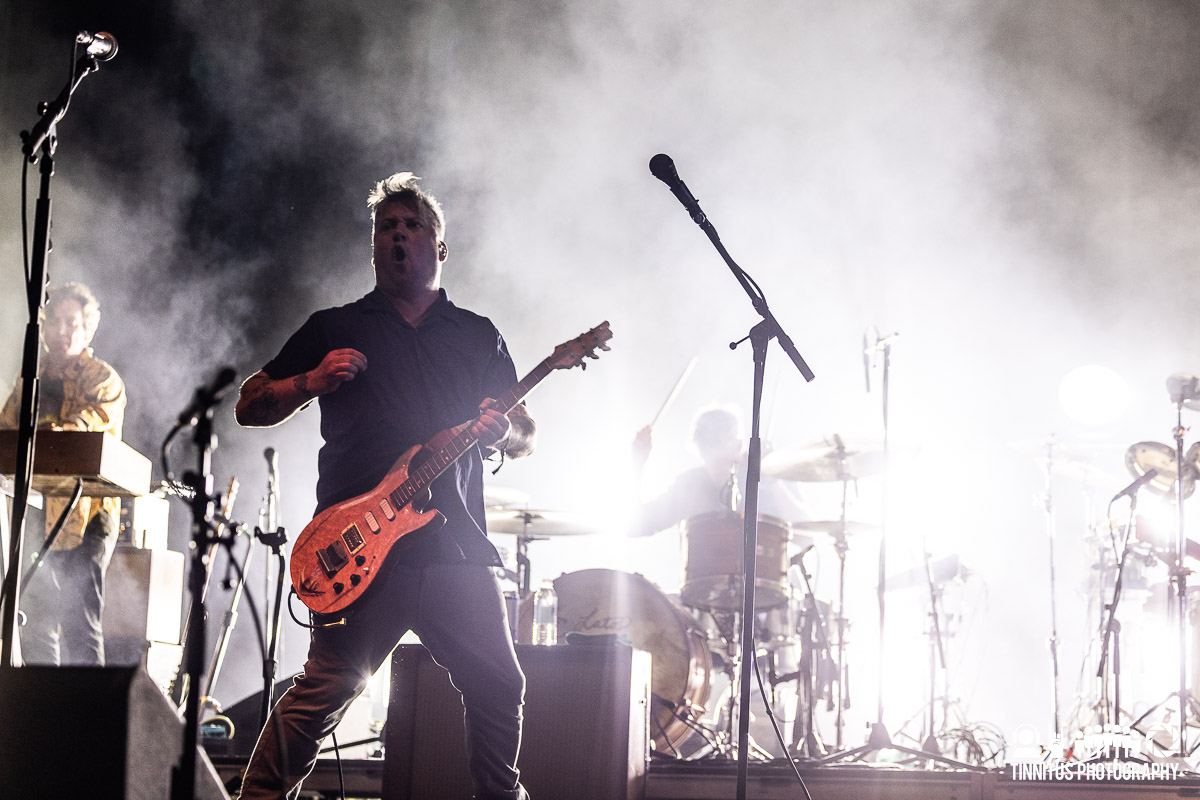 23 August 2023
Life always goes smoother with a little experience under your belt. That second rodeo duration will last a little longer before you're tossed by the bull. And though this was the second edition of In Between Days, it wasn't James Macdonald's second time putting on a festival, as he was the main mover and shaker behind the Life Is Good festivals held down in Canton, MA.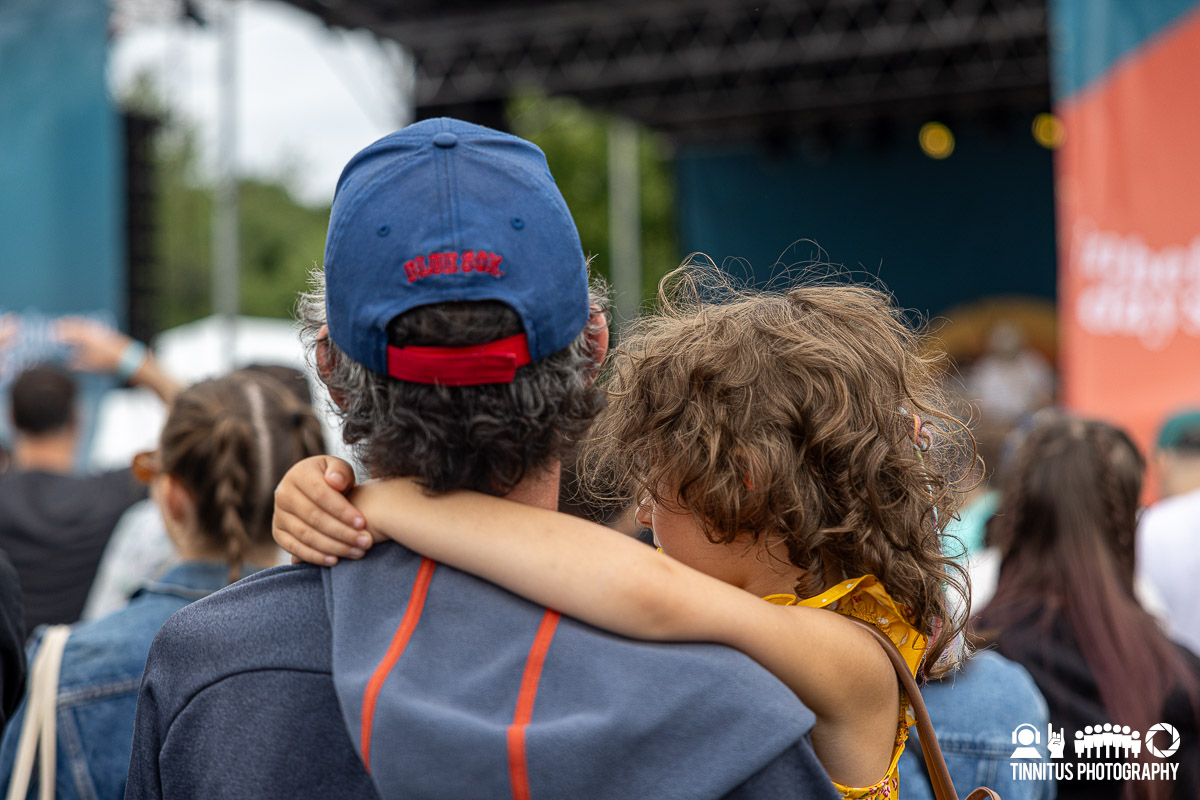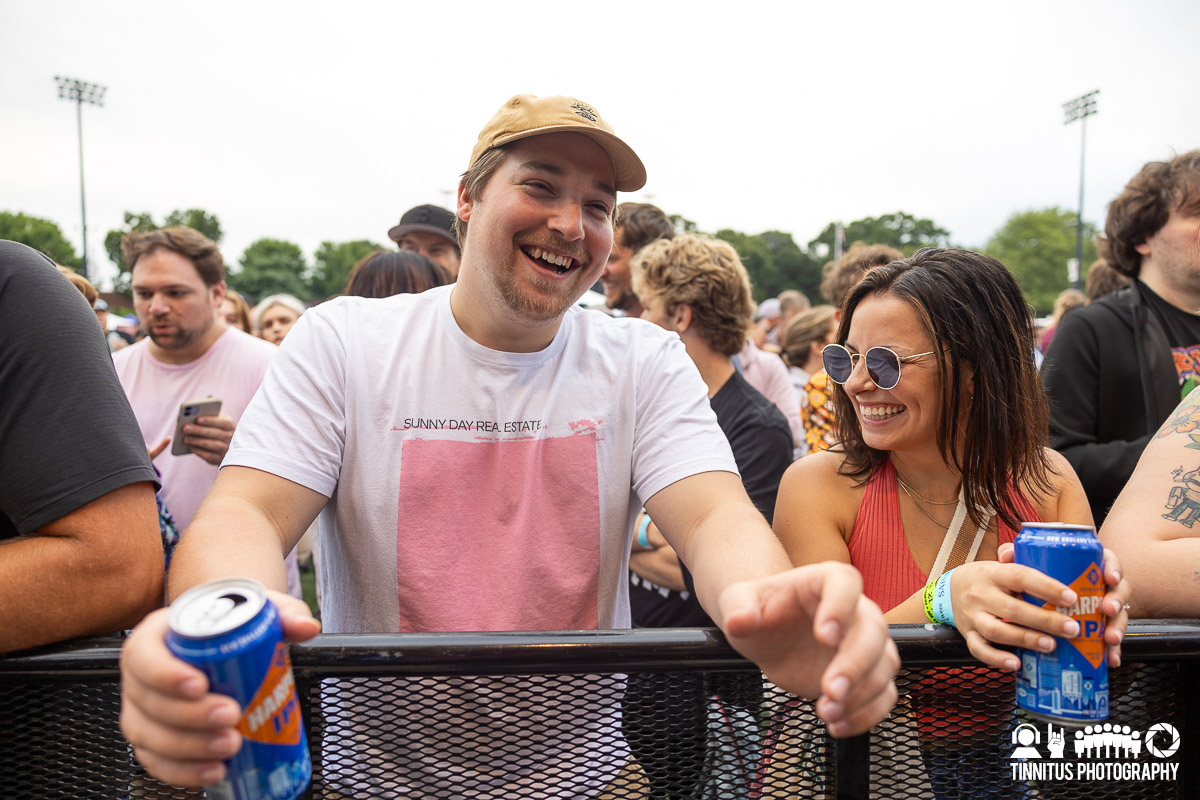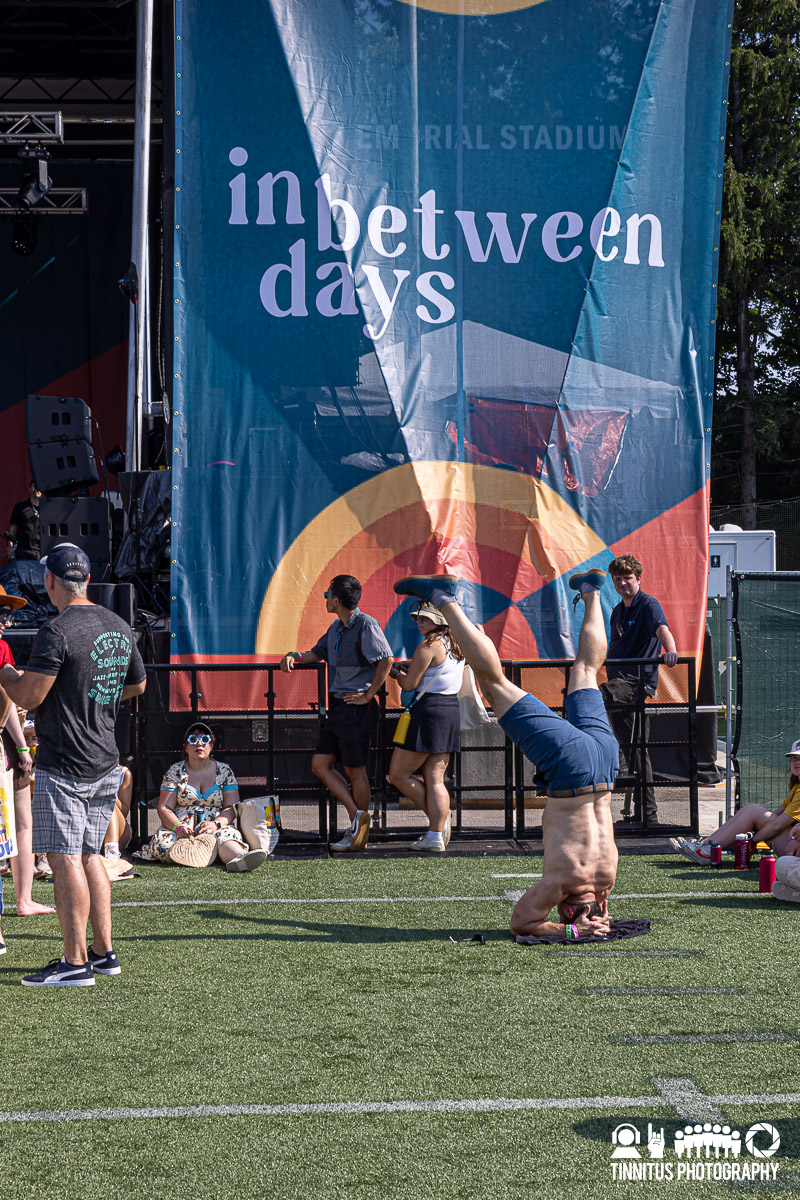 But a new location and municipality to deal with always brings challenges and this year the fest moved far past the single day/eight band venture last year. Having Modest Mouse and Lord Huron as headliners certainly raised the overall profile as well. I hadn't been to the inaugural event so I had no yardstick comparisons but this was a compact, low-key and well-run music festival. The grounds of Veteran's Memorial Stadium, in Quincy about a 30 minute drive south of Boston was easy to get to, had ample parking nearby and the T stop wasn't too far away either. Security was chill and people were laid back and concentrated on having fun rather than fighting crowds for the usual amenities.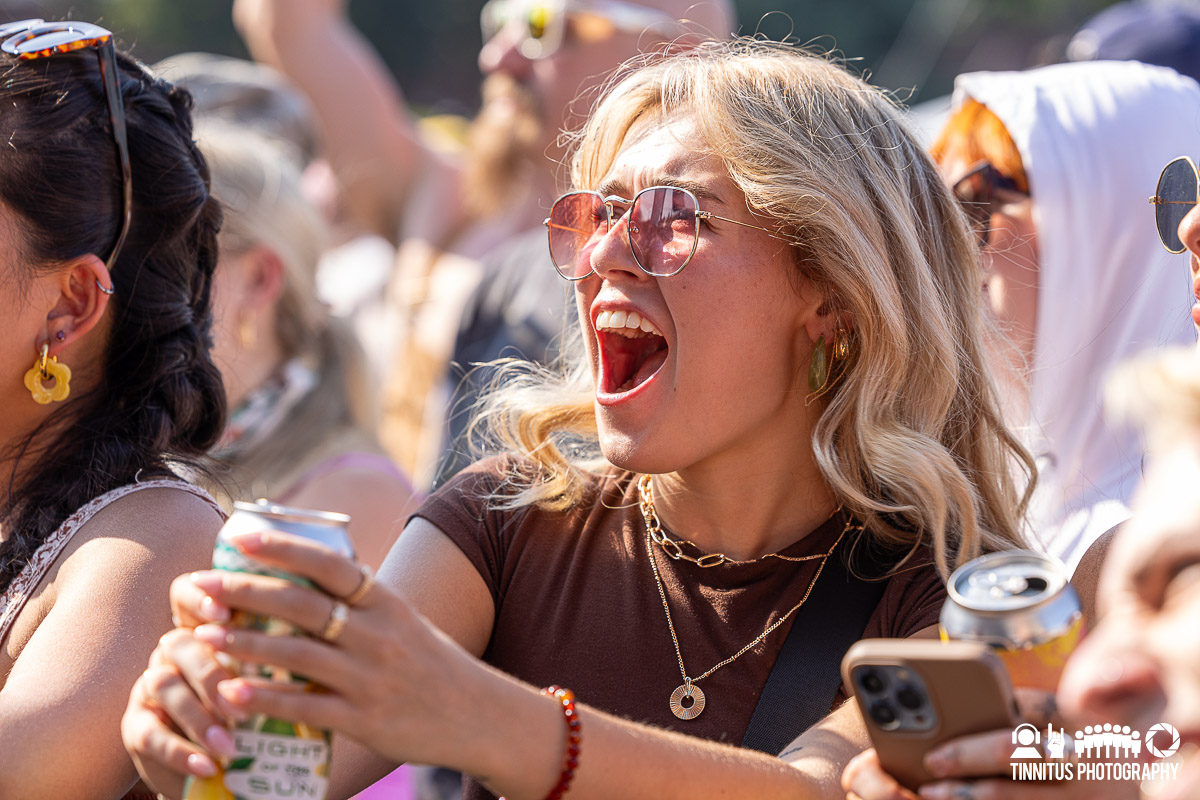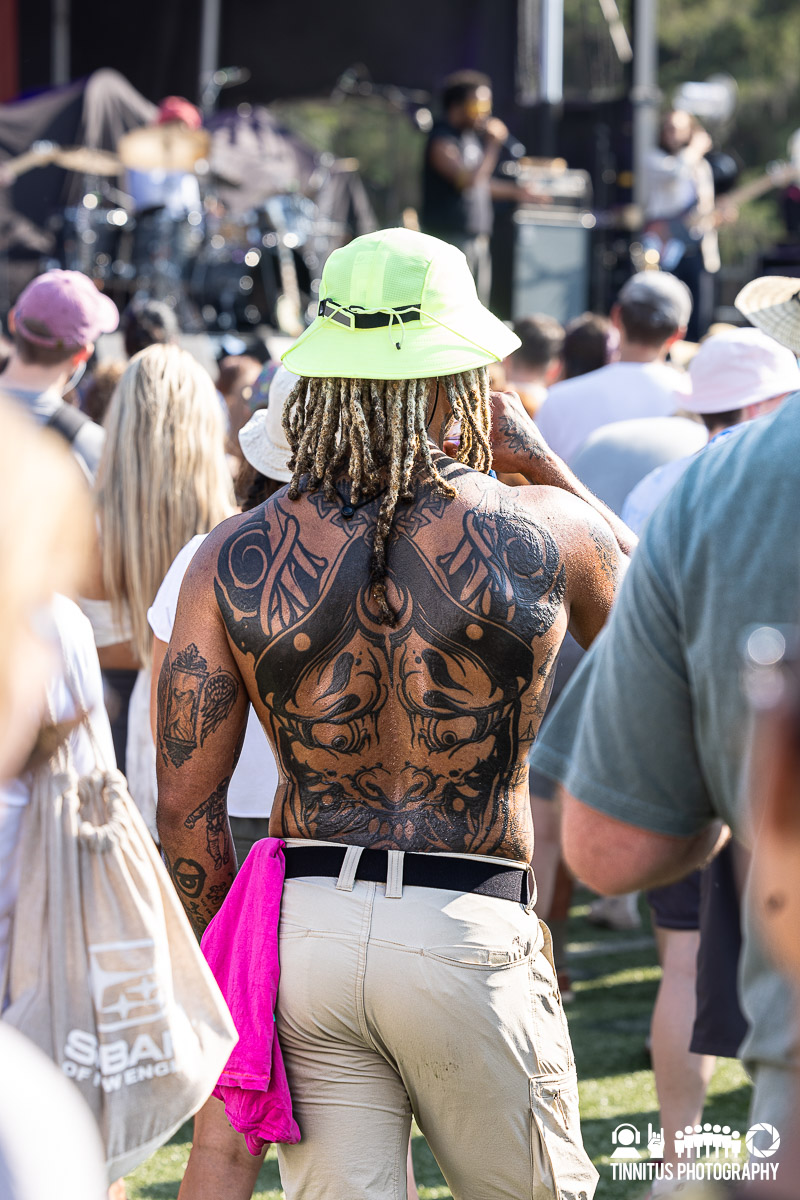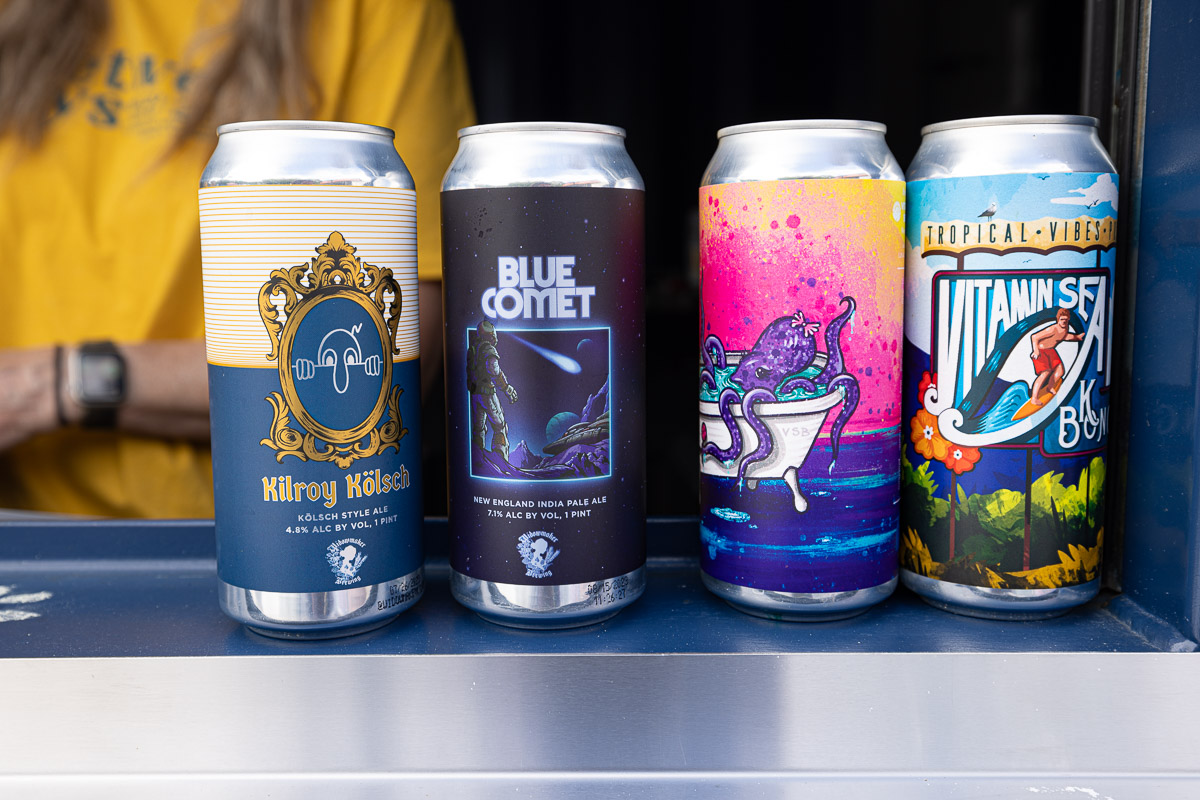 There were plenty of food vendors, tons of porta-potties, a free water station, loads of vintage clothing vendors, an info center, and even a retro arcade tent in case you wanted to turn back the clock and see if you could repeat your personal best on Galaga, Pac-Man, or the Terminator pinball machine. The only constraint was no food on the stadium turf but you could hear the bands just fine from the perimeter as you chowed down a lamb gyro, lobster roll, jerk chicken rice bowl or some tasty BBQ from Hott Smoke. Full disclosure, I smashed all of those items and they were quite tasty.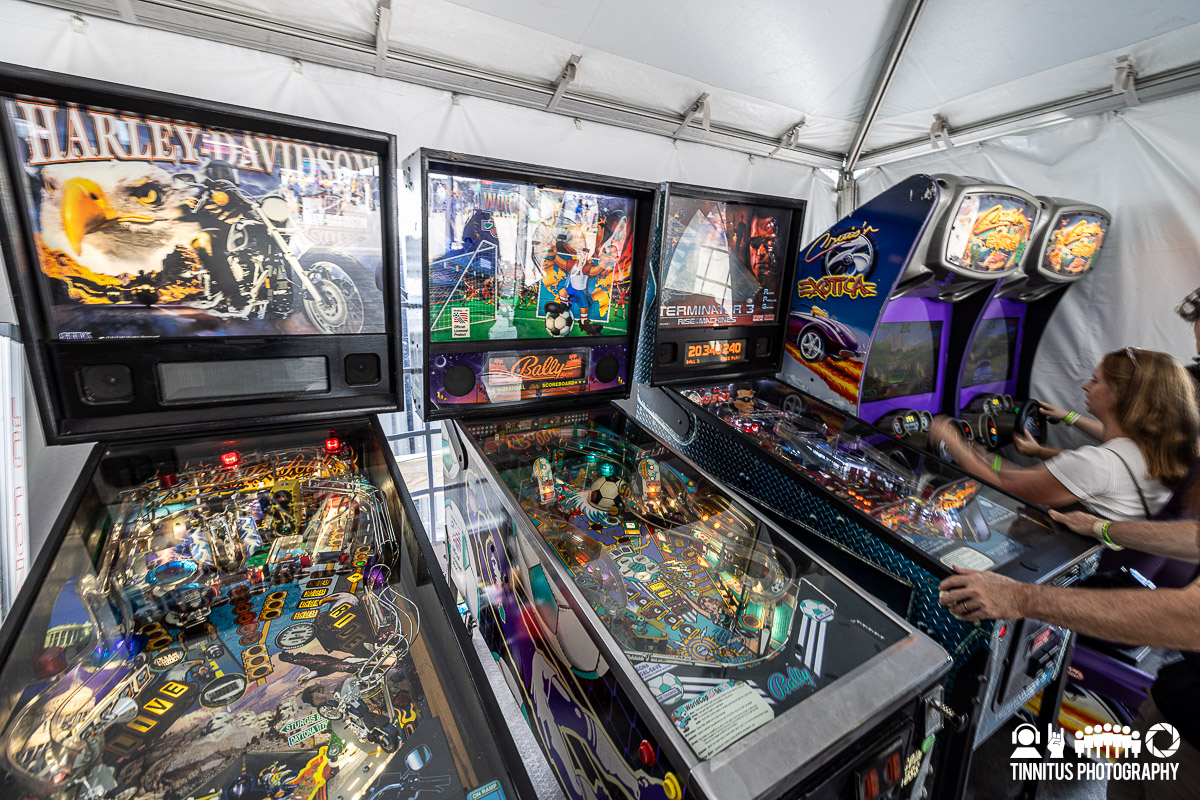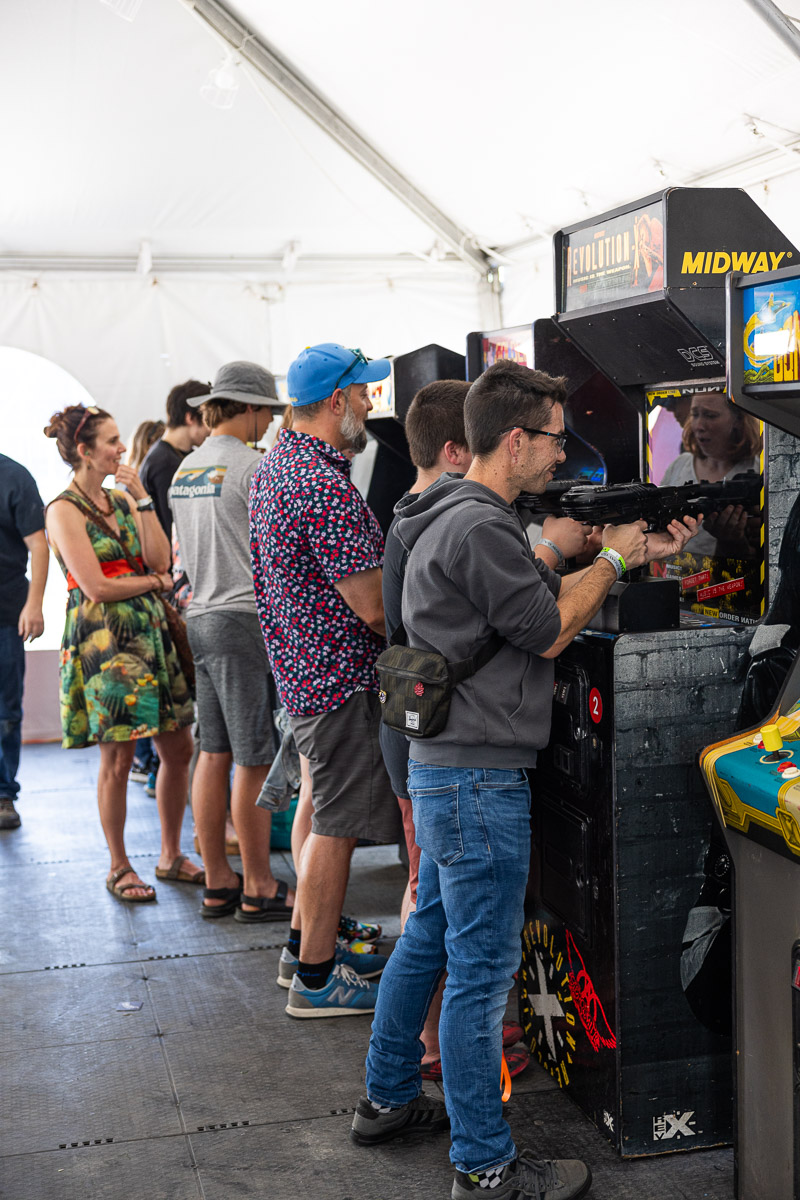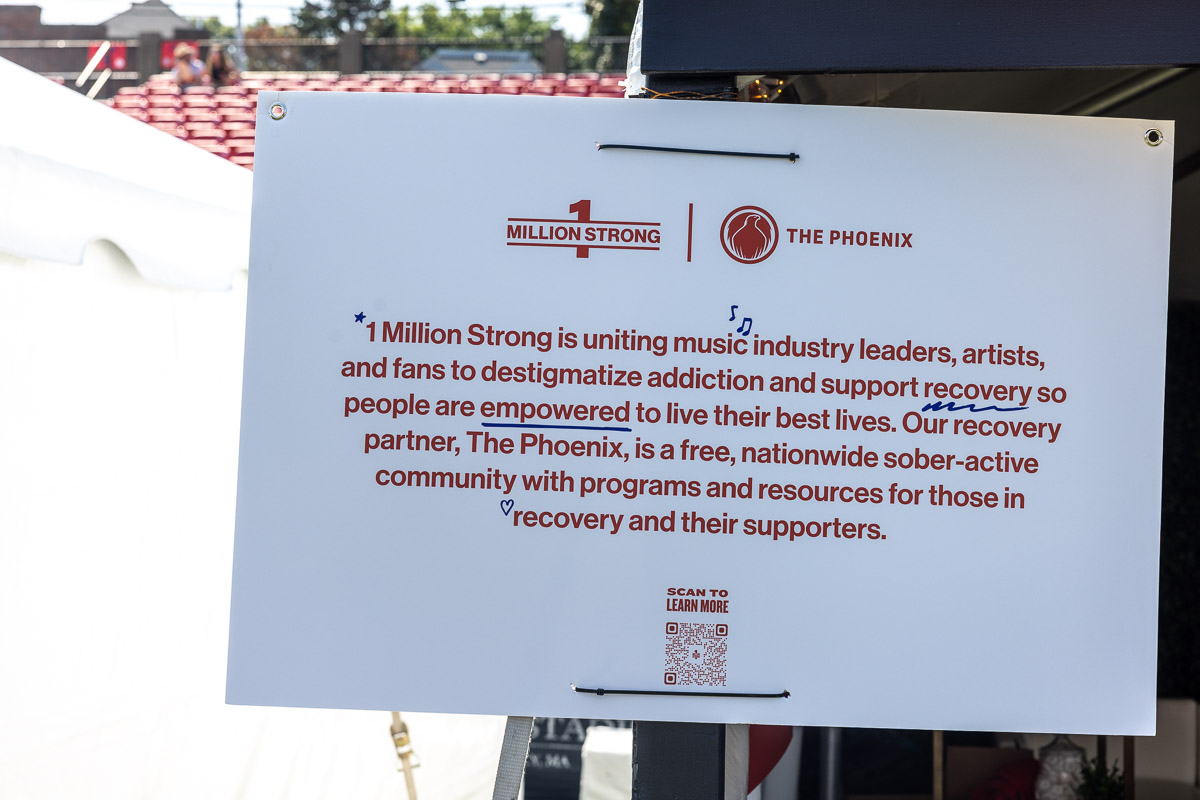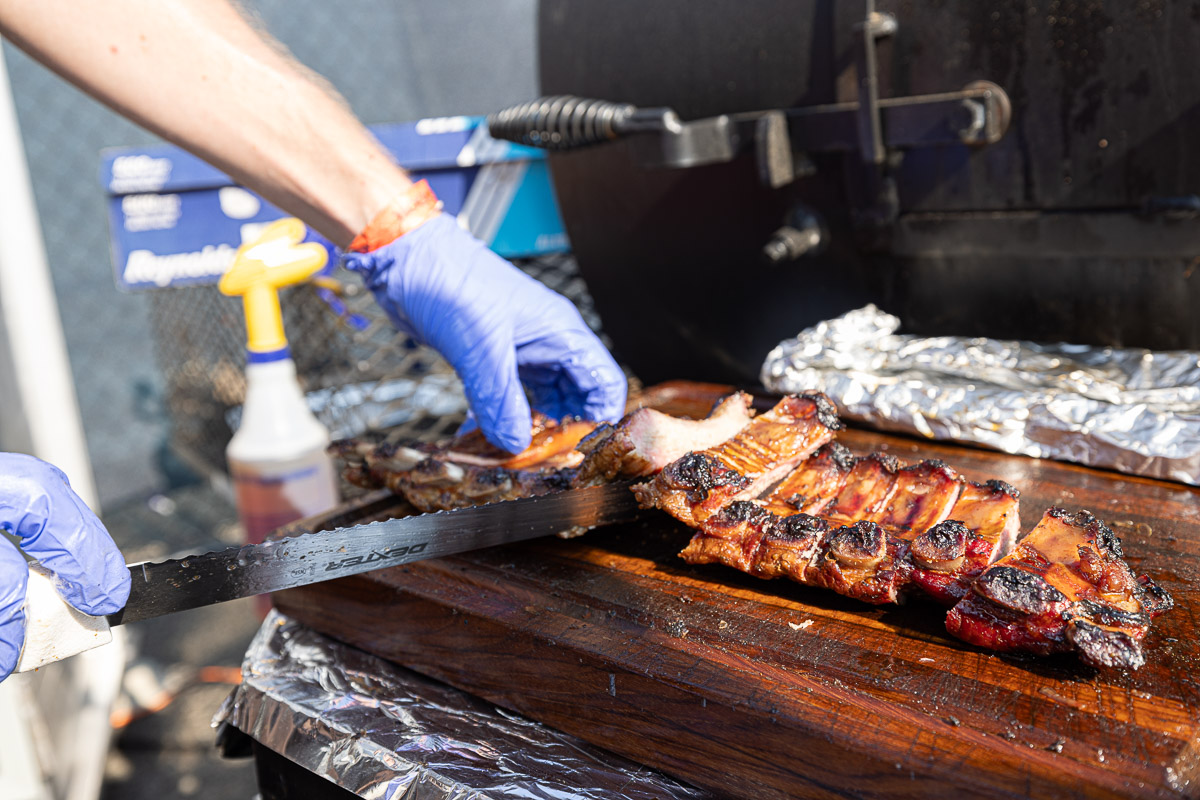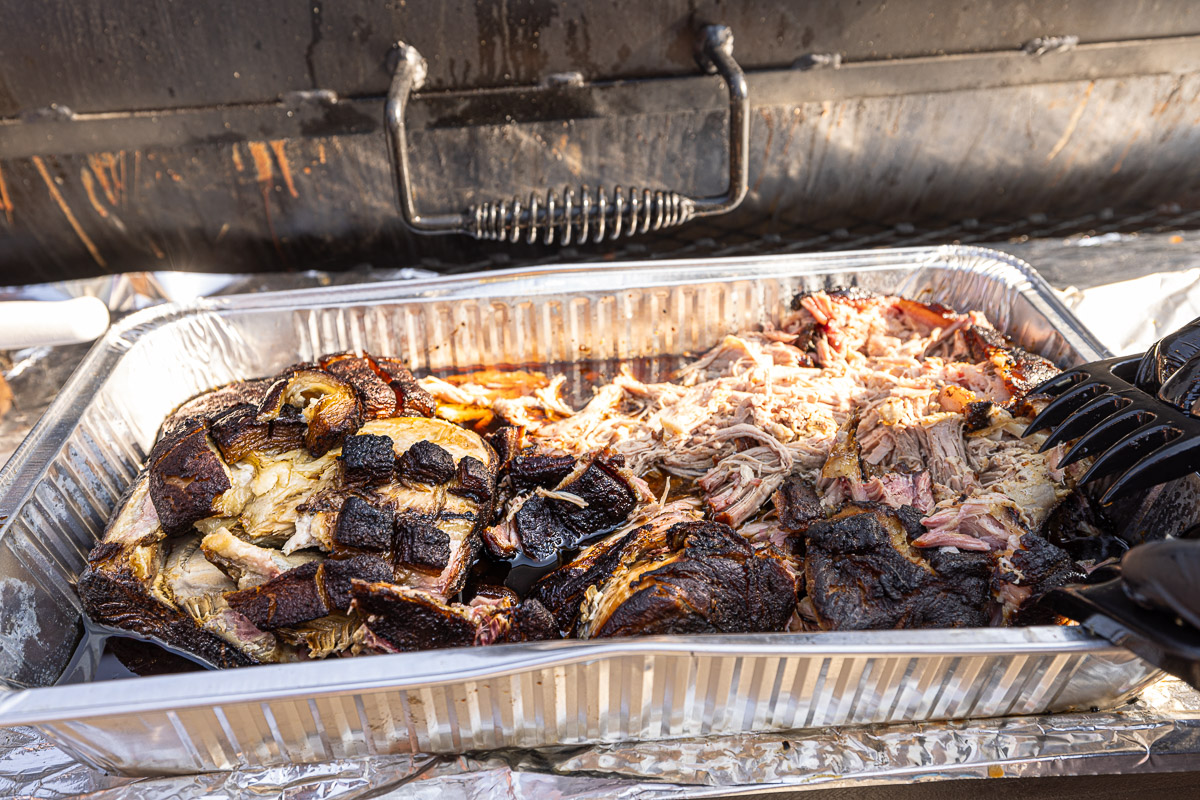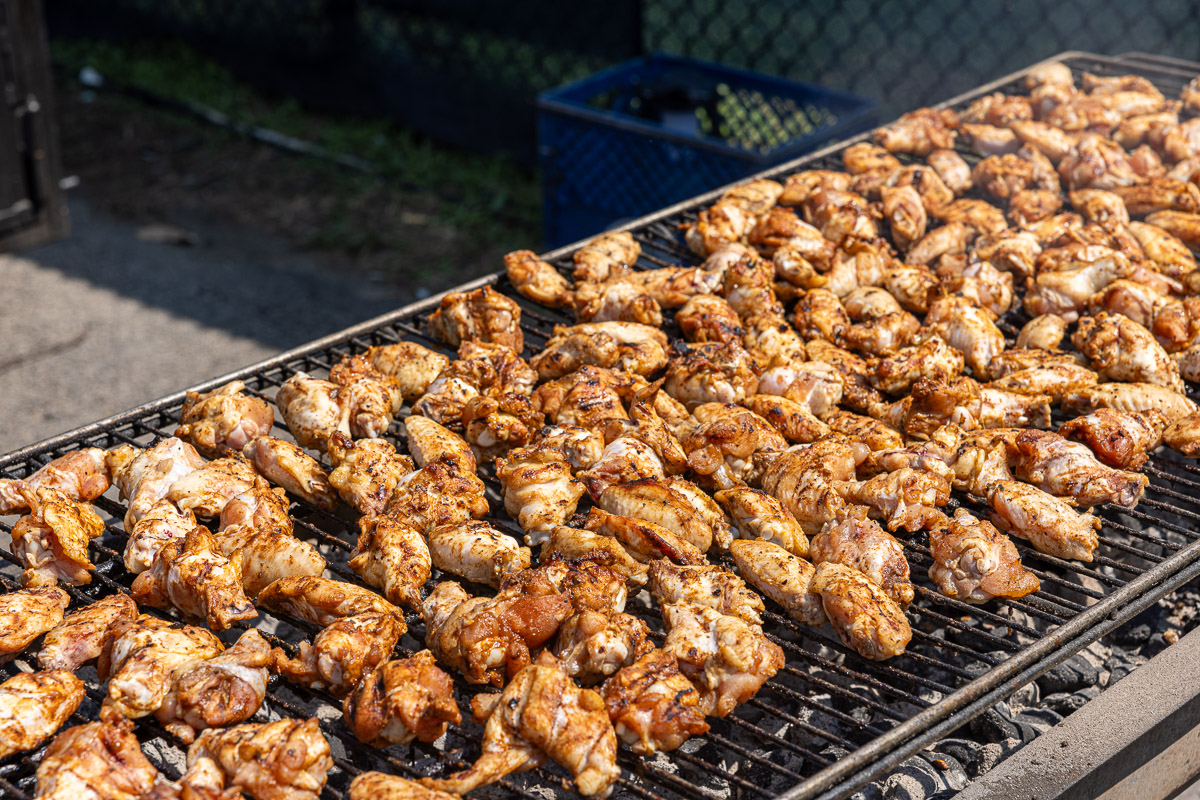 The shade area wasn't really needed on Saturday when it was mostly overcast but it was at near capacity on the cloudless Sunday; being behind the soundboard meant direct sight lines to the stage were not possible but a large video display helped make up for that. Pick your battles. The smaller stage was on the stage right side of the main one, and for the most part hosted local bands aside from the closer, with the requisite VIP area tucked over on the stage left side of the main one. The schedules were set so when one band ended, the other stage sprung into action pretty immediately. This was nice from a pacing perspective but on the other hand gave very little downtime for people to hang and chat with their friends (or make new ones), given the relative volume of the PAs.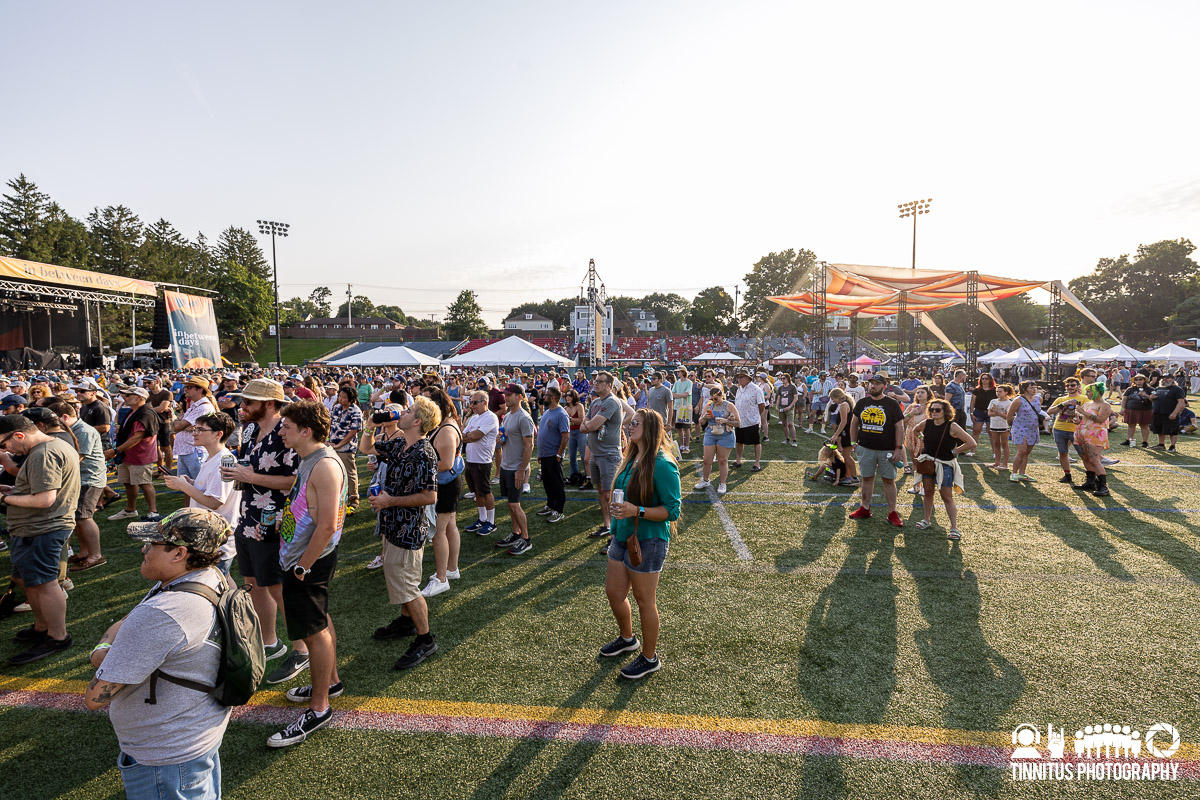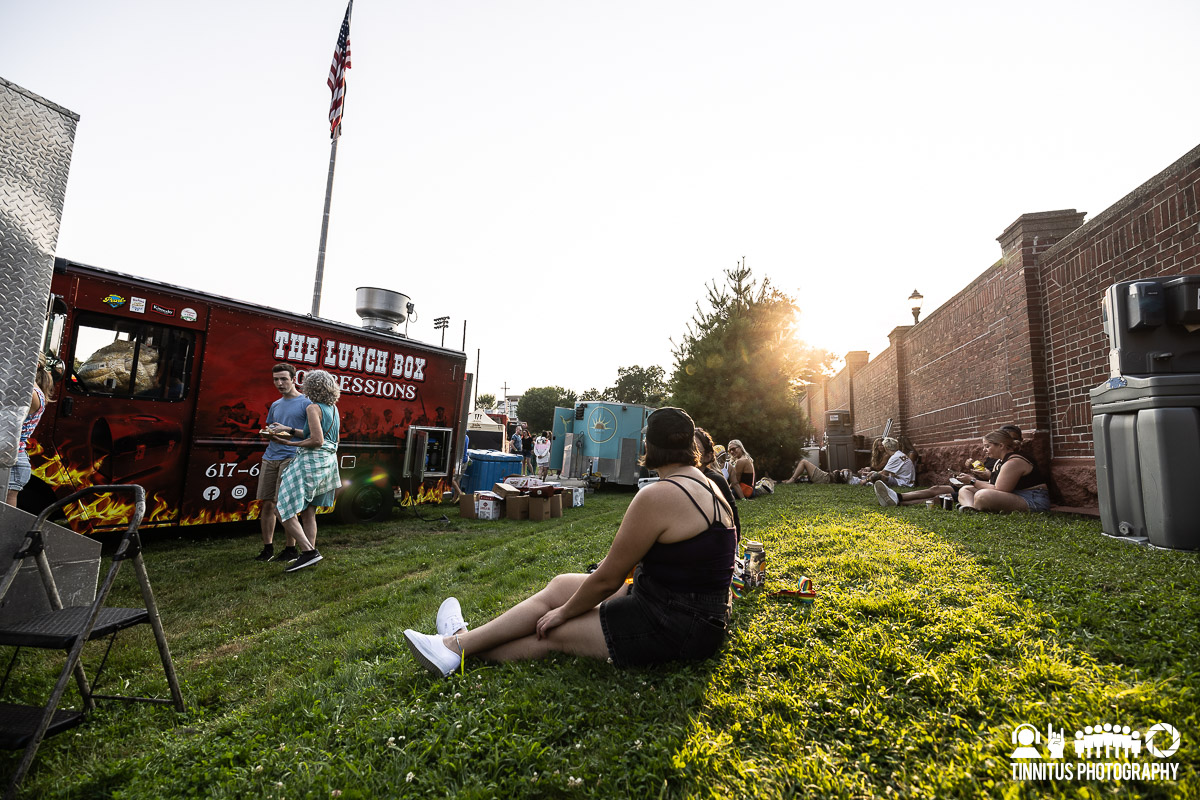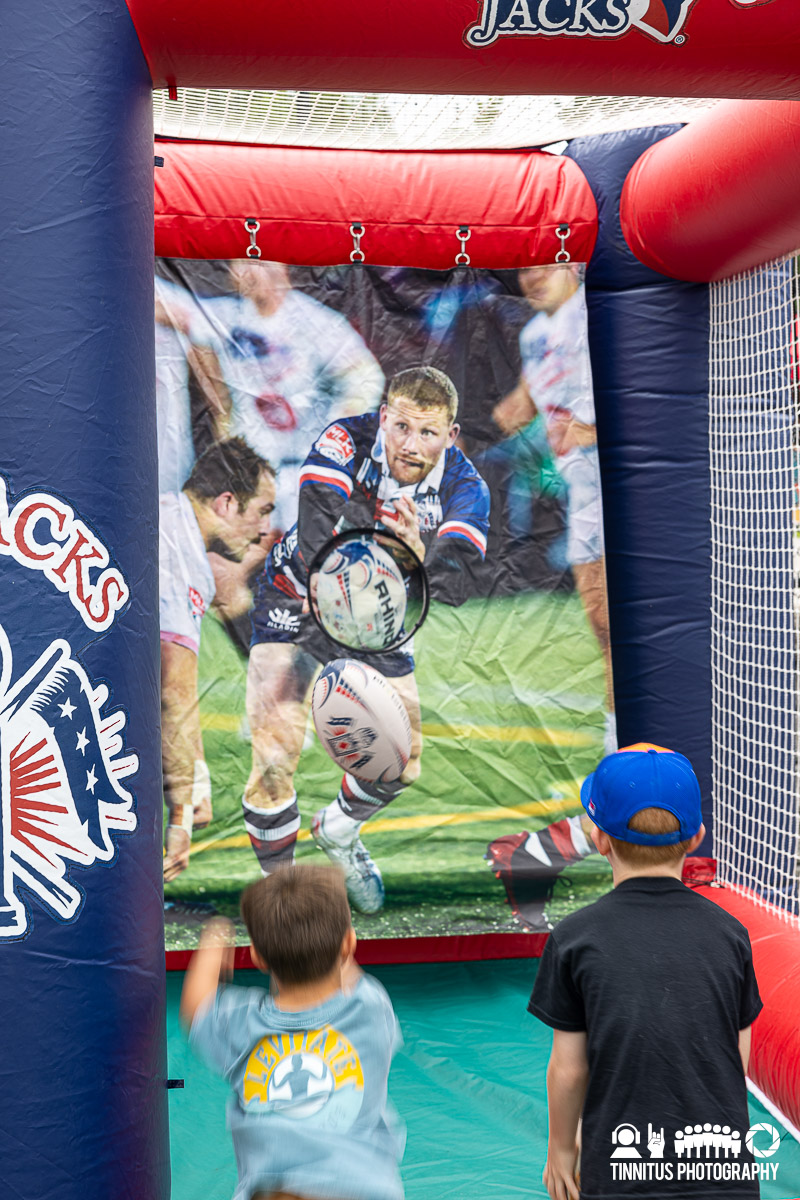 The day started out w/ Gypsy Moths who might feel at home playing their local 99, and Paper Tigers who re-wrote John Darnielle's "This Year" line in a much cornier way, as "We will survive if it's the last thing we ever do." They also had a line about Courtney killing Kurt; emo corn is a new genre perhaps? Carissa Johnson and her band played some sturdy pop-punk but it was Slothrust where a band first really made you pay attention.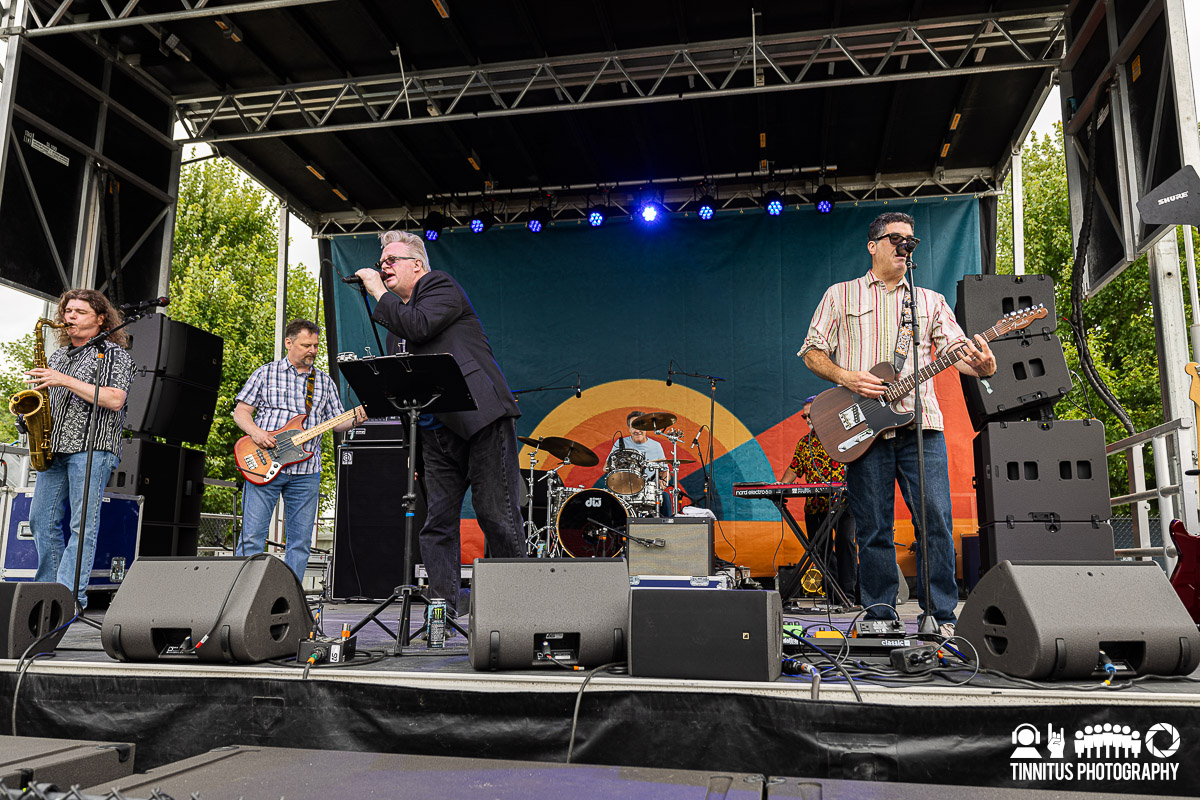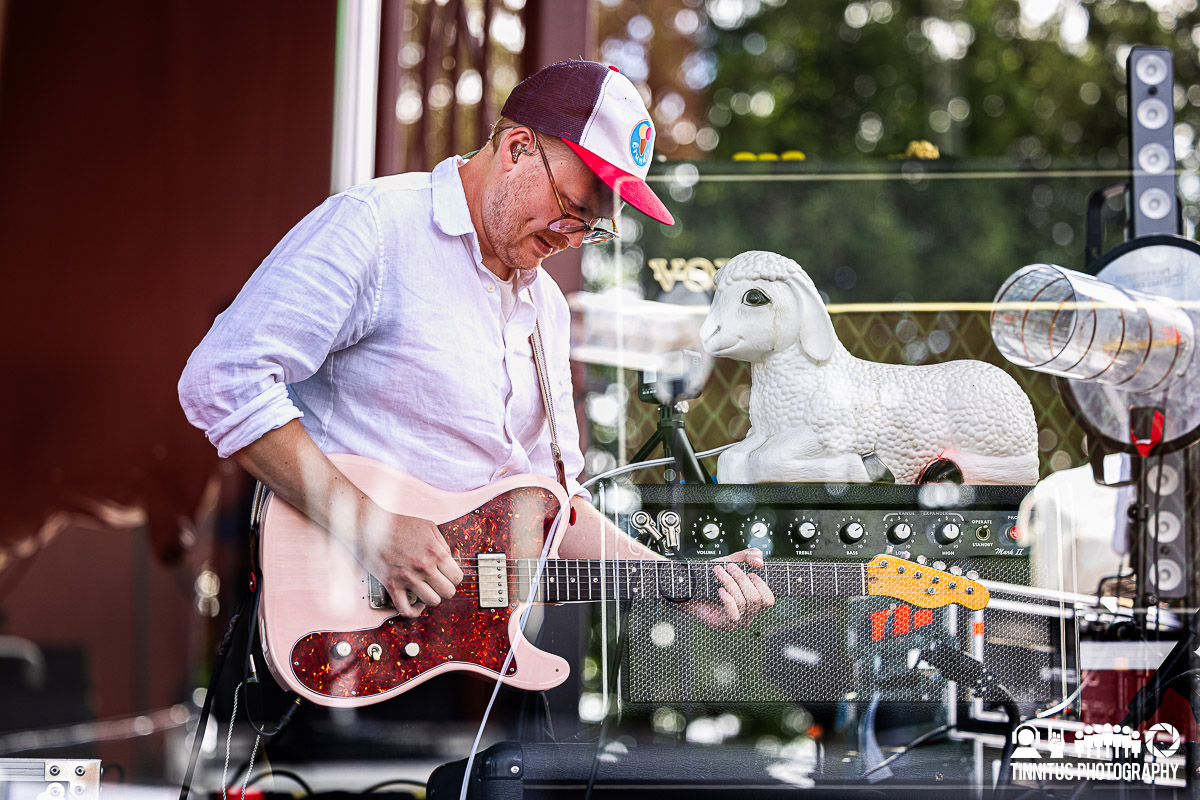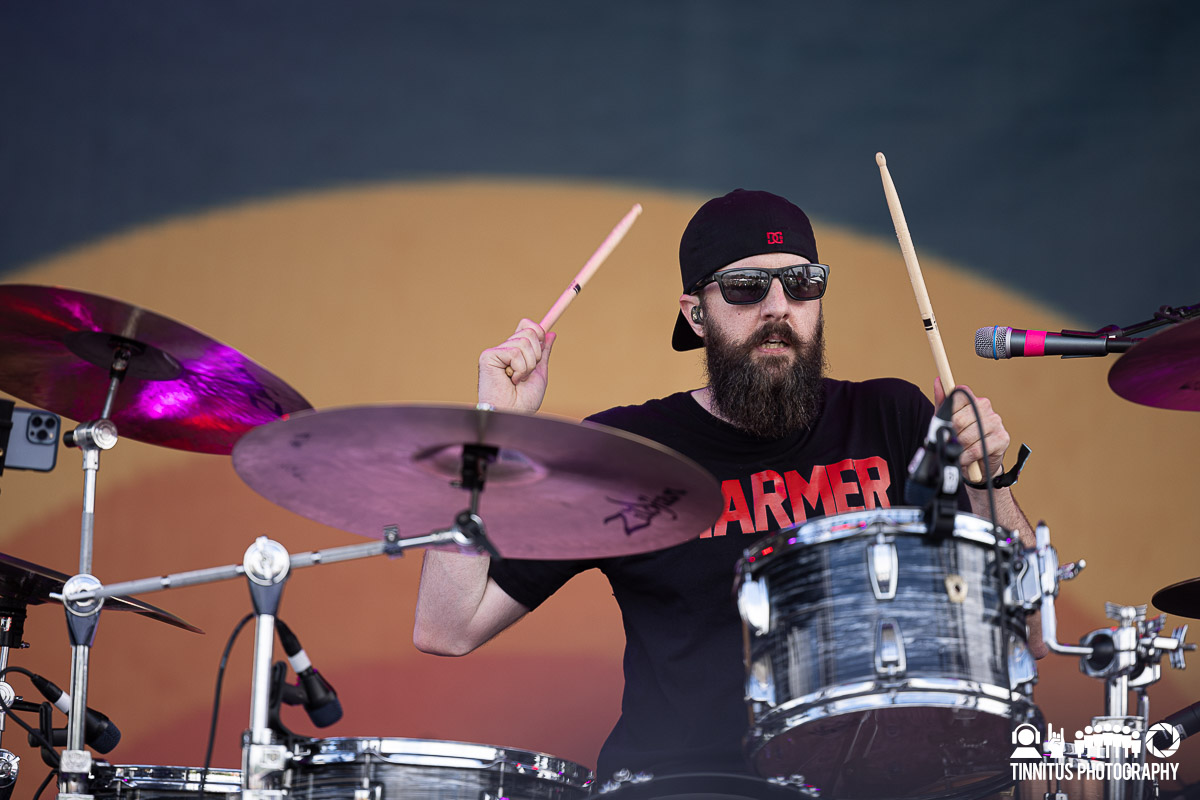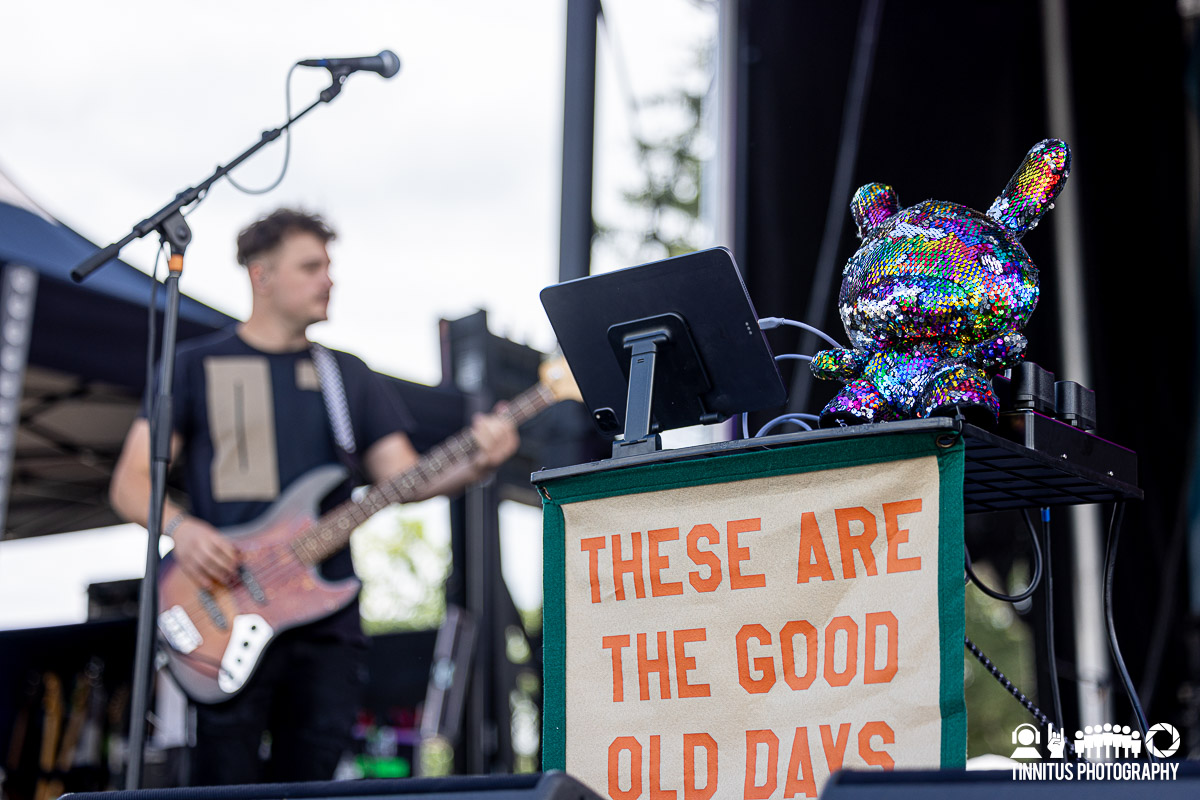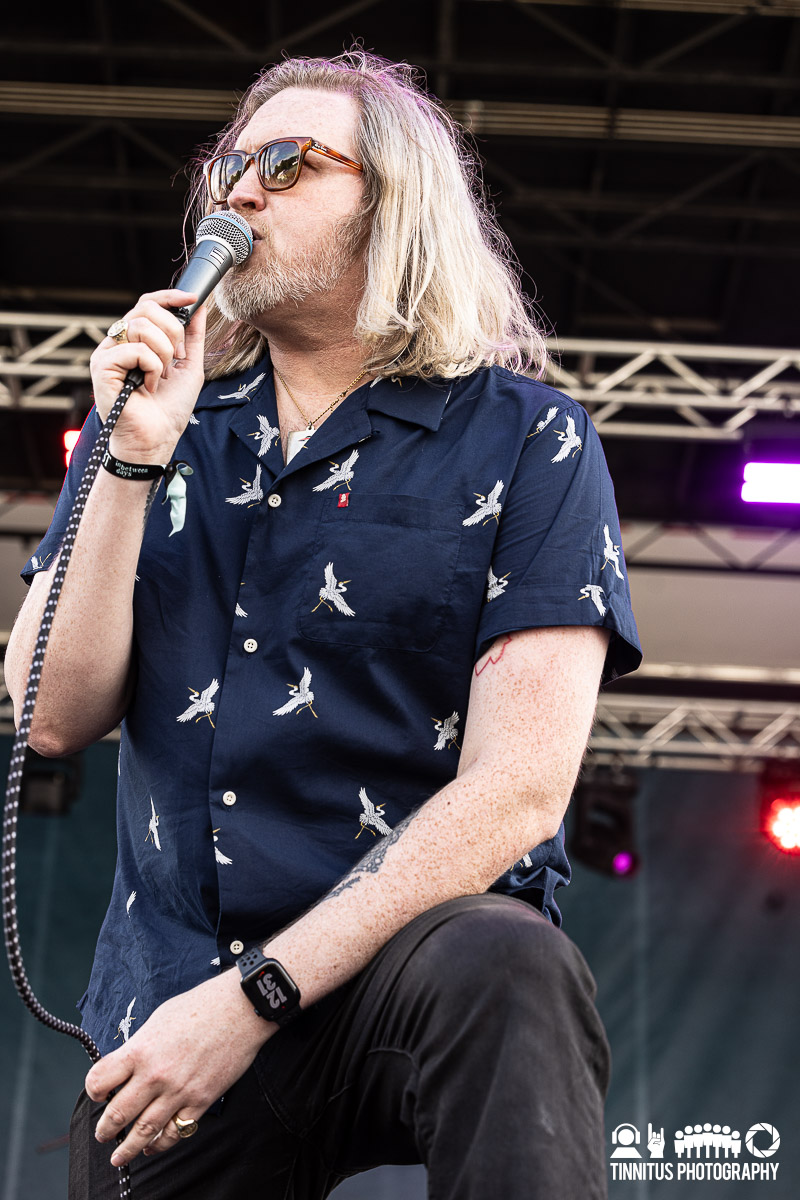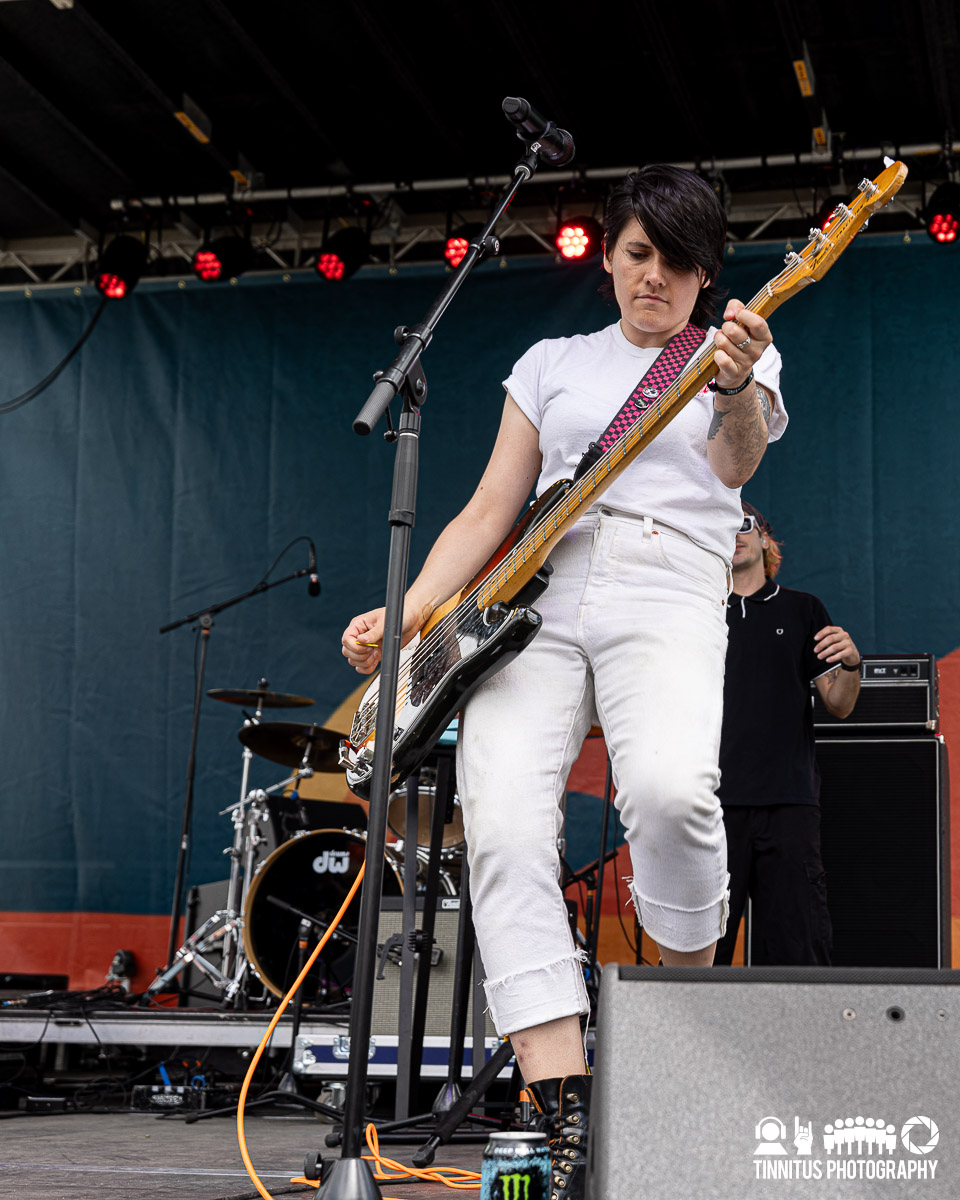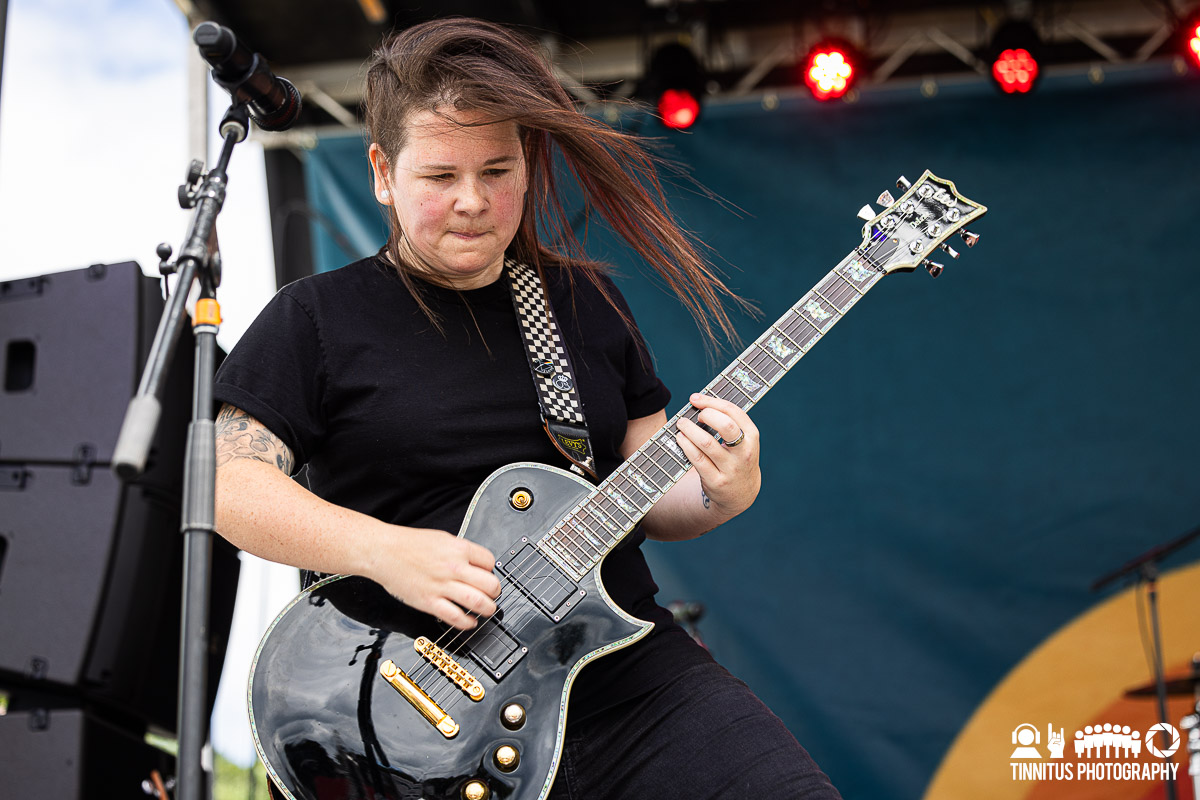 Leah Wellbaum had that stage presence that comes from experience and tons of shows, just owning every inch of the stage while she shredded on her gold Jazzmaster. Will Gorin plus fill-in bassist Annie Hoffman from Weakened Friends (who also delivered a powerhouse set later that day) kinda defined 'power trio.' I've seen my share of powerful trios (ZZ Top, Hüsker Dü, Melvins, Sleep, Dinosaur Jr, Rush etc) so I'll throttle my enthusiasm a bit but they really stood out and I'm glad to have finally seen them play. They are finishing some shows here before going on tour with The Front Bottoms for a swing through the heartland and South starting in October.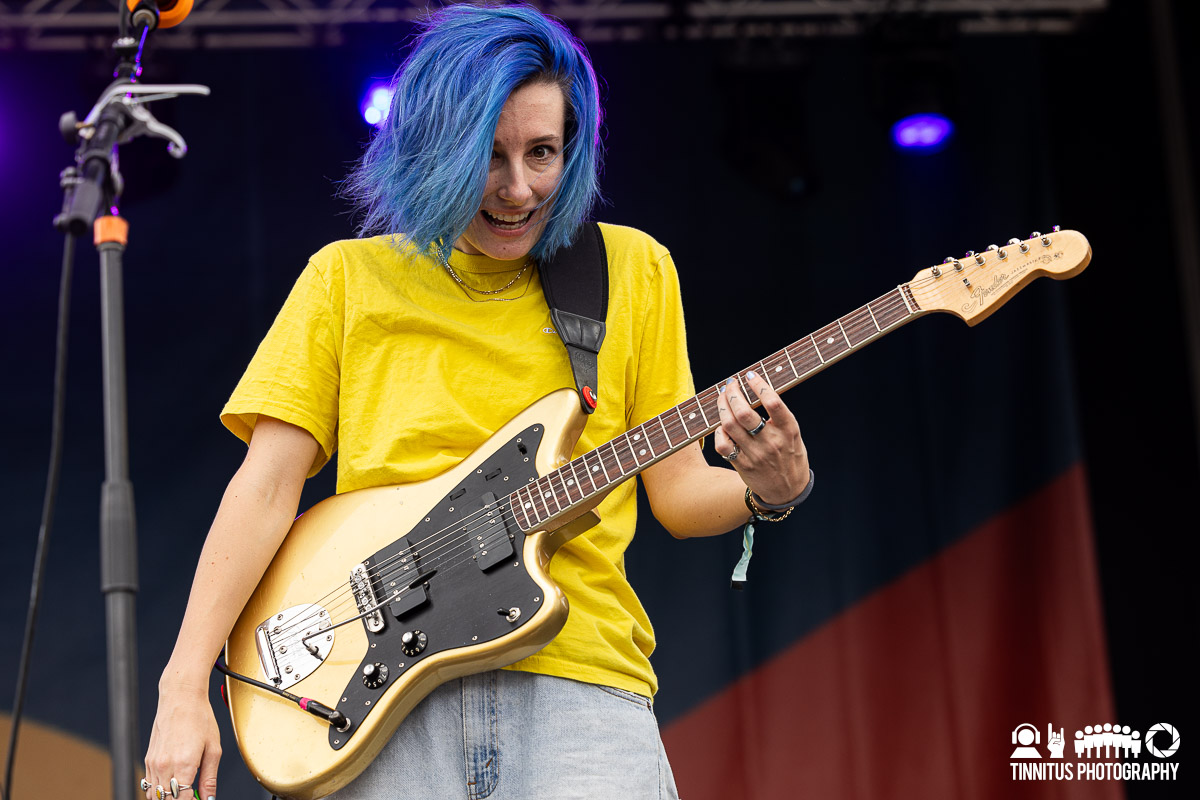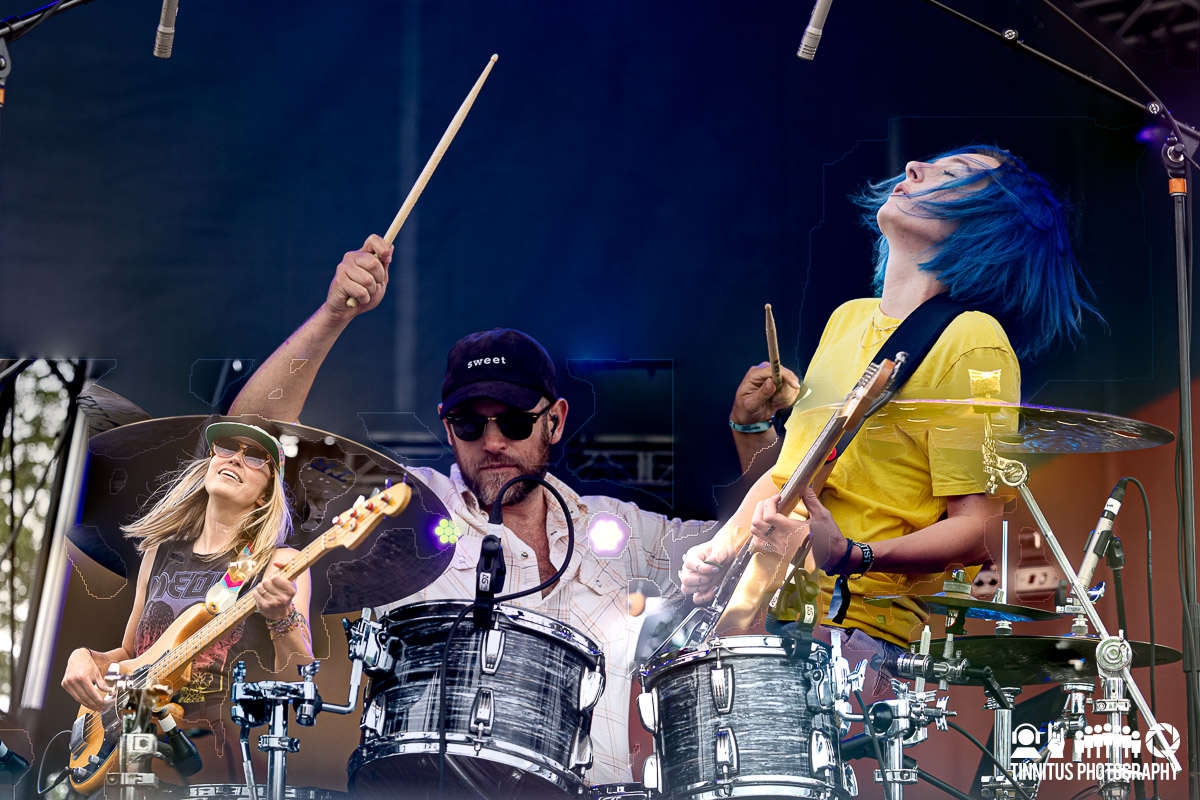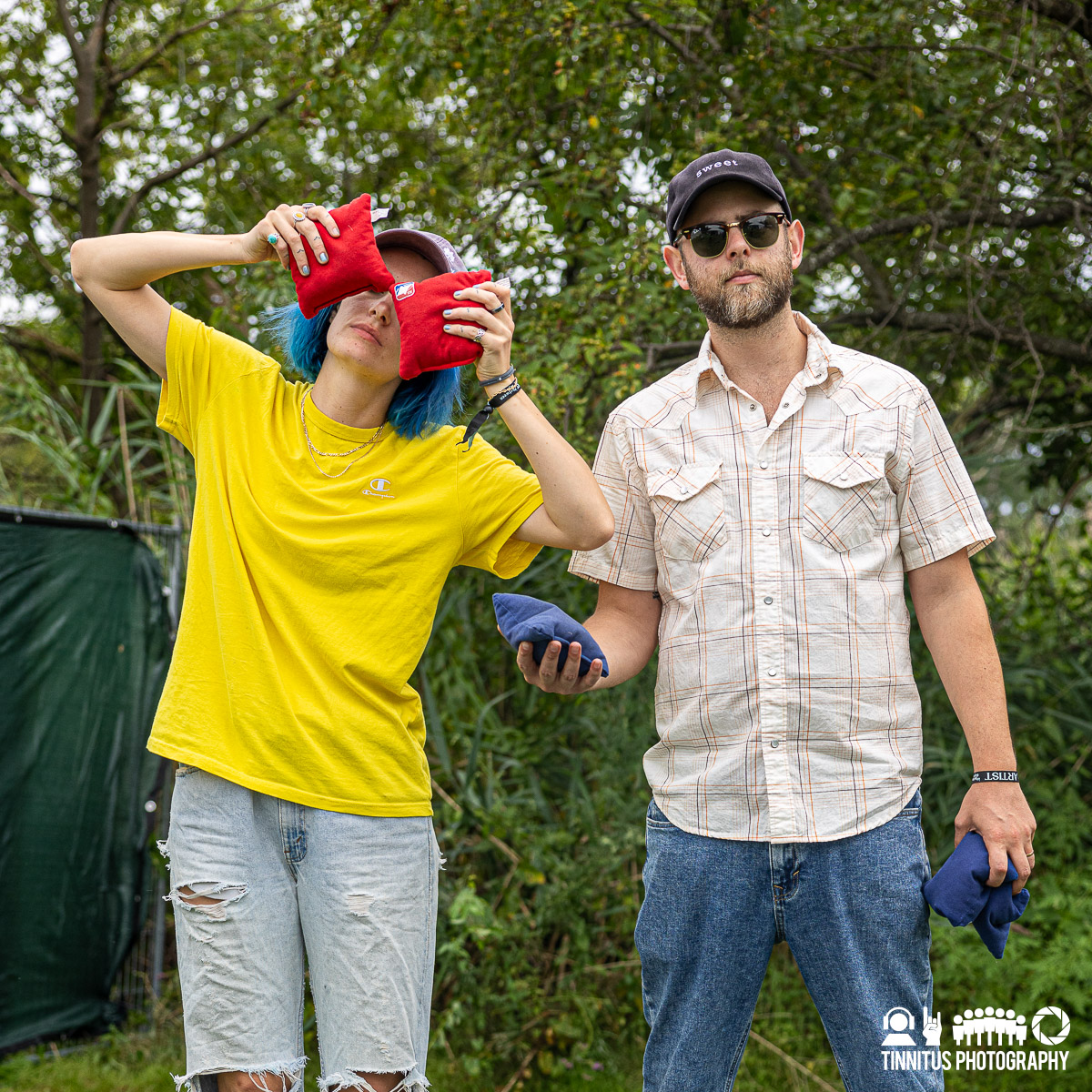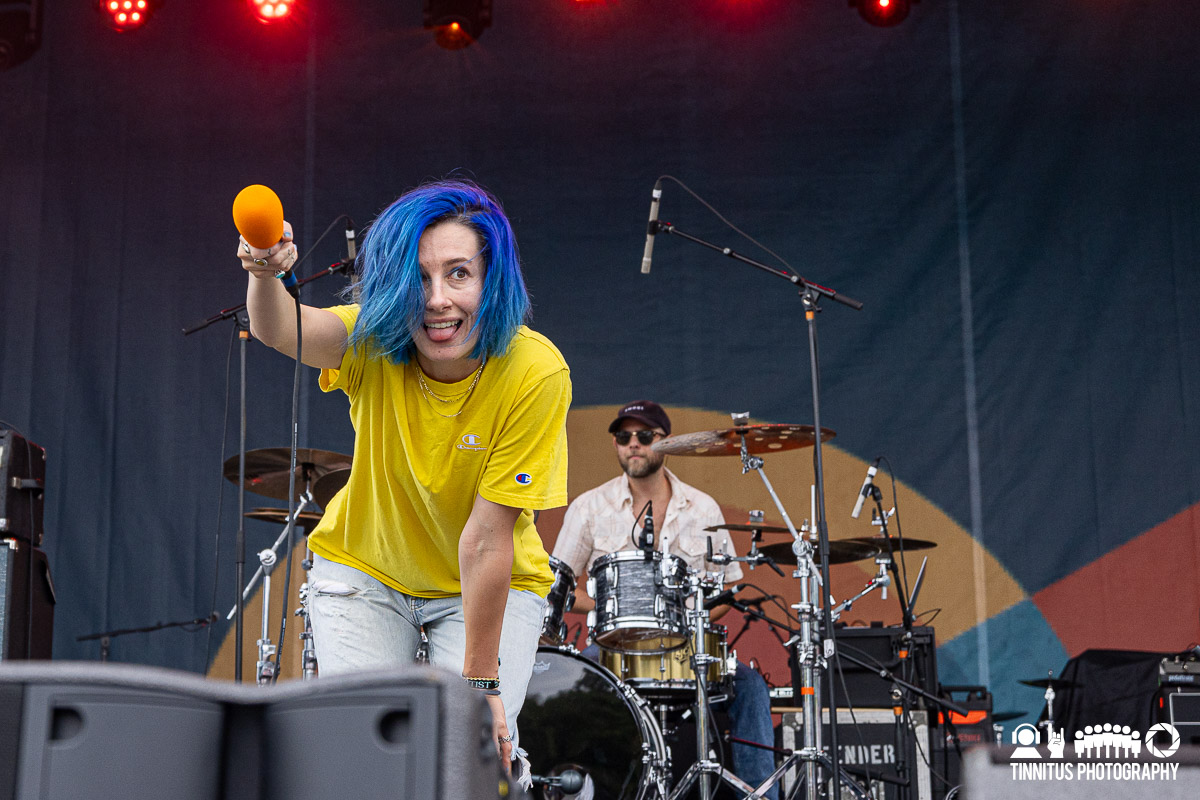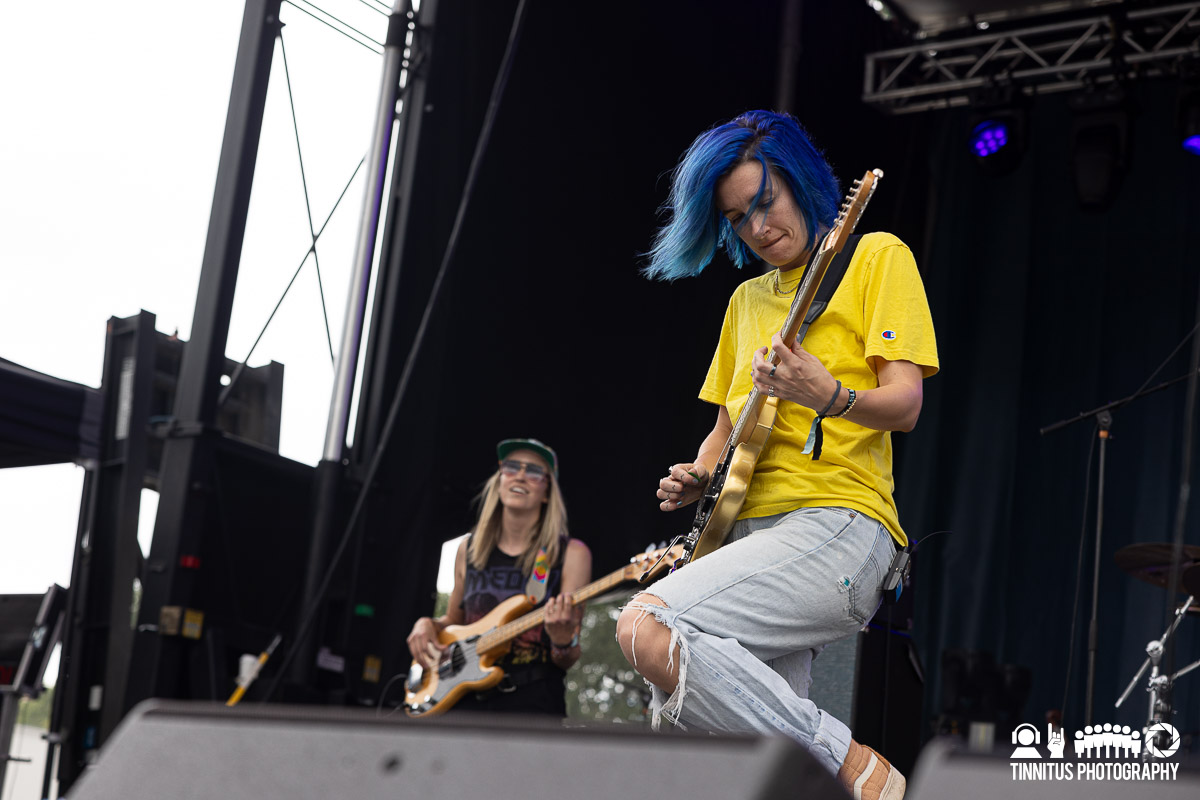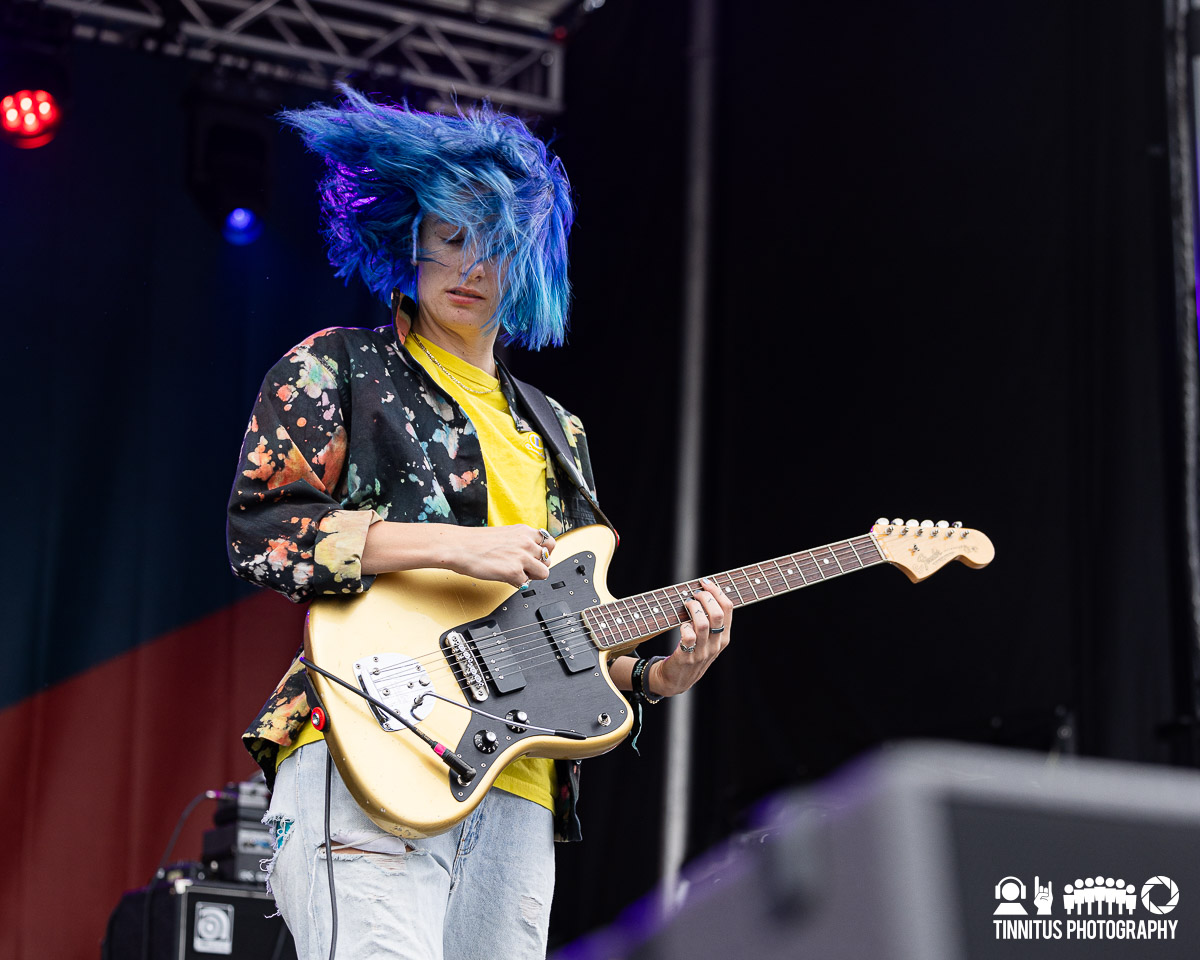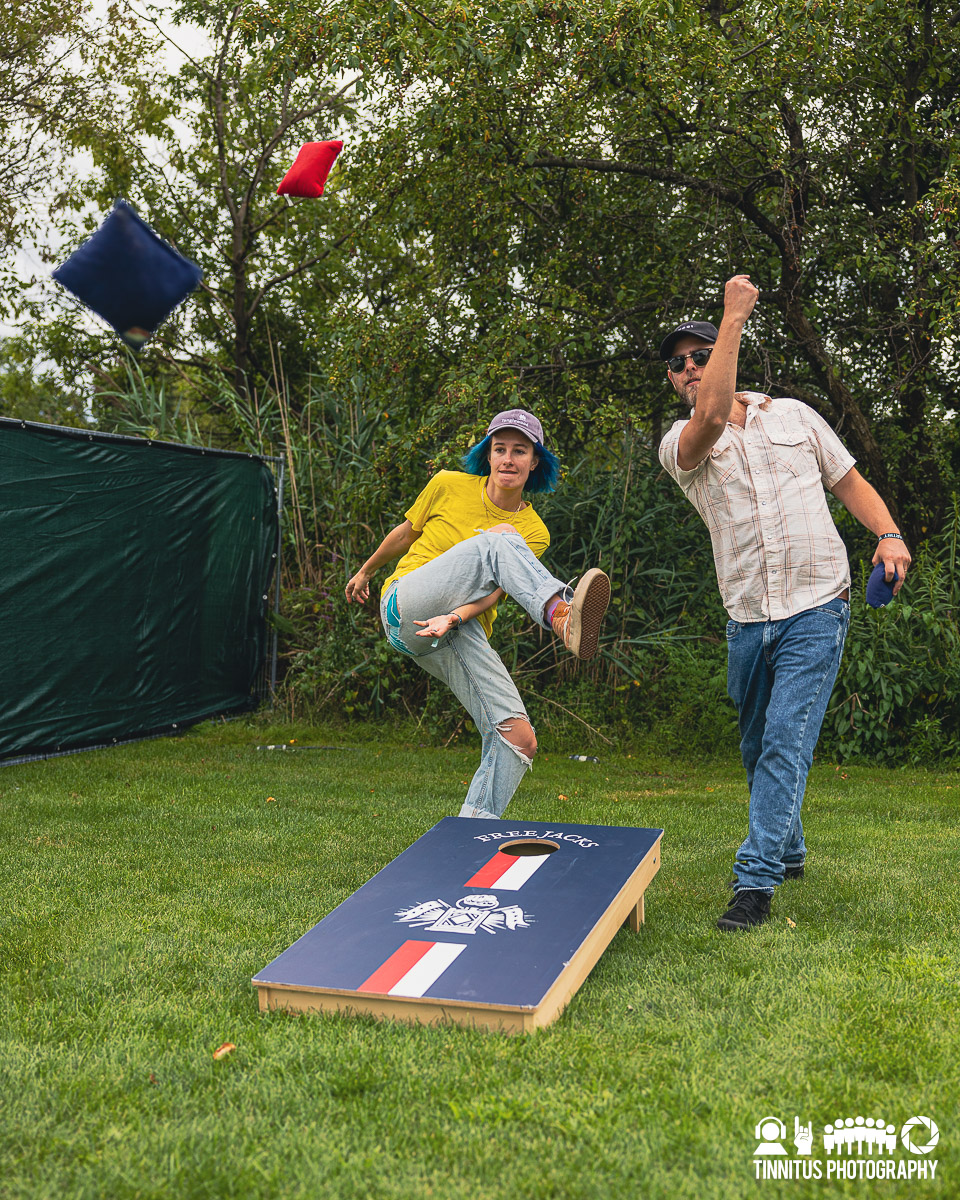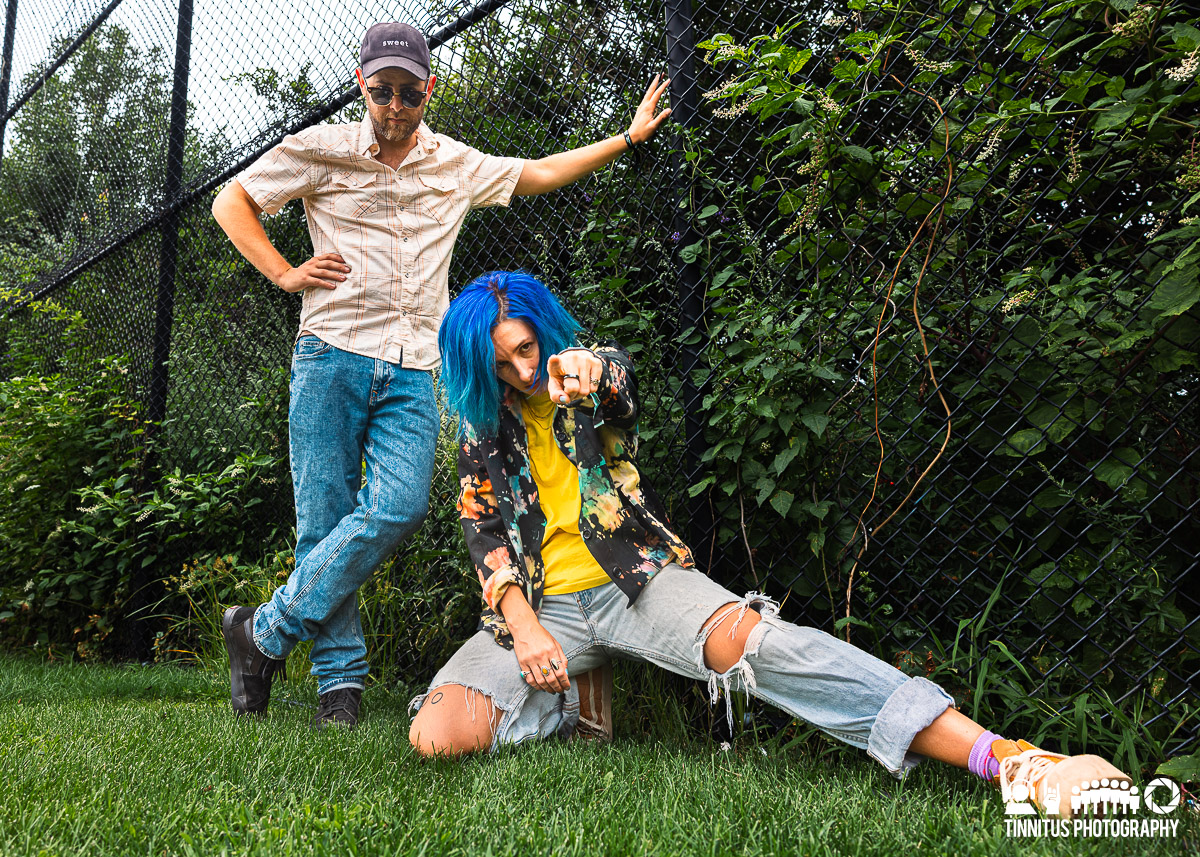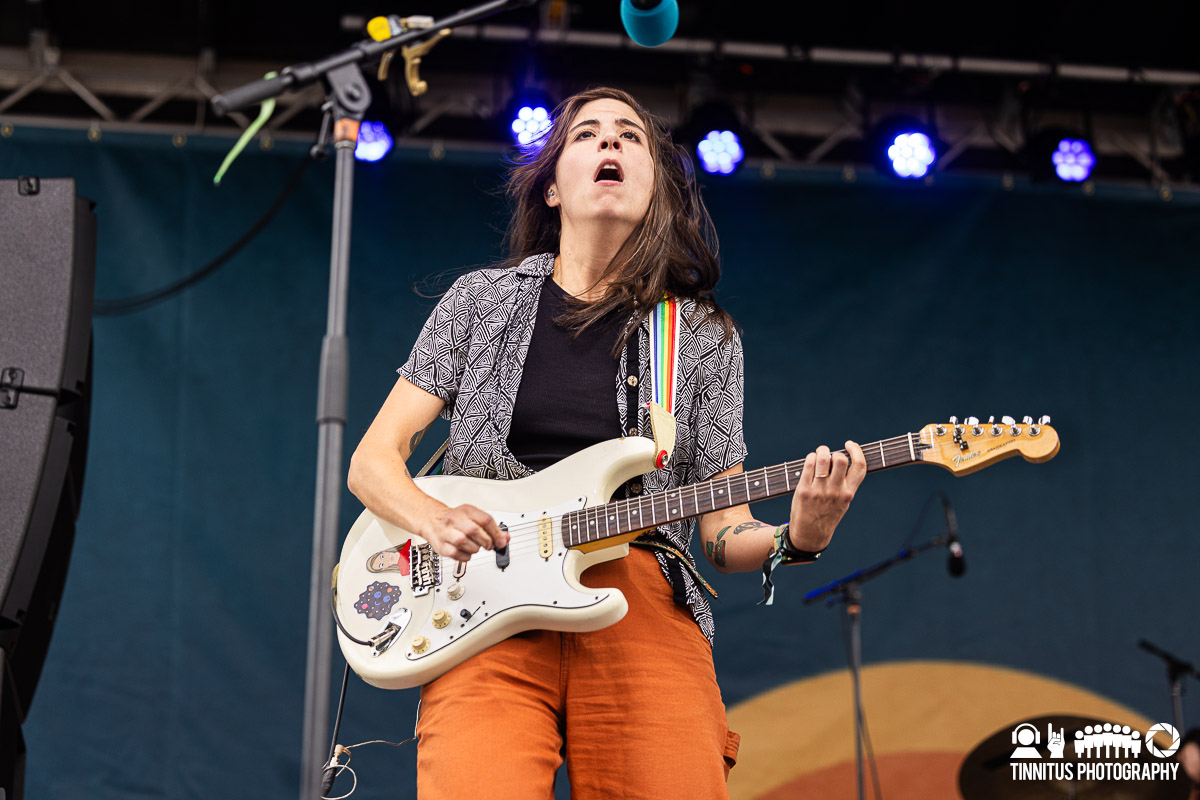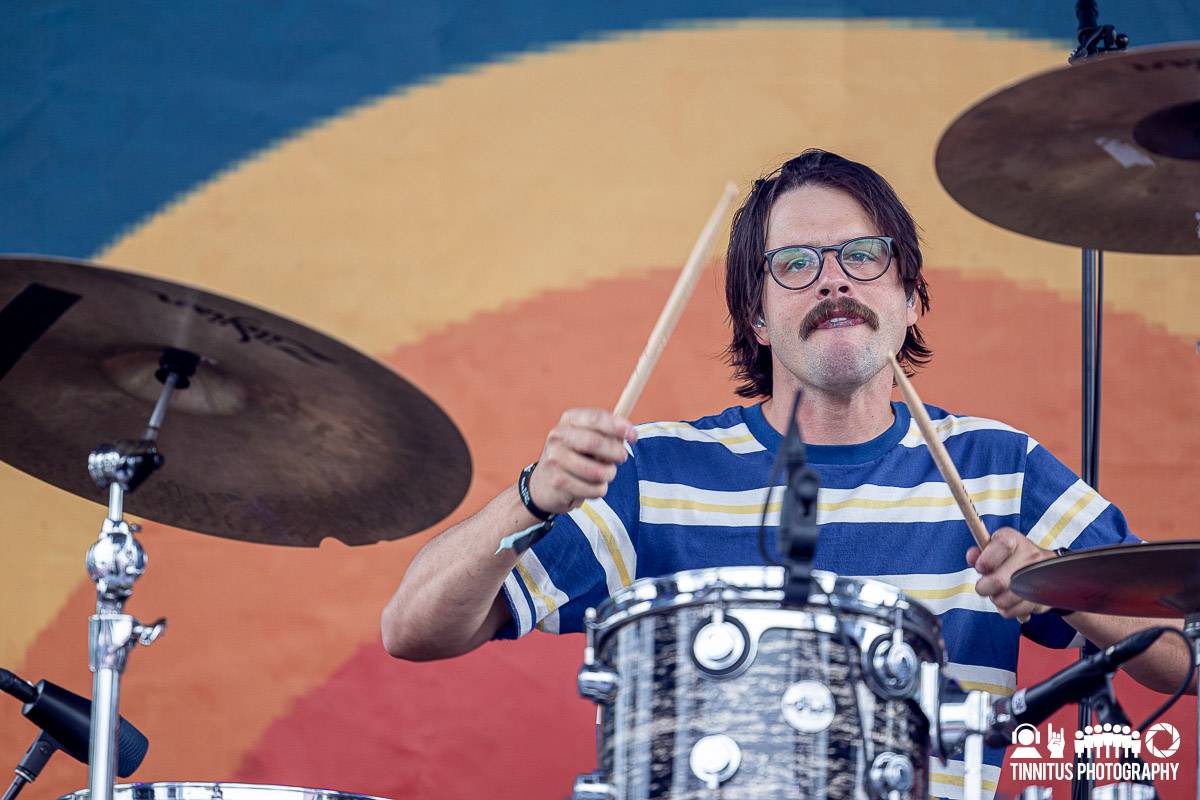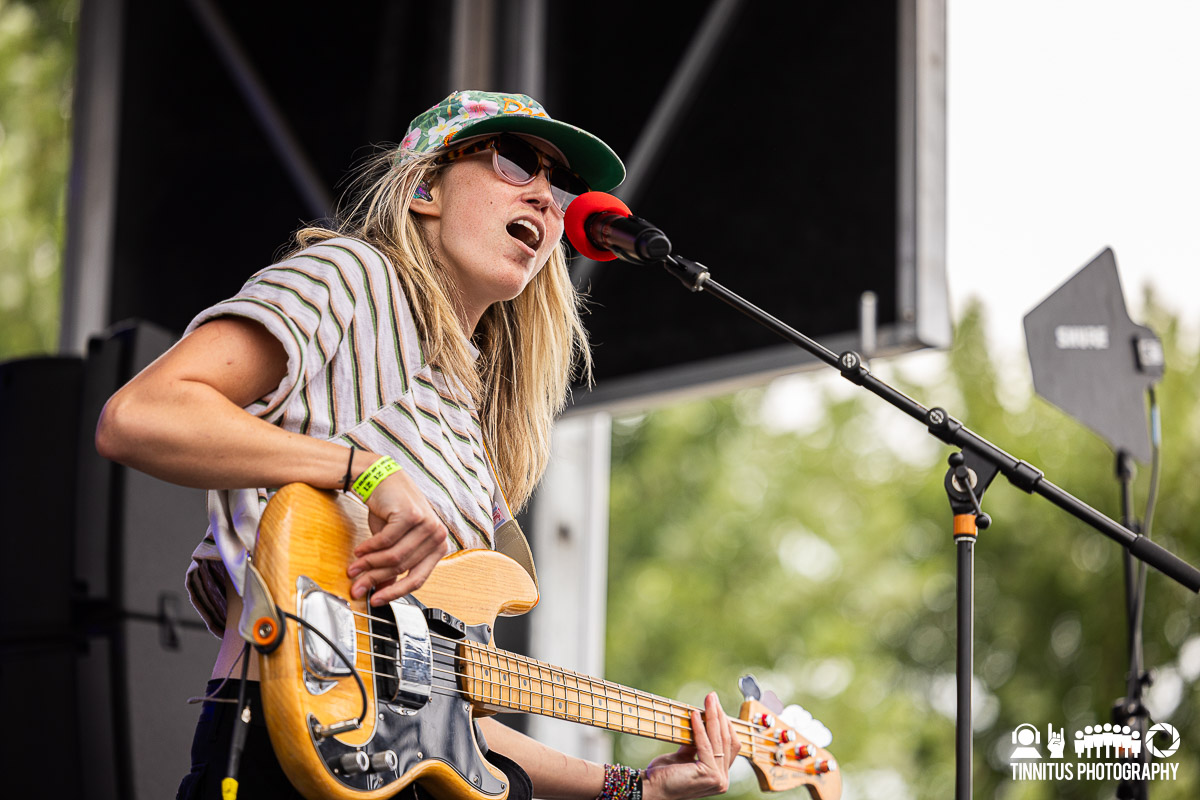 Fantastic Cat is a supergroup comprised of four singer/songwriters who also rotated on instruments; they had a pretty strong Jayhawks vibe and one song in particular sounded like a Jason Isbell outtake. I was actually surprised to see that not only Blitzen Trapper is still an active project but that all six original members are still together. They played their take on homespun Americana and the set ended with a trio grouped around a single microphone.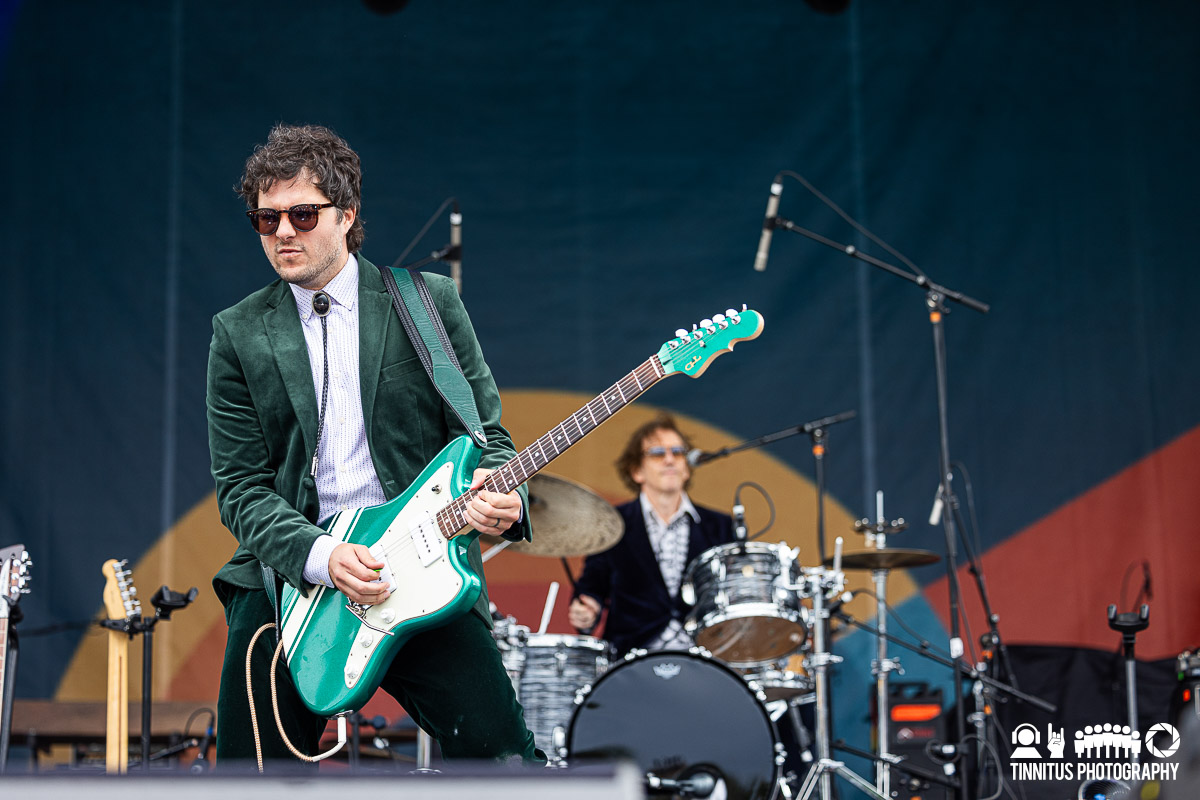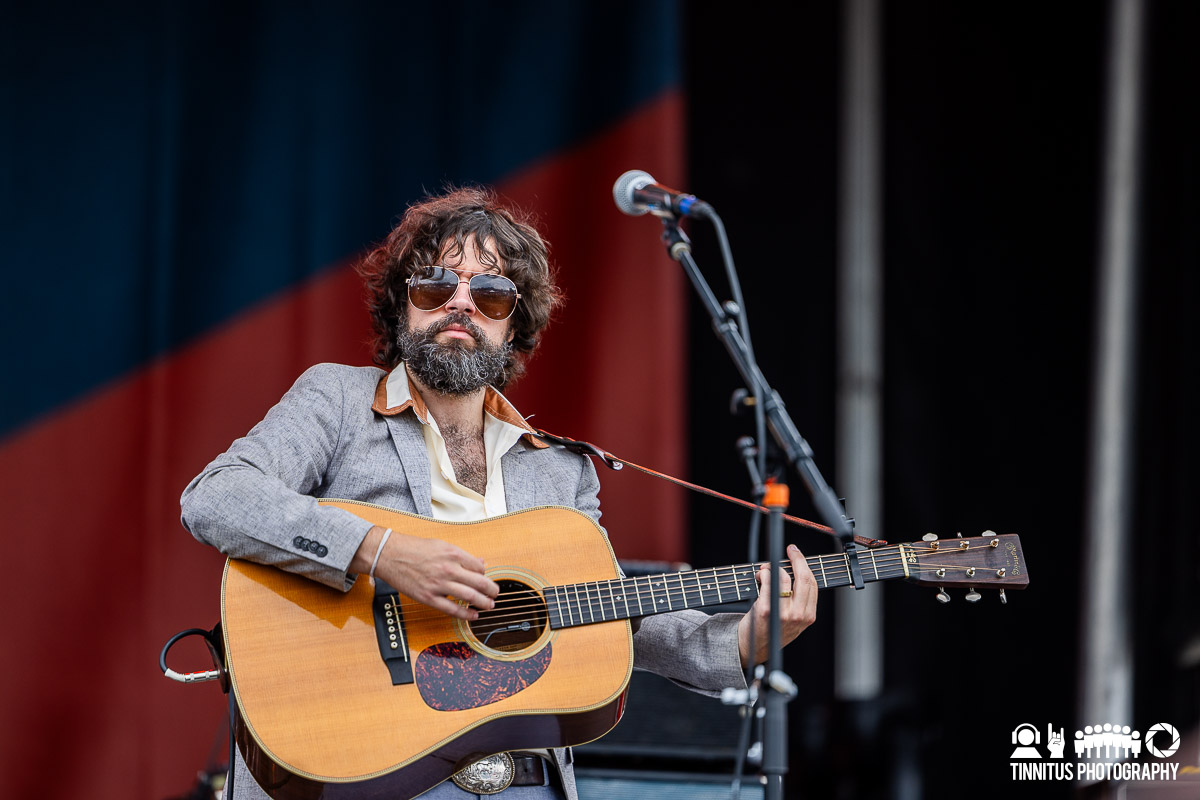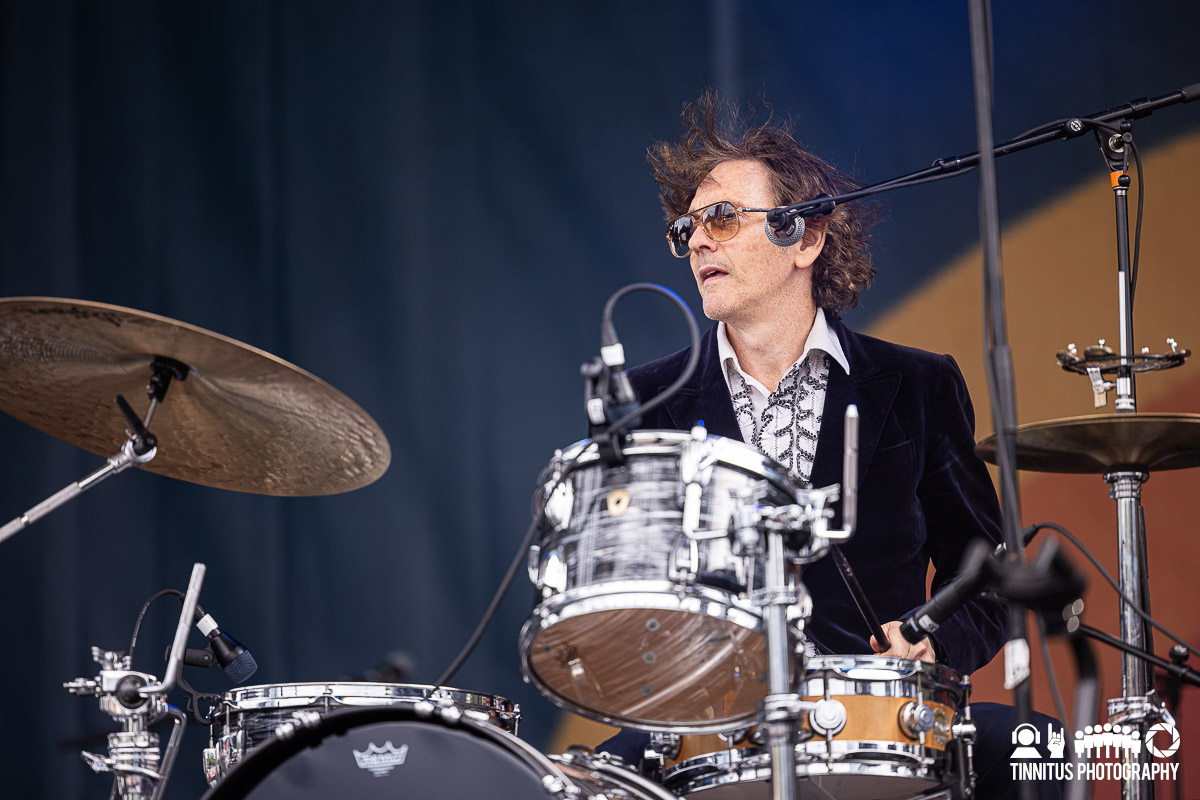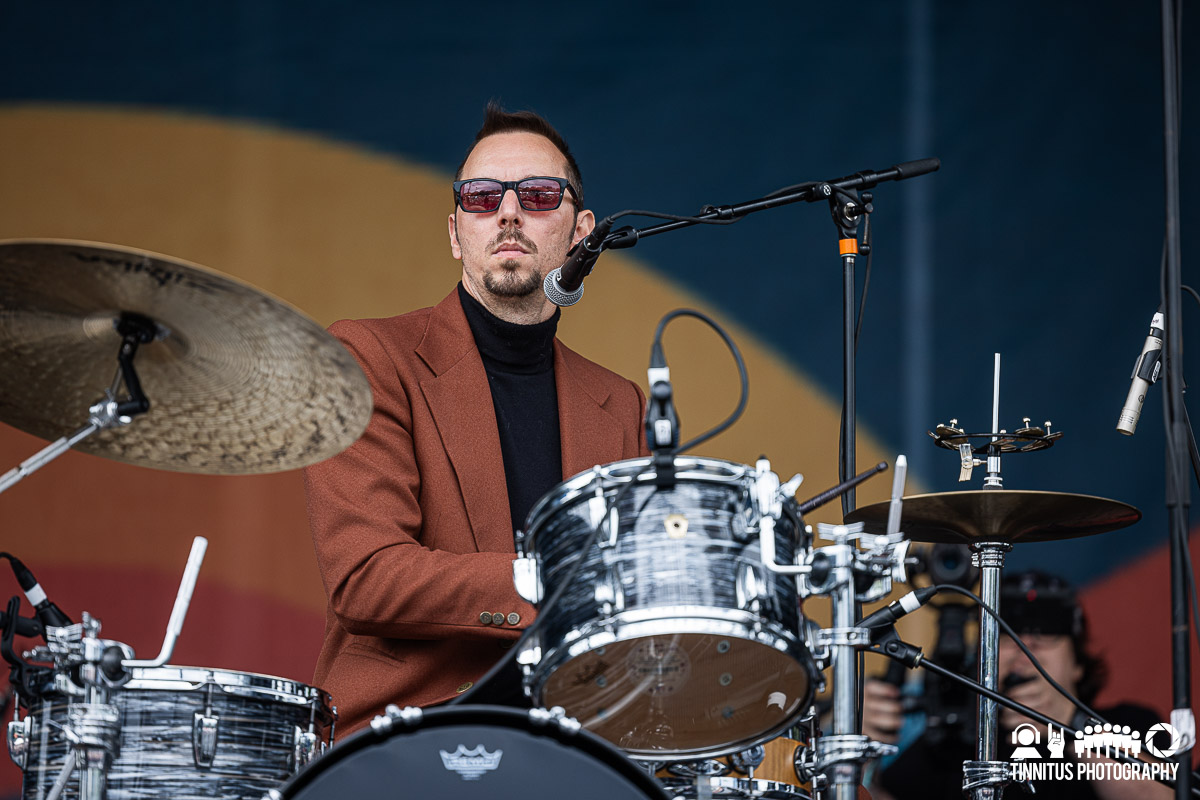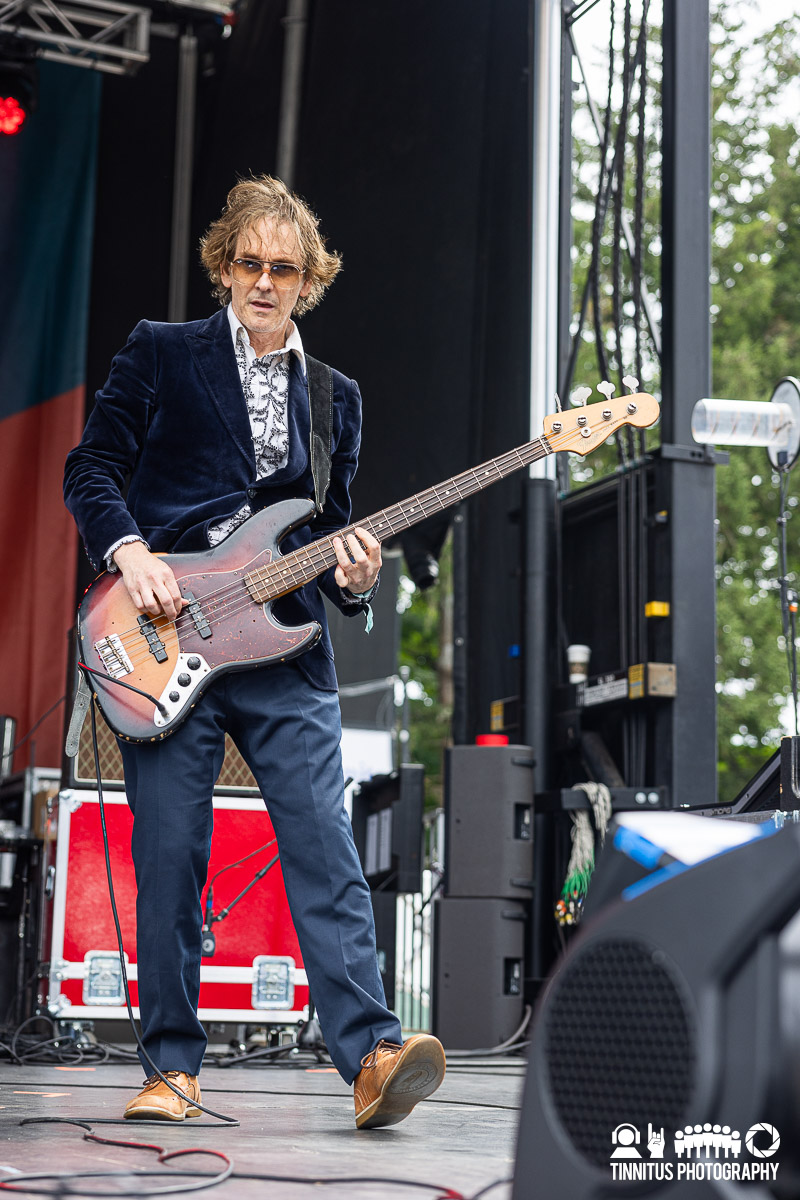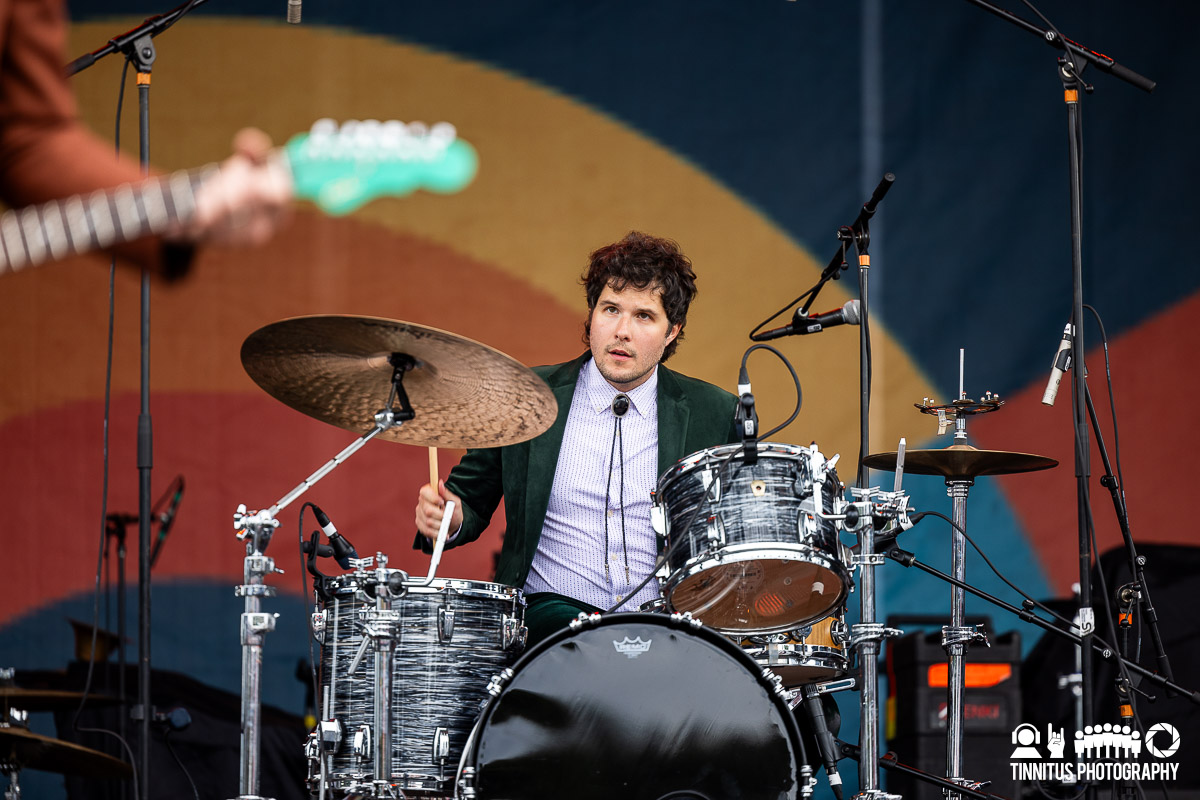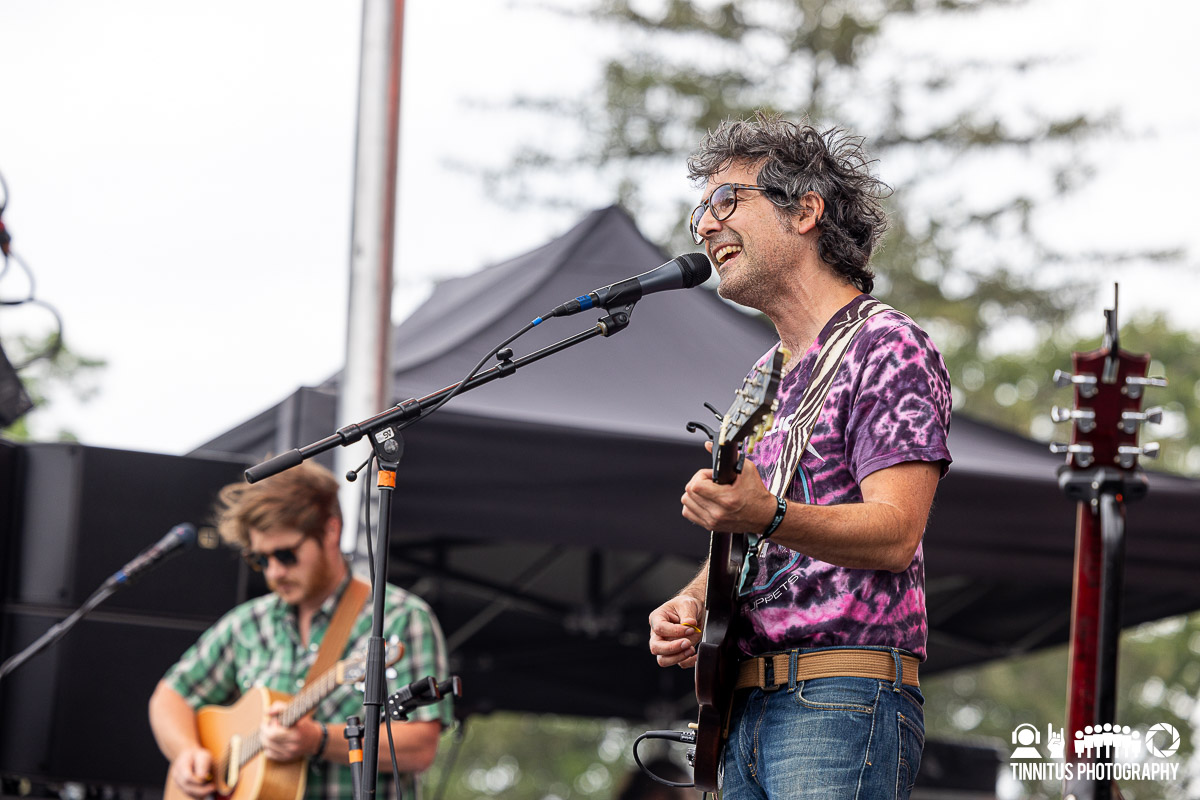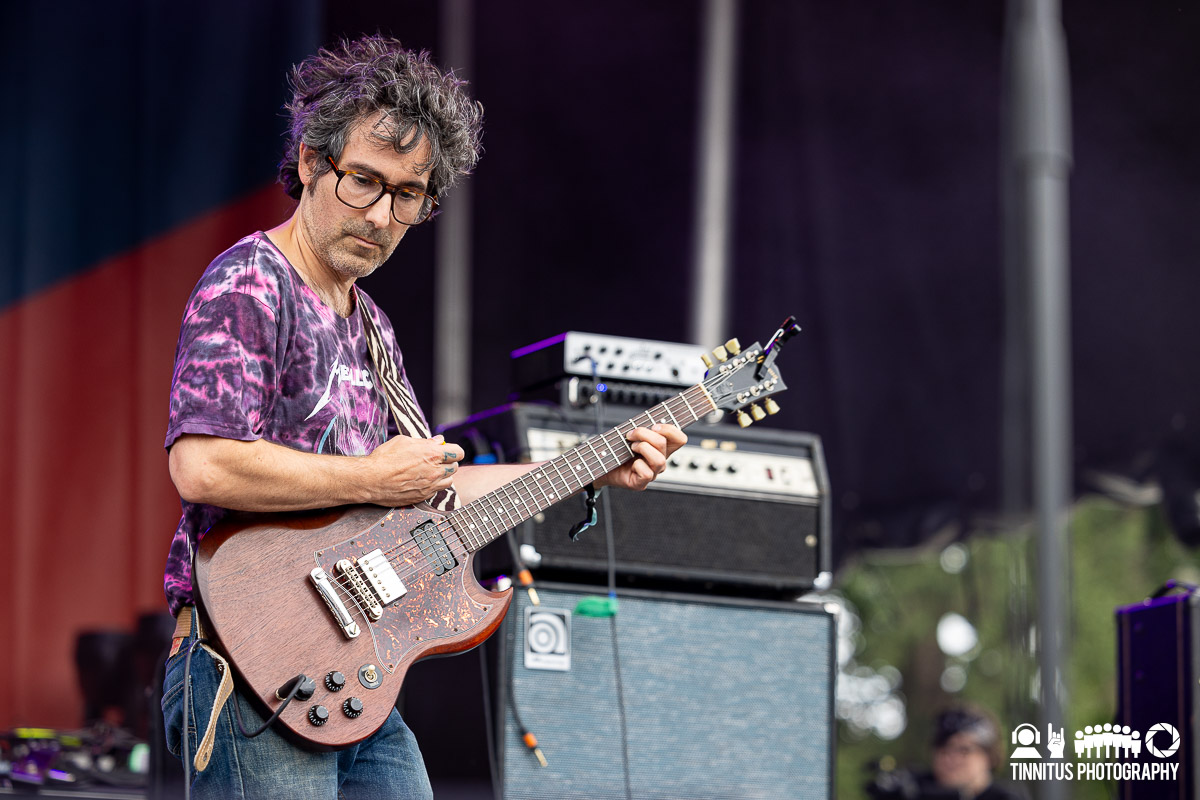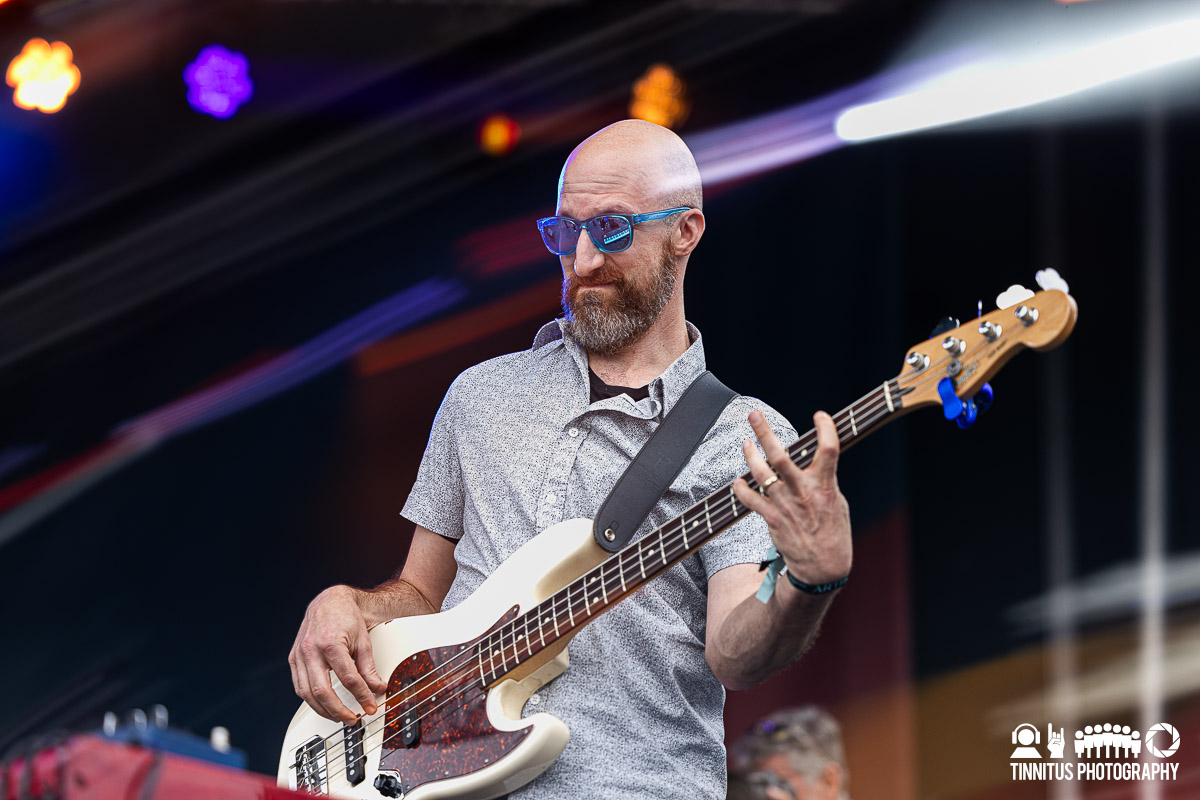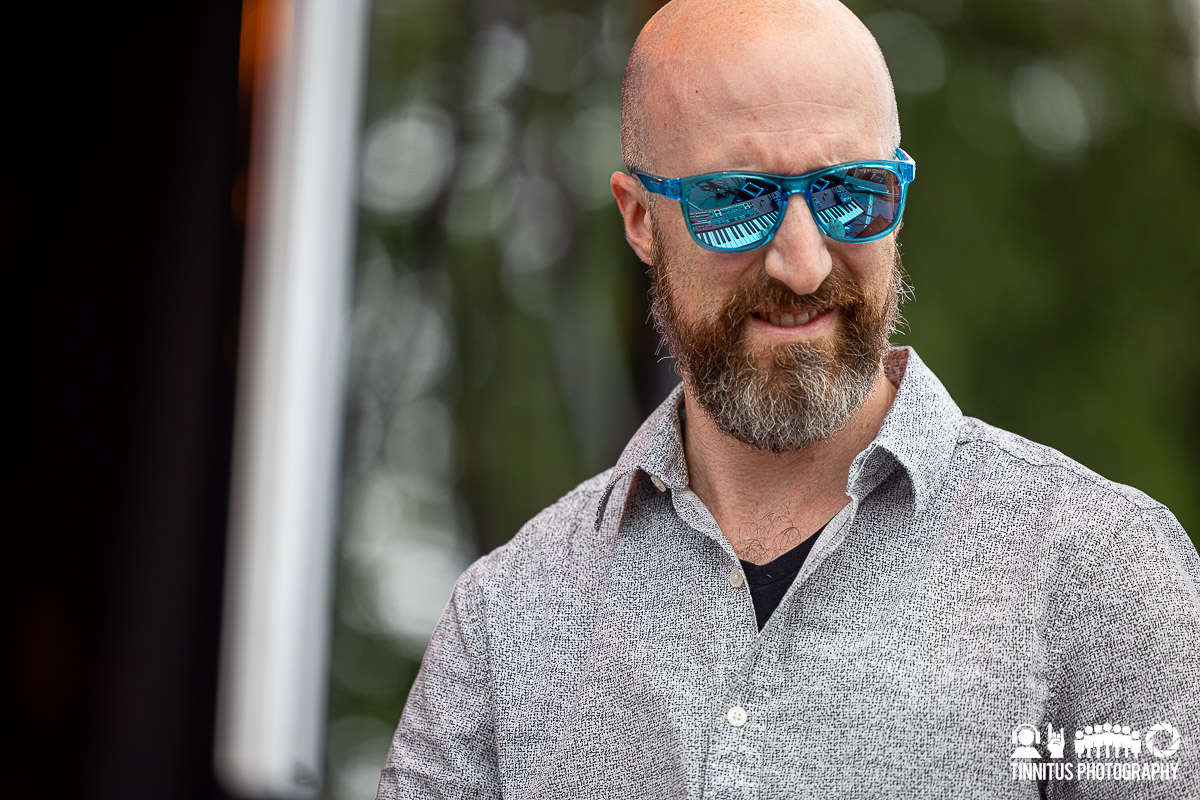 The big draw for most people were the last three bands, each of them delivering solid sets. Sunny Day Real Estate sparked back into action last year and while it's not clear if they plan on adding to their discography, no new material was played. However, it was nice to see them play a varied set including four from their final record The Rising Tide; "Faces In Disguise" and "Killed By An Angel" were particular standouts, though Enigk skipped the falsetto part of "Faces In Disguise" and let the guitars take over that part. The Beths likely enjoyed the overcast, cooler day as compared to a few weeks ago when they played Newport Folk Festival and Elizabeth Stokes had a mild bout of heat exhaustion during their performance. They had plenty of fans cheering them on and made some new ones; the third time this year I've seen them and the best performance, driving their hook-laden songs home with plenty of oomph.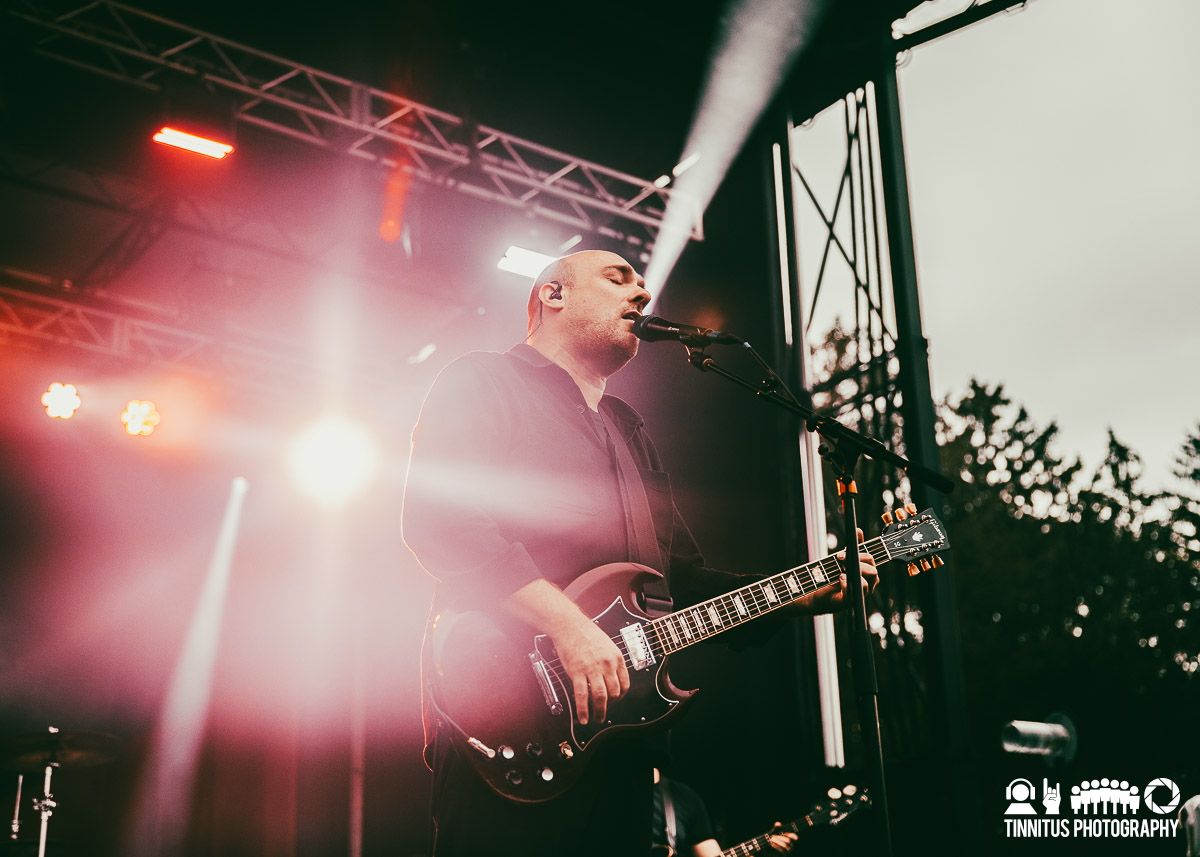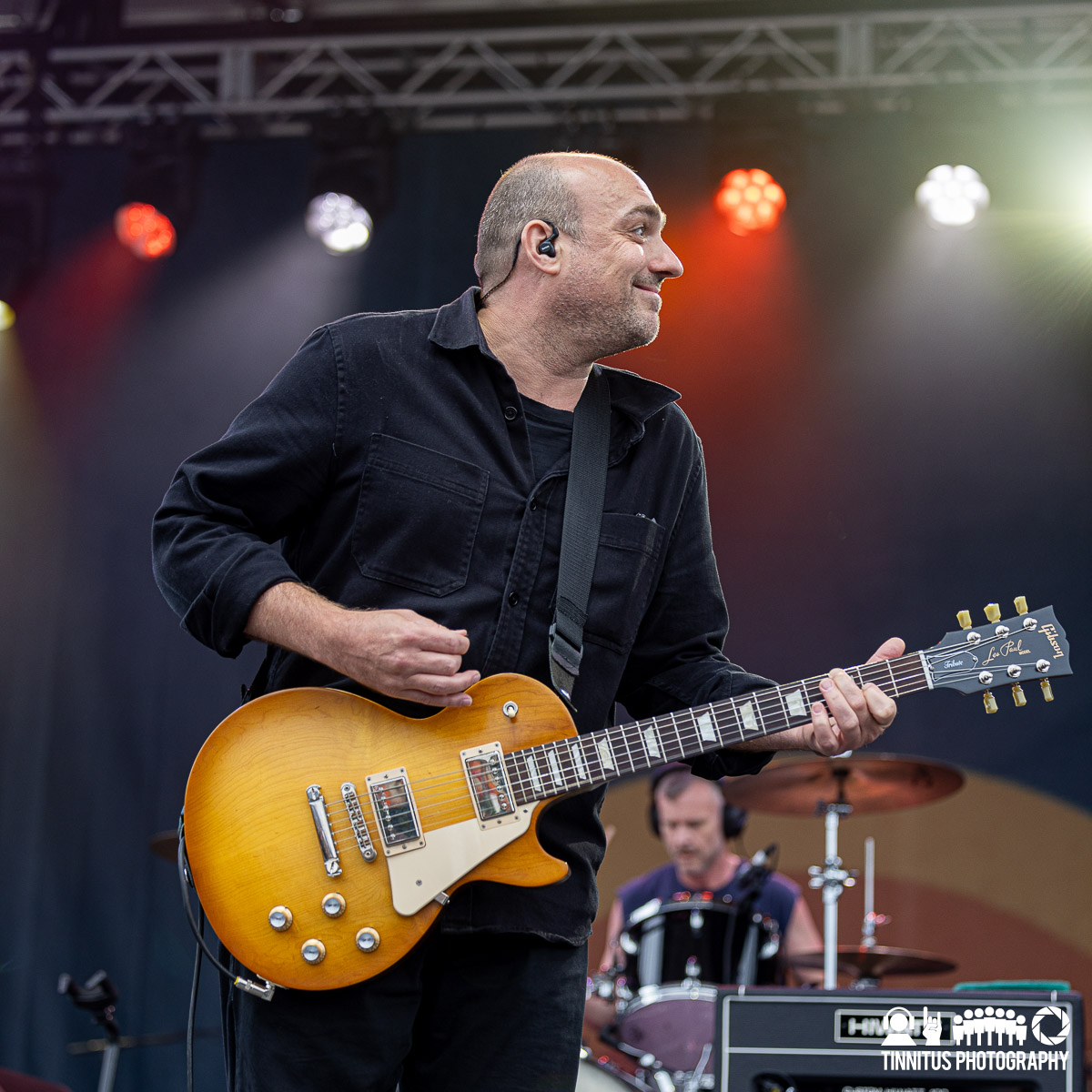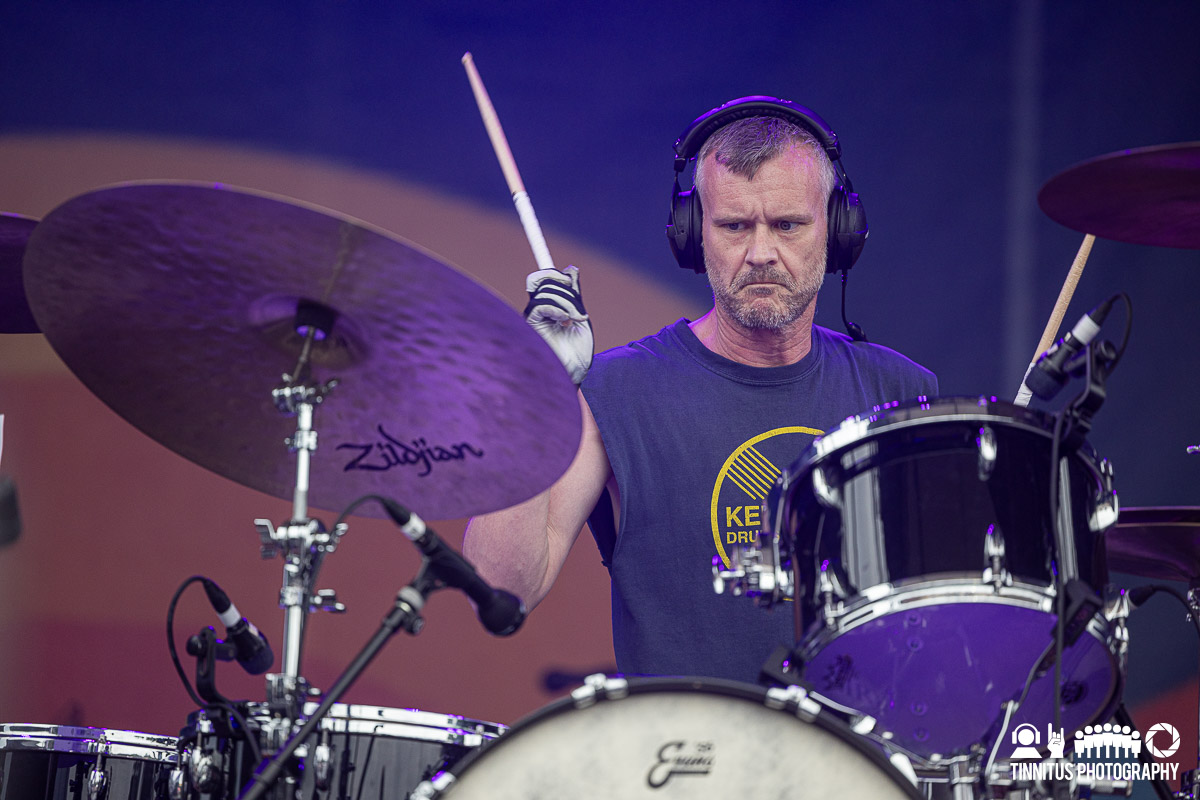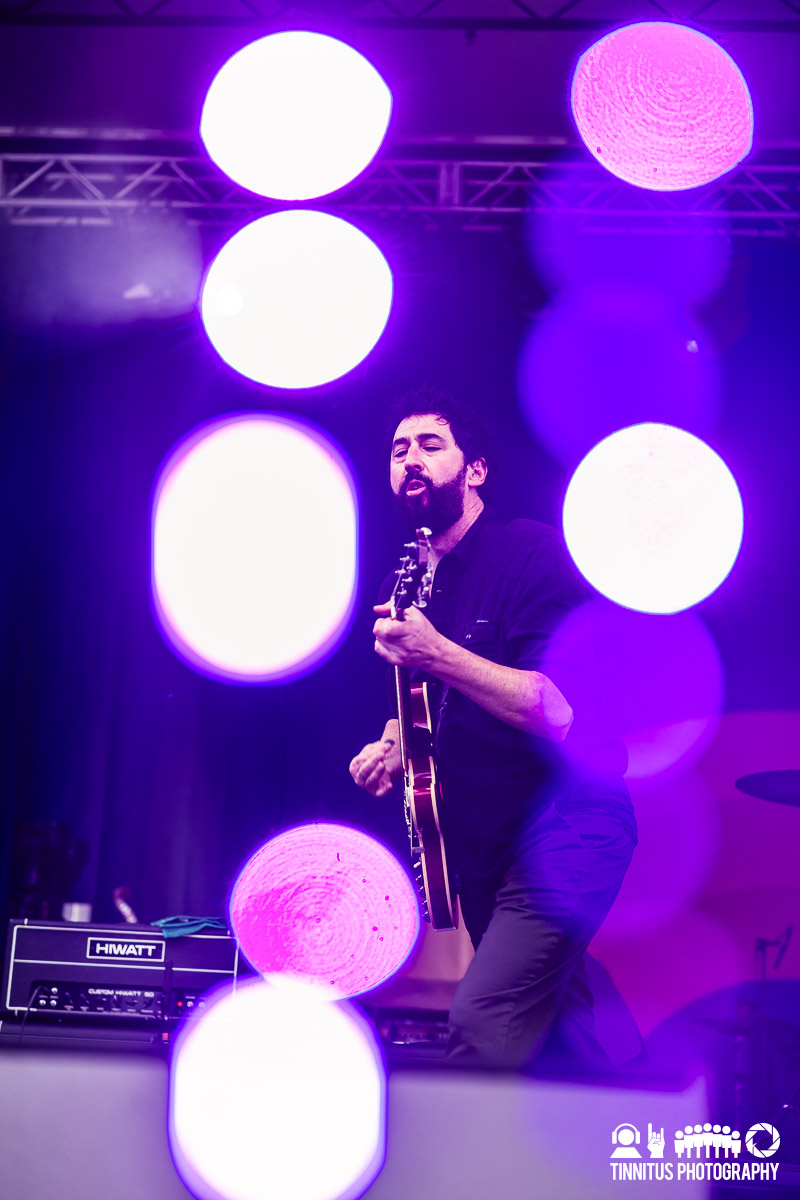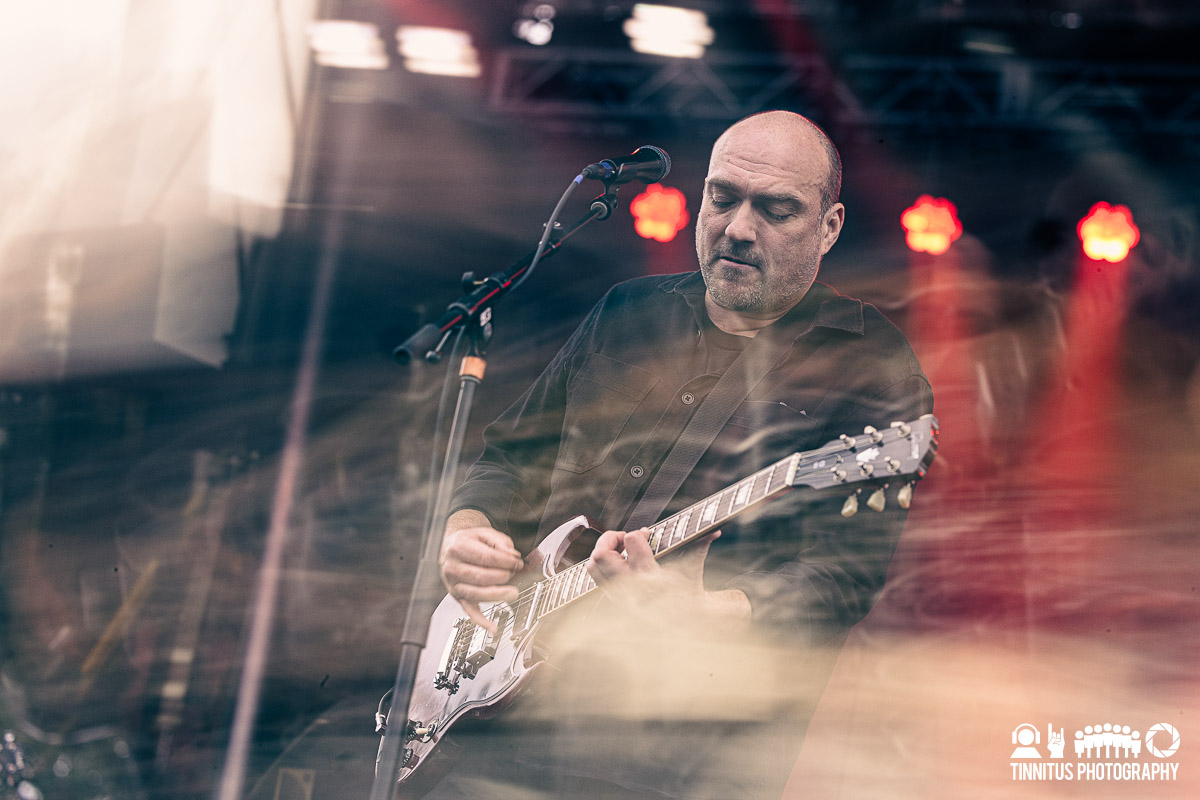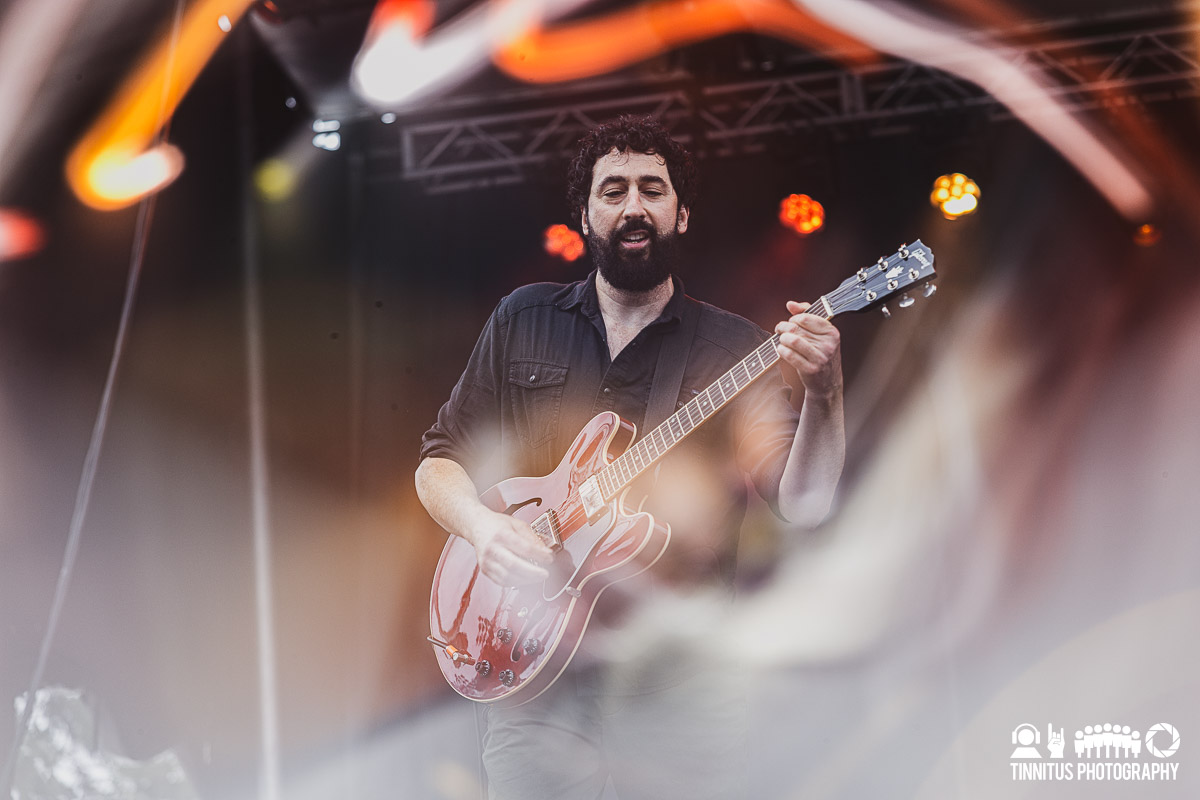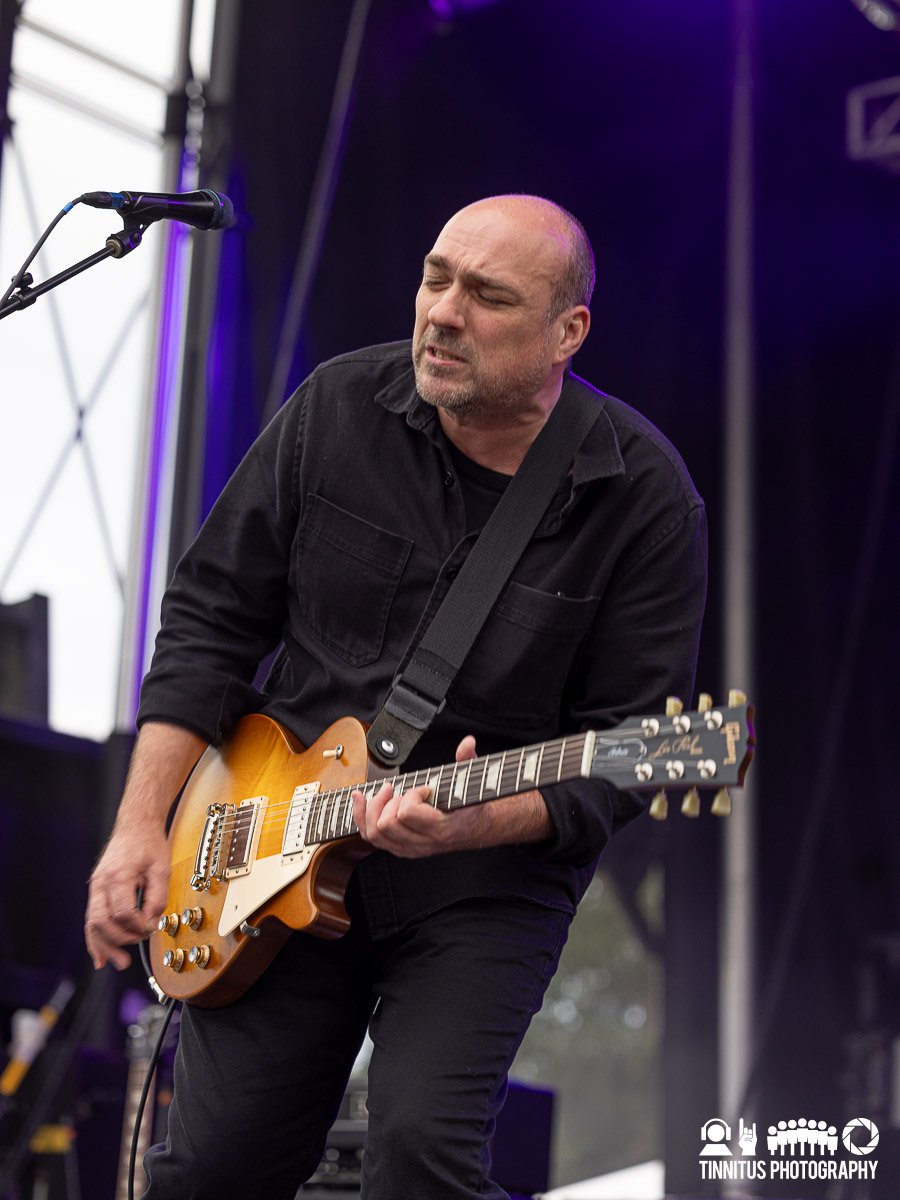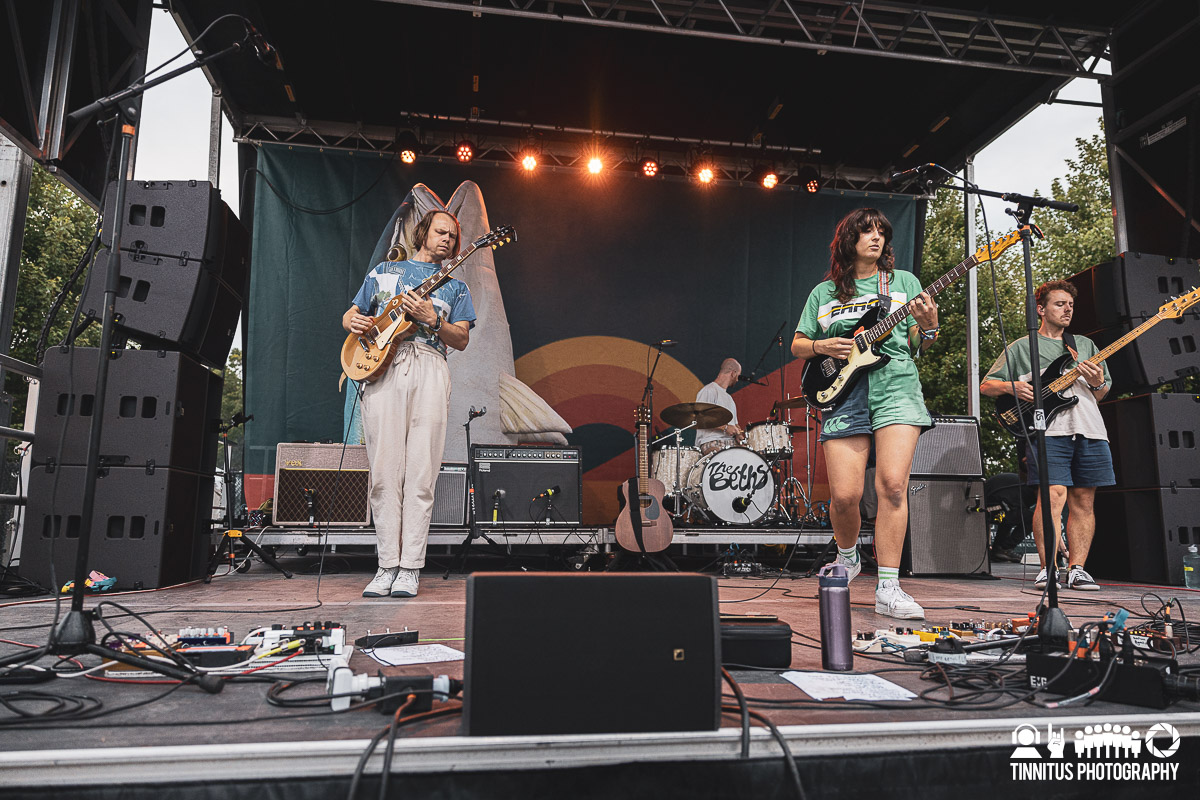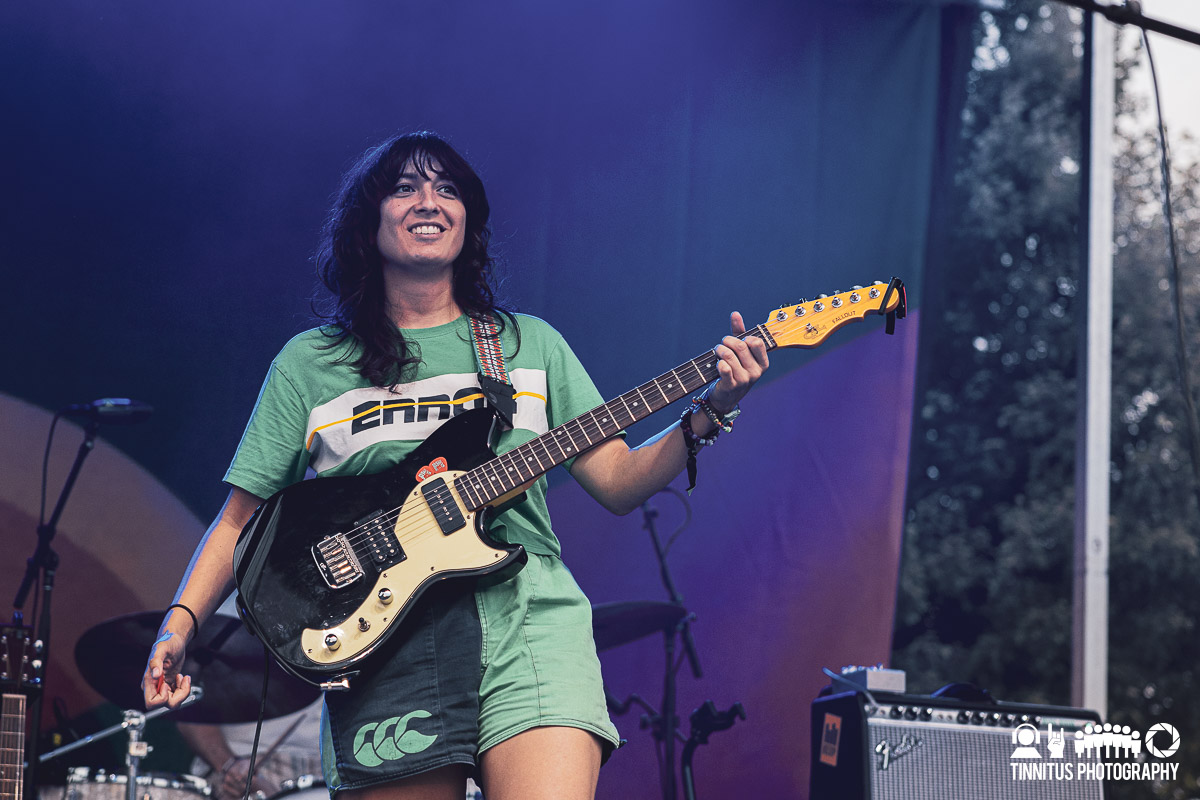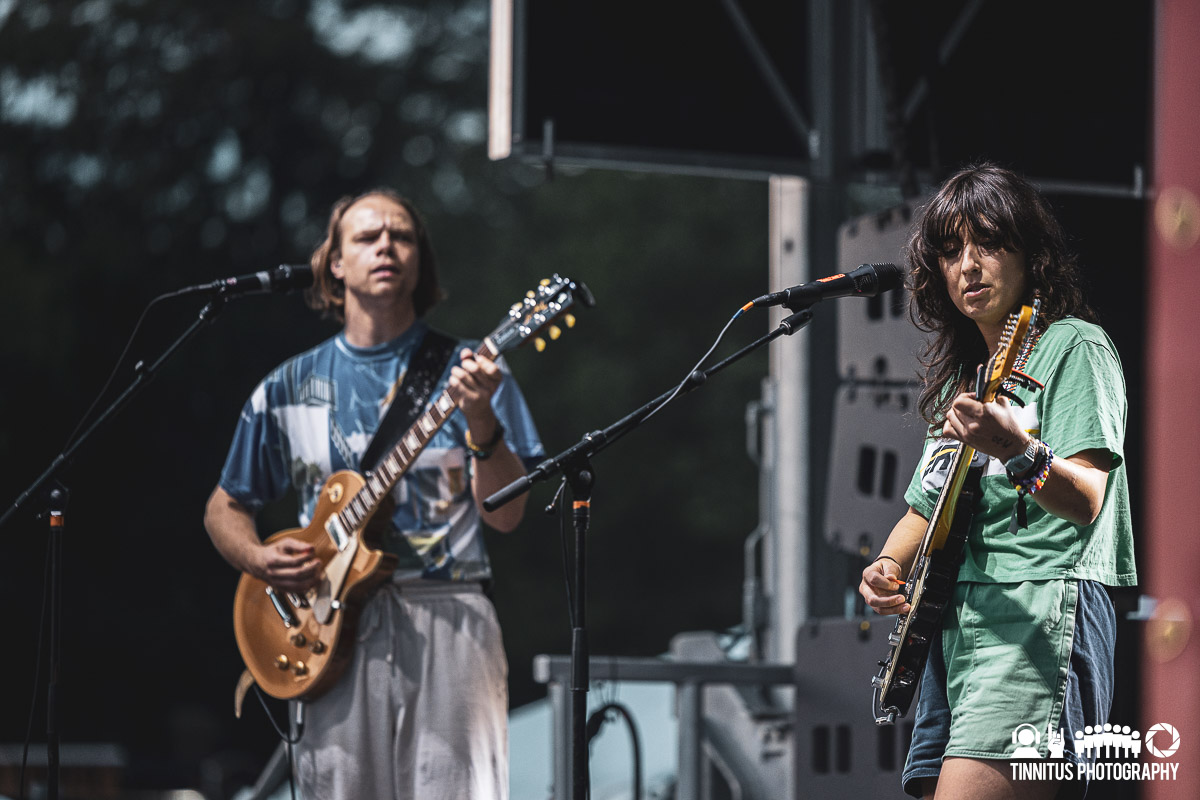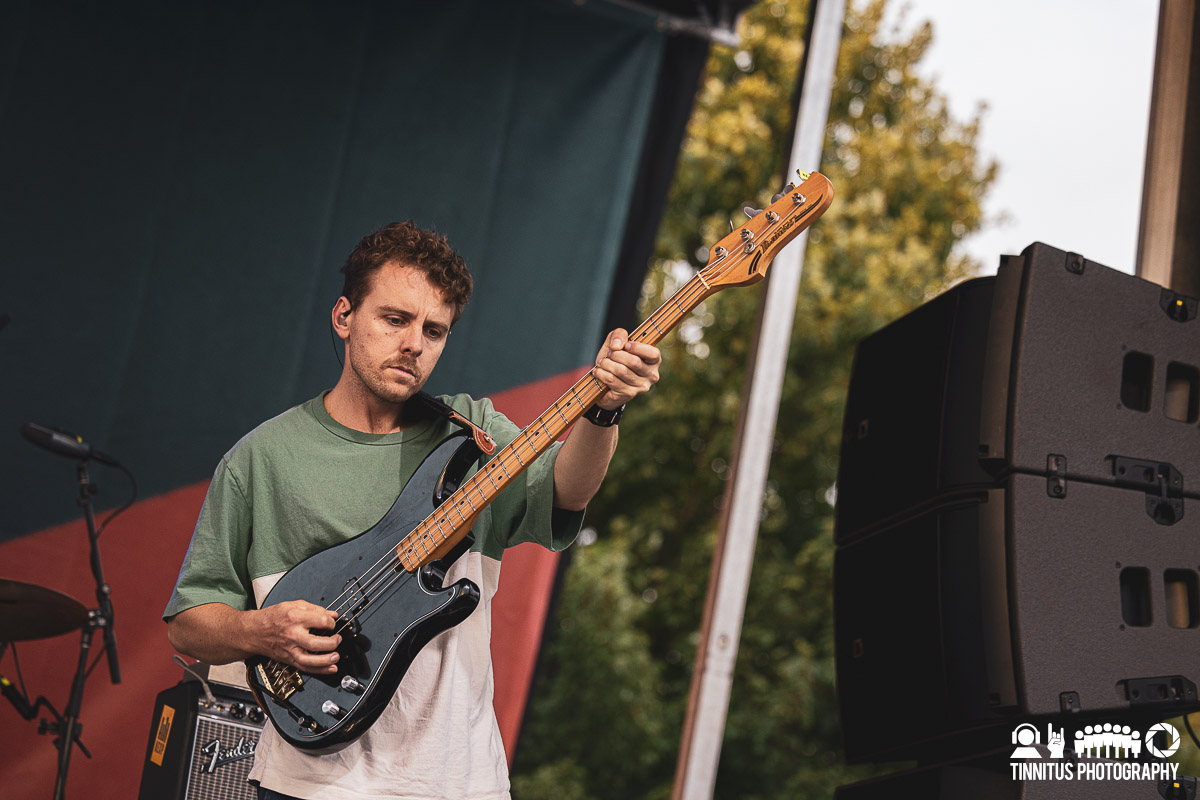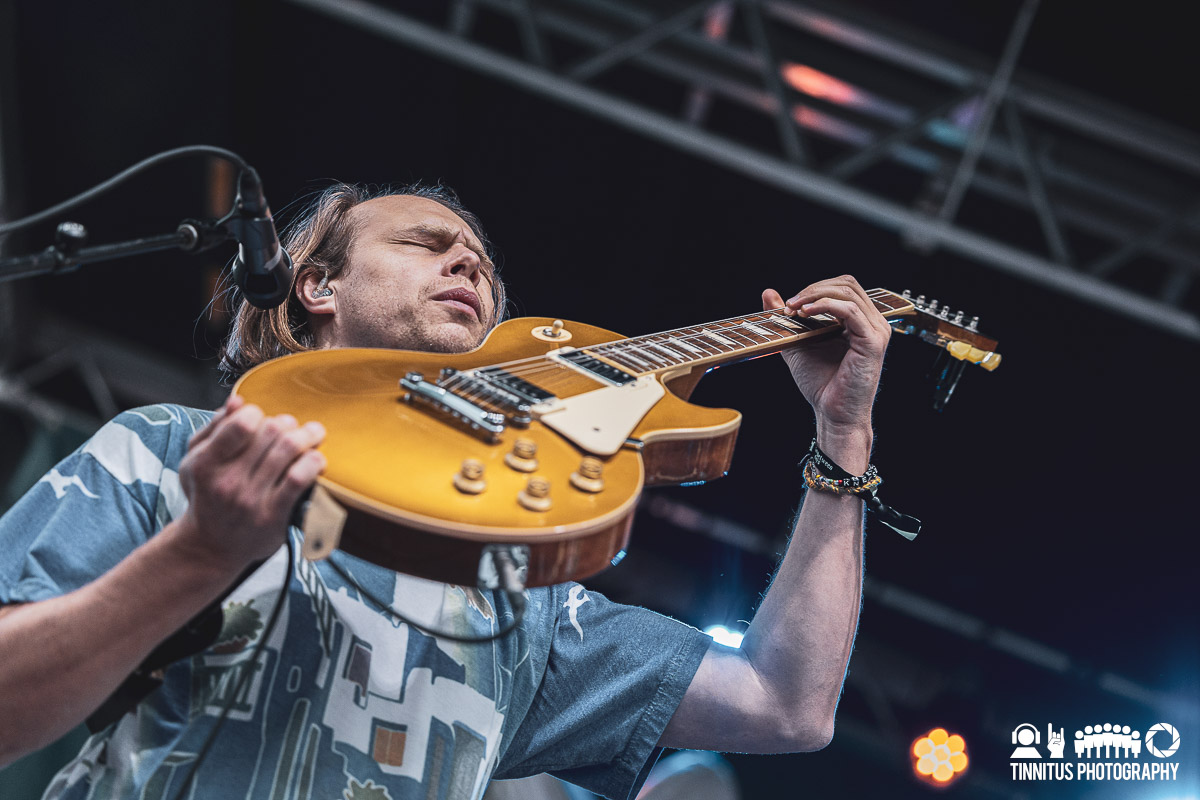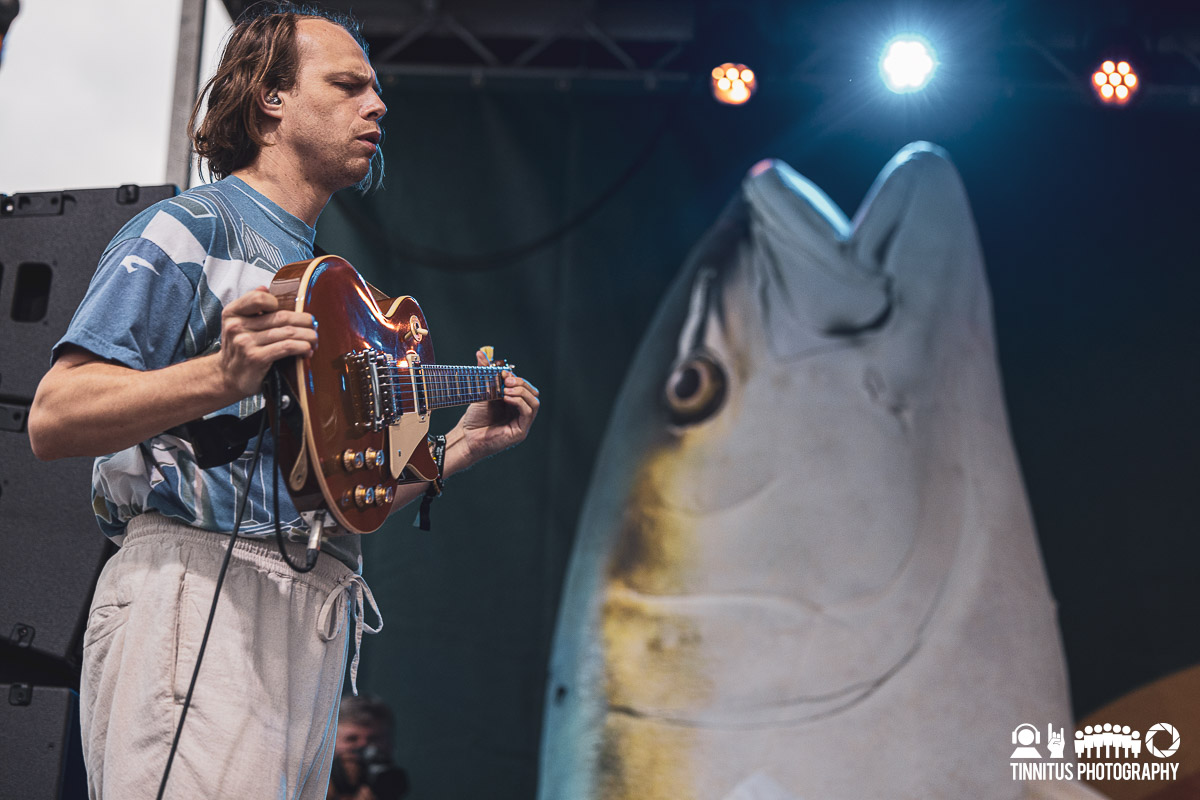 Modest Mouse closed out the night, the only band to have enough darkness for proper stage lighting. Isaac Brock and crew did the rounds last year to celebrate 20 years of The Lonesome Crowded West so only "Cowboy Dan" swung by to say hello. Brock and crew did a spectacular job of creating tension and release, and the lilting waltz tempo of "Dramamine" was a true highlight.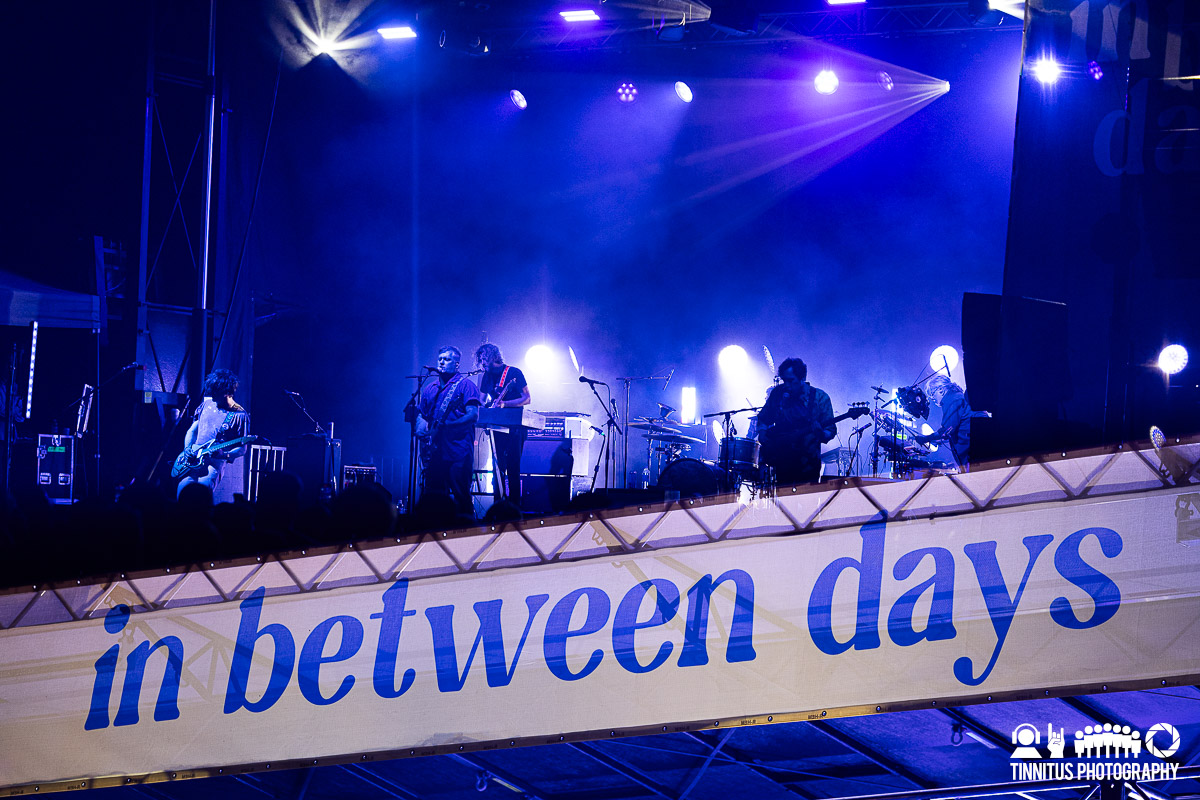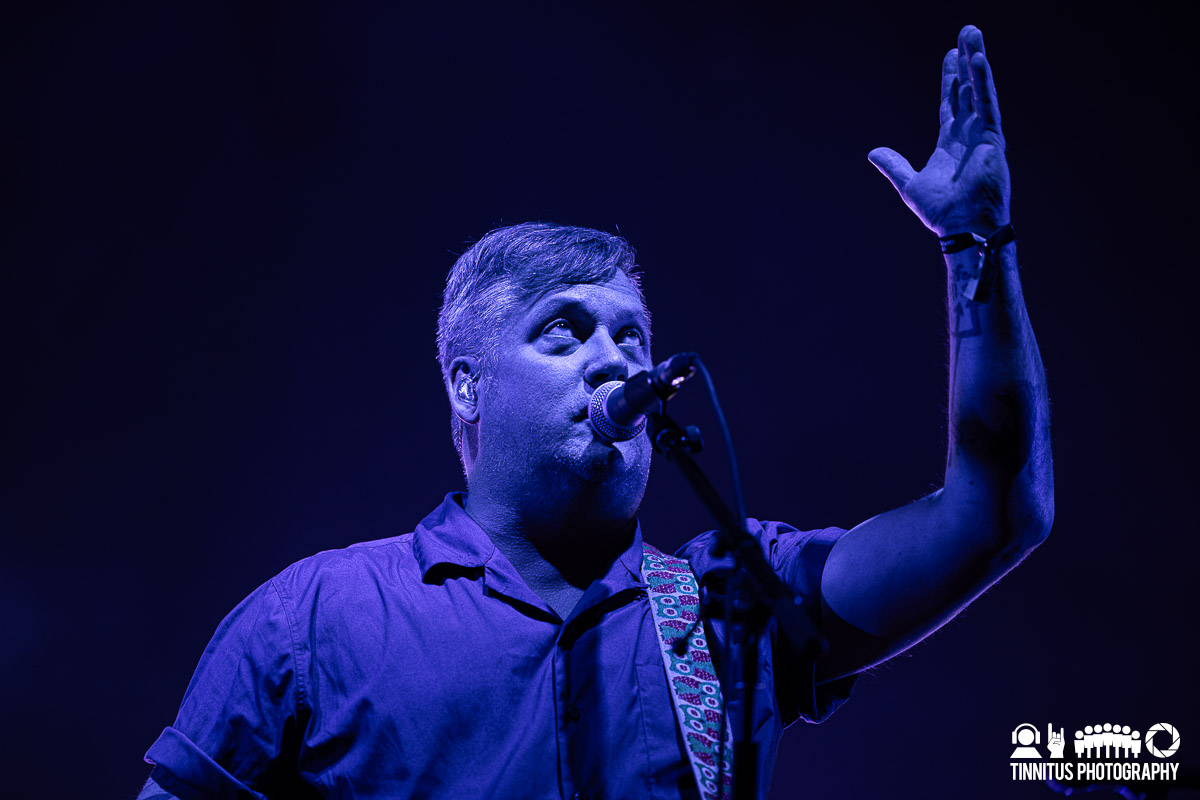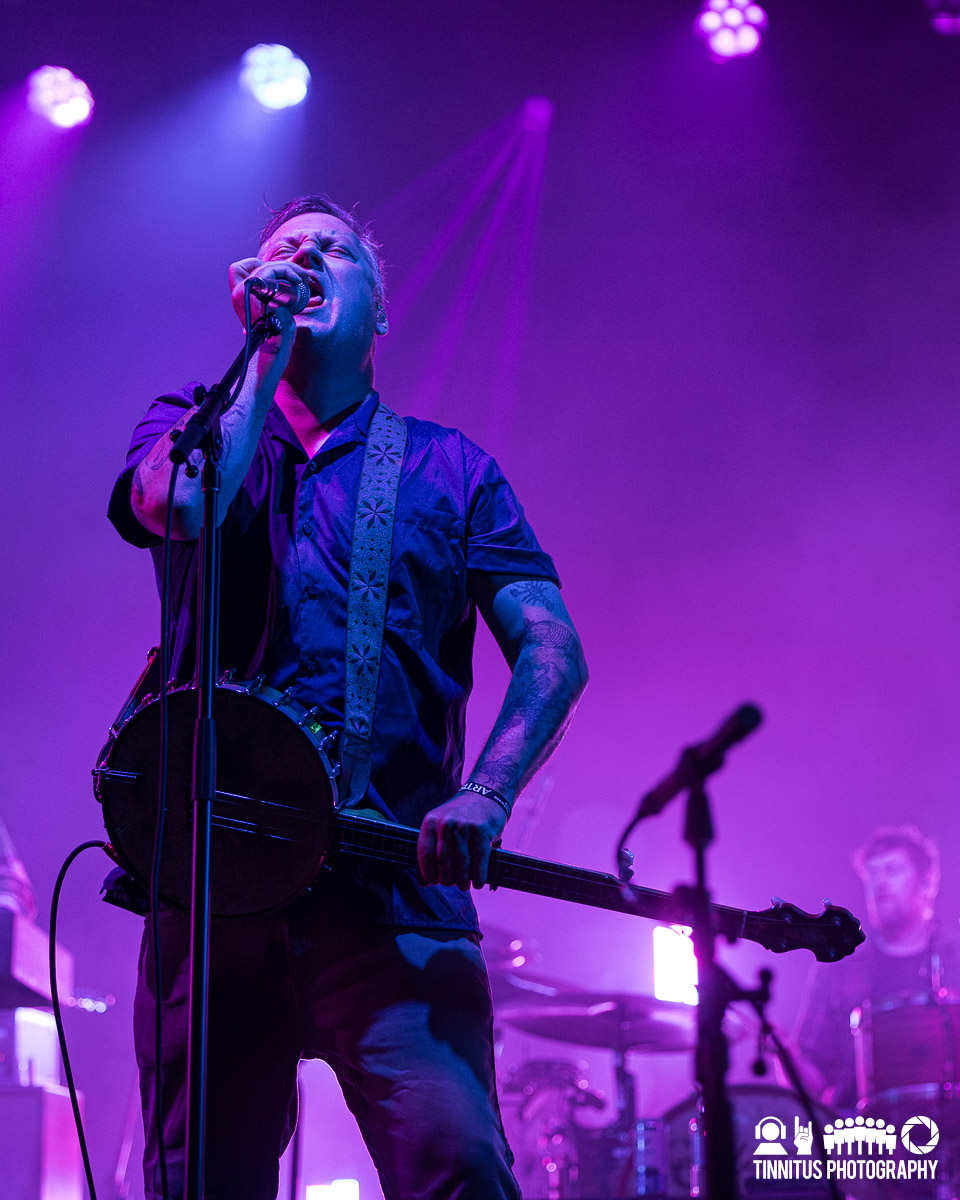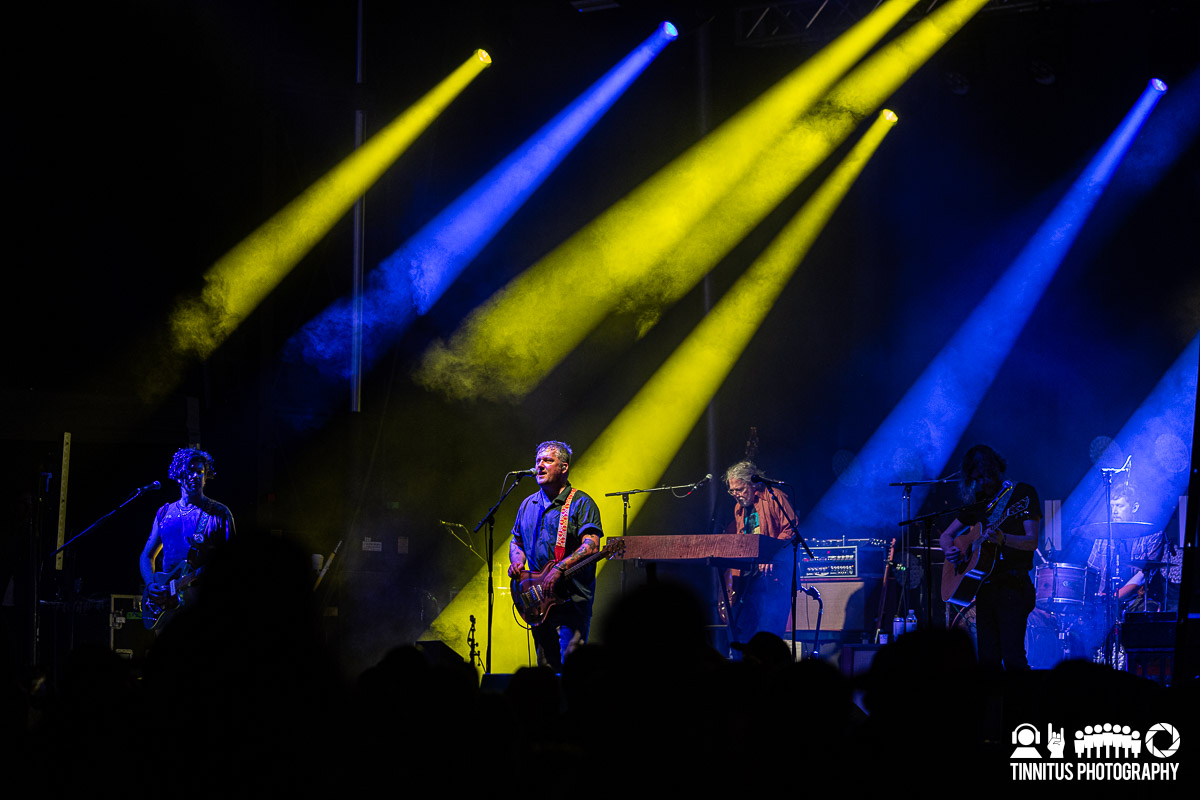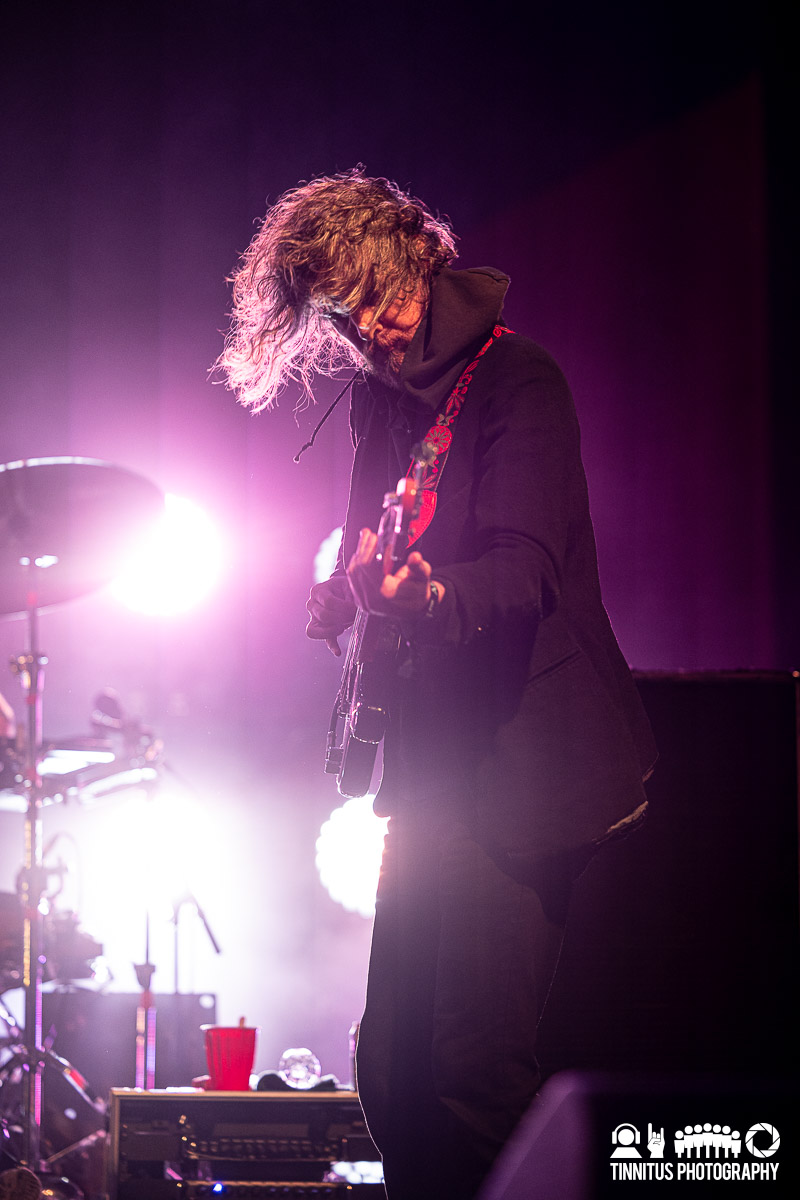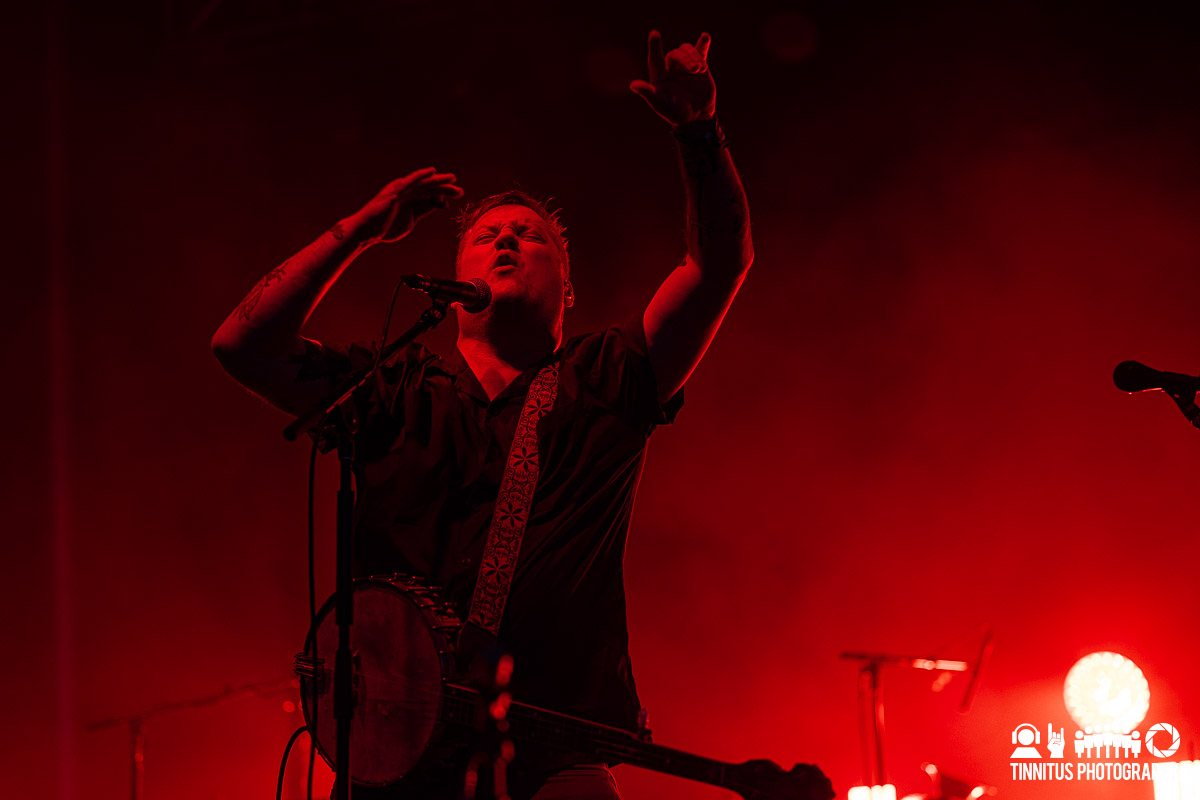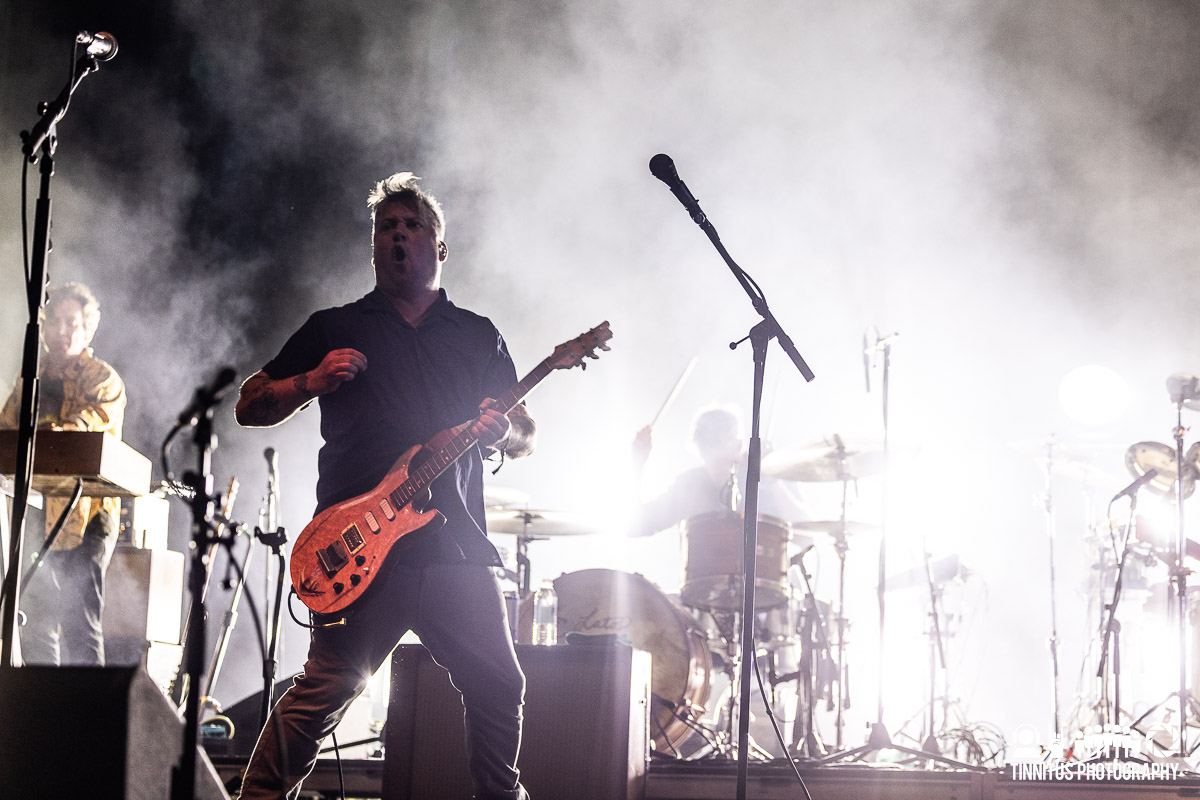 Sunday had a decidedly Americana bent that was punctuated by some well-crafted pop/punk via Mint Green, who also worked in a cover of "Creep." Later that day frenetic banjoist Yoke Lore joined Minnesota's bluegrass team of Trampled By Turtles for "Fake Plastic Trees," and it occurred to me that for the younger generation, it's like covering a song from The Beatles, a piece of the classic rock canon for that age demographic.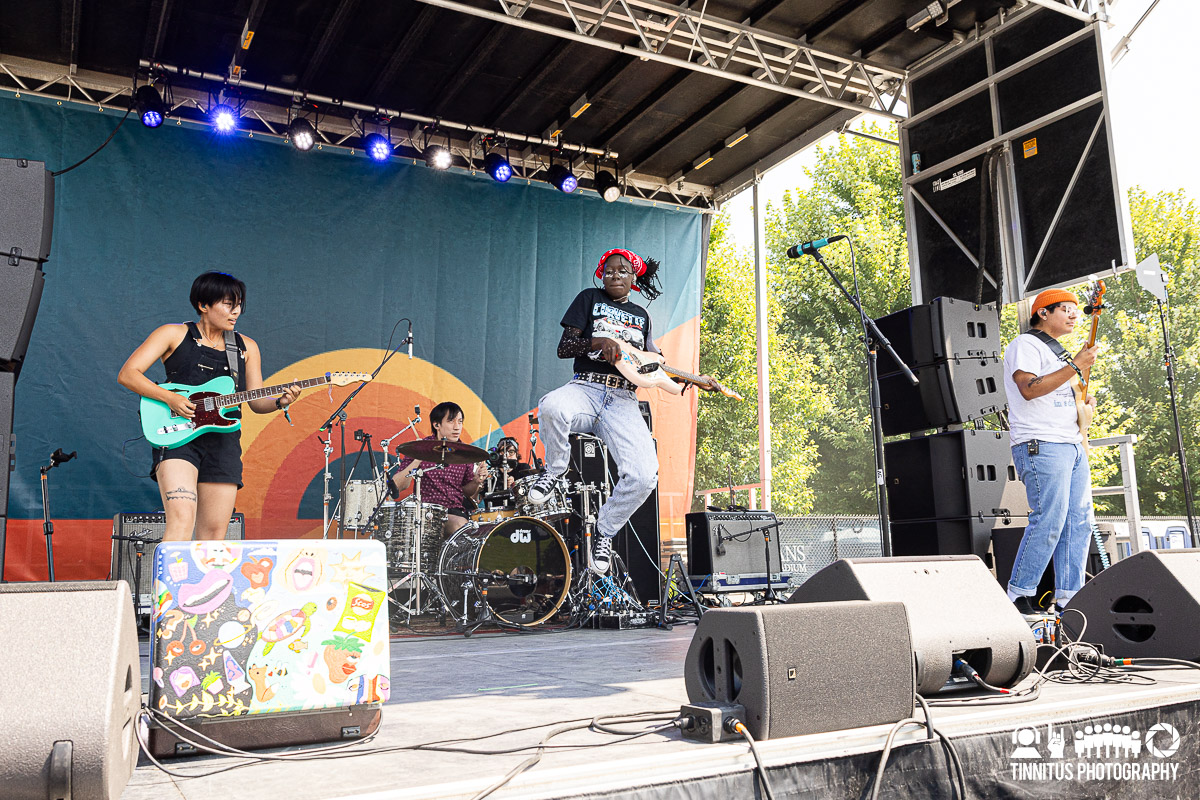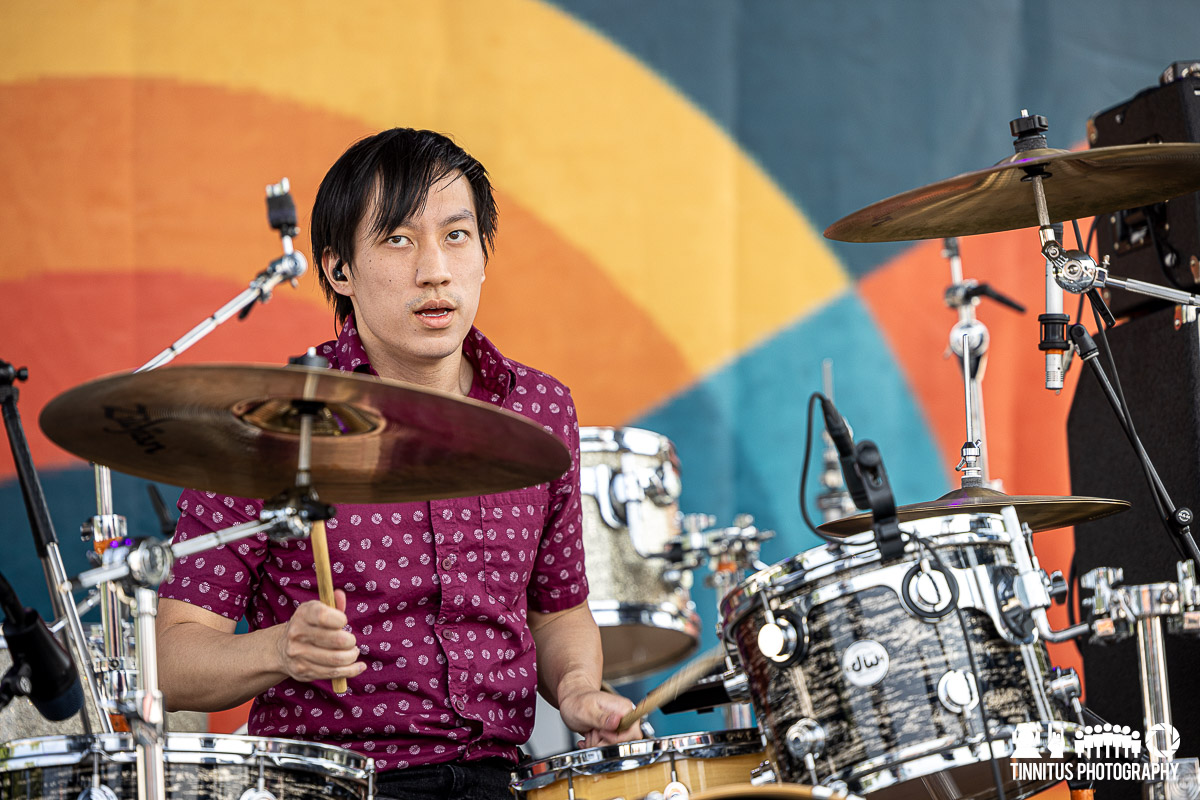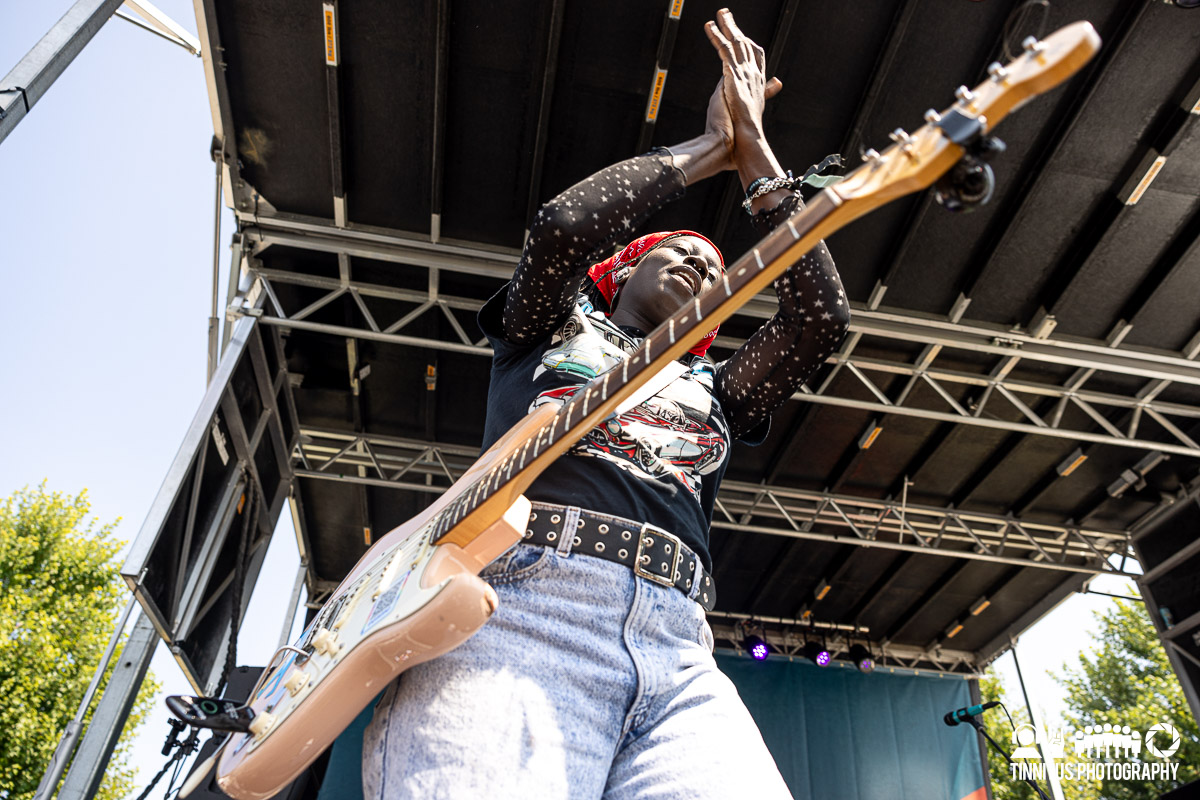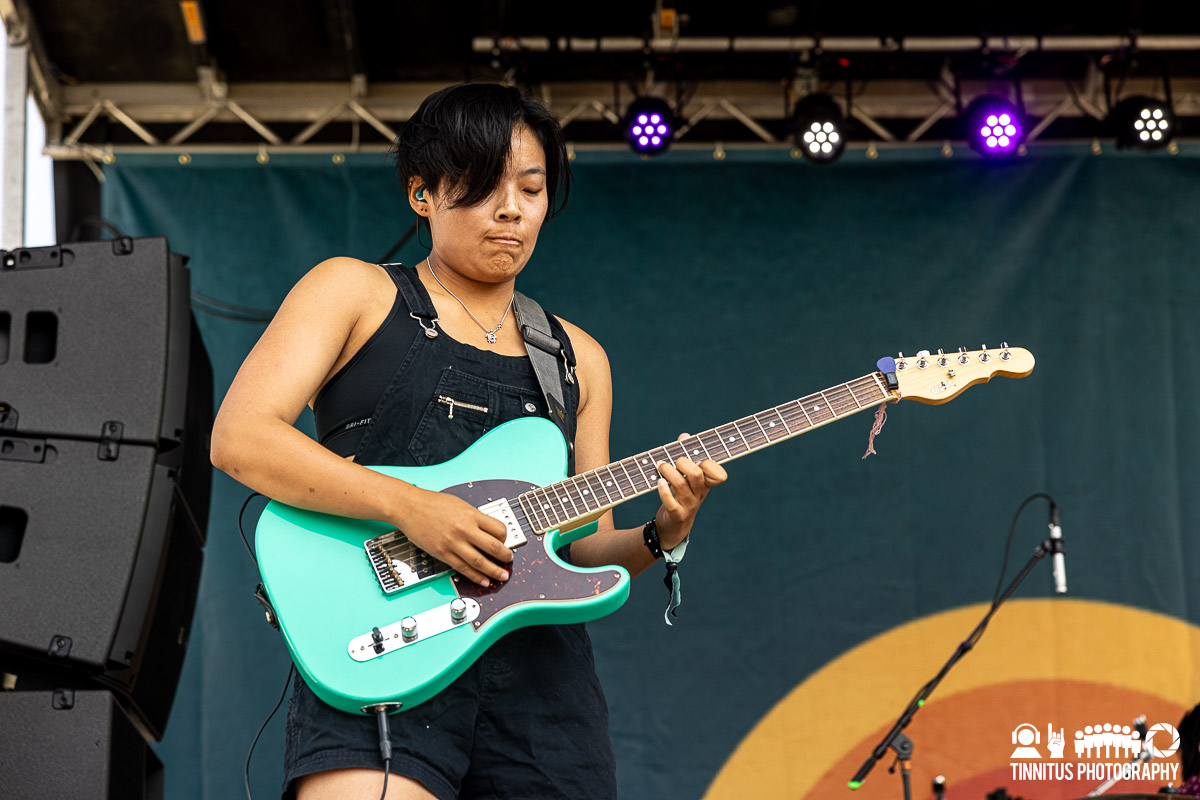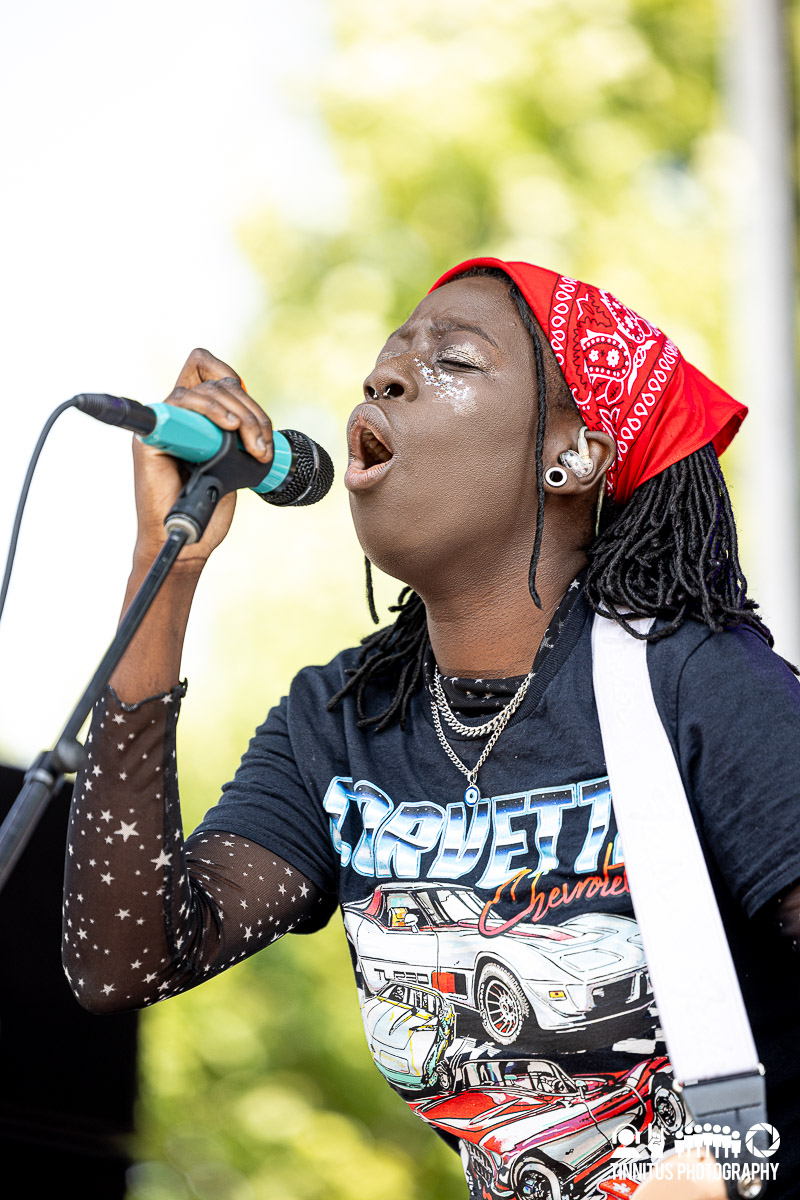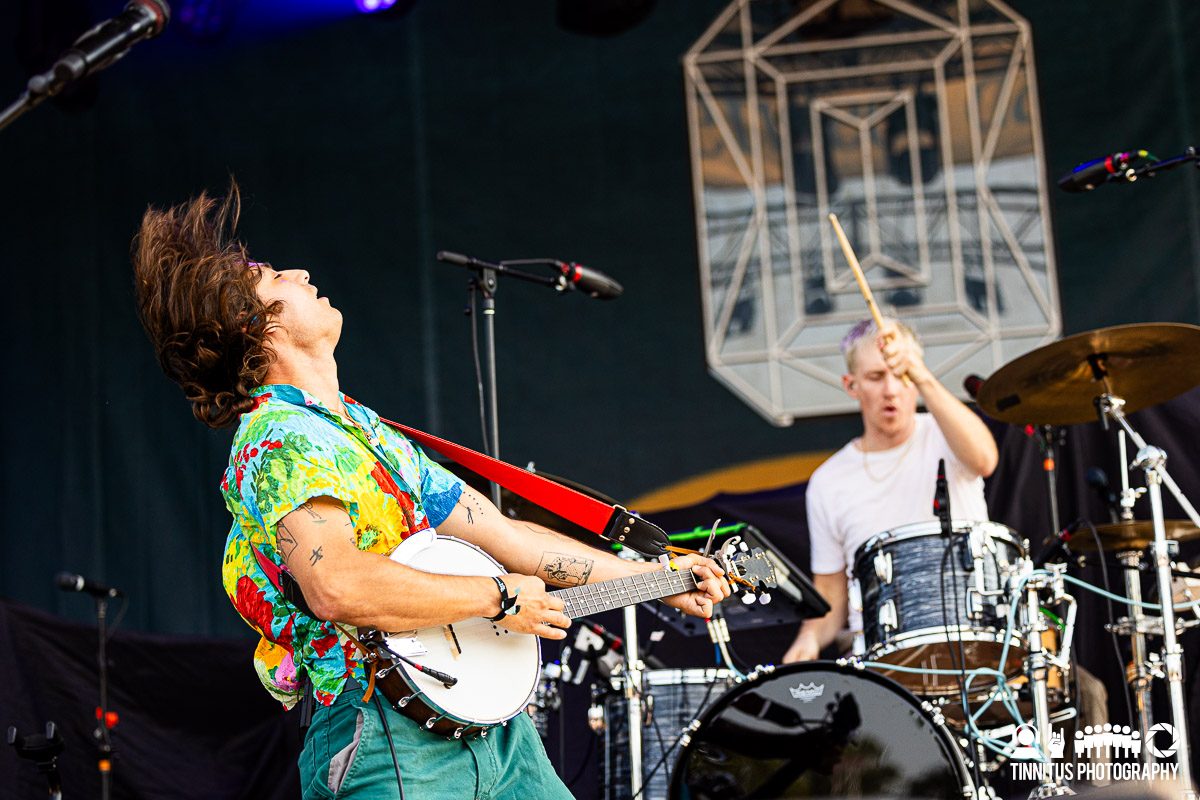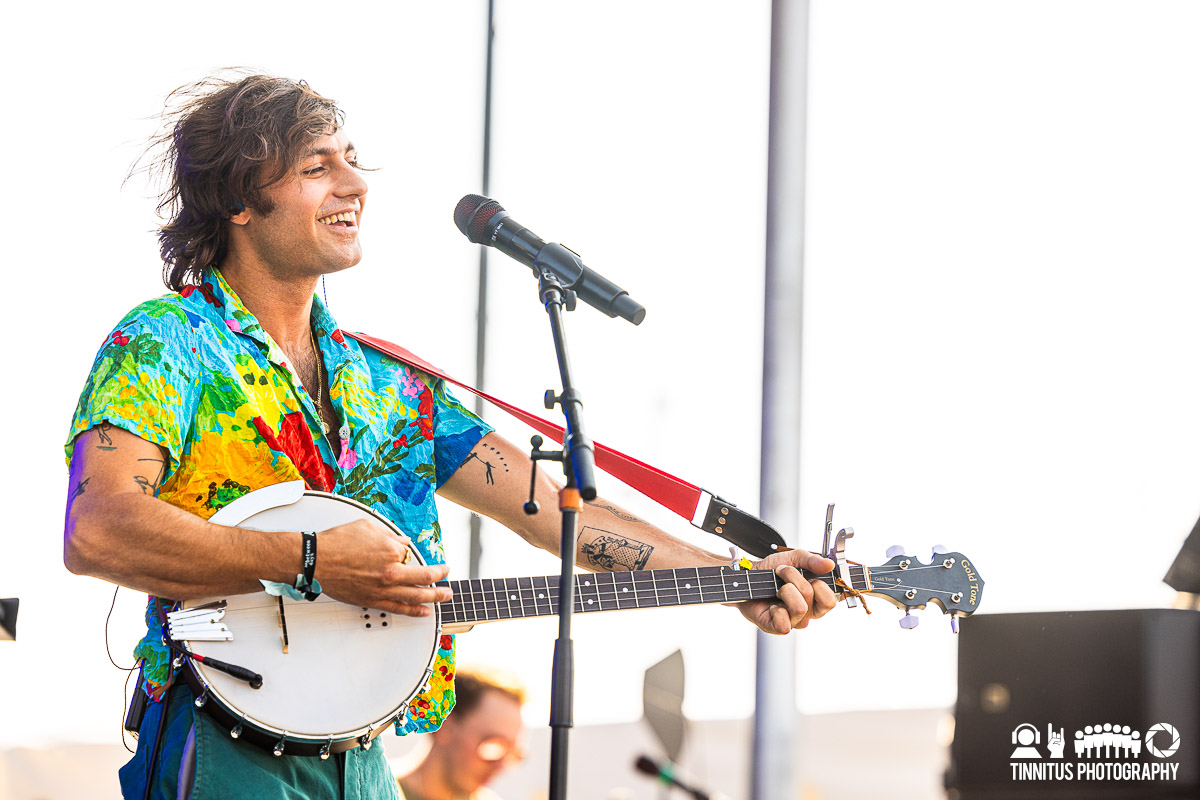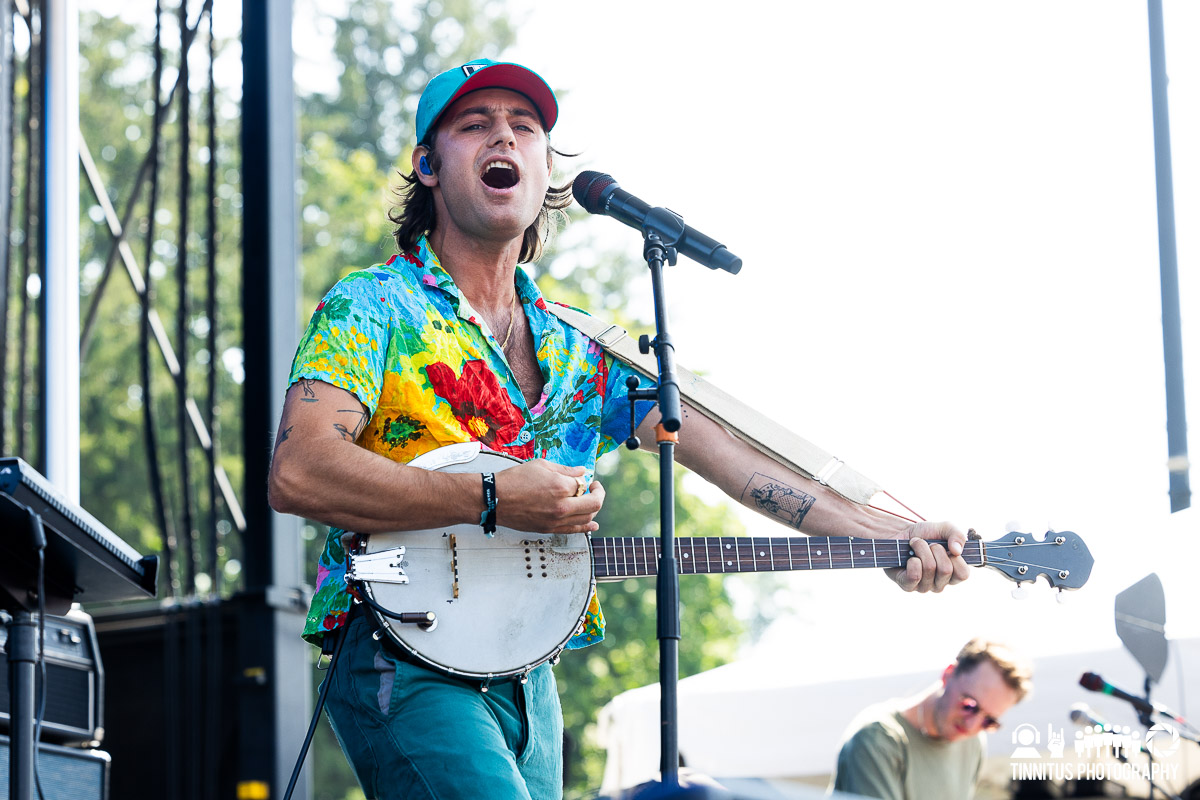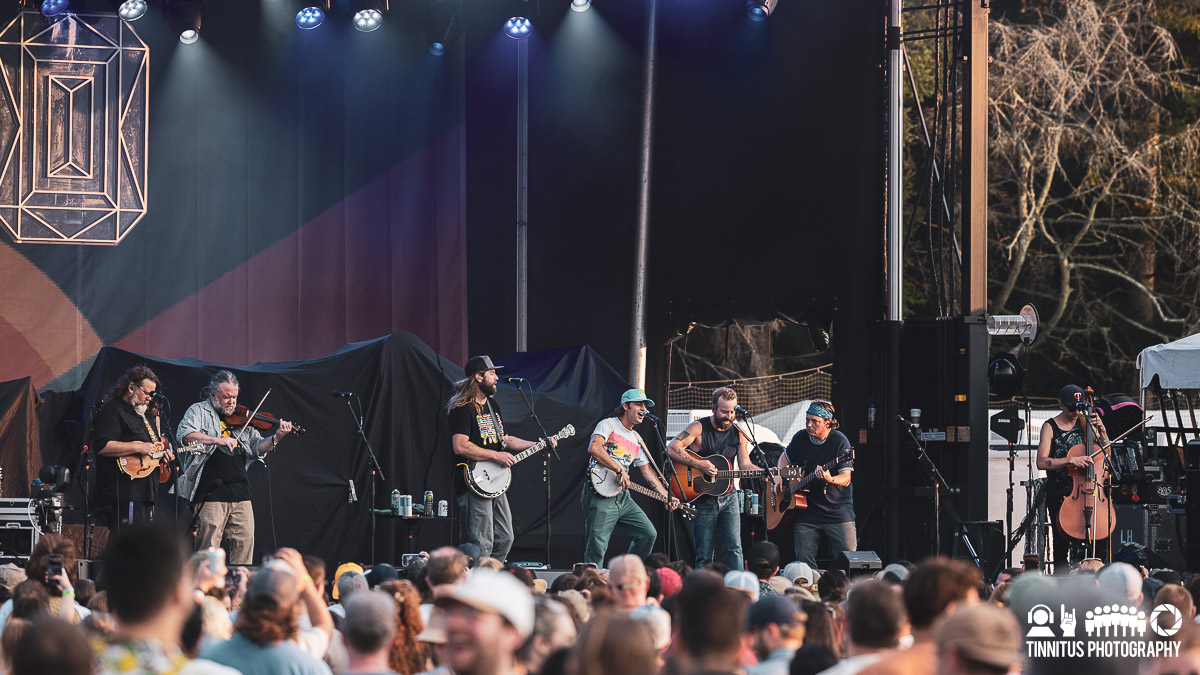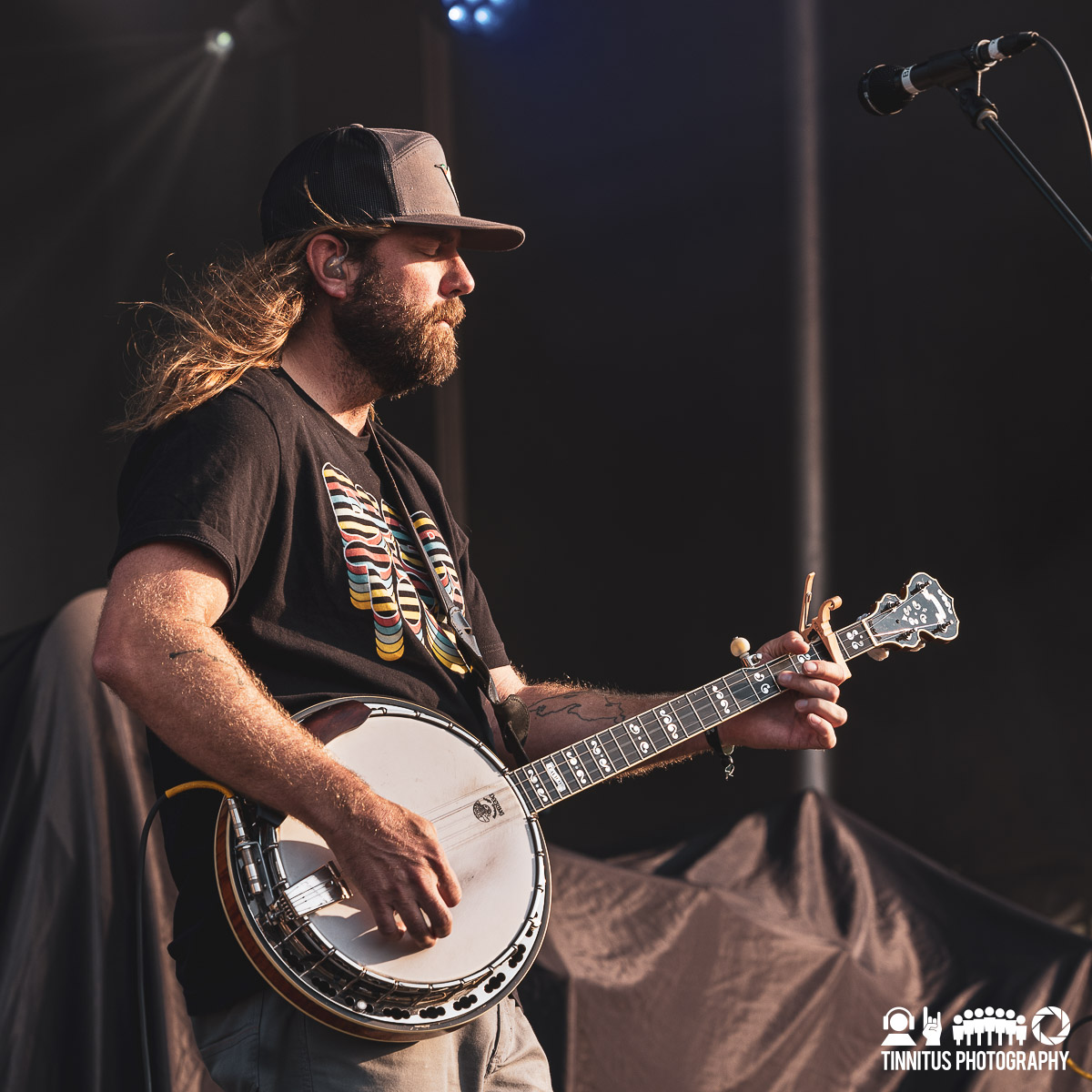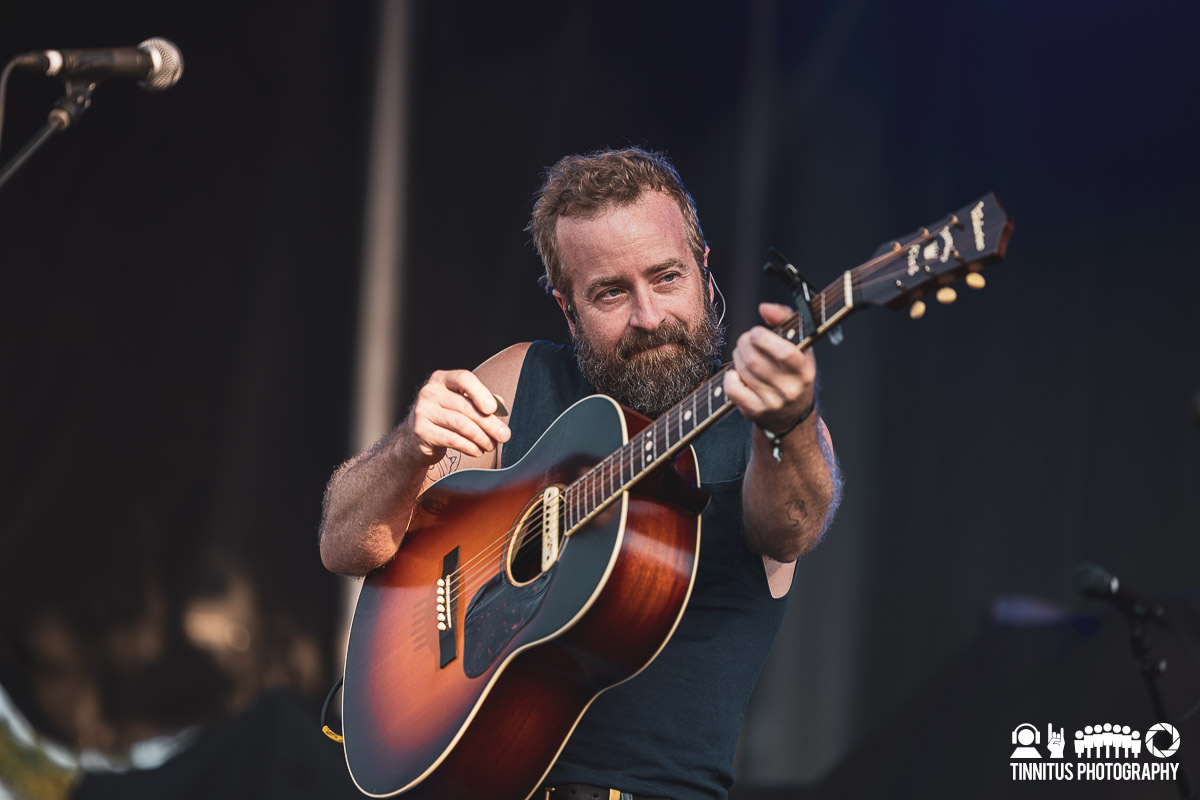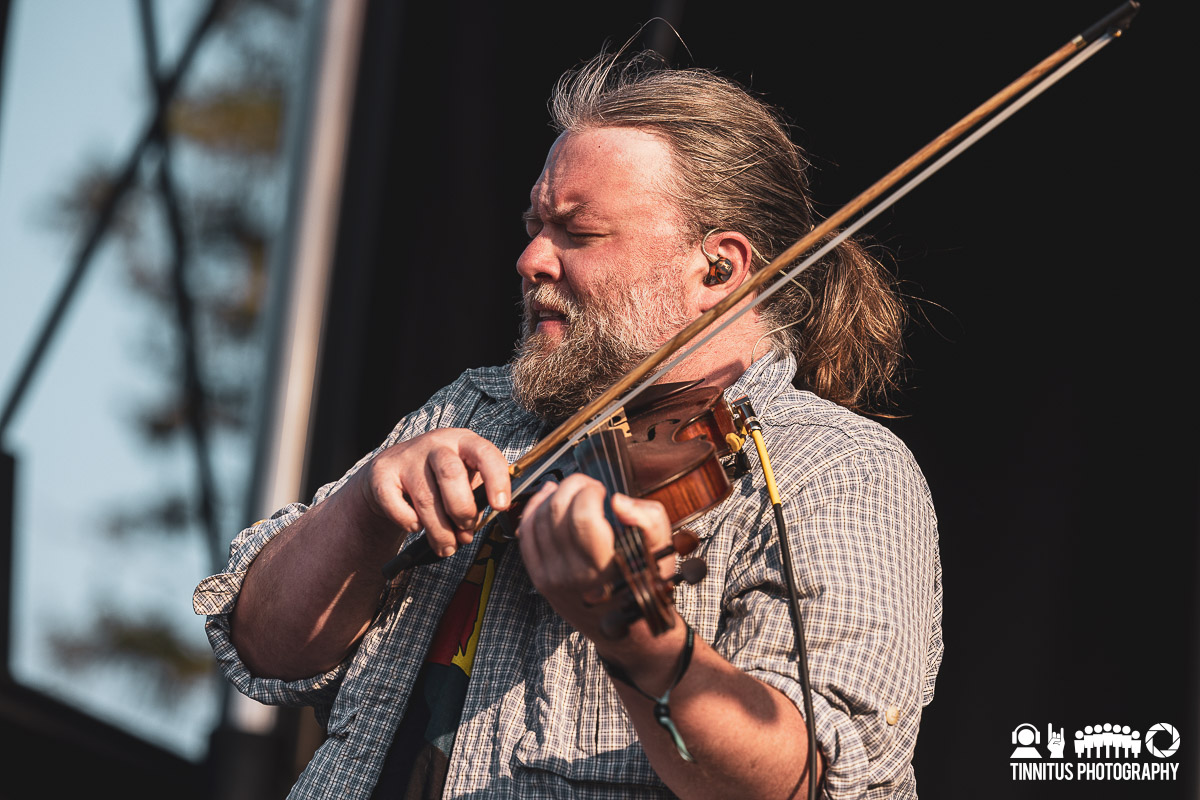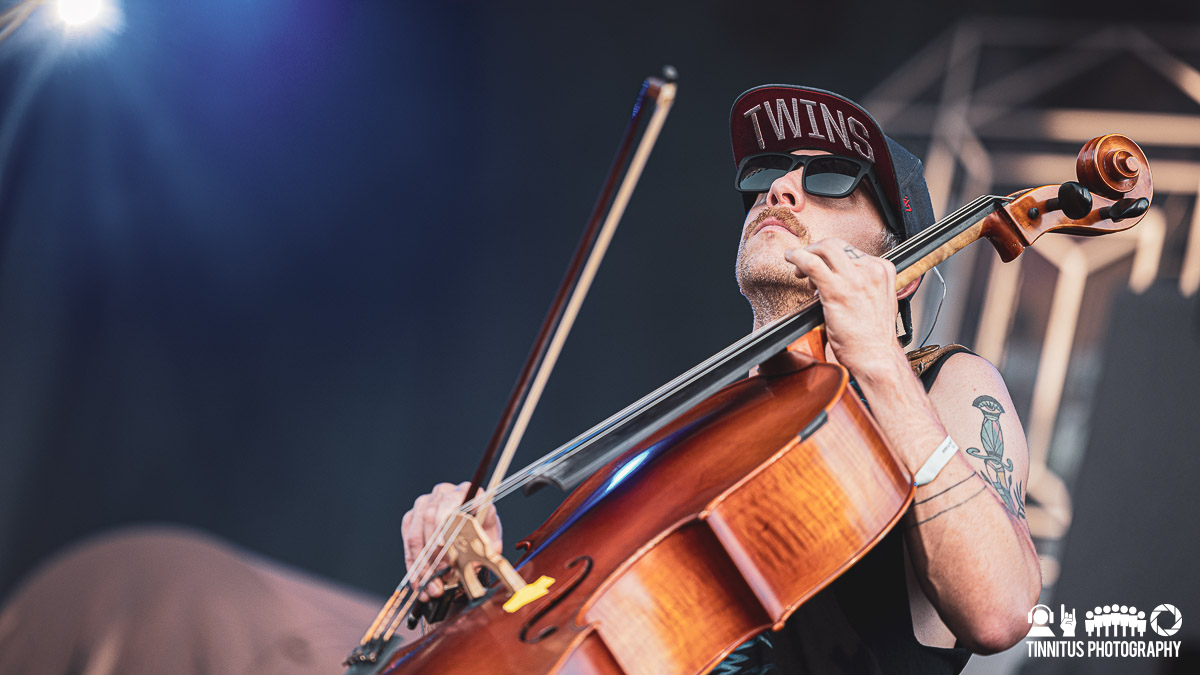 Delivering warm Blues sets that swung into the Rhythm end of the pool occasionally were Dwight & Nicole and Miko Marks who paid homage to a great one via her cover of a Mavis Staples song. Kat Wright was an unfortunate victim of sudden laryngitis but she braved a few songs while surrendering most vocal duties to her guitarist.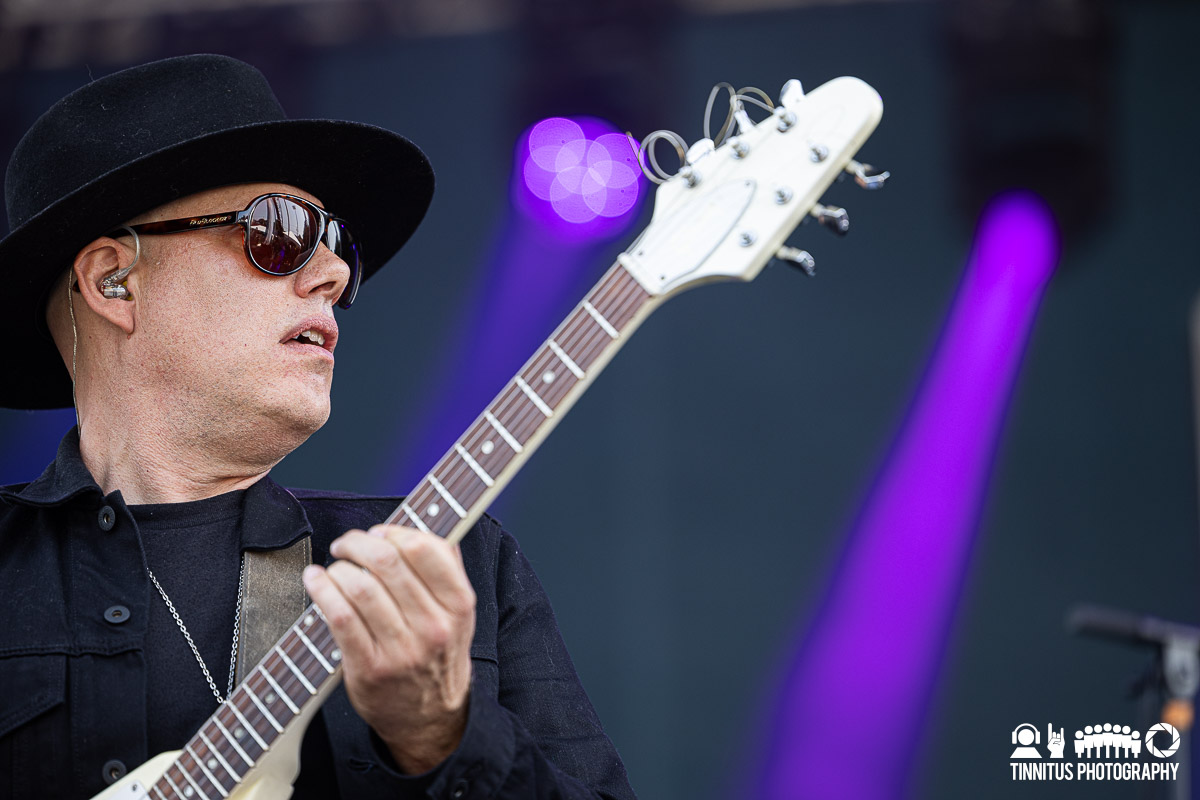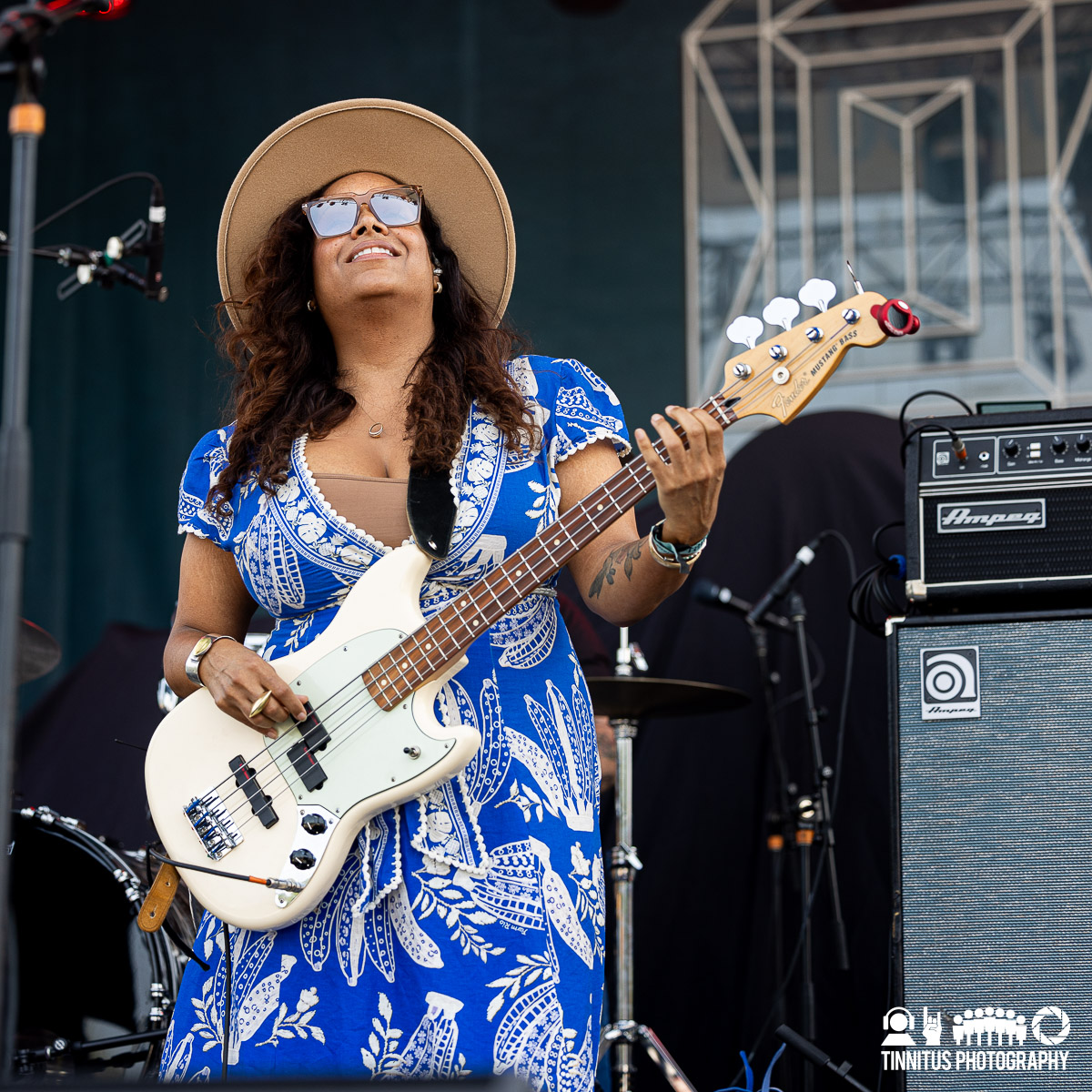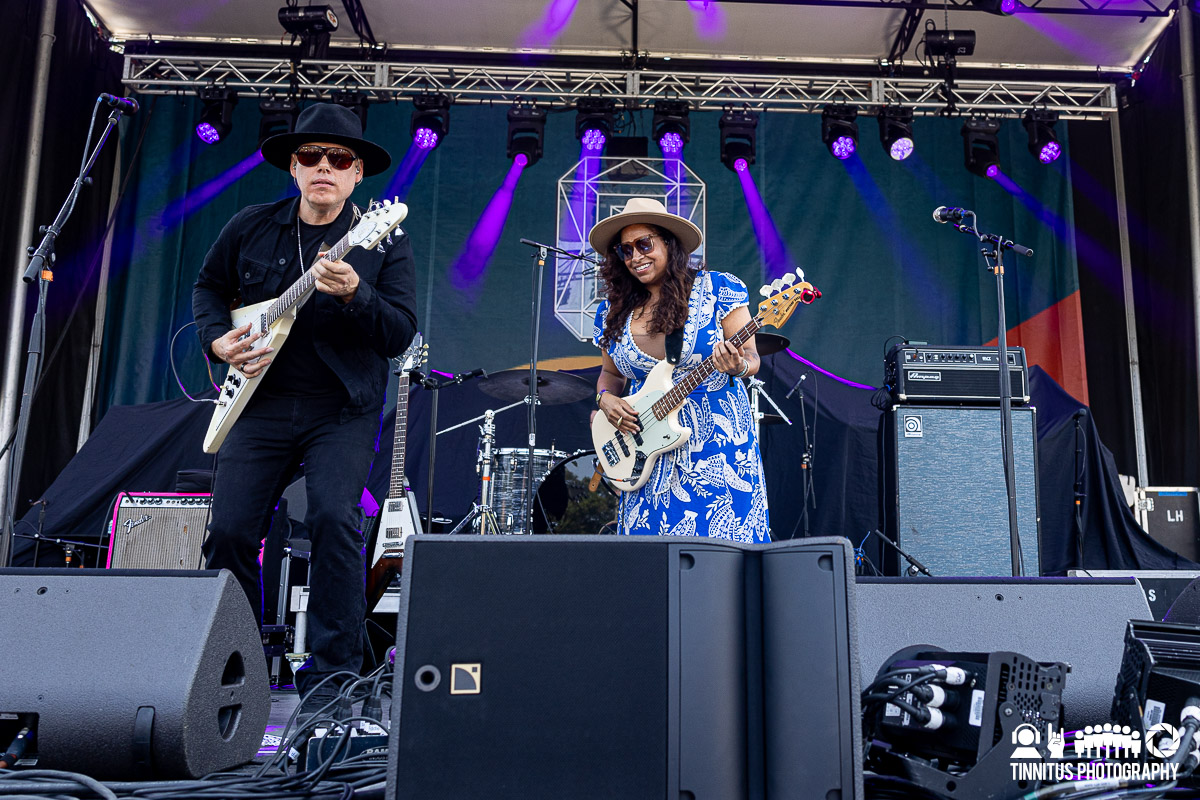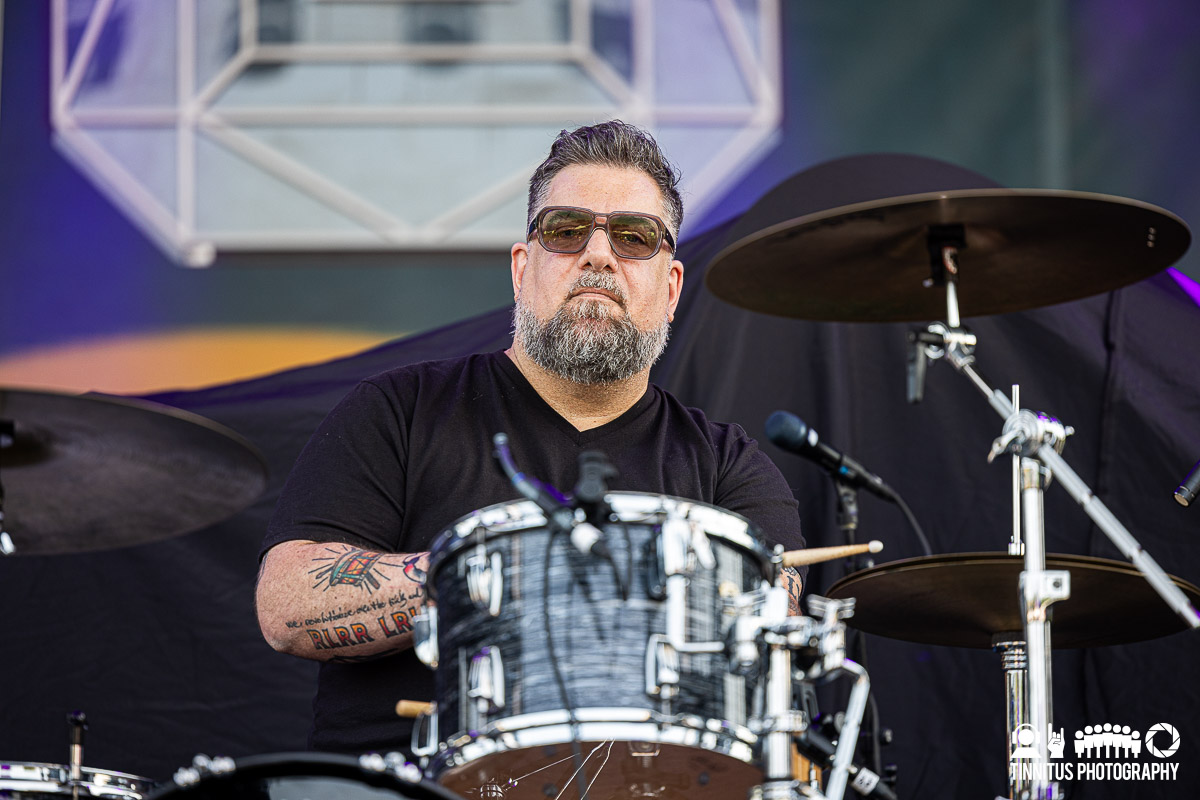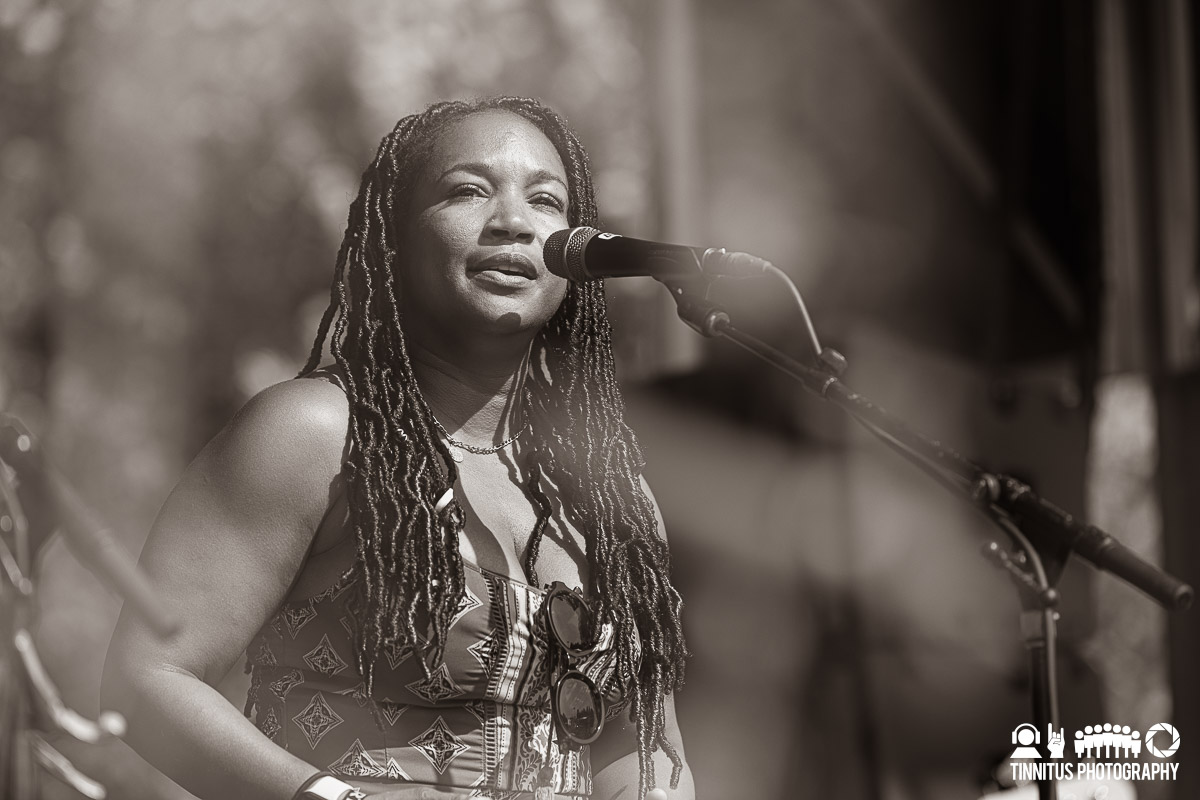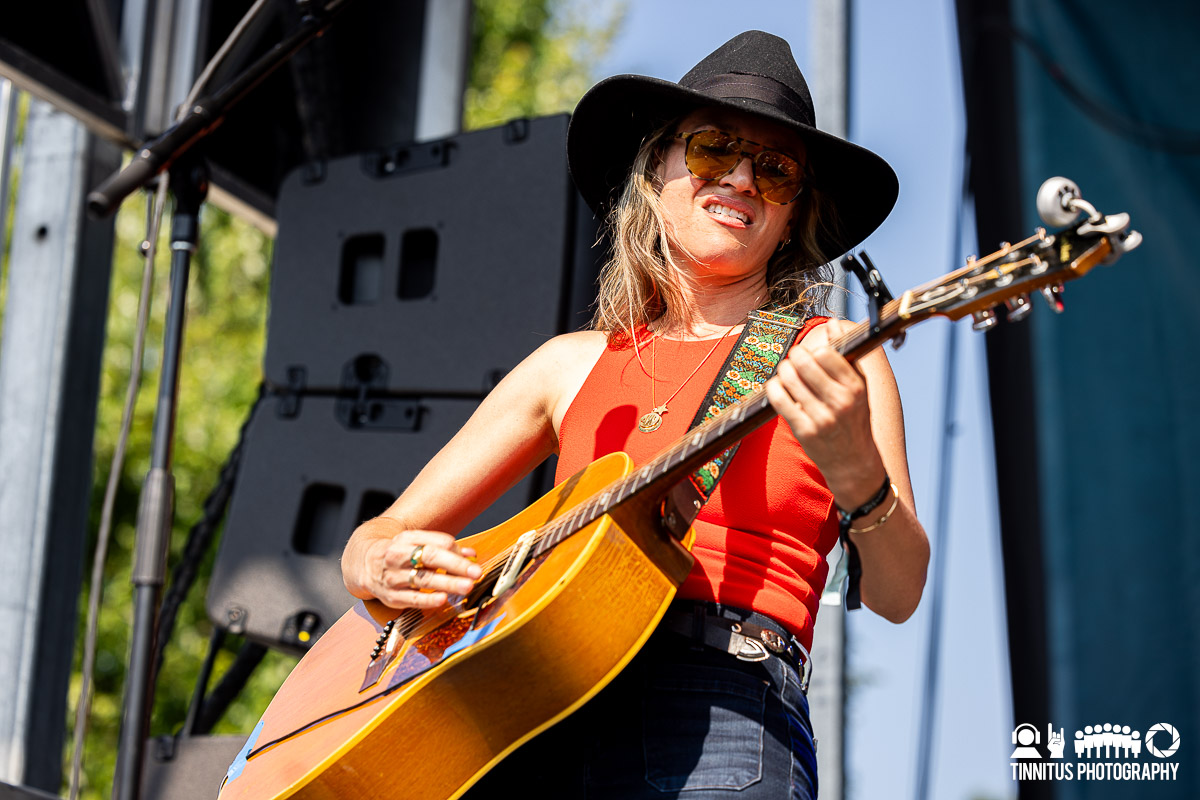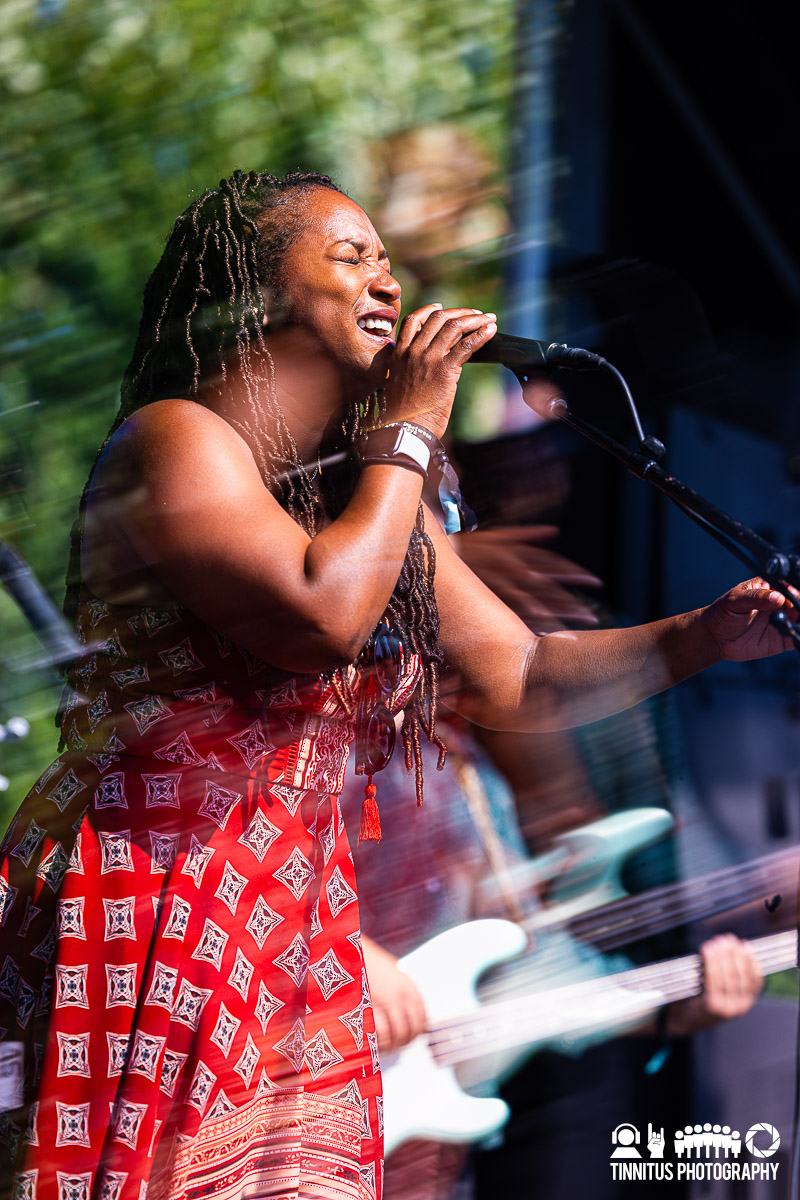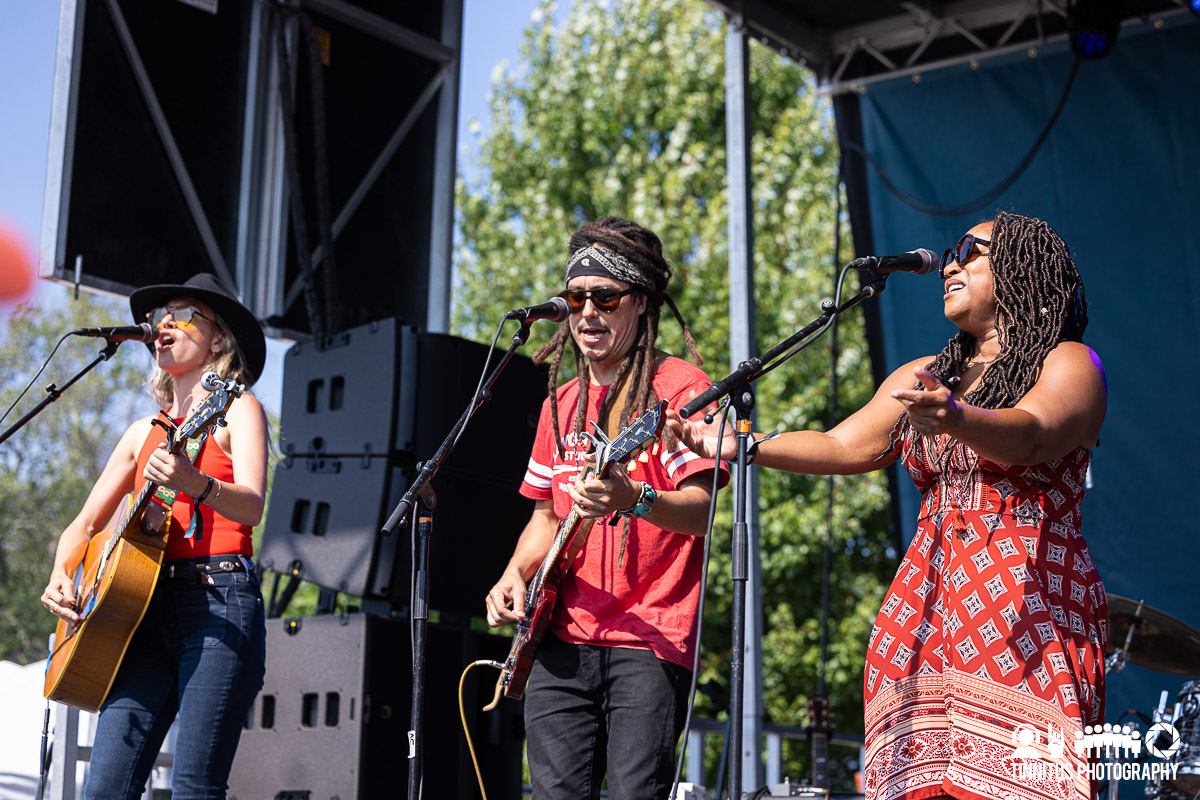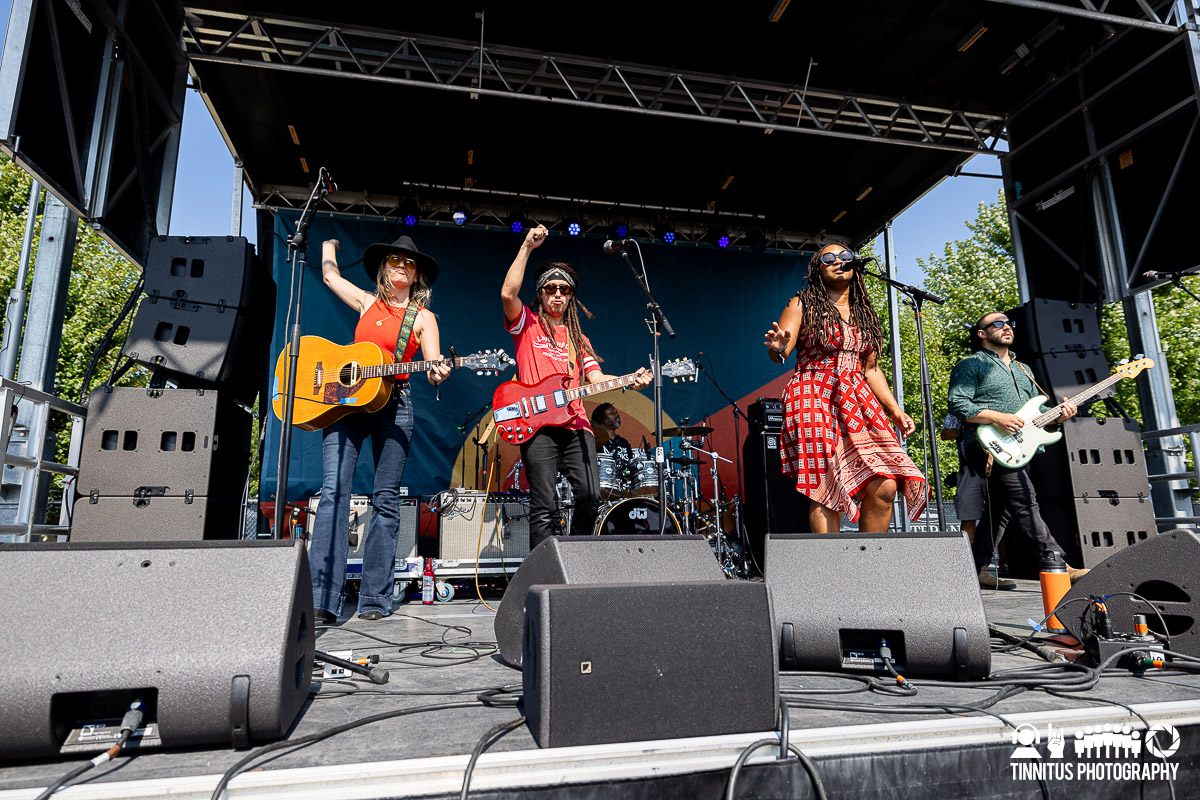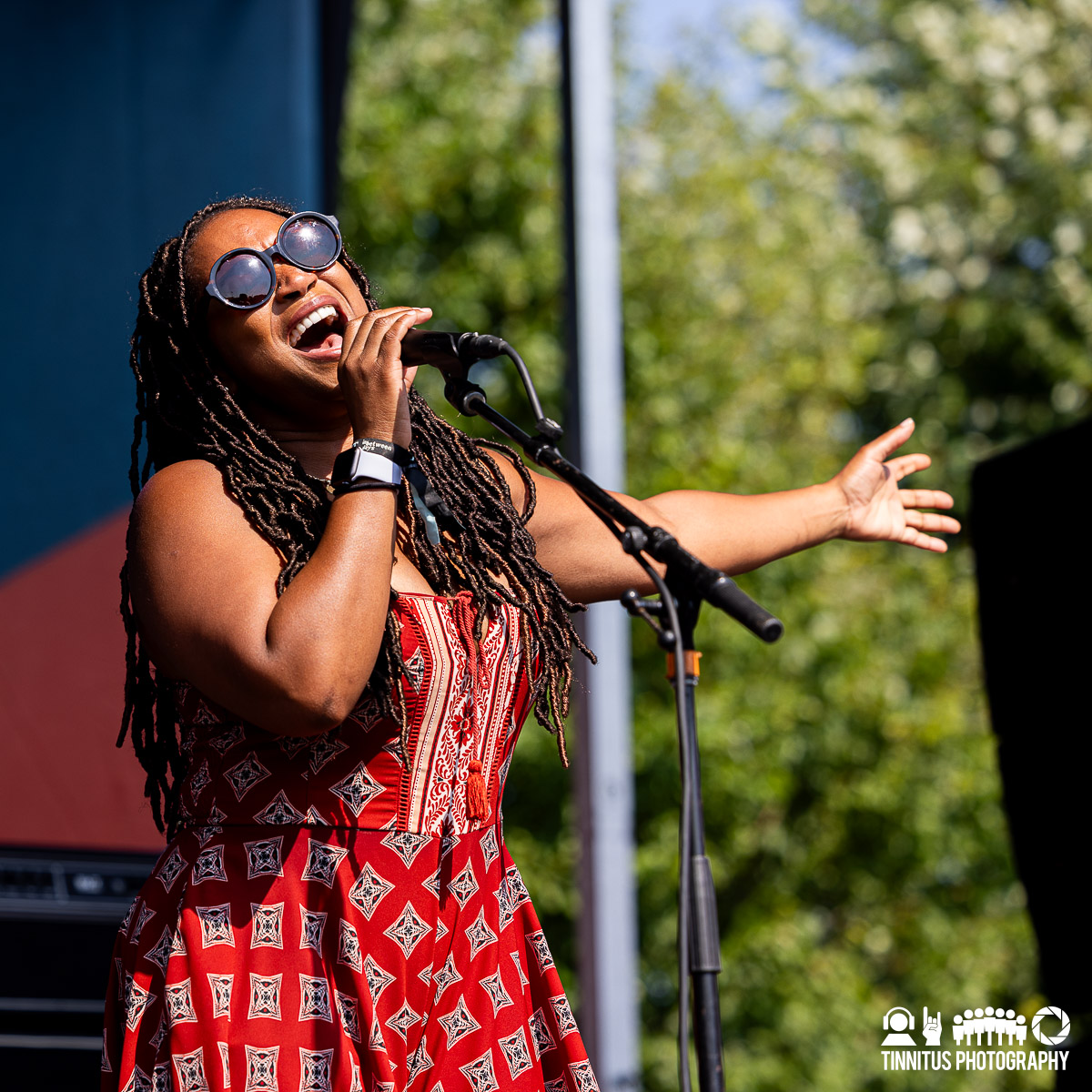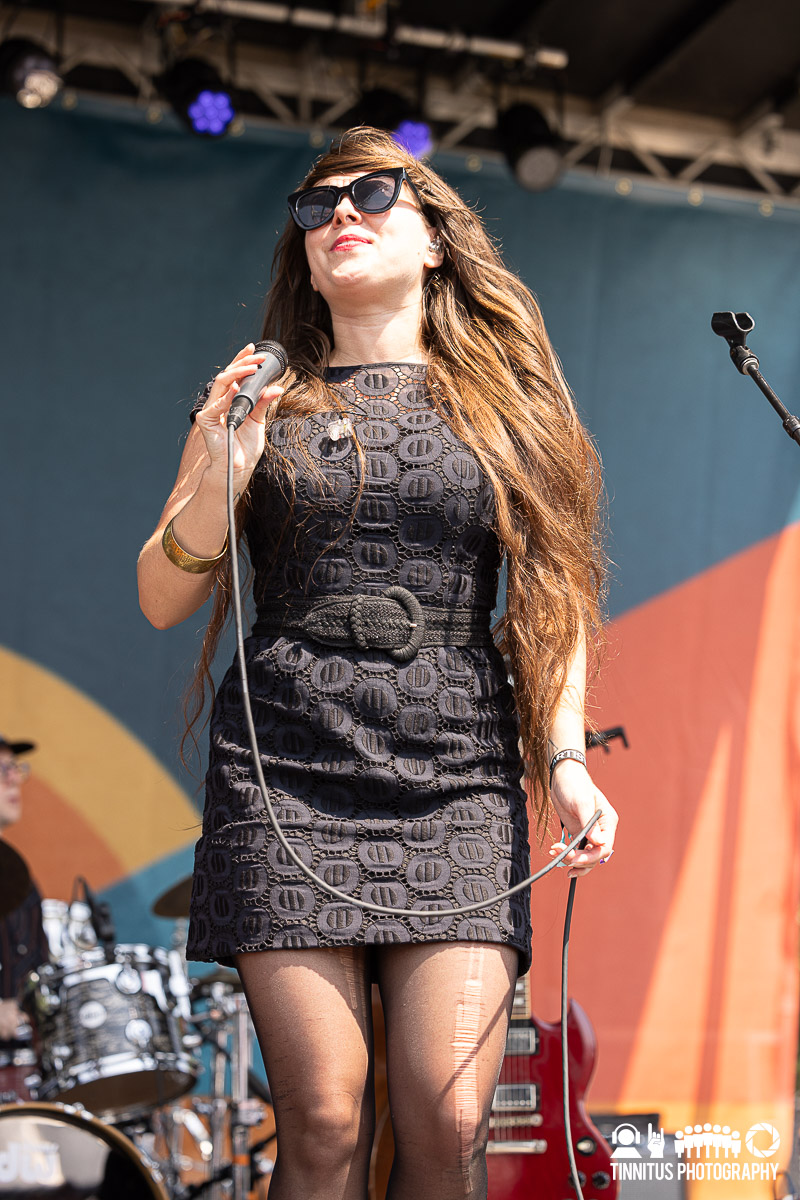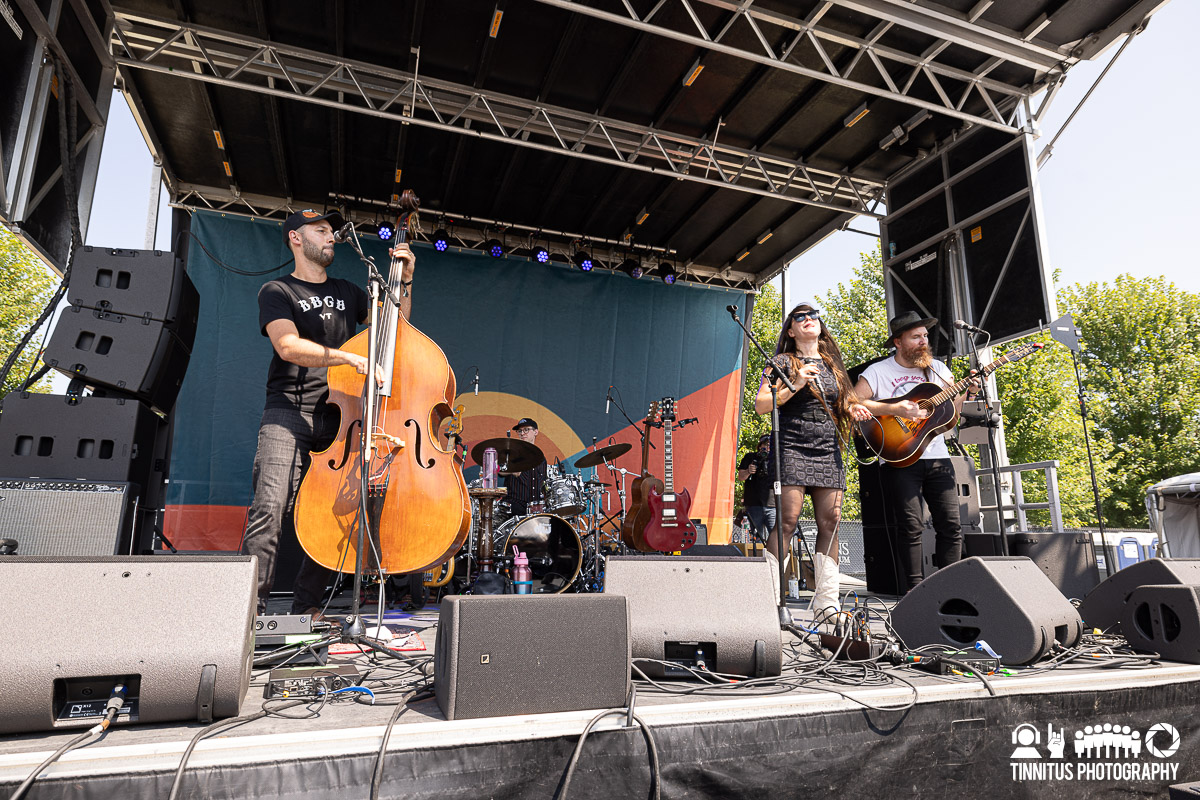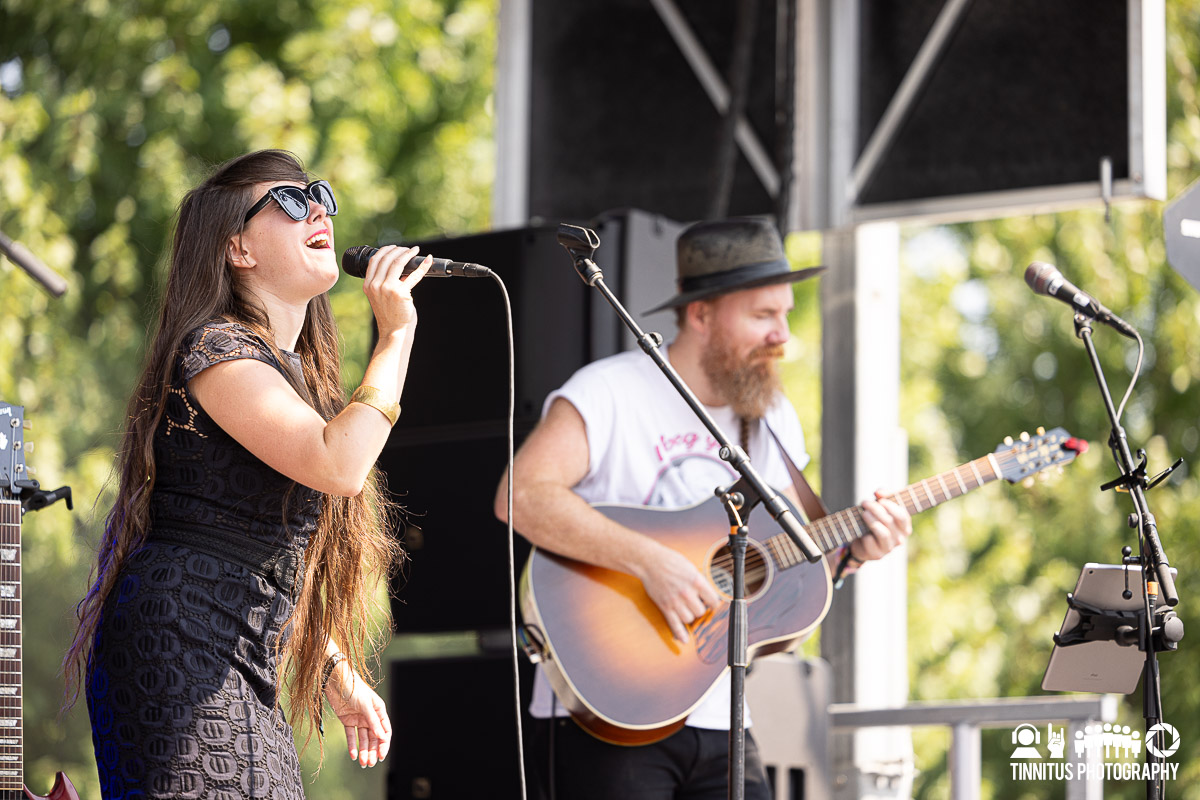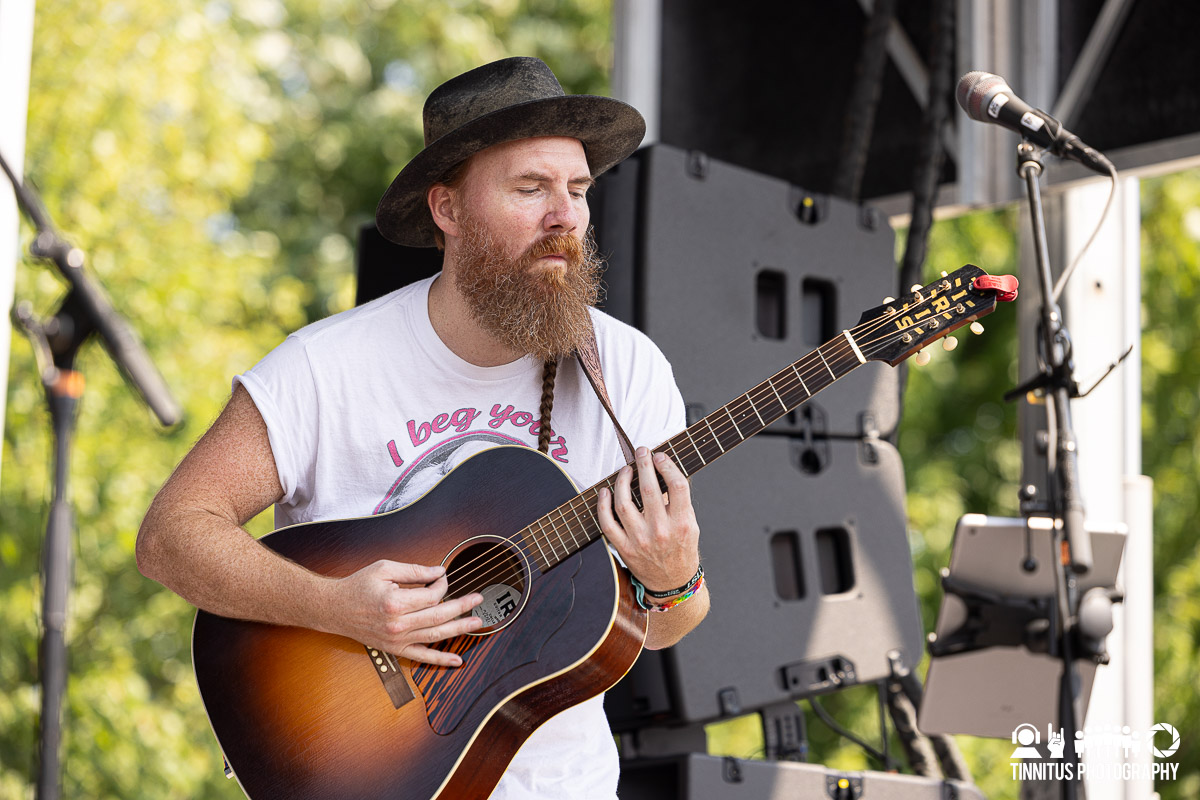 Pop duties were handled admirably by Allison Ponthier and Cautious Clay played a strong set that featured his sax and flute talents and really connected with the assembled crowd. His stage presence in particular gave off the impression that he and you have been good friends for a while and were enjoying catching up on each other's adventures.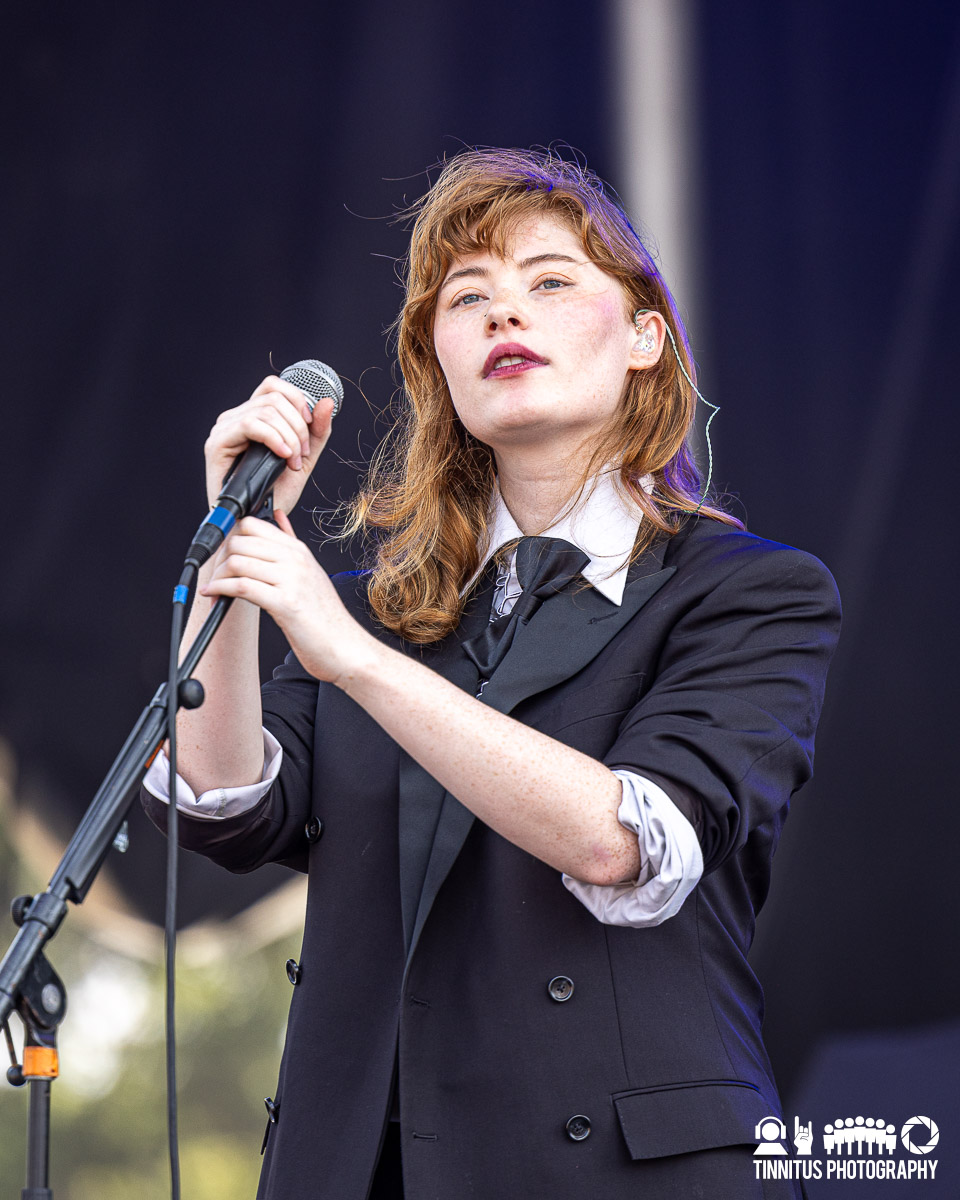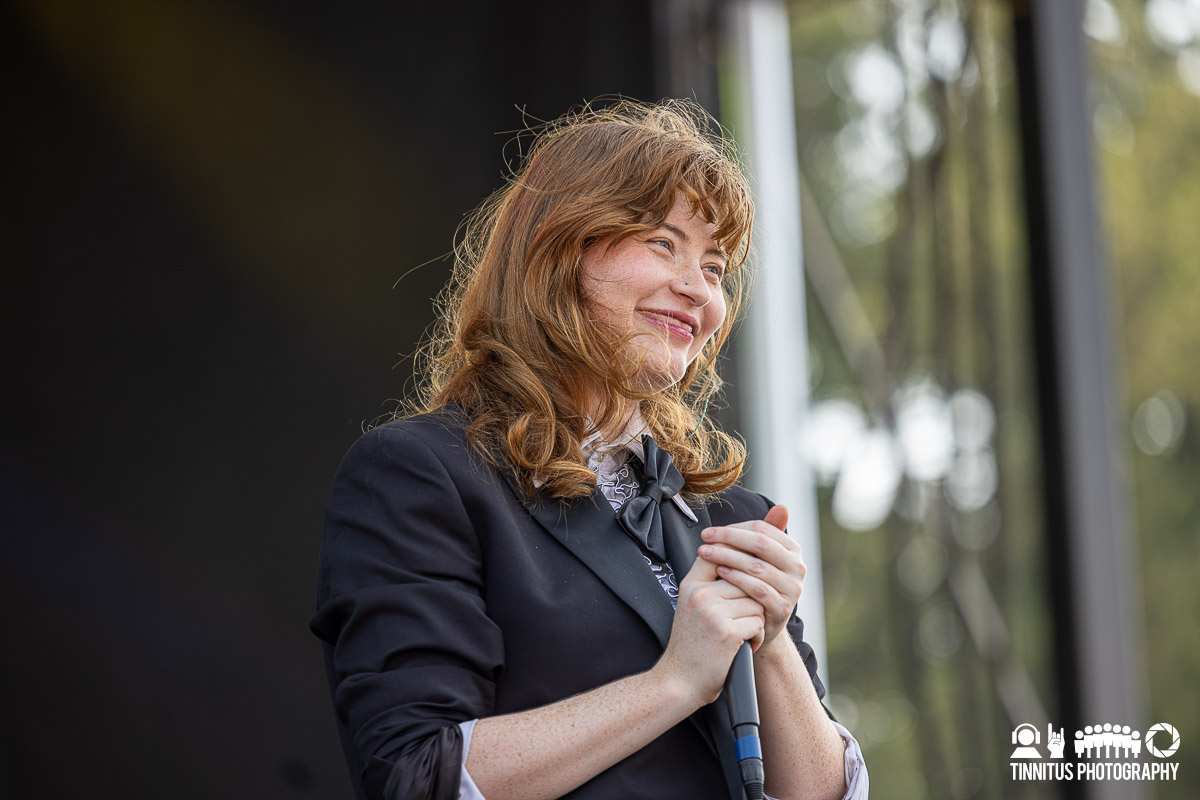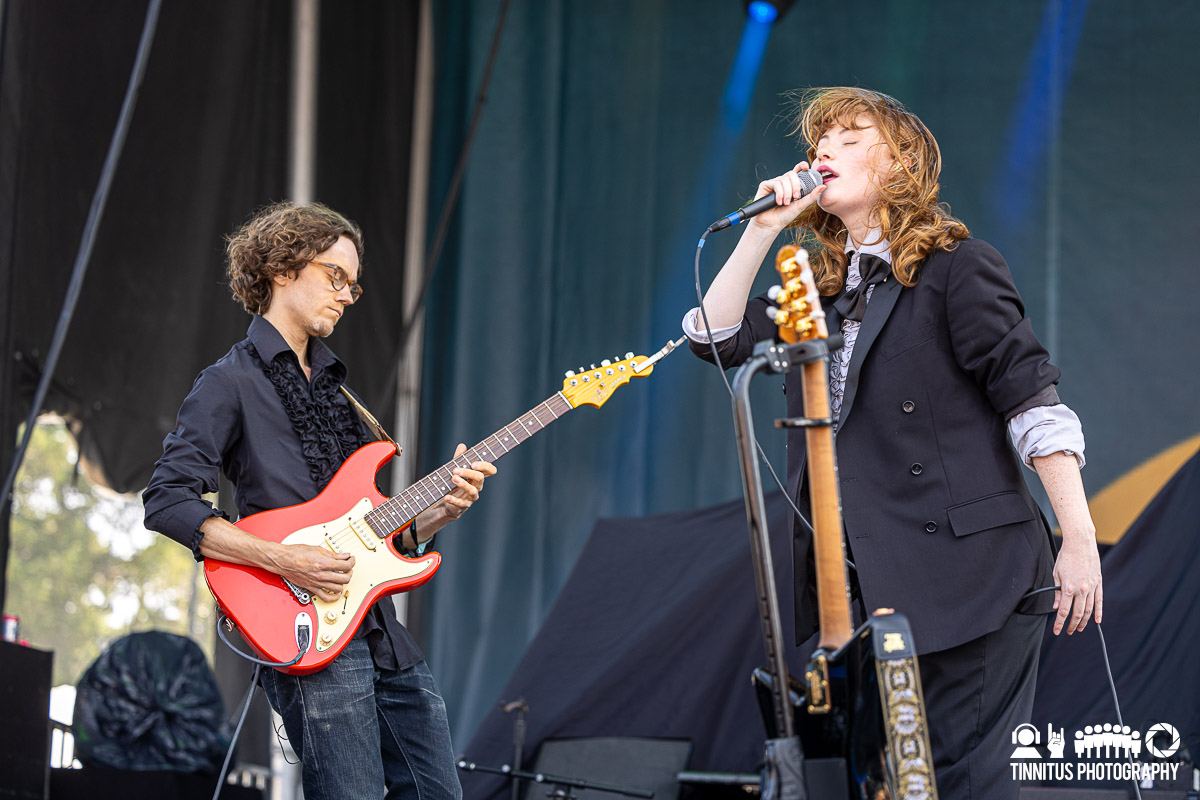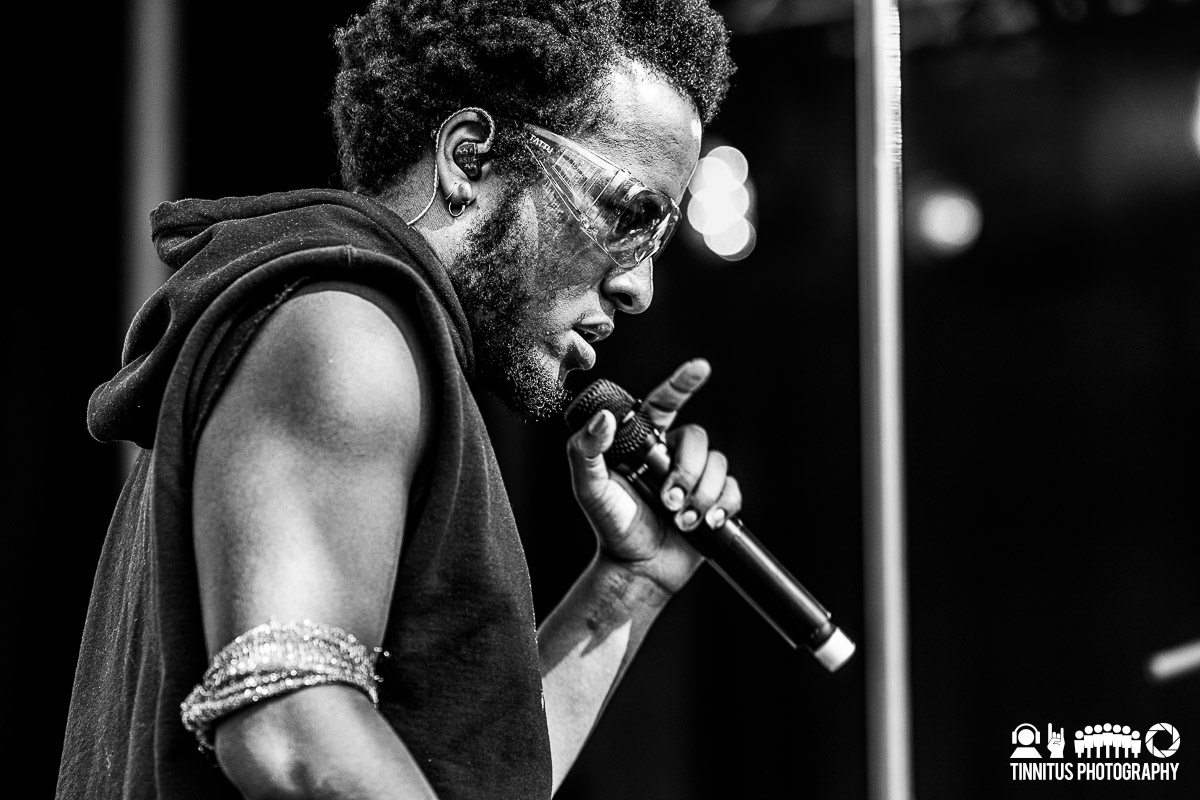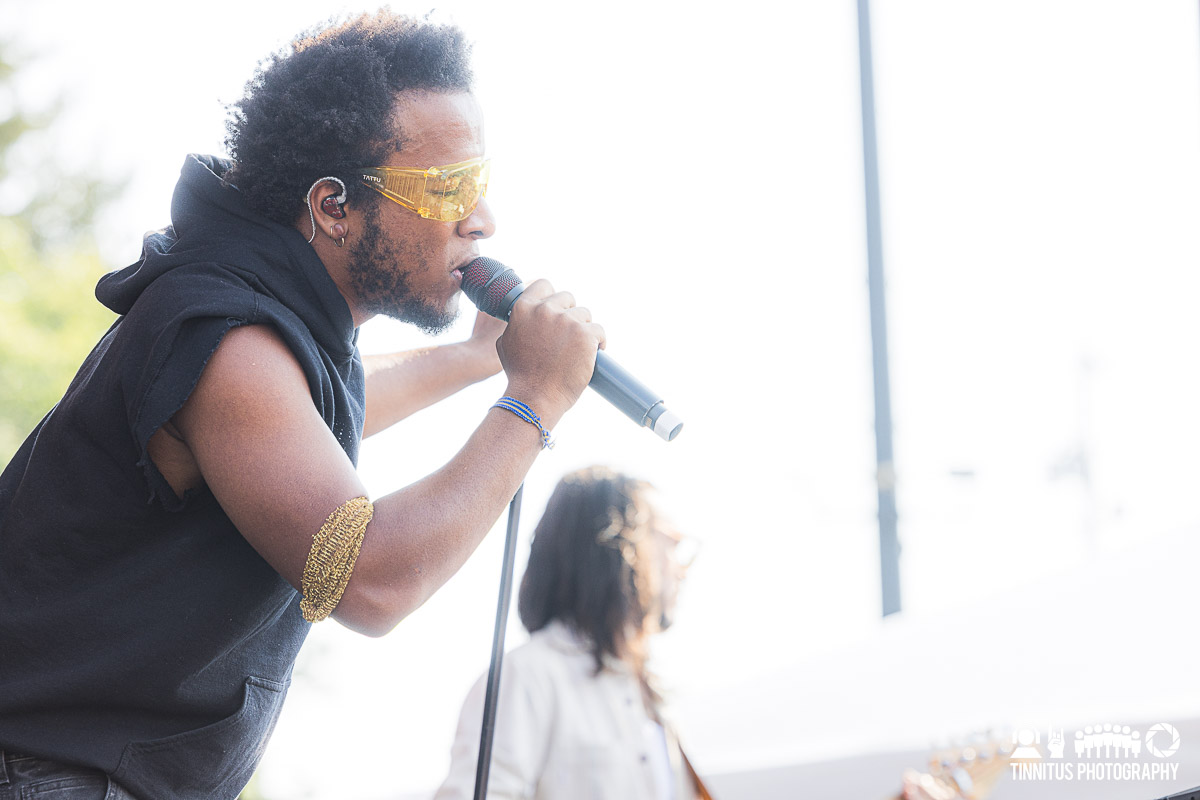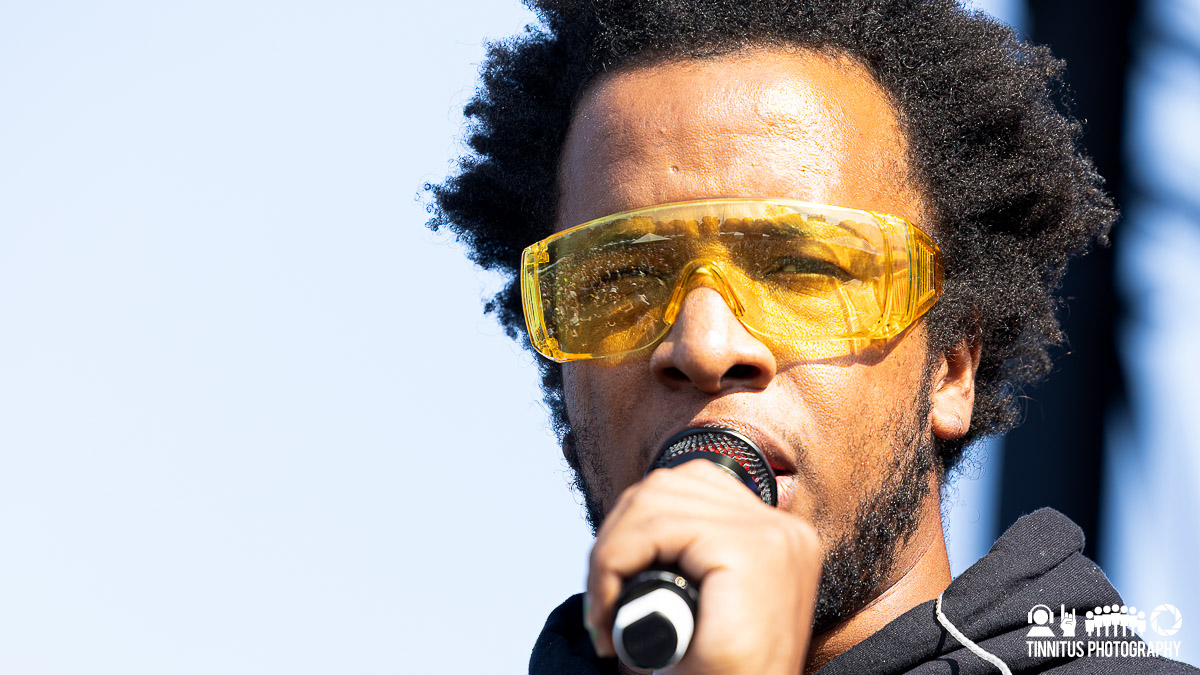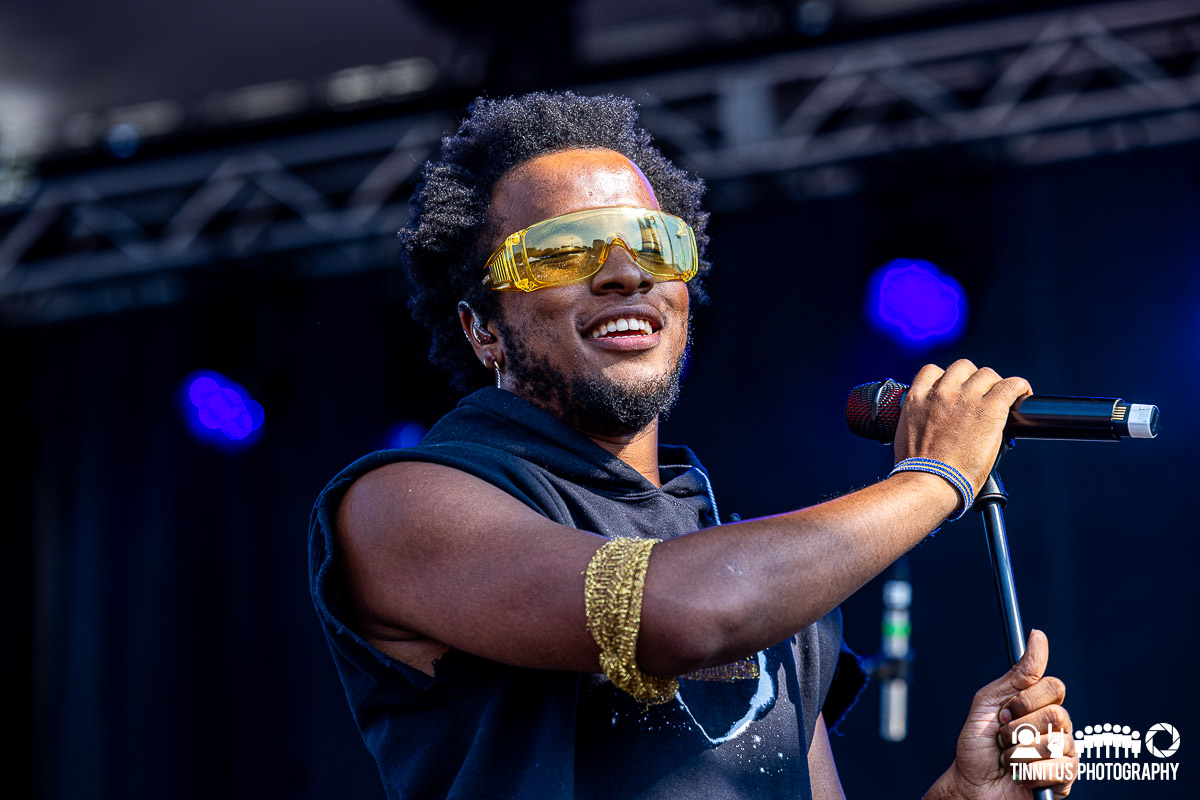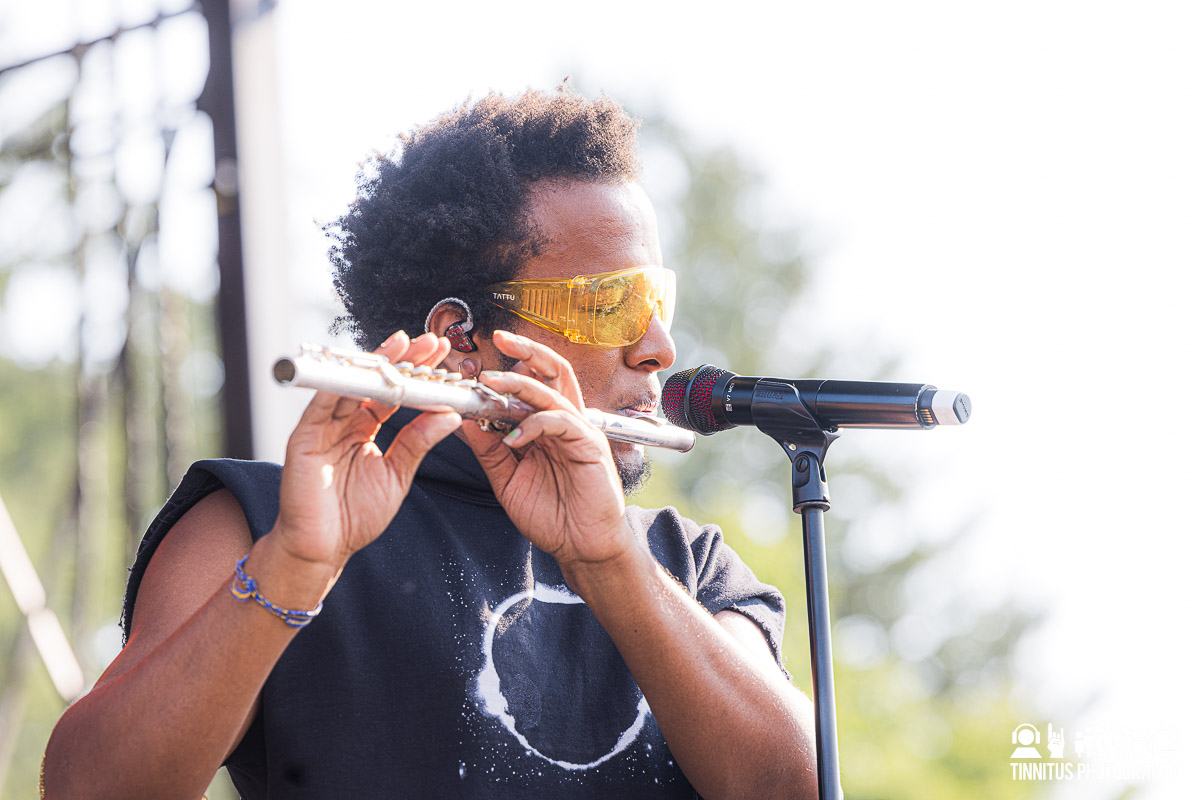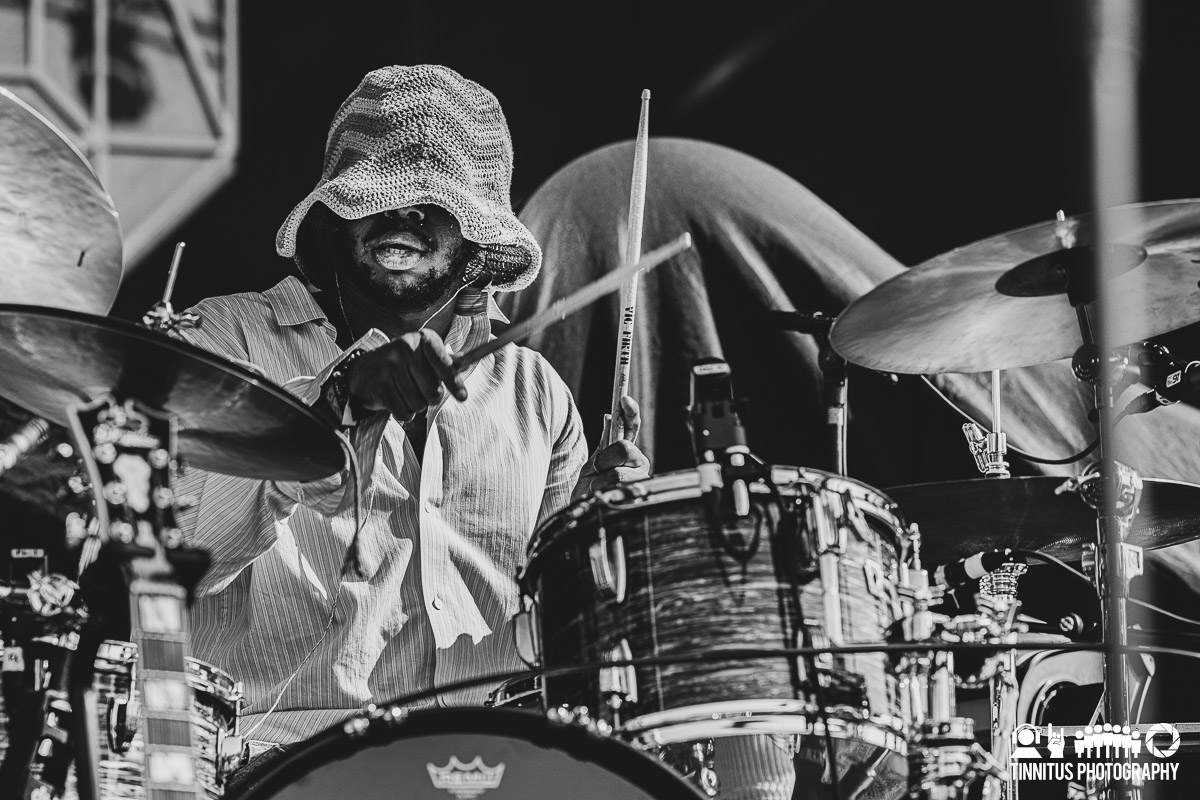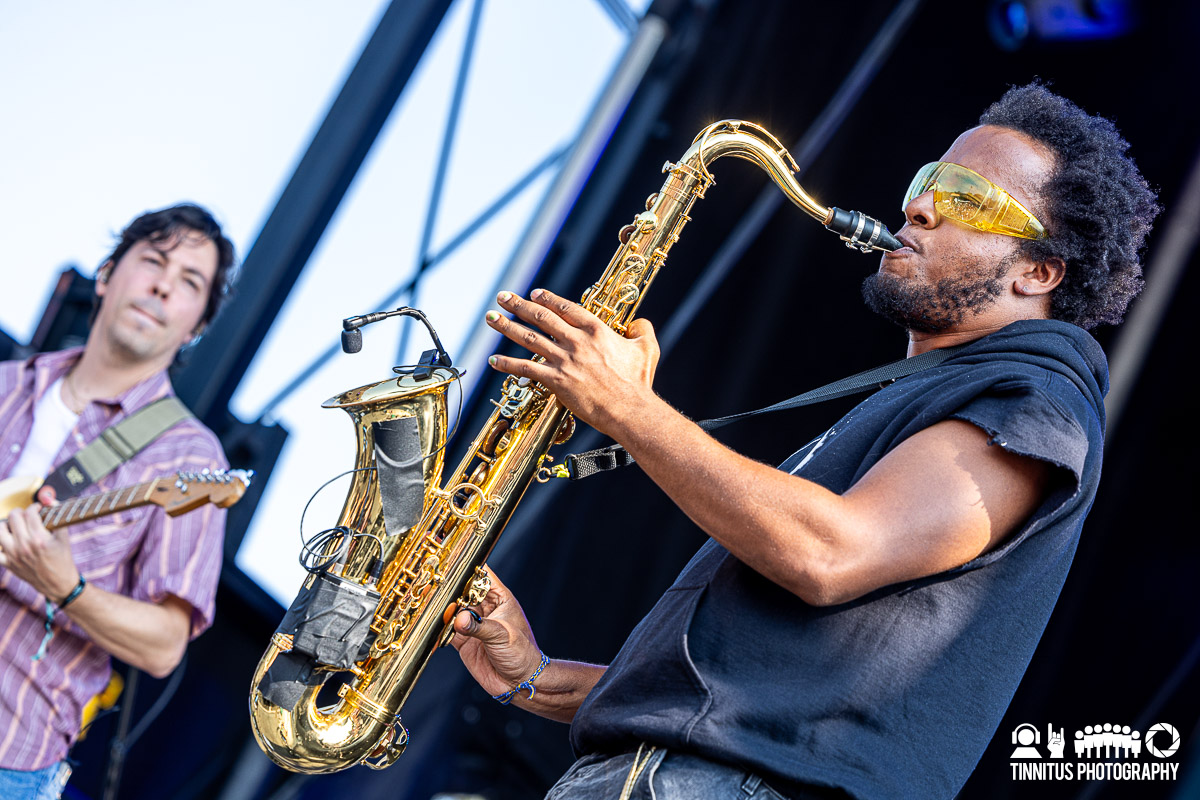 I saw Phantogram a couple of weeks ago when they were part of the Queens of the Stone Age tour and to be honest their set worked a bit better in the dark confines of the Cross Insurance Arena rather than the onset of gloaming over the Arbella Insurance stage.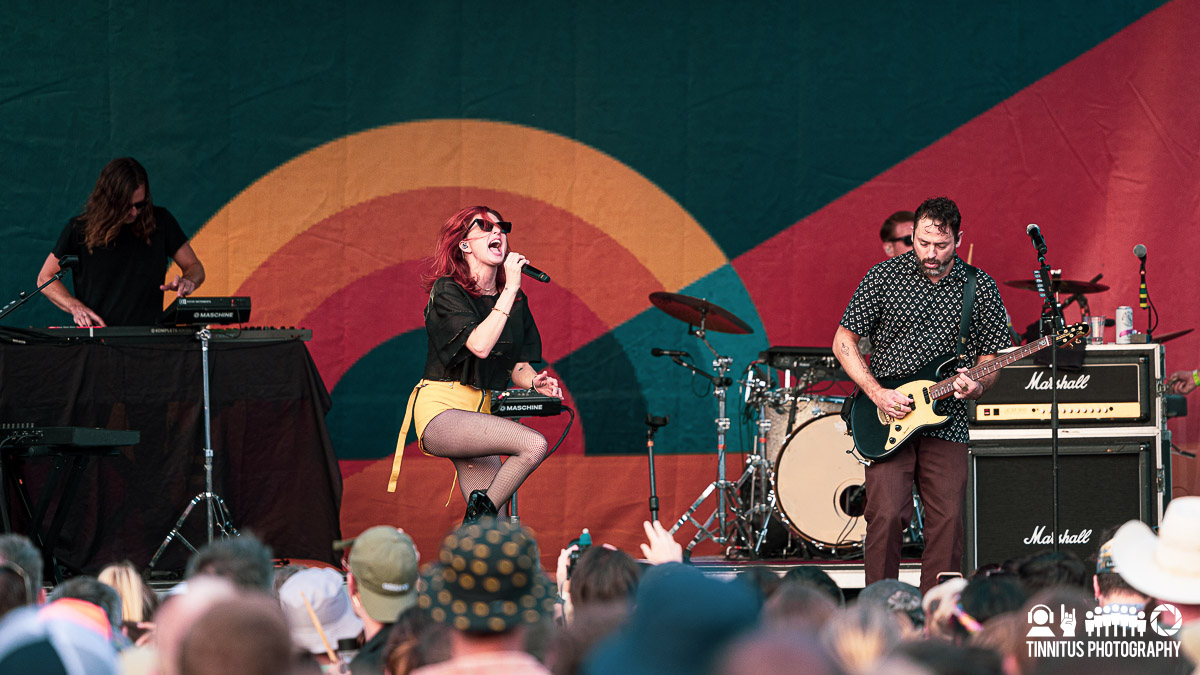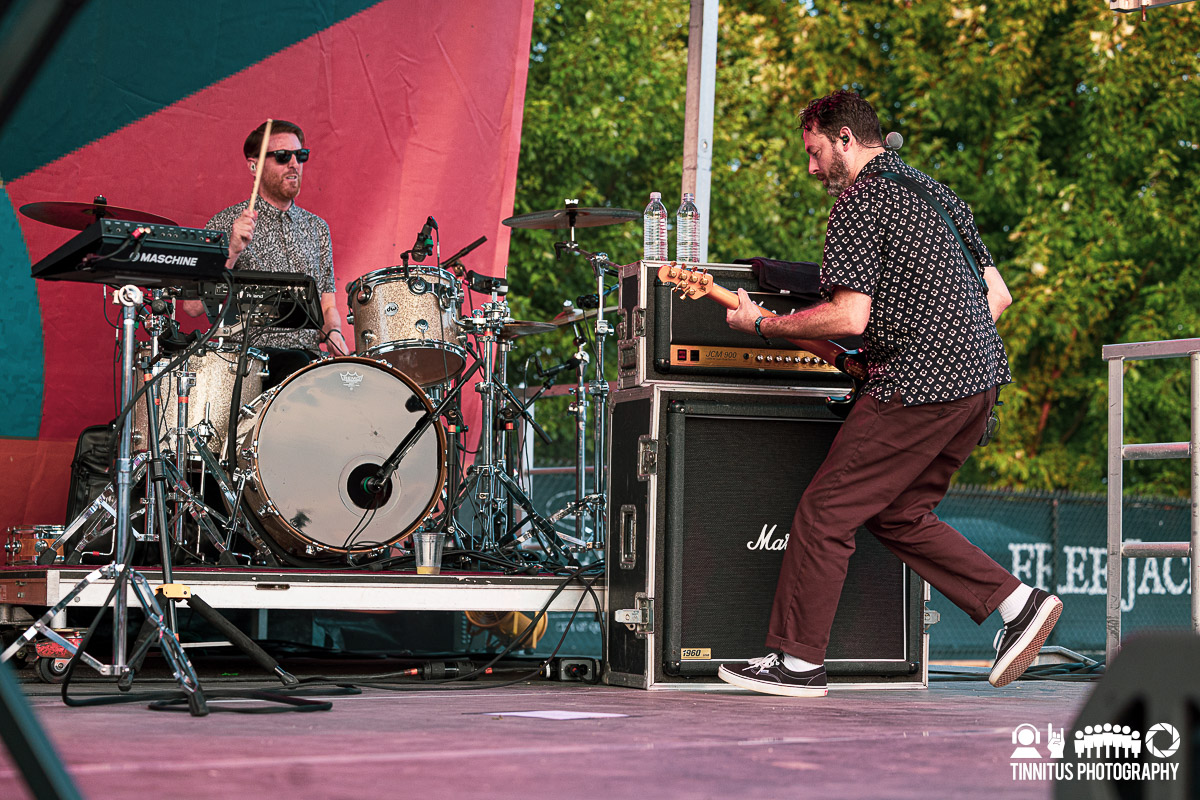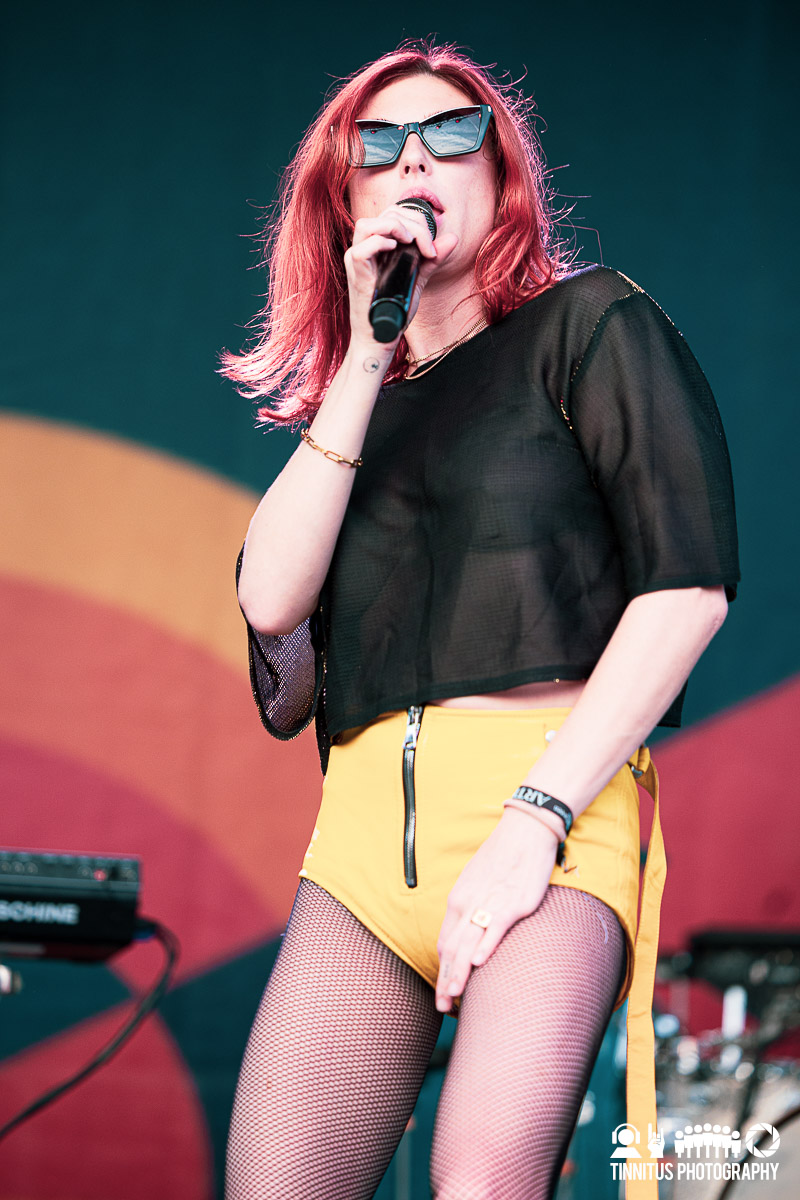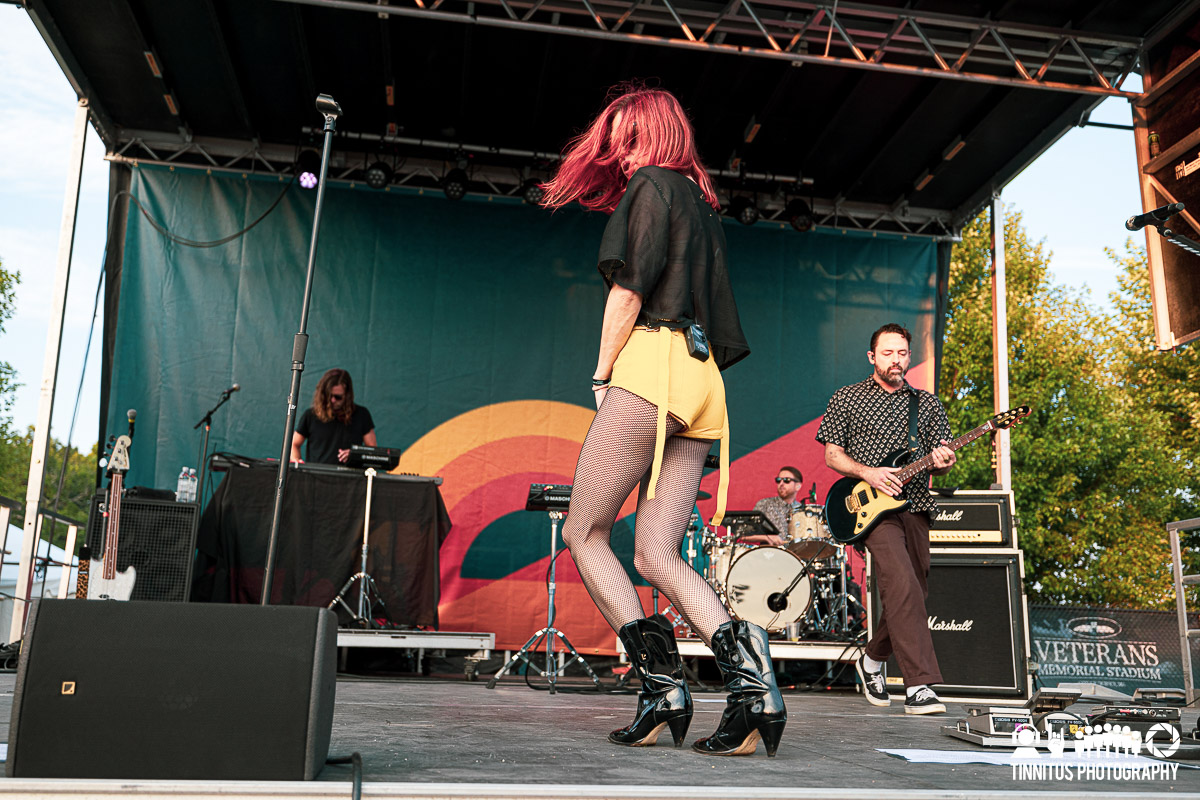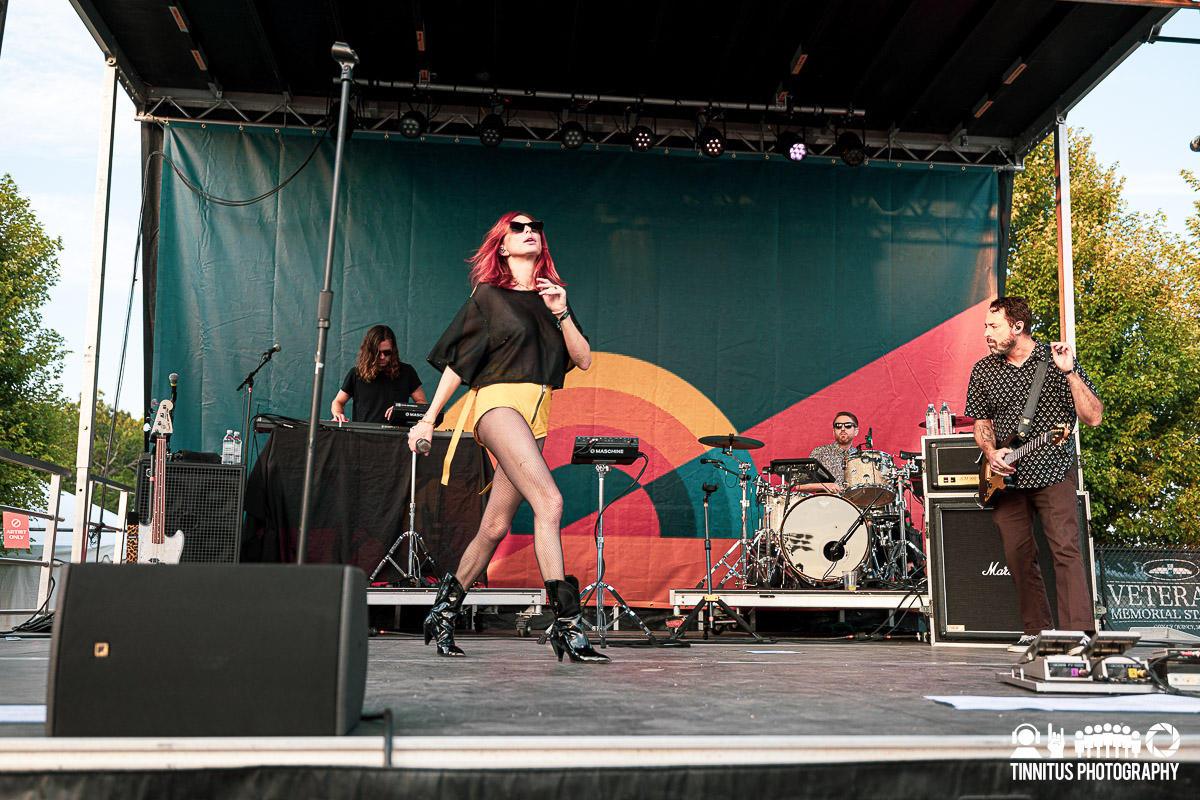 Illiterate Light first landed on my radar when they played Newport Folk in 2019 and for a duo they sure make a lot of ruckus. I totally missed them at the Bike Stage at Folk this year, but luckily they were on this bill and didn't disappoint. For just two of them, they get a rich, full sound and have a lot of fun on stage and sometimes off it too; at one point Jake ditched his position standing up behind the drums and did a quick lap through and around the crowd before hopping up back on stage. Recommended if you like early My Morning Jacket; listen to "Nuthin's Fair" and judge for yourself. They even got a small mosh pit going during their impassioned cover of Neil Young's "Vampire Blues." Note to Croakies – there is a potential sponsorship available here to keep Jake's sunglasses on his face.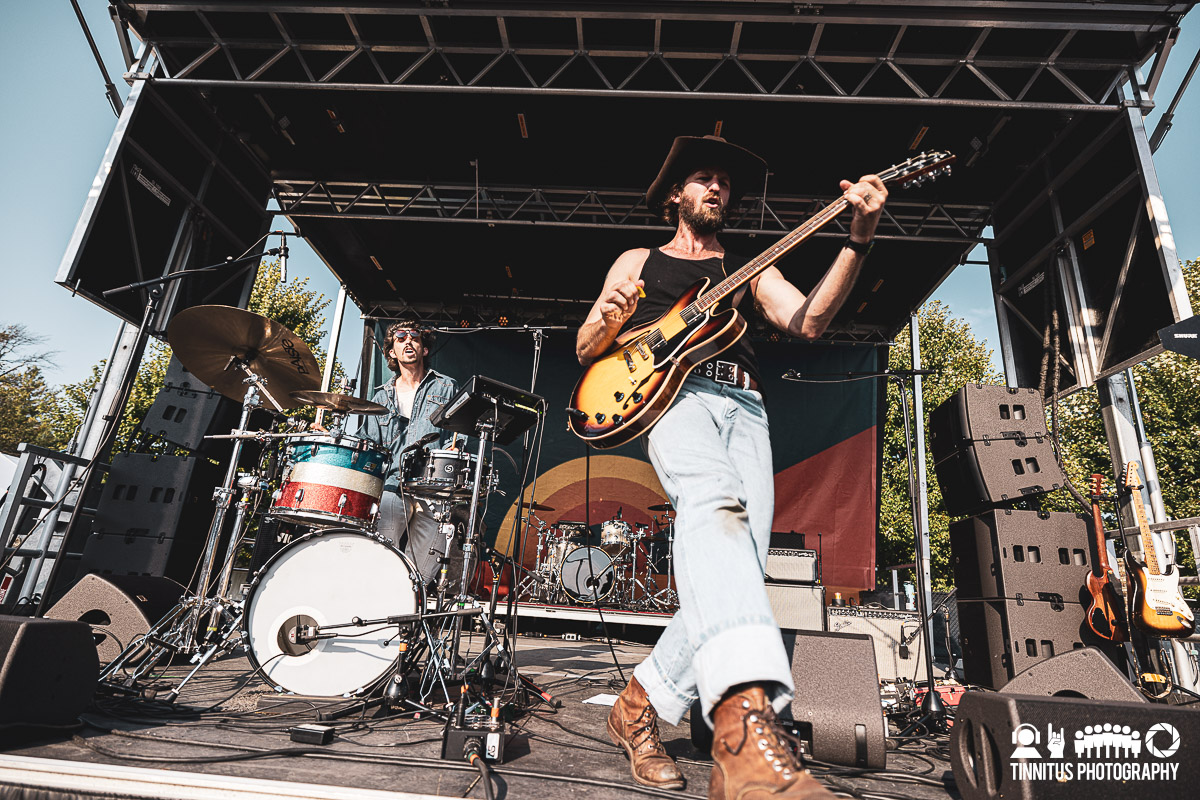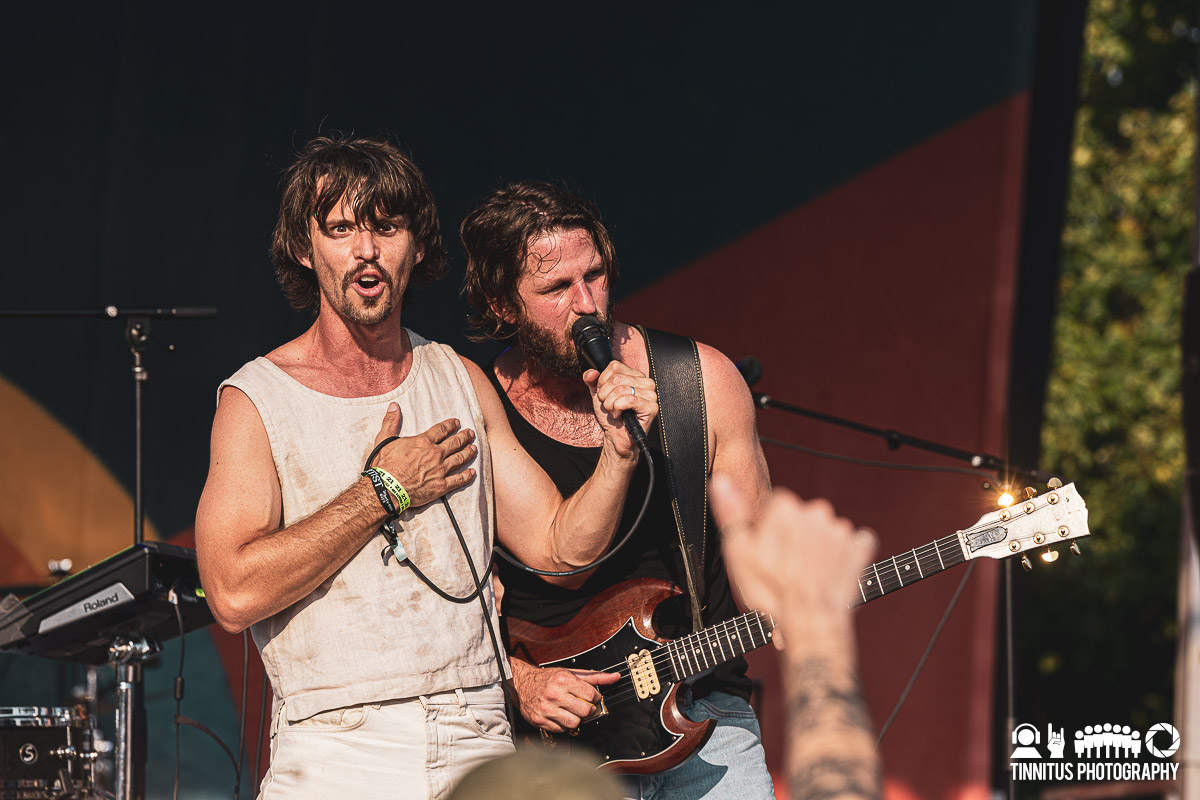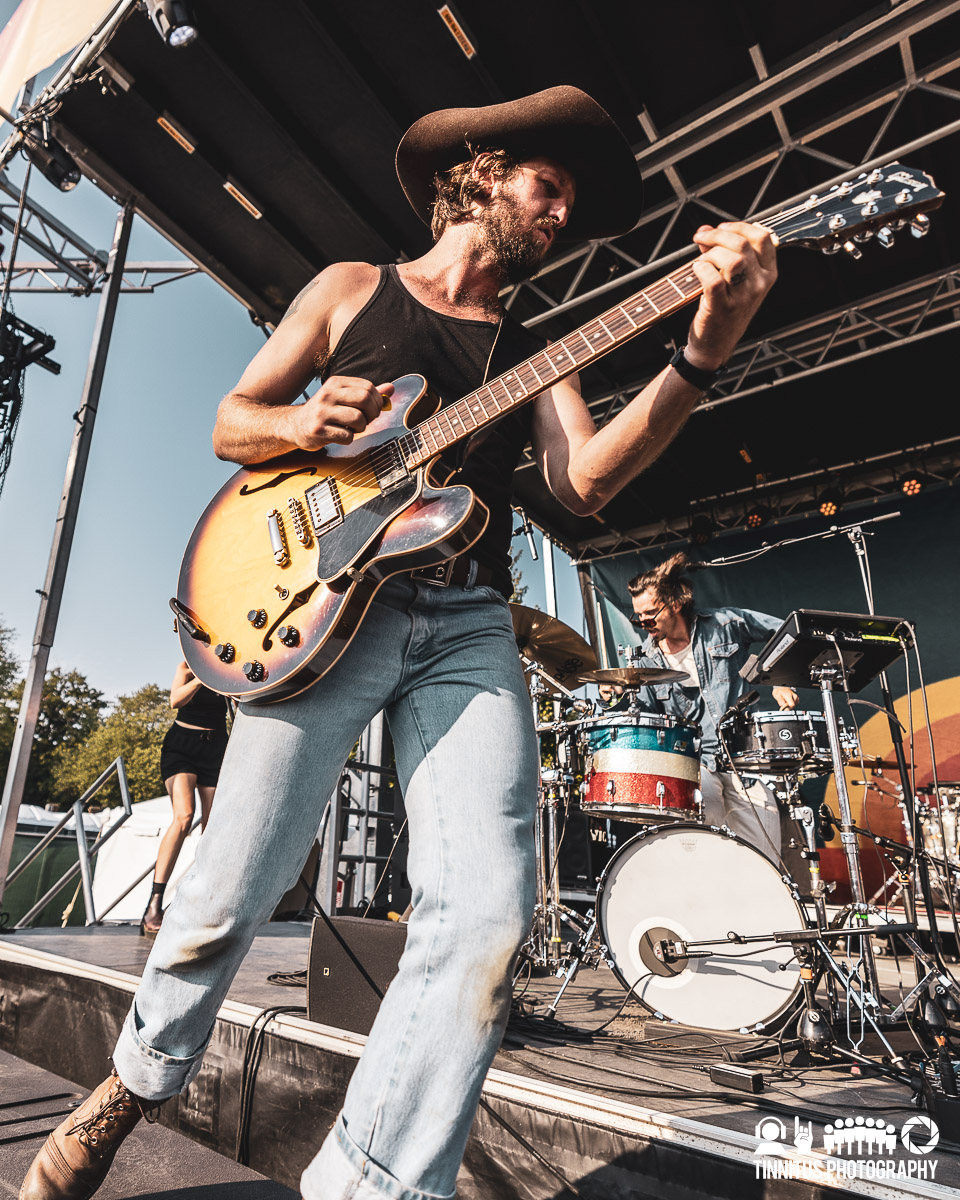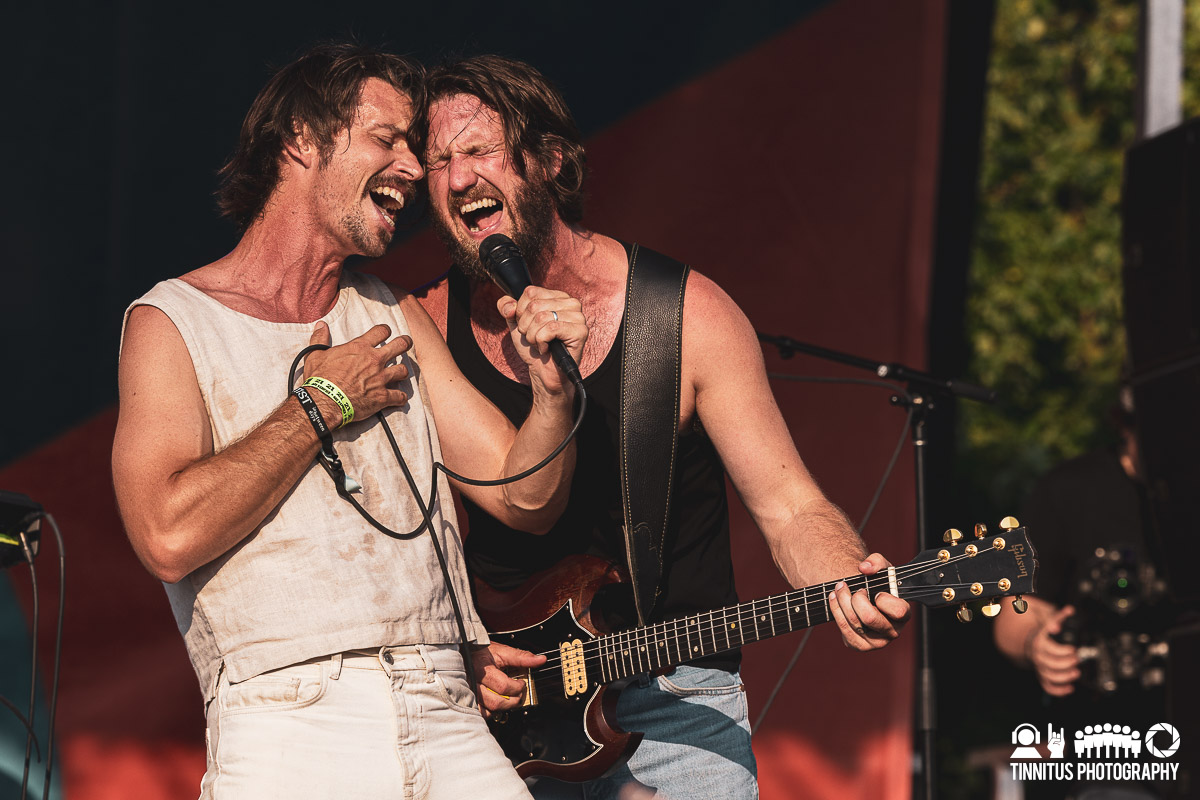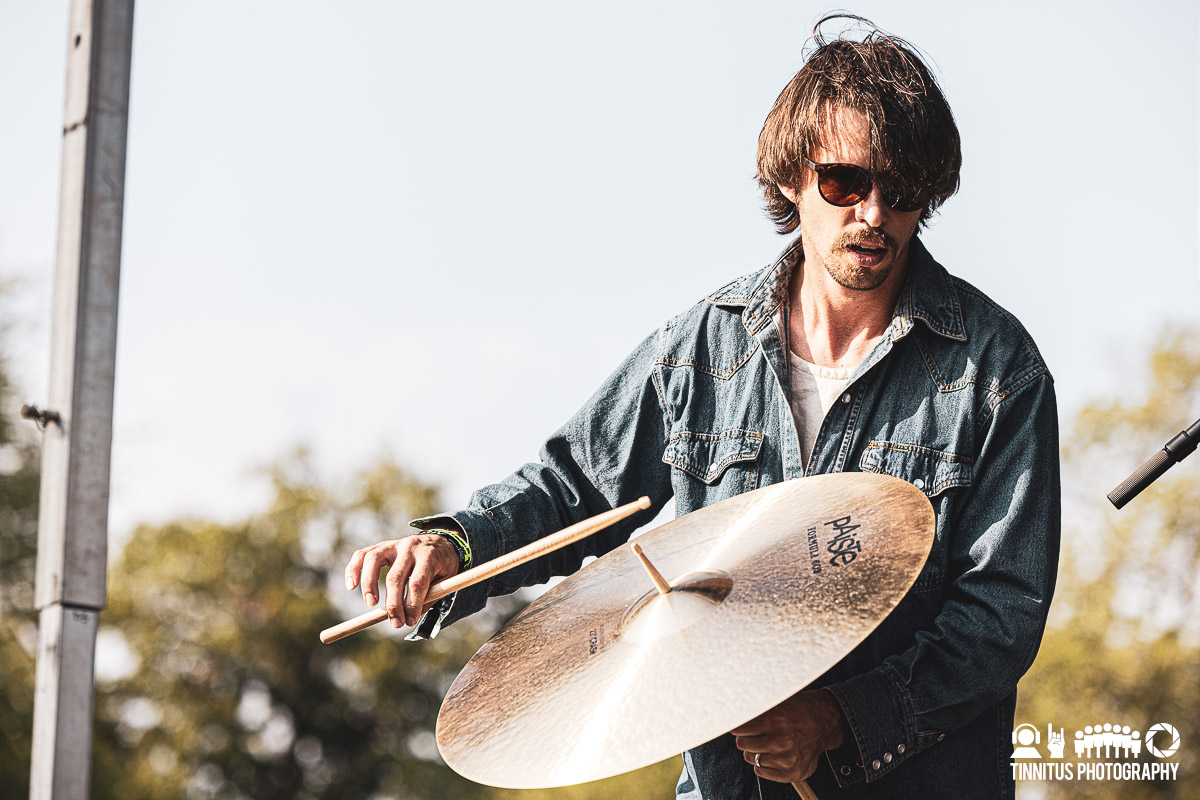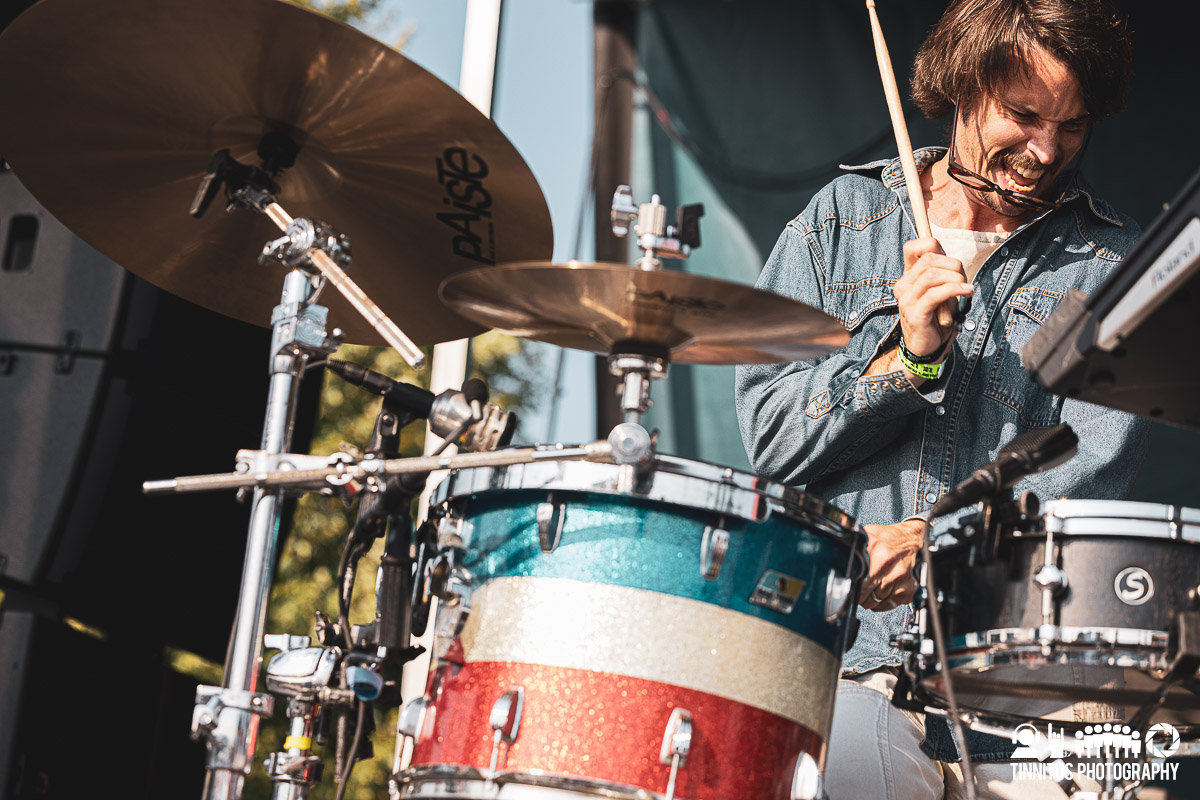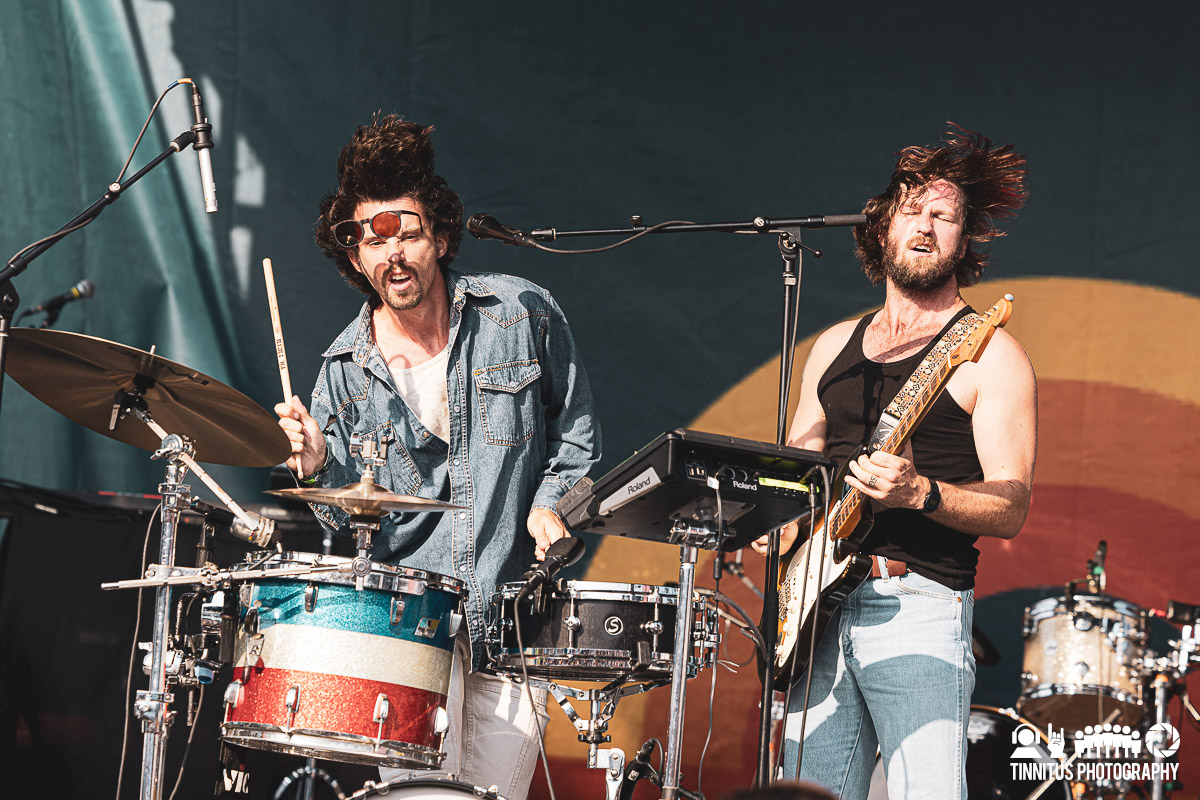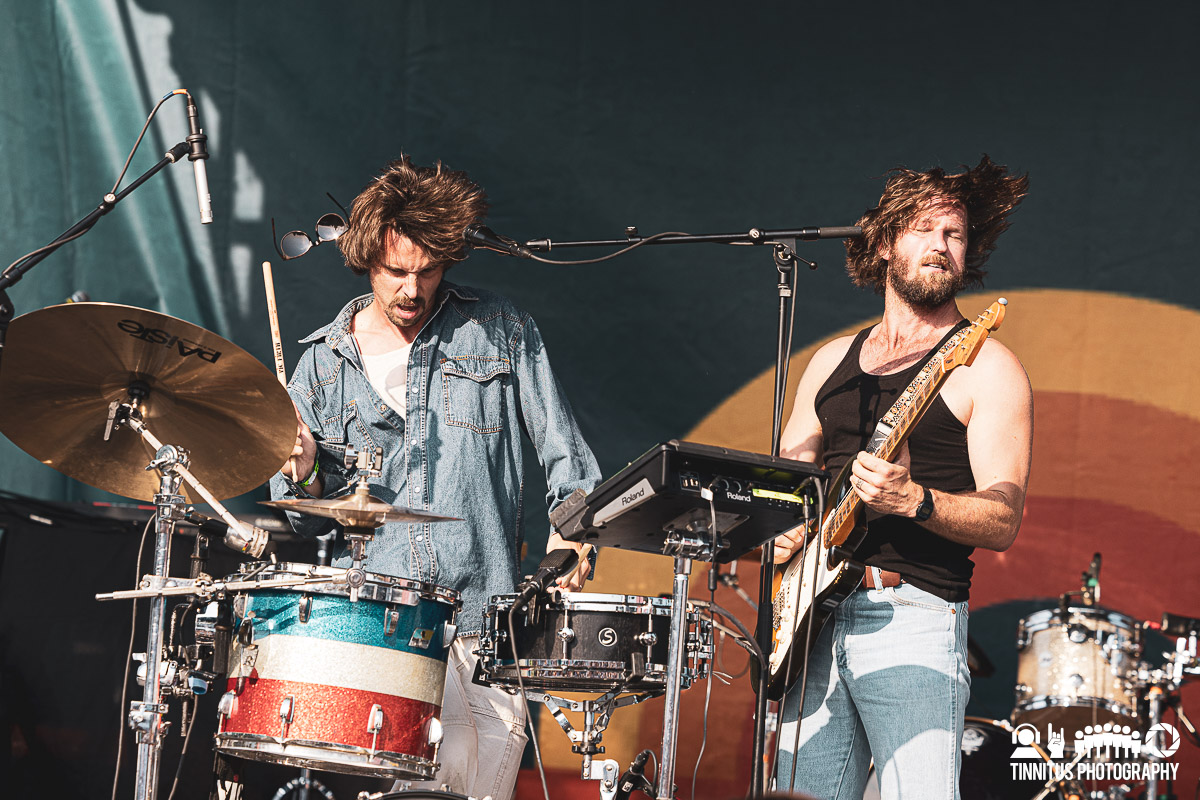 The weekend wrapped out with a set from Lord Huron, another band I first saw at Newport Folk. Continuing on with the day's take on American music forms, the band was perhaps the tightest crystallization on offer Sunday. Hailing from LA, they've taken lessons from classic cornerstones like The Byrds, CCR, Flying Burrito Brothers and Gram Parsons but also would likely be appreciated by fans of more contemporary influences such as The Jayhawks or Fleet Foxes. Casting a dark and moody setting, the core band of Ben Schneider, Miguel Briseño, Mark Barry and Tom Renaud was augmented to six members with the addition of touring musicians on keys/vocals (Misty Boyce) and additional guitar (Brandon Walters). A rousing set to end a successful weekend, I'll see you in Quincy next year.