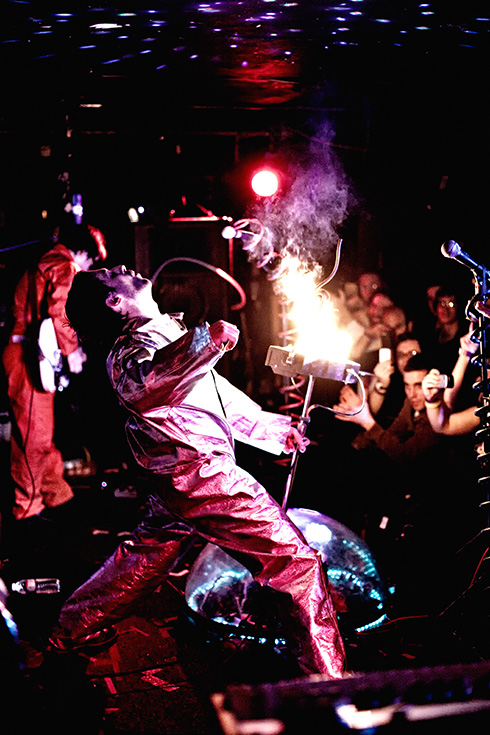 28 November 2010
Known for their fusion of vintage Sci-Fi B movies and high octane surf music, MAN OR ASTRO-MAN? achieved escape velocity from this planet's gravitational pull a decade ago and disappeared in the cold black ether. This absence was dashed by a string of East Coast dates, and the core crew of BIRDSTUFF, STAR CRUNCH and COCO THE ELECTRONIC MONKEY WIZARD dusted off their space suits to take flight on stage once again.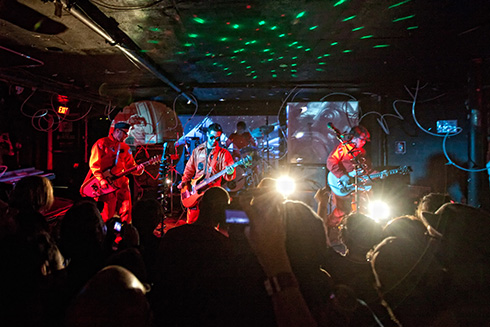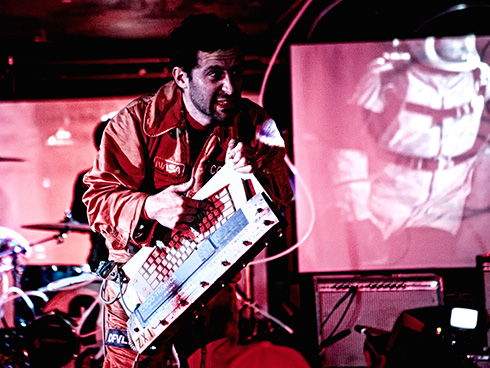 Surf music can be a pretty limiting genre to exist within (how many reverb'd Telecaster tracks can one listen to?) but the men (or are they astro-men?) do a more than decent job of keeping out of ruts, blending kitsch samples and a blistering guitar attack more akin to punk rock than anything the original West Coast bands had envisioned; "Escape Velocity" (despite the three false starts before Star Crunch nailed the intro after the sampled dialog) left virtual scorch marks on the stage.
To end the show, scorch marks of a more physical nature would also be on display. First, after a theremin solo, Coco ran behind the back line to fetch a small squeeze bottle of something flammable, and soon he was playing a flaming theremin; JON SPENCER, take note! As the flames were beat down before becoming too hazardous, Coco took another trip to the rear of the stage and wheeled out a seven foot tall, fully functional Tesla Coil, which when energized spat bolts of bluish-purple electricity to the club's ceiling. Yowza!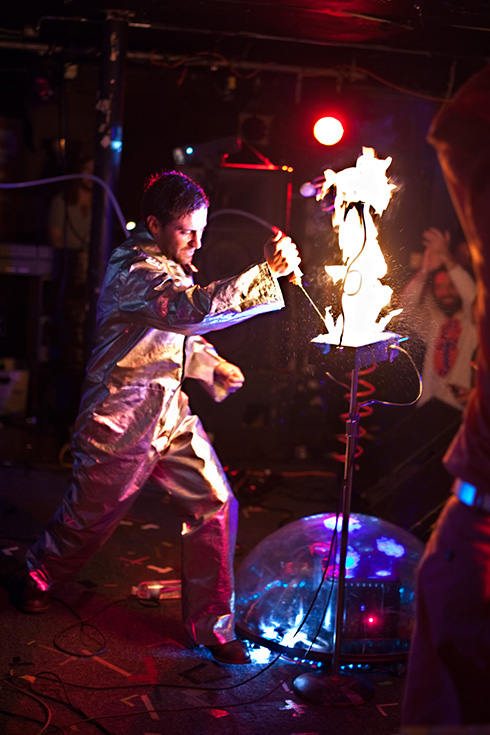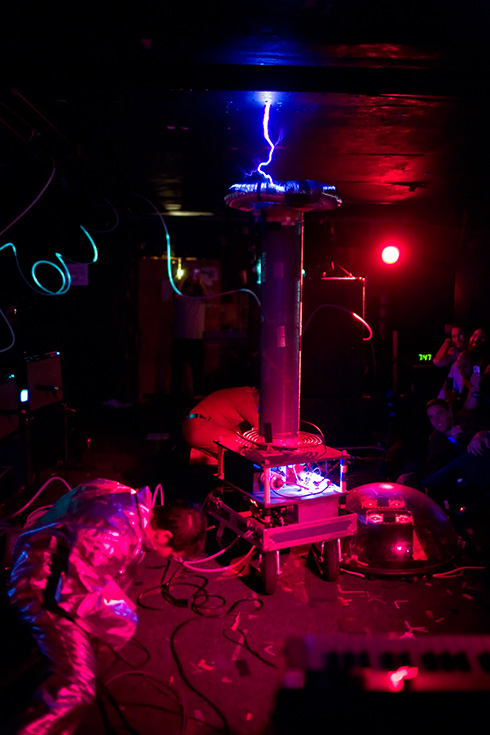 Opening the show were the DEX ROMWEBER DUO and of course a guy named Dex was in the band. One might know him from his raw roots work with FLAT DUO JETS, a band that JACK WHITE has expressed as an influence, and the Duo is now signed to White's Third Man Records. You can't have a duo with just one person, and Dexter's sister Sara (also of fine pedigree, including LET'S ACTIVE and SNATCHES OF PINK) sits in the drum seat. Normally my appetite for Presley/Haley/Perkins music can be filled in small doses rather than heaping platters, but their full set was a perfect amount, and they did a nice job of winning over the crowd, who likely was not expecting that sort of sound to be paired with Man or Astro-man?.