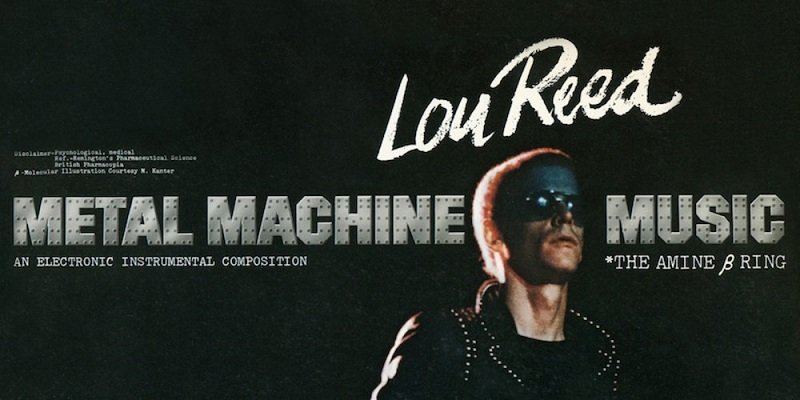 1 July 2020
Throughout the history of music, there have always been those albums which have reached a status beyond the normal release. Albums which become a cult all of their own. Some became named as such due to low-sales but casting a wide influence, for example Trout Mask Replica by the late Captain Beefheart. Though most albums can be categorized into one genre or other, there are some which baffled any genre classing or even the most straightforward of explanations.
That can be said for former Velvet Underground front man Lou Reed and his 1975 oddity Metal Machine Music. Subtitled as The Amine β Ring, it is a double album which contains neither songs nor lyrics, but apocalyptic noise, and feedback screeches sprawled across four sides of crucified vinyl. A car crash of sound which rips at the soul of popular music, sometimes heading beyond any horizon of understanding. Reed himself once stated: "It's the only record I know that attacks the listener. Even when it gets to the end of the last side it still won't stop."
Critically hammered upon its release, partially misunderstood, or maybe it gave the effect which it was intended to. Nevertheless, it still has no problem entering, and topping modern polls as one of the worst albums of all-time. To understand all aspects of this album takes time, research and a new appreciation of minimalist art. Lester Bangs, the legendary hedonistic journalist for Rolling Stone Magazine was once quoted as saying it was the greatest record ever made, also he went a step further by writing;
"As a statement it's great, as a giant F@#k YOU, it shows integrity, a sick, twisted, dunced-out, malevolent, perverted, psychopathic integrity, but integrity nevertheless."
Metal Machine Music at its very essence, is white noise, no instruments are used as such, although there are guitars used for feedback and distortion. There is very little else otherwise, just a concoction of looped tape mixed with electronic pulses. After the success of Transformer (1972), and the moderate success of the follow up albums, including the number ten US hit Sally Can't Dance (1974), Reeds highest charting album ever in the United States. That latter album is partially the reason as to why Lou Reed felt a need to commit commercial suicide. But you have to consider was Metal Machine Music intentional as an actual release?
The album is an enigma there is no doubt about that, a drastic move never again repeated by any artist of the rock genre, not even Frank Zappa went this far with his art.
To understand it fully, all aspects of the album have to be explored, starting with the contractual end. For this the attention needs to focus on that aforementioned Sally Can't Dance album. It was a commercial success, and one associating the name Lou Reed with that of a hit maker, a term which was alien to the Reed of the Velvet Underground fame. Cult status, and artistic integrity were a lot more suitable to his needs, and perhaps ego. Sally Can't Dance was not a pleasant experience for Reed however, unhappy with the treatment of his songs during production and mixing, elongated with the added pressure placed on him by his record company RCA. Pressure to produce a hit album to follow-up Transformer . Especially after the failure to break big with the Berlin (1973) conceptual masterpiece, only reaching number 98, and barely scraping into the Billboard top 100. A point which was not welcomed by RCA regardless of the quality of what was produced.
A change was needed to regain his artistic prowess, and so Reed presented the record company with the master tapes that would become Metal Machine Music . An album which was the polar opposite to what they wanted and pressured him to accomplish, the negative to the positive sound of Sally Can't Dance. His contractual obligation with RCA was now fulfilled with the kick in the teeth Reed felt was due in this starkly- ironic act. Through a point of contrast, however, RCA actually released it, an album which presents nothing of monetary value.
The album itself can be looked at from a different angle, in some part of it all Lester Bangs might have had an actual point. For the time it was hugely misunderstood as a concept. If it was made as a joke, a spit in the face towards RCA, then why, in 2002 did Reed along with a ten piece classical orchestra, begin performing the album in its entirety in Berlin, Germany?
In 2008 Reed, along with Ulrich Krieger and Sarth Calhoun, went one step further and formed the group Metal Machine Trio. Using the album as a backdrop for improvisational adventures into jazz, avant-garde, minimal noise and electronica. Lou Reed had once again tapped into his creative side that he had neglected for years, ever since noise experimentation became a feature of The Velvet Underground And Nico album (1967). Lou Reed was at the forefront of the avant garde-rock, only touching on the subject on later albums by The Velvets.
The Metal Machine Trio continued to tour and even released a double-album in December 2008, consisting of cultivated performances called The Creation Of The Universe. Some advertisement flyers for the tour replicated the sleeve notes of the original Metal Machine Music, stating "No songs. No vocals!"
They continued activity right up until Reeds death in 2013, playing an improvisational mixture of electronic sounds, noise music, aggressive free playing, heavy distortion on guitar and saxophone, extended feedback passages, raga, and ambient drones. All this played over an occasional rhythm and blues piece, with the odd heavy metal number added to the set. With all this information in mind, a different picture, or point of view begins to emerge regarding Metal Machine Music as a concept, or even as art. It is, in reality the forerunner to industrial rock, art rock, electronica and the culmination of all things punk, what punk was and where it was heading. It is anarchism noise, with a snarling humility for his fans displayed in every pulse and screech. Ambient Punk, instead of keyboards or moog synthesisers mixed at varying speeds like the seventies experimental artists of Brian Eno, Kraftwerk and Faust.
The late Lou Reed's weapon of choice, was always the guitar, looped in feedback drones through effects pedals. Industrial experimentation at it finest, misunderstood and perhaps miss-sold as an album instead of a concept. In truth, Lou Reed used an opportunity when it presented itself to release the album he always wanted to. At the same time, standing on the neck of the record company for placing undue pressure on him to be something which, in the seventies, meant a rejection of his instincts in becoming a pop star.