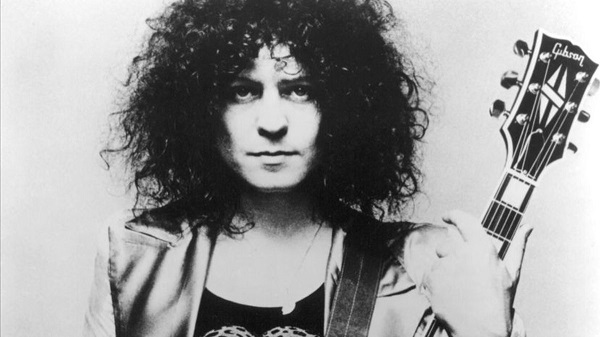 16 September 2019
 "The prospect of being immortal doesn't excite me" -Marc Bolan 
T.Rex and Marc Bolan need little introduction, Marc was the workaholic glam rock star from the seventies. His metamorphosis from folk hippy cult star to the first British music hero after the Beatles demise is well known. Cemented by the run of singles between 1970 and 1973 was phenomenal, including four UK number-one singles, and six top-five hits. What followed was a spiral downward into addiction, inflated ego and arrogance. But, as his star dimmed slightly and the hits dried up, Marc Bolan found himself in limbo, seeking direction in the progressive rock ruled seventies. This was the age of Zeppelin, Sabbath and Pink Floyd, complicated musical structures with deafening power-chords.  
In September 1975, Marc Bolan's girlfriend, the "Tainted Love" singer Gloria Jones gave birth to their son, Rolan Feld. This prompted a return to the UK from tax exile in Monaco, and the States. Now, Bolan hungry to work again, released a lukewarm slew of singles. By the start of 1977 all of his band T.Rex were gone, their disbelief in their one time leader now diminished. This prompted the formation of a new outfit under the T.Rex banner. A new album was recorded and released, Dandy In The Underworld, Bolan's strongest collection of songs since 1973's Tanx. On the back of this, a tour was proposed, a fresh approach, with a new up-and-coming band hand-picked to support him, enter The Damned to the story.

The Damned, then consisting of
Captain Sensible
,
Rat Scabies
,
David Vanian
and
Brian James
, were Britain's first punk rock band. Sometimes overshadowed outside of the UK by the
Sex Pistols
, nevertheless they did release the first punk single "New Rose* in October 1976. They also went on to be the first British Punk band to play New York's famous Bowery club
CBGB
's. Their credentials were well and truly building when they got the glam rock call.
So began the short tour of the UK on the 10th of March 1977 at the City Hall, Newcastle. Marc's love of the growing punk scene was shown in an interview afterward where he was quoted as saying that the Damned were "good friends" of his, and they were the best of what was on offer from this new scene. Whether it was his true feelings or a ploy simply trying to win over a new audience is beside the point, what he was doing was a first for a major star of the seventies, not only believing in the new subgenre of rock, but actually bringing a punk band on tour. 
Rat Scabies has said while they would stop at restaurants during the tour, and as the crew and band members were at tables tucking in, Marc Bolan was nowhere to be seen, instead he would be in a tracksuit running laps around the car park area getting in shape again. A story which was corroborated by many, as Bolan had already quit smoking and his determination had been stirred as these up and coming bands looked up to him as the godfather of Punk. In truth, his simple song structures, almost garage in essence, were the basis of this new music. 
The final night of the short tour, the 20th of March, took place in Locarno, Portsmouth. The Damned joined T.Rex on stage at the end of their set for a riotous rendition of "Get It On" this was recorded and can be found on the Marc Bolan And T.Rex Live '77 release. Symbolic as the old and new guard came together, the glam and punk rock collision had proven fruitful. This was not Bolan's first connection to Punk, his former bandmate from Johns Children, Andy Ellison, was at time the singer for punk band the Radio Stars. The pair were reunited after the Radio Stars appeared on Bolan's Granada television program simply titled Marc.

This series, presented by a leaner looking Bolan reminiscent of his early days, had a crucial aim of highlighting up-and-coming acts mostly from the growing Punk-New Wave community. These acts included
Generation X
,
The Jam
,
Eddie And The Hotrods
and
The Boomtown Rats
. Interspersed with performances from Bolan and T.Rex, although at times these performances were obviously lip synced, nevertheless the success of the early episodes prompted Granada to seek a second series before the first had run its course.
The glam rocker who influenced the Punk generation got his influence returned, as it breathed new life into Bolan, not only his flagging career but his drive, as the simply constructed music that Bolan loved was popular again. His last guest and the last performance of that first series was with Bolan's early competitor and long time friend David Bowie but, just as they started an instrumental jam, Bolan fell off the stage,a sign of what was to come.

Tragedy struck on the 16th of September 1977, a car driven by Gloria Jones crashed into a tree in Barnes, Southwest London. Bolan was killed instantly, at the very young age of 29 the teenage dream was no more. After Bolan's death, Captain Sensible wrote the track "Smash It Up Part 1" in his memory;
__"We've been crying now for much too long,
And now we're gonna dance to a different song.
I'm gonna scream and shout til my dying breath,
I'm gonna smash it up til there's nothing left".