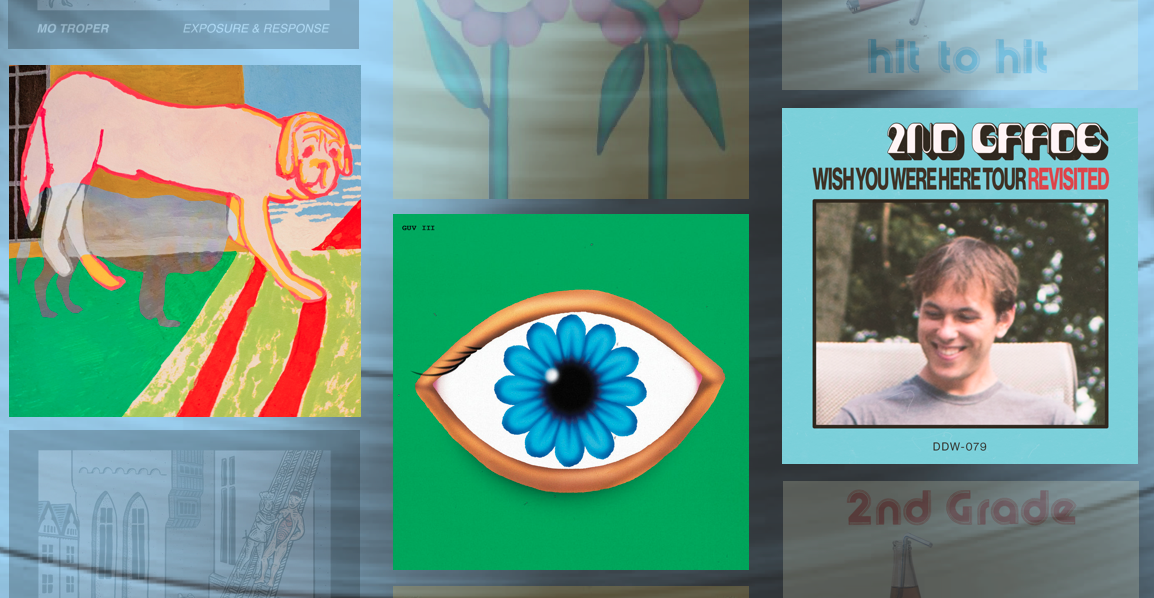 24 February 2022
Ask a thousand music fans to define power pop and you'll get a hundred different answers. The other nine hundred probably won't have any idea what you're talking about.
Among those hundred, the power pop purists will namecheck '60s legends like The Beatles, The Who, The Byrds and The Beach Boys, along with the holy trinity of early '70s bands they directly inspired— Big Star, Badfinger and Raspberries. Others will focus on late-'70s acts like The Knack, Bram Tchaikovsky, Blondie and The Records, or '80s new wavers The Plimsouls and The Go-Go's. Some will add '80s/'90s revivalists like Matthew Sweet, Material Issue, Sloan and Fountains of Wayne.
So much of a fan's personal definition depends on when they first discovered the genre. Somebody who heard Raspberries' "Go All The Way" on '70s radio is likely to have a slightly different concept of power pop than a fan who discovered it by watching The Romantics' "What I Like About You" video on MTV in the '80s, or seeing Teenage Fanclub perform "What You Do To Me" on a late night talk show in the '90s.
But what about musicians making power pop now? Many weren't even born until after those various golden eras ended, giving them a totally different frame of reference.
"Speaking entirely from personal experience, I think a lot of modern power pop bands arrived at the genre in a roundabout way. I know a couple people whose exposure to the genre was Weezer, or Saves the Day's In Reverie, or they found out about Fountains of Wayne through Adam Schlesinger's work with Motion City Soundtrack and The Click Five," Portland-based musician Mo Troper said. His latest album, Dilettante, was released in October 2021.
"As a result, a lot of modern power pop I hear is rawer, heavier, a little more 'emo.' Again, anecdotally, I think younger artists making this style of music don't care as much about bands like Raspberries or The Knack—their sacred cows are bands like Weezer, Superdrag, early Teenage Fanclub and The Muffs."

Troper is at the vanguard of an indie power pop movement where many musicians proudly wave the genre's flag, even as they mix in outside influences. His introduction to power pop came from Badfinger's classic rock anthem "Come And Get It" as a kid, but he gravitated to bands like Superdrag and
Jellyfish
after becoming obsessed with music in junior high school.
"I maintain that power pop could just as easily be called 'post-Beatles.' It's the musical equivalent of those 'I Still Love The Beatles' pins. It's still clinging to the ideals of mid-'60s rock and pop, for better or worse," Troper said.
Troper hears power pop's current resurgence in the music of contemporaries like Telethon, 2nd Grade, Tony Molina, Barely March, Alcopops, Dazy, Hurry and Young Guv. "I don't mind when critics call my music power pop and I'm flattered when any critic writes about my music period. In general, I embrace the term," Troper said.
This has not always been the case in power pop's tortured history. Many bands over the decades have dodged the label because it was seen as a commercial kiss of death. Much of this traces back to The Knack's meteoric rise and precipitous fall in 1979 following the commercial success of "My Sharona" from Get The Knack.
That song's sudden ubiquity caused a brief major record label feeding frenzy. Unfortunately, while those Knack-adjacent acts rushed to record their albums, the music press and the general public turned on The Knack (an abrupt about face that became known as "the Knacklash").
Bands signed in the wake of The Knack's initial ascent saw their albums released into a different music market less than a year later as post-punk and new wave began to dominate genre discussions—leaving power pop in the dust. A great example of a should-have-been power pop smash hit is 20/20's self-titled debut from 1979, featuring "Yellow Pills" and "Remember the Lightning."
Power pop's mainstream viability has been in question ever since. But none of this has any bearing on modern power pop-leaning artists who exist in a totally different commercial reality than their ancient musical ancestors.
"It's probably easier than ever to write a good power pop song, yet conversely harder to sell one. And the naivety of '70s power pop is gone forever, which is sad but also comforting in a wistful way," said Peter Gill, front man for Philadelphia's 2nd Grade. "If you're using the term 'power pop' to describe your music today, either you're overly familiar with the canon, or you're misusing the term and playing a different style of rock (or both)."

Like Troper, Gill embraces the power pop label for his band's music, but he has no illusions about what the word "pop" implies. A lot has changed since the glory days of pre-2000s popular music, including the decline of guitar-based rock as a dominant cultural force—which in turn pushes a sub-genre like power pop even further underground.
"Personally I feel like I have a 0.001% chance of ever making a living playing music, so it's always been funny to me that relatively successful bands like The Knack or Cheap Trick were ever thought to have this albatross around their necks. Like people still know those bands and their music over four decades later," Gill said.
Gill counts Big Star, Guided By Voices and Outrageous Cherry among his favorite power pop bands, while singing the praises of current acts like Troper, Amy O, Bad Moves, The Glow, Ducks Ltd., Strange Magic, Old Table, Kiwi Jr. and Alvvays. 2nd Grade's latest album, Wish You Were Here Tour Revisited, was released in June 2021.
"I definitely consider 2nd Grade to be power pop and I'm the first to attach that label to our music! However I totally understand we don't check all the boxes for everyone," Gill said. "As a songwriter I'm guided by the concept of power pop in a usefully vague way, it doesn't have to feel like a straitjacket."
But not every artist who finds themselves lumped into the power pop category these days receives the moniker with Gill's wide open arms.
"I think the term is pretty cringe and kinda corny when people use it to describe my music. To me it means they might not have listened to it as closely as I'd like. But don't get me wrong, I definitely have a few power pop joints," said Ben Cook, who writes and records as Young Guv. The new album, Guv lll, will be released March 11.
Cook defines power pop as "punk adjacent guys who put on nicer clothes, cleaned up their act, got a little hyper with the songwriting and learned a few extra cords and sometimes wore glasses." He counts Raspberries, Nick Lowe, Bay City Rollers, Shoes, Dwight Twilley, The dB's and Tom Petty among his favorite power pop acts.
It's easy to understand Cook's reluctance to fully embrace power pop, but interesting to note that it has nothing to do with "commercial success." If there's one big takeaway from some of the email conversations I had with these artists, it's that the fragmented realities of the current musical landscape necessitate a vastly different relationship with genre.

"I do think power pop has this weird cachet in the indie world right now for reasons I don't fully understand—it sounds a little more sophisticated than pop-punk maybe, and it's more specific than indie rock," Troper said.
"But I also think these labels that used to have negative connotations like 'yacht rock' or 'emo' or 'power pop' have become niches that artists and their publicists have learned to exploit. I think in the past it was seen as bold or iconoclastic to reject genre, but now you literally cannot afford to do that; you have to embrace a specific thing and implement it into your narrative or nobody will give a shit about you."
In that way, modern power pop artists do have something in common with their predecessors that goes beyond a shared love for '60s songcraft. Now, as ever, many power pop artists are swimming against a musical mainstream that largely ignores them despite producing songs filled with hooks, harmonies and boundless rock and roll energy.
Their perseverance will always be great news for those hundred out of a thousand fans who love power pop in its many glorious forms.
•••
Previous Power Pop Interviews:
Peter Gill's Top 5 Favorite Power Pop Albums
Mo Troper's Top 5 Favorite Portland Albums