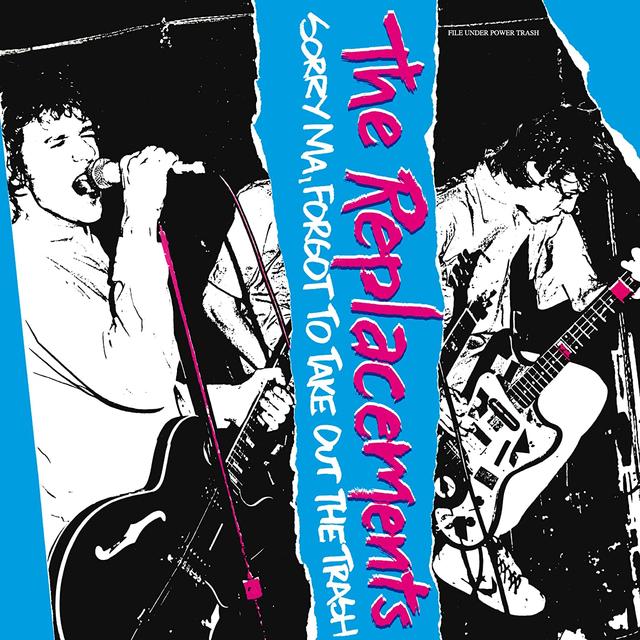 13 October 2021
I was once briefly in close enough proximity to The Replacements' front man Paul Westerberg to request that they add the song "Customer" from their first album, Sorry Ma, Forgot to Take Out the Trash, to the live set. This was around 1989, toward the bitter end of the band's impressive run.
In my admittedly blurry memory, Westerberg flashed a weary smile and said that I'd have to get up on stage with them since they "couldn't play that fast anymore." It was likely a throwaway response meant to get an over-eager fan out of his face, but it spoke volumes to me about the promising punk upstarts The Replacements once were and the alternative rock act they'd become.
Although their first and last albums were only released nine years apart— Sorry Ma on Twin/Tone Records in 1981, All Shook Down on Sire in 1990—the seminal Minneapolis quartet was a different animal in almost every conceivable way by the end. Crucially, lead guitarist and founding member, Bob Stinson (older brother to bassist Tommy Stinson), was five years gone, eventually replaced by respected Minneapolis guitar slinger Slim Dunlap.
Whether the band's edge went with the older Stinson's departure is a matter for endless debates, but there's no doubt The Replacements' sound pulled further away from Sorry Ma with each release. It might have happened either way (1987's Please To Meet Me was the first album without Bob), but the unhinged guitar solos were soon jettisoned in favor of slicker production and poppier arrangements. Drummer Chris Mars also departed a year before The Replacements called it quits in 1991.
Decades later, I still love every version of the band—but I always come back to Sorry Ma.
Tracing the discography backwards from their somber folk-pop swan song, All Shook Down —which started out as a Westerberg solo album, and ended up half of a Westerberg solo album—to Sorry Ma, is an exercise in rock 'n roll de-evolution. Pleased To Meet Me and 1985's Tim are often cited as the band's artistic peak (some would retroactively include 1989's Don't Tell A Soul), all leaps forward from their beloved predecessors, 1984's Let It Be and 1983's Hootenanny.
Which brings us back to Sorry Ma (after a brief flirtation with hardcore punk on the excellent, but often overlooked 1982 E.P., Stink). Westerberg fans are right when they say that their underdog songwriting hero only got better over time, but I think that strongly-held sentiment sometimes misses an important point about his prodigious talents—the DNA was already strongly pronounced on the scrappy debut.
Sorry Ma offers 18 songs in less than 37 minutes. Ten of the tracks get out in under two minutes (including "Careless," which clocks in at a tidy 1:08). By contrast, only two songs crack the three-minute mark, including "Kick Your Door Down" (3:11), and the lone ballad, "Johnny's Gonna Die" (3:32). Brevity isn't just the soul of wit—which Westerberg's lyrics deliver generously throughout—but also the template for the very best punk albums.
I first discovered my favorite Sorry Ma track, "Customer," around the release of Tim and was instantly drawn to the idea of a love song set to a hardcore tempo. I remember being a little confused that the guy singing about his crush on a liquor store clerk was also responsible for the sodden balladry of "Here Comes a Regular"—but the heartbreaking continuity revealed itself over repeated listens. Is it really that big a stretch to believe that the lovesick teen from "Customer" grew up to become a day-drinking, dive bar denizen a couple albums later?
The characters in Replacements songs are, by-and-large, lovable losers who wear their hearts on their sleeves. It's a running theme that reverberates across the band's catalog in tracks like "Unsatisfied," "Bastards of Young," "Swingin' Party," "Can't Hardly Wait" and "We'll Inherit the Earth." With Sorry Ma you get to witness that first fish crawling out of the primordial ooze, the young blue collar outsiders just beginning to stare down their lofty dreams.
They're "Shiftless When Idle," refusing to grow up ("Careless"), making bad drug deals ("I Bought a Headache"), killing time ("More Cigarettes"), or "Hangin' Downtown" with "…no place else to go." A specific type of teenage limbo is chronicled throughout Sorry Ma, the kind endured by suburban kids on the margins, their hearts filled with aimless ambition that's undercut by self-doubt and free-floating hopelessness.
"They had come together as the children of war veterans and alcoholics, from families steeped in mental illness and abuse, products of Midwestern recalcitrance and repressions," Bob Mehr writes in the introduction to his definitive biography, Trouble Boys: The True Story of The Replacements.
"They got as far as they did only because they hungered: for attention, for love, for sanction, for volume, for chaos," Mehr later adds.
Perhaps that's what resonated with my high school friends and me in LA. We had an endless supply of unbelievable punk bands right in our backyard, but it felt like the Replacements (along with Hüsker Dü and Soul Asylum) were singing about us. Hell, they even embraced the same misguided heroes (Johnny Thunders on Sorry Ma; Alex Chilton on Pleased To Meet Me) and defiant self-defeatism ("Shut Up" from Sorry Ma; "Favorite Thing" from Let It Be).
The music and performances on Sorry Ma delivered on the original promise of punk—a return to rock 'n roll basics propelled by youthful angst (it didn't hurt that Tommy was only 14). The sometimes shaky playing is immediate and exhilarating throughout, especially Bob's genre-defying guitar work on songs like "Kick Your Door Down," "Johnny's Gonna Die," and "I'm In Trouble." Listen closely and you can almost hear blood dripping from Mars' knuckles on "Takin' a Ride," "Rattlesnake" and "Love You Till Friday."
If ever a debut screamed "We don't really know what we're doing, but we did it anyway—and you should too!" it was Sorry Ma. I don't know about you, but my high school friends and I took them up on it, basically forming a Replacements cover band that never played any Replacements' songs (although we were known to cover their cover of "Black Diamond."). Forty years later, Sorry Ma still delivers that same call to arms, even if the majority of people listening are long past their prime.
Like many die-hard, middle-aged fans, I tripped over my Converse sneakers to catch The Replacements' reunion tour in 2015. I bought tickets, inviting the bass player and guitarist from my long-defunct high school band to join me at the Hollywood Palladium. The band did play two songs from Sorry Ma that night—"I'm In Trouble" and "Love You Till Friday."
"Customer" might not have made the set list, but I was still buying what they were selling. My jaw hung open for most of the show as I watched the surprisingly savage performance surrounded by a sea of fellow Replacements fans. It was the high school reunion I always wanted, only with more cowboy shirts and trucker hats.
Sorry Ma isn't just my favorite Replacements album (no easy choice), I'd rank it as one of the best punk albums of the early '80s along with Los Angeles by X, Hardcore '81 by DOA and Zen Arcade by Hüsker Dü. Which is why—despite the fact that I'm definitely not an overly-avid collector of physical media—I laid my $79.98 down to pre-order the 40th Anniversary Sorry Ma box set from Rhino Records.
Twin/Tone founder Peter Jesperson produced this collection along with Rhino's Jason Jones and Bob Mehr. Mehr also wrote the liner notes for the 12 × 12 hardcover book that houses it, including new interviews with the band. All that in addition to dozens of previously unreleased rough mixes, demos and alternative takes, including the earliest professional live recording of The Replacements from January 23, 1981, at the 7th St Entry in Minneapolis.
This was originally supposed to be a review of that impressive vinyl-and-CD box set, but I don't have to wait for it to arrive to know I'll love it. I didn't splurge on this collection because I was hoping to be re-convinced of this album's genius (the original release is already perfectly imperfect—everything else is just icing).
If I'm being honest, I mostly bought the Sorry Ma box set as a mini-shrine to be proudly displayed on the shelf above my record player. And every time I glance over at it I will be reminded of an important-to-me time in my life, and the Minneapolis band that forever changed my understanding of rock 'n roll. In my opinion, that's money—and decades—well spent.
Now, if you don't mind, I need to go check the mailbox…again.