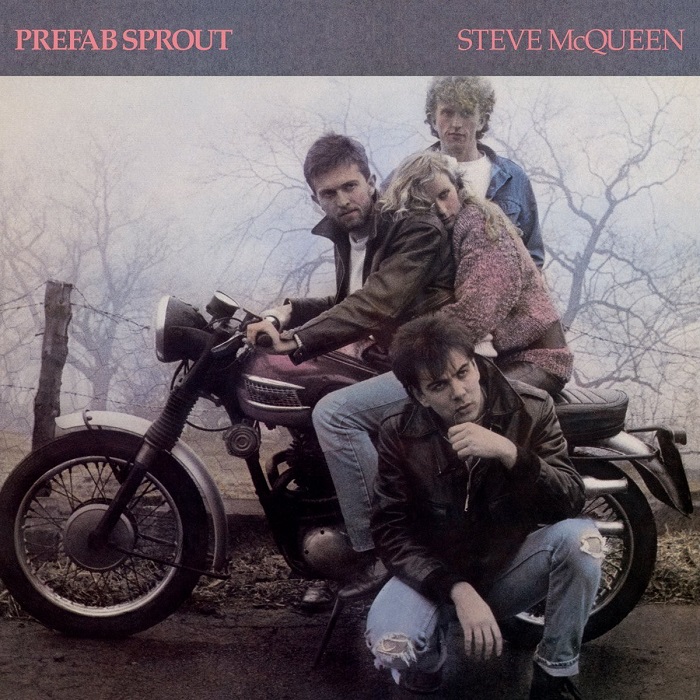 22 June 2020
From the cover of the 1985 Prefab Sprout release Steve McQueen, you may be forgiven for thinking it is something different. That it may be an album of post-punk, post-adolescent bombastic anarchy, but that is the furthest thing from the truth. The cover hides the sweetest of journeys inside, a stunning masterwork of blue collar soul. A confident songwriting, crafted into one of the finest albums of the eighties. In some respects New Wave, but not with the sense of direction displayed on other releases of the day, and that's why it is so special 35 years later. 

Prefab Sprout at the time consisted of singer-songwriter
Paddy McAloon
, guitarist-bassist
Martin McAloon
, drummer
Neil Conti
, and backing vocalist-keyboardist
Wendy Smith
. With the aid of session musician, and producer
Thomas Dolby
, they set about the recording process at Marcus Studios in late autumn 1984. The production finesse of Dolby's impressive soul, and jazz spiralling format, embedded itself beneath the heart-aching lyrics of Paddy McAloon. Though the trick of the album is the tinge of effervescent beauty that dominates the rawness of the emotion. 
Regardless of the doomed subjects, the songs are still delivered with a joyful lush of sound, it is a beautiful heartbreak. The opener "Faron Young" hits like a precursor to the nineties 'Britpop' sound we drowned in. The appeal, and influence of this album stands forth in all that came after. With a  single release, albeit second time out "When Love Breaks Down". Released twice before the albums release, and once after. On it's last release it reached number 25 in the UK charts, and number 42 in the US. When
Steve McQueen
hit the States, the album title changed to suit the McQueen Lawyers, unhappy with the name being associated with a work by 'Punks'.
The re-titled album, now under the name
Two Wheels Good
, a play on the motto from the
George Orwell
masterpiece
Animal Farm
-Two Legs Bad. A statement of sorts by the band at their displeasure in the name change of this work of uplifting joy. At the time, a niche in the market had happened with the arrival of
The Smiths
,
The Cure
, and the depressive tone becoming the mindset for so many bands. With the rise of post-punk, new wave, goth which were the now familiar description of the wayward sound that strayed from the middle of the road music. Prefab Sprout should have fit perfectly into one of those categories but not for the soul of Paddy McAloon, and the vibrant lyrics which makes
Steve McQueen
the transcendent album of the 80's era.