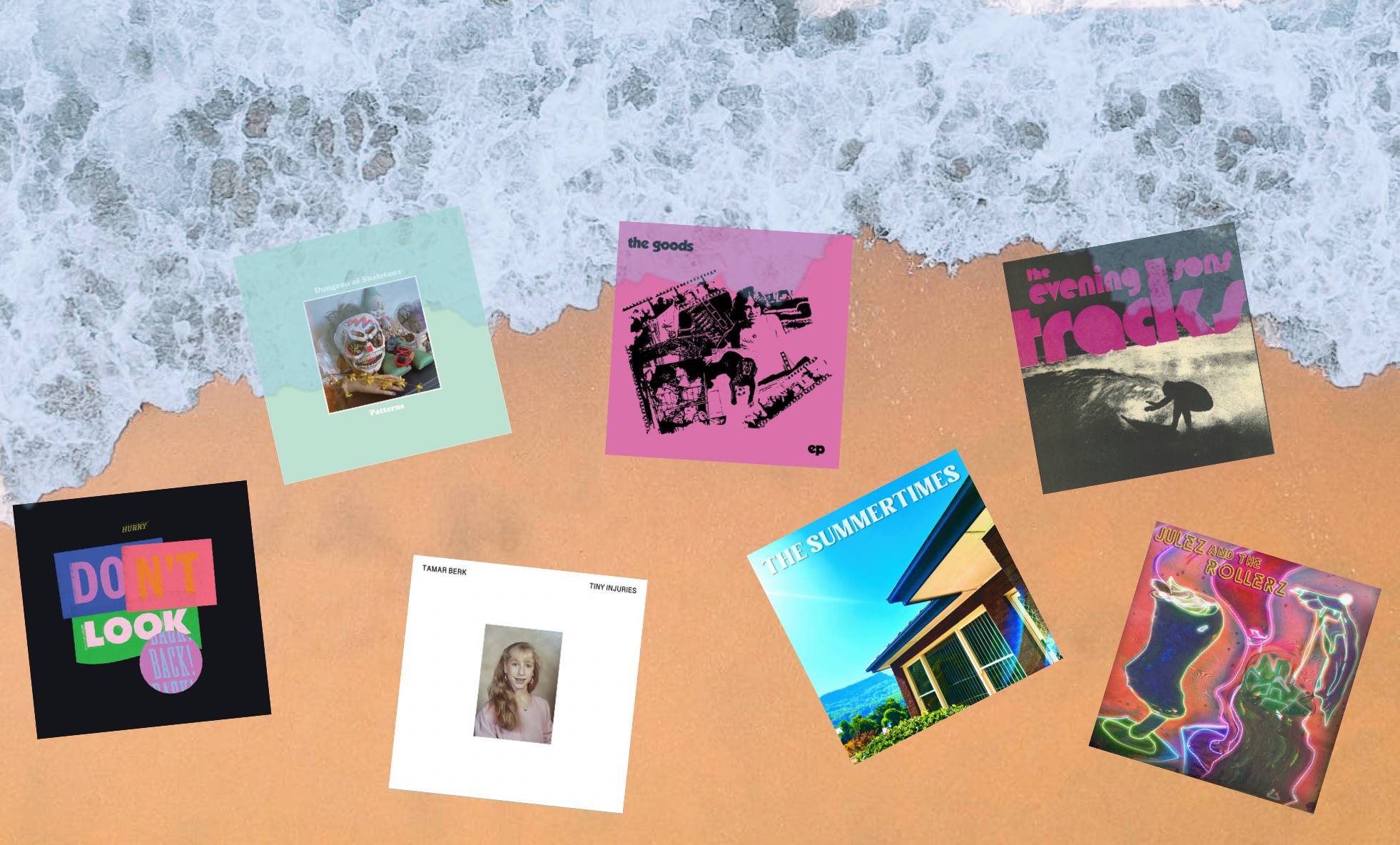 2 August 2023
Six steps to an awesome summer:
Step 1: Get a small group of close friends together.
Step 2: Climb into a car and start driving anywhere sunny.
Step 3: Roll the windows down, open the sunroof, or go convertible.
Step 4: Turn up the volume on the car stereo.
Step 5: Sing along at the top of your lungs…
If you're a fan of guitar pop (aka indie pop, pop rock, power pop…or whatever you call hooky rock and roll), your summer soundtrack will probably include classic songs by The Beach Boys, The Go-Go's, Teenage Fanclub, Weezer, Silver Sun and Fountains of Wayne —to name a few. Or maybe your road trip playlist is swimming in more modern pop rockers like Hurry, Dungeon of Skeletons, Tamar Berk, The Goods, The Summertimes, The Evening Sons, and Julez and the Rollerz.
When it comes to summery guitar pop, we all have our go-to tracks and latest obsessions—but what makes for the perfect road trip song is incredibly subjective. In many ways, it's more about memories and emotions than simple musical tastes.
"For me personally, a great summery guitar pop song is all about the tone of the instrument and the vibe of the vocal. Obviously, this is all going to be extremely personal, and rooted in my own individual nostalgia," said Matt Scottoline of Philadelphia's Hurry.
"I think the guitars should have a nice mix of jangle—a bit sharp and treble-heavy, but with a nice mix of effects on them. Some reverb, some chorus, maybe even a light flanger. Something that kind of emulates the feeling of memory and sunshine. It's all abstraction," Scottoline adds. "I also like a vocal that feels wistful, because in general, I think of the summer as a wistful time." 
All of this is on full display throughout Hurry's latest album, Don't Look Back (Lame-O Records). The two lead singles, "Beggin' For You" and "Parallel Haunting," capture those carefree summer feelings but with an undercurrent of longing and heartbreak.
Like Hurry, Brighton, U.K.-based band The Evening Sons has a knack for infusing their pop tunes with a mix of head-bobbing energy and evocative lyrics. This is perfectly captured in the lead single, "Superspreader," from their forthcoming debut album, Tracks (Curation Records).
"All the best summer songs have transportive qualities, lyrically taking you somewhere aspirational where the sun's shining and life is good," said Russ Gater of The Evening Sons. "For me these songs can then be split into two categories, either your big guitars, big chorus, driving jam or your slightly melancholy, end of summer/relationship song. The guitar jangle is a key ingredient of the latter."
The Tracks album cover features the silhouette of a surfer, an iconic image that taps into a particular vein of pop culture nostalgia. Much of that is thanks to The Beach Boys who are the golden gods of summery guitar pop, delivering those good vibrations to generations of fans and inspiring countless musicians all around this great big world.
"Some of my favorite memories are as a kid listening to Beach Boys' records in the car while on summer vacation. My dad was, and still is, a big Beach Boys fan," Gater said.
"In the '90s, my go to summer jams were Velvet Crush's Teenage Symphonies to God, my soundtrack to summer '94, that record has everything! Fountains of Wayne's self-titled '96 classic is quite literally summer purified and distilled, still in heavy rotation. Then in '97, Silver Sun released their eponymous debut album, possibly the greatest power pop record ever made. It encapsulated the freedom of summer break, hanging with friends, drinking and falling in love—all the possibilities that summer held."
In Nashville, some of the sunniest guitar pop around is coming from a band with the darkest name—Dungeon of Skeletons. Although their album Patterns (Riverbox Music) was released last November, this is the impressive 13-song collection's first summer in the wild. Stand out road trip tracks include "Turn the Key," "Run Towards It" and "Valencia."
Dungeon of Skeletons' Justin Kline defines summery guitar pop as having "a hooky, melodic guitar riff with lots of harmonies and/or oohs and ahhs! Or maybe a simple but catchy jam that mentions the beach or sunshine."
For Kline, those songs conjure memories of "going to the beach with friends and family, listening to Fountains of Wayne's Welcome Interstate Managers —and who could deny a classic Beach Boys album like All Summer Long?! Those harmonies and melodies are undeniable."
But we can't let bands from Philly, Brighton and Nashville dominate our discussion of summery guitar pop. If any place embodies the spirit of sun-soaked songs, it has to be California.
We'll start in San Diego where singer/songwriter/multi-instrumentalist Tamar Berk will soon self-release her third solo album, tiny injuries. The collection is musically hooky and lyrically moody, tapping a variety of influences ranging from The Bangles and Liz Phair to Phoebe Bridgers and Lana del Rey.
"I wanted tiny injuries to have the sort of feeling of making summer last longer. I want it to be something you'd play going on a road trip, hanging out by a pool, or listening to with the fans whirring while you lay in bed drinking an ice cold glass of Prosecco," Berk said.
The second single from tiny injuries, "if u know, u know," is a great example of how Berk captures that carefree vibe in a three-and-a-half minute pop song featuring lyrics like "The sun comes up and I'm already down." And "Sunday Driving" feels like a long lost Go-Go's hit, even as it tackles some serious subject matter in the lyrics.
Up in Los Angeles, Julez and the Rollerz's latest EP, Is This Where The Party Is?, taps some of the same New Wave influences as Berk, but with punk energy that brings to mind late night club shows and after parties that last until sunrise.
"Sorry I'm Just a Waste of Time" is a psych-tinged, mid-tempo groover while "Wildest Fantasy" and "Think About It" will have you pressing the gas pedal as you cruise the coastline.
"A good summery guitar pop song has to be catchy, you should be able to scream the song with the windows down in your car, and I'd definitely say there should be a fun guitar riff that really makes the song memorable. I'd say anything upbeat and fun. Doesn't have to be 'happy' lyrically, but melodically joyful for sure," said Jules Batterman of Julez and the Rollerz.
Up north, Oakland's The Goods recently had power pop fans doing backflips from the high dive with their self-titled, four-song EP (Dandy Boy Records). While the lead track "David Jones Is Dead" is note-perfect Anglophile pop rock, it's on "Dear Angeline" and "Hear Me" where The Goods deliver breezy and bouncy summer vibes.
"A good guitar pop song strikes a balance between melody and muscle, and has an effervescence that balances its energy. It's nimble, light on its feet, energetic, and concise—the kind of song that hooks you, and you listen to it over and over again on repeat because you just want to keep living in that moment," said Rob Good.
"It always leaves you wanting a little more… it doesn't belabor the hooks until you're sick of them—you get just enough to want to hit the 'back' button and take another spin as soon as the song ends."
Of course, California isn't the only place that comes to mind when thinking about sunny pop songs. Down in Australia—where summer stretches from December to March—The Summertimes not only boast a great band name, but their surf-y lead single "The Perfect Wave" might just be the beach anthem we've all been waiting for.
Elsewhere on their self-titled, debut album (Rank & File), tracks like "Inside," "Password" and "My Beautiful Girl Harbour" hit the Beatles-y alternative rock sweet spot perfected by '90s legends like Teenage Fanclub and The Lemonheads.
"Ultimately, a good summer pop song should make you feel good, uplifted, and ready to enjoy the season to the fullest. It's the kind of song that makes you want to smile, dance, and sing along," said David Challenger, half of The Summertimes' songwriting duo with David Beniuk.
That quote seems like the perfect place to end our deep dive on summery guitar pop, which brings us to:
Step 6: Repeat as often as possible, all summer long.
***
Looking For Even More New Music?
I asked the musicians quoted above to name other current artists that are on their summer road trip playlists.