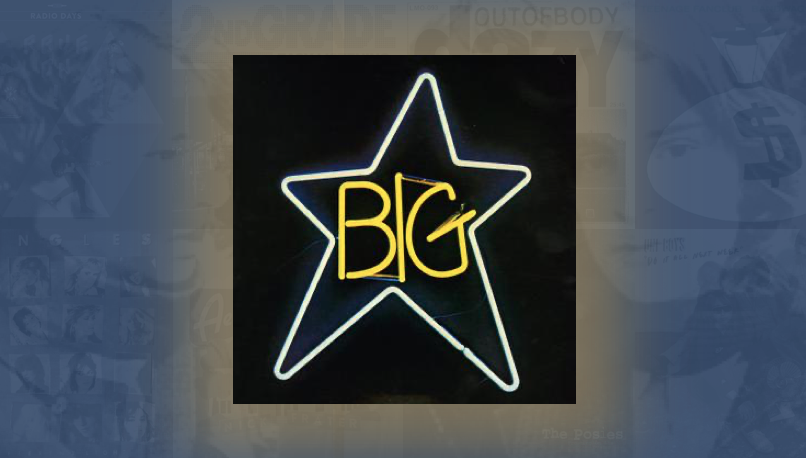 20 October 2022
Modern power pop artists discuss the lasting influence of this mythic debut album.

The ballad of Big Star is an epic tale filled with unbridled talent, artistic ambition, commercial failure, tragedy, obscurity, resurrection, and, ultimately, lasting influence as towering power pop icons.
Big Star is delayed gratification incarnate. What's more power pop than that? And it all starts with #1 Record (Ardent/Stax, 1972), the stunning debut that turned 50 this year.
In the five decades since its release, this 12-song collection has cast a long neon shadow across musical generations—from '80s/'90s artists like the Bangles, Teenage Fanclub, the Posies, Matthew Sweet and Elliott Smith, to modern power pop/power pop-adjacent acts like Dazy, 2nd Grade, Nick Frater, Uni Boys, Radio Days…and countless others in between.
"I think one of the coolest things about #1 Record, and Big Star in general, is that you appreciate them more and more as you get older and hear more music. You hear the impact it's had on so many different great bands and it makes you love the songs even more," said James Goodson, the one-man, Richmond, VA-based band Dazy.
Dazy's debut album, OUTOFBODY (Lame-O Records, 2022), deftly combines the '60s pop hooks Big Star loved with the '90s alternative rock energy that Big Star helped shape—but Dazy doesn't sound like Big Star. Instead, their impact on bands like Dazy is felt through the multi-decade rock and roll relay race of shared influences.
"I got into Big Star through Teenage Fanclub," Goodson said. "I remember being kind of surprised when I first heard #1 Record because, coming off of the early Teenage Fanclub records, I was expecting a louder band. But the songwriting is so catchy and has this sweetness to it that you connect with really quickly."
Goodson counts "The Ballad of El Goodo" among his favorite #1 Record songs, while gushing about the one-two punch of "Thirteen" and "Don't Lie To Me": "I love that they have this really delicate song go right into a totally rowdy rocker. 'Thirteen' ends and you hear them talking in the studio and then 'Don't Lie To Me' just knocks you over."
In many ways, it's the interplay of those two extremes on #1 Record —muscly rock and wistful acoustic balladry— that became the foundation for Big Star's evolving sound and a lot of music it influenced. The power and the pop.


The Ballad of Big Star
Memphis-based Big Star formed in 1971, recording three albums in their original four-year run. Only #1 Record features the complete original line up of Chris Bell (guitar/vocals), Alex Chilton (guitar/vocals), Andy Hummel (bass) and Jody Stephens (drums).
"Having grown up together in the Memphis garage rock scene, Chris and Alex came into Big Star with an existing chemistry," said Rich Tupica, author of There Was A Light: The Cosmic History of Chris Bell and the Rise of Big Star (Permuted Press). "They both had amazing songs they'd been honing over the previous months. Coming into the project, Big Star, with such a refined batch of songs made their chemistry ignite quickly. It also allowed them to just listen to each other's songs and add accents and tweaks."
"They wrote (the songs) apart from each other, but worked them over in the studio and at rehearsals together. Chris meticulously layered the songs with endless overdubs and alterations he and Alex worked on, so the end result is a pristine documentation of that songwriting partnership," Tupica said.
But that partnership didn't last long. Bell, the band member most involved with the production of #1 Record, quit for good during the early writing for a second album; Hummel was gone shortly after the release of Radio City. Only Chilton and Stephens remained to complete the collection that later became Third/Sister Lovers (PVC, 1978).
By 1975, Big Star—critical darlings considered one of America's most promising guitar pop groups—had fully imploded. That would be the end of the story for ninety-nine-point-nine percent of bands, but the cosmos had other plans for these talented underdogs.
Big Star was resurrected—at first in the late '70s U.K. music press—and then in the '80s by U.S. college rock bands like R.E.M., the dB's and the Replacements who elevated their heroes to the power pop pantheon alongside Badfinger and Raspberries where they still reside today.
"Anybody who's strummed the intro to 'September Gurls' with huge jangly downstrokes knows how goddamn great it feels to play this kind of music, and that's the feeling that motivates me to do what I do," said Peter Gill, singer/songwriter for Philadelphia's 2nd Grade whose third album, Easy Listening (Double Double Whammy, 2022), is a shining example of modern power pop at its best.
Based on the renewed interest in their music, Chilton and Stephens reformed Big Star in the mid-'90s. They performed occasionally into the 2000s with Jon Auer and Ken Stringfellow of the Posies (Hummel declined to participate), in addition to releasing a fourth studio album, In Space (Rykodisc, 2005).
It was delayed by 20 years, but Big Star finally got to take a well-deserved victory lap.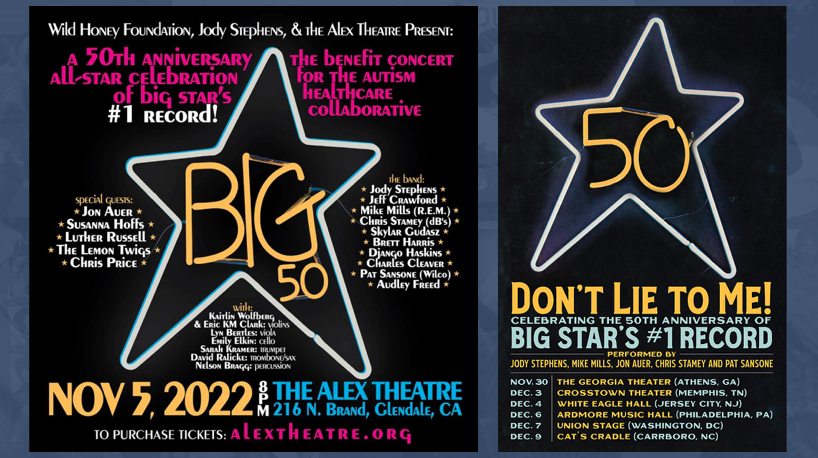 #1 Record 50th Anniversary
"I remember Chris and Alex introducing the song 'The Ballad of El Goodo' in rehearsal. That was pretty exciting because I had been in cover bands all my life and never really was called to create drum parts for songs. It's an incredible song and it's pretty inspirational," Stephens said by phone from Ardent Studios in Memphis where he serves as Vice President.
Ardent has been Big Star's home base ever since studio/label founder and #1 Record producer John Fry took the band under his wing in the early '70s. "He was a mentor to all of us and gave Chris, Alex and Andy keys to the studio—I didn't want one [laughs]. They could come in and learn how to engineer, and Chris could sit at the console and work on guitar parts and sounds."
It's hard to imagine now from the depths of the digital home recording era, but this ability to record whenever the muse struck was an enormous luxury back then, especially for a new band. Fry's mentorship allowed Big Star to develop their songwriting and sound in a focused way that is evident throughout their debut album.
"It all starts with how music impacts you," Stephens said. "John Fry was a huge part of that sonically, and then John King, the promotions guy at Ardent, made sure (Big Star's music) got into the hands of all the rock writers—iconic people whose opinions were respected. People like Mike Mills (R.E.M.) read about Big Star and would say nice things about us. And that's basically why we are where we are today. It was just a nice chain of events."
As the sole surviving member of Big Star (Bell died in 1978; Chilton and Hummel both died in 2010), Stephens will be drumming for a series of all-star #1 Record 50th anniversary performances. The first show is a Wild Honey benefit concert in Los Angeles on November 5. The band will feature Mills, Chris Stamey (the dB's) and Pat Sansone (Wilco), among many others; special guests include Susanna Hoffs, Chris Price, The Lemon Twigs, and Auer, in addition to Luther Russell (Stephens' partner in the duo Those Pretty Wrongs).
That one-off performance will be followed by the 6-date Don't Lie To Me! tour in late November and early December (see cities and dates on poster image above). The core band on those shows will feature Mills, Auer, Stamey and Sansone, along with a few special guests.
"The songs on #1 Record hold up," Stephens said. "Every time I play those songs live there's this whole new energy, but that really comes from the audience."


Power Pop Progenitors
It's widely accepted that Big Star reached a jangly power pop pinnacle with the Radio City track "September Gurls," but many of the elements that make that song so perfect can be found all over #1 Record. Big Star pre-dated wide usage of the term "power pop," but their catalog is a sort of sub-genre starter kit that certain kinds of songwriters have been tapping into ever since.
"Between Big Star's album-pacing style, twangy jangly guitar sounds, sweet and cynical vocal inflections, and that signature jazzy chord produced by barring every string with a single finger, there's a lot we've borrowed from them," Gill said. (2nd Grade's song "Teenage Overpopulation" from Easy Listening also includes a clever "Paint It Black" lyrical nod to Big Star's "Thirteen.")
"My perennial favorite song from #1 Record has got to be 'When My Baby's Beside Me'. In contrast to much of the album, 'When My Baby's Beside Me' seems less a sonic manifestation of adolescent emotional extremes, and more a tightly-crafted, pure pop confection. It's like a love letter to the Stax radio hits of Alex's teenage years, as well as a clean and uncomplicated contribution to the great American pop canon," Gill said.
Like 2nd Grade, Croydon-based British tunesmith Nick Frater's brand of modern pop rock often gets compared to Big Star. Frater discovered Third/Sister Lovers as a '90s teen thanks to Mojo magazine, but didn't hear #1 Record until a few years later. "Big Star are one of the cornerstones of the '70s version of the music we all love. As with those sort of influences, it's impossible to deny, whether conscious or not," Frater said.
Frater is a prolific songwriter/multi-instrumentalist/producer who has released 10 albums, including the critically-acclaimed collection Aerodrome Motel (Big Stir Records, 2022). "Being fairly immersed in the production side of music, my ears are drawn to the artifacts in the music… So, when I hear Big Star there is a mental background of the other records and images of that era," Frater said.


Lasting Influence of #1 Record
It's true that Big Star's look and sound conjure a specific post- Beatles rock era, but the songwriting is timeless. Decades later, their pull remains so powerful that a kid from the new Millennium can still get swept up by their music.
"My father turned me onto Big Star when I was ten-years-old or so. He would download music from his library onto an iPod for me and would choose select songs from the records he had. 'Feel,' 'In The Street' and 'Ballad of El Goodo' were on that iPod," said Uni Boys singer/guitarist, Noah Nash. Uni Boys is a SoCal quartet that serves up classic '70s/'80s power pop on their third album, Do It All Next Week (Curation Records, 2022).
These days, Nash favors Chilton's songs like "The Ballad of El Goodo" and "Give Me Another Chance," but says the Bell-penned tracks "Feel" and "Don't Lie To Me" still hold a special place in his heart. As a songwriter, Nash admits he was more intentional about mimicking Big Star when he was younger, but sees subtle influences in Uni Boys tracks like "Caroline Kills."
"Since my first experience with #1 Record was at a pretty young age, I would say my relationship with it has evolved greatly. Back then it was fun and I would bob my head and all, but as I have gotten older and spent hundreds of hours listening to it, I've come to really understand the impact that record has had on rock and roll," Nash said.


Big Star's impact truly is multi-generational and global. If power pop is alive and thriving anywhere in the world, it would have to be in southern Europe. Milan-based Radio Days is among a handful of Italian power pop bands who regularly play to packed clubs in their home country, and across the current guitar pop hotpot of Spain.
"I always loved #1 Record, but my relationship with it changed as I became a better musician. I could better understand the genius behind their perfect mix of good melody, great harmony, amazing singing, playing and songwriting," said Radio Days singer/guitarist, Dario Persi.
The high-energy trio has released four albums, including Rave On! (Screaming Apple Records, 2021), in addition to a handful of E.P.s and 7-inches. Their hooky sound draws on a variety of influences, from British Invasion bands to the Ramones, the Beat to the Rubinoos, but Dario says that Big Star is foundational.
"'The Ballad of El Goodo' is my favorite Big Star song ever. I just love everything about it, from the production to the songwriting and the lyrics. I always get emotional when I listen to it, even after all these years," Persi said. "'Thirteen' is a timeless classic. And 'In the Streets' shows the rock and roll side of Big Star with that amazing guitar riff. Wish I could have heard it live! It must have been amazing."
If you're like Persi and never got to see Big Star play live—either in the '70s or during the '90s/'00s Chilton/Stephens reunion era—you don't want to miss these #1 Record anniversary performances (I got my tickets for LA).
But if you aren't lucky enough to live near one of the cities where Stephens and crew will be performing, just listen to #1 Record to remind yourself why people are still raving about this mythic album 50 years after it was released.
(Note: Article updated with Rich Tupica quotes 10/21/2022)

More Power Pop Articles & Interviews
Uni Boys: Album Review & Interview
2nd Grade: Album Review & Interview