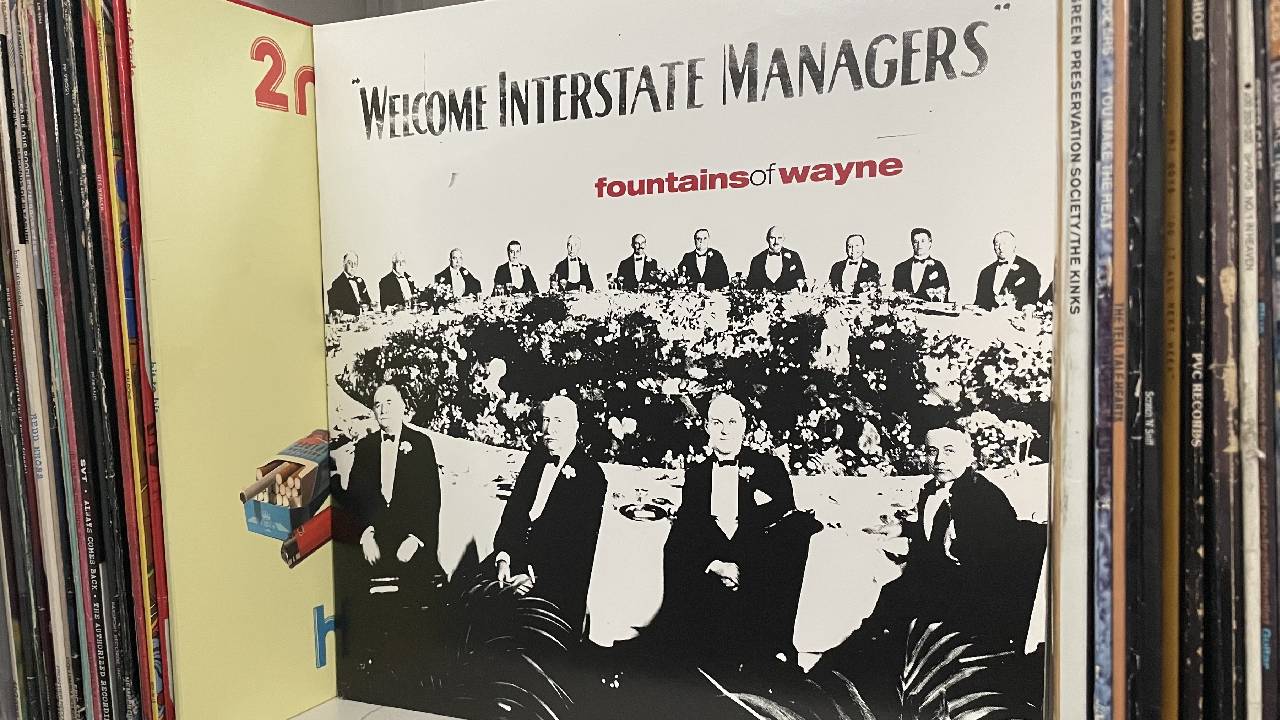 21 September 2023
How old were you when you realized your promising career was a hamster wheel? Eighteen? Twenty-eight? Thirty-eight?
Get much older than that without suffering this soul-crushing epiphany and you might be the lucky one. The members of Fountains of Wayne — or the colorful cast of characters they wrote about on 2003's Welcome Interstate Managers — weren't so fortunate.
As the title implies, most of these songs explore day job drudgery. Like the movie Office Space (a Gen X cult film to which Welcome Interstate Managers is sometimes compared), the band's third album plays like a snarky Springsteen -esque ode to cubicle dwellers.
But lurking just beneath the surface is a darker confrontation of pointless careerism at the dawn of Web 2.0. The fictional protagonists in these songs moan about "a cellular phone explosion" or "working all day for a mean little man" while the real life band came to terms with its commercial limitations.
Ironic, then, that it's also the album that delivered their biggest hit.
"For some reason 'Stacy's Mom' connected," Fountains of Wayne bassist Adam Schlesinger told me in a 2018 interview for Go All The Way: A Literary Appreciation of Power Pop. "We get put on a lot of 'one hit wonder' lists because of it, which is fine. I'm happy we were known for one song than for no songs."
The band's line up included Chris Collingwood (guitar/vocals), Jody Porter (lead guitar) and Brian Young (drums). Schlesinger and Collingwood were the band's two songwriters, a partnership forged in their teens and 20s.
"I think the first four FOW songs, 'Radiation Vibe,' 'Survival Car,' 'Joe Rey' and 'Leave the Biker,' were all written in the same afternoon. Then Adam started writing some of his own, and within about a week we had most of the first album done," Collingwood wrote in a 2013 New York Times opinion piece.
The Road To Welcome Interstate Managers
"Everybody was pretty much in top form for Welcome Interstate Managers, but it almost didn't happen. We were dropped by Atlantic (Records) so we went up to Rhinebeck (in upstate New York) to a studio called The Clubhouse," Porter told me in a recent interview.
"We spent maybe five or six days tracking 'No Better Place,' 'Stacy's Mom,' most of 'Mexican Wine,' and 'Bought for a Song.' We took those songs back to our studio in New York to overdub, but the backing tracks were pretty much done," Porter said.
The self-funded recordings (engineered/co-produced by Mike Denneen) evolved into a full-length album that caught the ear of Steve Yegelwel, the A&R rep who originally signed Fountains of Wayne to TAG/Atlantic Records which released their two previous albums, 1996's self-titled debut and 1999's Utopia Parkway. (Porter and Young joined after the first album.) Yegelwel had since moved on to S-Curve Records and liked what he heard—but "Stacy's Mom" was the obvious hit, even if feelings within the band were mixed.
"I tried to talk (Schlesinger) out of 'Stacy's Mom.' I could see exactly what was going to happen, and when it started happening in slow motion it just felt inevitable. He was too good a writer to have that be his calling card, and the success of a novelty song means that's just what you are to the public, from that moment on forever," Collingwood told Rolling Stone in a memorial for Schlesinger who died of COVID in 2020.
Love it or hate it, "Stacy's Mom" is a masterclass in power pop song craft (although the band members generally describe their music as "rock and roll"). From the tongue-in-cheek British Invasion take on teenage lust to the Cars -influenced hooks, the song portrays a freewheeling band at the height of its career—which couldn't have been further from the truth.
"We didn't know where we were going. We didn't have a label, so we just kind of set up shop to see if we could come up with anything. And then once we had those four songs, we felt like we could get some interest from another record label and basically pay ourselves back," Porter said.
The gambit paid off. S-Curve/Virgin released Welcome Interstate Managers in June 2003. "Stacy's Mom" was embraced by radio giving the band its highest-charting Billboard hit, propelled by a racy video starring Rachel Hunter that became an MTV favorite. The single and album went gold and the band was nominated for a couple Grammys.
Early retirement averted.
Much More Than A 'One Hit Wonder'
"Stacy's Mom" rejuvenated the band's career, but diehard fans will tell you that there's much more to this album. In many ways, Welcome Interstate Managers is a bold artistic statement verging on concept album territory even as it hides behind a stylistically-diverse track list that includes the piano balladry of "Fire Island," the honky-tonk of "Hung Up on You," and Brit pop grandeur of "Supercollider."
"The band was an amalgamation of a lot of things we were into," Schlesinger told me in 2018. "It was just our way of filtering a lot of the music we liked through our own personalities. We were really just trying to entertain each other."
In addition to the focus on careerism in songs like "Mexican Wine," "Bright Future in Sales" and "Little Red Light," Welcome Interstate Managers offers plenty of other relatable threads to tug on: love and regret propel "Hackensack" and "No Better Place"; world weary hope bubbles up on "All Kinds of Time" and "Hey Julie"; and resignation features prominently on "Bought for a Song" and "Yours and Mine."
That sneaky lyrical depth combined with stellar musicianship is one of the main reasons this "one hit wonder" maintains an actively devoted fan base more than a decade after breaking up. Some of that is by design, using world class hooks and genius storytelling to lure fans of smart pop music, but there is also a magical element to Fountains of Wayne's songwriting that can't be easily quantified—no matter how deceptively simple the songs seem.
"If I had a consistent way of working, it would probably become clear over time why my songs come out the way they do," Collingwood wrote in the New York Times. "Trouble is, I've never had what other writers call a 'process.' I tend to justify long periods of inactivity with the pigheaded idea that if something doesn't come naturally, it wasn't meant to be. When one of my songs is literal, it's because the story has been dangled in front of me like a cat toy and I can't stop myself from pouncing on it. But most of the time I've got notebooks with jumbles of words and a pocket recorder."
Lasting Influence
There are countless musicians among those legions of Fountains of Wayne fans, so it's pretty common to catch glimpses of their influence on modern guitar pop bands. Although it would be nearly impossible to truly replicate the band's signature sound, there are many current acts that cite them as a major inspiration.
"I try so hard to make my songs have hooks. I'm not sure I am always successful in that regard, but Fountains Of Wayne are masters at it. Collingwood and Schlesinger could crank out the catchy tunes in their sleep," said Phil Yates, front man and songwriter for the Chicago-based band Phil Yates & The Affiliates.
Yates and his band have been recording hooky, indie-infused power pop for over a decade. Their most recent release, A Thin Thread (Futureman Records, 2022), delivers an eclectic mix of songs ranging from the pure pop of "I Can't Wait" to darker rockers like "Smithereens."
Yates is an unabashed Fountains of Wayne fan who counts "Valley Winter Song," "Hey Julie," "Hackensack" and "Bright Future in Sales" among his favorite songs, but acknowledges that his relationship with Welcome Interstate Managers has evolved over time.
"I love how most of the album feels like a character study of middle class ennui," Yates said. "I think after working some shitty office jobs before fleeing for academia, the lyrics in some of the songs hit me a lot harder than they did upon my first listen."
For the members of Nashville's Dungeon of Skeletons, Fountains of Wayne fandom is a family affair. Although there are plenty of other influences on display throughout their stunning debut album, Patterns (Riverbox Music, 2022), the nods to Collingwood and Schlesinger are unmistakable on "Doom & Gloom," "Turn The Key" and "October Love."
"I was instantly hooked on Welcome Interstate Managers. I loved how the album started strong with the much-expected Fountains of Wayne hooky goodness, but starts to soften out as the record progresses," Kline said.
Like Yates, Kline counts "Valley Winter Song" and "Hey Julie" among his favorite tracks, but each of Kline's bandmates/children has their own relationship with the album: Audrey Kline (vocals) gravitates to "Little Red Light"; Emily Kline (vocals) digs "Fire Island"; Connor Kline (drums) is a "Peace and Love" fan; and Tyler Kline (bass) loves them all.
"It's one of those albums that we could all agree on listening to during our road trips because it's just that good," Emily said.
Over in Los Angeles, Blue Broderick — the creative force behind indie pop outfit Diners — didn't connect with Fountains of Wayne when she first heard their hit single.
"'Stacy's Mom' is a pretty polarizing song. It wasn't until later that someone convinced me to give them another listen and I'm so glad they did! I pretty quickly came around, to 'Stacy's Mom' even," Broderick said.
Broderick says Fountains of Wayne had a strong influence on the latest Diners' album, Domino (Bar/None Records, 2023), which bounces effortlessly from the '60s feel of "Working on My Dreams" to the sunshine-y pop of "The Power."
"Fountains of Wayne influences my songwriting in a lot of ways, particularly their attention to meter and melody. They always find the most perfect way to streamline their ideas. …I'd like to think their efficiency rubbed off on Domino," Broderick said.
Broderick's use of the words "streamline" and "efficiency" ring true because the members of Fountains of Wayne were world-class craftsmen who seemed to take a more studied songwriting approach than many of their peers. In the end, that attention to detail might be why Welcome Interstate Managers feels so prescient 20 years later—even if they'll forever be the "Stacy's Mom" band to casual music fans.
"Having a hit isn't the worst thing in the world," Porter said. "Our fan base knows every lyric to every song. They're a very loyal, dedicated group of people. So, a little extra exposure never hurts."
Spoken like a true professional who understands why they call it the music business. Or, as Fountain's of Wayne sings in "Bought for a Song": "It all looks the same when you stump for the man…"