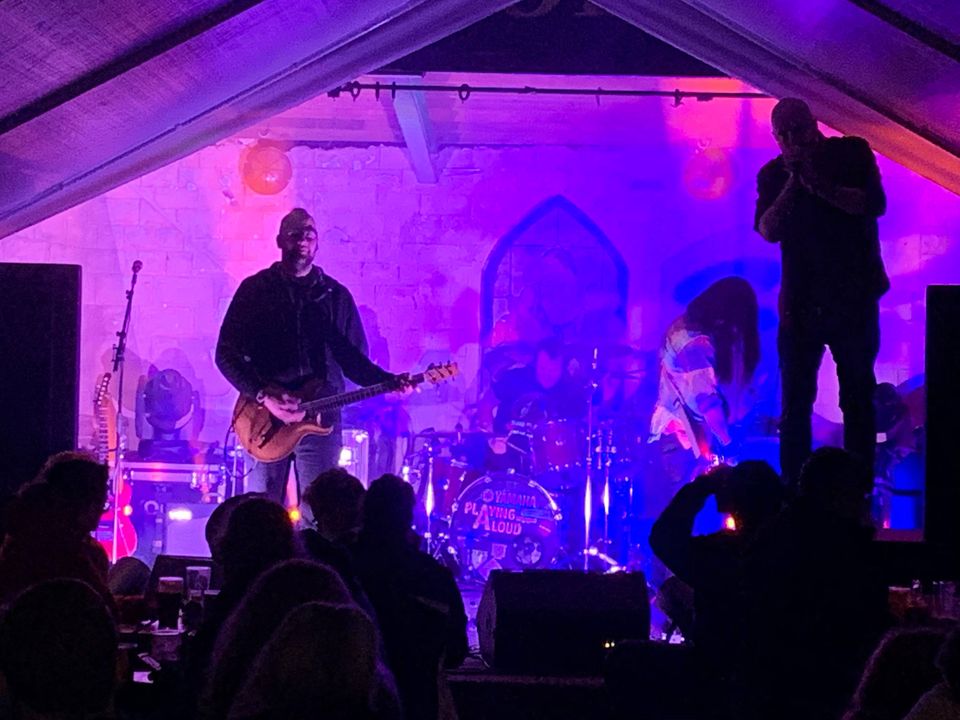 11 November 2020
Your music is more often than not described as Power-Pop, what does that term mean to you, is it right for the band and are you conscious of genres and their boundaries?
Jim Styring: Yes, I've seen that term mentioned a few times, and that's fine, we're more than happy to be called Power-Pop, but I think there's more to our sound than that. As long as people are listening and enjoying what we do, they can label us however they wish. It's just something we're not conscious of when writing, we just write the songs and allow them to go wherever they want. We don't really have rules or a blueprint, we sound as we sound. There's many influences to what we do, we each bring our own thing. I guess you'll hear indie, alternative, rock, power-pop, it's all in there, we just stir it up a little.
Tell us a bit about your musical journey to date, what got you started playing in bands and how did It's Karma It's Cool come about?
Jim Styring: I've always been involved in music for as long as I can remember, either listening and collecting and being a fan, to playing in bands. I guess it started back in school and just stayed with me. I'm sure any musician will tell you the same, it's something you can't do without or leave behind once it's got a hold of you. I'd worked with Mikey (bass player) before in a previous project, and asked him if he wanted to write some new songs. Things just came together after that. Martyn and Danny came in originally to help us out in the studio, but things gelled so well, they joined the band shortly after. We've been lucky that it worked, and continues to work, so well for us. You can spend a very long time trying to find the right people that are all on the same page, musically.
Woke Up In Hollywood finally got its release show in your home town of Lincoln, how has the lockdown been for you in general and have there been any silver linings for you?
Jim Styring: Yes, we finally got to play live, we were beginning to think there wouldn't be an album launch show for Woke Up In Hollywood. We were booked to be play The Cavern Club, Liverpool, back in May, as part of the American, International Pop Overthrow festival but that obviously couldn't happen. Instead, we played to a full capacity home crowd here in Lincoln. The lockdown's very frustrating, but everyone's suffering at the moment. We've been able to put the time to good use, writing the songs for the next album.
How did it feel to finally be back playing live?
Jim Styring: It was a great night, there's always an extra buzz playing in your own city, to your home crowd. It was a huge relief and release to get out there and do it again. And not just for the band, for everyone.
American culture and locations loomed large on Woke Up In Hollywood, is it a place which has always held an interest for you?
Jim Styring: Since I was a child, really. America was always this magical place. The place where all the superheroes came from and the movie monsters. The place where the buildings reached the sky and the cowboys and indians lived. It fascinated me, and still does.
I hear that work has already commenced on the next album, is there a set process governing how you work and what has changed along the way, if anything?
Jim Styring: Yes, all the songs are written, we're currently in the recording studio working on drums and guitars (at least we were until the covid rules changed again). Martyn and Mikey will send me guitar ideas, I'll add melody and lyrics. We'll arrange the ideas into finished songs in the rehearsal studio, where Danny will add his drums parts and ideas. We could have easily ground to a halt with the current situation, but we were all in a creative headspace from the Woke Up In Hollywood sessions, so we continued writing. It's worked in our favour, as the album kind of wrote itself.
And again you will be working with Kool Kat Musik to release the forthcoming album, why a US label and are there any advantages or disadvantages to being geographically distanced.
Jim Styring: Yes, we're very happy to be working with Kool Kat Musik once again, Ray (Gianchetti)'s always been very supportive of our music and what we do. I'm a fan of the bands Kool Kat works with, and it just seemed perfect that we would get the chance to be on the label. We have complete artistic control, and Kool Kat makes sure it gets heard by the right people. I don't think it really matters anymore where you are based in the world, the internet has brought us all so much closer.
So what next for It's Karma It's Cool, and for you personally?
Jim Styring: We'll continue making the new record, and if everything goes to plan, we'll be looking at a late spring/summer 2021 release. Hopefully the situation will change before too much longer, and we can get out and start playing live again. Personally, I'm totally focussed on making this record the best it can be. Even at this early stage, the songs are coming together great, we can't wait for you to hear them.
Thank you for your time and looking forward to hearing the next album. Stay safe, stay sane.