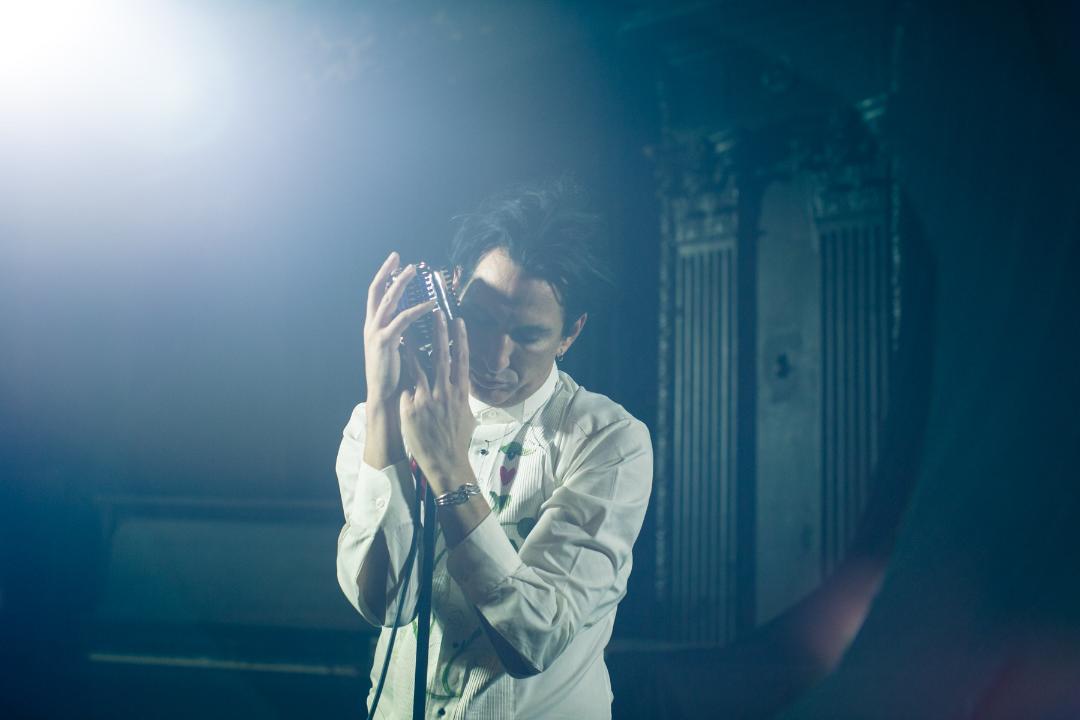 9 March 2020
Your music has been described as being "interstellar anthems for a new generation of mindfreaks" – a brilliant description but what does that mean to you personally?
Jonny Polonsky: Haha. That's mostly the PT Barnum side of me. I grew up in the 80's, with some of the great and colorful orators of the 20th century: David Lee Roth, Rev. Al Sharpton, Steven Tyler, Don King…
But then again, you can take it literally, too. Things are changing radically right now. Society and its attitudes, beliefs and mores… the way we treat the planet, the way we treat women, children, people of color, people who don't identify with traditional gender or sexuality norms. It is a revolutionary, exciting, exhilarating and often terrifying time to be alive.
To me, it seems like we as a species are being forced to be introspective and examine ourselves; to look at our worst tendencies, beliefs and behaviors, and adjust accordingly. It's like the dark night of the soul for humanity. Which is a good thing. It's a good thing to be introspective and take stock of yourself and make changes which are beneficial to you and to the greater good.
I feel hopeful and optimistic for our future. I'm not blind to all of the vicious, crazy bullshit that's happening on an almost daily basis. But human beings are incredibly resilient. And I believe the old ways are dying, and the new world is forming. That's what many of my songs from the last ten years are about. I believe in the goodness of people and in the transformative power of music and art and of love.
Kingdom of Sleep covers a lot of ground musically, what inspired your eclectic sound palette and did it differ from the sonic building blocks that you have worked with in the past?
Jonny Polonsky: A lot of my earlier records had more traditional rock band instrumentation—loud guitars and live drums. I love records like that, but I get bored and like to switch things up. Plus I love so many different kinds of music and get inspired by many different bands and artists, I wanna try new ways of making music. A lot depends upon my mood, what I'm going through personally, as well as breaking out of old patterns, that kind of stuff. I also live in an apartment in Brooklyn, so I can't make a lot of noise, and I'm not in a position where I can spend thousands of dollars in recording studios or in hiring musicians. So that also plays a large role in why I've been recording everything on my laptop and most of the drums are electronic. Plus it's fun. I like these sounds.
For this record, I felt like making really pretty, dreamy, beautiful and melodic music that painted a picture. I was listening to a lot of Cocteau Twins and Prince. And David Lynch is always an inspi- ration. I love his films, but his records are really great, too. They are strange, little worlds you can enter and feel like you are somewhere new, just like with his movies.
Sometimes I imagine what other bands might do in a particular context. Like with the song "A Will- ing Eye", I wrote it thinking about Jane's Addiction. I love their first few records. But I've heard them so many times for so many years, sometimes I wish there were more songs to discover. I was thinking about the beautiful, moody songs of theirs like "Classic Girl", "Then She Did…", "I Would For You". That's how I came up with my song.
Oh and I was listening to a lot of Bernard Herrmann, especially the Psycho soundtrack. That in- spired me to think more orchestrally with some of the arrangements, rather than fall back on fa- miliar and predictable patterns. Things need to feel new and fresh and a little out of my comfort zone to me. Siouxsie Sioux said that when a new guitarist joined the Banshees, she would give them a copy of the Psycho soundtrack. All their guitar players were also named John, so I figure I've got a pretty good shot of playing with her someday….
And again lyrically there is a lot being said and a lot of ideas and emotions being considered on the album. How much is this is personal? Do you write with your heart on your sleeve or do you prefer to be a narrater of ideas?
Jonny Polonsky: Everything is personal, even when things seem kind of abstract. I do love to play with words, and many times the sound of the words is more important than meaning. I like to keep things open ended enough where there is room for people to dream and project their own interpretations onto things.
But I don't try to be obscure or opaque or anything. I try very hard to be as simple and direct as possible with everything I do. I like to communicate clearly. I want the listener to understand what I'm getting at, and I want them to feel it as deeply as possible. No irony, no cleverness. Just imagination and heart.
I write things that are meaningful to me, and describe a situation, or a feeling, or a mood. But I don't need things to make linear sense. Ultimately it just has to sound good. But yeah, I feel like I write with my heart on my sleeve most of the time.
But it's more important for everything to evoke an emotional response than it is to elicit a logical understanding of things. That's one of the beautiful things about music, and songs in particular, to me. It can bypass the analytical mind and just make you feel something, make you know it. It works on your intuition.
Some of my favorite lyric writers are Jimi Hendrix, Bob Dylan, John Lennon, Neil Young, David Bowie, Marc Bolan, Iggy Pop, Tom Petty, David Lynch, PJ Harvey, Black Francis, Paul Westerberg, Kurt Cobain. They seem to operate like this as well.
Fresh Flesh featured collaborations with Mark Lanegan and Kevin Haskins. Are there any guests helping out this time?
Jonny Polonsky :Cedric (Bixler-Zavala) from At the Drive-In and The Mars Volta does a spoken word bit on the first song. He and I are friends from back when I lived in Los Angeles. We initially met when I was hired to play guitar on a bunch of songs he was recording at the time that never got released. It was real cool to get him on the track. I love what he does, and I can't really imagine anyone else saying those words, other than myself and maybe Jimi Hendrix or Terence McKenna.
Is there one person who would be your dream collaborator in the future?
Jonny Polonsky: David Lynch. Mike Patton. John Zorn. Tom Waits. Nick Cave. Warren Ellis. PJ Harvey. Jim Jarmusch. Iggy. St. Vincent. Lykke Li. Chelsea Wolfe. Adrian Belew. 8Diamanda Galas8.
There are so many great artists alive and working today. It's a long list.
It's safe to say that you have rubbed shoulders with the great and good of the music scene over the years, who number among your highlights? Can you share a few stories with us?
Jonny Polonsky: I played guitar on 12 Songs, the first album Neil Diamond recorded with Rick Rubin producing. All the musicians were seated in the same room, playing at the same time. We had just finished a take and it was totally silent. After a minute, I absentmindedly played a melody on my guitar and Neil turned to me and goes "Was that Springtime for Hitler you were just playing?" "Yes it was," I replied. End scene.
I was playing bass in Tom Morello's solo band, and Lemmy sat in for a song. Before the show, we had all been backstage, huddled up around a laptop watching Motorhead videos on YouTube with him, trying to figure out what song to play. That alone was pretty great. He decided that instead of a Motorhead tune he wanted to do a Chuck Berry song called "Back in the USA" that the MC5 had covered, because Brother Wayne Kramer was also in the band that night. We played the song at the show and Lemmy just sang lead. As he walked offstage, he looked me in the eye and very lovingly placed a hand on my jowl. I'm not really sure what he meant by that, but it was very awesome.
Another time at a different Tom Morello show, Perry Farrell was one of the performers. We were backstage having drinks and somehow we ended up goofing around and playing Leo Sayer's "When I Need You" together. It must have been the wine….
Considering your comprehensive work rate to date, and I'm sure there is plenty more to come, so what do you have in the diary and what would you like to see in the diary?
Jonny Polonsky: I don't really plan anything, I just sort of start messing around with stuff and things just happen. I got home this week from a two week European tour and I recently moved into a new apartment, so at the moment I'm getting back into the swing of things.
Right now I'm working on booking some more shows and also thinking about making new music. I'll probably start working on some ideas I've got in the next couple weeks. I also just bought a new guitar so I'm sure that will inspire a load of new tunes. Next year is the 25th anniversary of the release of my first record, so I'm also thinking about printing up a vinyl version of it, along with some outtakes. I'd love to get back on the road, though. I love traveling and performing.