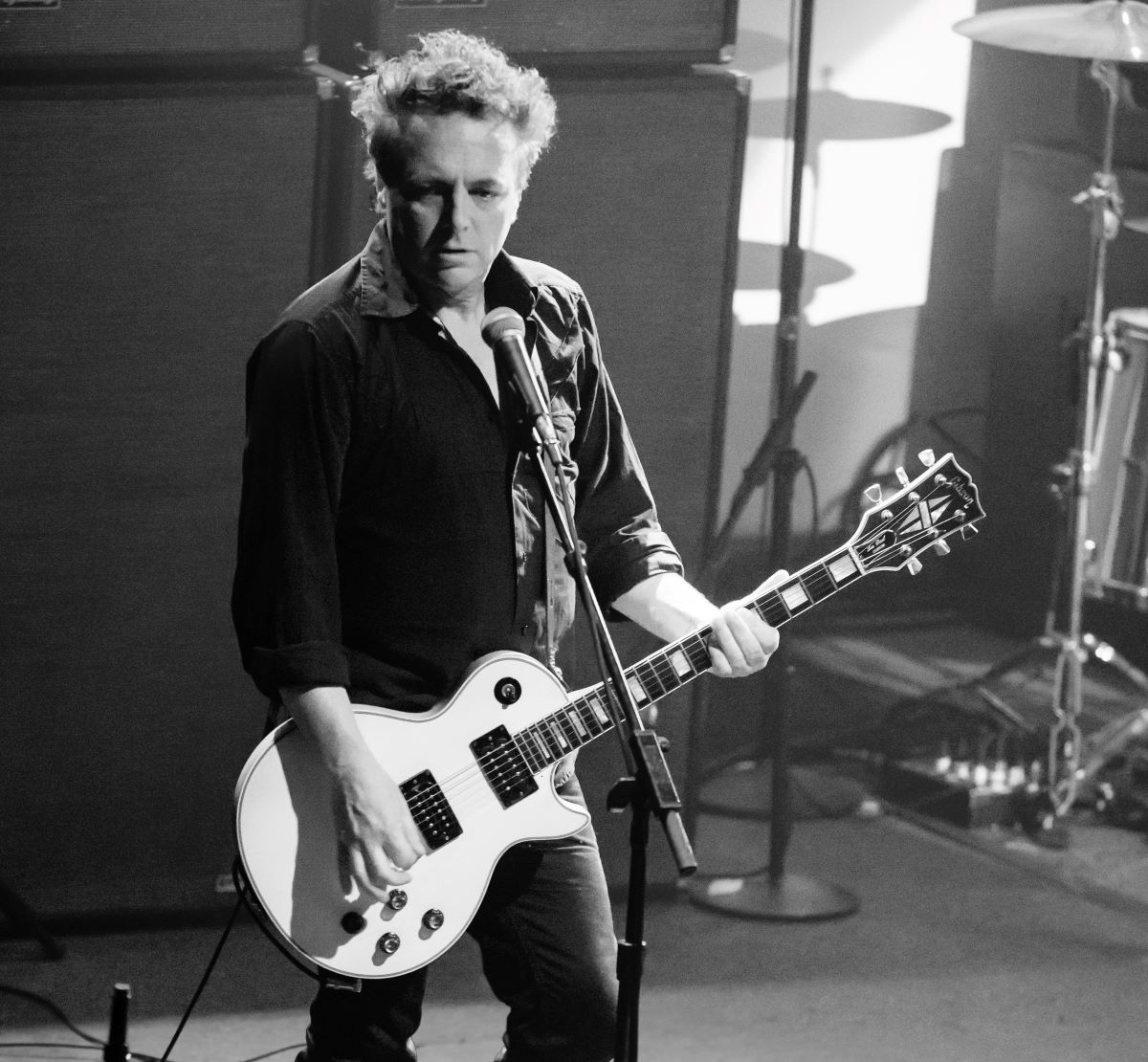 6 March 2020
Photo by Panthea
Guitarist James Stevenson has created a remarkable career for himself during the last four decades. Growing up in London, he was a fan of the famed local punk scene before becoming the guitarist for the groundbreaking punk band Chelsea. He went on to join another punk group, Generation X (until singer Billy Idol quit to start a solo career). By 1985, Stevenson had found a more permanent home – and branched out into post-punk – with Jay Aston's Gene Loves Jezebel (GLJ), with whom he still plays to this day. GLJ's latest album Dance Underwater (2017), features string arrangements by Tony Visconti (who also plays with Stevenson in the David Bowie tribute band Holy Holy). And for more than 20 years, Stevenson has been a member of beloved alternative rock band The Alarm. Stevenson's other notable credits include playing with Scott Walker, The Cult, and The International Swingers (with Blondie drummer Clem Burke, former Sex Pistols bassist Glen Matlock, and singer Gary Twinn). In 2014, he released a solo album, Everything's Getting Closer to Being Over. Calling from Bath, England, where he's taking a short break before setting off on more tour dates with GLJ, Holy Holy, and The Alarm (see list below), Stevenson talks about how he came to work with each of these bands, and how he manages to juggle them all.
Let's start with your first band, Chelsea. You were pretty young when you joined that band. Did you know then that playing music would turn into your career?
JAMES STEVENSON: Yes. I did the audition with Chelsea and when I got the job, I was just 18. I was still at school. I knew that it was going to be a life-changing thing. It was all that I wanted to do. The punk thing was happening in London, and I'd been listening to the New York Dolls and The Ramones and all that stuff that was coming out of New York. So I knew the punk thing was happening, and I wanted in on it. I answered an advert in a magazine called Melody Maker and I got the gig. And then it was into the baptism of fire. Straight out onto the road, and I stayed there for three years. And then Tony James rang me up and said, "Do you want to be in Gen X?"
What made you want to join Gen X?
JAMES STEVENSON: Well, you know, they had hits. I mean, Billy Idol was famous. They were a big band. It was a privilege to do it, really. I was only in the band for six months, but it was a great experience. And then Billy left and went to New York and had a solo career and the rest is history, as they say.
But that band still really launched your career.
JAMES STEVENSON: Yeah – I was on the front page of every magazine. And I was only 21 then. It was another great experience. I wish it had lasted longer. I wish they had made one studio album with me on it, but that didn't happen. After Gen X, I did a year with Kim Wilde. I'm on the first two albums on some of the tracks. And then I was in a band called Hot Club with Glen Matlock.
Is there anything that you learned in you first bands that helped you in your subsequent career?
JAMES STEVENSON: The main thing is, when you're on the road a lot, it's a different kind of lifestyle, and you have to get acclimatized to it. Now that I'm 60 years old, people say "How do you do it?" and I say, "It's my job, it's all I know." And if I have to jump on a plane once a day for a week, that's the way it goes. My favorite thing to do is walk on stage and play my guitar. So I think being in those [early] bands helped me recognize that lifestyle, how it was to be living on the road, which I've done on and off for most of my life now. And both [Chelsea singer] Gene October and Billy Idol are very charismatic singers. So it was good to work with them and see the differences between frontmen. Some people can be frontmen and some people just can't. I always just wanted to be a side man. I never wanted to be a frontman.
Why not?
JAMES STEVENSON: I don't think I'd be any good at it! [laughs] I'm really proud of my solo album but I don't feel like I'm a natural singer. I wasn't born with a great voice. You can learn to sing in tune, but you can't learn to have a great voice. That's a gift you're born with.
By the mid-'90s, you'd joined Gene Loves Jezebel. How did you come to play with them?
JAMES STEVENSON: I was playing with a guy who was the guitarist in a British band called the Rich Kids. His name was Steve New; he's dead now, God bless him – he was only 50. I was playing with him and we had the same manager as Gene Loves Jezebel. And one day, our manager came to rehearsals and said to me, "James, you might have to go to America tomorrow to save this Gene Loves Jezebel tour." And I didn't know anything about the band. I said, "Why, what's happening?" He said, "The guitarist is having a massive nervous breakdown and can't go on." They flew me out. I'd never met any of them. We went straight into rehearsal for two days in New Jersey, then straight out on the road. First gig I ever did with Gene Loves Jezebel was in Pittsburgh at a place called The Decade Club. and then the tour. It was really stressful but also a lot of fun. At the end, they asked if I wanted to stay permanently. And I've been with them on and off ever since.
And then what made you decide to work with your other longstanding band, The Alarm?
JAMES STEVENSON: Mike Peters, the singer of The Alarm, wanted to get out and promote the solo album he had out in about '98 called Rise. And I think he wanted Billy Duffy [of The Cult] to do it, and I don't think Billy fancied doing it. Billy said to Mike that he should talk to me. So Mike Peters got in touch with me, and I met him. I liked the album, it's a good album. Then a few years later, Mike said he was going to start using The Alarm name again. So I've had many different roles within The Alarm. I've actually done more gigs with Mike than any other human being he's played with.
Is it stressful, never knowing what's coming up next?
JAMES STEVENSON: It can be, yeah. I went through phases. Not so much now – I'm busier than I've ever been. But I used to go through a lot of financial uncertainty. All through the '80s, really. There's always problems and you just never know when you're on the road what it's going to throw at you. It's very unpredictable.
It seems like you must be very adaptable, both musically and personality-wise, to be able to shift into all these different roles all the time.
JAMES STEVENSON: You have to be able to get on with people. I know this sounds weird but you have to know how to be in a band. Some people, they can't work with other people. It just doesn't work. I think I'm quite easy to get on with. I'm very adaptable. I know what my job is. Like Billy Duffy said when I was playing with The Cult, he said, "I don't want some young idiot who is trying to prove what he's got." You've got to know what your job is. My job in The Cult was to back Billy with rhythm guitar and that's it. I didn't do anything of what I could really do. But that was my job and that's what he wanted me to do. You've got to know your place and why you're being given that gig, why you're being employed.
In other words, you're able to put your ego aside.
JAMES STEVENSON: Listen, I've got a big ego, trust me. You have to. Because that's what you're employed to do. With Gene Loves Jezebel, it's different. I have creative license because I bring a lot to the party. "Jealous," our biggest hit, I was playing in rehearsal and Jay [Aston, singer] went, "I love that riff." And it became our biggest hit in America. You never know. I knew that I was never going to be on a Cult record. Never. But with Gene Loves Jezebel, I have total creative freedom, it's totally different. I'm a chameleon. I can fit in in many situations. And I think that's why I'm busy.
One of your more impressive bands is Holy Holy, with Tony Visconti and Woody Woodmansey.
JAMES STEVENSON: When I was playing in bands in school and listening to David Bowie, if somebody had told me that one day I would be in a band with Tony Visconti and Woody Woodmansey, I would not have believed them. [laughs] It's a massive privilege to play in that band. Tony's incredibly talented. Woody's an amazing drummer. [Bowie's guitarist] Mick Ronson, who was the guitarist for The Spiders, is the main reason why I picked up a guitar when I was a kid. So to get to play his parts, with the people who made the [original Bowie] records, it's like, "I hope I do a good job." I love doing Holy Holy. It's really great.
And then there's International Swingers, which is another all-star band….
JAMES STEVENSON: I love the [self-titled] record but no one's heard it. I've actually played my favorite guitar solo I've ever played on that. It's a track called "FBI." But the thing is, everyone in the band is just so busy. I'm sure we'll do some more stuff but I don't know when it will be. That band is [for] when we have the time.
It's amazing that you worked with Scott Walker. It seems like his circle was incredibly hard to get into. How did you manage it?
JAMES STEVENSON: It's always who you know, isn't it? That was because [producer] Pete Walsh produced those records. [Peter Walsh has produced Gene Loves Jezebel, Simple Minds, Peter Gabriel, etc.] So Pete rang me and was like, "We need some guitar on this." Scott lived in London even though he was an American. So I walked into the studio in West London and Scott was sitting there with his baseball cap on. The first thing he said to me was, "By the way, I don't want to hear anything that sounds like a guitar." And I'm thinking, "What the fuck have you got me down here for then?" [laughs] He liked weird effects, and adjusting the speed of the tape so it makes weird sounds. So I did a lot of that kind of stuff. They're quite left field, those records.
Is there anyone you haven't played with yet that you wish you could?
JAMES STEVENSON: I would have done anything to play on a Bowie record. And I think there's actually a chance it would have happened, but unfortunately and very sadly he died. But I think Tony Visconti might have gotten me down for that. It's really nice when you get to meet your idols and play with them. It makes you feel, "Well, I must be better than I thought, or I must at least be okay."
What made you want to become a musician in the first place?
JAMES STEVENSON: When I was about 13 or 14 and the Bowie thing happened, that was so massive. Mick Ronson made such an impression on me. And then my best friend at school bought a guitar and was like, "You've got to get one, too, so we can be in a band together!" We used to mess about in my mum's garage. And slowly you get better, and you meet other people who are better players. That's how it all started.
Has being a musician turned out the way you thought it would?
JAMES STEVENSON: Not really, because you never know what to expect. It's a very unpredictable business. I mean, I didn't know I would be in Gene Loves Jezebel until the day before I flew to New York to try and save the first American tour. You just never know what's going to get thrown at you. So you never know what's around the corner, and that's exciting. And sometimes nothing comes around the corner for a long time, and then you're broke for a little bit! [laughs] Then you just do your own writing. The creative process is an ongoing thing. You don't just apply it when you're doing something with bands.
Upcoming shows featuring James Stevenson:
09 March: GLJ (with The Mission) – Valencia Spain – Sala Moon
10 March: Holy Holy – Southampton UK – The 1865
11 March: Holy Holy – London UK – The Roundhouse
12 March: GLJ (with The Mission) – Lisbon Portugal – Lisboa Ao Vivo
13 & 14 March: GLJ (with The Mission) – Porto Portugal – Hard Club
16 & 17 March: GLJ (with The Mission) – Madrid Spain Sala Mon
18 & 19 March: GLJ (with The Mission) – Barcelona Spain Razzamatazz
20 March: The Alarm – Manchester UK – 02-Ritz
21 March: The Alarm – Glasgow UK – Garage
27 March: The Alarm – Birmingham UK – 02
28 March: The Alarm – London UK – Electric Ballroom
2 May: GLJ – Long Beach CA – Cruel World Festival
JAY ASTON'S GENE LOVES JEZEBEL UK TOUR 2020:
20 May: NEWCASTLE – Cluny
21 May: EDINBURGH – Opium
22 May: GLASGOW – Audio
23 May: MANCHESTER – Night People tbc
24 May: WOLVERHAMPTON – Slade
28 May: BEDFORD – Esquires
29 May: BRIGHTON – Chalk tbc
30 May: LONDON – O2 Academy