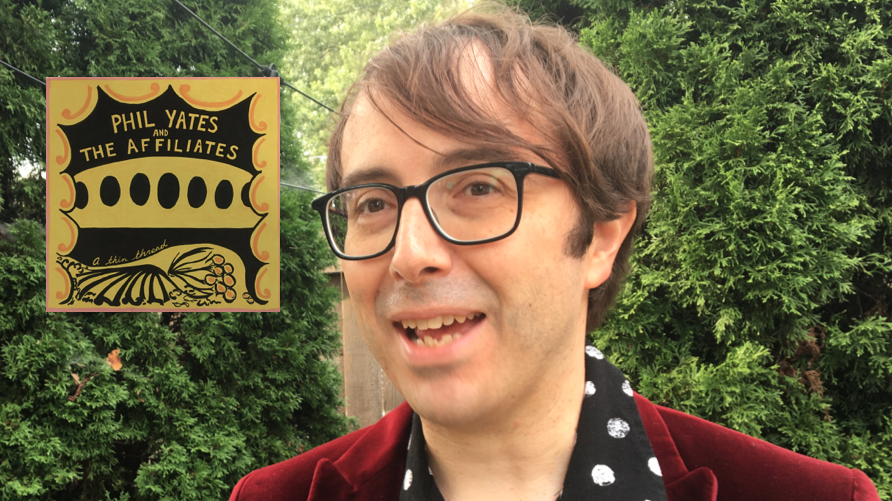 15 December 2022
(Photo by Sarah Venuti Yates)
When it comes to recording and releasing music, Phil Yates was "a late bloomer" — but he's more than made up for lost time. Starting with a solo EP in 2011, followed shortly by the debut Phil Yates & The Affiliates single in 2012, the Illinois native has unleashed an eclectic stream of indie-infused power pop that is at turns melodic, moody and jangly. And his latest release, A Thin Thread (Futureman Records, 2022), might be his best collection yet. Impressive considering it features a totally different line up of Affiliates than the band's three previous albums.
"When I left Burlington, Vermont to move back to Chicago for work purposes, there was some debate over whether I would be taking the name '& The Affiliates' with me. For the record, it is my third 'tour of duty' in Chicago—I can't seem to quit this city that I love," Yates told me in the interview below. "My former bandmates agreed that I could continue to use the name."
The Chicago line up featured on A Thin Thread includes Yates (guitar/vocals), Richard Bandini (guitars/vocals), Jay Lyon (bass) and Bill Urban (drums). Together they deliver 10 tremendous tracks ranging from the hooky guitar pop of "I Can't Wait," "Secret Decoder Ring" and "Green Eyes" to darker rockers "Trash Carrots" and "Smithereens." The album's rougher edges are balanced by mid-tempo groover "Caraway" and contemplative album-closer "Ode to a Café Waitress in Montréal (18 June 1999)."
"Back when I had to do more solo acoustic shows in my pre-Affiliates days, I said the songs were 'too rocky for the folkers and too folky for the rockers.' These days I will say that I loudly play three-minute pop songs, or say that we sound like what you would hear on college radio in the '80s or '90s," Yates said.
That description makes even more sense when you consider his inspirations. The Beatles and Elvis Costello top the list of Yates' influences, rounded out by Elliott Smith, Evan Dando, Teenage Fanclub and Guided By Voices —all of which shine through to varying degrees in the textured songwriting and solid performances. This is smart music that never forgets its main job is to entertain.
I caught up with Yates by email while he put the finishing touches on a forthcoming lo-fi solo album for Unread Records.


Phil Yates Interview
It's been almost six months since the latest Phil Yates & The Affiliates album, A Thin Thread. What is your relationship with that collection of songs at this point?
Phil Yates: Time flies. They grow up so fast! Overall, I'm pleased with how the album came out and the reception it has received. This was the first time I recorded an album in a bandmate's home studio. It was very freeing to not be "on the clock." As a band, we could take our time recording these songs.
Are you the kind of artist who listens to their previous work, or the kind that tends to avoid it at all costs?
Phil Yates: I still listen to the album at home, mostly when my ten-year old daughter requests that we throw it on the turntable (I think she is the only reason I listen to any of my previous work). I'm sure I'm not the only artist who listens back to their work and thinks "Oh, we should have tried something else instead" or "Did anybody else besides me still hear that mistake?" I think the biggest thrill was driving in my car and hearing one of our local independent radio stations in Chicago play "I Can't Wait." I have had radio play before, but I don't think I've ever heard myself on the radio while in the car.
I think the recording process is very much a slog. As soon as I'm finished tracking the album, I never want to hear those songs again. My bassist, Jay Lyon, did the mixing and mastering of A Thin Thread. As much as I never want to hear the songs again in that format, I assume it is triply so with him.
This year marks the 10th anniversary of Phil Yates & The Affiliates. Was this always intended to be a long-term project, or has it just worked out that way so far?
Phil Yates: Wait? Is that right? (checking my dates) Wow! I guess we did release the single Could You Be The One? under that moniker in 2012. I think it most definitely just worked out being a long-term project. In fact, when I left Burlington, Vermont to move back to Chicago for work purposes, there was some debate on whether I would be taking the name "& The Affiliates" with me. For the record, it is my third "tour of duty" in Chicago—I can't seem to quit this city that I love.
My former bandmates agreed that I could continue to use the name. The joke's on them. I wasn't going to give up that name. I had the retort of "whoever plays with Nick Cave are The Bad Seeds" ready for them. (I am in no way comparing myself to the genius that is Mr. Cave.)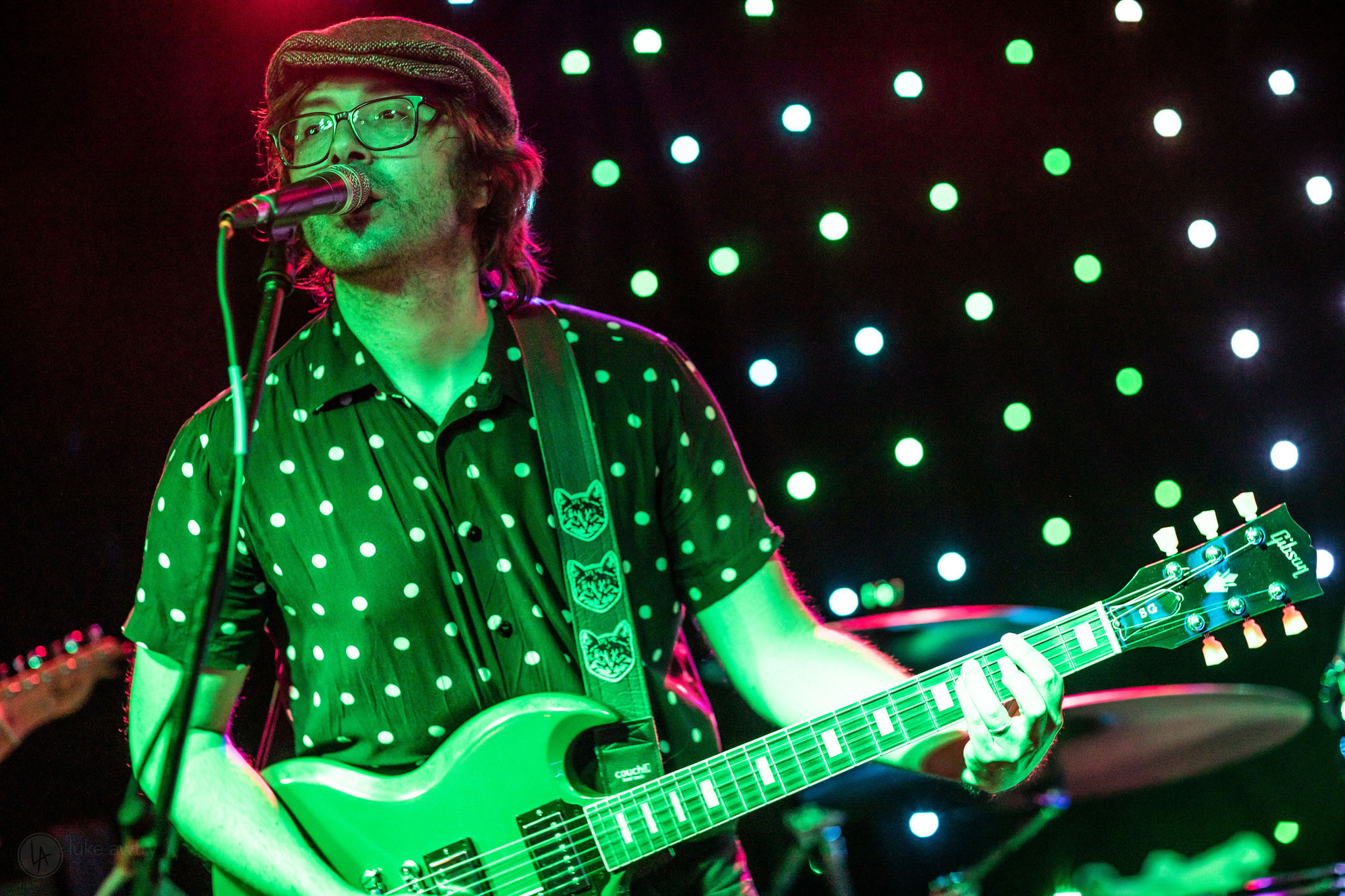 (Photo by Luke Awtry Photography)
How hard was it to put together a new version of The Affiliates in Chicago?
Phil Yates: When I moved during the summer of 2017, the Affiliates' record Party Music! was being mixed and mastered. That process was going rather slowly. The record wasn't officially released by Futureman Records until April 2018, just in time to play a slot at International Pop Overthrow [music festival] in Chicago.
When I moved, I knew that I would have release shows hopefully looming. My bassist, Jay, was a former co-worker with one of my high school friends. She said, "He's an even bigger Beatles dork than you." I didn't think it was possible, but she was right. My guitarist, Richard Bandini, saw a hand drawn poster I put up in one of the rehearsal studios around town. I was asking for somebody to play like Robert Quine or Richard Lloyd. He jumped at the chance. It took some trial and error to lock down a drummer. We have had Bill Urban playing with us for a while now. He's fantastic behind the kit!
Finding bandmates is always a challenge. Convincing them that the songs that they will be playing were played by a different set of musicians was another one. Until we had songs ready for A Thin Thread, these Affiliates probably felt like they were basically a cover band of the old Affiliates. That said, one advantage of that setup was the breathing of new life into old songs. Different musicians bring different energy and feel to the tunes. Another benefit to the move was the history of Chicago and the power pop scene. There are many more like-minded bands for us to play and network with here than there was in Vermont. That is no knock on Burlington, Vermont, by the way.


Who are some of your favorite Illinois power pop acts of all time?
Phil Yates: I think I would be tarred and feathered by my home state if I didn't say Cheap Trick. From their massive discography, I will say my "go-to" is In Color. "Southern Girls" for the win!
I grew up in Springfield, Illinois, and there was one Chicago band I remember that would come to town a lot while I was in high school, The Bad Examples. Their album, Bad Is Beautiful, is amazing. If I had to choose one song from it, I couldn't. Go listen to "Ashes of My Heart" and "She Smiles Like Richard Nixon." (Ralph Covert, if you read this article, call me! I want to gush about your songwriting.)
I'm not going too far back in time for this next one, but I really like Twin Peaks. Their record Down in Heaven gets plenty of spins in my house. They are such a fun band. It feels like The Rolling Stones doing power pop.
Who would you consider some of your biggest influences?
Phil Yates: The Beatles are my all-time favorite band, so how could they not seep into my songwriting DNA? That said, my number one songwriting influence is Elvis Costello: the lyrics, the structuring of the songs. I'm sure most everything I have written is a nod to that man. My song "Peter Francis Geraci" on Party Music! is basically a sped up version of "Our Little Angel."
Elliott Smith is another big influence on me, especially when it comes to singing. I've always felt like my vocals are on the thin side, so I typically double them up to thicken things out a bit. When I sing on the softer side, I like to think I am coming close to Elliott's magic. In terms of my guitar playing, Evan Dando's rhythm playing is a huge influence on me. In terms of trying to get the right guitar tone, Teenage Fanclub's Norman Blake and Raymond McGinley are the holy grail.


Elvis Costello gets name-checked by a lot of modern power pop bands. Why do you think he's more often cited as an influence these days than early contemporaries like Shoes, 20/20, The Records or even The Knack?
Phil Yates: If I had to guess, I think Costello's longevity plays a lot into it. That's not to say those other acts have stopped putting out music. There has just never been long periods of time when Elvis wasn't putting new music out there. There may have been long periods of dormancy with those other acts. Also, with Elvis' longevity comes his own restlessness with sticking to a certain genre. It's exhilarating and, to be honest, sometimes exhausting to keep up with the many musical hats he wears (I have nothing against the many actual hats he wears).
As a die-hard fan and as a songwriter in my own right, you can look at him and think "I may be described as this, but there is nothing stopping me from doing something completely different." If I want to write a country song or a torch ballad, I feel free to do so even though I am classified most of the time as a power pop artist. Why? Because Elvis Costello provided the blueprint.
I definitely hear a lot of elements in your music that go beyond strict power pop (indie, jangle, etc.). How do you think about your own music and explain it to others?
Phil Yates: If forced to choose a genre, I do say that my music is power pop; however, I don't think that is necessarily accurate. Back when I had to do more solo acoustic shows in my pre-Affiliates days, I said the songs were "too rocky for the folkers and too folky for the rockers." These days I will say that I loudly play three-minute pop songs, or say that we sound like what you would hear on college radio in the '80s or '90s.
From an '80s/'90s college radio perspective, I hear a fair amount of Guided by Voices in your music. Would you consider them an influence as well?
Phil Yates: Absolutely they are an influence on me! The Affiliates and I were asked to contribute a song to a tribute album about GBV. Our song, "We're Finally Here," was the lead single off the compilation How Do You Spell GBV (Kessel Run Records, 2018). To this day, it is our only video, and I didn't have to lift a finger to do it. Every artist should make videos that way! Leave it to the professionals.
The fact that Robert Pollard has always been the "old guy" in his scene compared to his peers has always inspired a late bloomer like me. I was 35 when I released my first EP. Personally what I look for in a song is that strong hook or melody. No matter how clean or messy a GBV song can be, there is always that hook or melody that grabs you. Pollard is the master of that. For songs that skew on the shorter side of things, there is so much packed into them. In almost every GBV song, you can find something that wasn't there before, especially with his lyrics. He is criminally underrated as a lyricist.
Everything I just said does not apply to "Razor Bug." Let's not talk about "Razor Bug."


I consider A Thin Thread tracks like "I Can't Wait" and "Secret Decoder Ring" to be pretty great examples of modern power pop (I love "Trash Carrots" too!). Do you think about genre when you write and record?
Phil Yates: First, thanks! I love those songs, too! I don't necessarily think of any sort of genre when writing my songs. My process is the following: I must have a complete set of lyrics before I even touch my guitar. Then I start trying to find the right music to fit with the lyrics. If it comes out like a power pop song, then great. If it doesn't, then great. I'm just fortunate to have a song that I don't hate.
What are a few strong examples of power pop from your own catalog?
I think songs like "Ninjas vs. Zombies (Let's Keep Our Heads)" from my solo EP Tumble Stairs (2011) and "Burn It Down, Bernadette" from No Need To Beg (2015) are probably my most power poppy songs. I think a song like "Send Him The Bill" from Party Music! leans into the power side of the power pop equation.
How do you feel about genre classifications in general?
Phil Yates: I think genre classifications are a necessary evil. I'm only speaking as somebody who used to have a show on a college radio station. It helps you to quickly pluck songs or bands to add to your show or playlist if you are streaming at home as people do these days, although my show was all over the place in terms of the genres—like college or independent radio should be! I personally think of power pop as catchy and hooky songs that often have some grit or jangle to them, or both.
What do you make of power pop's current resurgence?
If I was President Biden, I would be saying "The state of power pop is strong." In 2022, we had killer releases from Young Guv, BOAT, Sloan, Mo Troper and Alvvays.
I think there will always be a place for hook-filled tunes. Maybe that is wishful thinking on my part since I think my songs fall into that category. Earworms will never die in the music scene, and no other genre excels at producing earworms like power pop does. Maybe in that regard, power pop is the tardigrade of the music universe. It is a genre that seems to still survive regardless of the music environment.
A smart interviewer would end on that tardigrade line…but I have one more quick question. What's next for you?
Phil Yates: The Affiliates and I are putting the finishing touches to our contribution to Futureman Records' tribute album to The Kinks. I am in the process of wrapping up a solo record for Pittsburgh's Unread Records. My marching orders for that one was something simple, stripped down, and lo-fi. I guess think of The Mountain Goats in their pre-4AD days. I'm trying to decide if it will be called "Set Pounds" or "Short Corner," my least favorite set piece is soccer/football.
Some of the songs on it will be demo versions of songs that may make an appearance on the next Affiliates record, although we have not planned on recording a new record yet. We are trying to plan another short tour, maybe a week tops, this summer in the southeast or the west coast.

Recent Interviews:
I Want My 'MTV' — Mo Troper Interview
'Madman in the Rain' by Dot Dash — Terry Banks Interview
'Scratch 'N' Sniff' — The Whiffs Interview