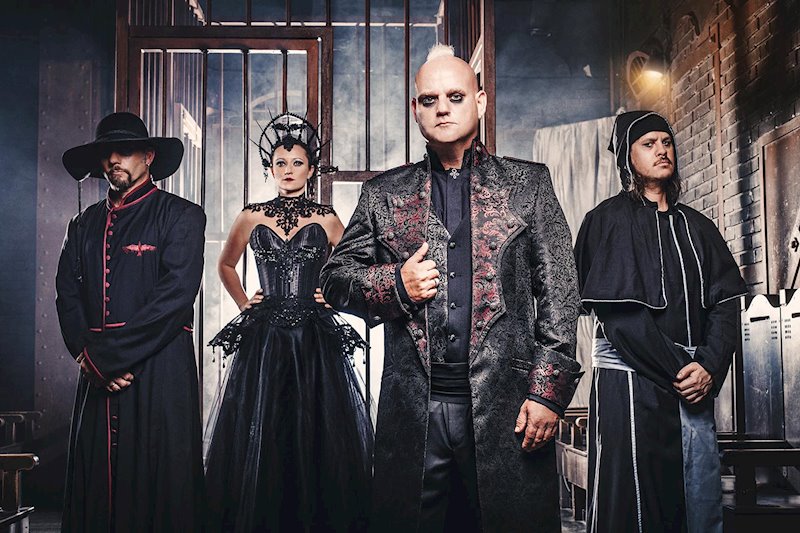 15 January 2020
With German maestros of doom-laden classic rock meets dark wave Mono Inc. releasing their 11th album, it felt like the perfect time to catch up with frontman Martin Engler to find out about the twenty years of the band, how such music is perceived in the current musical climate and where the band are headed next.
Book of Fire is your 11th Studio album over an impressive two decade span, how do
you think that your sound has changed, consciously or otherwise?
MARTIN ENGLER: The first two or three albums where sort of "finding our way, our sound, our 
style". While working on our "voices of doom" album in 2009 we knew that we found 
it! We felt musically at home and where extremely happy with our ingredients. We all agreed: this is what makes our band sound unique. So from that point on we tried to 
add some new elements on every record without neglecting "our" typical MONO INC.-
sound.
Although this brand of epic, gothic music seems to have passed its heyday in the 
UK and America, it's still strong in Northern Europe. Why do you think it remains so 
popular here?
MARTIN ENGLER: Well, music is like fashion. Everything kind of repeats itself after a certain 
period of time. So you might as well put it like this: for our kind of sound America is a little behind. For some reason right now fans in other countries, outside of Europe, especially Asia, Russia and South America are discovering the band for themselves. It seems to be the right sound at the right time.
Book of Fire is, for want of a better term, a concept album with the songs acting 
like chapters of a story, do you prefer this approach to making albums over writing a more conventional collection of unrelated songs?
MARTIN ENGLER: I simply feel a little bit to wise and old to write songs and lyrics love, sex and 
drugs. I like to tell stories because for myself music isn't like a fast food product. Playing only the single and then jump to the next album is not my way of consuming 
music. I love diving into whole records and learn to appreciate songs that I didn't 
really like when I heard them for the first time. And so we pass this on to our fans. We 
can only record and release what we personally like. Everything else would be unauthentic – and authenticity is the highest good in art.
It is also available as an "earbook," can you tell us more about this concept?

MARTIN ENGLER: For the first time we wrote a whole book of our story of the young healer Aellin in the dark times of inquisition before we actually started the songwriting. So each song on the album is sort of the essence of each chapter of this book. After we 
finished recording the album we had the crazy idea, to let Katha Mia and myself 
eading it for the earbook version as well. I think that's a nice bonus for our fans and we really enjoyed ourselves during the production as well.
The album is also your heaviest to date. Is this a result of the subject matter that 
you were working with, a conscious decision or just a natural development?

MARTIN ENGLER: To be honest I think it's because we spent the last year touring with an orchestra where we presented our biggest hits in this very romantic and emotional way. We loved it, tears and goosebumps were included every night, but when we came back into the studio we all felt a bit like "now let's do something completely 
different". We wanted adrenalin!
And finally, what does the future hold for Mono Inc?
MARTIN ENGLER: In March we will be starting the biggest tour we ever played in the biggest venues we ever played. It will lead us through Europe, Russia, South America and… 
who knows? Maybe we'll be stopping in the US as well. But first of all we are all very excited to get back on the road again. Playing live is the elixir of life for us!