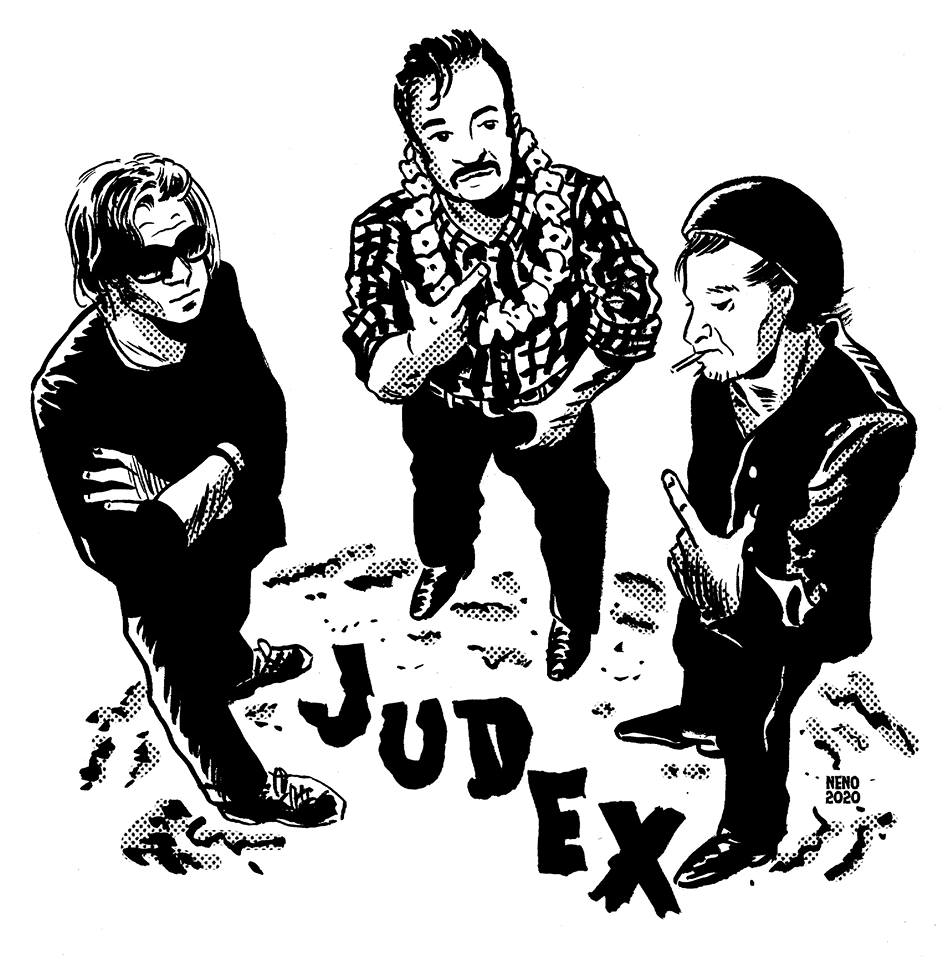 19 January 2020
With a sound described as "the sound of punk being invented in a Chicago blues club in 1957, a gang fight set to 12 bar rhythms" The Judex walk a fine line between past and present. With their unexpected resurrection, new releases and even their own video newscast, a conversation with Will and Jason about the strange world of The Judex seemed long overdue.
The Judex made a surprise return, seemingly from the dead, recently, why did the band stop and what brought you back together?
Jason: We had a line up change which led to the exit of a member… the former allowed his personal life and issues to bleed into the psyche of The Judex which led to cancellations, missed opportunties and broken promises. At which point we thought we were dead… then the stars aligned, ha ha.
William: We stopped at a point of great momentum for a little underground band like ourselves due to the very cliche sounding "disagreements" with a specific band member. Jason alluded to it but it's indeed the cause for our temporary halt. I'm loathe to put it that way as it exceeded the usual disagreements of creative direction and whatnot and was more in the vicinity of "this person has a severe mental illness and his sexist and disruptive behavior cannot be tolerated."
For a little while, we were kind of waiting for him to "get it" and act accordingly. It just got extremely bad to the point of cancelling shows and imploding due to the cancerous effect this person's conduct had. I'm glad to say that's all in the past now though.
What brought us back together was unanticipated and sincere interest in our small catalogue and it built from there. We realized there was much less tension with this certain individual gone from the studio and so forth. So we're sort of like The Monkees without Peter Tork now. Or The Marx Brothers without Zeppo.
You are a Philadelphia band but seem to be as much the sound of the New York streets, with echoes of the Lower East Side early punk scene certainly in the mix. How has the sound evolved and what are your influences?
William: I would agree with that insomuch as all of our records really finish up in New York so we spend a lot of time in the East Village and play New York gigs much more than we seem to play Philadelphia. That sound is there because it's a part of our subconscious foundation for sure, but there aren't any specific bands moving us to go play music at this stage in the game. I think anything with soul and intensity is quite inspiring whether it's Diamanda Galas breaking the sound barrier with her octave range or the enthusiasm Bowie often brought to his later work. I really like when someone's passion and intensity is tangible and any artist who seems visibly lost in their own performance attracts me. I'm really inspired at where The Judex can go most of all, and it's our own stuff I am greatly moved by these days.
Jason: Yeah, some of my biggest influences are from that very scene the NYC scene- between The Ramones, Heartbreakers and The Misfits, these acts did so much in a few minutes with such ferocity and energy, it pulled me right in. From Link Wray to The Stooges, Sabbath to Bowie.


Bands like yourselves are very much seen in the modern age as revivalist, rock 'n' roll for a new age but do you think that rock'n'roll as a genre ever really goes away?
William: I believe people are quick to label or latch onto labels and I think "Rock N' Roll" sums it up quite well. Too often musicians will ramble on until your eyes glaze over about influences and aspects and snippets of this and that and, especially if you're a new band and the potential audience hasn't heard you before, this is mundane information that really doesn't serve a purpose. We put out rock n' roll records and aren't reinventing the wheel as I often say. But there's a difference in directly emulating nostalgia and simply having a vocabulary in familiar elements; I feel like we're the latter.

If you had to choose a genre, or better still a phrase or soundbite, how would you sum up The Judex?
William: Honestly I would prefer not to choose a genre and leave it under the all encompassing "Rock N' Roll" banner because I feel that extends to so much. I really believe certain genres and subgenres of rock, punk, etc. were developed simply to enable the acceptance and normality of performers with substandard skill. Like these nasal emo people who can't sing and have no soul- they're not stirred by some emotion greater than themselves, they're motivated by self indulgence. There you have it. Emo is one genre in particular that I believe is completely removed from the Black influence and the Rhythm & Blues foundation of Rock music.
I think a lot of modern rock is generally revivalists trying to sound like Led Zeppelin or whiny suburban angst from white kids who got indulged and emulate what they saw bands in the Nineties do. We're not interested.
Jason: Rock N' Soul. Period.

And the band are branching out into You Tube with a show, can you tell us a bit more about that?
Jason: It gives our followers and listeners a… peek inside The Judex, a "fly on the wall" view into the world of a Rock & Roll band from recording studio footage to various cities, travel, events, to cameos from all over. It has been getting some love and gives another layer to The Judex.
William: This will prove we're not completely intense and judgmental bastards after reading my last answer but yeah, we've got a sort of lo-fi and low budget YouTube show that sort of emulates – or tries to – the elements of old public access TV and such. It's very much in an early embyro stage but we intend to improve it as time goes on and we're very, very pleasantly surprised by the early response to it. Even if some people lectured us for a Beach Boys related subplot.
You have talked previously about touring the UK, is that looking like a possibility, does the UK hold a certain fascination for you and if so, what is it?
William: I wouldn't say the UK has a certain fascination for me specifically as I used to live in Europe briefly and played with a Dutch based band when I was much younger. It's more a case of music thriving in the United Kingdom in a way that it does not here in the States. This is easily proven by the multiple music magazines imported to the US from England: Shindig, Uncut, Mojo, Viva Le Rock and so forth. Clubs are still vibrant (or at least more vibrant than here in America), festivals are still big events… gentrification really did a number on live music and it's ceremonial capacities to engage and build a scene here, so of course I think we'd do quite well in the UK. At least we would try our best.
We had a small window of opportunity as the living legend Phil King (former bassist for Lush, Apple Boutique and The Jesus & Mary Chain) was very supportive to The Judex early on and quite patient in listening to our first releases and put me in touch with a woman named Delilah Sparrow who books touring bands. However we couldn't capitalize on it due to the aforementioned ex band member. Touring is quite an undertaking for extremely undergroundish bands like ourselves so I don't know how likely that window will be there for us. But it's something we'd be open to doing of course.


And so where next for The Judex?
Jason: Busy, busy…! Finishing mixing up for our next release in February. A few shows in New York for this Winter and Spring.. Episode 3 of the show and of course prepping a Record Store Day exclusive.
William: As Jay said, we will be returning to the live stage for a handful of shows and some festival appearances and beginning work on our next release. Honestly, budget and financing for producing the high level of quality we've been delivering is an ongoing- well, it isn't a struggle but it does slow us down when compared to other bands as we invest more heavily than the average group into mixing, the quality of our shirts, and even mailing merch' to multiple countries with free shipping just to assure that kid in Istanbul or Japan gets their stuff. So it depends what kind of financing we can obtain, how much time we need and boring logistical things of that nature. I will say that our new material is the best yet and I'm quite eager to get it done in the studio.
Thanks guys, great talking with you.