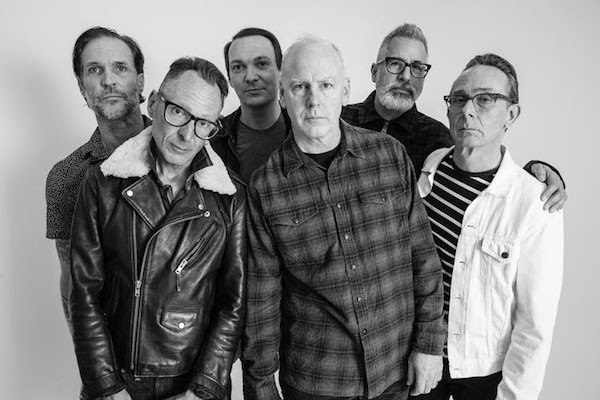 16 July 2019
Photo: Alice Baxley
With 39 years, 17 studio albums and more street cred than Tony Hawk under their belt, Bad Religion will land at Psycho Las Vegas as one of the festival's most venerable acts when the politically progressive punk pros play the festival for the first time ever on Friday, August 16.
While fellow participants Arthur Brown and Misfits formed before Bad Religion, the L.A. band has more seniority than everyone else — that's right, even Carcass, Vio-lence, Corrosion of Conformity and Mark Lanegan. (Stay tuned for interviews with Carcass and Lanegan.)
Two days ago, the band founded by vocalist Greg Graffin, guitarist Brett Gurewitz and bassist Jay Bentley announced an expansion of their fall tour supporting their May release, Age of Unreason. Smack-dab in the middle of their itinerary from Wednesday through October 12 is their gig at the Mandalay Bay Resort and Casino, where Psycho will be staged. If the gala needs a shot of iconoclastic, political galvanizing during this WTF? Era in American history — and it does — Bad Religion will likely be the band to bring it.
Last week, the Big Takeover caught up with Bentley during a tour stop in Denver to see what Bad Religion have planned for Psycho and find out why it was a "no-brainer" for them to book the fest on their itinerary. He also prepared Psycho metalheads to have their minds blown — so long as they keep them open and leave their preconceived notions of the Warped Tour regulars at home. Oh, and we talked with Bentley about his dirty pajamas too.
So Jay, your unlaundered pajamas are in the Rock & Roll Hall of Fame in Cleveland. It's official: You've made it.
BENTLEY: Haha, yes, I've made it. I can officially retire.
What's the deal with those soiled garments?
BENTLEY: The long story short is I wore them for the entire year of 1998, when we did the first Warped Tour. Bad Religion's crew decided they were disgusting and should never be seen again. [Later] I found them in our storage locker. [Warped Tour founder] Kevin Lyman asked if we had anything to donate to the [new Warped Tour] exhibit. I found them and laughed pretty heartily when I saw them.
What, in your mind, is the biggest difference between Warped Tour and Psycho?
BENTLEY: I think it's the multi-days. So many great bands each day is what drives a festival. Warped Tour moved from city to city; Psycho is bringing everyone to one venue. When I saw all those bands [on the Psycho lineup], I wanted to go. Warped was what bands we could put together and make the most noise possible.
What have you heard about Psycho?
BENTLEY: Whenever we get asked to do something, we talk with our friends about it. They've been super-positive about this.
When did you get invited?
BENTLEY: Pretty early. I think a year ago somebody called. We were still working on the record. I said we didn't have any plans and didn't want to commit to anything, but as things started to build, we were pretty early getting on that bill.
For us, it's easy drive from L.A. So it was a no-brainer. What happened with Dave [Mustaine of Megadeth, who canceled due to his throat cancer diagnosis] obviously came out of nowhere, and having [Megadeth's replacement] Misfits on there changed a lot of things.
Were you happy to see Misfits hop on the bill?
BENTLEY: Not for the reason why, but it's always great to see bands hitting their stride with what they've got left.
What bands are you most excited to see at Psycho?
BENTLEY: Glassjaw. Phil Anselmo's thing, En Minor, is something I've really wanted to see. I had a Pantera run for a while and am always eager to see what he's up to.
What kind of set list do you have in mind? Are you planning to perform Bad Religion's heavier material, given the crowd?
BENTLEY: I can write a guitar solo-heavy set list. I would look at songs that have way more solos and not so much mid-tempo stuff. But we'll focus on the new record no matter what. I don't know how long we have onstage — we can probably push 21 songs in 50 minutes if we hurry.
Any chance we might hear a cover song or two?
BENTLEY: We never say never to covers, because anything's possible, but Greg and I laugh, because we have 400 songs to choose from. I never thought we'd have that much material [when we started as a band].
Do you prefer playing in the heat or in the cold? Indoors or outdoors?
BENTLEY: There's nothing worse than cold. We played a snowboarding event and literally, we were up on a mountain in Switzerland, and my fingers weren't moving. I was at a heater the whole time.
Do you like Vegas?
BENTLEY: I'm good for about three days in Vegas, then I start questioning my sanity and wondering if I'm ever leaving.
Will you be there for the entire festival?
BENTLEY: Just Friday. We're playing the Palladium in Hollywood the next day.
Tell me something that happened to you in Vegas that was supposed to stay in Vegas.
BENTLEY: If I genuinely tell you, it won't stay in Vegas.
How about a favorite Vegas memory?
BENTLEY: We used to play the Huntridge Theater a lot way back in the day, and one time we were playing and the ceiling was collapsing. I remember thinking, "This is Vegas." But it was very '80s Vegas. You get out to Mandalay Bay and realize it's not like that at all. We were one of the first bands to play at the House of Blues there.
What will you be doing when you're not playing onstage or getting ready to?
BENTLEY: I'll play cards with my friends, but I don't play the tables. I'm going in the pool, I'll be there.
What friends are you hoping to run into there?
BENTLEY: The day of show, a bunch of people will start texting me. "It's been a long time since I've seen you, can I get on the guest list?"
What can fans and newcomers expect from your performance(s) at the festival?
BENTLEY: Well, we're playing at a show where I'm fairly certain most of the people that will have heard of Bad Religion think we're just a punk-rock band. I think they will be pleasantly surprised. It'll be a little different for us.
For previous installments of the Big Takeover's Psycho Las Vegas preview series, check out our interviews with:
• Colin H. Van Eeckhout, vocalist for Belgian post-metal purveyors Amenra
• Jason Shi and Scott Key, singer/guitarist and drummer, respectively, for melodic hard-rock masters ASG
• Stephen McBean, singer/guitarist of long-running psychedelic-rock project Black Mountain
• Jean-Paul Gaster, drummer for "the quintessential American rock band," Clutch
• Greg Meleney, vocalist/guitarist for Portland psych-rock mainstays Danava
• George Clarke, vocalist for shoegaze/black-metal powerhouses Deafheaven
• DJ Painkiller, an L.A.-based metalhead who will be spinning between sets
• Darkest Prince, lead guitarist for black-metal punks Devil Master
• Victor Vicart of Scottish progressive-metal quintet Dvne
• Laura Dolan, vocalist for Cincinnati rock 'n' roll purists Electric Citizen
• Zack Simmons, drummer for blackened death-metal demigods Goatwhore
• Emil Amos, drummer for experimental post-rock band Grails
• Julien Chanut, guitarist for French sludge-doom band Hangman's Chair
• Tony Campos, guitarist and founder of thrash revivalists Hell Fire
• Nashville cosmic-riff connoisseurs Howling Giant
• Gabriel Franco, vocalist/guitarist for gothy post-punks Idle Hands
• Joshy, drummer for crusty death/doom-metal outfit Ilsa
• Johanna Sadonis, vocalist for "heavy magic rock" band Lucifer
• Stuart Braithwaite, founding guitarist/vocalist for beloved post-rock legends Mogwai
• Thomas Eriksen, centrifugal force behind true Norwegian black-metallers Mork
• All-female Motörhead tribute band Motorbabe
• Mikael Åkerfeldt, frontman for Swedish progressive-metal kings Opeth
• Ethan Lee McCarthy, frontman for blackened-doom trio Primitive Man
• Tobias Grave, frontman for shimmering post-rock trio Soft Kill
• Derrick Vella, guitarist of death-metal arsonists Tomb Mold
• Niklas Källgren, guitarist for Swedish fuzz fanatics Truckfighters
• Los Angeles Satanic doo-wop duo Twin Temple
• Kevin Starrs, frontman of British fuzz royalty Uncle Acid and the deadbeats
• Sean Killian, vocalist for cult-favorite Bay Area thrash band Vio-lence
• Bruce Lamont, frontman for experimental heavy-jazz project Yakuza and Led Zeppelin tribute band Led Zeppelin 2
• Aaron Rieseberg, bassist for Oregon doom-metal dealers Yob
Also, don't miss our special feature in which Deafheaven's Clarke and Mogwai's Braithwaite discuss their mutual affection for each other's bands, whether Deafheaven should play their Mogwai cover at Psycho Las Vegas — and the possibility of a collaboration between the two projects.