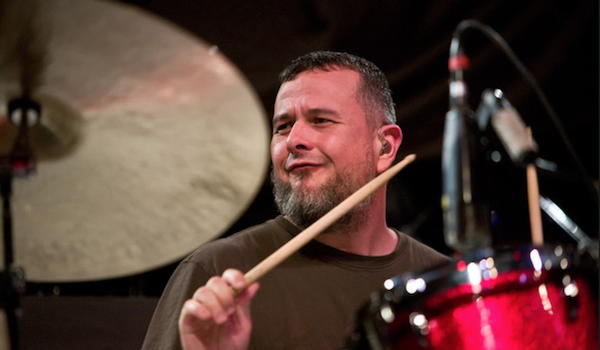 7 July 2019
Photo: Tim Bugbee
Shockingly, Psycho Las Vegas — which calls itself "America's rock 'n' roll bacchanal" — has never teamed up with Clutch, who refer to themselves as "the quintessential American rock band."
That'll change come August 17, when the Maryland veterans — frontman Neil Fallon, lead guitarist Tim Sult, bassist Dan Maines and drummer Jean-Paul Gaster — play the Mandalay Bay Resort and Casino alongside Carcass, Old Man Gloom, Black Angels, Oranssi Pazuzu and Mark Lanegan. [Stay tuned for our soon-to-be-published conversation with Lanegan.]
The Big Takeover caught up with Gaster, who is also one of Clutch's co-founders, via phone shortly after Megadeth dropped off Saturday's bill due to Dave Mustaine's throat cancer diagnosis and shortly before it was announced that Misfits would fill the headlining vacancy. Gaster took some time to gab as he prepared for the band's upcoming tour with Killswitch Engage, which starts Friday in Syracuse, New York, and ends August 4 in Worcester, Massachusetts.
What's the haps today, Jon-Paul?
GASTER: Been beating drums here at the Clutch warehouse. We got a couple of shipments that came in and went out — merch that came in for the tour coming up, and some vinyl and CDs. We've got a warehouse in Frederick and keep all the band gear here. We rehearse here as well and ship out records. We've done it for the past six years. My wife and I run the warehouse end of it; it's not so much work that we really need to hire somebody.
How familiar are you with Psycho Las Vegas? Have you attended before as a fan?
GASTER: I've never been. Certainly I've heard of it before. It's one of these rock festivals that are popping up across the country now. It's awesome to see the number of festivals happening in the U.S. now. The Europeans have been doing it for a long time. We just finished doing European festivals. It's killer for fans and the bands too, since it gives you the opportunity to play with a lot of bands.
Which European festival gig went the best?
GASTER: This last Hellfest was probably a high mark for us. The fest has grown to the point that it's one of the biggest in Europe now — it's super-eclectic but also a testament to how loyal heavy-metal fans are. In some ways metal fans are the most open-minded music fans.
For Psycho, do you plan to stay longer in Vegas than just Saturday, the day Clutch is scheduled to perform?
GASTER: It'll be a fly-in. We're probably getting in Friday and leaving the next morning.
What do you have planned for the set list?
GASTER: It's hard to say. We're going to take in what the festival is doing, what other bands are on the bill that day. We change the set list every night — been doing that for 20 years. It's a trade-off, so on the first night it'll be Dan, then myself, then Neil, then Tim. This way we have a wider variety of songs to pull from.
Without going through the next tour, we don't know what guy will pick out the set list [for Psycho]. It'll be awesome, I know that.
Have you always determined set lists that way?
GASTER: Yes, it's how we grew up with the band at the beginning. That way it's very much a democracy. The songwriting happens the same way — four guys in a room together collaborating. Onstage is where we feel most comfortable. We're getting better in the studio, but we're a live band. My favorite bands are ones who spent months on the road and honed their craft and tightened their sound.
Any chance you'll break out some songs from your new Weathermaker Vault Series?
GASTER: We did a series of recordings and we're experimenting by releasing them as singles through streaming. The first was a song called "Evil" written by Willie Dixon [for Howlin' Wolf]. Monster Magnet and others [including Captain Beefheart and Cactus] also did a version of the song. It was intimidating trying to play some of the parts — the drummer in Cactus, Carmine Appice, has been a big inspiration to me since I was young. I read one of his books as a kid. His performance on the Cactus version is stellar; mine doesn't come near the quality.
We like to mix new songs into the set. It keeps us engaged.
Do you prefer playing in the heat or in the cold? Indoors or outdoors?
GASTER: We've played outdoors, in hot venues, it's nothing new for us. It comes along with part of the gig. One time we were finishing an Australia tour in Perth … although I've never been to Mars, the climate was probably just as hot. We also did a gig on a ski slope a few months back, and the temperature never got above 19 degrees.
Tell me more about the ski mountain gig.
GASTER: We played a resort in West Virginia called Snowshoe. It's an outdoor place that's almost like a huge European-looking courtyard. We were there in March, and it shouldn't have been that cold, but a cold spell came through, and the stars aligned in a way that it was 19 degrees. That was a first. I found the experience to be exhilarating in a way. It woke your ass up.
What other bands are you most excited to see perform at Psycho?
GASTER: I've not seen the Misfits before, it'll be awesome to check them out. The Obsessed … I'm a huge fan of Wino. He's from our neck of the woods. I've [played] with him. The local music scene looks up to him; he's the godfather of the doom sound — Wretched, Iron Man, Internal Void, Asylum all came out of that. He was responsible for a lot.
Carcass … I remember driving to Philly in 1991 to see them and Morbid Angel play in Philadelphia. [Go here to read Black Mountain frontman Stephen McBean reminisce about the same tour.] Matt Pike is one of my favorite guitarists. I hope I get to see High on Fire.
What friends of yours are also playing at the festival? Who are you planning or hoping to hang with in your downtime?
Maybe we'll run into Wino, that'll be great. The Opeth guys are great. [Check back for our upcoming interview with Mikael Akerfeldt as well.] We did Sound of the Underground years ago and a couple of tours with them. They're one of the best-sounding live bands. They have such a presence about their sound and their tones dialed in.
Will you be hitting the tables when you're not performing?
GASTER: I'm not much of a gambler. I'm not very good at it, so I lose interest. On a show day, I tend to focus on the show that night. I'll watch bands before and after we go onstage, but from the minute I wake up in the morning, I focus on making it the best show it can be. I think about the drums, warm up and practice. Outside of that, we'll see what happens. I'm sure well have a blast.
Tell me something that happened to you in Vegas that was supposed to stay in Vegas.
GASTER: The very first time [we played Vegas was] in 1993 on a bill with Sepultura, Fudge Tunnel and Fear Factory. We filled the venue. There was a taco shop across the street … being from the East Coast, I'd never had proper tacos before. I associate the best tacos with Vegas.
What can fans and newcomers expect from your performance(s) at the festival?
GASTER: It's going to be rock and roll. Come check it out. It's a little different each time we play, and there's something for all music fans in what we do — a depth that can reach many people.
For previous installments of the Big Takeover's Psycho Las Vegas preview series, check out our interviews with:
• Colin H. Van Eeckhout, vocalist for Belgian post-metal purveyors Amenra
• Jason Shi and Scott Key, singer/guitarist and drummer, respectively, for melodic hard-rock masters ASG
• Stephen McBean, singer/guitarist of long-running psychedelic-rock project Black Mountain
• Greg Meleney, vocalist/guitarist for Portland psych-rock mainstays Danava
• George Clarke, vocalist for shoegaze/black-metal powerhouses Deafheaven
• Victor Vicart of Scottish progressive-metal quintet Dvne
• Zack Simmons, drummer of blackened death-metal demigods Goatwhore
• Emil Amos, drummer of experimental post-rock band Grails
• Julien Chanut, guitarist of French sludge-doom band Hangman's Chair
• Tony Campos, guitarist and founder of thrash revivalists Hell Fire
• Nashville cosmic-riff connoisseurs Howling Giant
• Gabriel Franco, vocalist/guitarist for gothy post-punks Idle Hands
• Joshy, drummer for crusty death/doom-metal outfit Ilsa
• Johanna Sadonis, vocalist for "heavy magic rock" band Lucifer
• Stuart Braithwaite, founding guitarist/vocalist for beloved post-rock legends Mogwai
• Thomas Eriksen, centrifugal force behind true Norwegian black-metallers Mork
• All-female Motörhead tribute band Motorbabe
• Tobias Grave, frontman of shimmering post-rock trio Soft Kill
• Derrick Vella, guitarist of death-metal arsonists Tomb Mold
• Niklas Källgren, guitarist of Swedish fuzz fanatics Truckfighters
• Los Angeles Satanic doo-wop duo Twin Temple
• Sean Killian, vocalist for cult-favorite Bay Area thrash band Vio-lence
• Bruce Lamont, frontman of experimental heavy-jazz project Yakuza and Led Zeppelin tribute band Led Zeppelin 2
• Aaron Rieseberg, bassist of Oregon doom-metal dealers Yob
Also, don't miss our special feature in which Deafheaven's Clarke and Mogwai's Braithwaite discuss their mutual affection for each other's bands, whether Deafheaven should play their Mogwai cover at Psycho Las Vegas — and the possibility of a collaboration between the two projects.