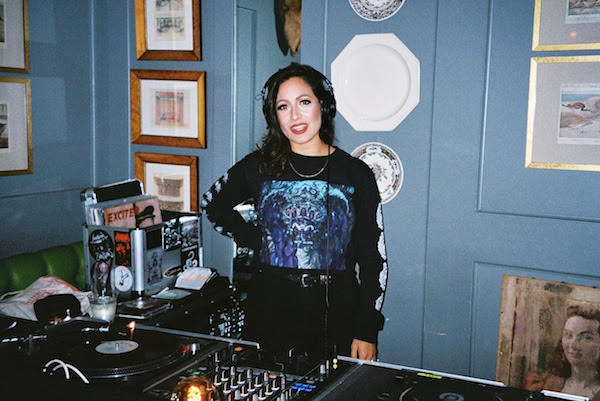 9 July 2019
Photo: Kim Galdámez
Every great party needs a great DJ — and Psycho Las Vegas, the "rock 'n' roll bacchanal" happening in five short weeks at the Mandalay Bay Resort and Casino, is no exception. With classic metal vinyl at her fingertips and Judas Priest in her heart, Kim Galdámez — a.k.a. DJ Painkiller — will keep concertgoers alert by spinning throughout the three-day festival (four if you count the daylong pre-party).
Galdámez frequently hosts residencies in her hometown of Los Angeles, including the popular Judas Priest Night on the third Wednesday of every month at Cha Cha in Silver Lake. She also operates her own booking label, Born for Burning; hosts shows; and guest-DJs between sets at concerts — as she will be doing in Vegas.
To boot, DJ Painkiller is pals with Psycho founder Evan Hagen, and they've started co-promoting and booking events. On the Wednesday before Psycho starts, they will put on Devil Master's first L.A. show — with fellow Psycho participants Oranssi Pazuzu — at Catch One. (Go here to read our just-published interview with Devil Master.)
Galdámez will loosen her chops for Psycho by spinning at that gig. But, while she is friends with Devil Master, the metalhead is particularly excited for the main event that will happen some 264 miles away, she told the Big Takeover via cell phone on a recent Saturday morning.
What are you up to today, Kim?
DJ PAINKILLER: I'm in the car and about to drive 30 minutes to the Glass House Record Store [in Pomona]. They're getting rid of 100 heavy-metal LPs, stuff I don't have in my collection.
Wow, so you are troo.
DJ PAINKILLER: I dunno, I may have half-troo and half-crazy.
What's the nature of your involvement with Psycho?
DJ PAINKILLER: As a fan, I've gone two times before. A mutual friend [of her and Evan] sent us a photo of me at the very first one [in Santa Ana, California, in 2013]. Evan said, "Wow, you've been following us since the beginning."
How did you meet Evan?
DJ PAINKILLER: We formally met maybe about a year ago, and he asked me to collaborate and help promote shows. I've been DJ'ing a lot of the local shows he does here. This year, he approached me and was like, "How would you like to DJ the fest?" I was really excited — I was planning to go either way, because the lineup is so good. I was honored that he asked me.
When will you be spinning?
DJ PAINKILLER: I think it'll be in between bands [at various intervals] and a little before the first band plays, which is what I usually do.
What do you plan to spin? Obscurities, classics — something else?
DJ PAINKILLER: People want to hear hits, the classics: "Ace of Spades," anything by KISS. I'm mostly going to do classic stuff and switch it up between bands.
Are you concerned about the Vegas heat?
DJ PAINKILLER: Yeah, I'm really hoping there's a shaded area where my records won't melt! There's a lot of stuff that are prized possessions that I'm wary of taking to Vegas with me. If some of my original pressings got lost, I'd get upset. So I'm traveling with a few compilations on vinyl, then I might do a compilation of vinyl and some CDs as well, which actually makes it more fun. I'm still getting used to CDJs.
What are your expectations for Psycho?
DJ PAINKILLER: I'm looking forward to it very much. My birthday is on Saturday [August 17]. My best friend's birthday is on that Thursday, so we're having two birthday parties. I'm having friends fly in. I have a friend visiting from Belgium, and we're going to try to shoot guns at a range or something. It doesn't feel right doing it here at home, but if I'm in Vegas, it'll be fun.
What bands are you most excited to see perform at Psycho?
DJ PAINKILLER: Triumph of Death, 'cause I've never seen Hellhammer. That's a big one for me and a lot of my friends. And Misfits.
As a fan of old-school metal, were you bummed about Megadeth's cancellation?
DJ PAINKILLER: I was bummed a bit, only because my mom loves Megadeth and that was the only way to convince her to come to Vegas. She's not going to come anymore. But the Misfits are going to be way cooler.
What friends of yours are also playing at the festival? Who are you planning or hoping to hang with in your downtime?
DJ PAINKILLER: Power Trip, I'm really excited to see. Deafheaven for sure. Lucifer, they're coming from Europe, it'll be good to see them.
Have you been to many Judas Priest concerts?
DJ PAINKILLER: They played here downtown on Thursday, and everyone got free tickets, and we were all in the pit. We didn't meet the band. I wish. Maybe someday.
What can fans and newcomers expect from your performance(s) at the festival?
DJ PAINKILLER: I'm not doing any production work on this one, which is nice. Come in and have fun!
For previous installments of the Big Takeover's Psycho Las Vegas preview series, check out our interviews with:
• Colin H. Van Eeckhout, vocalist for Belgian post-metal purveyors Amenra
• Jason Shi and Scott Key, singer/guitarist and drummer, respectively, for melodic hard-rock masters ASG
• Stephen McBean, singer/guitarist of long-running psychedelic-rock project Black Mountain
• Jean-Paul Gaster, drummer for "the quintessential American rock band," Clutch
• Greg Meleney, vocalist/guitarist for Portland psych-rock mainstays Danava
• George Clarke, vocalist for shoegaze/black-metal powerhouses Deafheaven
• Darkest Prince, lead guitarist for black-metal punks Devil Master
• Victor Vicart of Scottish progressive-metal quintet Dvne
• Zack Simmons, drummer of blackened death-metal demigods Goatwhore
• Emil Amos, drummer of experimental post-rock band Grails
• Julien Chanut, guitarist of French sludge-doom band Hangman's Chair
• Tony Campos, guitarist and founder of thrash revivalists Hell Fire
• Nashville cosmic-riff connoisseurs Howling Giant
• Gabriel Franco, vocalist/guitarist for gothy post-punks Idle Hands
• Joshy, drummer for crusty death/doom-metal outfit Ilsa
• Johanna Sadonis, vocalist for "heavy magic rock" band Lucifer
• Stuart Braithwaite, founding guitarist/vocalist for beloved post-rock legends Mogwai
• Thomas Eriksen, centrifugal force behind true Norwegian black-metallers Mork
• All-female Motörhead tribute band Motorbabe
• Tobias Grave, frontman of shimmering post-rock trio Soft Kill
• Derrick Vella, guitarist of death-metal arsonists Tomb Mold
• Niklas Källgren, guitarist of Swedish fuzz fanatics Truckfighters
• Los Angeles Satanic doo-wop duo Twin Temple
• Sean Killian, vocalist for cult-favorite Bay Area thrash band Vio-lence
• Bruce Lamont, frontman of experimental heavy-jazz project Yakuza and Led Zeppelin tribute band Led Zeppelin 2
• Aaron Rieseberg, bassist of Oregon doom-metal dealers Yob
Also, don't miss our special feature in which Deafheaven's Clarke and Mogwai's Braithwaite discuss their mutual affection for each other's bands, whether Deafheaven should play their Mogwai cover at Psycho Las Vegas — and the possibility of a collaboration between the two projects.