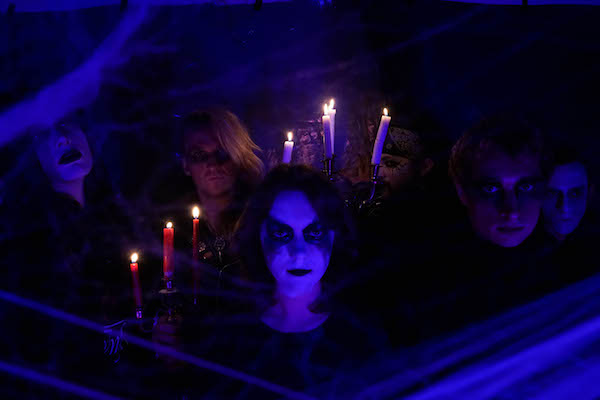 8 July 2019
Photo: Shang Whaley
Psycho Las Vegas' 2019 lineup is undoubtedly its most diverse yet, encompassing indie-rock icons, post-rock phenoms, punk-rock legends and even some electronic artists. But make no mistake about it: The festival is not abandoning its hallmark genre of heavy metal.
Counterbalancing the dream-pop sounds of Beach House and dance-punk of the Faint will be consummately black-metal acts like Rotting Christ, Mork and 1349. In the running for most evil band of all — alongside avowed Satanists Twin Temple — are newcomers Devil Master, who refers to themselves not-so-succinctly as "raw, twisted black-metal punk mayhem."
Conceived in Philadelphia three years ago, the band consists of vocalist Disembody, guitarists Darkest Prince and Hades Apparition, bassist Spirit Mirror, drummer Del and keyboardist Dodder. Their lovingly titled 2019 album, Satan Spits on Children of Light (Relapse), is no joke, having already earned kudos as one of the year's best metal debuts. As Tribulation and Horrendous seemingly came out of nowhere, so is Devil Master, shocking listeners with an album so strong from top to bottom that Side B gives Side A a run for its money.
Last week, the band announced its first-ever tour of Mexico, to follow Psycho. After that, Devil Master will hit the road with Abbath and Midnight for even more shows, taking them well into October.
Other Psycho participants are already taking note of the newcomers, with Tomb Mold, Soft Kill, Motorbabe and Ilsa all telling the Big Takeover in recent interviews that Devil Master is one of the bands they're most excited to see at the festival.
Lead guitarist Darkest Prince recently touched base with us via email to shed light — or darkness — on the band's August 16 performance at the Mandalay Bay Resort and Casino and to permit us bow down to our new Master.
Why are you particularly excited to play Psycho? From your point of view, what makes the festival special — both from a performance perspective and as a personal experience?
DARKEST PRINCE: Vegas is the most literal City of Sin there is — where could be a more appropriate place for a Dionysian orgy of such grand proportions? Here, the Devil could not be more at home (much to some basement dwellers' dismay!). It's an honor to be invited to sing hymns to Him and so many other musicians in His Service.
If you've played the festival before, what memories do you have of it? If you haven't played it before, what are your expectations?
DARKEST PRINCE: Integrity, whom I play live bass for, graced the poolside stage alongside my good friends in Acid Witch [in 2018]. If that wasn't surreal enough, seeing Danzig for my 10th time in the biggest place yet was the highlight. Countless other amazing bands and partying until dawn in the [Hard Rock] casino surrounded by legends and laymen alike was inspiring to say the least.
Do you have any surprises planned for your Psycho set, whether they be songs you wouldn't normally play, added stage elements, etc.?
DARKEST PRINCE: Being more on the punk side, we are used to playing shorter sets, so for Psycho we have prepared to whip out a more intense Black Mass for all of those under the influence.
Do you prefer playing in the heat or in the cold? Indoors or outdoors? What are the advantages and disadvantages of playing at the time and on the stage where you're scheduled to perform?
DARKEST PRINCE: Being that we are all cloaked and leather-clad vampyres, the cold side is more preferred. But we are used to playing DIY spots with no ventilation, so it can't get much worse than that. Indoors and outdoors is irrelevant. We regularly also play under a bridge in our hometown.
Tell me something that happened to you in Vegas that was supposed to stay in Vegas.
DARKEST PRINCE: Don't break the oath!
What other bands are you most excited to see perform at Psycho?
DARKEST PRINCE: Always excited to see our labelmates and good friends in Full of Hell, Ilsa, Primitive Man and Nothing. Having just returned from some shows with Soft Kill, we are all eager for more already. Our friends in Power Trip, Tomb Mold and Candy. Legends like Electric Wizard, High on Fire, Carcass and, last but not least, Triumph of fucking Death! Hellhammer!!!
What friends of yours are also playing at the festival? Who are you planning or hoping to hang with in your downtime?
DARKEST PRINCE: Full of Hell know how to party. I am especially excited to spend a little more intimate time with Ilsa.
What can fans and newcomers expect from your performance(s) at the festival?
DARKEST PRINCE: The perfect hellish carnival soundtrack to accompany them as they carry on carelessly damning their immortal soul … that will sound all too familiar on their final descent in the ecstatic spiral to Hell …
For previous installments of the Big Takeover's Psycho Las Vegas preview series, check out our interviews with:
• Colin H. Van Eeckhout, vocalist for Belgian post-metal purveyors Amenra
• Jason Shi and Scott Key, singer/guitarist and drummer, respectively, for melodic hard-rock masters ASG
• Stephen McBean, singer/guitarist of long-running psychedelic-rock project Black Mountain
• Jean-Paul Gaster, drummer for "the quintessential American rock band," Clutch
• Greg Meleney, vocalist/guitarist for Portland psych-rock mainstays Danava
• George Clarke, vocalist for shoegaze/black-metal powerhouses Deafheaven
• Victor Vicart of Scottish progressive-metal quintet Dvne
• Zack Simmons, drummer of blackened death-metal demigods Goatwhore
• Emil Amos, drummer of experimental post-rock band Grails
• Julien Chanut, guitarist of French sludge-doom band Hangman's Chair
• Tony Campos, guitarist and founder of thrash revivalists Hell Fire
• Nashville cosmic-riff connoisseurs Howling Giant
• Gabriel Franco, vocalist/guitarist for gothy post-punks Idle Hands
• Joshy, drummer for crusty death/doom-metal outfit Ilsa
• Johanna Sadonis, vocalist for "heavy magic rock" band Lucifer
• Stuart Braithwaite, founding guitarist/vocalist for beloved post-rock legends Mogwai
• Thomas Eriksen, centrifugal force behind true Norwegian black-metallers Mork
• All-female Motörhead tribute band Motorbabe
• Tobias Grave, frontman of shimmering post-rock trio Soft Kill
• Derrick Vella, guitarist of death-metal arsonists Tomb Mold
• Niklas Källgren, guitarist of Swedish fuzz fanatics Truckfighters
• Los Angeles Satanic doo-wop duo Twin Temple
• Sean Killian, vocalist for cult-favorite Bay Area thrash band Vio-lence
• Bruce Lamont, frontman of experimental heavy-jazz project Yakuza and Led Zeppelin tribute band Led Zeppelin 2
• Aaron Rieseberg, bassist of Oregon doom-metal dealers Yob
Also, don't miss our special feature in which Deafheaven's Clarke and Mogwai's Braithwaite discuss their mutual affection for each other's bands, whether Deafheaven should play their Mogwai cover at Psycho Las Vegas — and the possibility of a collaboration between the two projects.