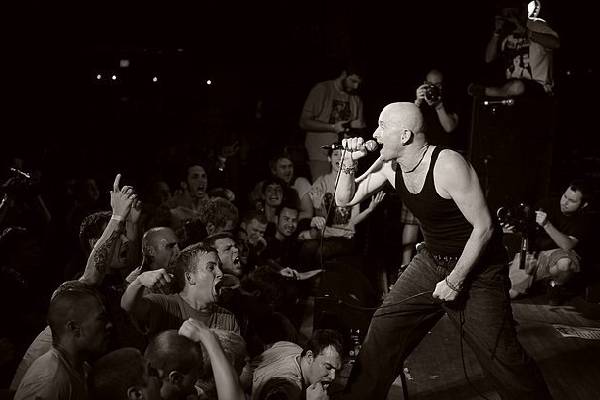 3 March 2022
Playing Favorites is an interview series where creative people pick a topic and tell us their five favorite things about it. Opinions expressed in this series are those of the interviewees and do not reflect the opinions of S.W. Lauden or The Big Takeover.
Drew Stone is an American film director, producer, film editor, author and musician. Stone has been the frontman for The High & The Mighty, Antidote NYHC, The Mighty C.O.'s and guitarist/singer for The Drew Stone Hit Squad. Stone's film work includes music videos, commercials, documentary films and television. He directed the documentary films Who The Fuck Is That Guy?, The Fabulous Journey Of Michael Alago, The New York Hardcore Chronicles Film and The Jews and The Blues. He is currently the host of the live video streaming show The New York Hardcore Chronicles LIVE! I asked him to share his five favorite documentary films.

DREW

STONE

'S

TOP

5

FAVORITE

DOCUMENTARIES
5. American Hardcore
(2006)
This film inspired me not particularly because of what was on screen, but, in this case, what was not. Director
Paul Rachman
and producer
Steve Blush
deserve a medal
AND
a monument for getting this film done, but after seeing it I felt that the early Boston hardcore scene and the New York hardcore scene deserved a bit more focus and attention. This film inspired me and set into motion my directing
xxx

ALL

AGES

xxx: The Boston Hardcore Film
and
The New York Hardcore Chronicles Film
.
4. We Are Twisted Fucking Sister!
(2014)
I love this film about the incredible struggle, commitment and perseverance of the band Twisted Sister. I never really appreciated the band until I saw this film that laid out their story. Guitarist
J.J. French
really shines in this great rock and roll story that proves that once in a while hard work and dedication pay off.
3. Hearts of Darkness: A Filmmaker's Apocalypse
(1991)
Directed and narrated by
Francis Ford Coppola
's wife
Eleanor Coppola
, this film chronicles how production problems—among them bad weather, actors' poor health, and other issues—delayed the filming of
Apocalypse Now
, increasing costs and nearly destroying its director. Riding high on the success of
The Godfather
films, Francis Ford Coppola went all in on this incredibly ambitious project and it almost cost him his career and his life.
2. My Best Fiend
(1999)
Next to my father, who was a filmmaker, my biggest influence and inspiration is the German director
Werner Herzog
. He's a fearless artist that takes no prisoners. This film is about his tumultuous yet productive relationship with the actor
Klaus Kinski
who was pretty much a fucking lunatic. They made some incredible films together including
Aquirre: the Wrath of God
,
Nosferatu the Vampyre
and one of my all-time favorite films,
Fitzcarraldo
.
1. Man On A Wire
(2008)
This film absolutely inspired me beyond belief as a documentary filmmaker. This emotional film chronicles
Philippe Petit
's 1974 high wire walk between the twin towers of New York City's World Trade Center. It is about not being able to live with yourself unless you pursue your dreams and it inspired me to do just that. As a born-and-raised New Yorker, this film resonated deeply with me. Many ideas came to me watching this film which played themselves out in the films I directed
Who The Fuck Is That Guy?
,
The Fabulous Journey Of Michael Alago
and
The New York Hardcore Chronicles Film
.
Previously on Playing Favorites:
Alison Braun's Top 5 Favorite Bands To Photograph
Curt Weiss' Top 5 Favorite New York Dolls Songs
Carolina Hidalgo's Top 5 Favorite Funny Punk Musicians