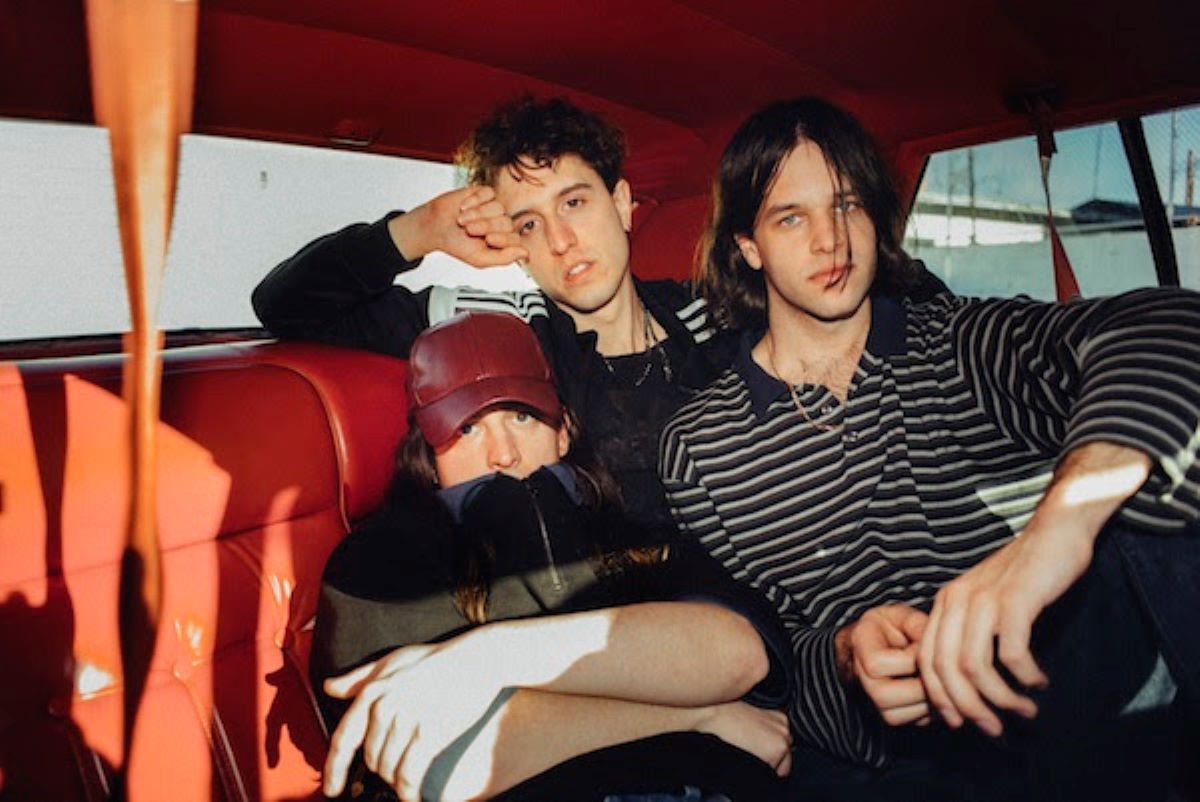 20 January 2020
Photo by Kohei Kawashima
"We're in the van and it's a little crazy in here right now," says Beach Fossils frontman Dustin Payseur, amused, as he shifts to a quieter seat, away from his bandmates' cheerful chatter. He's calling just as they're setting off across South Carolina to make their next show, in Charleston. Most bands undertake lengthy tours because they're promoting a new album – but Beach Fossils put out their last release, Somersault, in 2017. No doubt fans would welcome another batch of their signature songs – they are, after all, widely credited for helping to create the lo-fi dream pop genre, starting with their 2010 self-titled debut album and its equally acclaimed 2013 follow up, Clash the Truth (plus a 2011 EP, "What a Pleasure," featuring contributions from their current tour mate, Wild Nothing leader Jack Tatum). But while Payseur promises that there will indeed be another Beach Fossils album, this particular string of shows across the U.S. is happening simply because the band loves to tour. It's this pure, unabashed love for music, and connecting with fans through it, that have made this band increasingly popular since they first formed in Brooklyn, New York, in 2009.
Why do a tour now? It's unusual to do that when you don't have a new album out recently.
DUSTIN PAYSEUR: The way that we are with writing music and with touring is, we never really stop either of them. I feel like if I take a break from either one, I just start to feel crazy. I just like to keep it going. It keeps me sane.
You helped create the lo-fi dream pop genre. Did you have that particular new sound in mind when you first formed the band?
DUSTIN PAYSEUR: I guess, no. I had things that made me inspired to do this particular project. But you have to do your own thing with it, because I feel like the worst thing is when you see a band that just copied a sound perfectly, replicated the sound. What's the point? Why are you even a band if you're just going to do the same exact thing that's already been done? You've got to put your own twist on it. You've got to make it your own sound. It takes a long time for you to figure out what your own sound is, and you have to experiment with other people's sounds to get there.
When you started Beach Fossils, you wrote all the material by yourself, but over the years you've started writing with your bandmates and others, as well. Why did you make that change?
DUSTIN PAYSEUR: I always made music by myself [at first] just because I didn't know other people that played music. So I had a 4-track when I was a kid and I learned how to play bass, drums, and guitar as well as singing so I could play all the instruments on my songs, because I didn't have a band. So from a young age it was just a natural thing for me to write songs by myself, and I've always done it that way. But it was never on purpose, or a plan, like "It has to be just me." I was always open to the idea of working with people. But with Jack Doyle Smith [bassist] and Tommy Davidson [guitarist], when they joined the band, in soundcheck we would be jamming and coming up with stuff that sounded cool. And I was like, "We should record it." And before you know it, we had written a lot of stuff together. It just naturally happened that way. We have this understanding where we can all communicate ideas really clearly and critique each other's input and not get offended. You're not writing for your ego, you're writing for the sake of a good song. So you have to be open to the fact that most of the ideas that you're throwing out aren't going to work, and hearing that from other people and accepting that.
You're known for writing personal, introspective lyrics. How did you decide you would write them that way?
DUSTIN PAYSEUR: I don't think I really know any other way. I was always writing stuff by myself at home, so it was just always really personal in that way. I spend so much time inside my head. I mean, I guess everybody does, right? You can't spend time in anyone else's head. [Laughs.] I feel like that's the most natural place to find inspiration and find ideas. We don't have to keep searching around externally. If you look inside yourself, you have enough to work with because there's this super weird crazy experience going on called life, and there's a lot to pull from right there.
Do you ever regret expressing such personal thoughts so publicly?
DUSTIN PAYSEUR: No, I like it. I feel like it's nice because there's some lines that are really vulnerable. Those are the ones that resonate with people. People come up to me after shows and are like, "This song or this line means a lot to me for this reason." That moment is what makes it so special, because usually when I write the songs, I am usually isolated, I am by myself at 4 AM and no one's around. And you can let these things out that are really vulnerable. You don't really think about people listening to it and it resonating with them. Before you know it, someone talks about how much that song means to them because they're feeling the same way. And that's so special. I really like sharing things. I feel that's the kind of person that usually writes songs, or does any kind of art: you have this overwhelming feeling or emotion, and you're overflowing with it so you want to get that out and share it with other people.
Beach Fossils has been around for more than a decade now – that's a lot longer than most bands make it. What's the key to your longevity?
DUSTIN PAYSEUR: Some people do music just because they want to look cool or they want to get famous or get a lot of money, and if they don't get those things, they're disappointed and they break up the band. If you're doing it for that reason, then it's not going to last. But if you're writing songs because you have to write songs, then you're going to be doing it anyway. I was writing songs long before people ever heard them, and I'll be writing songs until I am not physically able to do songs anymore. If people were listening or not, I would still be making these albums, even if I was just doing it for myself at home.
You moved to New York from North Carolina to make music – but why did you specifically choose to go there?
DUSTIN PAYSEUR: Growing up, the only place that really appealed to me was New York because I romanticized it in this way where I was reading Please Kill Me and stuff that inspired me the most was coming out of New York. There were all these different scenes that had happened in New York over the years, from the '40s through the '80s, where there was all this cool shit going on that was just really culturally important – like the birth of punk and the birth of hip-hop. All these art movements that were so experimental and amazing and powerful, and I was like, "That's the place where I need live and make music." I don't see myself leaving. New York's the only place that I really love. When I go other places, I can like them but then I come back to New York and I'm like "Oh, finally." Coming back home from tour is my favorite feeling of getting back into the city. I love that this is where I live. It's the best fucking place. It just never turns off: its energy is at 100% constantly, and that's what I need.
Where did the band name "Beach Fossils" come from?
DUSTIN PAYSEUR: Oh, it's so stupid! [Laughs.] It's probably my biggest regret. I was making demos and I had recorded three songs for what is now Beach Fossils but it didn't have a name. I wasn't going to send a demo because I'd already sent out so many demos on this project and been rejected that I was like, "There's no point, no one's going to fucking care." But a friend pressured me to send the demos out. And I said, "Well, I don't have a name for this." And they said, "Call it anything, just send it." I had a notebook with words I used for lyrics and the words "beach fossils" were in there, and I said, "That's going to be the name for these demos." And I sent it out, and then I started playing shows – and then I was stuck with the name at that point. [Laughs.]
After this tour, what's next for the band?
DUSTIN PAYSEUR: Another album. We're working on it right now. We're always working on music. It's hard to say when it will be out. When I'm so deep in it, I can't see forward or backwards, I'm just right in the middle of it. So I wish I knew when it would be done, but I don't. But I'm trying to wrap it up as soon as I can.
Upcoming tour dates:
January 21 – Charleston Pour House – Charleston, SC
January 22 – Service Brewing – Savannah, GA
January 23 – High Dive – Gainesville, FL
January 24 – The Abbey – Orlando, FL
January 25 – Gramps – Miami, FL
January 27 – The Moon – Tallahassee, FL
January 28 – 40 Watt Club – Athens, GA
January 29 – Food Court (Mammal Gallery) – Atlanta, GA
January 30 – The Basement East – East Nashville, TN
January 31 – Cat's Cradle – Carrboro, NC
February 1 – The Broadberry – Richmond, VA
May 13 – Brooklyn Steel – Brooklyn, NY
May 14 – Thalia Hall – Chicago, IL
May 18 – Gas Monkey Live – Dallas, TX
May 19 – Mohawk – Austin, TX
May 20 & 21 – Great American Music Hall – San Francisco, CA
May 22 – The Wiltern – Los Angeles, CA