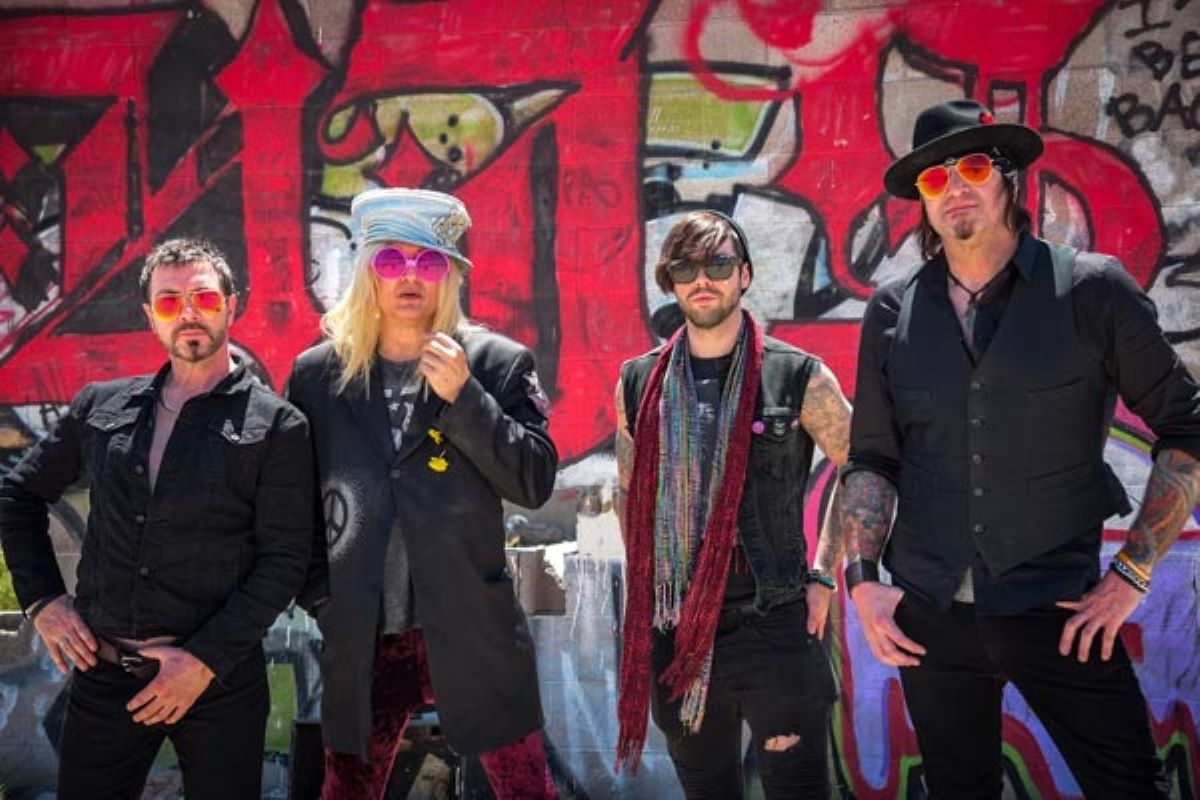 12 November 2021
When Enuff Z'Nuff released their self-titled debut album in 1989, they stood out from the other metal bands that were dominating the charts. Mixing glam rock with psychedelic-flavored power pop, they quickly got in heavy rotation on MTV and on radio with their singles "New Thing" and "Fly High Michelle." But timing was not on their side: by their next albums, 1991's Strength and 1993's Animals with Human Intelligence, grunge was effectively wiping all other styles off the musical map. Yet Enuff Z'Nuff persevered, and have released more than a dozen studio albums to date. Original singer Donnie Vie departed the band in 2013, but bassist Chip Z'Nuff has handled singing duties ever since, and has remained Enuff Z'Nuff's sole constant member. On November 12, the band will release Enuff Z'Nuff's Hardrock Nite via Frontiers Music SRL. This album stands out from all the others they've done because it's a covers album – and, uniquely, it features songs by The Beatles and their related projects (such as Wings and John Lennon's solo work). Calling from his Chicago home, Chip Z'Nuff explains how this album came about – and why his band has survived for nearly forty years.
How did you decide to do a covers album – and why cover The Beatles, specifically?
CHIP Z'NUFF: Simply put, I like to try different things when it comes to music. And I like to show the fans that we're not a one-trick pony. There's a lot of things we can do. And all bands are influenced by some kind of music, something that's really caught their attention, and I just thought, "Why not put a record out to show our biggest influences that we've carried through our whole career?" And what's better than The Beatles? If it wasn't for The Beatles, there wouldn't be tens of thousands of bands that are out there right now that have been influenced by them. The only pressure [was], "How are we going to do this record and still be respectful to The Beatles' legacy yet have our own sound?" Maybe this is the wave of the future, where you see band's going out there and doing a record of their favorite bands. No one's done a Beatles [covers] record. This is the first for anybody. We were breaking ground for ourselves. It was more about doing something that trips our trigger, so I think we captured that.
Your distinctive Enuff Z'Nuff sound comes through even when you're playing other artists' songs. How did you come up with your own unique style in the first place?
CHIP
Z'NUFF: When I put the band together back in 1984 with my bro [Donnie Vie], the task at hand was, "Let's come up with the best songs that we can – stuff that really moves us more than anything. It's going to be a pop band because we're melodic, obviously. But let's make it a little heavier, more aggressive." Because at that time, it was a lot of metal out there, a lot of hard rock bands, and we wanted to fit in at least a little bit. But we thought maybe it's in our best interest to just do what we do, and what we enjoy doing. We've evolved and changed through the years, obviously.
What made you know that you should be a musician in the first place?
CHIP Z'NUFF: You don't know when you're a kid. I was an athlete. I tried out for the Milwaukee Brewers, Cincinnati Reds, Chicago White Sox, Kansas City Royals. I was a pitcher. I did very well, but I just didn't have what it took as a kid. But I realized playing baseball would be a catalyst for me if I put a band together because I liked the template that comes along with it. There's some discipline there. We're all together playing. The common denominator is, "Let's play well and win." And I used to watch Midnight Special – I used to ask my mom and dad if I could stay up late at night and watch those concerts. I'd see Alice Cooper, Ted Nugent, all these different bands that were on the show. I thought, "This is fascinating. These guys are playing music that I love. I can do that, too!" I would listen to a lot of Stevie Wonder and Sly and the Family Stone. That was the catalyst, listening to all those records and realizing, "here's something here that says more to me than throwing a curveball or a slider."
Why did you choose to play the bass guitar?
CHIP
Z'NUFF: I think the bass was because of watching
Paul McCartney
. Listening to those Beatles records. He was a fascinating bass player. There's a lot of bass players I love.
Geddy Lee
of
Rush
and
John Deacon
of
Queen
. I just thought bass was the foundation of all the music that we listen to, Whether you listen to R&B or hip-hop or heavy metal or rock, bass is always in the forefront. I just love the instrument.
What do you think it is that's enabled you to go on and have such a long career with this band?
CHIP Z'NUFF: My career has certainly been peaks and valleys – more valleys than peaks, but it certainly wasn't because of the work ethic. I have to thank the good Lord from above to give us the opportunities to make these records and go out there and play. And then of course let's not forget about the great fans out there who love hard rock and heavy metal. They've been terrific. Our fans have been pretty loyal to us. I acknowledge a lot of guys, David Letterman and Howard Stern, radio guys around the country, who liked the band and gave us a chance and let us play our music on their programs and gave us an audience. There's a lot of people to thank. But it all starts from up above.
Want to say a bit about anything else you have in the works?
CHIP Z'NUFF: November 12th is when the Enuff Z'Nuff's Hardrock Nite record comes out, and then following on the heels of that, there will be a new solo record by me. It's called Perfectly Imperfect. I've got Joel Hoekstra from Whitesnake on it. And Steven Adler from Guns N Roses on one song. I'm really excited about that record. And then a new Enuff Z'Nuff album will follow that sometime in 2022.