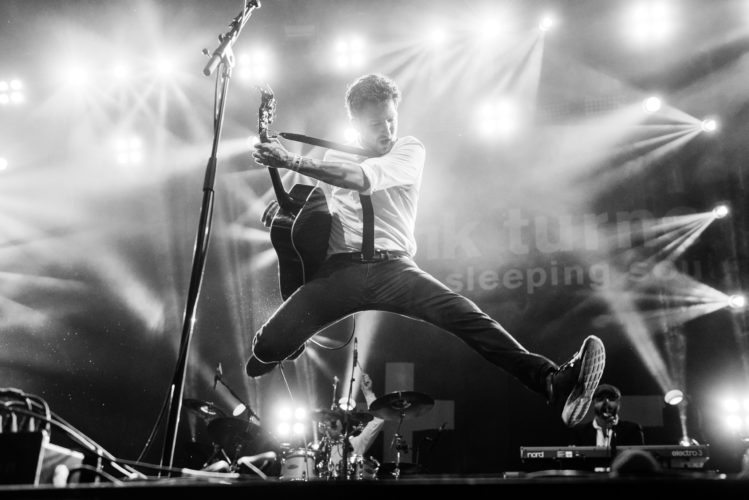 11 November 2021
Playing Favorites is an interview series where creative people pick a topic and tell us their five favorite things about it. Opinions expressed in this series are those of the interviewees and do not reflect the opinions of S.W. Lauden or The Big Takeover.
Frank Turner is a modern folk-punk troubadour. Whether he's playing a solo acoustic show, or raising the roof with his backing band The Sleeping Souls, the English singer/songwriter has built an impressive fanbase by performing on stages around the world—a dedication to touring that's chronicled in his excellent 2017 autobiography, The Road Beneath My Feet (Harry N. Abrams). His ninth studio album, FTHC, will be released on Feb. 11, 2022. He and The Sleeping Souls are hitting the road in January for the aptly-named "Never Ending Tour of Everywhere."
Playing Favorites: Frank Turner's Top 5 Favorite Venues
5. Nottingham Rock City—UK
Rock City is probably the perfect venue. Taking in all 3 rooms, there's a space for every kind of band to play. It's still independently run, it feels like the platonic ideal of a rock 'n roll space. I have the venue name tattooed on my arm and played my 2000th show there back in 2016. I have a piece of the old dance floor framed on my wall at home. Being welcomed there as one of the family is a huge deal for me, I'm very proud of that, and I suspect I'll be going back again and again until my touring days are done.
4. Mr. Smalls—Millvale, PA, USA
I've played Mr. Smalls so many times. It's an old converted church. It's almost become a joke with my crew, if there's no Mr. Smalls show on the routing then it's not a proper US tour. The space is fantastic, the crowds and the venue staff are super welcoming. It's always a pleasure to stop by.
3. The Horseshoe Tavern—Toronto, ON, Canada
I'd heard of the Horseshoe long before I'd ever been to Toronto. It's a legendary venue. And the shows I've been lucky enough to play there over the years have been legendary, to me, as well. Greg from The Weakerthans works the bar and the owner JC is an old friend; dropping in there when I'm on the road always feels like visiting old friends.
2. Club Molotow—Hamburg, Germany
I played here (well, the old spot) on my first German tour, back in 2009, and have returned many times since. Germany is such a great country to tour. Their infrastructure, particularly at the underground level, is really something to admire. Molotow are old friends from the road. Plus it's the home of a drink called Mexicana, which will really make your day (and ruin the one after).
1. The Joiners Arms—Southampton, UK
I went to my first show here, in roughly 1998. My old band Million Dead played their last show there, and I've done countless shows and fundraisers for them over the years. They're the quintessential small, local, independent venue, fostering local and national talent, providing the scene a space to exist in. Plus the guys who run it are old friends. When I close my eyes and think of gigs, I think of the Joiners.
Previously on Playing Favorites:
Jenn Alva's Top 5 Favorite Punk Singers
Joey Cape's Top 5 Favorite Tour Restaurants
Jason Cutthroat's Top 5 Favorite Zombie Movies