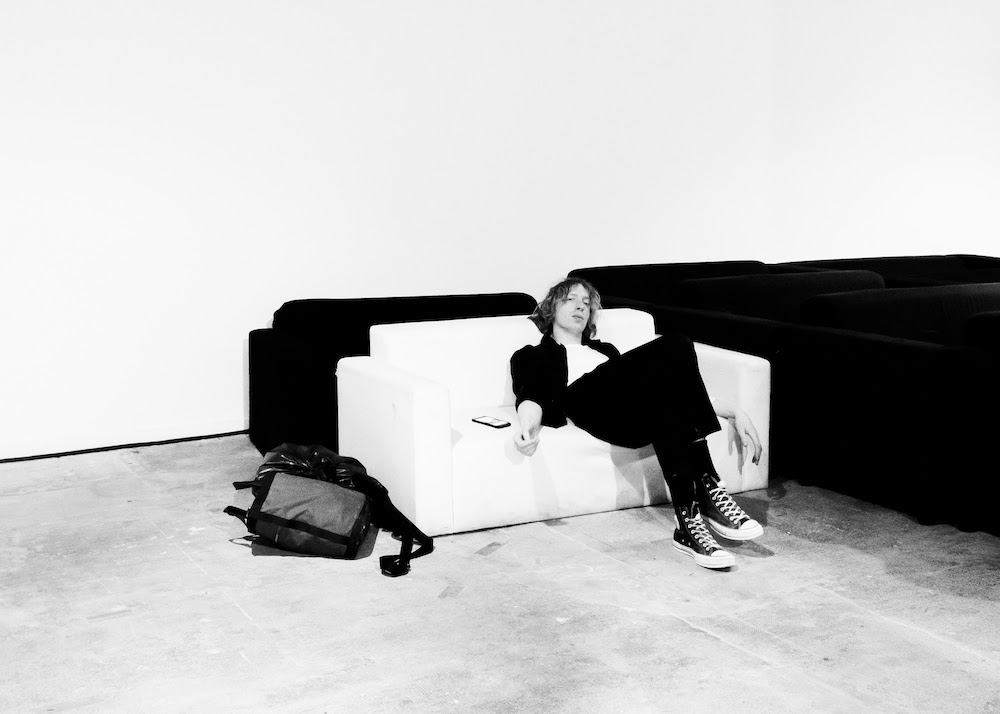 3 July 2021
Photo by Keffer
Acclaimed electronic artist and DJ Daniel Avery has earned a reputation for making music that is at once edgy yet emotive, defying the genre's usual aloof stance. His 2013 full-length debut album, Drone Logic, immediately generated a buzz, and he's kept up that momentum ever since, steadily expanding his international fanbase with each successive release. On June 24, he released his fourth album, Together in Static (via Mute/Phantasy), proving that even a pandemic couldn't hinder his instinct to create music that exudes a certain warmth and intimacy. Calling from his London home, Avery discusses Together in Static's unique origin story, what motivates him, and how he strives to make art that takes on a life of its own.
What sparked you to write this new album?
DANIEL AVERY: Toward the end of last year, we got offered the idea of doing a show in Hackney Church. It's just been restored and it's really gorgeous in there. I thought about what I could do, but my frame of mind at that moment was, I didn't want it to feel like a seated rave in a church or anything like that. For whatever reason, the idea didn't click with me. So I thought, if I can do something that's made specifically for the surroundings, then I'd be quite interested in trying that. So I started gathering music and writing some new stuff. It started to form, this idea of making something specific for the show that was more ambient-leaning and toward the quieter side of what I do. The name Together in Static just kind of came out of the sky, which felt like what the music did, as well. And before I knew it, it felt like I definitely had an album's worth of material, and an album that was really proud of and that I wanted to share as a complete piece. So it just made sense to put it out as an album. I really like to pour my entire self into every release. It's exciting. It feels like the most important thing that I do. I love every aspect of what I do, but this is the lifeblood for me. This is what keeps me going back to it again and again, this idea of creating a record that's going to last beyond me. Creating something that can be shared around the world and that's got a life of its own even when I'm gone. That really fascinates me. I love it every time. This album, I wanted it to feel like a self-contained moment within this whole lockdown, and for me, that's how the album does feel. It feels like this beautiful little cocoon that I was able to trap myself inside of. To me, that is a pretty good summary of the record, and I think that comes across.
How did you stay motivated through the pandemic to continue creating?
DANIEL AVERY: I felt more motivated during this time than I think I ever have done, which was, in some ways, unexpected. I keep returning to this idea of wanting to create things, records, art, that has a long life span. I came to realize pretty quickly that as much as I love touring, all of your energy can be sucked up by that life. So the second I removed that from what I did, the energy just flowed being able to have the time and the space and just the overall energy to [write]. It was an unexpected thing that happened, but I feel so grateful for this space, as strange as that may sound, during this horrific time. I can safely say that I didn't realize how much I needed a break from the road. It's made me rethink everything about how I'm going to move forward and what actually makes me happy in this life. That's of course not to say I'm going to step away from it entirely. I'm just going to treat it differently. I'm going to treat the whole thing with more respect, and myself with more respect, ultimately. It's been an important lesson for me.
The electronic music field seems particularly competitive – what do you think it is about your work that's enabled you to stand out?
DANIEL AVERY: I got told early on by several people close to me that the only thing you can do is make something that is a true. A true and an honest statement can never be beaten. You're right, this is a competitive field, and it's way more competitive than it's ever been, but the more I stick about, the older I got, the less concerned I am by all of that stuff. I just hope to make music that feels like a true version of who I am and where I am at that moment in time. And beyond that, it doesn't really matter. I feel grateful to have been told that early on. It's something that I still stand by, and I'll probably have it on my gravestone.
Did you have your distinctive sound in mind when you started?
DANIEL AVERY: I feel that my sound has evolved over time. I feel, right now, as if what I'm creating is a sound I've been striving for ever since I started. That's not to say that the earlier work is inferior in any way. But I do feel extremely comfortable and confident in the studio at the moment, more so than I ever have done. I think the passing of time is really what evolved it – allowing every single one of my influences, musically, and also every single one of my experiences in my 35 years, to have some kind of impact. I feel as if it's all really leaving a mark on the music at the moment and I'm really thankful for that.
What drew you to playing this type of music in the first place?
DANIEL AVERY: The thing that draws me to this kind of music the most is the idea of taking machines, mechanical objects, and breathing some kind of human life into them – some kind of living soul or beating heart, and making them sing in that way. I've always been really interested in that idea.
How did you know you should become a professional musician?
DANIEL AVERY: It was just a pull that happened in my teenage years, round about the age of fifteen or so when I first had a little 4-track recorder and my bass guitar and guitar pedals. Very rudimentary set up, but the second I started doing it, something felt right about it. It just took over. I knew that I wanted to be in music in some way, so the early part of my twenties, when I left university, that's what I did. I was DJing and making some music on the side, but I was [also] working in record shops. I was just happy being within music in some form. Then there is a huge turning point. I was working in this record store in London, which I loved and I made so many great friends and connections there. But it closed around 2011, and I was really faced with this huge crossroads in my life. I could either find another job selling other people's records, or I could make records that were sold in these stores. It was a leap of faith, but it's one I took, and I'm so glad I did.
That must have been scary for you to do, though.
DANIEL AVERY: It was scary. But at that point, I felt I had enough ideas and I knew I had enough drive. But it was really tough. I had the support of some people who I respected hugely, and without them, really, the story would have ended much sooner. But everything worked out!