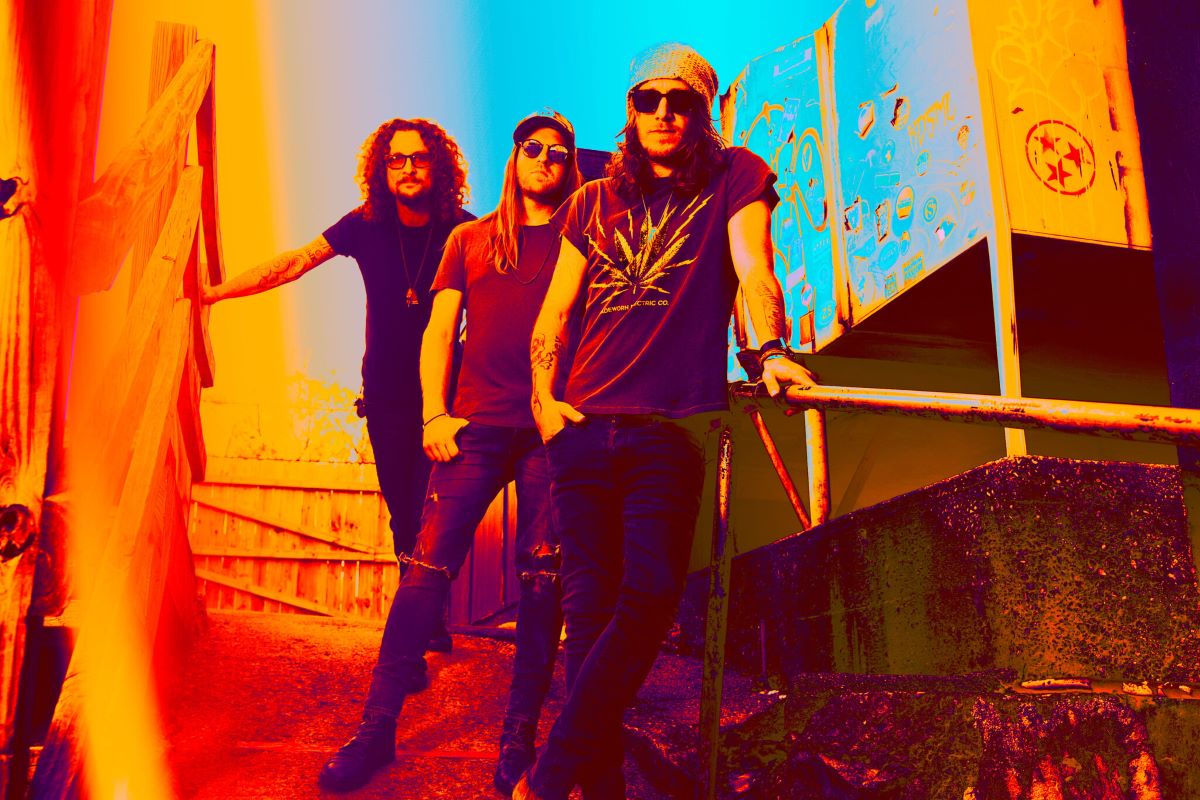 2 November 2020
Photo by Nick Rau
Nashville-based country/Southern rock band The Cadillac Three released their fourth album, Country Fuzz this past February – so it was a surprise when they released another full-length studio album, Tabasco & Sweet Tea, on October 23. The band announced this album just three days before its release – in keeping with their reputation for not following the usual Nashville rules. The band's rebellious roots go all the way back to the days when the members met in their early teens; they went on to form the band American Bang in 2005. When lineup changes left them as a trio, they became The Cadillac Three and released their self-titled debut album in 2012. Since then, they've earned a reputation for being an incendiary live act, selling out headlining shows across the U.S. and Europe. Singer-guitarist Jaren Johnston, calling from his Tennessee home, talks about what motivates him and his bandmates to work so hard (while making sure they – and their fans – always have a good time).
You're prolific lately – _Tabasco & Sweet Tea is your second album this year. How did you decide to do another one now?_
JAREN JOHNSTON: I'd been writing a little bit of it leading up to the Country Fuzz record – and [then] got handed a whole bunch of extra time. When quarantine hit, we had just gotten back from Europe. We were on the last flight before they shut everything down from Europe. So I took my family down to Florida – we have a house down on the beach that we go to whenever we can – so I finished the record down there. Then we did some recording, and it came out so strong and cohesive and cool. We just wanted to sneak attack and give it to fans for $3.99 for the first week and give everybody a chance to get some cheap, awesome music in this weird time and try to bring some smiles. This record is like a psychedelic-country western DJ set all the way through – it never stops. It's way different for our genre. I was looking at the country genre right now in general, and it seems like it's kind of lame lately. So I figured, maybe I would try to do something to shake it up even more than we have before. Take that ball and run a little further with it. And that's kind of what this record was. I just want to do what makes me happy and the guys happy, and this is the mood we're in. I was really excited to put it out and see people's responses. And it's been great.
How did you find your distinctive "voice" as a songwriter?
JAREN JOHNSTON: I grew up in Nashville, so I was always around the country-western classic songwriting – that thing where you catch the ear with a melody but you also make the mind work a minute: "Hell, that's cool, that's a double meaning there!" So I've always loved that. My music influences are so deep, it's everything from Nirvana to Allman Brothers and the Grateful Dead. You put all those things together, there's a lot to pull from.
People don't seem to know what to call you – Southern rock, country, country-rock – your music seems difficult to categorize.
JAREN JOHNSTON: A lot of people say we're too country for Southern rock, too rock for country. It's always going to be "too this, too that." I think we do our thing and that's the reason we called it the Country Fuzz record, because people would ask us, "What would you call what you do?" And we were like, "Country fuzz," because it's country songwriting with a bunch of distortion. It's a fun situation to be in when people constantly try and name you. In country music, everybody needs a label: "That's standard country," "That's old country," "That's pop country," "That's bro country." It's like, "Shut the hell up and enjoy the music, man!"
In your songs, you often put in lyrics about how proud you are to be Southern. What inspired you to make that a running theme in your music?
JAREN JOHNSTON: It just kind of happened on that first record [2012's The Cadillac Three]. The thing about being a Southerner, a lot of times, is that people think you're stupid. It's just the way it is. I try to keep people on their toes. Let them know that yeah, we're from the South and we're proud of that, but we're also pretty quick. I'm not an idiot. We have strong beliefs, and yes, we do wear the South on our sleeve, but I think you can tell by our music and us donating proceeds from our merch to the NAACP and Second Harvest Food Bank that there's bigger thoughts there, as well.
How do you keep up your songwriting inspiration?
JAREN JOHNSTON: Well, there's a lot of life. Before this [pandemic], you're doing 300 shows a year all over the world, so a lot of things happen there. And I've got a wife and a three-year-old baby now – well, he's not a baby, he's a grown-ass man, it seems like at times! But I've got a life that's pretty wild. And growing up in Nashville and seeing all the changes and all the touring and everything I've been through, there's plenty to write about. I love writing songs every day. It's like working out. You're always trying to keep your creative muscles strong.
Do you think growing up in Nashville gave you something of an edge in the music business?
JAREN JOHNSTON: My dad was in the industry a little bit. He's a drummer. He played the Grand Ole Opry, so as a kid I would go. I saw Garth Brooks at the Opry. And Faith Hill, Clint Black – all these people I watched at such a young age, and was mesmerized with that. And then my dad, for a brief time, was a song plugger, which means he'd go to a publishing company and take songs into a room and try to get John Michael Montgomery's manager to say, "Yeah, I'll play it for him." That kind of game. And that's the game I got into when I got my first publishing deal. I thought that was fun. Whether or not I had an edge because I grew up here, maybe a little bit. But I think it really comes down to being able to sculpt a damn song that somebody is going to relate to – you've got to hone your craft. I was in my early twenties when I really got serious about it. I grew up a drummer, and [then] I stopped playing drums and really started honing in on the songwriting. I had a lot of great people to learn from, too. Every songwriting session I've been in in my life, I try to learn something from the people that I'm in there with, whether it's something to do or something not to do. I think that's been a really big help for me as a songwriter.
What made you decide to get more serious about songwriting?
JAREN JOHNSTON: I was probably 21 or 22 [years old] when I started taking it more seriously. I was getting a little better at it, then I saw the possibility of maybe getting a publishing deal or something like that. Then you have these goals that you're constantly striving for, and it just becomes something like a dream: "Okay, I'm going to chase it." And from that moment on there's no looking back, you just go.
How did you know you should become a professional musician? Even though you're from a musical background, that's not a given.
JAREN JOHNSTON: I was never very good at school. I'll tell you that. I barely graduated. Music always came easier to me, whether it was drums or guitar or singing. I grew up singing in church. I always could find the harmonies, and for some reason, I had pitch. You find out what you're good at, and you start running.
Do you remember the first song you ever wrote where you thought, "That's actually good"?
JAREN JOHNSTON: Yeah, it was called "When the Demons Come Around." It had a really good line in it where it said, "That whiskey will make your big toe shoot up in your boot." [laughs] I always loved that. I was probably 17 or 18 when I wrote that.
It doesn't seem like it's only three guys in The Cadillac Three – it sounds like a much larger band.
JAREN JOHNSTON: It's interesting. The set up, we base it off of some of the early '90s favorite bands [like] Nirvana. Kelby [Ray] is running bass and lap steel with multiple amps, and then I'm using about six amps, too. It's a lot of volume! We're a trio because the three of us grew up together and it's always been us. When we were looking at this new record and figuring out how we're going to do it live, which we're still in the process of [doing], the conversation did come about, "Should we do what The Black Keys did and add an auxiliary player of some sort?" And then we were like, "Fuck that, let's just do our thing and keep it real."
Now you've built up a really dedicated fan base. What is it about your music that inspires that kind of loyalty?
JAREN JOHNSTON: Maybe the realness of it. People want to see something real and don't want to be fed something that was put together. And I think you get that authenticity from us, especially when you come see us live. I'm not chasing a radio single for this band because this band, to me, is bigger than that. At the heart of it, it's three dudes that grew up together playing music as kids, and now we get to do it all over the world. We just do what we do, and I think that's going to make people excited, and make us excited. I met Kelby when I was 13 [years old], and Neil Mason [drummer] right around the same time – he was a year younger. It's one of those stories you don't hear very often, especially in a town like Nashville. We've done pretty much everything you can do together. We've seen it all. Now Neil has got a baby and Kelby's married. We get to have an adult life, but still get to do this [band] and be successful and have a lot of fun.
Tabasco & Sweet Tea by The Cadillac Three was released on October 23. Stream/buy it here: https://tc3.lnk.to/TASTPR