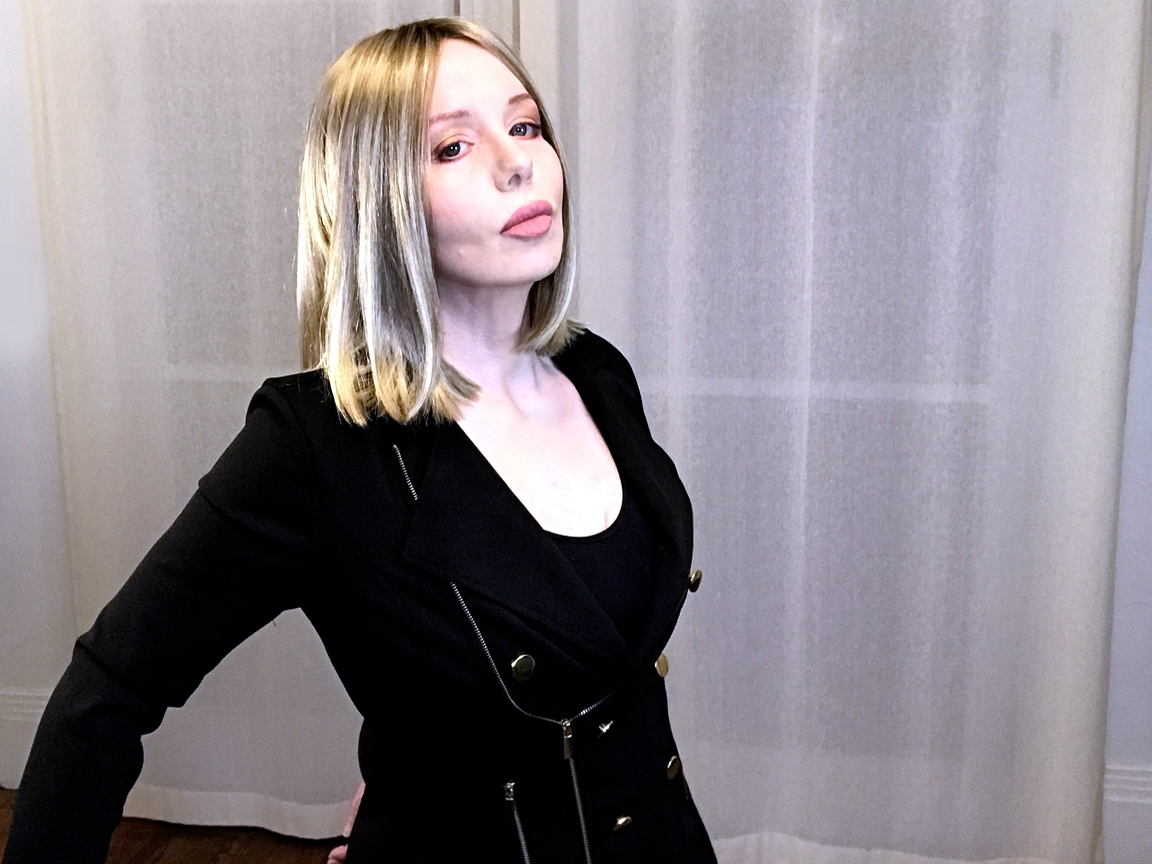 19 February 2022
Jenn Vix is a singer-songwriter from America, whose back-catalogue of work has gained her a loyal fanbase and recognition across the globe. An accomplished artist, Vix started out her musical career singing alongside singer-songwriter Nicole Willis and Adam Horovitz (Beastie Boys) in the band Disco Donut, in 1984. Since then Jenn has gone on to release her own solo albums, and collaborated with artists such as John Ashton (Psychedelic Furs), Andy Anderson (The Cure, Iggy Pop and Hawkwind), and Marco Pirroni (Adam and the Ants).
Today I speak with Jenn about her music, her influences and plans for the future.
Your music has been described as alternative rock, darkwave, synth-pop, electro-industrial, post-punk, new wave, and R&B. Do you think the technological age of the last 20 years has hindered the raw essence of alternative rock? Or do you think advances in musical software and digital enhancement has outweighed any drawbacks, allowing bands to cross-over to many sub-genres and create music that is more accessible?
JENN: I enjoy exploring other genres, and I've actually done it in the past, as well as now. I also like to collaborate with other artists in different genres. On the TikTok app, for example, which I upload to at least 5 days a week, I like to sing soul, acoustic, pop, and piano music. It's something different, and I like the experience of being able to instantly duet with other singers and musicians on the app.
I loved working on 24tk tape reels; when I got started; we also worked on an analogue desk. Tape has "air" and a lot of warmth, and I think that it's a bit difficult to replicate that exact sound and energy with plugins, and even with tube preamps, though I certainly have tried at times.
The upside of being able to work in a program like Cubase, Pro Tools, and or Ableton, is that you have so much more control, and for example, you can instantly recall a section. You actually don't even need an outboard mixer. Digital recording gives you back exactly what you put into it. If one wants to record visceral and or raw and intense alt rock, one easily can. There are no limitations to it, and you have endless tracks. Another upside to it, is that one can record at any time, day or night, without having to book sessions. Bedroom pop is a thing, and it's growing massively in popularity! The artist, Dayglow, is a great example of this!
Who were your musical influences as a teenager?
JENN: I saw A Flock Of Seagulls on MTV, when I was a kid, and I knew that was what I wanted to do with my life. They were so intense and wonderfully quirky! I Now, I'm about to release a new track with the original drummer of the band, Ali Score! I also loved Eurythmics. Annie is not only one of my favorite singers, but her look shocked many at the time, and I love that! I listened to a lot of different music growing up; no wave, new wave, punk, post-punk, soul, northern soul, club dance music, a bit of classic rock, dub reggae, and glam rock.
You started making music in 1984, performing in the band Disco Donut, whose line-up included Adam Horovitz, who went on to co-form The Beastie Boys. Do you think that artists in the 80s had more creative control and freedom to express themselves than today, when music is expected to be more synthetic and polished?
JENN: I am from a long line of musicians on both sides of my family. I actually started on drums at 3 years old, and then piano at about 8 or 9, and though I had already been singing, I was trained as a singer by Dr. Robert Sharon, in NYC. He is now retired, and resides in Florida.
Adam was already in the Beastie Boys in 1984. I used to go to their punk/hardcore shows, just before they switched over to Rap. Adam was like a brother to me; very protective and kind. I miss him, and I should try to get in touch with him! Nicole is one of the most wonderful singers I've ever worked with; she is stellar! She has not only recorded with her own bands, but she worked with Leftfield, on Swords, and the late, legendary, Curtis Mayfield.
There is a video of a performance we did at Danceteria nightclub, in NYC, but there is a problem getting the video out of the estate of the owner, who passed away some time ago. My friend Mike is trying to get it. I want it up on YouTube.
I don't think music is that much more synthetic and polished now. Back then, it was just as synthetic and polished at times. The only difference is that now people use Auto-Tune or Melodyne as an effect. I worked with a producer named Mister Lazy, from France (Beats4Rap.com) on my latest single, and we used an effect called Little AltarBoy, which changes the singer's pitch, with formant shifting. I think it's interesting, and I like the way it worked out. He also made an exclusive 808 Trap Beat for me, for the track, while producing the single. I'm very happy with his work, and I haven't worked with a producer since I first started out. I want to do more of this, as I like the different sounds. I love to collaborate!
If you had a time-machine now, which era of music would you like to visit, not necessarily for sentimental reasons, but a time where music was ground-breaking, was making waves and becoming deeply embedded in our cultural psyche?
JENN: I would go back to the first Sex Pistols gig; and or the mid to late 1970s. The irony of this is that I ended up making friends with a few of the people at the gig. From what I've heard, this was the benchmark gig, and it is the reason many great bands formed over in England.
Your music has a timeless appeal, whilst evolving in the process. It's music that allures, and is hauntingly beautiful, whilst reaching out to the darkest depths of our souls. It's music that is emotionally driven and evokes a sense of melodrama. Do you think alternative rock has now become too fragmented, with new bands working independently and less defined by youth culture?
JENN: Thank you. I have my haunting moments, but my single, "Ride" is anything but that. It's a silly track about an extraterrestrial woman, who arrives on Earth to take a human back with her to her home planet. She does so by taking the person for a ride in a stolen car, and then convincing them to step into the Spacecraft. Another example of my being not so haunting, is "You Really Suck", where I verbally rip a bunch of not so nice people, a new asshole, with some drums, bass, and an acoustic guitar. Yes, I have used painful life experiences in several songs, but I also still have a sense of humor, and I can't be dramatic all of the time; I like balance. The new track with Ali Score is a bit more optimistic, and yet a little spooky at the same time. It's a love song to someone who has passed, and yet his influence still lingers on in space and time. He is a star.
I don't think alt-rock itself is too fragmented. I think that there are all sorts of projects and bands, but many local music scenes have pretty much disappeared. Now we can livestream, at any time. Bands are discovered online, and mostly not at gigs. Things change, and we can choose to change or not change. Adaptation is not a problem for me. I welcome it.
Do you think we need a new vision or movement reminiscent of Punk, Grunge or the Riot grrrl movement to give music back its collective voice?
JENN: I think this is already happening on TikTok. There are many on the app who are creating some very intense, angry, and politically motivated music, and there is also a lot of activism as well.
As well as being an accomplished singer-songwriter, multi-instrumentalist you are a prolific producer and recording engineer. Do you think that as a woman working in the music industry, you have to work twice as hard as your male-counterparts, or do you think that sexism, misogyny and double-standards have weakened with time?
JENN: I think that sometimes women have to work harder, because sexism has not gone away, but thankfully it's a bit better now than it once was. I have had some men in the industry, who shall remain unnamed (because I have enough going on right now, and I don't want to get into a fight,) try to get me to have sex with them in exchange for "favors". I have been mansplained about my recording techniques, but I just let it go in one ear and out of the other. I find that working with Gen Z musicians, producers, and recording artists, is much easier for me; it is my own personal experience. Obviously, not everyone who is over 40 is an asshole. I'm appreciative of how (and I'm going to bring it up again) on TikTok, the Gen Z listeners and collaborators have been extremely respectful, and kind, and I seriously appreciate it!
Your single "PTSD", draws upon your own personal experiences and whose proceeds have continuously being donated to NAMI (National Alliance on Mental Illness). Do you think, as a musician, more money should be invested in the arts and encouraged as a release to help combat mental health problems?
JENN: "PTSD" draws upon my own experiences, but I also wrote it for everyone going through trauma; diagnosed or not. I think it's important to keep money flowing to the arts, and I think it's also equally important to continue to destigmatise mental health issues; to speak openly and frankly about it, in song and or otherwise. I eventually hope to set up a fund which pays out to mental health organisations.
What are your future musical plans? Do you have a pending album or tour in the pipeline?
JENN: The upcoming new single and video with Ali Score, and several other collaboration projects, as well as working with guitarist, and singer-songwriter, Feeney; drumming and singing in Feeney Vix; a post-punk duo, and going out and playing some gigs when it is safe enough to do so. We had a gig on 11 September, 2021, in Boston, MA, and we were masked up onstage. The audience was also masked up, but this was obviously before the Omicron variant showed up. Gigs are up in the air at this point, and I'm hoping that things get better for everyone; musicians or not.
I would very much like to travel to NYC, in the Springtime, to do a Jenn Vix gig or two. I would travel elsewhere if possible, as well. I miss doing shows. It's just risky right now, even though I'm fully vaccinated. I lost two friends to Covid, and one of them was on his deathbed on his birthday. I sent him a DM, and in said message I mentioned that I was concerned that he was exposed; being in NYC at the beginning of the pandemic. Sadly he passed the day I sent that message; he never saw it.
You have worked with artists such as guitarist Marco Pirroni (formerly of Adam and the Ants), John Ashton (Psychedelic Furs), Reeves Gabrels (former guitarist for the late David Bowie, and Tin Machine, and current guitarist of The Cure), Andy Anderson (the late, former drummer of The Cure, and Iggy Pop), Dirk Ivens (Absolute Body Control), and Dave Barbarossa (Bow Wow Wow, Adam and the Ants, and Republica), and I imagine were all amazing experiences. Are there any other musicians, bands or producers you would like to work with in the future?
JENN: I've worked with legends, and I'm extremely thankful for being able to do that, but I've also worked with not as widely known, brilliant musicians. I don't only seek to only play with intensely famous people. If a song is good, it doesn't matter how much fame the person has; I will record it with them. My single, "Shoplifting In Summertime" is a collaboration with someone who does not yet have hundreds of thousands of followers, but he's mega-talented. He is The Nouveaux.
I will say that if I could work with anyone right now, it would be producer, Illangelo, and or The Weeknd. Yes, both of them are beyond famous, but it's the music that I love! "Alone Again" by The Weekend, is one of my favorite tracks of all time, and It was produced by Illangelo! If the both of them worked in a grocery store, customer service, or any other side job, I'd still want to work with them. It's not all about clout, it's about the feeling I get when I sit in my parked car, and I listen to this music on full blast. I lose my surroundings, I get lost in the music. You can hold me to this, because again, I have worked with people who don't have many followers, or a Wikipedia page, etc. I should also add that I would love to work with DJ Sickick, as well. He's brilliant!
("PTSD" was released on November 5th 2021 and is available on all digital platforms, including streaming sites such as Spotify, as well Apple Music, Deezer, and Amazon.)

Thank you!