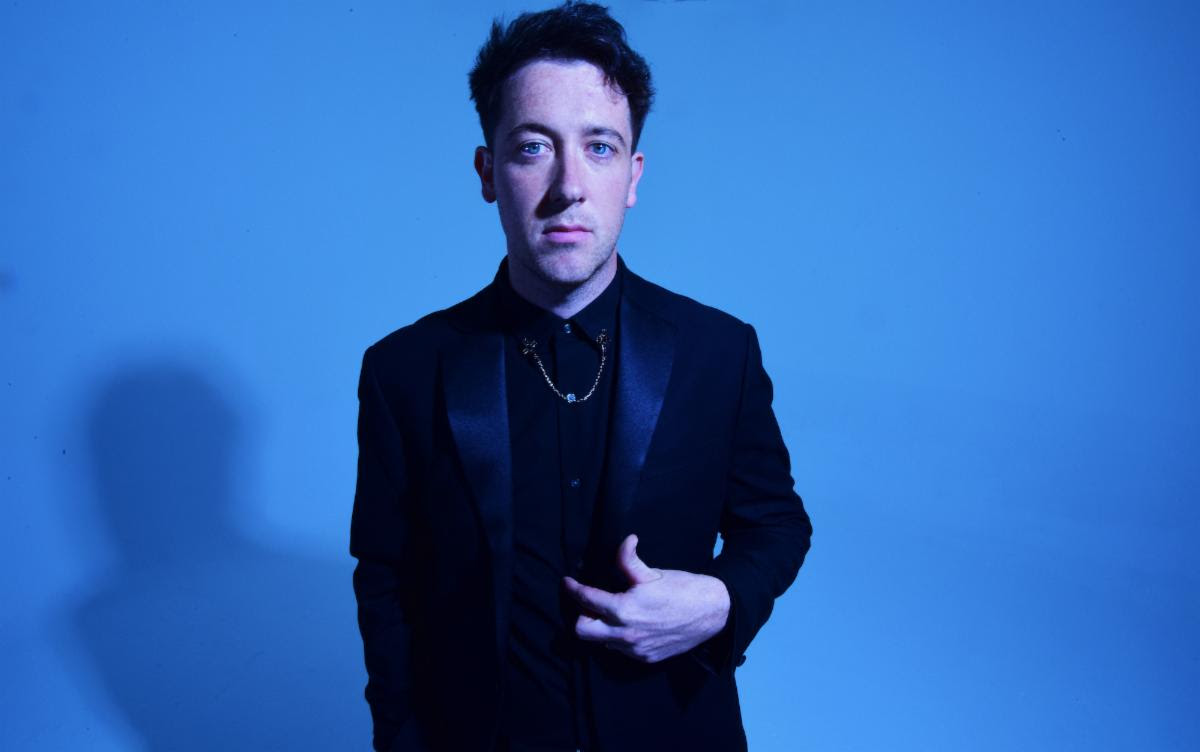 23 March 2020
Photo by Shervin Lainez
About a month before the coronavirus crisis takes over the world, The Wombats frontman Matthew "Murph" Murphy calls from a gym in Glasgow, Scotland, his latest tour stop. Although The Wombats have done well since their formation in Liverpool in 2003 – releasing four successful studio albums and becoming a fixture on the major festival circuit, as well as headlining their own tours around the world – today Murphy is calling to talk about his other band, Love Fame Tragedy. With music that's more synth-heavy and experimental than the indie rock found in Wombats songs (but with lyrics that are equally as introspective and intense), Love Fame Tragedy is actually a one-man band, though Murphy has enlisted several collaborators to help him. On the debut EP, I Don't Want To Play The Victim, But I'm Really Good At It (released last September), guest performers included Joey Santiago (The Pixies), Gus Unger-Hamilton (alt-J), Matt Chamberlain (Soundgarden), Lauren Aquilina, and Maddi-Jean Waterhouse. On March 19, Love Fame Tragedy released a second EP, Five Songs to Briefly Fill The Void. This time out, Murphy worked with Waterhouse again, as well as Dan Smith (Bastille), Eleanor Fletcher (Crystal Fighters) and Jack River. To the sound of chattering gym goers and clanging equipment in the background, Murphy explains why he decided to use the "Love Fame Tragedy" moniker instead of releasing this work under his own name, how collaborating has inspired him, and why he firmly believes in writing such personal lyrics.
How are you feeling as you approach the release date for this new EP?
MATTHEW "MURPH" MURPHY: To be honest, it's kind of weird. I started this because I wanted to make an album. So I guess the fact that it's rolling out as an EP is just because it's a brand new project and it makes more sense to do it that way. But in my head, it's just the album. there was one EP last year, and then this one, so that's nine songs out, and then there's another eight [songs] to come out in the summer, I think. So it all forms a big 17-track album. It's cool doing the EPs, as well, because they obviously are mini albums. That is quite fun.
How did you decide who to ask to collaborate with you on these EPs?
MATTHEW "MURPH" MURPHY: I just asked the people I thought would do it, to be honest. Just friends and people I've met along the way, and it was pretty chilled out. The songs were done and people would just turn up at the studio and bleed all over the tracks for a couple of hours. And then the producer and I would pick the best bits, and that was how we did it. When Joey Santiago of The Pixies played on a couple of songs, it was kind of crazy. When he started playing, it was like, "Wow, that's s Joey of The Pixies!" His sound is so unique. We finished the album in Australia, and I worked with this amazing artist called Jack River, and when she started singing, it was like, Jesus, her voice is unique and really exciting. In my head it just makes everything so much cooler to have these other artists involved in it. I had thought about doing solo records, but it had just never seemed that exciting to me. But then it being much more of a collaborative thing, that did excite me. And so that's why I went ahead with it. And a need to try something new and see how it goes.
Why do it under as Love Fame Tragedy instead of under your name?
MATTHEW "MURPH" MURPHY: I think it gives it a better chance of success [than] if it was just called Matthew Murphy, which is a really boring name anyway, and it would forever be the guy from The Wombats. I thought a brand new name might compartmentalize me a little bit away from that.
What's your writing process like for this band, compared to when you write for The Wombats?
MATTHEW "MURPH" MURPHY: The writing process is the same. It's still coming out of my brain somehow. I guess when we were recording, I had a few ideas in my head about how to separate it and there's lots of female voices all over the record, which is one thing I haven't done much in the other band. It's still pretty guitar lead but maybe more programmed drums and maybe more weirder effects going on, things like that. I was able to go a lot heavier on those things than I probably would be able to get away with in The Wombats.
How do you know if a song should be for The Wombats or for this project?
MATTHEW "MURPH" MURPHY: I guess I don't. We'd finished the touring cycle for the last album and I knew that this project was going to go ahead and so that was what I was writing for. And now that this is all written, I'll be writing for the next Wombats album. So time dictates it rather than what songs go where. Probably some slower and more obscure songs probably wouldn't fit for The Wombats. But apart from that, the poppier songs could be for either, I guess.
What is your songwriting process like, in general?
MATTHEW "MURPH" MURPHY: I write down loads of potential titles or sentences that I like the sound of in my iPhone, and then I sit in a dark room and try to jam them into music, and sometimes it works and sometimes it doesn't. And then once I've got a little thing, then you build everything around it. Paint a picture around those core things. On every album, there's a couple of songs that just come, and you almost are just a witness to them happening. It seems those are always the best songs. Every album has a couple of those almost divine moments. "My Cheating Heart" on the first EP was like that. On this EP, probably "Riding A Wave." The verses just fell out of me, and then I had this cool title and didn't really overthink it. The song was done in a few hours.
You're known for writing very personal lyrics. Do you ever wish you hadn't revealed quite so much of yourself, though?
MATTHEW "MURPH" MURPHY: I think I'm okay with it. It'd probably be weird if I was some massive celebrity, but I'm not, so I can say whatever I want and get away with it. The only issue is, certain lyrics or certain songs will probably piss my wife off a little bit. That's an hour and a half of getting bollocked, and then life goes on! [laughs] I guess we're all just trying to make a connection, and I find the best way to do it is to be honest and think about what you know and what you see. I've been in the music industry for 15 years now. You enter this stage of arrested development. So suddenly getting married and having a kid really is a shock to the system. So I guess, it's dealing with trying to be a responsible adult and failing a lot of the time.
What is it about your work that's enabled you to have such longevity, compared to most artists?
MATTHEW "MURPH" MURPHY: I guess I'm just kind of insane and if something goes wrong, I just ignore it and blinker my way to the finish line. I think that my lyrics are fairly unique in some way, and I think that sets us apart from some of the other bands that we started out with.
How do you learn to write lyrics like that?
MATTHEW "MURPH" MURPHY: I have no idea. I grew up in a very British "Don't show any emotions" type of upbringing. Maybe that was not a good place for me. So it had to come out in the songs – and it also came out in other ways, probably, when I was younger. [laughs]
Is that cathartic element what made you want to be a musician in the first place?
MATTHEW "MURPH" MURPHY: I never really wanted to become a musician. I wanted to be a professional golfer all my life, but I wasn't really good at that. And I was strangely good at this other [musical] stuff. So yeah, sometimes I do look around me and go, "What the fuck is going on?" In a way, it's probably helped, like any negativity that's happened in our career, it's almost like they're not being negative to me anyway, so whatever, I don't care. I just move on. So maybe it has helped. I was obsessed with Radiohead and basically wanted to be Thom Yorke for a long time. So I suppose I did want to be in bands. But I don't know, just suddenly I had some good songs and a record label liked it, and the radio played it.
Beyond this Love Fame Tragedy work, what's next for you?
MATTHEW "MURPH" MURPHY: Hopefully I'll be touring Europe again at the back end of the summer. This year's insane.
How do you keep your energy up for everything?
MATTHEW "MURPH" MURPHY: I go to the gym all the time, basically!
Five Songs To Briefly Fill The Void was released on March 19.