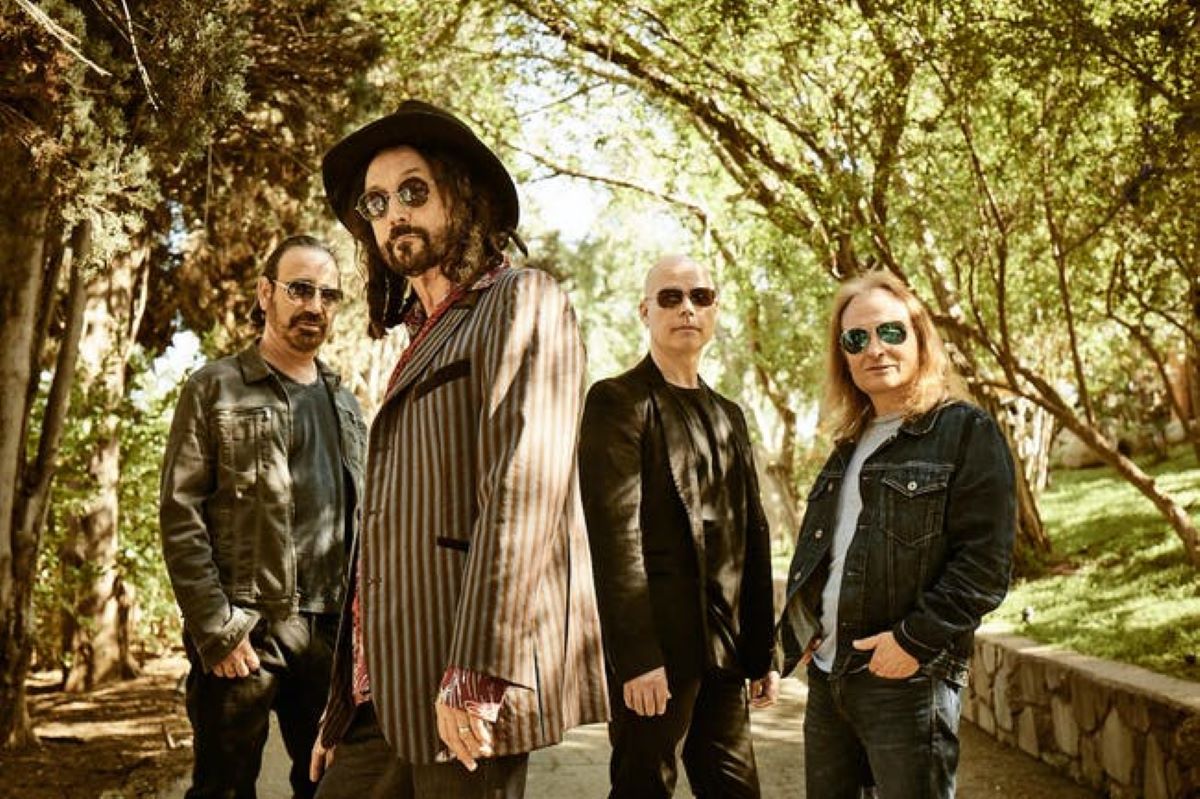 20 November 2020
Photo by Pamela Littky
Mike Campbell became one of the most recognizable and revered guitar players in rock music during his tenure with Tom Petty & the Heartbreakers, co-writing some of their most classic songs. When that band ended after more than 40 years together (due to Petty's tragic passing in 2017), Campbell took some time to regroup – but he has reemerged with The Dirty Knobs, a band that he first formed twelve years ago as a side project. Their debut album, Wreckless Abandon (released on November 20) shows that Campbell still has an unerring flair for creating exceptionally memorable and melodic songs. Calling from his Los Angeles home, Campbell discusses this new album – and looks back on his work with the Heartbreakers.
The Dirty Knobs formed quite a while ago – what made you decide to put out your first album with them now?
MIKE CAMPBELL: I had considered putting out an album years ago, but I came to the realization that I didn't really want to put a record out at the same time I was in the Heartbreakers. It just didn't feel right. So I held stuff back – and I'm glad I did because I'm a lot better now! And I always thought maybe someday the Heartbreakers would take a hiatus, and then I would do this band. And of course, things have worked out differently than I would have hoped, but I now have an open calendar to do this, and I'm excited about it.
How did you go about writing these songs?
MIKE CAMPBELL: I didn't actually start writing these songs for this album. I write songs all the time, I always have. And with Tom [Petty], I would usually write music, and over the years I came up with so much music, he could ever get to them all. So I started working on them myself just to see what they would sound like. Slowly, I gained confidence in my lyrics and got my vocal where it was possible. On this record, maybe half are songs that have been around for a few years that I maybe played in front of an audience here and there. The other half were done during the course of the album [recording] – the ideas came up on the spot, and we did them more spontaneously.
For the songs that you wrote a while ago, how did you keep them sounding fresh when you recorded them?
MIKE CAMPBELL: We were so excited to be in the studio and actually be recording. I made sure on this record that the recording was done live: all four of us at the same time. I wanted it to feel very fresh, and that's what we accomplished just by doing it live and forcing ourselves to rise to the occasion in the moment.
How did your new single, "Fuck That Guy," come about?
MIKE CAMPBELL: It wasn't the song I would have picked to put out [as a single], necessarily. It was on the album as kind of comic relief. But everybody thought with the timing and everything that it'd be fun to have it out now. That song came about very spontaneously during the album [sessions]. I met Chris Stapleton, who I like a lot, who wanted to write songs with me. I don't usually write with other people because I'm shy and I like to work on my music in private, but I figured I'd give it a shot. So he came out to L.A. for a few days and we wrote some songs together. One day he said, "I had an idea do a song called "Fuck That Guy," because everybody thinks that at least once a day – most of us have that emotion directed at somebody during the day." He thought people would relate to that. I said, "Can I have a shot at it?" He said, "Sure, go ahead." So I literally spent five minutes writing it. It's very tongue-in-cheek. It's not directed at anyone in particular. It can be anybody you want it to be.
Where do you get inspiration for your songwriting?
MIKE CAMPBELL: I just wait for the switch to turn on. I love writing. It's so mysterious that you're sitting there, and for whatever reason, something comes to you and a little switch turns on and your creative energy kicks in. Then you look up ten minutes later, and there's this piece of music and this song that didn't exist before. It's just very magical. I'm very mystified by the whole process, but I love it. And I read a lot, especially now when I'm home so much. I listen to a lot of music from the '60s because that's when I grew up, and that stuff still inspires me. So I might be listening to an old Beatles or Rolling Stones or Kinks song, and I might hear a chord that I like, and I'll go to the guitar and try to figure out what that was. And maybe I can't quite figure it out, but while I'm trying to find it, I'll go, "This is an interesting idea – maybe I can use this." Sometimes you'll hear somebody say something in a conversation and you go, "That's a good line – maybe I could use that." So it's basically keeping your antenna open and hoping that the switch will turn on. It's kind of a gift from somewhere. I love the process. It's almost like an uncontrollable urge. A feeling comes through you that you must do this, and you follow that inspiration and work hard at it.
How did you first figure out that you have this gift?
MIKE CAMPBELL: It took me a while to identify it as a gift. But I do treasure it and I'm very grateful that I do have this outlet for my energy. When I started learning guitar, I instinctively wanted to make up my own stuff as I was learning songs that I liked off the radio. Then [The Heartbreakers] got out to L.A. and we started getting serious about making a record, and I tried harder to realize my ideas better and improve them and put them into a song form. That was the hard part. Sometimes you want to give up, but you just have to keep at it. And eventually, it just became very second nature to me.
Looking back over your career, are there any songs you're particularly proud of writing?
MIKE CAMPBELL: Oh, there's so many. "Refugee," "Here Comes My Girl," "Woman in Love," "You Got Lucky." There's a lot of tracks that Tom and I wrote that weren't big hits that are some of my favorite songs, like "Can't Stop the Sun" [and] "Don't Fade on Me." I'm really proud of the songs that Tom and I wrote.
How did you know you should work with him when you first met?
MIKE CAMPBELL: Tom and I immediately just were like brothers. We came from the same background in Florida, kind of poor. We loved the same kind of music. Instantly, we just had a connection. We were on the same path, and we both had the dream to follow that path. We were on the same wavelength, and it all came through for us. It's magic, really. It's one of those things. I never had to think about it. We just were connected, and we wanted to get together and play all the time.
How did you decide to become a professional musician in the first place?
MIKE CAMPBELL: I would dream about it. I'd see The Beatles on TV and think, "Wow, what a life they must have. They write their songs, they play and people go crazy, they're traveling the world, and they're making lots of money." I used to think, "Well, but that's not going to ever happen for me because I'm not that good." But I just loved music. That's the main thing. I would have done it if I never made a penny. I would have done it because I felt a passion for it, that I must do this. It was never like, "I've got to do this so I can get rich." But I've been very lucky, as it turns out.
When did you first start learning how to play the guitar?
MIKE CAMPBELL: It was in the '60s. I was in my late teens. I loved the songs on the radio at that time. There was so much great music, and I just wanted to learn it. So as soon as I got a guitar, I would put the records on and listen closely and try to figure it out, and I taught myself how to do it. I never took lessons. I learned off records and I had a chord book.
The late teens is a little bit later than most people start playing an instrument…
MIKE CAMPBELL: Yeah, well, when I was really young my parents forced me to take accordion lessons! That lasted about six months. I was more interested in playing baseball at the time. But I did get a little bit of the basic theory from doing that. And when I picked up the guitar, it was just learned by ear. Once I got the guitar, everything else in my life became second in importance. It was all about the guitar all the time.
Now so many of your songs have become cultural touchstones. What do you think it is about your work that resonates with people so strongly?
MIKE CAMPBELL: Well, that's nice of you to say. I don't know. The first thing that comes to mind is, because I love it so much, maybe that comes through in what I'm doing. They can feel the desire and gratitude of where I'm coming from, and maybe that connects on some level. In addition to that, my influences: George Harrison, Keith Richards, all those people that I learned off of, some of that comes through in my playing, and maybe it sounds familiar to people and they can relate to it because there's some connection there.
Why always play as part of a band – why not do a solo album?
MIKE CAMPBELL: I've never had that ambition, really. I've got tons and tons of songs. Maybe someday I will. But I really feel comfortable having a band. I love having a group of guys that are working together and we can share ideas and feed off each other's energy. That's what I've always done, and that's where I feel most comfortable.
Is there anything you'd like for people to know about The Dirty Knobs?
CAMPBELL: It's a great band. I'm really proud of the new record. We got a really good sound in the studio. It's just the four of us. It's kinetic and it's exciting to me and I like the songs. Some of them are humorous. Some of them are deep. But the record is a lot of fun, and if you like guitars it's got a lot of great guitar on the record. I really hope people like it.
Wreckless Abandon by The Dirty Knobs is out November 20.