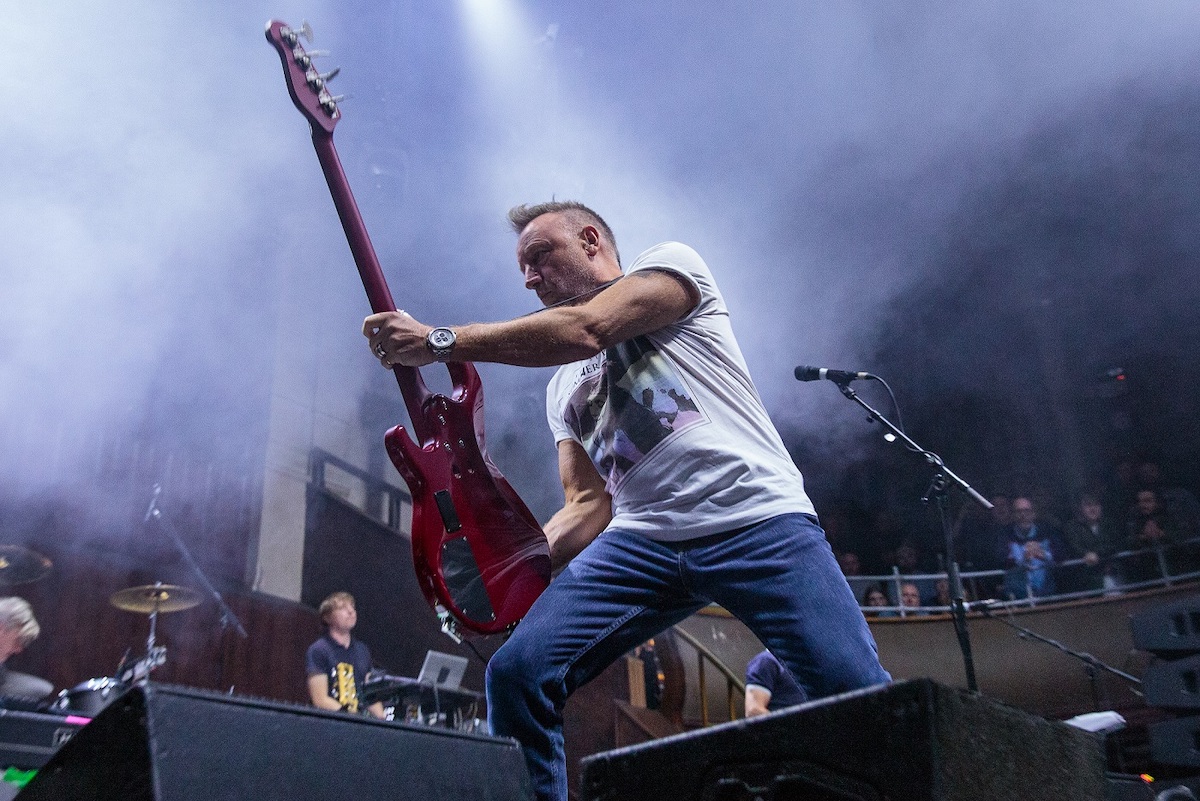 3 March 2022
Photo by Jody Hartley
"This is my first interview in more than two years, so we'll see how this goes," Peter Hook says cheerfully when he calls from his home near Manchester, England. The celebrated bassist – beloved for his work with legendary bands Joy Division and New Order – then launches into an extraordinarily candid conversation covering his entire career, from his earliest days through his upcoming extensive run of shows across the U.S. and Canada in August and September with his current group, Peter Hook & the Light. (Full dates listed below.) For that tour, named "Joy Division: A Celebration," the band will play both Joy Division albums (1979's Unknown Pleasures and 1980's Closer) in their entirety, plus some rarities – and an opening set of New Order material.
It must feel especially good to have this North American tour set later this year, after having to postpone it for two years.
PETER HOOK: It's ironic because we were supposed to be celebrating "40 Years of Joy Division," because when Peter Hook & the Light started, it was to celebrate 30 years. So it would have been our 10-year anniversary, as well, which was actually quite nice and quite fitting. And then of course COVID hit, so you lost all the anniversaries as well as a hell of a lot of other things. So yeah, I've been semi-retired now for two and a half years. I must admit, I've grown to like being semi-retired! How scary is that? [laughs] I was always the one who liked to go here, there, and everywhere and play all the time, and was very critical of anybody who didn't want to play. Now all the sudden, I'm sat here, and it actually seems quite daunting, the very thought of touring. It is a weird, weird thing.
How did you decide to perform both Joy Division albums at these North American shows?
PETER HOOK: I don't think we've done both [albums] there, [but] we've done the two albums separately in America. We did get in the habit in England of doing two, and it's become very much our bag, doing the albums. I'm not trying to impersonate Joy Division – I'm celebrating it. Well, it'd be impossible to impersonate Joy Division. I know that New Order do a good job of impersonating New Order, in my opinion. It was very true in Joy Division's story that most people had never heard the band, because we never got out of England apart from a couple of trips to Europe. So it was actually wonderful for me, after being very critical of the LPs in my youth, to revisit them. To realize what a huge part Martin Hannett, the producer, played in them. And to be able to celebrate the music on the albums, which I must say, were a lot different to the way Joy Division used to play them live.
How so?
PETER HOOK: On the first album, Martin Hannett did a fair bit of overdubbing. Quite subtly. On the second album, Closer, it was a bit less subtle. So Joy Division were much rawer, and generally more punky, than they appeared on LPs. I mean, it's all about education, isn't it? Martin Hannett got us at 20 years old. Sitting here at 65, it seems unbelievable to think that we tootled along to the studio with Martin when we were twenty, which is younger than my kids are now. So yeah, we had a lot to learn, and Martin was our biggest teacher. He taught us all about studio craft. He taught us a lot about songcraft. He also worked very, very well with [vocalist] Ian Curtis in doing the structure of the songs for a vocal, and also layering the vocals and teaching him how to use his lyrics properly. By the time we got to Closer, we had actually learned a lot, and we were being a lot more sophisticated, for our time, with the songs. And of course then Ian died, and it was like snakes and ladders, and you ended up going right down the snake to start again with New Order. So yeah, from that point of view, it's actually nice to bring the two albums together [live]: you can see the contrast quite vividly when we play them. I do get some very almost teary moments. It's been quite interesting because Closer really does have a big effect on people, from an emotional point of view. Unknown Pleasures is very aggressive, it's very punky, so live, it really rocks. Whereas Closer is almost the exact opposite: it's very melancholic. It draws you in, and I must admit not only does it get a very emotional response from us while playing it, but you get an emotional response from the audience. The thing about Joy Division is that because it hasn't gone through a court case fighting over the name, and treating each other terribly, it actually still has something quite noble about it. We have really done our best to make New Order very ignoble and to also basically hold ourselves up to ridicule because of the way that we've acted over the name. With Joy Division, you have a much more pure and a much nobler sort of feel to it. I mean, I'm very, very proud of Joy Division and I'm very, very able to really stand up for it, which I cannot do for New Order.
What do you think it is about what you've created with both of those bands that's made them have such a connection with people?
PETER HOOK: If we're not going to be naive, we'd have to say that it's down to songwriting, isn't it? Joy Division had a different way of songwriting because of Ian Curtis. When we lost him, we also lost a lot of our own mojo, and hence, when we got to New Order, there was a lot of jostling for position. I mean, I know we were writing great songs. Joy Division gave New Order "Ceremony" and "In a Lonely Place," which were two amazing songs, as the bedrock. So New Order had a great leg up from Joy Division with those two tracks. And then it just took it a long time to feel complete and whole. Bernard [Sumner]'s transition from guitarist to frontman/vocalist was traumatic. It must have been awful for him, I think. At the time, we were all going through our own traumas, so we weren't as helpful to each other as we could have been, it has to be said.
Still, you helped create a scene in Manchester that proved to be incredibly influential…
PETER HOOK: I'm reading a very interesting book, actually, the biography of Pete Shelley from Buzzcocks. It's interesting the way that he recognized how important punk rock was going to be, and he and [ex-Buzzcocks frontman] Howard Devoto brought it to Manchester. They were fans of the Sex Pistols and Malcolm McLaren. They tracked them both down in London and suggested that they come to Manchester. When I saw them play at the Free Trade Hall on the 4th of June, 1976, it changed my life beyond recognition. So you can't thank Pete Shelley and Howard Devoto; it's just too much of a debt that you owe them, to think that they brought punk rock to Manchester. The Sex Pistols inspired all those bands to form. Person after person after person was inspired that night, and the whole Manchester scene came from that one concert. The concert, from a musical point of view, was bloody awful. It sounded terrible! We were like, "Fucking hell, people get away with this?" Watching it, your first thought was, "Jesus, if this is punk, I could do this!" And that was how we started, making a dreadful racket, because the Sex Pistols had shown us that you could get away with it. It's the most ridiculous format to use to start a group. You're just winging it, absolutely winging it. The whole scene then took off.
Before that concert, were are you already thinking of trying to be a musician, or was that really the impetus for everything?
PETER HOOK: It was the impetus for starting. Never crossed my mind until I saw the Sex Pistols. I was a great devourer of music, particularly heavy metal music. Like, I'd been playing Deep Purple, Black Sabbath, all those types of bands. I used to read the music press because I was bored at work. I would be waiting at the news agents to grab Sounds, Melody Maker, New Musical Express, and I'd spend all day reading them, so I was very well versed in the ways of musicians. The weird thing was, it never crossed my mind [to play]. Never. The Sex Pistols had that effect. To watch Johnny Rotten scream "Fuck off" for 30 minutes, I just thought, "I could do that. I can tell the audience to fuck off!" It literally was like somebody opened a door in a darkened room. I thought, "Fuck, there's a way out here." Because I had a normal job – I was just doing a nine-to-five clerical job in Manchester Town Hall. So I was a civil servant. I said to Bernard at the end [of the Sex Pistols show], "We should form a band like that." It was ridiculous. I didn't have an instrument. I went out and bought one the next day, and then we were off. And we managed to do it. The thing is, it takes a lot of perseverance, doesn't it? And New Order have a really weird attitude: every time New Order were becoming big, we always used to implode. The first time we imploded was after Technique [1989], just when we were becoming huge. We all gave up and started again. Barney had Electronic. I had Revenge, and then Monaco. Then we got back together in New Order. We built that back up, and then just when we were getting somewhere again, we both imploded again. He had Bad Lieutenant. I had Freebass. It's really weird. It's like we're addicted to starting again.
But you have shown remarkable perseverance. Especially after Joy Division ended when Ian passed away – a lot of people would probably have just given up after that.
PETER HOOK: Yeah, absolutely. I do remember, vividly, we went out for a drink after Ian's inquest, which was almost as grueling as the bloody funeral, to be honest with you. We all went for a drink afterwards, and Rob Gretton, our manager, said to us, "What are you going to do?" And we were like, "Don't know." We were grief struck, and very, very demoralized. The only strength we got was from being together. We spent a lot of time together, actually, which was very good. And he said to us, "Do you want to carry on?" And we just said, "Can we carry on?" And he said, "Yeah, let's carry on." So I mean, we didn't have a plan. In many ways, it was a foolhardy decision because we never realized how difficult it was going to be, because then we made the decision to dump Joy Division because we always said that if anybody left Joy Division, Joy Division would not carry on, and we stuck to that promise. Unfortunately, we also made that promise for New Order. We seem to have forgotten that promise! But hey, we all know you change as you get older. So the thing is, we decided to dump Joy Division and start again, so we then had the problem of having to write a completely new set. We did some demos with Martin Hannett just before Ian died, and the two songs on those demos were "Ceremony" and "In a Lonely Place." Rob said, "You should play those songs." We said, "We don't want anything to do with Joy Division – it's got to be a clean break." And he said, "Yeah, well, these two songs are great, and Ian has left them to you." So we had this great start for our next chapter. But I have to say, we never realized how difficult it was going to be. If we had carried on as Joy Division, I have no doubt it would have been easier. I can't imagine whether that would have been a good idea or not.
I imagine Ian would be very proud to know how well your career has turned out.
PETER HOOK: Yeah, well, I'm not too sure he would have been proud of the bickering and backbiting and slings and arrows of New Order when they split up. But yeah, you're right. I have a picture of Ian here in my office, right at the front of my desk, that I look at every day. Every day, I'm reminded of him and Joy Division. The saddest thing is that, from the point of view of the things that have been important in my life, the things that you've achieved and the way that you've grown as a person and your children and everything like that, the saddest thing to me is the fact that he never got those milestones, because I think he would have been a great dad and a great granddad. Because he was a really nice guy. That is a great frustration, regardless of the band. But it's been wonderful taking the music around the world. It's been wonderful playing the LPs again. In fact, the only critics that I seem to have for doing it are the other members of Joy Division, which is just one of those things. We've never spoken about it together. The important thing to me, as a musician, was to be able to play. When New Order split up in 2007 and I wasn't playing, I missed the fun, I missed that celebration. So to be able to get the fans back in 2010 [with Peter Hook & the Light] and then build on that and make it a worldwide appreciation society who love Joy Division's music, it's been great. It's been a wonderful achievement against all the odds, again. And literally the only thing that spoils it is the arguments with the other members of Joy Division. I'd love someone to get us together in a room.
You could always instigate that.
PETER HOOK: Yeah, there's time, isn't there? We're lucky that we've still got time left. I suppose that has to be said.
Is there anything else you'd like people to know about your career, or anything else?
PETER HOOK: Yes, a million things we've not touched on! [laughs] But that's life, isn't it? That's what they always say: always leave them wanting more.
Peter Hook & the Light North American Tour Dates:
August 11 The Danforth Music Hall – Toronto
August 12 The Danforth Music Hall – Toronto
August 13 Club Soda – Montreal
August 15 Royal Oak Music Theatre – Royal Oak, MI
August 16 The Eastern – Atlanta
August 18 First Avenue – Minneapolis
August 19 Metro – Chicago
August 20 Metro – Chicago
August 22 The Pabst Theatre – Milwaukee
August 23 Paradise Rock Club – Boston
August 25 The Fillmore Silver Spring – Silver Spring, MD
August 26 Union Transfer – Philadelphia
August 27 Terminal 5 – New York
August 29 The Van Buren – Phoenix
August 30 Mohawk – Austin
August 31 Mohawk – Austin
Sept 2 House Of Blues Houston – Houston
Sept 3 House Of Blues Dallas – Dallas
Sept 5 Ogden Theatre – Denver
Sept 6 Humphreys Concerts by the Bay – San Diego
Sept 8 The Theatre at Ace Hotel – Los Angeles
Sept 9 The Theatre at Ace Hotel – Los Angeles
Sept 10 The Warfield – San Francisco
Sept 12 Crystal Ballroom – Portland
Sept 13 The Showbox – Seattle
Sept 14 Commodore Ballroom – Vancouver