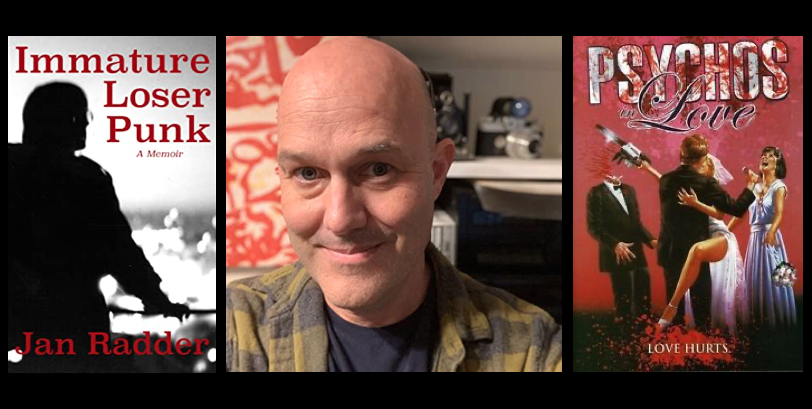 5 October 2022
Playing Favorites is an interview series where creative people pick a topic and tell us their five favorite things about it. Opinions expressed in this series are those of the interviewees and do not reflect the opinions of S.W. Lauden or The Big Takeover.
Jan Radder was a misfit kid growing up in 1980s Connecticut when he discovered two passions that shaped the rest of his life: horror movies and punk rock. He first worked with Gorman Bechard as a fifteen-year-old production assistant on the cult-favorite Psychos in Love, followed by two more B-movies, Galactic Gigolo and Cemetery High. Radder also played bass and sang in the punk bands, Mutual Assured Destruction, Pet Waggin', Ice-Nine, and Mi6 in the late '80s and early '90s.
After an extended break from filmmaking, he again partnered with Bechard in the 2000s on the documentaries Color Me Obsessed: A Film About The Replacements, What Did You Expect? The Archers of Loaf Live At Cat's Cradle, and Every Everything: The Music, Life & Times of Grant Hart (Full disclosure: I interviewed Radder about Hart for my essay collection, Forbidden Beat: Perspectives on Punk Drumming).
Radder's relatable stories about how horror movies and punk rock saved his life are chronicled in the excellent new coming-of-age memoir, Immature Loser Punk. It's Halloween season, so I asked him to share his five favorite horror movies.


JAN

RADDER

'S

TOP

5

FAVORITE

HORROR

MOVIES
5. The Thing (1982)
There are some
John Carpenter
films I like and some that I loathe, but this one I love. The feeling of paranoia it creates is palpable as it's hard to tell who's lying and who's telling the truth, and the writing and characters are fantastic. Add in some great
Rob Bottin
effects and a wonderfully understated
Kurt Russell
performance and there's not much more you could ask for in a horror movie. As for an odd piece of trivia, it was written by the son of
Burt Lancaster
whose only other writing credits are
The Bad News Bears
and
The Bad News Bears Go To Japan
.
4. A Nightmare on Elm Street (1984)
After miserably failing to convince anyone at school with a car to take us, I asked my mom if she would take my friend and I to see A Nightmare on Elm Street, which she kindly did. Matt had lost one of his contacts earlier that day and his glasses were broken so he watched the movie with one contact in and his hand over his contactless eye. Even with one eye covered, the movie did not disappoint. Sleeping over at Matt's house that night, we were too scared to sleep as we imagined dozens of different scenarios where Freddy Krueger might murder us in the night. I hadn't been that scared since I was a little kid worried about monsters lurking under the bed or hiding in the closet.


3. The Evil Dead (1981)
I first watched this at my friend's house in 1984 on a bright, sunny afternoon, the window shades up and light pouring through, just after we'd gotten out of school. I had no idea what to expect: the
VHS
box cover art made the movie look like it was a cheaply made piece of crap that would probably suck ass. But it also had a glowing quote from
Stephen King
on it, which, I think, is why Matt had rented it. We turned it on and from the very first shot I was hooked, not once moving or leaving my seat except for the three times that I literally jumped out of my seat in fright. I'd never seen anything like it before. Between the blood, the gore, the relentless pace, the jump scares, and the sound effects it was the most perfect horror movie I'd ever seen.
2. The Texas Chainsaw Massacre (1974)
For a film whose title includes both a chainsaw and a massacre, there is surprisingly little blood or gore in this film, which is surprising to many who have seen it because so many of us swear we witnessed not just some but a lot of blood and gore. Despite the lack of blood and gore (or maybe because of it) it's still one of the most disturbing films I've seen and it leaves me shaken each time I watch it. The power of this film is in how realistic it feels and how it uses the imagination of the viewer to fill in what it doesn't show and place ourselves in Sally's and Franklin's lives, which is what the best horror does.


1. The Descent (2005)
Stephen King famously wrote about how important it is to show monsters as little as possible because when you do finally show them, they're never as scary as the monster you imagined and you invariably see the "zipper" running up its back. The beauty of
The Descent
is that by the time it introduces the monsters you're already halfway through the movie and not even thinking about monsters because you're scared half to death by all the claustrophobic scenes of six women trapped in a cave that no one knows they're exploring. So when those monsters do finally come crawling out you're too scared to even thinking of looking for zippers. Besides, even if you were, good luck because those monsters are too well hidden in the shadows and darkness of the cave to find them. Not many movies scare me anymore and there's only one that has been able to scare me on repeat viewings: this one.
Previously on Playing Favorites:
Jason Cutthroat's Top 5 Favorite Zombie Movies
Drew Stone's Top 5 Favorite Documentaries
Rob Moss's Top 5 Favorite Songs To Play With Government Issue