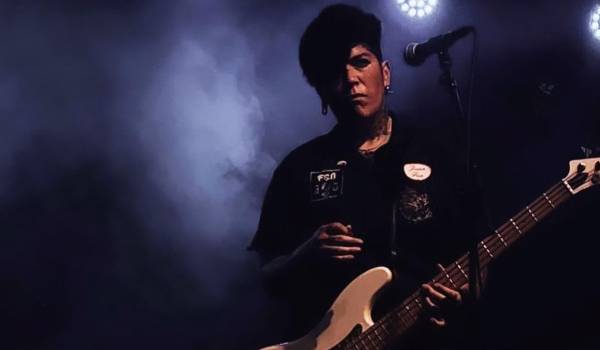 4 November 2021
Playing Favorites is an interview series where creative people pick a topic and tell us their five favorite things about it. Opinions expressed in this series are those of the interviewees and do not reflect the opinions of S.W. Lauden or The Big Takeover.
Jenn Alva is the bass player and co-founder of Fea, a fierce Chicana punk band from San Antonio, Texas. Fea was formed in 2014 from the ashes of beloved Indie rock trio, Girl in a Coma. The band—featuring Alva, Phanie Diaz (drums), Shelly Webster (guitar), and Letty Martinez (vocals)—has released two albums on Blackheart Records, Fea and No Novelties. Their third album, featuring all covers, will be released next year. Fea will be on tour with Subhumans in 2022.
Playing Favorites: Jenn Alva's Top 5 Favorite Punk Singers
5. Alice Bag of The Bags
I was fortunate enough to meet Alice in my early 20s, but didn't know her complete history yet. She was a supporter of my first group, Girl in a Coma. She gave us a signed 7 inch. Soon after learning more about her, I felt like an idiot for only having a quick conversation with her. I mean… she's the queen of Chicana punk! She has been a mentor for me and has produced songs and a full album for Fea. She's my all-time favorite because she is a standup, strong Latina with a heart of gold.
4. Kat Bjelland of Babes in Toyland
We saw Babes In Toyland play in 1994. There was a girl in the audience on top of a guy's shoulders and she kept getting felt up by random dudes. Kat commanded that they stop, otherwise the band was going to stop the whole set—which they did, only playing six songs. As a teenager, watching her dominate and stand up against those guys not only inspired us to be strong women, but to start a group. It's because of Babes In Toyland that Fea exists.
3. Dick Lucas of Subhumans
My first taste of Anarchism! Always question your government. Dick writes profound lyrics set to heart-racing punk rock. I love his stage presence, pacing back and forth like he's at a rally and he's goddamned fed up!
2. Kathleen Hanna of Bikini Kill
As a teenager in the '90s, we so desperately wanted someone besides a bunch of dudes to inspire us—and there she was! We were obsessed with Kathleen Hanna's lyrics and her no-nonsense attitude. If you listen to Fea, you can tell we were very much influenced by her and Bikini Kill. It's like she started a giant punk rock girl gang and me and my best friend/drummer, Phanie Diaz, were in it.
1. Joan Jett
I cannot leave my list without including Joan Jett. When I was five-years-old, I would sing along to her songs. When I was 23, I saw her in concert. When I was 27, I was signed to her label. We've been backstage with her so many times, seeing the blood, sweat and tears going into ALL her performances—no matter the size of the audience. She is the ultimate devoted performer. No punk rock band or punk rocker will ever look as cool as Joan Jett in a leather motorcycle jacket.
Previously on Playing Favorites:
Joey Cape's Top 5 Favorite Road Restaurants
Jason Cutthroat's Top 5 Favorite Zombie Movies