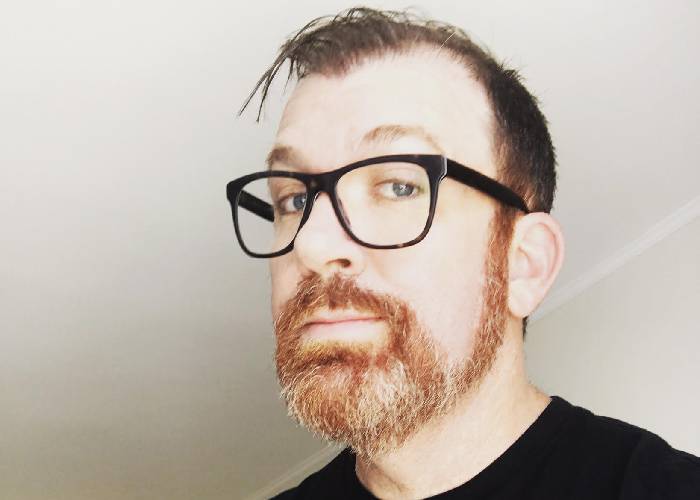 10 March 2022
Playing Favorites is an interview series where creative people pick a topic and tell us their five favorite things about it. Opinions expressed in this series are those of the interviewees and do not reflect the opinions of S.W. Lauden or The Big Takeover.
Linus of Hollywood is an American singer/songwriter, multi-instrumentalist and record producer. He is the guitarist for Santa Barbara "nerdcore" pop punks, Nerf Herder, and half of the electronic pop duo Able Machines with Tay Côlieé. His solo albums include Cabin Life, Something Good and Your Favorite Record. As a producer, he has worked with everybody from Bowling for Soup and Paul Gilbert, to Kurt Baker and The Dollyrots. He grew up listening to heavy metal in his home state of Florida, so I asked him to share his five favorite classic metal albums.

LINUS

OF

HOLLYWOOD

'S

TOP

5

FAVORITE

CLASSIC

METAL

ALBUMS
5. Keeper Of The Seven Keys Pt. II by Helloween
Helloween seems to exist in their own world. They are so melodic that it almost delves into musical theater sometimes, but the music is so fast and blistering. They are also extremely
FUNNY
(intentionally, I should add), have explored many comedic themes in their lyrics, and somehow they are still making amazing records and doing huge tours. Truly underrated and one of my all-time faves.
4. Rage For Order by Queensrÿche
When I first heard Queensrÿche I bought their debut EP on cassette (remember those?). Some of the kids in my town called them "Queen-screach" because no one was around to tell us otherwise. Their sound was the perfect marriage of
Judas Priest
and
Iron Maiden
, but they quickly evolved into a progressive metal powerhouse.
Rage For Order
was an odd release at the time—the album cover didn't look like a typical metal album and they traded in their leather chaps for trench-coats and hairspray. A lot of my metal friends didn't quite get this album when it came out but it instantly blew me away with its experimentation, musicality and amazing songcraft. I put this on a few weeks ago and it still sounds fresh and amazing. This album was so far ahead of its time that I'm not even sure time has caught up yet.
3. Crusader by Saxon
Saxon has always been a favorite of mine. Not many kids knew about them in my hometown so I always felt like they were "my" band. They have loads of great classic albums but this one has a bit of everything. From the metal opuses "Crusader" and "Sailing To America" to the thrashing cover of
Sweet
's "Set Me Free" to the
Van Halen
-esque "A Little Bit Of What You Fancy,"
Biff Byford
and the gang delivered the goods on this one. Extra bonus for the swords/horses artwork. They are still putting out amazing music today (and slay live)…and somehow Biff's voice got higher with age? They are also fun to follow on social media, they often post about their sausage-laden meals and seem to have a fun and chill attitude.
2. Hell Bent For Leather by Judas Priest
Who invented heavy metal? I always say it was
Paul McCartney
with "Helter Skelter," and then probably
Black Sabbath
. But the sound of classic metal is truly defined by Judas Priest. Digitally tight riffs, harmony guitar solos, soaring vocals and rock-em-sock-em drums. There are at least ten Priest albums that could have made this list, but I had to pick my favorite, and this is it…
Hell Bent For Leather
(aka "Killing Machine") is a veritable metal riff handbook. Every song has the best riff. To this day, when I'm at soundcheck and I turn on my Marshall, the first thing I play is "Hell Bent For Leather" or "Rock Forever" (if not
Thin Lizzy
's "Jailbreak"). And yes,
Rob Halford
is the greatest metal singer of all time, no contest. I used to fall asleep to this record in high school—is that weird?
1. Thundersteel by Riot
If I made a heavy metal album in 2022 (and who knows? I might), I would use this album as a blueprint. It has all the required ingredients: comic book album cover (with obligatory warrior guy, hot lady and a tank of course), pointy logo, powerful operatic vocals, guitar solos that take up half the song and lots of double-bass drumming. I suppose it's a bit controversial that I have this at #1, but it truly is a masterpiece of the genre. This is the first album I put on when I'm in the metal mood.
Honorable Mentions:
Shout At The Devil
by
Mötley Crüe
,
Number of the Beast
by
Iron Maiden
,
Tell No Tales
by
TNT
,
Ride The Lightning
by
Metallica
.
Previously on Playing Favorites:
Drew Stone's Top 5 Favorite Documentaries
Parry Gripp's Top 5 Favorite Weird Al Songs
Carolina Hidalgo's Top 5 Favorite Funny Punk Musicians