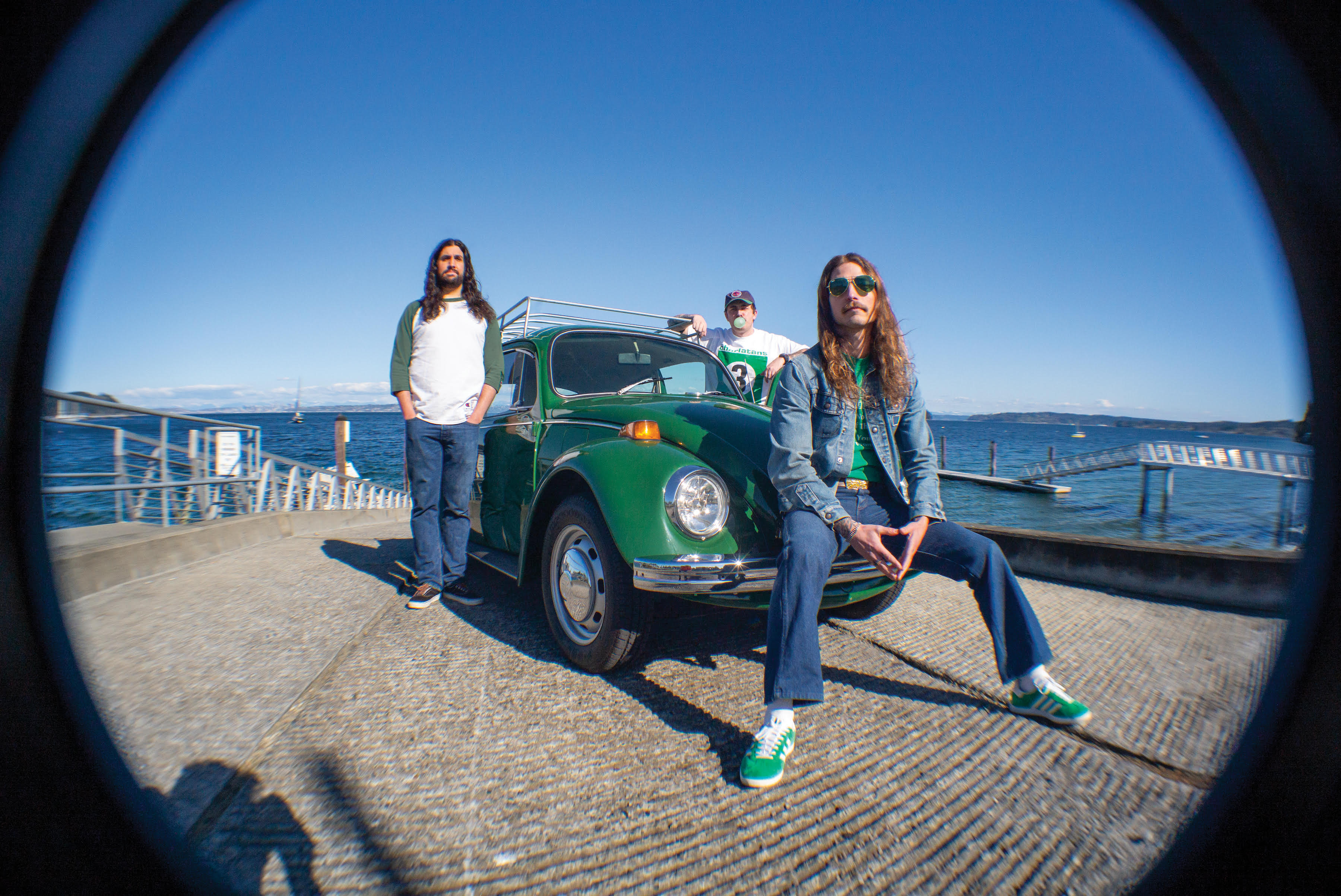 27 May 2022
(Mark Palm—pictured at front—with Supercrush)
Playing Favorites is an interview series where creative people pick a topic and tell us their five favorite things about it. Opinions expressed in this series are those of the interviewees and do not reflect the opinions of S.W. Lauden or The Big Takeover.
Mark Palm is the guitarist/vocalist for the Seattle-based guitar pop band Supercrush. The trio—also featuring bassist Phil Jones and drummer Allen Trainer —released their debut album, SODO Pop, in 2020. Their latest release, a 5-song E.P. titled Melody Maker, will be released on June 3. "There was a big indie and alt rock thing happening in eastern Canada when I was growing up, with bands like Sloan and The Doughboys getting played on MuchMusic all the time, so I was exposed to all of that," Palm said. "In my mind any band that's melodic and guitar-based is fair game to be an influence on Supercrush—from The Beatles, to My Bloody Valentine, to Boston." Given Palm's range of influences, I asked him to share his five favorite underrated songwriters.

MARK

PALM

'S

TOP

5

FAVORITE

UNDERRATED

SONGWRITERS
To describe a musician as "underrated" is always a slightly backhanded compliment. Of course, it's complimentary in that you are acknowledging their talent, but there is also the underlying implication that they aren't especially well liked, didn't find success, or failed to reach an audience. To be clear, I certainly don't mean my assessment of the following bands and songwriters as "underrated" to be a slight. Each of them is respected by those who know and each of them has found an audience, of whatever size, that adores and appreciates them. And yet, I hold all of their work in such high regard that I just can't help but feel like they should be more popular and well-known than they are.
5. Dead Soft
The current landscape of independent rock music is inundated with bands mixing a sort of modern interpretation of "grunge" with some vague elements of the spacey, effect pedal worship and dreamy vocals of the original "shoegaze" groups (that's two contentious genre tags surrounded by quotations in one sentence). I'm not sure exactly what you'd call this contemporary style. I suppose it falls somewhere in the space between "bubblegrunge" and "nu-gaze" (did it again). For some reason, perhaps because I'm old enough to remember when many of the source material bands were still active, it takes something special and distinct for a band in this style to really catch my attention. For what it's worth, I think Canada's Dead Soft is the best of the bunch. They've been at it for over a decade and I suppose pre-date the current boom in the genre which might be what gives them a slightly different and unique approach to the style. I don't know, maybe it's just a case of superior songwriting. Whatever the case, I think they're great and deserving of a far wider listenership. Great songwriting aside, one of their most distinctive features is
Nathaniel Epp
's voice. It has the enviable ability to go from a softly-sung, smooth delivery to a throat-shredding yell, sometimes within the same line, while always remaining melodic and tuneful—even at its harshest. I'd kill to have that kind of control over my voice. And when Epp's voice is joined by that of bass player
Keeley Rochon
, gorgeous and surprising harmonies and countermelodies emerge.
4. Donnie Vie
I've written about Donnie Vie before so forgive me for being a broken record, but the man's songwriting is so excellent yet under-appreciated that I feel obligated to sing his praises whenever an opportunity to do so arises. Vie is most well known for fronting
Enuff Z'Nuff
, and in particular for a couple early hits at the very end of the 1980s. But unbeknownst to many fair-weather fans, the band continued putting out excellent music for decades after their brush with mainstream success had faded into the oblivion of the glam/grunge nexus of the early '90s. Apart from Enuff Z'Nuff, Vie has released many songs on his own and continues to do so to this day. By his own admission, Donnie has been through the ringer—both professionally and personally over the decades—but he seems to be in a very healthy state as of late and his prolific songcraft and way with a melody remain undiminished by the years of hard living and bad breaks. I can't help but want to see him win. He's one of the great rock stars, even if you've never heard of him.
3. Sloan
Sloan are a straight up institution in Canada. They are a well known, award-winning act with numerous gold records—essentially famous in their home country. Growing up in Canada, I saw them on TV regularly and heard their singles on mainstream rock radio. But I am going to assume I am writing for a primarily American audience here, which is how I can get away with labeling them as "underrated". Here in the United States, where I've lived for many years now, Sloan are what is often referred to as a "cult act"—a slick term that lends more cachet than the less flattering "not especially popular, but loved by a loyal fanbase." I suppose it's a win for me because that means I get to now see them up close and personal in small clubs, which would not have been possible for me as a young person in the Canadian '90s. Choosing Sloan in a list of "5 songwriters" is a bit of a cheat code in that it's effectively getting four in one. All four members of the band write and sing their own songs and each one is a formidable tunesmith in their own right. They are the Canadian
Teenage Fanclub
in that respect—but with even one more songwriter! And they've got the most stylish and bombastic
Keith Moon
-esque drummer in the game. I take that back—they've got two of the most stylish and bombastic Moon-esque drummers in the game. Take that!
2. Steve Marino
In 2018, Supercrush embarked on our first North American tour. In Bloomington, Indiana we played with a local band called
Jacky Boy
who I quickly declared to be my favorite band we played with on the entire 32-show tour. Since then I've taken it upon myself to show their music to any friend I think might appreciate it. Excellent power pop in the 1990s style that remains under-appreciated for how good it is—in my humble opinion. As it happens, Jacky Boy has a brand new album called
Mush
that just came out, which hopefully will fall upon many more appreciative ears. In addition to Jacky Boy, singer/guitarist Steve Marino releases music under his own name and despite how much I enjoy Jacky Boy it might be Steve's solo stuff that I'd choose in a desert island decision. His
Fluff
album from a few years ago really gets me. It's a softer side of Steve's songwriting and I love the way his voice works in the quieter setting of those songs. While I'm being effusive, another aspect of Marino's songwriting that I really love is his occasional mention of sex in a number of his lyrics. He has a way of slipping an almost crass x-rated line into a beautiful and delicately emotive song that can make you do a double take like "Wait, did he just say what I think he said?!" It's refreshing because I find that aspect of life to be almost completely lyrically ignored in the little corner of the music world where Supercrush exists. I certainly don't often hear it mentioned in such a plain and unabashed way. But of course it's a part of life like anything else, why would it not appear in our lyrics from time to time?
1. John Davis
I have often made the statement that John Davis is the most underrated American songwriter of the past 25 (or more) years. As the lead singer, guitarist, and primary songwriter of
Superdrag
he did find mainstream popularity in the mid-'90s, fleeting as it turned out to be. But his gifts as a songwriter far outlive the momentary flash of
MTV
shine that Superdrag experienced with their "Sucked Out" single in 1996. But you know what… that whole narrative is about as tired as it gets at this point so let's move on. John Davis possesses one of my most respected qualities in a songwriter and musician—staying power. To write a good song or two is one thing. So is playing in a band for a couple years in your early twenties. While I won't go quite as far as to say "anyone can do that," I will say that I'm not especially moved by the short-lived "just a phase" approach to musical involvement that many seem to take. But to do it decade after decade is another thing altogether. And to do it with ever-increasing skill, with ever-improving results, is almost unheard of. Davis is of that elite class of songwriters and has the 30 year back catalog of consistently excellent songs to prove it. There are countless gems to be found not only in the extensive Superdrag discography, but in John's solo albums, releases with the band
The Lees Of Memory
, and his astounding trove of home demos. In fact, I think one of the more recent Lees songs, "Stay Freee," is among his best work yet. Of course, John's talent is celebrated by many loyal fans who have followed his musical journey for years, and to play the game of comparing his numbers to those of some of his lesser-talented (in my estimation) and more successful contemporaries would be a pointless exercise in sour grapes—one that I'm sure Davis himself has no interest in pursuing. My point is simply that in a perfect version of reality a songwriter of his caliber would be celebrated as an American treasure. Scratch that, there's no need to view Davis' work through the lens of national identity, he's simply a musical treasure, period.
Previously on Playing Favorites:
Mo Troper's Top 5 Favorite Portland Albums
Hannah Judge's Top 5 Favorite Rilo Kiley Songs
Peter Gill's Top 5 Favorite Power Pop Albums