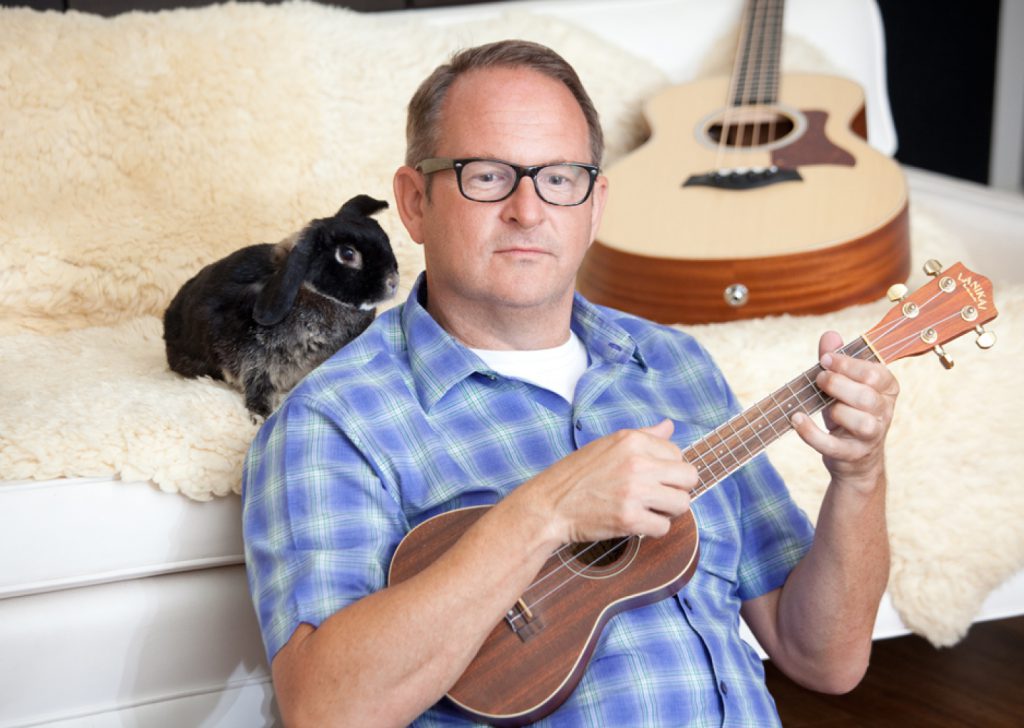 17 December 2021
Playing Favorites is an interview series where creative people pick a topic and tell us their five favorite things about it. Opinions expressed in this series are those of the interviewees and do not reflect the opinions of S.W. Lauden or The Big Takeover.
Parry Gripp burst onto the '90s music scene as the front man for veteran Santa Barbara "nerdcore" pop punks, Nerf Herder. These days, he's also an Emmy-winning songwriter who is beloved by children of all ages for YouTube hits like "It's Raining Tacos" and "Baby Monkey (Going Backwards On a Pig)," in addition to writing songs for Ask The StoryBots, The 7D, Ben 10: Omniverse and Phineas & Ferb, among many others. His latest children's book, It's Raining Tacos, was published by Harper Collins in June.

When Weird Al Yankovic announced
The Unfortunate Return Of The Ridiculously Self-Indulgent Ill-Advised Vanity Tour
, I asked
Gripp
to share five of his favorite Weird Al songs.
PLAYING

FAVORITES

:

PARRY

GRIPP

'S

TOP

5

FAVORITE

WEIRD

AL

SONGS
In his multi-decade reign as the undisputed champion of comedy music, Al Yankovic has written so many brilliant songs that it's nearly impossible for a true devotee like me to pick just five—so these are my top five for this week. (If you don't like mine, write your own stupid list.)
5. Word Crimes
Mandatory Fun
(2014)
Even as a non-dancer I can bust a move to Al's parody of
Robin Thicke
's mega-hit, "Blurred Lines." It's like a house party with Strunk & White's
The Elements of Style
! Al rides the unstoppable groove (which Thicke famously ripped from
Marvin Gaye
) and replaces the original leering skeevy-ness with an intricate and hysterical litany of terrible writing and grammar. (Should have asked you to proofread this for me Al.) "Never write words using numbers unless you're seven or your name is
Prince
," is gr8t advice for all of us asi9 fans.
4. Dare To Be Stupid
Dare To Be Stupid
(1985)
It's just great—the way Al harnesses the sound of our beloved quirk-masters
Devo
and stupids-up their cryptic "devolution" message to create an ultra-catchy and rockin' synth anthem to dumbness. This song is so infectious and fun that it makes me happily want to stick my "head in the microwave and get a tan!" Written in 1985, it somehow seems even more relevant today.
3. My Bologna
Single (1979)
Al recorded his parody of
The Knack
's "My Sharona'' in a bathroom on the Cal Poly San Luis Obispo campus. This song was Al's entry ticket to superstardom, with all the elements that would make Al Yankovic the king of parody music, his name synonymous with the genre. Bologna is a funny thing on its own—but Al's genius lyrics, unwinking straight-ahead delivery, and truly rocking accordion make this hilarious without losing any of the emotional punch of the original. I'm a fan of
Dr. Demento
who spun this song into a huge surprise hit on his Dr. Demento Show. For millions of thick-glasses-wearing nerds like me who had no chance of ever becoming a golden god like
Robert Plant
or the leather-pants wearing singer of
Loverboy
, we suddenly had a hero!
2. Yoda
Dare To Be Stupid
(1985)
I love the way Al reworks
Ray Davies
' early '70s masterpiece, "Lola," so it's totally relatable to guys like me who maybe had "never kissed a woman before" but had for sure watched
The Empire Strikes Back
27 times. Is it just me, or does Al's version actually rock harder than
The Kinks
' original? "The long-term contract I had to sign says I'll be making these movies till the end of time…" How did he know?!?
1. Albuquerque
Running With Scissors
(1999)
This Al original is the absolute zenith of absurdist comedy rock! He packs so many crazy characters and situations into 11 minutes and 23 seconds that it actually seems short. It only gets funnier with repeated listens and the world might need an extended-dance remix. You'll laugh, you'll cry, you'll never eat sauerkraut again! And who exactly autographed that lucky glow-in-the-dark snorkel? Nearly every line is quotable, but I keep coming back to "Wacka wacka doo-doo yeah."
Previously on Playing Favorites:
Frank Turner's Top 5 Favorite Venues
Spike Slawson's Top 5 Panettone/Pandoro
Jenn Alva's Top 5 Favorite Punk Singers
Joey Cape's Top 5 Favorite Tour Restaurants