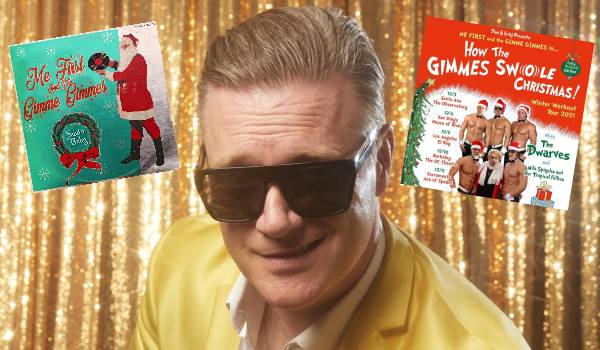 2 December 2021
(Spike Slawson photo by Rob Williamson)
Playing Favorites is an interview series where creative people pick a topic and tell us their five favorite things about it. Opinions expressed in this series are those of the interviewees and do not reflect the opinions of S.W. Lauden or The Big Takeover.
Spike Slawson is the frontman for punk rock super group/cover band Me First and the Gimme Gimmes. The band — at various times featuring members of NOFX, Lagwagon, Foo Fighters and Swingin' Utters — formed in 1995 and have released several albums featuring uptempo covers of pop hits including "Leaving on a Jet Plane" by John Denver, "Strawberry Fields Forever" by The Beatles, "Jolene" by Dolly Parton, and "I Will Survive" by Gloria Gaynor, among many others. In 2018 they also released their version of Eartha Kitt's "Santa Baby" that quickly became a staple on punk holiday playlists. Me First and the Gimme Gimme's will be on the California How The Gimmes Swole Christmas tour starting Dec. 3 in Santa Ana.


PLAYING

FAVORITES

:

SPIKE

SLAWSON

'S

TOP

5

FAVORITE

PANETTONE

/PANDORO
Although they didn't start mass-producing it as such until the early 20th century in Milano, Italy, the origins of panettone go back to honey-sweetened, leavened cakes that were baked by ancient Romans. "Bread" or "cake" both fail miserably as descriptors. The proofing time can take days, giving it a moist, silky texture that is unmistakable and unparalleled in the canon of yuletide baked goods.
DOC
status is still pending, so beware renegade (i.e. non-Italian) panettone/pandoro producers, with some notable exceptions.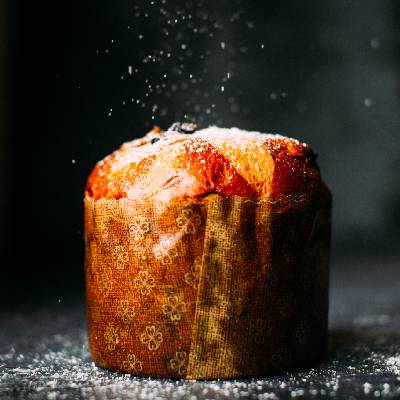 (Photo by
Jennifer Pallian
via Unsplash)
5. Scarpato Chestnut Panettone
It's the holidays, stupid! Dip this in your coffee, and you're ready to face the Christmas-shopping throngs. You can use the lovely tin it comes in to throw at someone at Walmart.
4. Fiasconaro Oro Verde Pistacchio Panettone
Green gold! Anything with pistacchio. Especially desserts. Until you've tried pistacchio gelato, don't even talk to me.
3. Chocolate Panettone From Roy
Really, fuck candied fruit. But soft hunks of bittersweet chocolate elevate this baked confection to transcendence. Roy is a non-Italian producer that holds the line.
2. Tre Marie Pandoro
As I alluded to earlier, I hate candied fruit. And pandoro is like panettone's elegantly simple cousin. Just cake, and an accompanying packet of vanilla-flavored confectioner's sugar. But, again, to refer to pandoro as "cake" would be woefully unjust to this pillowy delight.
1. Scarpato Coffee Panettone
Find a good hiding place because Scarpato's 100% arabica coffee panettone—with pockets of coffee liqueur cream and uncomplicated by pointless candied fruit—will be reduced to succulent crumbs if left out and unattended.
Previously on Playing Favorites:
Joey Cape's Top 5 Favorite Tour Restaurants
Alison Braun's Top 5 Favorite Punk Bands To Photograph
Jim Ruland's Top 5 Favorite Punk Books
Frank Turner's Top 5 Favorite Venues